Bernie Sanders' BEZOS Act will make mega corporations pay fair wages
Bernie Sanders introduces an act to Congress named for the uber-wealthy head of Amazon aiming to make wealthy companies pay for any employees receiving public assistance.
06 September, 2018
Sen. Bernie Sanders (I-VT) speaks during a news conference regarding the separation of immigrant children at the U.S. Capitol on July 10, 2018, in Washington, DC (Alex Edelman/Getty Images).
Named with an acronym for the Amazon head and wealthiest person in the world Jeff Bezos, The Stop Bad Employers by Zeroing Out Subsidies (BEZOS) Act was just introduced in Congress by U.S. Senator Bernie Sanders, and it aims to prevent companies like Amazon and Walmart from paying such low wages and benefits that employees need to subsist on welfare and Medicaid to survive—while the owners and "leaders" of those very same companies become wealthier by the second. (Literally by the second: Bezos makes more money every minute than Amazon itself states its average wage-earners make per year in the United States.)
---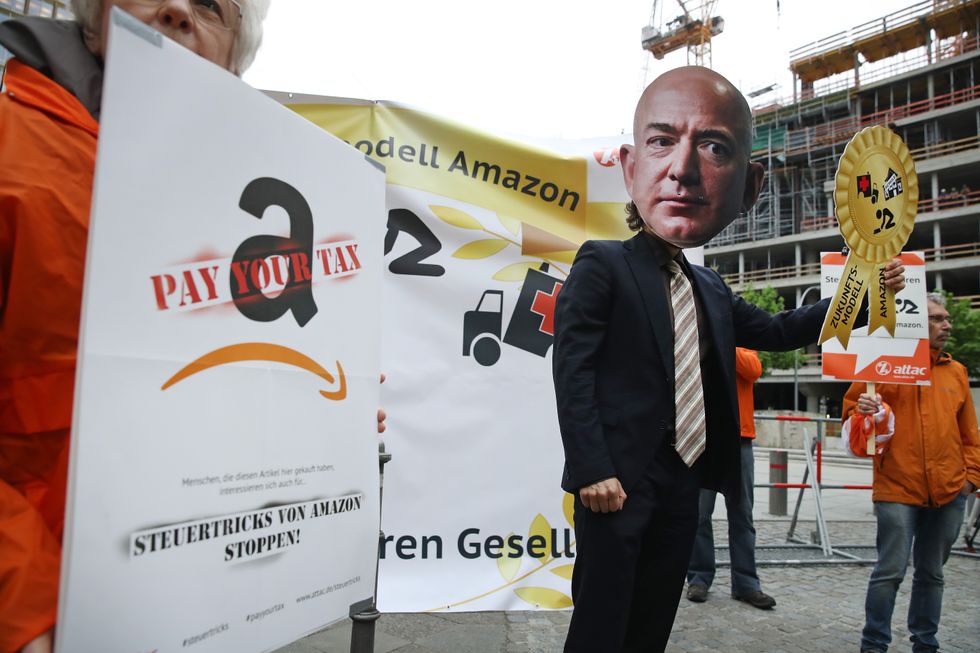 An activist dressed as Amazon CEO Jeff Bezos joins a protest gathering outside the Axel Springer building on April 24, 2018, in Berlin, Germany. The workers claim Amazon pays too little and offers too few benefits (Photo by Sean Gallup/Getty Images).
Functionally, it's pretty simple: If a company, such as Amazon, pays such low wages that its employees depend on public benefits such as welfare and public housing to survive, then that company must pay taxes that equal the public benefits—offsetting them, if you will.
The amount saved in the unlikely event that this passes Congress? An estimated $150 billion. Per year. 
"We do not believe that taxpayers should have to expend huge sums of money subsidizing profitable corporations owned by some of the wealthiest people in this country. That's what a rigged economy is about," said Sanders, introducing the bill alongside California Rep. Ro Khanna (D).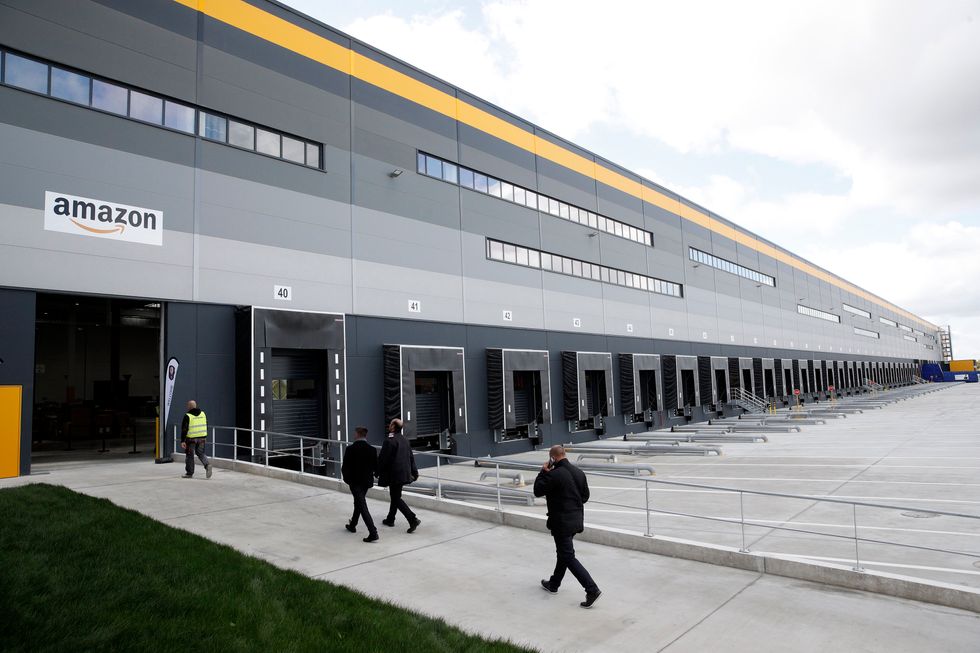 An exterior view of the Amazon factory in Boves, northern France, on October 3, 2017 (YOAN VALAT/AFP/Getty Images).
But these aren't the only employers the bill targets; Burger King, McDonald's, and American Airlines also were recipients of the wrath of Sanders when the bill was introduced Wednesday. Included in the press about the bill was a link to a page on the Bernie Sanders website that encourages Amazon workers (and former workers) to sound off about their experiences. 
For its part, Amazon contested that what Senator Sanders's statement was fact with a blog post asserting that everything's fine with Amazon workers. There are some fundamental differences in facts between the two—for example, Sanders states that average Amazon workers earn $28,000 per year, when Amazon itself says that's across the world and U.S. Amazon employees make more like $34,000. 
Still... that's not much of a feather in the cap, given that $34,000 is pretty much poverty wages in many U.S. cities, even for a single adult. Add kids to the equation, and it's definitely a poverty wage. 
The pandemic reminds us that our higher education system, with all its flaws, remains a key part of our strategic reserve.
Sponsored by Charles Koch Foundation
America's higher education system is under great scrutiny as it adapts to a remote-learning world. These criticisms will only make higher ed more innovative.
While there are flaws in the system and great challenges ahead, higher education has adapted quickly to allow students to continue learning. John Katzman, CEO of online learning organization Noodle Partners, believes this is cause for optimism not negativity.
Universities are pillars of scientific research on the COVID-19 frontlines, they bring facts in times of uncertainty and fake news, and, in a bad economy, education is a personal floatation device.
Meteorologists propose a stunning new explanation for the mysterious events in the Bermuda Triangle.
Surprising Science
One of life's great mysteries, the Bermuda Triangle might have finally found an explanation. This strange region, that lies in the North Atlantic Ocean between Bermuda, Miami and San Juan, Puerto Rico, has been the presumed cause of dozens and dozens of mind-boggling disappearances of ships and planes.
A debate is raging inside and outside of churches.
Photo by Sandy Huffaker / AFP via Getty Images
Culture & Religion
Over 1,200 pastors in California claim they're opening their churches this week against state orders.
While church leaders demand independence from governmental oversight, 9,000 Catholic churches have received small business loans.
A number of re-opened churches shut back down after members and clergy became infected with the novel coronavirus.
An MIT system uses wireless signals to measure in-home appliance usage to better understand health tendencies.
John Moore/Getty Images
Technology & Innovation
For many of us, our microwaves and dishwashers aren't the first thing that come to mind when trying to glean health information, beyond that we should (maybe) lay off the Hot Pockets and empty the dishes in a timely way.
Scroll down to load more…