Bernie Sanders' BEZOS Act will make mega corporations pay fair wages
Bernie Sanders introduces an act to Congress named for the uber-wealthy head of Amazon aiming to make wealthy companies pay for any employees receiving public assistance.
06 September, 2018
Named with an acronym for the Amazon head and wealthiest person in the world Jeff Bezos, The Stop Bad Employers by Zeroing Out Subsidies (BEZOS) Act was just introduced in Congress by U.S. Senator Bernie Sanders, and it aims to prevent companies like Amazon and Walmart from paying such low wages and benefits that employees need to subsist on welfare and Medicaid to survive—while the owners and "leaders" of those very same companies become wealthier by the second. (Literally by the second: Bezos makes more money every minute than Amazon itself states its average wage-earners make per year in the United States.)
---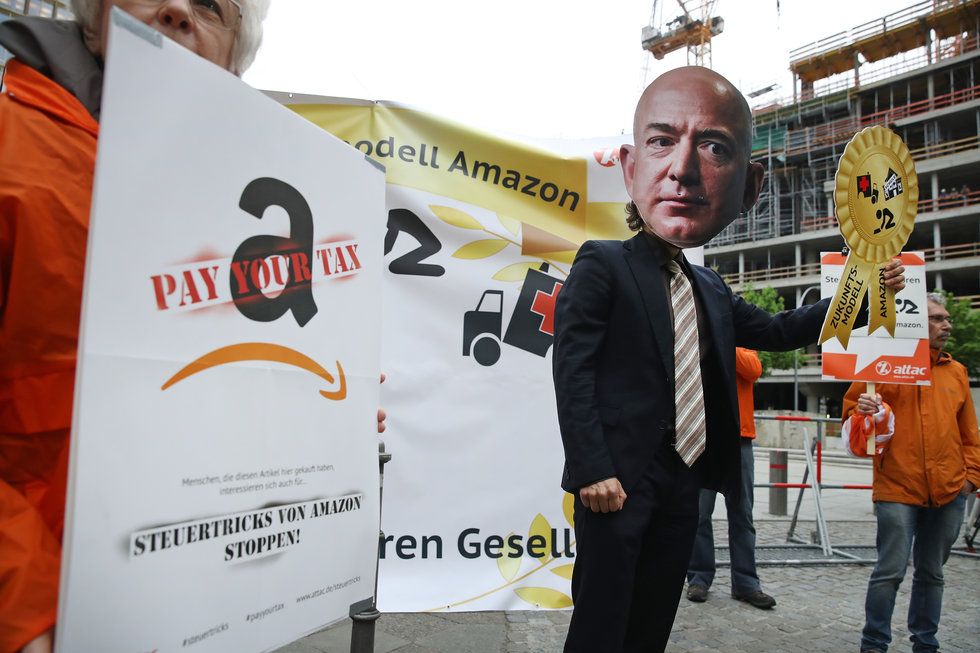 An activist dressed as Amazon CEO Jeff Bezos joins a protest gathering outside the Axel Springer building on April 24, 2018, in Berlin, Germany. The workers claim Amazon pays too little and offers too few benefits (Photo by Sean Gallup/Getty Images).
Functionally, it's pretty simple: If a company, such as Amazon, pays such low wages that its employees depend on public benefits such as welfare and public housing to survive, then that company must pay taxes that equal the public benefits—offsetting them, if you will.
The amount saved in the unlikely event that this passes Congress? An estimated $150 billion. Per year. 
"We do not believe that taxpayers should have to expend huge sums of money subsidizing profitable corporations owned by some of the wealthiest people in this country. That's what a rigged economy is about," said Sanders, introducing the bill alongside California Rep. Ro Khanna (D).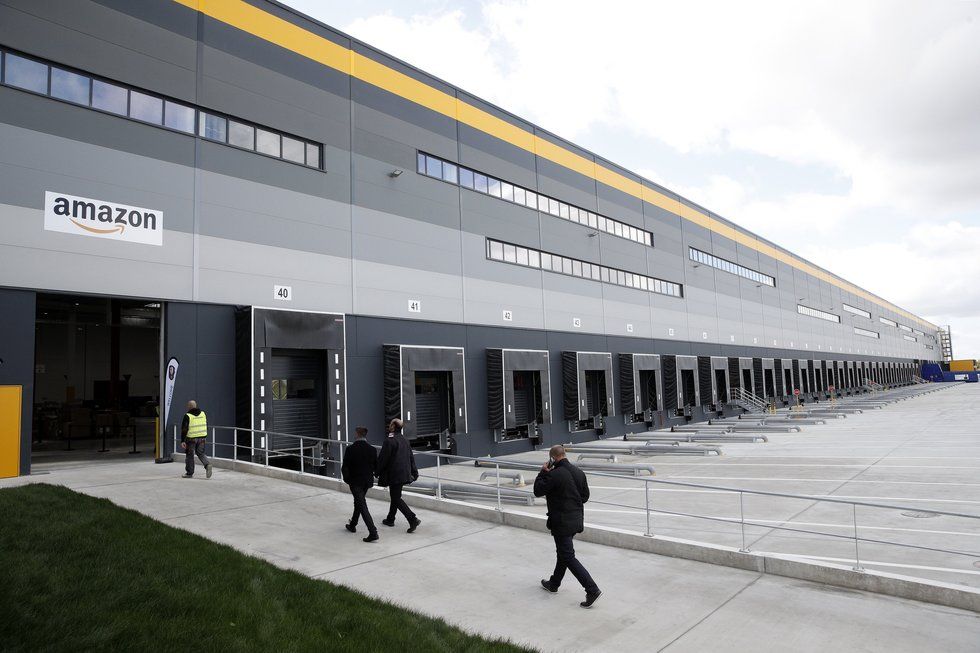 An exterior view of the Amazon factory in Boves, northern France, on October 3, 2017 (YOAN VALAT/AFP/Getty Images).
But these aren't the only employers the bill targets; Burger King, McDonald's, and American Airlines also were recipients of the wrath of Sanders when the bill was introduced Wednesday. Included in the press about the bill was a link to a page on the Bernie Sanders website that encourages Amazon workers (and former workers) to sound off about their experiences. 
For its part, Amazon contested that what Senator Sanders's statement was fact with a blog post asserting that everything's fine with Amazon workers. There are some fundamental differences in facts between the two—for example, Sanders states that average Amazon workers earn $28,000 per year, when Amazon itself says that's across the world and U.S. Amazon employees make more like $34,000. 
Still... that's not much of a feather in the cap, given that $34,000 is pretty much poverty wages in many U.S. cities, even for a single adult. Add kids to the equation, and it's definitely a poverty wage. 
Former president of the ACLU Nadine Strossen discusses whether our society should always defend free speech rights, even for groups who would oppose such rights.
Sponsored by Charles Koch Foundation
Former ACLU president Nadine Strossen understands that protecting free speech rights isn't always a straightforward proposition.
In this video, Strossen describes the reasoning behind why the ACLU defended the free speech rights of neo-Nazis in Skokie, Illinois, 1977.
The opinions expressed in this video do not necessarily reflect the views of the Charles Koch Foundation, which encourages the expression of diverse viewpoints within a culture of civil discourse and mutual respect.
Going back to the moon will give us fresh insights about the creation of our solar system.
Videos
July 2019 marks the 50th anniversary of the moon landing — Apollo 11.
Today, we have a strong scientific case for returning to the moon: the original rock samples that we took from the moon revolutionized our view of how Earth and the solar system formed. We could now glean even more insights with fresh, nonchemically-altered samples.
NASA plans to send humans to a crater in the South Pole of the moon because it's safer there, and would allow for better communications with people back on Earth.
Pugs and bulldogs are incredibly trendy, but experts have massive animal welfare concerns about these genetically manipulated breeds. 
Photo by terriermandotcom.blogspot.com
popular
Pugs, Frenchies, boxers, shih-tzus and other flat-faced dog breeds have been trending for at least the last decade.
Higher visibility (usually in a celebrity's handbag), an increase in city living (smaller dogs for smaller homes), and possibly even the fine acting of Frank the Pug in 1997's Men in Black may be the cause.
These small, specialty pure breeds are seen as the pinnacle of cuteness – they have friendly personalities, endearing odd looks, and are perfect for Stranger Things video montages.
Jokesters and serious Area 51 raiders would be met with military force.
Politics & Current Affairs
Facebook joke event to "raid Area 51" has already gained 1,000,000 "going" attendees.
The U.S. Air Force has issued an official warning to potential "raiders."
If anyone actually tries to storm an American military base, the use of deadly force is authorized.