You've got 10 minutes with Einstein. What do you talk about? Black holes? Time travel?
Why not gambling? The Art of War? Contemporary parenting?
Each week, host Jason Gots surprises some of the world's brightest minds with ideas they're not at all prepared to discuss. Join us and special guests Neil Gaiman, Alan Alda, Salman Rushdie, Margaret Atwood, Richard Dawkins, Maria Popova, Mary-Louise Parker, Neil deGrasse Tyson and many more...
04 August, 2017
You Can't Stop the Clock – Peter Frankopan – Think Again - a Big Think Podcast #110
Spontaneous talk on surprise topics. Oxford historian Peter Frankopan on two millennia of the flow of germs, ideas, commerce, and more from East to West and vice versa.
Technology & Innovation
---
Subscribe on Google Play, Stitcher, or iTunes
Come talk to us on Twitter: @bigthinkagain
Since 2008, Big Think has been sharing big ideas from creative and curious minds. Since 2015, the Think Again podcast has been taking us out of our comfort zone, surprising our guests and Jason Gots, your host, with unexpected conversation starters from Big Think's interview archives.
Today's guest Peter Frankopan is a historian at Oxford University, where he is Director of the Oxford Centre for Byzantine Research. He works on the history of the Mediterranean, Russia, the Middle East, Persia, Central Asia and beyond, and on relations between Christianity and Islam. Peter's new book The Silk Roads: A New History of the World, is an international bestseller, described by William Dalrymple as a 'historical epic of dazzling range, ambition and achievement'.
At an anxious moment in Western history, Frankopan encourages us to take a historical perspective, understanding how change happens in societies and how people typically react to it. This conversation unpacks the fascinating and dense history of the Silk Road countries and digs deep into the economic and social forces that shape our lives.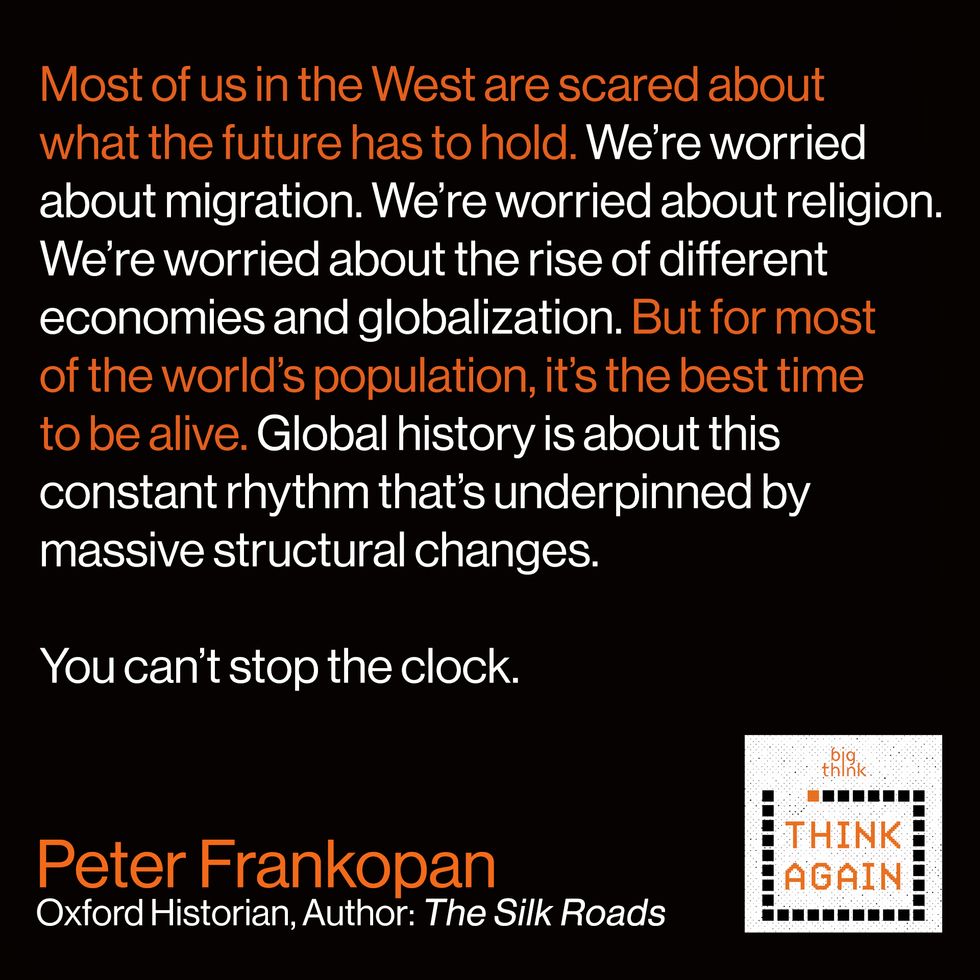 Surprise conversation starter interview clips in this episode:
Michael Slaby on the 30 hour work week and Geneticist Jennifer Doudna on designer babies  
About Think Again - A Big Think Podcast: You've got 10 minutes with Einstein. What do you talk about? Black holes? Time travel? Why not gambling? The Art of War? Contemporary parenting? Some of the best conversations happen when we're pushed outside of our comfort zones. Each week on Think Again, we surprise smart people you may have heard of with short clips from Big Think's interview archives on every imaginable subject. These conversations could, and do, go anywhere.
Related Articles
In this episode master teacher Sharon Salzberg considers whether it's ok to teach mindfulness to the armed forces, how practitioners of meditation and mindfulness should balance openness with discipline, and so much more.
Think Again Podcasts
Since 1974, Sharon Salzberg has been sharing ancient meditation and mindfulness practices in a voice the contemporary West can understand. Her warm, funny, down-to-earth books, dharma talks, and guided meditations have helped struggling meditators worldwide establish a strong practice and reduce the suffering in their lives. In this episode Sharon sits down with Jason to consider whether it's ok to teach mindfulness to the armed forces, how western practitioners should deal with the almost militant tone of some eastern teachers when it comes to discipline and "right effort", and so much more. Sharon's latest book is Real Happiness: a 28 day program for realizing the power of meditation, now thoroughly updated and revised for its 10th anniversary.
The New Yorker-based comedy team on never exercising or going outside, and so much more.
Think Again Podcasts
Thelma and Louise, Ponch and John, Pancho and Lefty, Quixote and Sancho Panza, Marx and Engels, Marx and Chast…history and literature are full of magical buddy stories. Every now and then, for reasons no one can explain, Two people come together and produce something greater, or at least very different, from the sum of their parts.
I'm here today with one such team: the writer-cartoonist duo of Patricia Marx and Roz Chast. They're both longtime contributors to the New Yorker and fearsome humorists in their own rights. But together they form a third fearsome thing, a thing which has created books such as Why Don't You Write My Eulogy Now So I Can Correct it: A Mother's Suggestions, And their latest: You Can Only Yell At Me For One Thing At A Time: Rules for Couples. They're also the enigmatic figures behind yet a fourth thing, the legendary ukulele band Ukelear Meltdown.
In this first episode of 2020, beloved dharma teacher Joseph Goldstein is back for a conversation about struggle, doubt, and growth on the spiritual path.
Think Again Podcasts
Freedom. Everyone wants it, but knowing where to look for it is another matter. And to make matters worse, the world is full of things that feel like freedom but might just get us more tangled up in everything we're trying to escape. How much freedom can money buy? How much money? How free are you on a tropical vacation? Would uploading your consciousness into the cloud and downloading it into a robot avatar on Alpha Centauri make you more free? How about falling in love again? How about three margaritas with friends? Or six? How about falling in love again? A better government? Less government? No government at all?
I'm here today with Joseph Goldstein, a beloved teacher of Buddhist ideas and practice in the West and a personal inspiration to me, to talk about freedom of the mind and spirit—and the kinds of effort and insight that can lead there. Joseph is the co-founder of Insight Meditation Society in Barre, Massachusetts and the author, most recently, of Mindfulness: a Practical Guide to Awakening.
Connect with us
How to listen
You can listen to Think Again right here on site, or select your podcast app: