You've got 10 minutes with Einstein. What do you talk about? Black holes? Time travel?
Why not gambling? The Art of War? Contemporary parenting?
Each week, host Jason Gots surprises some of the world's brightest minds with ideas they're not at all prepared to discuss. Join us and special guests Neil Gaiman, Alan Alda, Salman Rushdie, Margaret Atwood, Richard Dawkins, Maria Popova, Mary-Louise Parker, Neil deGrasse Tyson and many more...
04 August, 2017
You Can't Stop the Clock – Peter Frankopan – Think Again - a Big Think Podcast #110
Spontaneous talk on surprise topics. Oxford historian Peter Frankopan on two millennia of the flow of germs, ideas, commerce, and more from East to West and vice versa.
Technology & Innovation
---
Subscribe on Google Play, Stitcher, or iTunes
Come talk to us on Twitter: @bigthinkagain
Since 2008, Big Think has been sharing big ideas from creative and curious minds. Since 2015, the Think Again podcast has been taking us out of our comfort zone, surprising our guests and Jason Gots, your host, with unexpected conversation starters from Big Think's interview archives.
Today's guest Peter Frankopan is a historian at Oxford University, where he is Director of the Oxford Centre for Byzantine Research. He works on the history of the Mediterranean, Russia, the Middle East, Persia, Central Asia and beyond, and on relations between Christianity and Islam. Peter's new book The Silk Roads: A New History of the World, is an international bestseller, described by William Dalrymple as a 'historical epic of dazzling range, ambition and achievement'.
At an anxious moment in Western history, Frankopan encourages us to take a historical perspective, understanding how change happens in societies and how people typically react to it. This conversation unpacks the fascinating and dense history of the Silk Road countries and digs deep into the economic and social forces that shape our lives.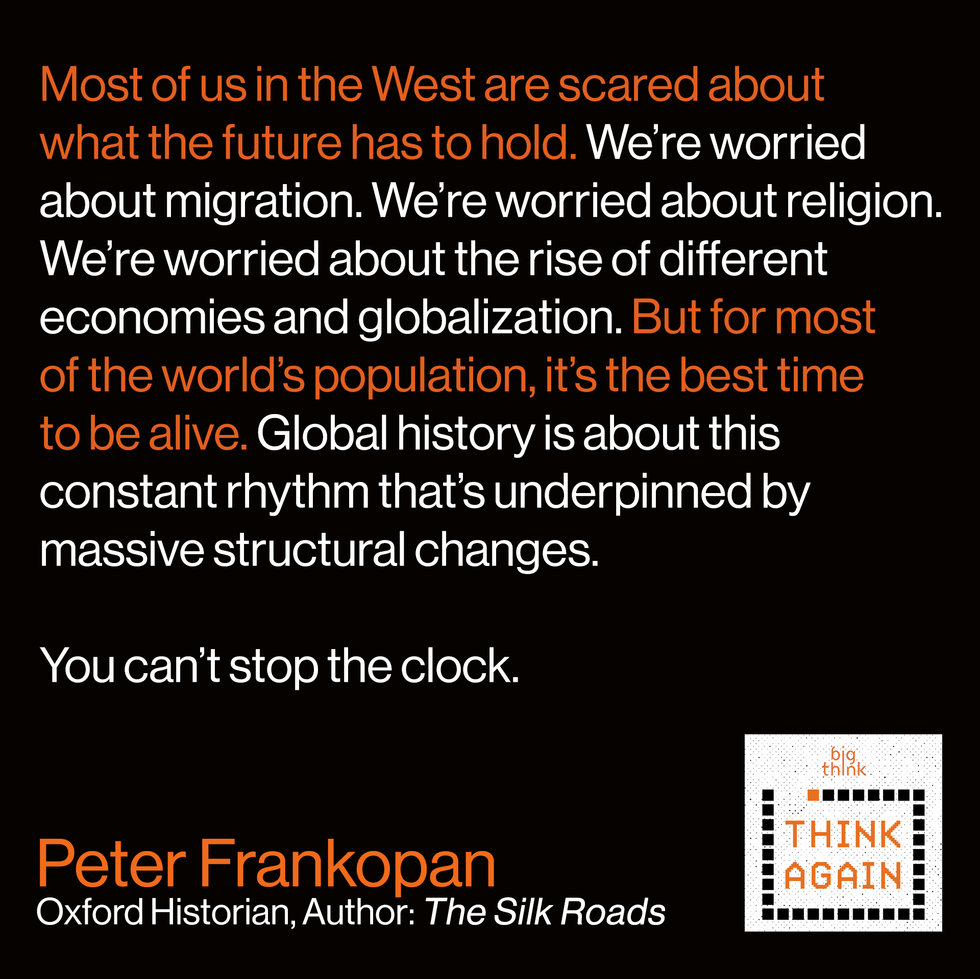 Surprise conversation starter interview clips in this episode:
Michael Slaby on the 30 hour work week and Geneticist Jennifer Doudna on designer babies  
About Think Again - A Big Think Podcast: You've got 10 minutes with Einstein. What do you talk about? Black holes? Time travel? Why not gambling? The Art of War? Contemporary parenting? Some of the best conversations happen when we're pushed outside of our comfort zones. Each week on Think Again, we surprise smart people you may have heard of with short clips from Big Think's interview archives on every imaginable subject. These conversations could, and do, go anywhere.
Related Articles
With the help of positive psychology and the happiness industry, many of us seem to be running in the exact opposite direction of happiness.
Think Again Podcasts
"It's almost like the only way we can understand leisure is as a productivity hack."
"If we think of happiness as an individual responsibility, that stands in the way of building a society in which the conditions are there for everybody to thrive."
What do the "seduction movement," the Virginia Tech shooter, and the Asian-American experience have in common? Wesley Yang thinks and writes with devastating clarity about loneliness, invisibility, and the incoherence of American life.
Think Again Podcasts
What if Asian American cultural "invisibility" is the key to saving America?
Are liberalism and democracy too tame to survive identity politics?
"One risks being a pariah...just by saying the things that need to be said."
Amit Tzuk and Ofir Trainin, the subject and director of an FAMILY IN TRANSITION, an Israeli documentary about a small town father of four who becomes a woman.
Think Again Podcasts
Sometimes just being yourself is a radical act.
"We have to do public relations so that people will understand that we're...people."
Everybody is always in a state of transition. All the time, your cells are dying and replacing themselves. Your mind, your emotions, your goals, your sense of self—all of these are shifting from year to year as you age. In families where there are children, the changes are even more visible and dramatic. Bodies change, voices change, identity is always in flux. But we also have an instinct to mask these changes. To find ways of minimizing them to fit in.
My guests today have a story to tell about what happens when the changes are undeniable. When they're at odds with the values of many people in your family and community. It's about the pain and the necessity of breaking the masks you've made for yourself. FAMILY IN TRANSITION is a documentary film about Amit Tzuk, an Israeli father of four who transitions to become a woman, and the changes Amit's wife Galit and their children go through. I'm here today with Amit and with the film's director, Ofir Trainin.
Surprise conversation starter clips in this episode:

Jonathan Haidt on untruths to stop telling our children

Connect with us
How to listen
You can listen to Think Again right here on site, or select your podcast app: