Christopher C. King: While you live, shine
Think Again like you've never heard it before. A trip deep into the oldest living folk music in the Western world — that of Epirus, Greece — and what it reveals about why we make music at all.
Jason Gots
Jason Gots is a New York-based writer, editor, and podcast producer. For Big Think, he writes (and sometimes illustrates) the blog "Overthinking Everything with Jason Gots" and is the creator and host of the "Think Again" podcast. In previous lives, Jason worked at Random House Children's Books, taught reading and writing to middle schoolers and community college students, co-founded a theatre company (Rorschach, in Washington, D.C.), and wrote roughly two dozen picture books for kids learning English in Seoul, South Korea. He is also the proud father of an incredibly talkative and crafty little kid.
13 July, 2018
While you live, shine.
Have no mourning at all.
Life exists a short while
And time demands its fee.



---
– From a 2000 year old tombstone in (then) Greek-speaking Asia Minor
I'd like to do a little free-association exercise with you. I'm going to say three words and I'd like you to speak or write down all the words that come to mind as a result. No filtering. No judgment. Ready?
American Pop Culture. Go!
. . . Ok. Here's what I got: Kanye Trump Gun Meme YouTube
That's pretty sad, I suppose. And maybe it anecdotally, non-scientifically supports a claim made by my guest today that culture and music, once mutually dependent, have become totally unmoored and lost in the age of globalism. And that the sounds we make and market today just don't have anything like the healing power that was music's purpose for thousands of years.
Christopher C. King is a writer, Grammy—winning music producer, and something of an ethnomusicologist. His obsessive collecting of rare '78s led him to discover the music of Epirus, a region of northwestern Greece. To his ears, the playing of Kitsos Harisiadis, Alexis Zoumbas, and other Epirote masters virtually unknown outside of Epirus had an elemental power transcending even that of Delta Blues legends like Robert Johnson and Skip James. In Epirus, King found something he thought had been lost in the world: a musical culture with unbroken roots stretching back into prehistory. And some clues, perhaps, as to why we make music in the first place.
Christopher's new book is Lament From Epirus: An Odyssey into Europe's Oldest surviving Folk Music.
Lament From Epirus from Drew Christie on Vimeo.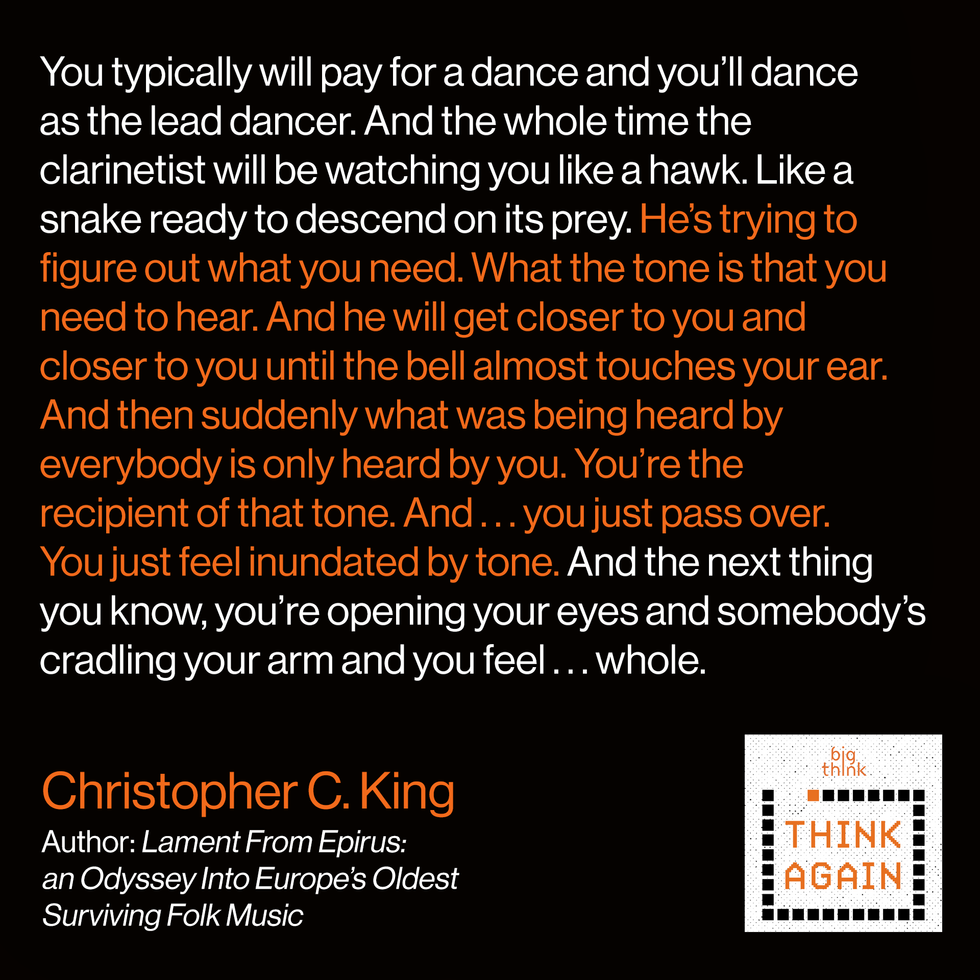 Surprise conversation-starter clips in this episode:
David Kennedy on the biggest problem historians face
About Think Again - A Big Think Podcast: Since 2008, Big Think has been sharing big ideas from creative and curious minds. Since 2015, the Think Again podcast has been taking us out of our comfort zone, surprising our guests and Jason Gots, your host, with unexpected conversation starters from Big Think's interview archives.
You've got 10 minutes with Einstein. What do you talk about? Black holes? Time travel? Why not gambling? The Art of War? Contemporary parenting? Some of the best conversations happen when we're pushed outside of our comfort zones. Each week on Think Again, we surprise smart people you may have heard of with short clips from Big Think's interview archives on every imaginable subject. These conversations could, and do, go anywhere.

Come talk to us
on Twitter: @bigthinkagain
More From Jason Gots
Related Articles
The ability to interact peacefully and voluntarily provides individuals a better quality of life.
Videos
In classical liberal philosophy, voluntary action says the scope of legitimate government authority is extremely narrow.
While not all classical liberals agree on immigration policy, the question remains: What right does a government have to stop someone from moving to another country should they so choose?
As an immigrant, himself, Georgetown University professor Peter Jaworski invites us to consider the freest countries in the world and examine the economic freedom and civil liberties their citizens enjoy.
We've known this virus was coming. We just didn't do anything about it.
Photo: Shutterstock
Politics & Current Affairs
As far back as 2007, researchers warned about a novel coronavirus emerging from SARS.
Long before that, experts knew that factory farms create the conditions for pandemics.
Pandemics will be part of our lives as long as we continue our current methods of meat production.
What factors explain the gender pay gap?
Photo By Glen Martin/The Denver Post via Getty Images
Culture & Religion
The report was conducted by the investment firm Arjuna Capital, which has been publishing the Gender Pay Scorecard for the past three years.
Only three companies — Starbucks, Mastercard and Citigroup — received an "A", as defined by the report's methodology.
It's likely that discrimination explains part of the gender pay gap, but it's a complex issue that often gets oversimplified.
Big think's weekly newsletter.
Get smarter faster from the comfort of your inbox.
See our newsletter privacy policy
here
Most Popular
Most Recent
Big think's weekly newsletter.
Get smarter faster from the comfort of your inbox.
See our newsletter privacy policy
here
© Copyright 2007-2018 & BIG THINK, BIG THINK EDGE,
SMARTER FASTER trademarks owned by The Big Think, Inc. All rights reserved.