One Juul representative told high-school students that Juul products were "99% safer than cigarettes," according to congressional testimony.
The F.D.A. submitted a warning letter to Juul Labs on Monday, requiring the company to correct its claims about its products.
The move comes amid a surge in vaping-related hospitalizations, though Juul products haven't been specifically implicated in the more than 450 hospitalizations and five deaths.
It's still unclear whether e-cigarettes are indeed a safer alternative to traditional cigarettes.
The Food and Drug Administration said Monday that Juul Labs, the massively successful e-cigarette company, illegally marketed its vaping products as a safer alternative to combustible cigarettes.
A warning letter sent by the F.D.A. to Juul's CEO Kevin Burns cited congressional testimony from July in which teenagers said a Juul representative had visited their classroom and claimed that Juul products were "99% safer than cigarettes," that the "F.D.A would approve it any day," and even that they were "totally safe." The letter also mentioned a statement from Burns on the Juul website that said Juul products "heat nicotine liquid and deliver smokers the satisfaction that they want without the combustion and harm associated with it."
These types of claims are illegal, the FDA says, because there is no scientific data showing that vaping is indeed a safer alternative to traditional cigarettes.
"Regardless of where products like e-cigarettes fall on the continuum of tobacco product risk, the law is clear that, before marketing tobacco products for reduced risk, companies must demonstrate with scientific evidence that their specific product does in fact pose less risk or is less harmful," said Dr. Ned Sharpless, the acting F.D.A. commissioner. "Juul has ignored the law and, very concerningly, has made some of these statements in school to our nation's youth."
The F.D.A.'s move comes amid a surge of vaping-related health emergencies in the U.S., including more than 450 hospitalizations and five deaths across at least 33 states. These cases haven't been linked to one specific product or device, and Juul products haven't been directly implicated as a cause.
However, health officials report that some of these cases seem to involve black-market vaping cartridges that contain THC or nicotine (or both), and also, unbeknownst to users, harmful additives like vitamin E acetate.
"While this investigation is ongoing, people should consider not using e-cigarette products," the CDC's Dana Meaney-Delman, said during a briefing on the outbreak.
The F.D.A.'s warning letter presents Juul with yet another branding setback. The company has increasingly been accused of marketing e-cigarettes to minors, particularly through flavored vape juices, which some say has led to a public health crisis. Earlier this month, for example, Michigan became the first U.S. state to move to ban the sale of flavored e-cigarettes.
"As governor, my number one priority is keeping our kids safe," Michigan Gov. Gretchen Whitmer said in a statement. "And right now, companies selling vaping products are using candy flavors to hook children on nicotine and misleading claims to promote the belief that these products are safe. That ends today."
Scientists currently aren't able to definitively say whether e-cigarettes are safer than traditional cigarettes, but research does show that vaping can damage the heart, cardiovascular cells, and lungs. And while it's unclear how future studies might shape the regulation of companies like Juul, former F.D.A. Commissioner Scott Gottlieb suggested the industry could face an "existential crisis" if more kids turn to vaping.
"I still believe e-cigs offer an opportunity for currently addicted adult smokers to transition off cigarettes and onto products that may not have the same level of risks. But if youth use continues to rise, the entire category faces an existential threat," Gottlieb tweeted in January. "I believe if every currently addicted adult smoker switched completely to e-cigs it would provide a tremendous public health gain. But that opportunity is in significant risk if kids use continues to rise."
There's a high social cost that comes with lighting up.
(Porch)
The home improvement company Porch recently polled 1,009 people on their feelings about smoking.
The company recently published the results as infographics.
In terms of dating, 80 percent of nonsmokers find the habit a turnoff
Cigarette smoking has had a bad name since the first Surgeon General's warnings in the 1960s, and a lot of erstwhile buttheads consider themselves more health-conscious by smoking cigars instead. Tobacco smoke, though, regardless of its source, contains dangerous toxins that pose a danger to others via their exposure to secondhand smoke. Thirdhand exposure is also an issue, from contact with clothing and surfaces on which smoke lands. Though marijuana is generally believed to be safer than tobacco — and to have medicinal value — that's not entirely certain yet. Vaping with tobacco or grass also exposes the vaper to toxins.
The home improvement company Porch recently polled 1,009 people — 570 men and 490 women — on their feelings about smoking, especially cigarette smoking. The recently published the results as infographics.
The Tokyo-based company is located on the 29th floor of a building, meaning all smoking breaks take at least 15 minutes.
Photo Toru Yamanaka / Getty Images
A Tokyo-based company is rewarding its nonsmoking employees with six extra days of vacation.
It started when an employee at Piala Inc., a marketing firm in Tokyo's Ebisu district, lodged a complaint.
"One of our nonsmoking staff put a message in the company suggestion box earlier in the year saying that smoking breaks were causing problems", Hirotaka Matsushma, a representative for Piala Inc., told The Telegraph. "Our CEO saw the comment and agreed, so we are giving non-smokers some extra time off to compensate."
Piala is located on the 29th floor of its building, so each smoke break takes at least 15 minutes.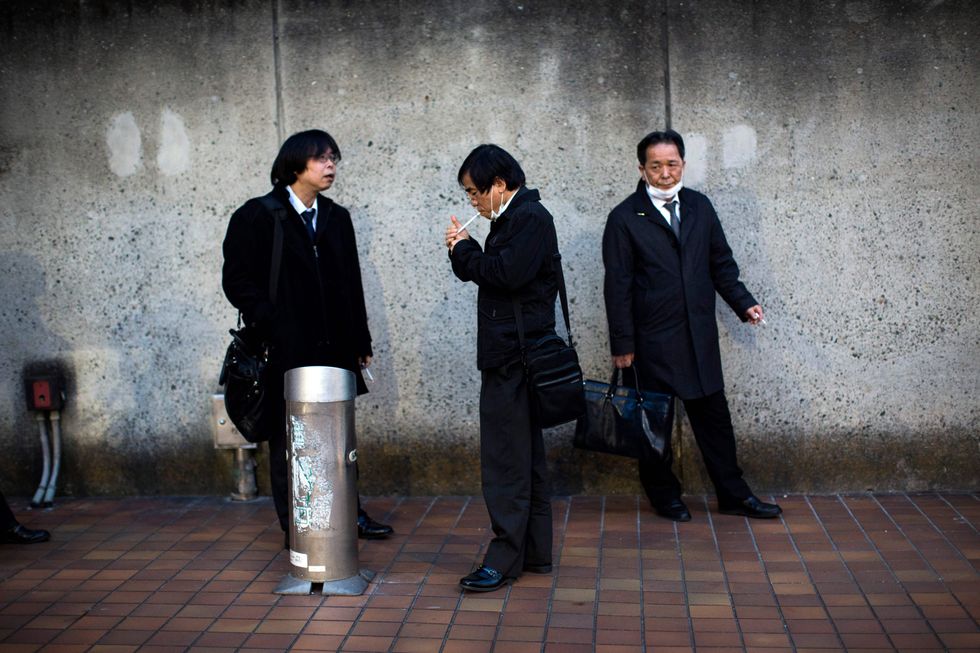 BEHROUZ MEHRI / GETTY
"I hope to encourage employees to quit smoking through incentives rather than penalties or coercion," said Takao Asuka, CEO of Piala Inc., to Kyodo News.
It seems to be working. So far, at least four employees have quit smoking since Asuka began offering the vacation time, and at least 30 of the nonsmoking employees have already taken advantage of the extra time off, according to Matsushma.
Offering incentives seems to be an effective solution for smoking cessation. In a multitude of studies, participants who were presented with financial incentives tended to quit smoking and stay smoke-free more than those in control groups.
However, it's unclear whether those results would translate directly to Japan where 21.7 percent of Japanese adults smoke. The World Health Organization lists Japan at the bottom of the list in terms of anti-smoking policies according to the types of spaces that are entirely smoke-free.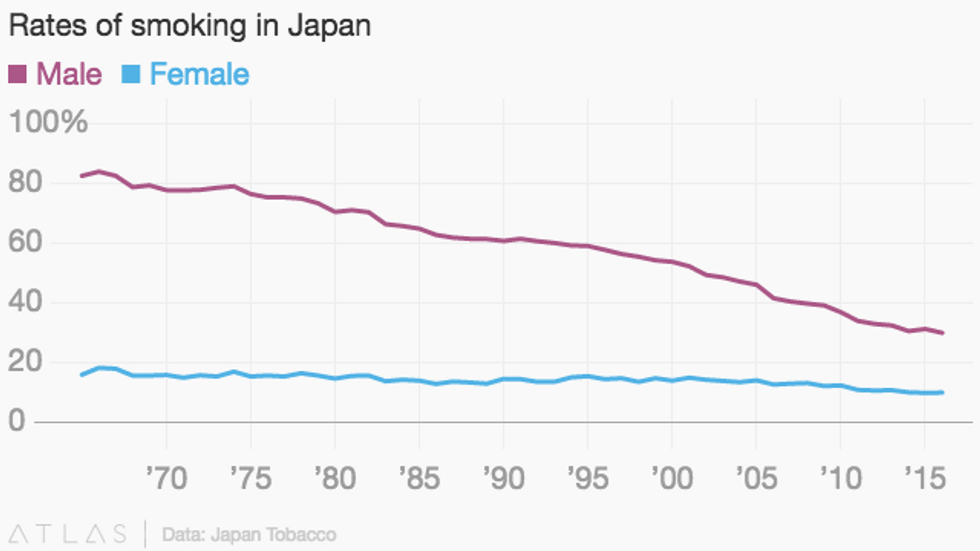 Some in Japan want to change that. Tokyo governor Yuriko Koike will reportedly push for a law to ban smoking in public places, which would render the capital smoke-free for the 2020 Summer Olympics. The bill is likely to face strong opposition, however, considering that a past attempt at a national ban was killed thanks largely in part to Prime Minister Shinzo Abe's party, restaurateurs, and Japan Tobacco, a one-third government-owned company that paid the state $700 million in dividends in 2015.
Still, in addition to Piala, some private Japanese companies are taking it upon themselves to curb smoking rates among their employees. Lawson Inc., a convenience store chain, recently banned smoking at its head and regional offices for about 4,500 of its employees. Other organizations have converted their smoking rooms to lounges. And more companies are expected to ban in-house smoking altogether in coming years.
It may ultimately be stigmatization from peers that influences many Japanese smokers to quit.
"I am no longer shunned by nonsmokers as I have rid myself of the odor of cigarette smoke," said Masayuki Seto, an executive at a life insurance company, to the Japan Times.
Russian government officials propose legislation to ban the sale of cigarettes to anyone born after 2015.
Legislative plans are being proposed by the Russian Ministry of Health to prohibit the sale of cigarettes to anyone born after 2015. That means the next generation of Russian people could be permanently cut off from cigarettes.  
Russian anti-tobacco efforts, instituted in 2009, with stricter legislation in 2013, are paying off. Bans were instituted on smoking in most public spaces like schools, hospitals, stadiums, as well as restaurants, hotels, airports and train stations. Other measures included raising taxes on the sale of cigarettes. This produced a reduction of a quarter in the total amount of smokers, going from 41% to 31% of the population. If planned measures are instituted, the percentage of smokers could drop as low as 5% by 2030, according to a Russian expert.
Whether the new idea to cut off sales to anyone born after 2015 will have legs is yet to be seen. A Kremlin spokesman indicated that such a ban can be considered but would need to be discussed with other ministries.  It should be noted that President Putin is a nonsmoker and generally projects a healthy, athletic image. 
With the restrictive measures appearing to succeed, Russian health officials are skeptical of the spread of electronic cigarettes, with legislation introduced to ban them.
"It [the law] provides for a ban on advertising and sponsorship, and imposes restrictions on smoking in public places. Experts believe that the smoking ban in public places has made the biggest contribution to Russia's falling tobacco consumption rate. That is why we are very cautious about the appearance of electronic cigarettes," said a health ministry official to TASS.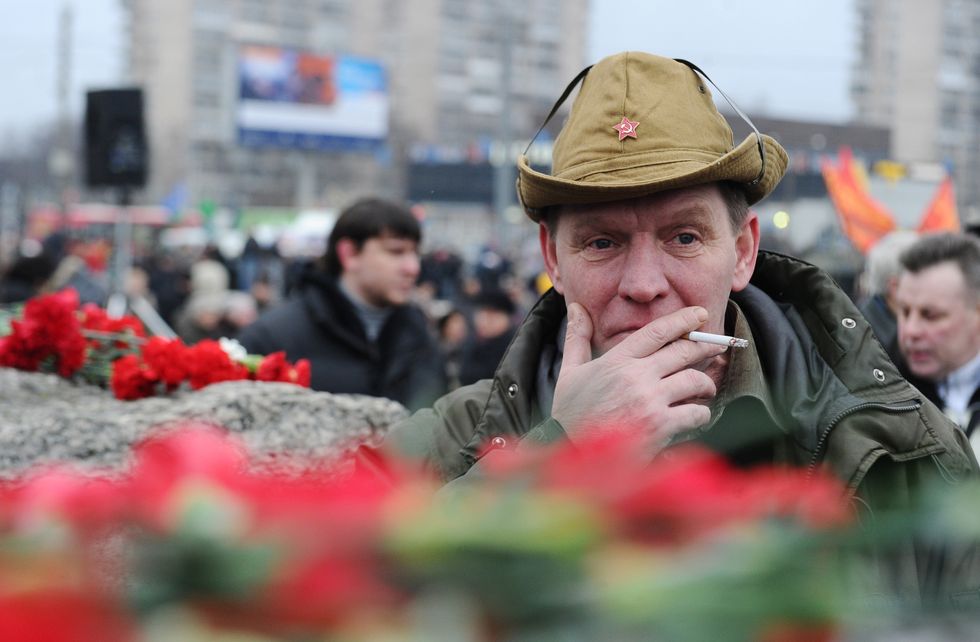 A former Soviet soldier smokes his cigarette near the monument commemorating the Soviet victims of the war in Afghanistan, in St. Petersburg on February 15, 2014. (Photo credit: VIKTOR DRACHEV/AFP/Getty Images)
About 300,000 to 400,000 Russians die every year from smoking-related diseases, according to the New York Times.
Cover Photo:
A man smokes at the Manezhnaya Square just outside the Kremlin in Moscow on June 1, 2013. (Photo credit: ANDREY SMIRNOV/AFP/Getty Images)
Philip Morris is looking to wind back manufacture of its traditional cigarettes in favor of e-cigs. Why? Because the younger demographic is hooked.
In January 2016, the California Department of Public Health released a report that called E-Cigarettes a health threat and suggested that they should be regulated like regular cigarettes and tobacco products. (Photo by Justin Sullivan/Getty Images)
Humans are sense-oriented animals. We rely heavily on our visual system, though the tactile sense and the strong influence of odor also play essential roles in navigating our environment. Yet thanks to overactive imaginations we often give credence to the invisible, in our faiths as much as the products and chemicals we ingest.
How else could superfoods become such overvalued nutritional sources? Once simply called food, raw cacao and seaweed (among many others) have been transformed into mystical manna. These marketing plans have less to do with nutrition than our longstanding willingness to suspend common sense.
Tobacco has gone through a similar public relations spin. Midcentury billboards of doctors prescribing cigarettes are laughed at today, and we've all seen photographs of what a few decades of smoking does to lungs, yet the addiction persists. Six million people die every year of cigarette-related ailments—a number that will likely be replicated in 2017. And 2018. And so on.
There is some hope, however, given that the number of cigarette smokers has been declining. Currently 15 percent of American adults claim to puff; roughly one-third of the number smoking 50 years ago. Public awareness efforts and anti-smoking campaigns have helped many realize just how damaging it is—cigarettes change your DNA—but there is another, more potent reason: e-cigs.
Cigarettes leave a nasty residue – on clothing, in hair, on furniture and walls and streets. To nonsmokers the assault is immediate and grotesque. E-cigs leave no such marker; many smell fruity and flavorful. Pleasing odors make us gravitate toward strawberry and peach cartridges provided the buzz is similar. Given how quickly e-cig smoke dissipates and how much smoother the chemicals go down there's little wonder that smokers believe them 'healthier' than cigarettes.
This is most likely why Philip Morris hinted the company might soon phase out cigarettes altogether. Although the company still pumps out 870 billion cigarettes every year, the $3 billion it has invested in its Iqos device is changing the foundation of its business. The $56 machine offers a comparable nicotine dosage with a 90 percent reduction in toxins. Analysts hope this move will boost sales an additional $1 billion per year.
But is it healthier? A recent study conducted by researchers at the Karolinska Institute in Stockholm found that ten puffs on an e-cig caused an increase in endothelial progenitor cells (EPCs) comparable to smoking one cigarette. This suggests similar vascular problems in adults with continued usage. This is not an isolated study.
Perhaps the most worrying aspect of the e-cig evolution, however, is adolescents and young adults. As with many technologies, only 3.7 percent of adults over 65 report smoking e-cigs, while 21.6 percent of adults age 18 to 24 inhale.
More troublingly, 15.8 percent of adolescents smoked regular cigarettes in 2011, while 1.5 percent smoked e-cigs. In 2015 that flipped: 9.3 percent went for the pack while 24.1 percent toked and recharged.
The tobacco industry has received flack for specifically targeting minors. In a four-year period spending on e-cig ads rose from $6.4 million to $115 million. The illusion of safety remains a clear motivator for cigarette smokers to switch as well as new puffers to suck in Berry Bash and Mango Tango. Who can resist a few hits of Strawberrylicious?
The sentiment that seeing is believing is an old and tested philosophy. But it's rather useless when discussing neurochemistry and vascular health. It took researchers decades to recognize the incredible damage cigarettes accomplish on human lungs, hearts, and heads. E-cigs are not a solution or even an evolution. A reduction of certain toxins is not the same thing as no toxins whatsoever. Rejoicing over 'less toxicity' is only a mask to the very real and damaging effects that cigarettes, in whatever shape or form, cause in the human body.
Philip Morris is an institution with one goal in mind. The company is not leading the charge; it's merely responding to market forces and public preference. If the move has a veneer of healthiness the marketing team will lunge. Yet given the incredible rise in adolescent smoking and addiction it creates it's impossible to pretend this is a step in the right direction.
--
Derek Beres is working on his new book, Whole Motion: Training Your Brain and Body For Optimal Health (Carrel/Skyhorse, Spring 2017). He is based in Los Angeles. Stay in touch on Facebook and Twitter.