Reconnecting muscle pairs allows for better sensory feedback from the limb.
MIT News Office
MIT researchers have invented a new type of amputation surgery that can help amputees to better control their residual muscles and sense where their "phantom limb" is in space.
This restored sense of proprioception should translate to better control of prosthetic limbs, as well as a reduction of limb pain, the researchers say.
In most amputations, muscle pairs that control the affected joints, such as elbows or ankles, are severed. However, the MIT team has found that reconnecting these muscle pairs, allowing them to retain their normal push-pull relationship, offers people much better sensory feedback.
"Both our study and previous studies show that the better patients can dynamically move their muscles, the more control they're going to have. The better a person can actuate muscles that move their phantom ankle, for example, the better they're actually able to use their prostheses," says Shriya Srinivasan, an MIT postdoc and lead author of the study.
In a study that will appear this week in the Proceedings of the National Academy of Sciences, 15 patients who received this new type of surgery, known as agonist-antagonist myoneural interface (AMI), could control their muscles more precisely than patients with traditional amputations. The AMI patients also reported feeling more freedom of movement and less pain in their affected limb.
"Through surgical and regenerative techniques that restore natural agonist-antagonist muscle movements, our study shows that persons with an AMI amputation experience a greater phantom joint range of motion, a reduced level of pain, and an increased fidelity of prosthetic limb controllability," says Hugh Herr, a professor of media arts and sciences, head of the Biomechatronics group in the Media Lab, and the senior author of the paper.
Other authors of the paper include Samantha Gutierrez-Arango and Erica Israel, senior research support associates at the Media Lab; Ashley Chia-En Teng, an MIT undergraduate; Hyungeun Song, a graduate student in the Harvard-MIT Program in Health Sciences and Technology; Zachary Bailey, a former visiting researcher at the Media Lab; Matthew Carty, a visiting scientist at the Media Lab; and Lisa Freed, a Media Lab research scientist.
Restoring sensation
Most muscles that control limb movement occur in pairs that alternately stretch and contract. One example of these agonist-antagonist pairs is the biceps and triceps. When you bend your elbow, the biceps muscle contracts, causing the triceps to stretch, and that stretch sends sensory information back to the brain.
During a conventional limb amputation, these muscle movements are restricted, cutting off this sensory feedback and making it much harder for amputees to feel where their prosthetic limbs are in space or to sense forces applied to those limbs.
"When one muscle contracts, the other one doesn't have its antagonist activity, so the brain gets confusing signals," says Srinivasan, a former member of the Biomechatronics group now working at MIT's Koch Institute for Integrative Cancer Research. "Even with state-of-the-art prostheses, people are constantly visually following the prosthesis to try to calibrate their brains to where the device is moving."
A few years ago, the MIT Biomechatronics group invented and scientifically developed in preclinical studies a new amputation technique that maintains the relationships between those muscle pairs. Instead of severing each muscle, they connect the two ends of the muscles so that they still dynamically communicate with each other within the residual limb. In a 2017 study of rats, they showed that when the animals contracted one muscle of the pair, the other muscle would stretch and send sensory information back to the brain.
Since these preclinical studies, about 25 people have undergone the AMI procedure at Brigham and Women's Hospital, performed by Carty, a surgeon in the Division of Plastic and Reconstructive Surgery at Brigham and Women's Hospital. In the new PNAS study, the researchers measured the precision of muscle movements in the ankle and subtalar joints of 15 patients who had AMI amputations performed below the knee. These patients had two sets of muscles reconnected during their amputation: the muscles that control the ankle, and those that control the subtalar joint, which allows the sole of the foot to tilt inward or outward. The study compared these patients to seven people who had traditional amputations below the knee.
Each patient was evaluated while lying down with their legs propped on a foam pillow, allowing their feet to extend into the air. Patients did not wear prosthetic limbs during the study. The researchers asked them to flex their ankle joints — both the intact one and the "phantom" one — by 25, 50, 75, or 100 percent of their full range of motion. Electrodes attached to each leg allowed the researchers to measure the activity of specific muscles as each movement was performed repeatedly.
The researchers compared the electrical signals coming from the muscles in the amputated limb with those from the intact limb and found that for AMI patients, they were very similar. They also found that patients with the AMI amputation were able to control the muscles of their amputated limb much more precisely than the patients with traditional amputations. Patients with traditional amputations were more likely to perform the same movement over and over in their amputated limb, regardless of how far they were asked to flex their ankle.
"The AMI patients' ability to control these muscles was a lot more intuitive than those with typical amputations, which largely had to do with the way their brain was processing how the phantom limb was moving," Srinivasan says.
In a paper that recently appeared in Science Translational Medicine, the researchers reported that brain scans of the AMI amputees showed that they were getting more sensory feedback from their residual muscles than patients with traditional amputations. In work that is now ongoing, the researchers are measuring whether this ability translates to better control of a prosthetic leg while walking.
Freedom of movement
The researchers also discovered an effect they did not anticipate: AMI patients reported much less pain and a greater sensation of freedom of movement in their amputated limbs.
"Our study wasn't specifically designed to achieve this, but it was a sentiment our subjects expressed over and over again. They had a much greater sensation of what their foot actually felt like and how it was moving in space," Srinivasan says. "It became increasingly apparent that restoring the muscles to their normal physiology had benefits not only for prosthetic control, but also for their day-to-day mental well-being."
The research team has also developed a modified version of the surgery that can be performed on people who have already had a traditional amputation. This process, which they call "regenerative AMI," involves grafting small muscle segments to serve as the agonist and antagonist muscles for an amputated joint. They are also working on developing the AMI procedure for other types of amputations, including above the knee and above and below the elbow.
"We're learning that this technique of rewiring the limb, and using spare parts to reconstruct that limb, is working, and it's applicable to various parts of the body," Herr says.
The research was funded by the MIT Media Lab Consortia; the National Institutes of Health's National Institute of Child Health and Human Development and National Center for Medical Rehabilitation Research; and the Congressionally Directed Medical Research Programs of the U.S. Department of Defense.
Reprinted with permission of MIT News. Read the original article.
Light-emitting tattoos could indicate dehydration in athletes or health conditions in hospital patients.
Credit: Barsotti - Italian Institute of Technology
Researchers at UCL and IIT have created a temporary tattoo that contains the same OLED technology that is used in TVs and smartphones.
This technology has already been successfully applied to various materials including glass, food items, plastic, and paper packaging.
This advance in technology isn't just about aesthetics. "In healthcare, they could emit light when there is a change in a patient's condition - or, if the tattoo was turned the other way into the skin, they could potentially be combined with light-sensitive therapies to target cancer cells, for instance," explains senior author Franco Cacialli of UCL.
Scientists at University College London (UCL) and the IIT (Istituto Italiano di Tecnologia) have created a temporary tattoo that contains the same light-emitting technology used in TVs and smartphone screens.
The technology uses organic light-emitting diodes (OLEDs) and is applied in the same way as simple water-transfer tattoos. The OLEDs are fabricated onto a temporary tattoo paper and then transferred to a new surface by being pressed onto it and dabbed with water.
According to the research, these OLED devices being developed are 2.3 micrometers thick in total (less than one 400th of a millimeter) and about one-third of the length of a single red blood cell. The device consists of an electroluminescent polymer (a polymer that emits light when an electric field is applied) that is placed in between electrodes. An insulating layer is then placed in between the electrodes and the commercial tattoo paper.
This process has already been successfully applied to various materials.
Once the research team had perfected the technology, they applied the tattoo-able OLEDs (which emit green light) onto various surfaces including a pane of glass, a plastic bottle, an orange, and paper packaging. The first OLEDs were used in a flatscreen television more than 20 years ago, and now, through this proof-of-concept study, "smart tattoos" may be a thing of the (very near) future.
Why "smart tattoos" could be beneficial
OLEDs are used to create digital displays in devices (such as television screens computer monitors, smartphones, etc).
Credit: Hanna on Adobe Stock
While this is perhaps the most obvious way you could use light-emitting tattoo technology, the world of tattoo art and design could see a huge surge in new exciting trends based on light-emitting tattoo technology.
It's not just about looks—this approach provides a quick and easy method of transferring OLEDs onto practically any surface.
OLEDs are used to create digital displays in devices (such as television screens computer monitors, smartphones, etc). While some may get OLED and LED confused, they are quite different, with OLED displays emitting visible light and therefore being able to be used without a backlight. The breakthrough process of being able to transfer OLEDs onto virtually any surface can be useful in many different applications and settings.
Light-emitting tattoos could be used to indicate (and potentially even treat) various health conditions in the future.
The eventual implementation or use of OLED tattoos could be combined with other tattoo electronics to, for instance, emit light when an athlete is dehydrated, or when a person is being exposed to too much sun and is prone to sunburn.
"In healthcare, they could emit light when there is a change in a patient's condition - or, if the tattoo was turned the other way into the skin, they could potentially be combined with light-sensitive therapies to target cancer cells, for instance." - Professor Franco Cacialli (UCL)
OLED tattoo devices
Credit: Barsotti - Italian Institute of Technology

Similarly, this technology could be used on the packaging of various items to give us more information about them.
For example, OLEDs could be tattooed onto the packaging of a fruit to signal when the product is passed its expiration date or will soon become inedible.
In reality, creating light-emitting tattoo technology doesn't have to be expensive.
Professor Franco Cacialli explains to Eurekalert: "The tattooable OLEDs that we have demonstrated for the first time can be made at scale and very cheaply. They can be combined with other forms of tattoo electronics for a very wide range of possible uses. These could be for fashion - for instance, providing glowing tattoos and light-emitting fingernails. In sports, they could be combined with a sweat sensor to signal dehydration."
"Our proof-of-concept study is the first step. Future challenges will include encapsulating the OLEDs as much as possible to stop them from degrading quickly through contact with air, as well as integrating the device with a battery or supercapacitor."
An accident left this musician with one arm. Now he is helping create future tech for others with disabilities.
Meet the world's first bionic drummer. Rock musician Jason Barnes lost his arm in a terrible accident... and then he became the fastest drummer in the world.
With the help of Gil Weinberg, a Georgia Tech professor and inventor of musical robots, the pair utilized electromyography and ultrasound technology to break musical records.
Weinberg and Barnes hope to perfect the technology so that it can one day be used to help other people with disabilities realize that "they're not only not disabled, they're actually super-able."
At Big Think, we share actionable lessons from the world's greatest thinkers and doers. This week, we're partnering with Freethink to bring you amazing stories of the people and technologies that are shaping our future, from neuroscience breakthroughs to bionics and justice. Catch Freethink's documentary-style videos here and on our YouTube channel this Monday, Wednesday, and Friday.
Duke University researchers might have solved a half-century old problem.
Photo by Alexander Hassenstein/Getty Images
Duke University researchers created a hydrogel that appears to be as strong and flexible as human cartilage.
The blend of three polymers provides enough flexibility and durability to mimic the knee.
The next step is to test this hydrogel in sheep; human use can take at least three years.
While the human body is designed for decades of use, we are prone to breaking down at inopportune times. Our necks didn't evolve to hold certain head positions (like hunched over a laptop). Foot pain is commonplace. And every year, there are more than 790,000 knee replacements in America.
The knee is a complex joint. While its major function is connecting the femur to the tibia, the fibula and patella complete the bone structure. Enter ligaments: the anterior cruciate ligament (ACL) prevents the femur from sliding backward; the posterior cruciate ligament (PCL) prevents forward sliding; medial and lateral ligaments stop side to side action. The medial and lateral menisci act as shock absorbers, while a number of bursae keep the joint working smoothly.
Until, of course, everything is not running smoothly. Knee replacements are common; meniscus surgeries even more so: an estimated 850,000 per year. Throw in 100,000 ACL reconstructions for good measure. Every year, over 1.7 million Americans are getting their knees worked on.
Fortunately, our understanding of the knee has gotten better. Many of these surgeries are relatively minor. My meniscal tear was so bad that it folded under itself and required my surgeon to add an extra hole while repairing it. Yet I still walked out of the hospital without crutches, didn't need painkillers, and was in the gym three days later (with modifications).
The caveat: the surgeon had to remove almost the entire meniscus, taking out one of my shock absorbers. Bone-on-bone action increases the likelihood of osteoarthritis (which had already begun in my thirties). He said it's likely I'll need a knee replacement down the road.
The good news: a new artificial cartilage gel appears to be strong enough to work in knees.
Duke researchers have developed the first gel-based synthetic cartilage with the strength of the real thing. A quarter-sized disc of the material can withstand the weight of a 100-pound kettlebell without tearing or losing its shape.
Photo: Feichen Yang.
That's the word from a team in the Department of Chemistry and Department of Mechanical Engineering and Materials Science at Duke University. Their new paper, published in the journal Advanced Functional Materials, details this exciting evolution of this frustrating joint.

Researchers have sought materials strong and versatile enough to repair a knee since at least the 1970s. This new hydrogel, comprised of three polymers, might be it. When two of the polymers are stretched, a third keeps the entire structure intact. When pulled 100,000 times, the cartilage held up as well as materials used in bone implants. The team also rubbed the hydrogel against natural cartilage a million times and found it to be as wear-resistant as the real thing.
The hydrogel has the appearance of Jell-O and is comprised of 60 percent water. Co-author, Feichen Yang, says this network of polymers is particularly durable: "Only this combination of all three components is both flexible and stiff and therefore strong."
As with any new material, a lot of testing must be conducted. They don't foresee this hydrogel being implanted into human bodies for at least three years. The next step is to test it out in sheep.
Still, this is an exciting step forward in the rehabilitation of one of our trickiest joints. Given the potential reward, the wait is worth it.
--
Stay in touch with Derek on Twitter, Facebook and Substack. His next book is "Hero's Dose: The Case For Psychedelics in Ritual and Therapy."
The old idea of running with springs on your feet gets a high-tech makeover.
Photo by Nicolas Hoizey on Unsplash
No matter how well designed, there are no running shoes that allow runners to keep up with cyclists.
The bicycle was a key invention that doubled human-powered speed. But what if a new kind of shoe could allow people to run faster by mimicking cycling mechanics?
This is the question my students in Vanderbilt's Center for Rehabilitation Engineering & Assistive Technology and I explored as we developed a new theory of spring-driven robotic exoskeletons. We came up with a concept for a new type of lower limb exoskeleton that could allow the world's fastest human to reach a speed of 18 meters per second or about 40 miles per hour.

Robo-boots allow the legs to supply energy in the air during running, similar to the pedaling mechanism in cycling. (A. Sutrisno and D. J. Braun, CC BY-ND)
The cutting edge of today's running shoes is Nike's Vaporfly, which allows runners to use 4% less energy than standard running shoes. Three-time Olympic medalist Eliud Kipchoge recently wore them to run a marathon in under two hours. Though the Vaporfly upended the world of professional running by increasing the efficiency of standard running shoes, it doesn't provide the advantages of cycling or otherwise fundamentally alter the physics of running.
There has been a lot of research and development in robotic exoskeletons that augment human power. These use actuators and external energy: motors and batteries. But they haven't helped humans run faster. Springs have also been used to make high-tech prostheses for paralympic running, but have not been shown to provide an unfair advantage compared to legs. For human-powered speed, the bicycle has been the reigning champion for over a century.
The precursor to the modern bicycle, dubbed the hobby horse, was invented in 1817 by Baron Karl von Drais.
Canada Science and Technology Museum/Flickr, CC BY-NC-ND
Running versus cycling
The first running machine was a bicycle with no pedals. It reduced the energy cost of running by supporting the body's weight on a seat and using wheels to avoid the inevitable energy loss when runners step.

But early bicycles did not allow cyclists to move faster than runners because the rider propelled himself by pushing against the ground with his legs – just like running. What changed the game for bicycling was the invention of the pedaling mechanism, which allowed the legs to propel the rider continuously rather than only when the foot hits the ground.
The bicycle's speed advantage over running has not endured for lack of trying. People have been imagining spring legs and refining running springs for generations, but these springs are not like a bicycle with pedals because they don't allow the legs to supply energy when they're off the ground.
The robo-boot
To apply the advantage of cycling to running, we came up with a concept for a new type of robo-boot that emulates the function of bicycle pedals. Using the robo-boot, runners supply energy by compressing a spring with each leg while it's in the air. With each footstep, the spring releases its stored energy by pushing against the ground faster and stronger than the legs could otherwise do.
We found that an ideal robo-boot would allow the fastest runner on Earth to use his legs 96% of the step time to run faster than 20 meters per second, comparable to the top speed of cycling. A more practical robo-boot that is used only about 60% of the step time could still help a runner reach a top speed of 18 meters per second. That's 50% faster than the world record speed of 12 meters per second in the 100 meter sprint.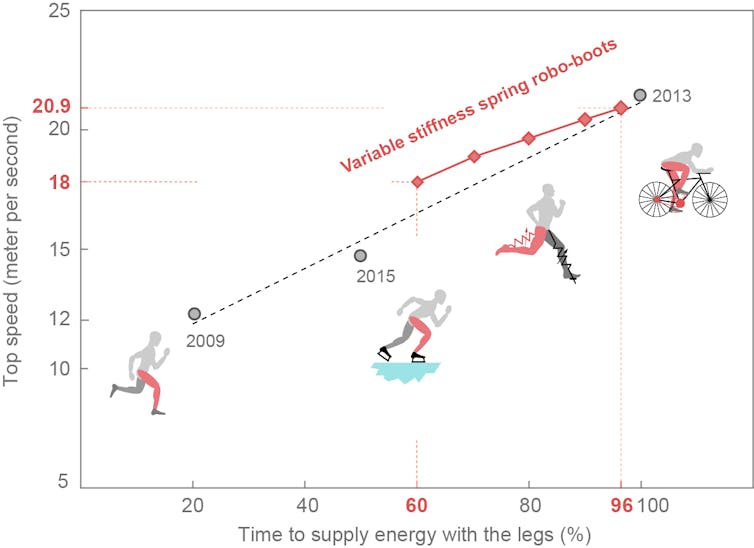 Top speed of human-powered locomotion. Adapted from A. Sutrisno, D. J. Braun, How to run 50% faster without external energy, vol. 6, no. 13, eaay1950, 2020., CC BY-ND.
The high-tech component of the robo-boot is a variable stiffness spring that can increase its stiffness without changing its stored energy. The stiffness of the spring determines how forcefully it can push against the ground to accelerate the runner's body – the stiffer the spring, the greater the force given the same spring compression.
Conventional springs like those in retractable pens have a constant stiffness based on the spring's material, shape and size. Variable stiffness springs are a special type of spring that can change shape or size. One type of variable stiffness spring increases stiffness by getting shorter. A mechanism shortens the spring by moving the spring's attachment point from its end to its middle. The mechanism in the robo-boot shortens the spring as the runner extends her leg in the air.

Running with robo-boots. Adapted from A. Sutrisno, D. J. Braun, How to run 50% faster without external energy, vol. 6, no. 13, eaay1950, 2020., CC BY-ND.
Increasing the stiffness of the spring as the runner picks up speed is analogous to switching to a higher gear on a bike as a cyclist rides faster. This allows runners to supply more energy and bypass the biomechanical limitation of supplying energy only during the short ground contact time of high-speed running.
Next steps
Modern racing bikes nearly double the top speed of running. Robo-boots that leverage bicycle mechanics could similarly allow people to run faster without hefty motors and batteries. We hope to have an initial robo-boot prototype within a year. But just as it took many years after their invention for bicycles to take full advantage of their unique mechanics, it will take some time to make a robo-boot that can achieve its full potential.
These more portable human-powered devices could enable more widespread adoption of wearable robotic technology, and could push the boundaries of search and rescue, law enforcement and sports. What would it mean for first responders to be able to move 50% faster? Would a running shoe that provides a 50% speed increase lead to a new event at the Olympics similar to ice skating and bicycle racing?
Using science and advanced robotics technology, we're able to envision next generation robo-boots that offer the first major boost to human-powered movement since the invention of the bicycle pedal in the 19th century.
David Braun, Assistant Professor of Mechanical Engineering and Computer Engineering, Vanderbilt University
This article is republished from The Conversation under a Creative Commons license. Read the original article.