ExtendNY stretches the Big Apple's gridiron all across the globe – with some bizarre effects
Manhattan's street grid is famously regular and predictable. What if you extended it across the globe?
This web tool does exactly that, and in the process, turning New York into the world's first, last, and only "planetary city."
But grids are square, and the world is not. Somewhere in Uzbekistan, global Manhattan goes haywire.
Sixth Avenue in midtown Manhattan. Add a few zeroes to the address, and it could be yours. Credit: Jeremy Keith, CC BY-SA 2.0
Can't afford to live in New York? Yes, you can, and it won't even cost you a penny. In fact, you don't even have to move there. The Manhattan gridiron will come to you instead!
New York, but from the comfort of your own home
A nifty website called ExtendNY has rolled out the iconic street grid across the entire planet. You can now enjoy a real New York address at the corner of Such-and-such Street and This-and-that Avenue from the comfort of your own home.
New York may no longer be the biggest city in the world – Tokyo snatched that title somewhere in the second half of the 20th century – but the Big Apple still has a better claim than most other cities to be the Capital of the World.
It's a city built by immigrants, home to people of every persuasion and complexion, speaking languages from all across the globe. Countless screens reflect the city's skyline, cityscape, and frenetic energy back to the rest of the world.
Even first-time visitors feel oddly at home between the familiar bridges, yellow cabs, and skyscrapers of Manhattan. Plenty of locally-set movies and series – in turn glitzy or gritty – have seen to that.
British Prime Minister Boris Johnson – born in New York, by the way – hasn't really left the city: Number 10 Downing Street also has a Manhattan-style address.Credit: ExtendNY
So it feels weirdly appropriate that ExtendNY, devised in 2011 by Harold Cooper, should allow New York to cover the entire planet and become not just the capital of the world, but a synonym for the world itself. New York is the first, last, and only planetary city the planet needs.
Boris Johnson and Angela Merkel, New York socialites
As a result, a lot of famous addresses the world over get an equally iconic New York one as well. The British Prime Minister, currently Boris Johnson, famously works out of Number 10 Downing Street in London. Ah yes, but that's also on the corner of 63,708th Street and E 10,894th Avenue in New York.
His opposite number in Germany, Chancellor Angela Merkel, resides in the Bundeskanzleramt, overlooking the river Spree in Berlin. Or, when she daydreams of a slightly different life: the corner of 75,490th Street and E 11,126 Avenue in New York.
A new meaning to the Upper East Side
Can't get away from New York. Even the top of Mount Everest is a street corner in the Big Apple. Credit: ExtendNY
Even natural features don't escape global New York. The top of Mount Everest, on the border of China and Nepal? The corner of 96,104th Street and 67,128th Avenue. The actual North Pole? The map looks a bit funny, but the address is credible enough: the corner of 58,725th Street and 12,993 Avenue.
Similarly, the Eiffel Tower, the Ka'aba in Mecca, or your own place – all are now distant suburbs of NYC.
Uzbekistan: the nexus of the universe
The weirdest bit of global New York is a place in Uzbekistan, where a street reduced to a single point intersects with all the avenues. Credit: ExtendNY
Because the grid is rectangular and the earth is not, there are a few points where Global New York runs into bizarro territory. In remotest Uzbekistan, ExtendNY's gridiron arrives at a strange point, where the succession of streets have condensed into one that consists only of a single point – 127,001st Street – which intersects with all of Global New York's Avenues. That mind-bending street corner is mirrored by a similar opposite in the South Pacific. As Kramer suggested, this could be the nexus of the universe — in Global New York, anyway.
Although Manhattan's grid may strike us as thoroughly modern, gridded cities are by no means a recent invention. In French, a grid plan is called a plan hippodamien, after the ancient Greek architect Hippodamus of Miletus (5th century BC), a.k.a. the 'father of European urban planning'.
The loneliness of Stuyvesant Street
However, like most cities in the Old World, the oldest ones in the New World grew up unplanned. In New Amsterdam, which occupied the southern tip of Manhattan, the streets followed old native trails, cow paths, and property lines, and generally the lay of the land.
Stuyvesant Street is a poignant and lonely relic of one of several attempts to impose order on that chaos. Sitting awkwardly between 2nd and 3rd Avenues, it is one of the very few streets in Manhattan to be aligned almost perfectly east to west.
In the late 18th century, the City commissioned Casimir Goerck to subdivide its Common Lands, in the middle of Manhattan, into sellable lots. Goerck's name is now largely forgotten, quite literally. The small street in the Lower East Side that once carried his name was rebranded Baruch Place in 1933. But his plan, in the words of historian Gerard Koeppel, is "modern Manhattan's Rosetta Stone."
Goerck oriented streets 29 degrees east of due north, in order to align with the shape of the island itself, and devised a standard of five-acre blocks, two features which would come back in the famous Commissioners' Plan of 1811. Goerck's East, Middle and West Roads would become 4th, 5th, and 6th Avenues. In fact, the Commissioners' Plan is essentially an expansion of Goerck's grid laid out over the Common Lands.
An 1807 map of the Commissioners' Plan, clearly showing the planned city blocks extending from North Street (circled, left) to 155th Street (circled, right). Credit: Harper's New Monthly Magazine (June 1893), public domain.
The Plan proposed a city grid north of Lower Manhattan, from Houston Street (pronounced "house-ton" and not "hyoos-ton", by the way; then appropriately called "North Street") up to 155th Street – with two exceptions:
Greenwich Village, then independent from New York City, was excluded – hence the visibly different orientation of the streets in "the Village."
10th Avenue went well beyond 155th Street, all the way up to the northern tip of Manhattan.
The Commission adopted Goerck's gridiron as the most practical layout for the city, as "straight-sided and right-angled houses are the most cheap to build and the most convenient to live in." In its predictability and repetition, the gridiron was a reflection of "republican" values such as plainness and uniformity, order, and equity.
In all, the Plan created about 2,000 city blocks. It took about 60 years for that grid to be filled in – but alterations were made, the biggest of which was the establishment of Central Park. Created in 1857 and completed in 1876, it runs from 59th up to 110th street, and from Fifth to Eight Avenues. It takes up 843 acres or just over 6 percent of the entire island of Manhattan.
From the 1860s onward, the grid was essentially extended northward, despite the fact that the difficult terrain necessitated some alterations.
Manhattan, Sartre's "Great American Desert"
Broadway, which originally only went up to 10th Street, was eventually joined up with other roads north, until it reached Spuyten Duyvil at the top of Manhattan in 1899. Its angled intersections with the grid helped create some of New York's most emblematic open spaces, including Times Square, Madison Square, and Union Square.
Walt Whitman (pictured here around 1870, about 50 years old) could wax lyrical about New York (see Strange Maps #842: Whitman Poem Transformed into a Map of Brooklyn), but wasn't a fan of the grid. Credit: From Henry Bryan Binns: A Life of Walt Whitman (1902), public domain.
From the start, the plan had come in for harsh criticism. In more recent times, it's been praised as visionary. Here are some put-downs by famous voices:
Alexis de Tocqueville, the French philosopher famous for his observations of the newly independent U.S., criticized the Plan's "relentless monotony."
Poet and journalist Walt Whitman wrote that "our perpetual dead flat and streets cutting each other at right angles, are certainly the last thing in the world consistent with beauty of situation."
And architect Frederick Law Olmsted, who would go on to design Central Park, lamented that "no city is more unfortunately planned with reference to metropolitan attractiveness."
"Rectangular New York," in the words of writer Edith Wharton, is "this cramped horizontal gridiron of a town without towers, porticoes, fountains or perspectives, hide-bound in its deadly uniformity of mean ugliness."
Lamenting its "deadly monotony", architect Frank Lloyd Wright called the grid a "man trap of gigantic dimensions."
In his essay on New York called "Manhattan: The Great American Desert," French philosopher Jean-Paul Sartre wrote that "amid the numerical anonymity of streets and avenues, I am simply anyone, anywhere, since one place is so like another. I am never astray, but always lost."
And here is some of the praise that has been lavished on the grid:
Piet Mondrian's Broadway Boogie Woogie (1942-43) is "an optical vibration that jumps from intersection to intersection like traffic on the streets of New York."Credit: public domain; the picture is part of the collection of the Museum of Modern Art (MoMA) in New York.
In his 1987 book Delirious New York, Dutch architect Rem Koolhaas called it "the most courageous act of prediction on Western civilization."
Earlier, his fellow Dutchman, the artist Piet Mondrian, had transferred his admiration for the vibrancy of the grid to canvas, as Broadway Boogie Woogie (1942-43).
The Uruguayan architect Rafael Viñoly called it "the best manifestation of American pragmatism in the creation of urban form."
Hilary Ballon, curator of "The Greatest Grid" on the occasion of its bicentennial in 2011, said that "New York's street system creates such transparency and accessibility that the grid serves as metaphor for the openness of New York itself."
"It may not be every urban planner's beau ideal, but as a machine for urban living, the grid is pretty perfect," said economist Edward Glaeser.
Not all French philosophers hated Manhattan. "This is the purpose of New York's geometry," wrote Roland Barthes: "that each individual should be poetically the owner of the capital of the world."
Welcome to / Bienvenue à Haussmanhattan
It's doubtful whether it was Barthes' words that spurred Mr. Cooper to devise his web tool; but thanks to ExtendNY, every place on earth is now a poetic extension of the capital of the world.
For another example of Manhattan's global appeal, check out Haussmanhattan, a visual project by architect/photographer Luis Fernandes that mashes up the early 20th-century architectures of New York and Paris, after the latter's renovation by Georges-Eugène Haussmann.
Manhattan's Flatiron Building fits in well at the pointier end of the Île de la Cité at the center of Paris. Credit: Haussmanhattan, by Luis Fernandes.
Check out ExtendNY here. For a slightly less ambitious plan to extend New York, check out Strange Maps #486: The Failed Plan to Build a "Really Greater New York".
Strange Maps #1087
Got a strange map? Let me know at strangemaps@gmail.com.
1895 map of New York City shows 'concrete socialism' in red, 'private enterprises' in white.
As this 1895 map proves, the political argument about socialism in the United States is not new at all.
The map makes the point that socialism isn't foreign or alien, but as American as the pavements (and parks) of New York.
It shows 'concrete socialism' in red, and 'private enterprises' in white - each make up about half of the city.
A dirty word
Painting of the Bowery, in the south of Manhattan, in 1895.
Credit: William Louis Sonntag (1822-1900) – Public domain
Socialism is a dirty word in American politics. For many, it stands for heavy-handed government intervention. It is the enemy of individual freedom. It reeks of the Gulag, and it can only end in self-inflicted impoverishment. You know, like in Venezuela.
Or it stands for freedom from want and fear, based on the principle of collective action. Because collective action generates superior outcomes in terms of public services, including but not limited to healthcare. You know, like in Denmark.
The argument is ongoing, and perhaps never-ending. Outlying voices on the left will argue that maybe Venezuela isn't all that bad. Their counterparts on the right will make the point that perhaps Denmark isn't all that great.
Is it too simplistic to presume that the truth is somewhere in the middle? Perhaps so, if it's only one side that is making that argument.
If you define 'socialism' as anything paid by and operated for the public, then America already has plenty of socialist institutions, including its Armed Forces, its National Parks, and its Strategic Petroleum Reserve, those leaning towards the left would argue.
This map makes a similar point by claiming that half of New York is run on 'socialist' principles already. It dates from 1895, proving that socialism has been providing combustible material for political debate in America since way before the Cold War, and even the Russian Revolution.

"For the common benefit"
New York City is only half capitalist (white) because it is already half socialist (red) – a striking cartographic argument by W. Vrooman in 1895.
Credit: PJ Mode Collection of Persuasive Maps – public domain
The map appeared in "Government Ownership in Production and Distribution," a book published in Baltimore in 1895, subtitled "An Account of 337 now Existing National and Municipal Undertakings in the 100 Principal Countries of the World."
The author was Walter Vrooman, a socialist reformer who saw 'fraternal socialism' as the logical – and indeed inevitable – next step, following the present system of 'paternal individualism.'
Born in 1869 in Macon, Missouri as one of Judge H.P. Vrooman's six sons, Vrooman became a Christian Socialist and ran away from home at age 13 (or perhaps the other way around). He also managed to get into Harvard some years later.
In the 1890s, as a reporter for the New York World, "Vrooman was always heroic, seldom tactful, and once successful in his two-year drive for parks and playgrounds for New York's children. That he attained the unique success as a news gatherer few would dispute, for 'he created most of the news he reported'. (1)"
His 1895 book gives hundreds of examples worldwide of activities taken over by municipal and national governments from private enterprise. Over the centuries, societies have nationalised services that affect the public realm, such as policing and the dispensing of justice, designing and maintaining streets and pavements, distributing utilities, providing public transport, etcetera.
Even New York, capitalist America's premier metropolis, can't survive without socialism, this map argues. "Although the centre of plutocratic lawlessness in America, (it) shows that nearly one-half of (New York's) surface is administered by the public, by means of City, State and National governments, for the common benefit of all the people."
In 1895, Vrooman married a Baltimore heiress and a few years after, they travelled to England, where he studied at Oxford and helped establish Ruskin College, which offers education to the disadvantaged.
He may not have turned New York red, but he did do his part in keeping parts of the city green.
Map found here at the PJ Mode Collection of Persuasive Maps, part of the Cornell University Library.
Strange Maps #1057
Got a strange map? Let me know at strangemaps@gmail.com.

(1) Writes Harlan B. Phillips in 'Walter Vrooman: agitator for parks and playgrounds', in New York History (Vol. 33, No. 1 – January 1952)
What if we build from the sky down? NYC architects release designs for a skyscraper that would hang from an asteroid and travel between hemispheres.
Collage of renderings of Analemma Tower. Credit: Clouds Architecture Office.
What if we didn't build our structures up towards the sky, but instead found a way to build from the sky down?
An architecture firm from New York unveiled a stunning design for Analemma Tower, a skyscraper that would be suspended from an asteroid. It would also be the world's tallest building ever.
The innovative idea that the design firm Clouds Architecture Office calls the "Universal Orbital Support System," is to place a large asteroid into orbit right above earth, at the height of about 50,000 km (31,068 miles). That would be way higher than the International Space Station which is at only 249 miles above. A strong cable would be lowered from the asteroid. And from that cable a very tall tower tower would be suspended.  
A very sci-fi vision.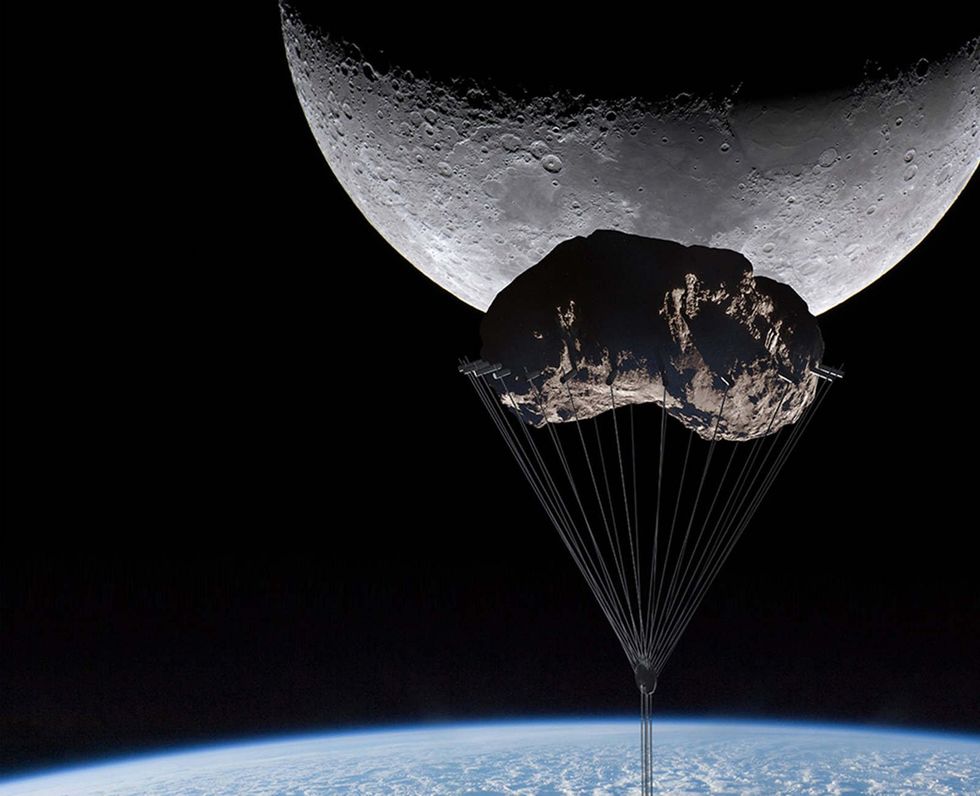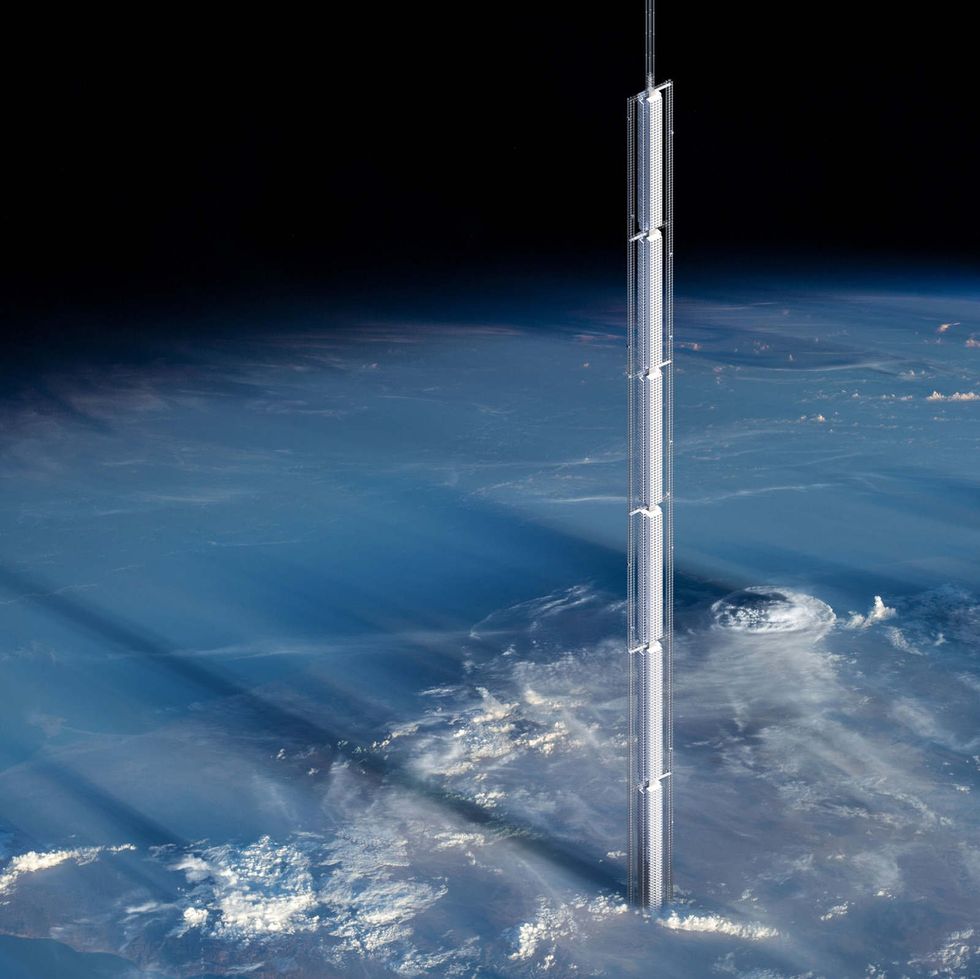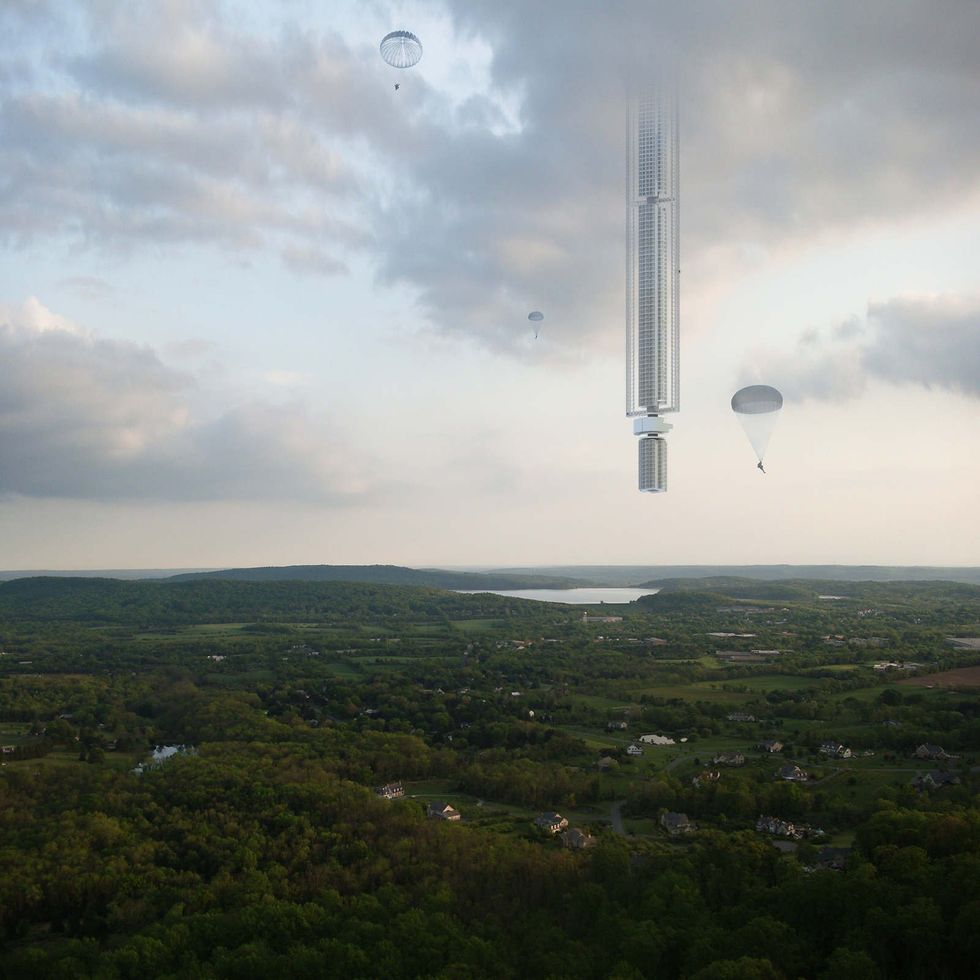 Credit: Clouds Architecture Office.
The advantage of making such a building, according to the architects, is that since it's being built in the air, it can be constructed and transported anywhere. In fact, the firm is proposing to build it over Dubai, where it can be built for one fifth of what it would take in New York City.
Analemma would be powered by space-based solar panels, which would have the advantage of being constantly exposed to sunlight. Water would be recycled in a semi-closed loop, with new water coming as condensate from clouds and rainwater.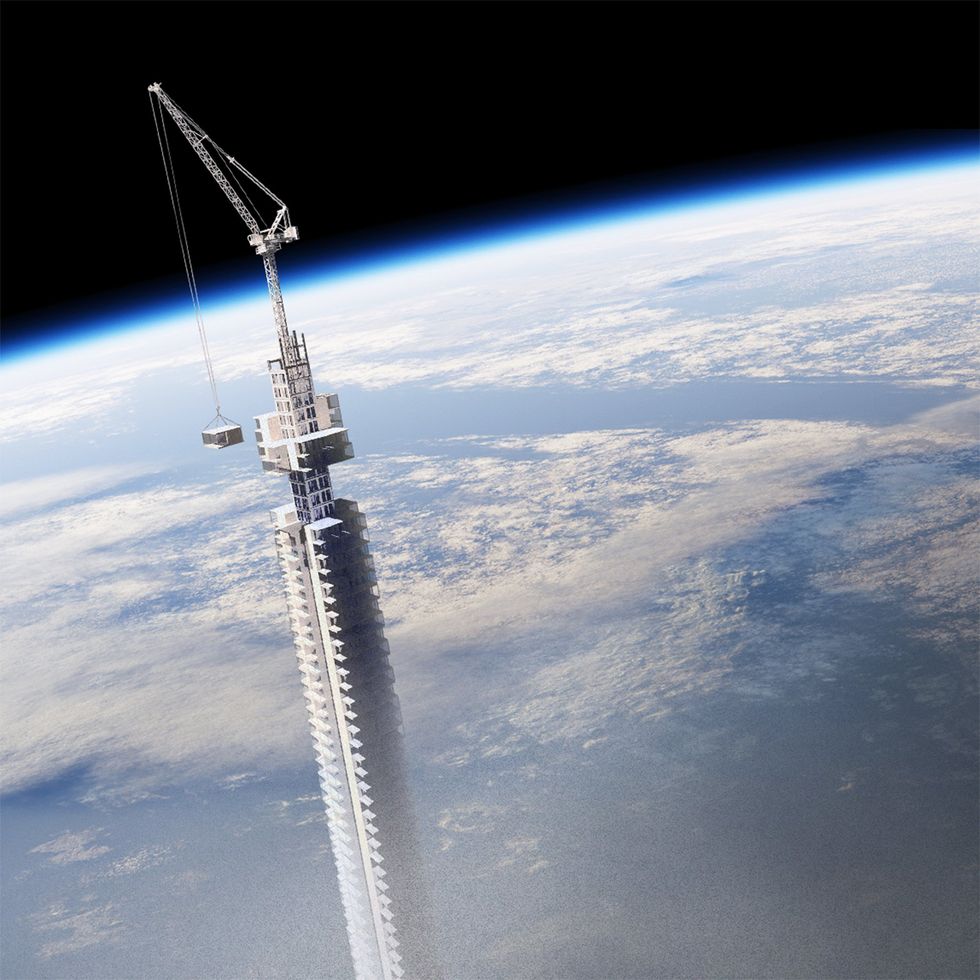 The construction of Analemma Tower. Credit: Clouds Architecture Office.
What about elevators? They would be electromagnetic and cable-less.
The name Analemma provides a clue to how the building will move throughout the day. "Analemma" refers to the figure-8-like path of the sun in the sky if you look at it at the same time of day. Similarly, the tower would move along a figure-8 path throughout the day and return to the same place in the sky. While on the move, it would pass over cities like New York, Havana, Atlanta and Panama City.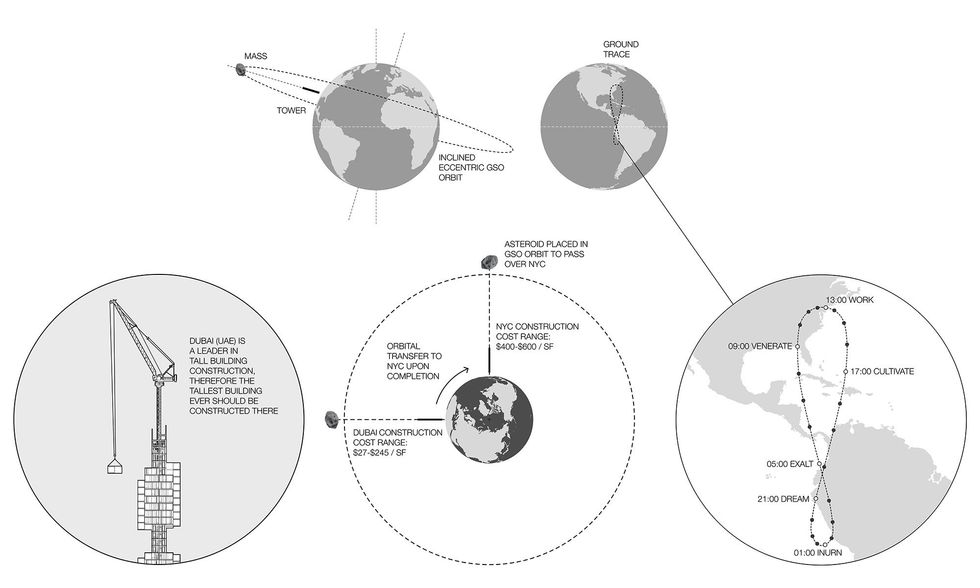 Credit: Clouds Architecture Office.
How would it travel like that? By having the asteroid's geosynchronous orbit match earth's sidereal one-day rotation period. A sidereal day tells us how much Earth rotates relative to the stars (rather than the sun).
The tower would travel daily between northern and southern hemispheres.
Structurally, the tower, essentially a floating city, would be broken up into components. Commercial spaces and offices would be nearest the bottom. Then you get the garden and agricultural areas and then comes the large residential portion. At the higher levels, the building would have space for devotional and funerary activities. 

Credit: Clouds Architecture Office.
The very top would actually get an additional 40 minutes of sunlight each day but would be very difficult to live in, due to extreme pressure and temperature conditions. 
Sure, such a building sounds highly ambitious, with all manner of possible challenges and objections (what if the asteroid holding this building is hit by another asteroid?) But the designers think humanity is ready for it, saying "it taps into the desire for extreme height, seclusion and constant mobility."
Just look at these views through different windows in the tower: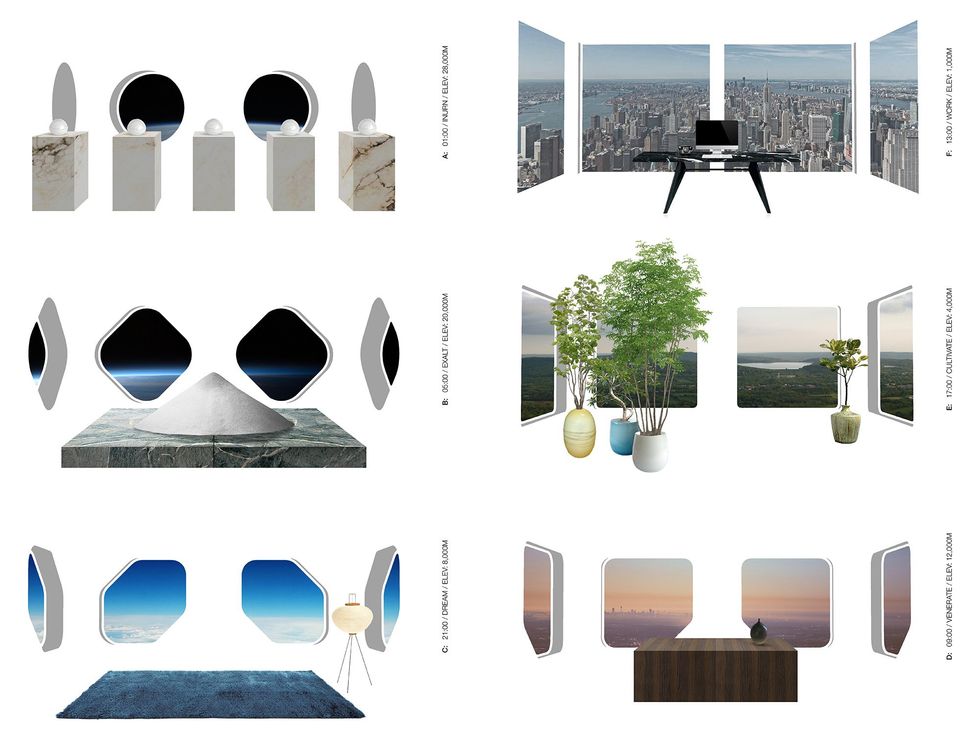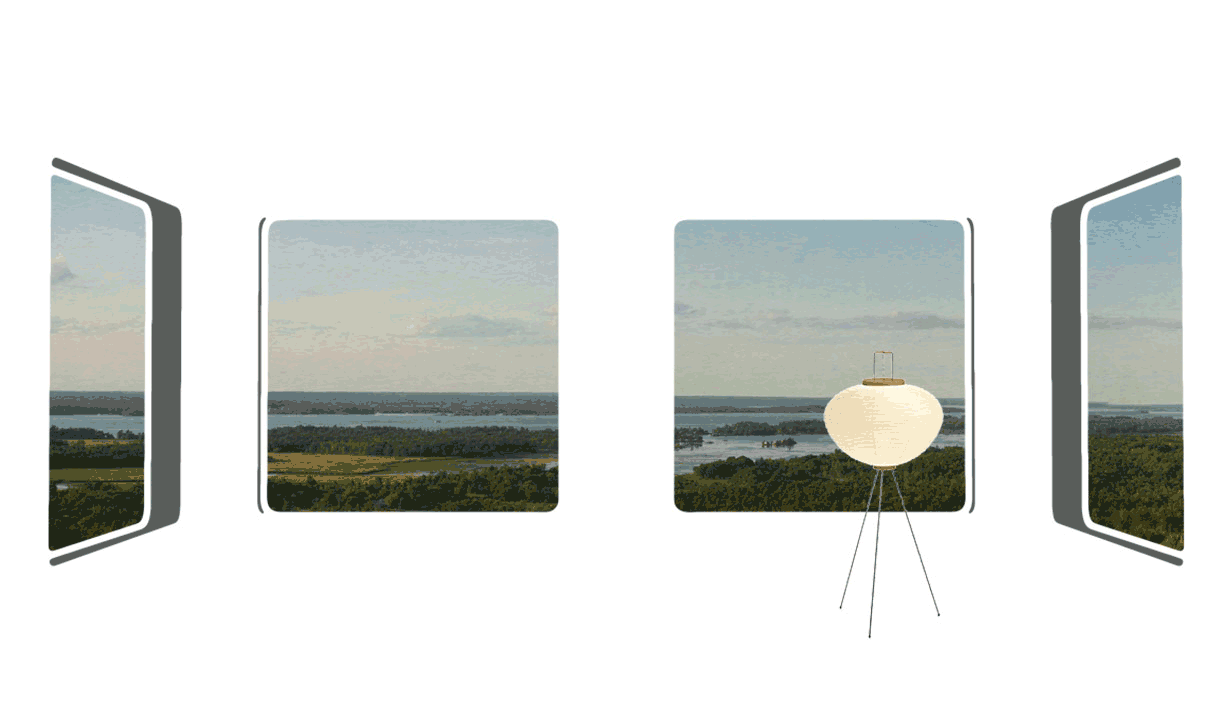 Credit: Clouds Architecture Office.
The architects also think the building will pay for itself, commanding "record prices" as the boom in residential tower building shows how "sales price per square foot rises with floor elevation".
They point to some recent asteroid-related developments to bolster the feasibility of their plan:
"Manipulating asteroids is no longer relegated to science fiction. In 2015 the European Space Agency sparked a new round of investment in asteroid mining concerns by proving with its Rosetta mission that it's possible to rendezvous and land on a spinning comet. NASA has scheduled an asteroid retrieval mission for 2021 which aims to prove the feasibility of capturing and relocating an asteroid."
While the Analemma Tower is certainly speculative at this point, with some of the proposed technology not yet available, it's still an exciting idea straight out of the hopefully-near future.
Here's another great pic of the tower above NYC: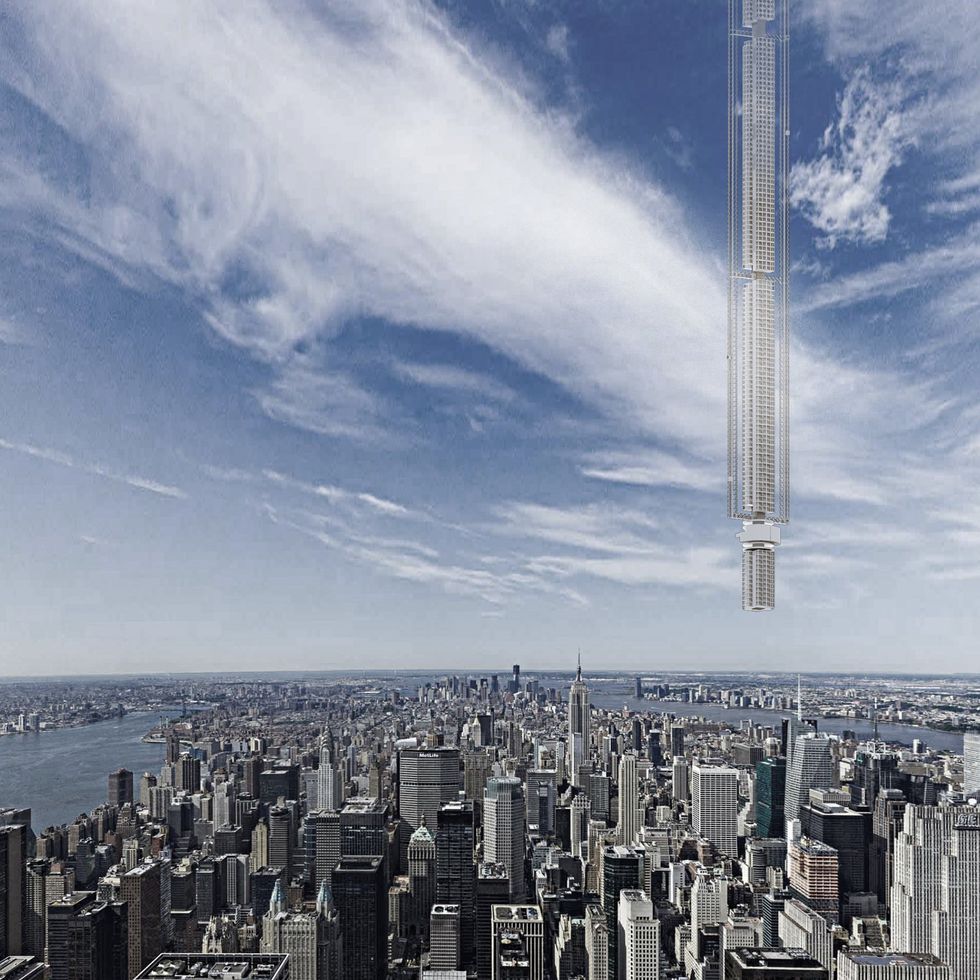 Credit: Clouds Architecture Office.

If you want to get from A to B more safely, be a little more choosy at the cab rank.
Photo: Getty Images
If you've taken to the United States streets anytime lately, you may have noticed that most public school buses are a very particular shade of yellow. That shade is called National School Bus Glossy Yellow in Canada and the US, and it was specially designed by Dr. Frank Cyr. He was in charge of developing standards for the school bus. While there was no standard prior to this, many wanted something eye-catching so that every driver knew what vehicles hosted dozens of children on their way to learn. So, in 1939, after a long-awaited conference, they chose yellow.
Yellow is easy to see in the dim lights of early morning or late evening, and because it's seen across both the green and red cones in the eye, it pops in our vision faster than other colors. It's easier to notice even out of the corner of the eye, and stands out against the fog on a rainy day. What's more, while the majority of those who are color blind have trouble distinguishing red from green, they can still see yellow just fine. The eye-popping color is just one of the reasons that school buses are one of the safest vehicles to travel in. Amanda Dumas-Hernandez, a Professor of Color Theory, agrees: 
"Studies have proven that yellow is more visible on a spectral scale. It moves to the foreground while darker colors move to the back. Something yellow appears optically speaking heavier and larger than a darker shape the same size."
It makes sense that yellow taxi cabs are safer than the blue ones. According to PNAS.org, blue and yellow cabs have the same rates of fare and spend the same amount of money a month to keep their medallions, so neither set of drivers are more motivated to drive safer. It isn't like Uber, where drivers are rated by the very customers they drive around. Furthermore, the drivers tend to drive at similar speeds, so the color of the cabs isn't attracting certain driver personalities. It is mostly linked to the color of the cab.
When Dumas-Hernandez learned that blue taxis got in 9% more accidents than a yellow taxi, she was surprised. "I thought it would be more," she said.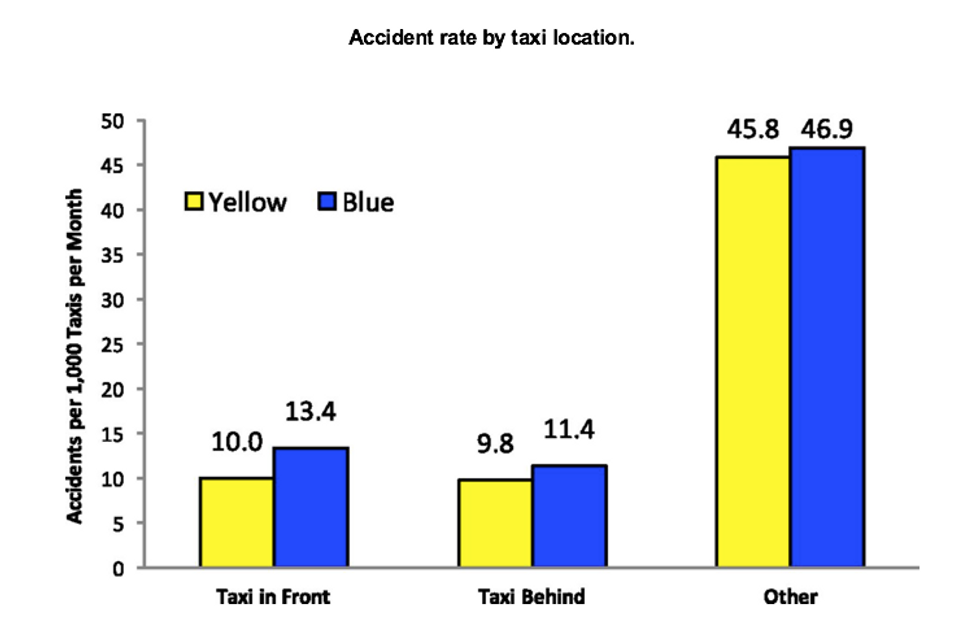 Accident rate by taxi location. Image: PNAS.org.
The long-standing association of yellow being the color of cabs means many people purchase cars that are specifically not yellow, because of the connection, but they will purchase blue cars. People are more careful around the yellow vehicle for the same reason they are careful around the school bus: they know what the color means.
Blue cars are similar to the color of fog on a rainy day, or the water under a bridge, so because of their lack of distinction, they are more likely to be hit. Blue cabs have approximately six accidents more than their yellow siblings for every one thousand accidents. Yellow cabs are less likely to be hit from behind, whether at day or at night, than blue ones. The color blue blends in with the dark while driving at night, meaning the already troubling act of facing on-coming headlights while your eyes are dilated is more difficult when a blue car is hiding along the road.
These findings may prompt introspection and the headquarters of ride-sharing apps like Uber and Lyft, and will push car buyers to consider color not just as a stylistic afterthought, but as a very low-tech but effective safety mechanism that could keep them and their passengers safer. The most immediate application of this research however will be helping people on the street make an easy choice when faced with two competing taxi companies. 
Of course, this is all a short-term worry: we won't be at the mercy human error for much longer.
While Kellyanne Conway spoke of a nonexistent massacre, there was a real, historical massacre that took place at Bowling Green - in New York City.
President Trump's counselor Kellyanne Conway has been taken to task for using another "alternative fact" media talking point. To defend Trump's travel ban on citizens of 7 Muslim-majority countries, she brought up "the Bowling Green massacre", a supposed terrorist act committed by Iraqi refugees in 2011. She offered it as the reason for President Obama's subsequently increased vetting and restrictions on Iraqi refugees, an action the Trump administration is using as a sort of historical parallel to its thinking. 
"I bet it's brand-new information to people that President Obama had a six-month ban on the Iraqi refugee program after two Iraqis came here to this country were radicalized and they were the masterminds behind the Bowling Green massacre," said Conway to MSNBC's Chris Matthews.
Conway brought up this "massacre" in several interviews with outlets like MSNBC, TMZ and Cosmopolitan. The only trouble is - such a massacre did not take place. What did happen in 2011 is that two Iraqi citizens were arrested in Bowling Green, Kentucky for trying to send weapons and money to al-Qaeda in Iraq. While they presented a threat, these men did not manage to carry out any "massacre". 
"Two Iraqi nationals came to this country, joined ISIS, traveled back to the Middle East to get trained and refine their terrorism skills and come back here, and were the masterminds behind the Bowling Green massacre of taking innocent soldiers' lives away," is how Conway presented her version of the "massacre" to Cosmo.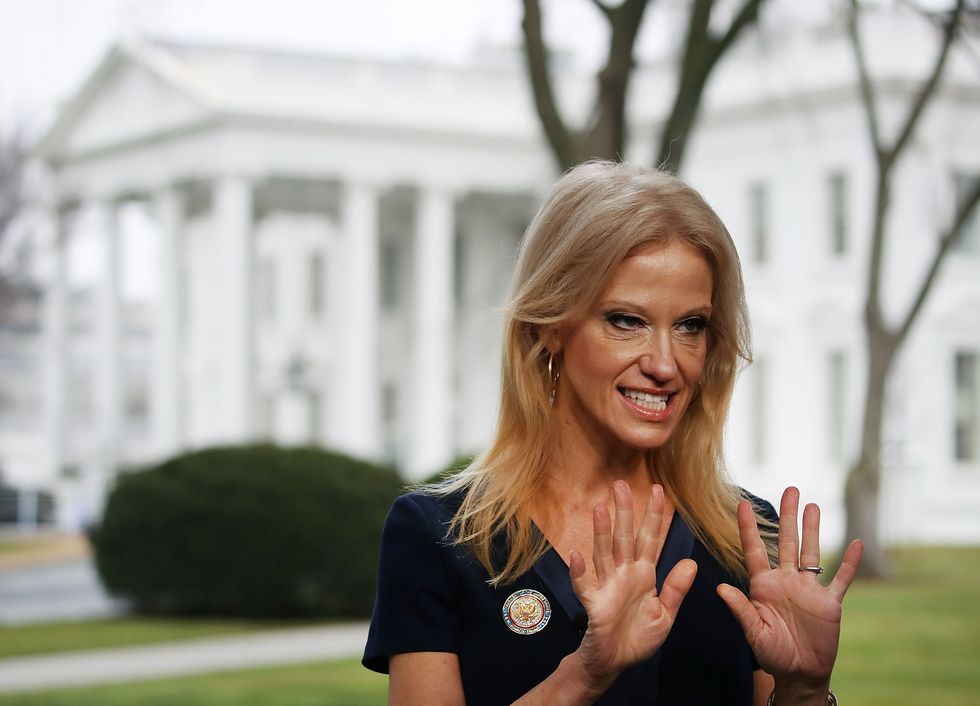 Kellyanne Conway prepares to appear on the Sunday morning show Meet The Press, from the north lawn at the White House, January 22, 2017 in Washington, DC.  (Photo by Mark Wilson/Getty Images)
After much outrage and ridicule, including someone managing to quickly set up a mock website to accept donations for "victims" of the "massacre", Conway admitted she "misspoke" and tried to downplay this incident of historical inaccuracy.
But history provides an ironic extension of the story - there actually was a real Bowling Green Massacre. A largely forgotten one, probably because it involves a topic often omitted from the conversation - the past of the original inhabitants of this continent. In 1643, it was indeed a set of "immigrants" - actually the colonizing Dutch, who massacred the native population, the Lenape tribe, in the territory of what is now Bowling Green Park in New York City.
As reported by Steven Newcomb of Indian Country Today, the Dutch, who controlled the colonial area they called New Amsterdam (later to become New York), killed 30 Lenape people in the Bowling Green area on the tip of Manhattan, and another 80 in what is now Pavonia, New Jersey. The massacre was ordered by the governor of New Netherlands, one Willem Kieft, who'd been ratcheting up the tensions with the Lenape tribe that refused to pay tribute payments. Fearful of the large number of natives nearby, Kieft was building up to a war and the massacre he orchestrated precipitated just that.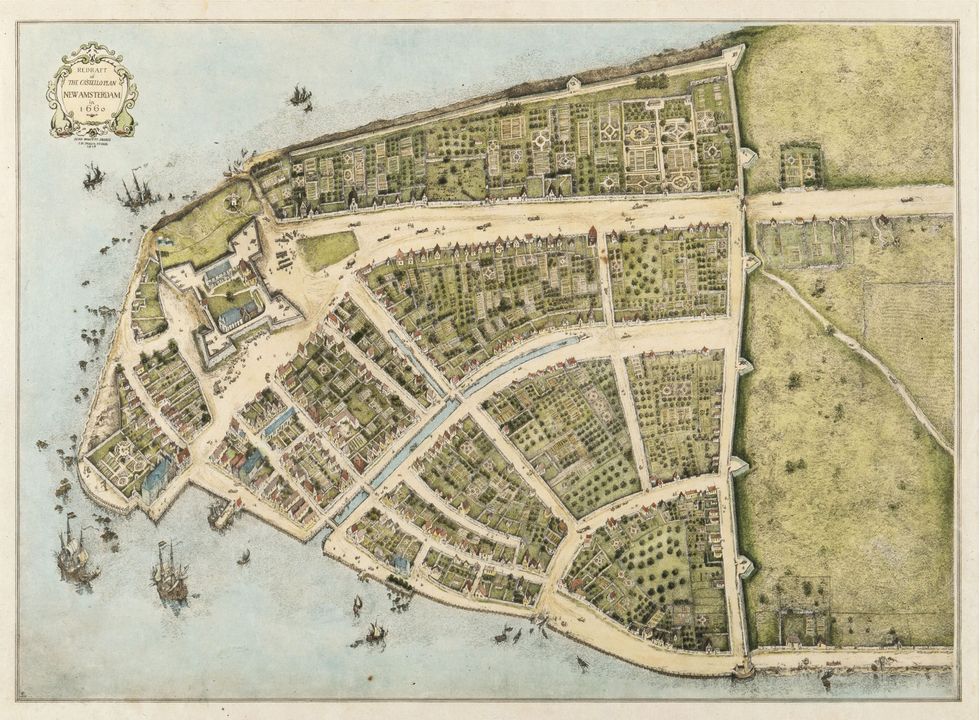 Redraft of the Castello Plan New Amsterdam in 1660, John Wolcott Adams (1874–1925) and I.N. Phelps Stokes (1867–1944). New-York Historical Society Library, Maps Collection.
On the night of February 25, 1643, a force of 129 Dutch attacked groups of Lenape refugees, who were fleeing another tribe, the Mahicans (aka Mohicans), on the tip of Manhattan and across the river in Pavonia. The Dutch slaughtered without distinction, including many women and children.
The witnesses described the horrors of that day like this, as recounted by another contemporary Dutchman David Pietersz de Vries:
I remained that night at the Governor's, sitting up, and I went and sat by the kitchen fire, when about midnight I heard a great shrieking, and I ran to the ramparts of the fort, and looked over to Pavonia. Saw nothing but firing, and heard the shrieks of the savages murdered in their sleep. . . When it was day the soldiers returned to the fort, having massacred or murdered eighty Indians, and considering they had done a deed of Roman valor, in murdering so many in their sleep; where infants were torn from their mother's breasts, and hacked to pieces in the presence of their parents, and the pieces thrown into the fire and in the water, and other sucklings, being bound to small boards, were cut, stuck and pierced, and miserably massacred in a manner to move a heart of stone.
Some were thrown into the river, and when the fathers and mothers endeavored to save them, the soldiers would not let them come on land but made both parents and children drown–children from five to six years of age, and also some old and decrepit persons. Those who fled from this onslaught, and concealed themselves in the neighboring sedge, and when it was morning, came out to beg a piece of bread, and to be permitted to warm themselves, were murdered in cold blood and tossed into the fire or the water. Some came to our people in the country with their hands, and some with their legs cut off, and some holding their entrails in their arms, and others had such horrible cuts and gashes, that worse than they were could never happen. (Herbert C. Kraft, The Lenape: Archaeology, History, and Ethnography, Newark, 1986, pp. 223-224)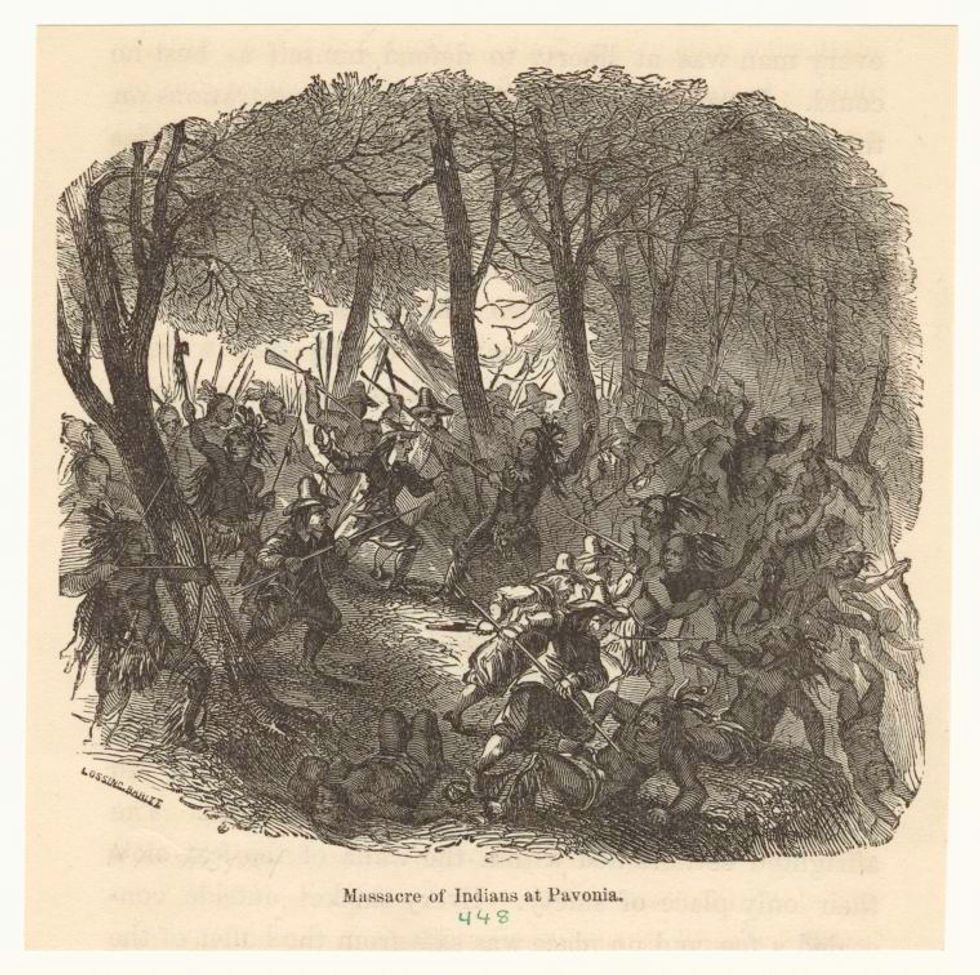 "Massacre of Indians at Pavonia", 1643. From History of the City of New York from Its Earliest Settlement to the Present Time by Mary L. Booth, 1859 (Courtesy of the New York Public Library)
The inhuman incident united the indigenous people in the area and a full-out war broke out, known historically as Kieft's War. It lasted over two years, with thousands dead, mostly native.
Certainly, as the episode with the nonexistent Bowling Green Massacre represents, the Trump administration will use all manner of rhetoric to support its points, invented history included. And real history unfortunately warns that stoking fears of outsiders on the basis of national security often leads to violence, with the powerful generally abusing and exterminating the weak, not the other way around.