Scientists are expert observers. Because of this, they can help us develop a keener view of the world — the cosmos.
There are many people who have discomfort engaging with a scientific perspective of the world — for some, for instance, it conflicts with what they were taught during their religious upbringings.
We can all gain a greater view of life — the cosmos — by getting to know scientists, especially when we're at an impasse in our lives.
Scientists' view of the world retains a "distance" to it — it's observational, fact-driven. This helps with finding consistent principles in nature.
Neil deGrasse Tyson explains why Trump's Space Force is "not a crazy idea".
Credit: Getty Images
The astrophysicist and author Neil deGrasse Tyson discusses why he wanted a Space Force for decades.
He doesn't think just because Trump proposed it that the Space Force is "a crazy idea".
Tyson sees important non-military functions for the branch.
Showing a willingness to put his love and respect for space above politics, Neil deGrasse Tyson came out in support of the Space Force. This sixth branch of the U.S. Armed Forces was announced in July 2018 by President Trump. The goal is to create it by 2020.
On an episode of "The Takeout" where he was interviewed by the CBS News Chief White House Correspondent Major Garret, Neil deGrasse Tyson said he actually recommended a Space Force all the way back in 2001. That's when he was serving on a committee to which he was appointed by President George W. Bush.
Tyson thinks it makes sense to separate out the Space Force from the Air Force because activities in space are entirely different "regimes of military interest" and deserve their own organization. "One involves flying in a vacuum," he pointed out.
"So it's not a crazy idea," Tyson expounded. "A lot of Trump haters want to hate everything that comes out of Trump's mouth. I'm an academic; I analyze everything. And just because it came out of Trump's mouth doesn't automatically mean it's a crazy idea."
Besides its military functions, Tyson would like to see the Space Force protect us from rogue asteroids, saying "I call that defense." He added that it will "protect us from going extinct".
Another possible function of the Space Force - dealing with space debris, (preventing the Kessler Syndrome from becoming reality).
In a nod to the fact that supporting anything Trump-created might not be fashionable among a big part of the country, Tyson said that as an academic, his duty is to "analyze everything." And from that standpoint, the Space Force is "not a crazy idea".
Indeed, Trump is very serious about the Space Force. He is reportedly mulling over whether he should fire the Air Force Secretary Heather Wilson. She has expressed opposition to the Space Force and he been seen as "trying to undermine this part of the president's agenda from within," as reported Foreign Policy. That may be partially due to the perception that establishing the Space Force signifies that the Air Force's current handling of military space is not effective.
Maybe Trump should invite Neil deGrasse Tyson as an advisor to the Space Force. This might relieve the opposition of those who see such an enterprise as a political plot of little other consequence.
Check out Tyson talking about this here:
Neil deGrasse Tyson, famous in part for using his scientific literacy to point out flaws in TV and movies, recently criticized the good and bad science behind HBO's Game of Thrones.
Lord Tyson?
Astrophysicist, author, and science communicator Neil DeGrasse Tyson has in recent years earned himself a label with which he doesn't quite agree: pop-culture nitpicker.
"I got branded as someone who nitpicks," Tyson said in a 2017 interview with Complex. "I took private offense at that. Here's why: If you're watching a Jane Austen period piece, and people come up to an English countryside home in a horse drawn carriage and somebody gets out of the carriage with tie dye bell bottoms, you would cry foul. You would say the costume designer had their head up their ass. You'd be praised for making that observation. But all of a sudden I'm a buzzkill."
It started in 2013 when Tyson fired out a barrage of fact-checking tweets about the movie Gravity.
Mysteries of #Gravity: Why Bullock, a medical Doctor, is servicing the Hubble Space Telescope.
— Neil deGrasse Tyson (@neiltyson) October 6, 2013
Tyson has since Tweeted about shoddy science in films such as Alien: Covenant, Guardians of the Galaxy: Vol. 2, and, surprisingly enough, Baywatch. But most recently, Tyson used his scientific literacy to weigh in on decidedly new territory — the medieval fantasy world of Game of Thrones. 
Here are a few of his tweets, along with a quick look at the science behind them. (Warning: spoilers ahead.)
Bad Physics in #GameOfThrones: Pulling a dragon out of a lake? Chains need to be straight, and not curve over hill and dale. pic.twitter.com/VIJlIuDz3L
— Neil deGrasse Tyson (@neiltyson) September 24, 2017
Neil deGrasse Tyson is working in with video game developers to create a space exploration game called Space Odyssey.
What if a video game could teach science in a way that didn't put gamers to sleep? 
That's the idea behind a new game called Space Odyssey, which aims to be a virtual universe governed by real scientific laws where players can build planets and solar systems and explore the cosmos. Neil deGrasse Tyson is helping to develop the game and is planned to be the narrator who guides players through space.
Space Odyssey, as Business Insider reports, would feature "building activity similar to Minecraft, space colonization akin to that in Civilization: Beyond Earth, elements of exploration like No Man's Sky, and echoes of Elon Musk's favorite rocket-building simulator, Kerbal Space Program."
What would set this game apart, however, is its educational bent and insistence on using real-life science to inform the mechanisms of the game. On this point Tyson won't budge.
"I have no patience for people who say, 'I don't want the laws of physics to constrain me'," Tyson said at a recent E3 convention.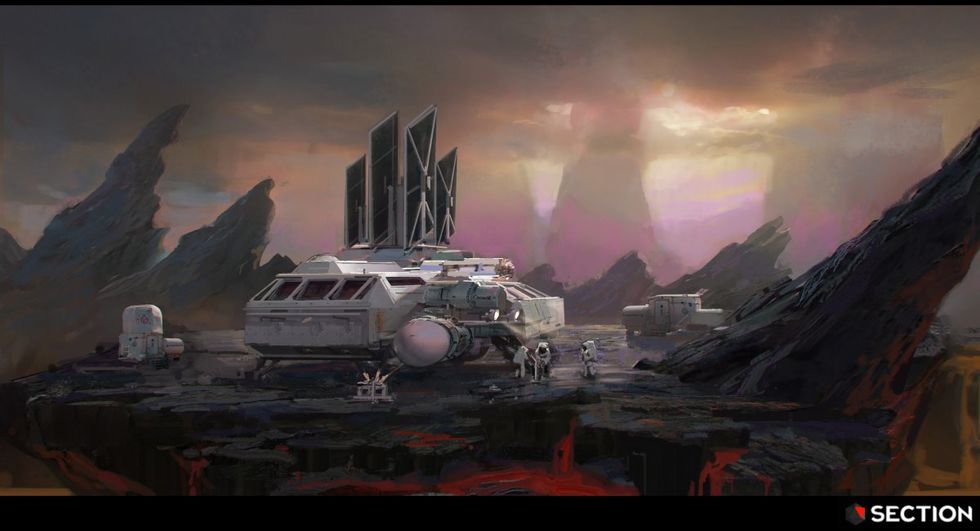 The game is in early stages of development and at the time of writing has received just more than a third of its $314,159 Kickstarter goal.
If the game receives full funding (which wouldn't solely come from the Kickstarter) players will be able to "develop planets, colonize worlds, nurture species, mine elements, build robots, and discover unique life-forms as you coordinate with others in an intense game of real-time strategy," according to the Kickstarter video. 
The first stage of the game would take place on Proxima B, which, at 4 light years away, is the closest known exoplanet to our solar system. Players would explore the planet and acclimate themselves to the game with Neil's voice helping them learn the ropes. They would then move to a space station where they'd be able to create, terraform and protect a home planet. Other major activities, missions, and narrative arcs are planned, as well.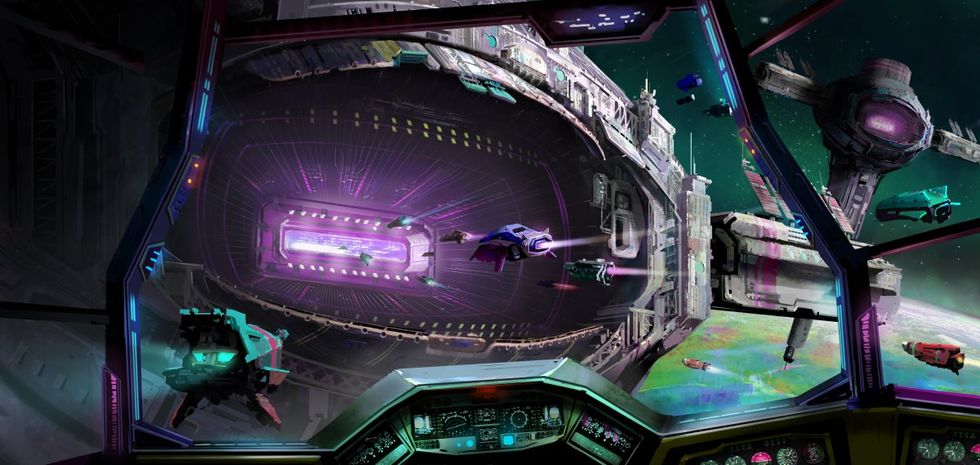 Players would also be able to explore systems created by other online players or "prominent scientists and fictional world-builders like Tyson, Bill Nye, George R.R. Martin, Neil Gaiman, and Peter Beagle," according to the Kickstarter page.
Space Odyssey co-creator elaborated in an interview with Digital Trends:
"Part of the gameplay will allow you to grow a planetary system," Murphy said. "Its size and scope is relative to the level of challenge you would like to undertake. You can grow and mature these planets as much as you'd like, creating colonies, ports, mining structures, undertake trade of elements you discover/mine or invent or innovate. We are adding strategic partners that will consult with us on design and tech possibilities, including Bigelow Aerospace and the National Space Society to name a couple."
Murphy said Tyson has played a creative and scientific role in the game's development.
"He's helped create challenges in the game, and has challenged our creative team to entertain and inspire," Murphy said. "He has also brought forward some incredible collaborators to our efforts, an incredible team of scientists, astronauts and explorers."

According to a fact sheet for the game, Space Odyssey is being designed for PC and will target the Steam market but plans also call for virtual reality missions that will be playable on Oculus Rift or Samsung Gear.
"It's a departure from what the core game feels like when you play it, but that's okay. Our goal with the VR missions is to take things to an even more educational level," Murphy said.
It remains to be seen if Space Odyssey can fuse science education into its ships and terraformed planets, and end up with gameplay that's compelling to mainstream gamers. Minecraft, one of the most widely played video games ever, is one of the few games that's bridged the gap of education and playability – some teachers even use it to teach lessons in the classroom.
Space Odyssey reportedly borrows some of Minecraft's building-blocks applications. So with that and Tyson's preternatural ability to get the masses absolutely hyped for science, this new game might just be able to take off. 
There's something all of us—physicists included—are getting wrong about dark matter, says Neil deGrasse Tyson.
There's something fundamental we all need to understand about dark matter—it may not actually be matter at all. Neil deGrasse Tyson has a bone to pick with this misnomer that is distracting physicists and the public from the real discoveries to be made. Scientists know very little about "dark matter", and in fact it can only be observed indirectly by its effect on other objects. Tyson has a few suggestions for its re-naming: how about "Fred", he jokes, which is a name devoid of any implied meaning—suitable for our current level of knowledge. But if you want it to sound sexy and be accurate, then the way to go is dark gravity, according to Tyson. Why? Because when you add up everything in the universe—the stars, moons, gas clouds, black holes, everything—85% of gravity is unaccounted for. That is so-called "dark matter". What makes it so interesting isn't the wild-goose-chase question of whether or not it exists, but why it doesn't interact with ordinary, known matter? On the way to explaining that dark matter "doesn't give a rats ass about us," Tyson explores ghost particles, the essence of objects, and why we haven't found any dark matter planets. Tyson's new book is Astrophysics for People in a Hurry.