The rock, found in the Sahara, likely comes from a long-lost baby protoplanet.
Erg Chech 002 is a meteor not like any other ever found.
It's older than the Earth, and its composition raises interesting possibilities.
The meteor likely comes from an early baby planet in our solar system.
Scientists are discovering all sorts of amazing told by the meteorites found scattered across the Earth's surface. Now a team led by Jean-Alix Barrat, a geochemist from the University of Western Brittany in France, have announced in a study that one such rock is apparently incredibly ancient, predating the Earth altogether. They believe it comes from a long-gone protoplanet, a baby planet that never got the chance to grow up, so to speak.
Its name is EC 002, and it may provide new insights into the early days of our solar system.
The study is published in the journal Proceedings of the National Academy of Sciences.
From the Sahara, yes, but before that…
Erg Chech 002, or EC 002, was found in Adrar, Algeria last May in the nearly uninhabited Erg Chech region of the Sahara Desert. It was one of several chunks of meteorite discovered — together they weighed 32 kilograms (about 70 lbs). The Lunar and Planetary Institute describes EC 002 as being "relatively coarse grained, tan and beige appearance with sporadic larger green, yellow-green and less commonly yellow-brown crystals."
A rough identification of EC002 classified it as an achondrite, which immediately differentiated it from most meteorites, which are chondritic.
Chondrites are pre-planetary stony rocky formed billions of years ago from dust and mineral grains of the early solar system.
Achondrites are rocks blasted off the face of planetary bodies, so they are newer. Their composition can provide clues to the formative processes of their sources since they they exhibit characteristics consistent with the period of internal melting that separates the core from the crust of a young planet. They're also relatively uncommon. Of the tens of thousands of meteorites listed in the Meteroitical Bulletin Database, just 3,179 of them are achondrites.
Most of the meteorites found, about 95 percent, come from just two bodies out there in space, and about 75 percent may come from a single, large asteroid called 4 Vesta.
Here's where we go from unusual to very unusual. Achondrites are usually basaltic, originating in a planetary body's basaltic crust. EC 002 is not. It's volcanic, a type of rock called andesite. The scientists have measured the radioactive isotopes of aluminum and magnesium it contains and concluded the minerals crystallized about 4.566 billion years back. Earth, by contrast, dates back only 4.54 billion years.
This chunk of cooled magma is a lonely survivor of that long-ago past. The authors write that "no asteroid shares the spectral features of EC 002, indicating that almost all of these bodies have disappeared, either because they went on to form the building blocks of larger bodies or planets or were simply destroyed."
A basaltic achondrite from Australia
Credit: H. Raab/Wikimedia Commons
Hm. Andesite.
The andesite in EC 002 is interesting. On Earth, andesite's sodium-rich-silicates are found in subduction zones where one tectonic plate sinks under another. (The basalt-like material in most chondrites forms when magnesium- and iron-rich lava cools.)
Still, EC 002 isn't the first andesite meteor found, and a study of two of them (Graves Nunataks 06128 and 06129) discovered in Antarctica raises the possibility that they form from the melting of planetary bodies comprised of chondrites.
Some have theorized that if this is so, and since chondrites are so common, it could be that their melting into an andesite crust was a common occurrence during planetary formation. Indeed, Barratt's study says, "It is reasonable to assume that many similar chondritic bodies accreted at the same time and were capped by the same type of primordial crust."
It's an interesting notion, albeit with two problems.
First, the light-reactive properties of EC 002 aren't like anything else in the universe among the 10,000 objects in the Sloan Digital Sky Survey database.
Second, not that many andesite meters have been found, making one wonder where they all might've gotten to. They might have gotten smashed up and broken apart. Or maybe they were subsumed in the formation of later planets. Like our Earth.
This meteorite is the oldest known volcanic rock in the solar system, dated at 4,565,000,000 years old.
It's very rare that we discover something on our planet that was around before we were even a small speck. But every once in a while, we do—and this meteorite is a living testament.
Scientists estimate the new discovery to be approximately 4.6 billion years old, almost as old as the solar system itself.
New discoveries like this one bring us a small step closer in piecing together what an earlier version of Earth might have looked like.
For thousands of years, humans were completely unaware of the existence of the solar system. They believed that Earth was the center of the universe.
We have since been proven very wrong. Scientists have discovered that the solar system was created when a supernova exploded and the resulting gas and dust combined around 4.6 billion years ago.
How exactly our planet was formed still remains a mystery.
What is the discovery, and why is it important?
This meteorite is the oldest known volcanic rock in the solar system, dated at 4,565,000,000 years old.
Photo: University of New Mexico
Northwest Africa (NWA) 11119 is a small, baseball-sized rock. It's formed from sparkly green meteorite and has an unusual light green fusion crust. Broken fragments of the interior have revealed bright green and grey crystals that are up to 3mm in size. Scientists expect that it is approximately 4.6 billion years old, almost as old as the solar system itself.
The rock was acquired by a meteorite dealer in Mauritania, Africa, in 2016. It weighs 453g, and it is currently located at the Maine Mineral and Gem Museum.
For those who don't know much about meteorites, distinguishing between a terrestrial rock and an actual meteorite can be challenging. To make matters worse, there are many sellers who try to disguise terrestrial rocks as meteorites to scam their customers.
Many people are surprised that meteorites can actually be bought, sold, and collected outside of museums and labs. However, since the invention of the Internet, there has been a surge in the number of collectors and dealers.
eBay is actually one of the most popular websites for people to buy and sell meteorites. However, before using such websites, it is important that you take the required precautions and buy from reputable dealers. For example, websites like Meteorite Exchange has a page that summarizes the listings from known dealers in order to help buyers make more informed decisions.
To make the process of buying and selling meteorites safer, meteorite dealers are often hired to confirm that what the customer is buying is an actual meteorite (this means it came from space) and not just a rock.
At first glance, this meteorite didn't look like much
When the rock was first found, the planetary geologist and meteorite curator at the University of New Mexico, Carl Agee, didn't think that it was a meteorite at all. In fact, he thought it was a rock from Earth.
He then passed it on to his doctoral student, Poorna Srinivasan, to examine it.
Despite the rock bearing a close resemblance to volcanic rocks on Earth, its chemical composition revealed that it was definitely from space and that it wasn't just a regular meteorite.
What is special about the meteorite?
Skeleton of a tridymite crystal.
Photo: Fred Kruijen/Wikimedia Commons
NWA 11119 was revealed to be 4.6 billion years old. This makes it the oldest igneous meteorite (meaning that it was formed by the cooling and solidification of either magma or lava) ever discovered. Scientists have discovered several non-igneous meteorites that are even older than this.
About 30% of the meteorite is comprised of tridymite, which are essentially large silica crystals. Such a high tridymite content is virtually unheard of in meteorites. It's comparable to the levels found in volcanic rocks on Earth.
How often do we come across things that are older than Earth?
It's easy to see why this discovery is so exciting. It's not very often that we come across things that are older than our planet—but there have been a couple of instances over the past few years.
In fact, analysis of NWA 11119 has revealed that it has a strong chemical resemblance to two other known unusual meteorites: NWA 7235 (discovered in 2011), and Almahata Sitta (discovered in 2008). The link is strong enough to suggest that all three of these space rocks could potentially have originated from the same parent body.
In November 2015, geologists working in outback South Australia recovered a primordial meteorite from Kati Thanda-Lake Eyre. This meteorite was thought to be a chondrite or stony meteorite and serves as an example of the material that was created when the solar system was being formed over 4.5 billion years ago.
What's more, as little as a couple of months ago, scientists discovered stardust particles on Earth that are even older than our solar system. Its chemical composition, which shows us how far the particles had traveled, suggested that the grains had to be significantly older than 4.6 billion years.
What happens next?
There is still so much we have yet to understand about how planets are formed, and in particular, how the Earth's crust might have been formed.
However, every once in a while, new discoveries like this one bring us a small step closer in piecing together what an earlier version of Earth might have looked like. Over the past few years, scientists have even discovered frozen meteorites in the Antarctic.
Hopefully one day we might be able to collect enough pieces of such evidence to come to a reasonable conclusion.
It had a role in that old farmhouse...
(Photo credit MARTIN BERNETTI/AFP/Getty Images)
It landed on a farm near Grand Rapids, Michigan in 1930, and is estimated to be 4 billion years old
When the house was sold, it was included in the sale by the farmer who had no idea of its value, but had quite a story about finding it
If you see a meteorite fall to Earth and remain at least partially intact, it would be in your best interest to run (or drive, quickly) to find it!
It's not often that Mona Sirbescu, a professor of geology at Central Michigan University, has actually had someone come in with what they thought was a meteorite, and then found it to be true. In fact, this is the only time it's happened to her.
People bring things there frequently, and they're never meteorites. However, a man named David Mazurek showed up recently with a specimen that proved be the the bonafide thing. "For 18 years, the answer has been categorically 'no,' meteor wrongs, not meteorites," Sibescu quipped in a statement from CMU on Thursday.
Weighing in at 22.5 lbs., and made of 88.5 percent iron and 11.5 percent nickel, Mazurek's rock is only the 12th actual meteorite to be identified in the state. "I could tell right away that this was something special," Sibescu said. "It's the most valuable specimen I have ever held in my life, monetarily and scientifically."
The Smithsonian, in Washington, D.C., has confirmed that it is an actual meteorite.
The 4-billion-year-old "Edmore Meteorite"
Central Michigan University
It has quite a story behind it. You see, the meteorite (remember that meteors disintegrate before entering or while entering our atmosphere, while meteorites are the ones that make it all the way to Earth's surface) landed on some farmland in a town called Edmore, Michigan, in the 1930s.
Apparently, according to the old farmer who lived there, it made quite a racket. When he and his sons dug it up the next day from the crater, it was still warm. The meteorite was sold with the farmhouse to Mazurek about 30 years ago, who then moved on a few years later, bringing the "rock" with him. When it wasn't being used as a door stop, it was something that his kids would take to school for show-and-tell.
Device Tracks And Photographs Meteorites
Photo by George Varros and Dr. Peter Jenniskens/NASA/Getty Images
Now dubbed the Edmore meteorite, it's likely to end up in one museum or another. "What typically happens with these at this point is that meteorites can either be sold and shown in a museum or sold to collectors and sellers looking to make a profit," Sirbescu said.
Both the Smithsonian and a mineral museum in Maine are considering purchasing the meteorite for display. If it sells, Mazurek has decided to give 10 percent of the sale value to Central Michigan University for the study of earth and atmospheric sciences.
Sirbescu, though, seemed more impressed with its other qualities. "Just think, what I was holding is a piece of the early solar system that literally fell into our hands," she said.
Technically, the knife's metal had extraterrestrial origins.
Pharaoh Tutankhamun, the boy king who ruled Egypt around 1332-1323 BC, has known his share of fame in a world thousands of years after his life. And the fame is sure to grow as an exciting new discovery set the international media on fire. A team of Egyptian and Italian researchers just published a paper showing that King Tut's beautiful dagger, already an object of admiration and mystery, turns out to have been made from a meteorite.
Yes, he had a space dagger.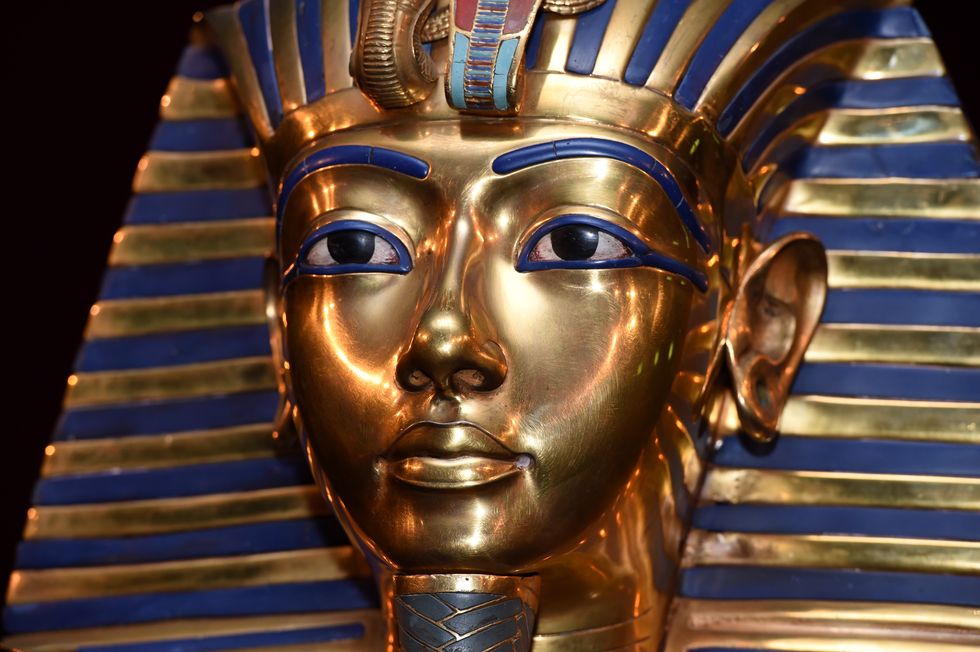 The paper, with the immediately intriguing title "The meteoritic origin of Tutankhamun's iron dagger blade," reveals that X-ray analysis showed the dagger to be made mostly of iron, with small amounts of nickel and cobalt. This particular combination of elements was the key in tracing the dagger's origins to a meteorite.
"The introduction of the new composite term suggests that the ancient Egyptians… were aware that these rare chunks of iron fell from the sky already in the 13th century BCE, anticipating Western culture by more than two millennia," write the researchers, led by Daniela Comelli, an associate professor at the department of Physics of Milan Polytechnic.
This is remarkable in that it proves that Egyptians were well-versed in adopting iron, while the rest of humanity was still living in the Bronze Age. In fact, the researchers see the quality of the dagger's blade as indicative of Egyptian mastery of iron work.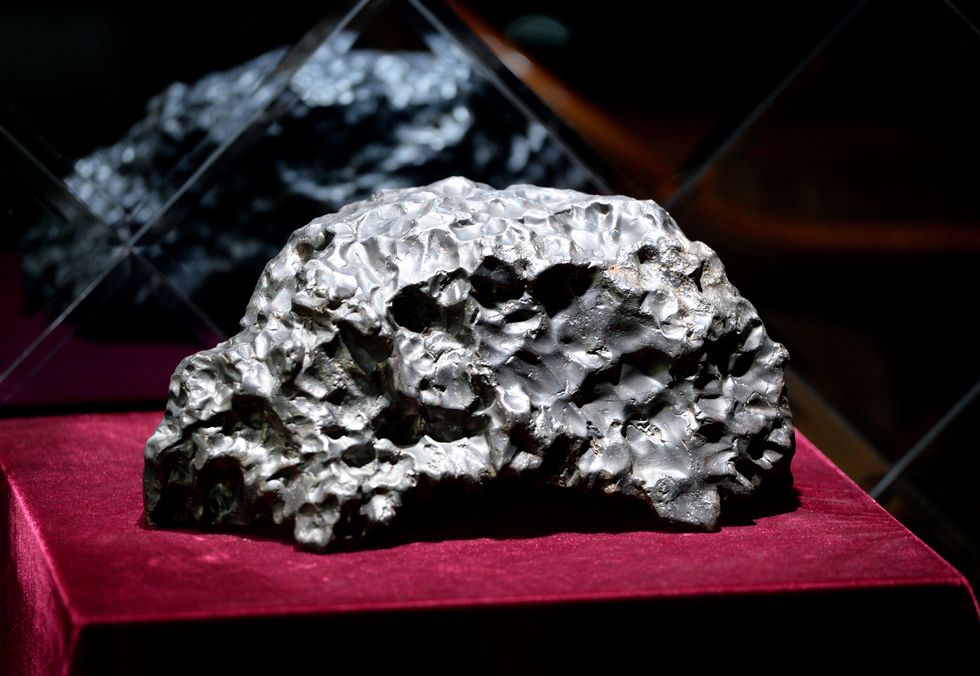 The dagger, which was found in the wrapping of the mummified pharaoh in 1925, was analyzed utilizing X-ray fluorescence spectroscopy, a technique that energetically excites various compounds within the object to compare different radiation wavelengths. This allows researchers to figure out which elements are present without damaging the object.
Once they figured out the iron in the compound came from a meteorite, researchers looked back through historical records to pinpoint which meteorite it was. They concluded it was the Kharga meteorite, which was found 150 miles west of the city of Alexandria, near the seaport city of Mersa Matruh (known as Amunia at the time of Alexander the Great).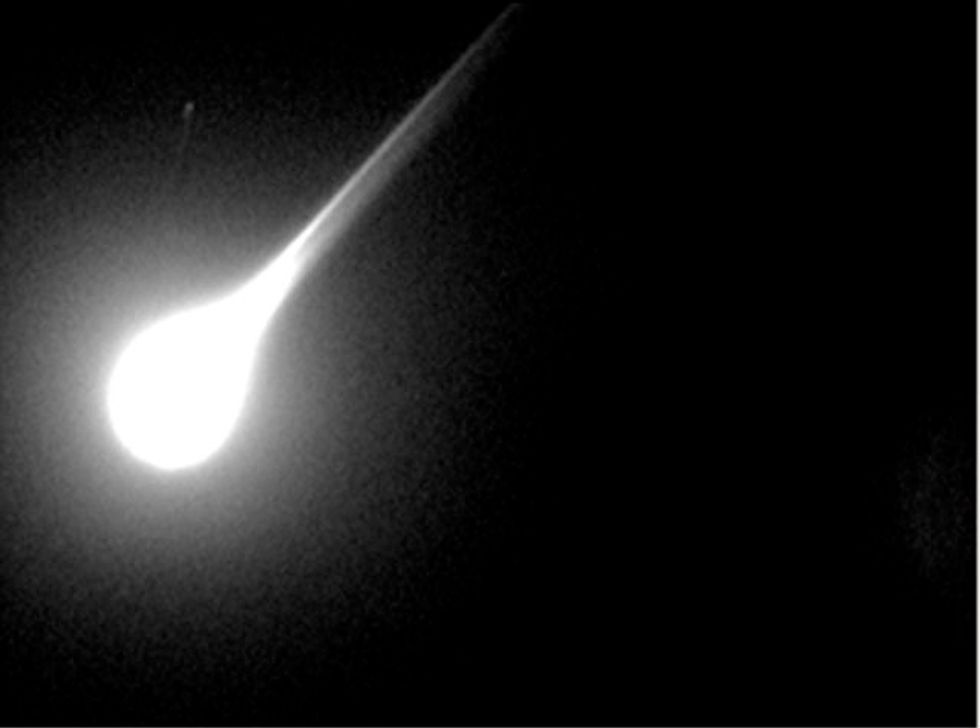 Researchers also think that this finding adds special meaning to the term "iron from the sky" which was a hieroglyph found in ancient Egyptian texts.
Indeed, this discovery proves that even such famous historical finds as King Tut's tomb can still reveal groundbreaking secrets about the life of the ancients.
You can read the study, published in Meteoritics and Planetary Science, here.