Labeling thinkers like Albert Einstein and Steve Jobs as "other" may be stifling humanity's creative potential.
Revolutionary ideas and culture-shifting inventions are often credited to specific individuals, but how often do these "geniuses" actually operate in creative silos?
Tim Sanders, former chief strategy officer at Yahoo, argues that there are three myths getting in the way of innovative ideas and productive collaborations: the myths of the expert, the eureka moment, and the "lone inventor."
More than an innate quality reserved for an elite group, neuroscientist Heather Berlin and neurobiologist Joy Hirsch explain how creativity looks in the brain, and how given opportunity, resources, and attitude, we can all be like Bach, Beethoven, and Steve Jobs.
Kick off your next game night with these Mensa-recommended board and card games.
Mensa members judge an annual competition to determine which games are the best on the market.
Hundreds of board, card, and party games are considered each year but only a select few can win.
These 10 top games are available to purchase and play right now.
Grabbing a controller and getting lost in an open world video game is amazing, but nothing beats a good old-fashioned board game night with family and friends. You'll find classics like Monopoly or Clue in every household, but there are new games hitting shelves all the time that are worth purchasing. To eliminate some of the guess work for gamers, members of the high-IQ association Mensa meet once a year to judge the best of the best. Making the list is an honor, but getting to play the games is the real win.

Each year Mensans consider hundreds of submissions across numerous genres during a multi-day event called Mind Games. Aesthetics, instructions, originality, play appeal and play value are the criteria that the judges consider when rating the new titles. The top five games are given a literal seal of approval and join the list of Mensa Select Games. Mensa members also choose worthwhile runners up for its Mensa Recommended Games list. Whether you're into whodunnits starring mischievous cats, or you're looking to play a game as a colorful invertebrate, there is something for everyone. Here are 10 games from the lists that you can add to cart and purchase right now.
Set at the end of the Carolingian Empire, Architects of the West Kingdom is a 1-5 player tabletop game designed by Shem Phillips and SJ Macdonald, with art by Mihajlo Dimitrievski. The objective is to end the game with the most victory points, which are earned by building various structures and making progress on the Archbishop's Cathedral. Along the way, players must hire apprentices, collect materials, and make deals that advance their efforts, but the wrong decisions could prove detrimental. Architects of the West Kingdom was one of five Mensa Select winners for 2019.
Designed by Phil Walker-Harding, Gizmos is a 2-4 player card game centered around building machines for the Great Science Fair. As you play, you use energy marbles to purchase new parts for your creation and amass victory points. What makes a great machine? You'll have to play this Mensa Select game to find out.
Designed by Urtis Šulinskas with art by Sabrina Miramon, Planet is a tile placement strategy game that gives players the power to cultivate a world from scratch. How the ecosystem is built (elements, regions, etc.) determines which animals can live there, which in turn earns cards for the world builder. The game is rated ages 8+, was designed for 2-4 players, and is a 2019 Mensa Select title.
Wreak havoc across Europe while collecting parts for your weapons of destruction and sabotaging your fellow bad guys in "Victorian Masterminds." The Secret Service is on your tail, so don't get caught! Yet another Mensa Select winner, the game was designed by Antoine Bauza and Eric M. Lang, features art by Davide Tosello, and can be enjoyed by 2-4 masterminds at a time.
This fast-paced game challenges players to clean up space trash and keep it from cluttering up their planet. Included on 2019 Mensa recommended list, this family board game is designed for space cadets ages 6 and up.
The better you are at predicting what others players are going to say, the more points you'll score. This Mensa-recommended game can accommodate up to 8 players so get a group together and bring your best words.
According to Amazon, over 50 million copies of Cat Crimes have already been sold. That's because everyone loves cats, even when they're criminals. With innocent names like Pip Squeak and Sassy, which of the 6 suspects will you choose? There are 40 crimes to solve, so you can bet that this single-player game will get a lot of use.
This strategy game asks players to work together to launch a rocket before the floating platform they are on is struck by lightning. It sounds very stressful but also super fun and challenging. C. B. Canga provided the art for this set, while Matt Leacock is credited as its designer.
Draw and connect train routes and exit points while avoiding natural disasters. Easy right? Railroad Ink: Blazing Red Edition is designed by Hjalmar Hach and Lorenzo Silva with art by Marta Tranquilli,
The name tells you all that you need to know. In this abstract strategy game by designer Emerson Matsuuchi and artist Chris Quilliams, you are a living reef that can grow and change colors. If that's not enough to sell you, then maybe give the previously mentioned games a chance?
When you buy something through a link in this article Big Think earns a small affiliate commission. Thank you for supporting our team's work.
Your brain's heightened sensitivity can make you perceptive and creative. But it's a double-edged sword, researchers find.
Image source: Edvard Munch, The Scream c. 1893
People with high IQ are considered to have an advantage in many domains. They are predicted to have higher educational attainment, better jobs, and a higher income level. Yet, it turns out that a high IQ is also associated with various mental and immunological diseases like depression, bipolar disorder, anxiety, ADHD as well as allergies, asthma, and immune disorders. Why is that? A new paper published in the journal Intelligence reviews the literature and explores the mechanisms that possibly underlie this connection.
The study authors compared data taken from 3,715 members of the American Mensa Society (people who have scored in the top 2% of intelligent tests) to data from national surveys in order to examine the prevalence of several disorders in those with higher intelligence compared to the average population.
The results showed that highly intelligent people are 20% more likely to be diagnosed with autism spectrum disorder (ASD), 80% more likely to be diagnosed with ADHD, 83% more likely to be diagnosed with anxiety, and 182% more likely to develop at least one mood disorder.
When it comes to physiological diseases, people with high cognitive abilities are 213% more likely to have environmental allergies, 108% more likely to have asthma, and 84% more likely to have an autoimmune disease.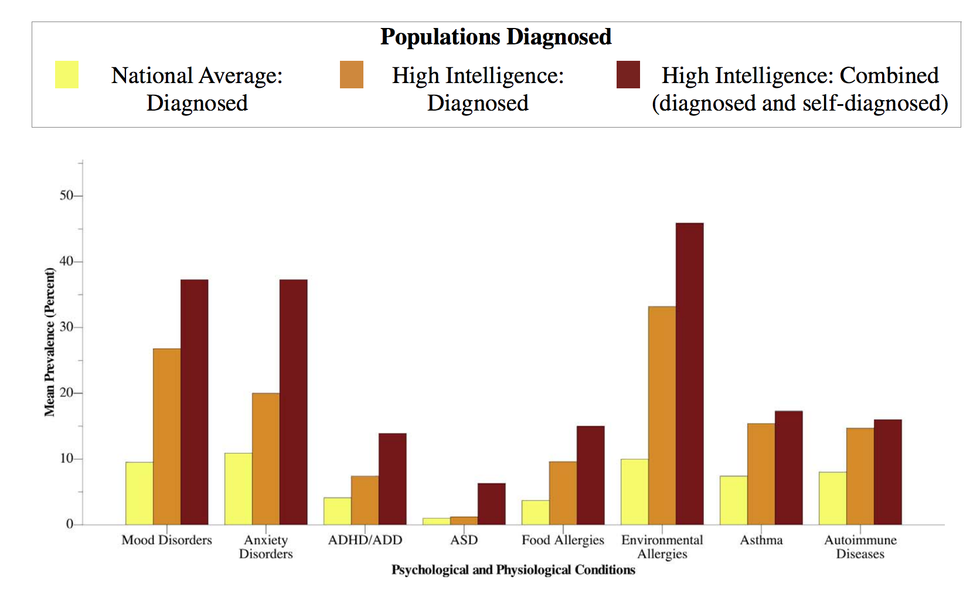 Credit: Journal of Intelligence / High intelligence: A risk factor for psychological and physiological overexcitabilities
The researchers turned to the field of psychoneuroimmunology (PNI) to look for some of the answers. PNI examines how the chronic stress accumulated as a response to environmental factors influences the communication between the brain and the immune system.
The researchers point out that highly intelligent people have tendencies for "intellectual overexcitabilites" and a hyper-reactivity of the central nervous system. On the one hand, this gives people with high IQ heightened awareness that helps their creative and artistic work. In fact, the field of cognitive ability recognizes one aspect of highly intelligent people to be "a broader and deeper capacity to comprehend their surroundings."
This hyper-reactivity, however, can also lead to deeper depressions and poor mental health. This turns out to be particularly true for poets, novelists and people with high verbal intelligence. Their intense emotional response to the environment increases tendencies for rumination and worry, both of which predict depression and anxiety disorders.
Heightened psychological responses can affect immunity, write the researchers. People with overexcitabilites may have strong reactions to seemingly harmless external stimuli like an annoying clothing tag or a sound. This reaction may turn into low level chronic stress and launch an inappropriate immune response.
When the body believes it is in danger (regardless of whether it is an objectively real one like a toxin or an imagined one like an annoying sound), it launches a cascade of physiological responses that include a myriad of hormones, neurotransmitters and signaling molecules. When these processes are chronically activated, they can alter the body and the brain, dysregulate immune function and lead to conditions like asthma, allergies and autoimmune diseases.
The scientific literature has confirmed the association between gifted children and an increased rate of allergies and asthma. One study shows that 44% of those with an IQ over 160 suffered from allergies compared to 20% of age-matched peers. Тhe exploratory study done by the authors of this latest paper further supports that connection.
Based on their findings and previous studies the researchers have termed this phenomenon the hyper brain / hyper body theory of integration, explaining that:
The overexcitabilities specific to those with high intelligence may put these individuals at risk for hypersensitivity to internal and/or external environmental events. The rumination and worry that accompanies this heightened awareness may contribute to a chronic pattern of fight, flight, or freeze responses which then launch a cascade of immunological events. [...] Ideally, immune regulation is an optimal balance of pro- and anti-inflammatory response. It should zero in on inflammation with force and then immediately return to a calm state. In those with the overexcitabilities previously discussed, including in those with ASD, this system appears to fail to achieve a balance and thus inflammatory signals create a state of chronic activation.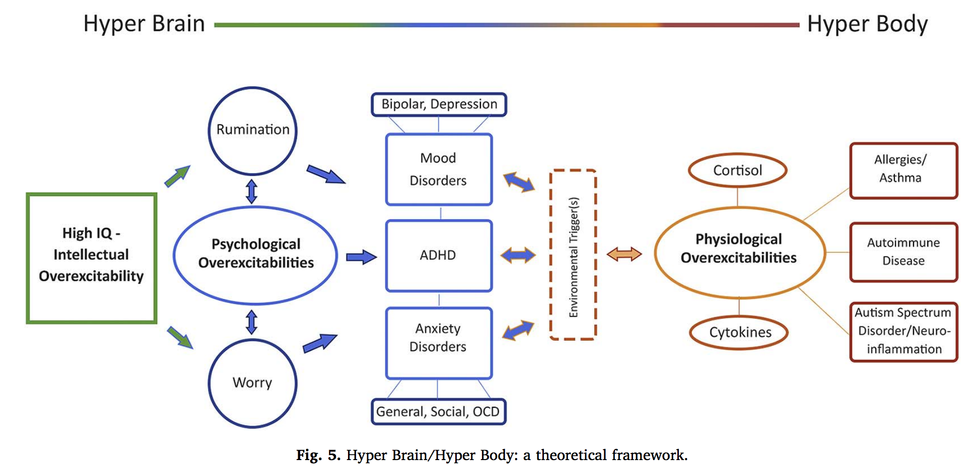 Credit: Journal of Intelligence / High intelligence: A risk factor for psychological and physiological overexcitabilities
The authors conclude that it is important to further study the relationship between high intelligence (particularly the top 2%) and illness, especially in order to demonstrate causation and further bring to light the negative aspects of having a high IQ. As they say, "this gift can either be a catalyst for empowerment and self-actualization or it can be a predictor of dysregulation and debilitation" and in order to serve this group, it is important "to acknowledge the rumbles of thunder that follow in the wake of their brilliance."
This polymath's papers—full of personal and scientific revelations—have joined the World Register.
A stamp printed in Laos from the "Space Exploration " issue shows Isaac Newton and Lunokhod 2, circa 1984.
The UNESCO International Memory of the World Register has recently added another batch of genius to its collection of documents: the papers, diaries, books, and notes of Sir Isaac Newton, thereby helping to preserve for all time the works of one of the greatest minds in human history.

Wait, who added what?

The UNESCO Memory of the World Program is a programmed dedicated to the preservation of and access to the documentary heritage of the world. The program has existed since 1992 and has discovered, preserved, and exhibited countess documents of vital importance to the heritage of mankind since then, including the papers of Winston Churchill, the telegram Austria-Hungary sent to declare war on Serbia, and The Wizard of Oz.

So, why add Newton's stuff?

Isaac Newton discovered and formulated the law of gravity, the classical laws of motion, the nature of color and optics, and invented calculus in his spare time. He invented the reflecting telescope, determined why the planets don't move in perfect circles, and he later went on to invent the little indentations around the side of coins when he was the master of the mint for Great Britain. His contributions to science are nearly impossible to overstate.

And don't take my word for it; Dr. Neil DeGrasse Tyson explains here why Newton is the greatest physicist of all time.
What documents of his did they add to the register?

This round of additions included the Cambridge Papers, a grand collection of Newton's works. This includes his 'Laboratory Notebook' where he recorded the results of sticking a pin in his eye to induce color images (it didn't quite work), his record of personal expenditures (he lost a bit of money at cards), and his personally annotated copy of Philosophiæ Naturalis Principia Mathematica (1687), one of the most important works in the history of science. Reading his handwritten notes, you can see the evolution of his understanding of physics from the first edition of his groundbreaking work and compare them to the changes he made in the second and third editions of Principia.

Amusingly, a list of the sins that he committed before and after Whitsunday in 1662 was also included. He seemed to have had a habit of doing things he should not, and then lying about it. He lists the sin of gluttony twice in a row, proving that geniuses are not so different from us after all.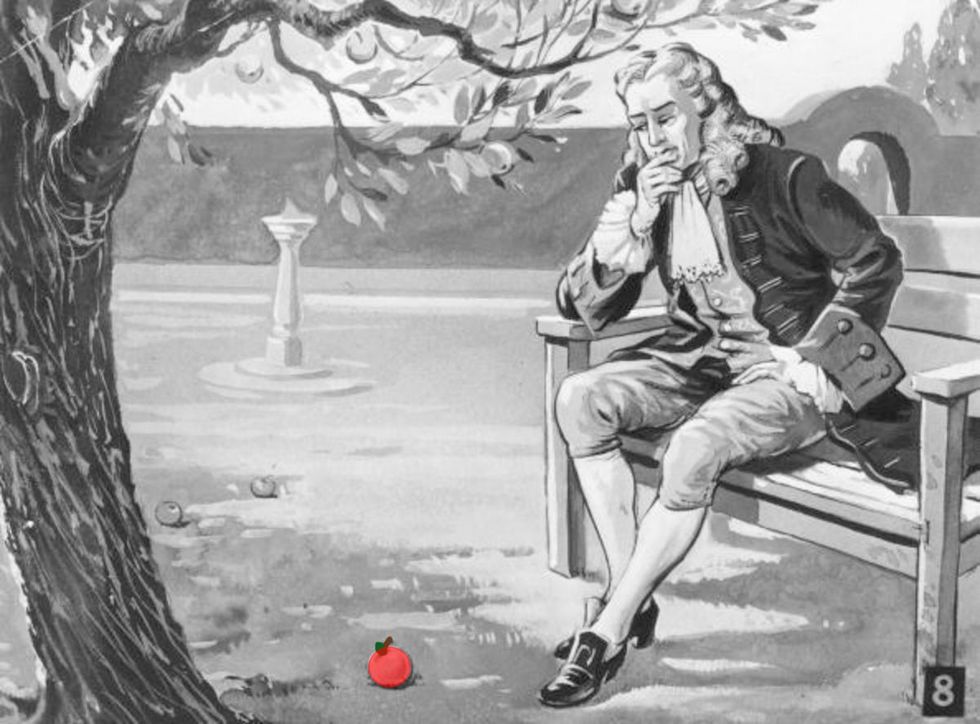 His first thoughts were to pie, not gravity. 

The work of Isaac Newton changed how humanity understood the universe. From his determining that white light was composed of all colors and that motion is unrelated to material, to inventing calculus in a "waste book" for the sake of his own curiosity, the way his mind worked awes us. Alexander Pope was not far off when he quipped that, "Nature and Nature's laws lay hid in night: God said, 'Let Newton be!' and all was light."
Brush up on Newton's Laws of Motion with Crash Course:
Here are four great brains from great minds, and how they differ from yours.
A picture shows a picture and model of Albert Einstein's brain on display during a preview of the Wellcome Collection's major new exhibition 'Brains: mind of matter' in London on March 27, 2012. (MIGUEL MEDINA/AFP/Getty Images)
Many people have wondered about the minds of great thinkers. What must Einstein have been thinking when he sat down at his piano and came to the conclusions that gave us relativity? How does such a fantastic mind work? For neuroscientists, who view mental activity as brain activity, some of their curiosity can be satisfied by studying the brains of great thinkers and seeing how they differ from the normal brain.

Now, brain morphology does not always correlate to behavioral differences. The findings listed below may have little to no meaning at all. Brain shape can be altered by things such as daily motor skill practice or dementia. The current data suggests that brain morphology has at most a modest effect on overall intelligence. In some cases, a larger brain makes for lower functionality. This should be kept in mind when reading about these differences between the brain of these geniuses and the average joe.
So, here are four great brains from great minds, and how they differ from yours.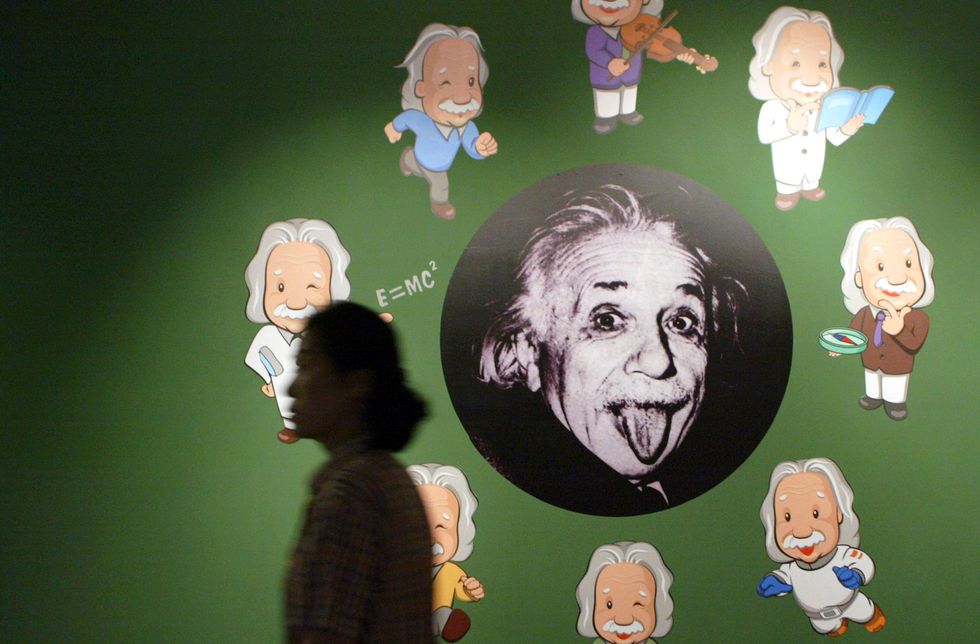 German-born physicist Albert Einstein's Theory of Relativity led to a complete revision of the scientific understanding of space and time. (Chung Sung-Jun/Getty Images)
Einsteins's brain was taken, without the permission of his family, by Thomas Stoltz Harvey after Einstein's death. His brain was preserved, photographed, dissected, and even mailed to other scientists in hopes that studying it might uncover the source of his genius. Over decades, several interesting features of his brain have been discovered, including more extensive connections between the two hemispheres of his brain, a lighter than average weight, and an enlarged lateral sulcus.

The part of his brain dedicated to mathematical and spatial thought, the inferior parietal lobe, was larger than average as well. If you would like to view his brain, it can be seen in the permanent exhibitions of the Mütter Museum in Philadelphia, Pennsylvania.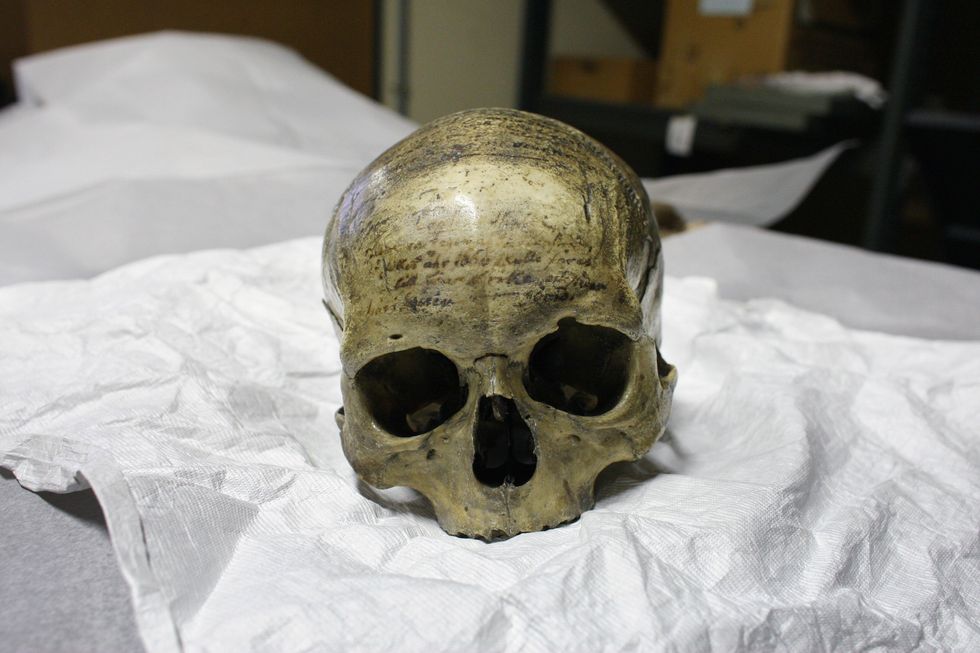 View taken at the Musee de l'Homme (Museum of Mankind) in Paris, on March 5, 2009 shows the skull of French philosopher, mathematician and physicist Rene Descartes, part of the department of Anthropology. Descartes died in his 50s in 1650 from pneumonia in Sweden, where he was teaching philosophy to the country's Queen Christina. (PATRICK KOVARIK/AFP/Getty Images)
Rene Descartes was a French philosopher, famous for the declaration "I think, therefore, I am." He is of such stature in philosophy that his work is considered the dawning of the modern era. In mathematics, for those who have suppressed memories of high school geometry, Descartes invented the Cartesian plane, allowing algebraic ideas to be expressed geometrically. 
Descartes' brain has long been dust in the wind, considering that he died in 1650. Scientists have, however, recently studied the shape of his skull looking for clues as to how his brain might have differed from the norm. Using a CT scan, scientists learned that his skull is rather normal, suggesting that his brain was as well—with the single exception of a bulge in the frontal lobe area, which may correlate to the part of the brain responsible for applying words to abstract notions.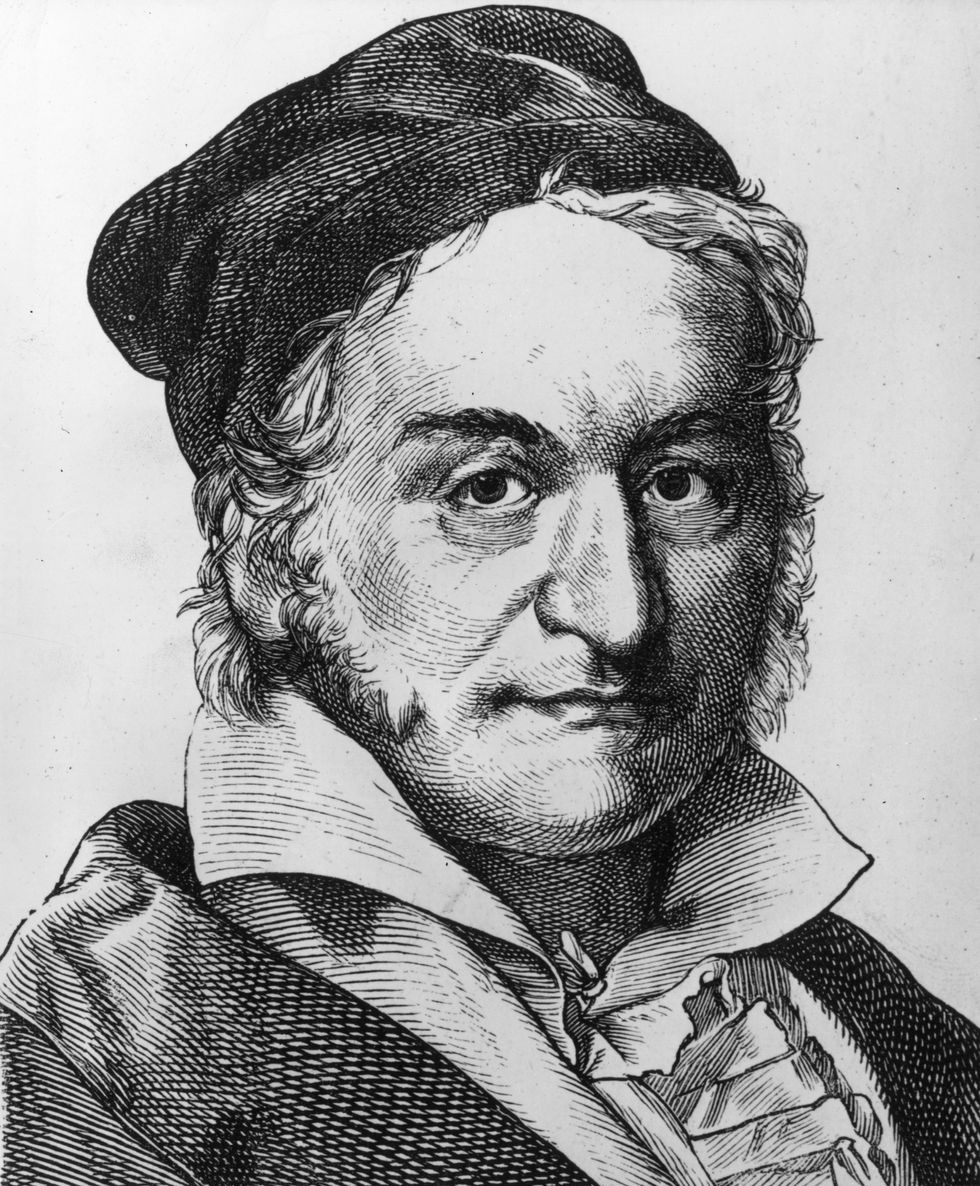 Carl Friedrich Gausscirca 1815: German mathematician and physicist Carl Friedrich Gauss (1777 - 1855). (Hulton Archive/Getty Images)
A German mathematician of tremendous achievement, Gauss' brain was studied after his death by noted neuroscientist Rudolf Wagner. His brain was determined to be heavier than average, and to have very notable convolutions throughout, which were hailed as the source of his intelligence. His brain was accidentally switched with that of physician Conrad Heinrich Fuchs, who died the same year, and was mislabeled for the better part of 150 years. The error was only discovered when MRI studies of both brains found they differed significantly from drawings of the brains made by Rudolf Wagner.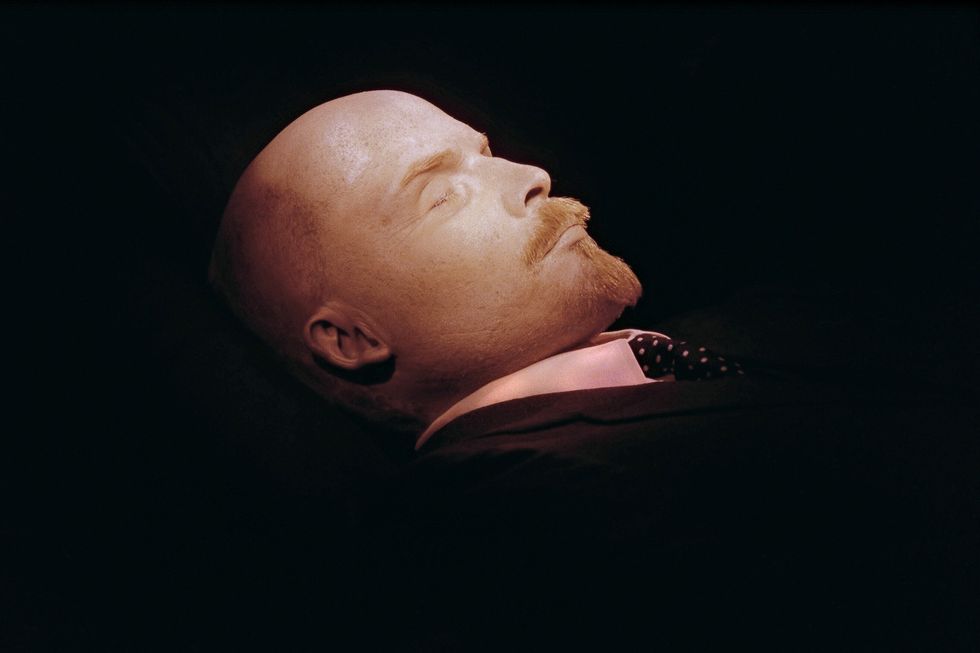 Photographed for the first time in 30 years, the embalmed body of Russian Bolshevik revolutionary leader and Soviet Union founder Vladimir Ilyich Lenin lies 28 October 1991 in the Mausoleum (built in 1930) bearing his name in Moscow's Red Square near Kremlin Palace. The body may be viewed by the public. (AFP/Getty Images)
Lenin, famous for leading the 1917 Russian revolution, had his brain removed shortly after his death at the behest of Joseph Stalin, with the understanding that it would be examined to prove Lenin was a genius. His brain was kept for a few years by the communist party and was later studied by Dr. Oskar Vogt, a German neuroscientist, at the request of the Politburo. 
To nobody's surprise, it was found after comparing Lenin's brain to that of "average people" and a few men of letters that he was an undisputed genius with a brain to match, having "giant" pyramidal cells behind his revolutionary rhetoric. It was even noted how well organized and undamaged his brain was, despite the fact that he suffered four strokes.
There you have it, some geniuses have brains which seem to support their great works, others seem to have rather banal brains. Neuroscience is still trying to understand how brain shape affects intelligence and how substantial those relationships might be. So always remember that "genius is one percent inspiration and ninety-nine percent perspiration". Of course, the man who said that might not have had giant pyramidal cells. 
--