Do you know your rights? Hit refresh on your constitutional knowledge!
The 2nd Amendment: How the gun control debate went crazy
The gun control debate has been at fever pitch for several years now, and as things fail to change the stats get grimmer. The New York Times reports that there have been 239 school shootings nationwide since the 2012 Sandy Hook Elementary school massacre, where 20 first graders and six adults were killed. Six years later, 438 more people have been shot in schools, and for 138 of them it was fatal. Here, journalist and author Kurt Andersen reads the Second Amendment, and explains its history from 1791 all the way to now. "What people need to know is that the Second Amendment only recently became such a salient amendment," says Andersen. It's only in the last 50 years that the gun debate has gone haywire, and it was the moment the NRA went from reasonable to absolutist. So what does the "right to bear arms" really mean? What was a firearm in the 1790s, and what is a firearm now? "Compared to [the] many, many, many rounds-per-second firearms that we have today, it's the same word but virtually a different machine." Kurt Andersen is the author of Fantasyland: How America Went Haywire.
The 5th Amendment: Do not break in case of emergency
The Fifth Amendment of the United States Constitution is often talked about but rarely read in full. The reason? Counterterrorism expert Amaryllis Fox explains that it has, these days, simply become shorthand for not saying anything in court to incriminate yourself. But the full text states how important the due process of law is to every American. So perhaps learning the full text, not just the shorthand, is an important step to being an American citizen. You can find out more about Amaryllis Fox here.
The 13th Amendment: The unjust prison to profit pipeline
The 13th Amendment to the U.S. Constitution abolished slavery—but it still remains legal under one condition. The amendment reads: "Neither slavery nor involuntary servitude, except as a punishment for crime whereof the party shall have been duly convicted, shall exist within the United States, or any place subject to their jurisdiction." Today in America, big corporations profit of cheap prison labor in both privatized and state-run prisons. Shaka Senghor knows this second wave of slavery well—he spent 19 years in jail, working for a starting wage of 17 cents per hour, in a prison where a 15-minute phone call costs between $3-$15. In this video, he shares the exploitation that goes on in American prisons, and how the 13th Amendment allows slavery to continue. He also questions the profit incentive to incarcerate in this country: why does America represent less than 5% of the world's population, but almost 25% of the world's prisoners? Shaka Senghor's latest venture is Mind Blown Media.
The 14th Amendment: History's most radical idea?
In 1868, three years after slavery was abolished, the 14th Amendment to the U.S. Constitution was adopted, granting equal protection under the law to every born and naturalized U.S. citizen. For CNN news commentator Van Jones this amendment is, in his words, the "whole enchilada." It's not the most popular amendment—it doesn't get name-dropped in TV courtroom dramas, or fiercely debated before elections—but to Jones it is a weighty principle that was far ahead of its time. "It doesn't say equal protection under the law unless you're a lesbian. That's not what it says. It doesn't say equal protection under the law unless you're African American. That's not what it says. It says if you're in the jurisdiction you get equal protection under the law. That's radical. In 10,000 years of human history, that's radical." Van Jones is the author of Beyond the Messy Truth: How We Came Apart, How We Come Together.
The 26th Amendment: The act of voting should empower people
Is a 55.7% voter turnout really enough? Bryan Cranston was disappointed with the 2016 presidential election, not for the outcome but for the process. According to Census Bureau figures it was a bumper year for voter engagement with 137.5 million total ballots cast—but is just over half of the eligible voters really that impressive? The Pew Research Center shows that the U.S. still trails behind most developed nations in voter registration and turnout. "I think we've devalued the honor and privilege of voting and we've become complacent, and maybe a bit cynical about our place and rights as citizens and our duties and responsibilities," says Cranston. The good news? Millennials and Gen Xers are on an upward trend in civic engagement, casting more votes than Boomers and older generations in the 2016 election. Cranston reminds us of how empowering the 26th Amendment is in granting voting rights to Americans over the age of 18. "We can't take that lightly," says Cranston. It's a timely reminder too, as 40 million people are expected to drop off that 55.7% figure for the midterm elections, mostly from the millennial, unmarried women and people of color demographics. Bryan Cranston's new book is the spectacular memoir A Life in Parts.
Crowdsourcing as an idea isn't anything new, says historian and sex researcher Alice Dreger. She tells us about the history of public gathering of information from the medieval era to today.
Crowdsourcing as an idea isn't anything new, says historian and sex researcher Alice Dreger. She tells us about the history of public gathering of information from the medieval era to today. The enlightenment period was a big boon to the arts and sciences, but also an even bigger help to how knowledge is organized and distributed. Is Wikipedia, with its checks and balances and appeal to honesty, more like the founding fathers' idea of America than the overtly libertarian wild west that the rest of the internet has turned into? It might seem like a leap, but Alice's position here is full of interesting suggestions like that. Alice's new book is Galileo's Middle Finger: Heretics, Activists, and One Scholar's Search for Justice.
The world today is far more complex than it was 200 years ago, but the speeches and writings of the Founding Fathers point to a common general principle.
How did the Founding Fathers conceptualize America's role in the global community?
More than 200 years ago, the United States were founded by disgruntled colonial men wearing ruffled shirts and tri-corner hats. Their writings on government structure and democracy have endured, but what about their views on global affairs? 

The Founding Fathers' general approach to foreign policy began with Thomas Paine's 'Common Sense'. In his famous 1776 pamphlet, Paine made the case that political connections with the outside world—especially with Britain, the dominant power at the time—should essentially be limited to commerce:
"As Europe is our market for trade, we ought to form no partial connection with any part of it. It is the true interest of America to steer clear of European contentions, which she never can do, while, by her dependence on Britain, she is made the makeweight in the scale of British politics."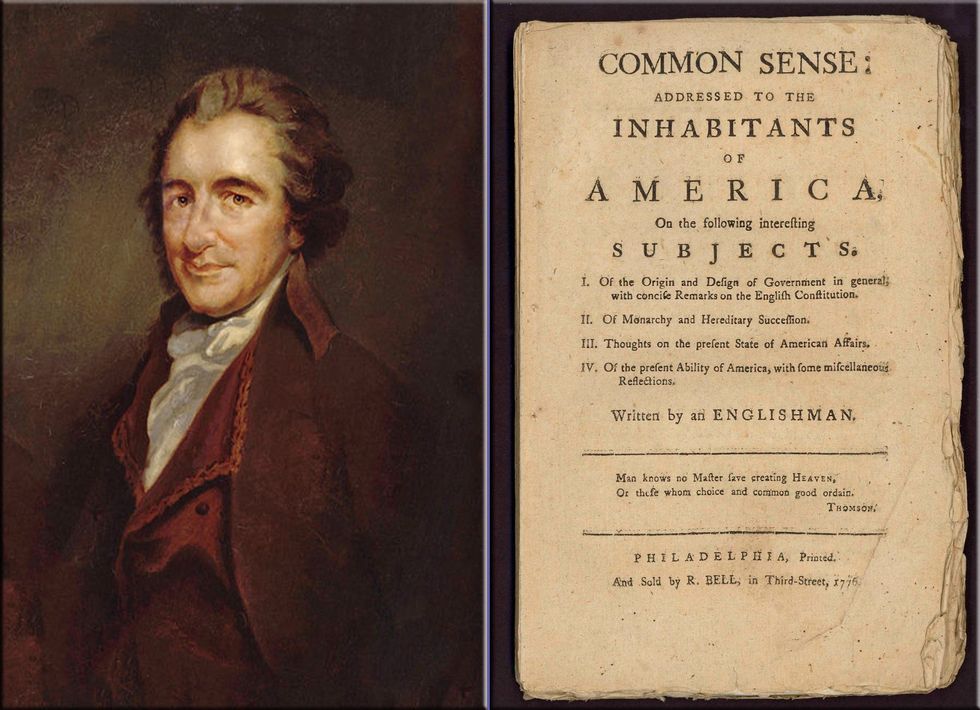 Oil painting of 18th century Enlightenment philosopher and author Thomas Paine by Auguste Millière (1880); Common Sense, a pamphlet by Thomas Paine (1776).
The Founding Fathers had subscribed to Paine's view during the Revolutionary War, but eventually found that an alliance with France was necessary in the short term. Then, in 1793, George Washington effectively broke the alliance with his Proclamation of Neutrality.
Washington doubled down on his support of American independence in his Farewell Address of 1796, believing there to be an inherent danger in becoming overly entangled with other countries, namely the risk of becoming too lenient on allies, and too harsh on their enemies:
"The great rule of conduct for us in regard to foreign nations is in extending our commercial relations, to have with them as little political connection as possible. So far as we have already formed engagements, let them be fulfilled with perfect good faith. Here let us stop."
...
"Excessive partiality for one foreign nation and excessive dislike of another cause those whom they actuate to see danger only on one side, and serve to veil and even second the arts of influence on the other. Real patriots who may resist the intrigues of the favorite are liable to become suspected and odious, while its tools and dupes usurp the applause and confidence of the people, to surrender their interests." 
The early nation's views on foreign policy were solidified in 1821 when John Quincy Adams, then the secretary of state, delivered an address on U.S. foreign policy that outlined why the country wouldn't get involved in the Greek War of Independence:
"Wherever the standard of freedom and independence has been or shall be unfurled, there will her heart, her benedictions and her prayers be. But she goes not abroad in search of monsters to destroy. She is the well-wisher to the freedom and independence of all. She is the champion and vindicator only of her own. She will recommend the general cause, by the countenance of her voice, and the benignant sympathy of her example."
Speaking at the Cato Institute in 2016, William Ruger, Vice President for Research and Policy at the Charles Koch Foundation, delved into the views of Washington, Adams, and others, remarking: "States don't have permanent friends, they have permanent interests, and the Founders were hyper-realist when it came to that."
Three Decades of American Primacy
The U.S. has been the world's most powerful nation since the end of the Cold War. Some refer to this position as "American primacy," which political scientist Joseph Nye defined as its "disproportionate (and measurable) share of all three kinds of power resources: military, economic, and soft." While this power has allowed the U.S. to create an advantageous world order, America's interventions abroad have come at massive human and economic cost.
Ruger spoke to Big Think about the consequences of U.S. foreign intervention:
william-ruger-how-america-destabilized-the-middle-east
"Primacy has often led the United States to create situations where there's greater instability, more problems, lots of unintended consequences that have spilled over to other places. And Iraq is a perfect example of that. ISIS would not exist in Iraq had it not been for the United States opening Pandora's box by our regime-change efforts."
As the U.S. enters its third decade of primacy since the end of the Cold War, it's worth returning to the thoughts of the Founding Fathers, and how they conceptualized America's role in the global community. What would they have thought about invading, say, Iraq? In Adams' words, is it a monster the U.S. should have gotten mixed up with?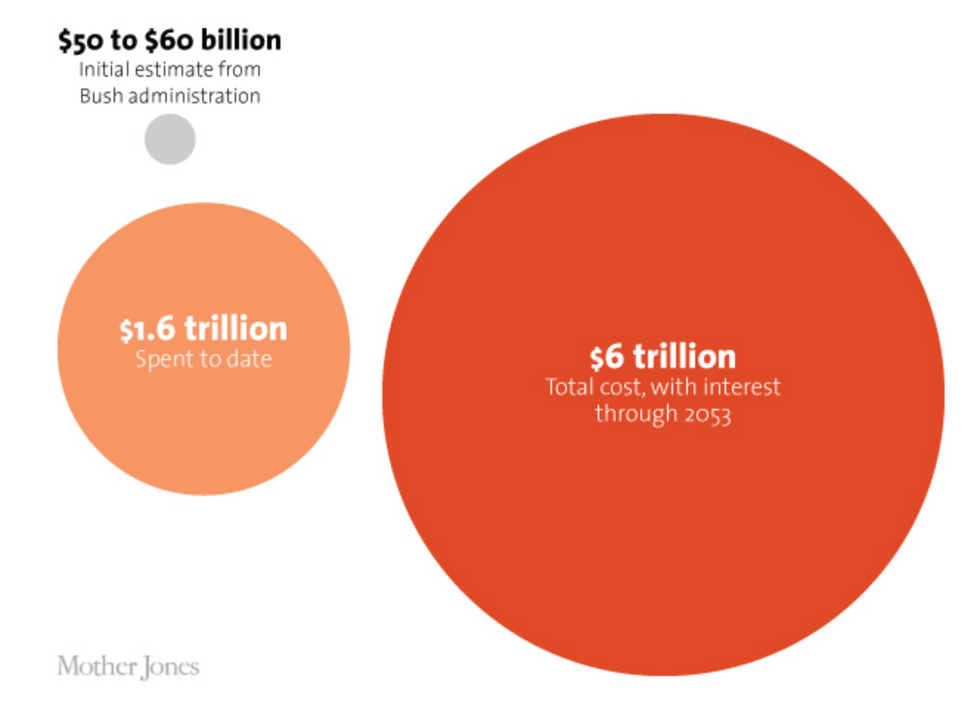 The Founding Fathers' Views Today
It goes without saying that the world today is far more complex than it was 200 years ago. Technology and industrialization have connected the world in entirely unpredictable ways, and the power of the U.S. has multiplied to an unimaginable extent. There's also a case to be made that with America's great power comes the responsibility to right the many wrongs in the world.
However, the massive costs of U.S. foreign policy over the past couple of decades have caused some to call for realistic restraint, which argues for the U.S. to fully consider the consequences of intervention before entangling itself in the problems of other countries, as Ruger explains:
"Over the last 15 to 25 years, our foreign policy simply isn't working. It is not making us safer. And that's why we need to reconsider what we're doing. We need to rethink our grand strategy. We need to rethink how we're using diplomacy and economic levers of statecraft. We need to rethink our budgets and the types of platforms we're building and the types of missions we want to send our troops on.

This is vitally important so that we can rightsize the military for the challenges ahead. And I don't think we're doing that, which is why we need to bring new voices into the conversation. The other thing I think that we should ask for is: we would like our executives to practice humility. That means that they need to understand what they don't know, and to have that be part of the decision-making process."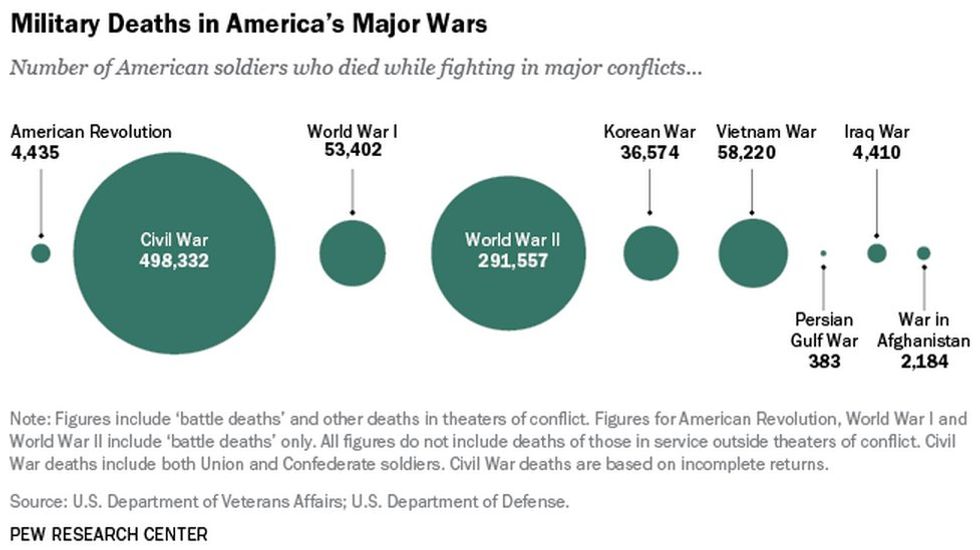 Still, a more realistic and restrained foreign policy doesn't mean the U.S. should engage in full-blown isolationism and abandon the rest of the world, Ruger says:
The United States needs to be engaged abroad in terms of trading with other countries, providing positive-sum outcomes between peoples, diplomacy, cultural engagement, people to people engagement. We can be engaged in the world and open to the world without thinking that the United States needs to be everywhere and without the United States having to lead and be militarily deployed to every part of the globe.
We can never know exactly what the Founding Fathers would think about modern U.S. foreign policy. However, we can tell from their speeches and writings that they all seemed to agree on a general principle: be extremely wary of becoming overly entangled with the never-ending problems of the outside world.
Are noble 18th-century norms fit for 21st-century life? Especially when, as Yuval Harari says, liberalism's "factual statements just don't stand up to rigorous scientific scrutiny."
Illustration by Julia Suits, The New Yorker cartoonist & author of The Extraordinary Catalog of Peculiar Inventions
1. All Americans are liberals. The Founders declared (original) liberalism the self-evident centerpiece of the American deal. Let me explain, while spotlighting three flavors of liberalism: rational, romantic, realist.
2. Liberal (from Latin for "noble") first meant "befitting free people" ~1500, then "free from prejudice, tolerant" ~1700, favoring "freedom and democracy" ~1801, and opposing conservatism ~1832.
3. Historian Dennis Rasmussen discerns two Enlightenment liberalisms: "pragmatic" and idealistic. Relabeling these "realist" and "rationalist" underscores unresolved strains in liberalism's logic.
4. The rationalists were "highly idealistic" logic-loving axiomatic-system builders—Locke's natural law contracts, Kant's universal logical duties, Bentham's greatest good for the greatest number.
5. These rationalists fell "in love with geometry," with a zeal akin to religious devotion. Although much empirically refutes rationalism, their mindset and faith mind-bogglingly thrives.
6. Realists, like Hume, Smith, Montesquieu, and Voltaire, were "critics of reason in the… Age of Reason." Seeing reason's evident limits, they took a "more realistic, moderate, flexible" approach "grounded in experience and empirical observation …[not] abstract standards." Liberal realists were quite conservative favoring "gradual, piecemeal reform."
7. Hume called Locke's contracts "implausibly individualistic" (imaginary "offers" you couldn't refuse). Anthropologists, evolutionists and parents all know no alternative self-sufficient "state of nature" really existed.
8. Kant's high-concept abstractions can fail trivial tests. For instance, you shouldn't lie to assassins about a target's whereabouts? Beware oddball geniuses who aspirationally project their rare rigor onto others.
9. Bentham's "pig philosophy" confuses pleasure with happiness. And fans of one-trick-minded calculus of consequences seem easily steamrolled, e.g., infamous "trolley problems" derail with a loved-one at stake (see "relational rationality").
10. Yuval Harari's big-picture patterns suggest the third kind, "romantic liberalism." The core "liberal package" turns our gaze obsessively "inwards," enthroning feelings as "the supreme source of meaning" and authority.
11. Romantic liberalism's creed has its own "bible of feeling," Rousseau's 1762 novel Emile, which preaches always trust your feelings (motto = "If it feels good, do it").
12. Note art's role as way-of-life preacher. As Wilfred Pareto said, "The most universal religion of the West… is the sex religion; the novel supplies… its doctrine."
13. Idea-faith and cognitive-style issues abound. For instance, free-market-obsessed neoliberalism mixes rationalism and romanticism, but lacks realism. The neoclassical versus behavioral economics struggle rests on realer rationality limits (see Adam Smith was a behavioral economist, and "behavioral politics").
14. Life-shaping ideas demand regular realistic reassessment, not blinkered (enlightened-seeming) faith. As philosopher Anna Alexandrova notes, liberal faith that "only the individual is an authority on their own well-being… flies in the face of facts."
15. Harari agrees, "science is undermining… the liberal order." Liberalism's "factual statements just don't stand up to rigorous scientific scrutiny." For instance, individualism is a "WEIRD" sampling error (with art-configured ups-and-downs), presuming true inner selves risks the "fundamental attribution error," and feelings often mislead.
16. "New technologies kill old gods and give birth to new gods," says Harari. Likewise sacred ideas.
17. Are noble 18th-century norms fit for 21st-century life (when corporations can hack your feelings with addictive "emotech")?
Illustration by Julia Suits, The New Yorker cartoonist & author of The Extraordinary Catalog of Peculiar Inventions
Many people were upset when NPR tweeted out the Declaration of Independence.
On July 4th of this year, NPR tweeted out the Declaration of Independence, taking its on-air tradition of 29 years into the Twitterverse. But the public radio's line by line recounting of one of the country's most famous documents on the nation's birthday did not go over well. Many Trump supporters were outraged, thinking that NPR is tweeting some insidious revolutionary tweets to undermine the President. They didn't quite get the content and intent of NPR's civic exercise. 
Some were incensed and wanted to defund NPR, something Trump already tried to do in his budget: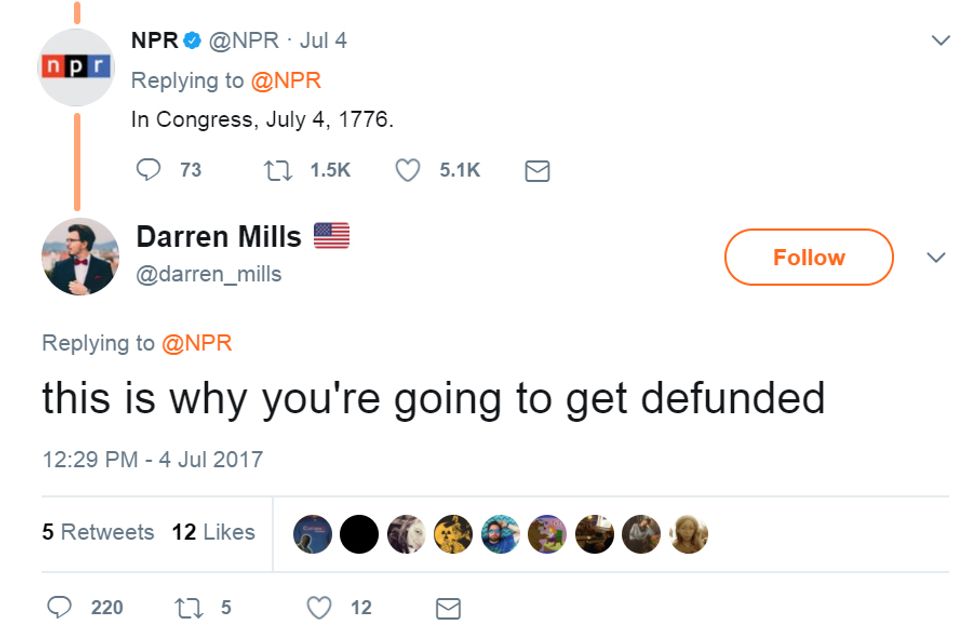 Others were just thinking the 113 tweets by NPR and the ensuing notifications were either an evidence of hacking or that the venerable radio institution has become quite spammy.
The reactions got worse when the tweets relayed how displeased the colonists were with the King George III of Great Britain. Statements like "a Prince whose character is thus marked by every act which may define a Tyrant, is unfit to be the ruler of a free people" really stood out to people, some of whom assumed NPR was calling for a revolution.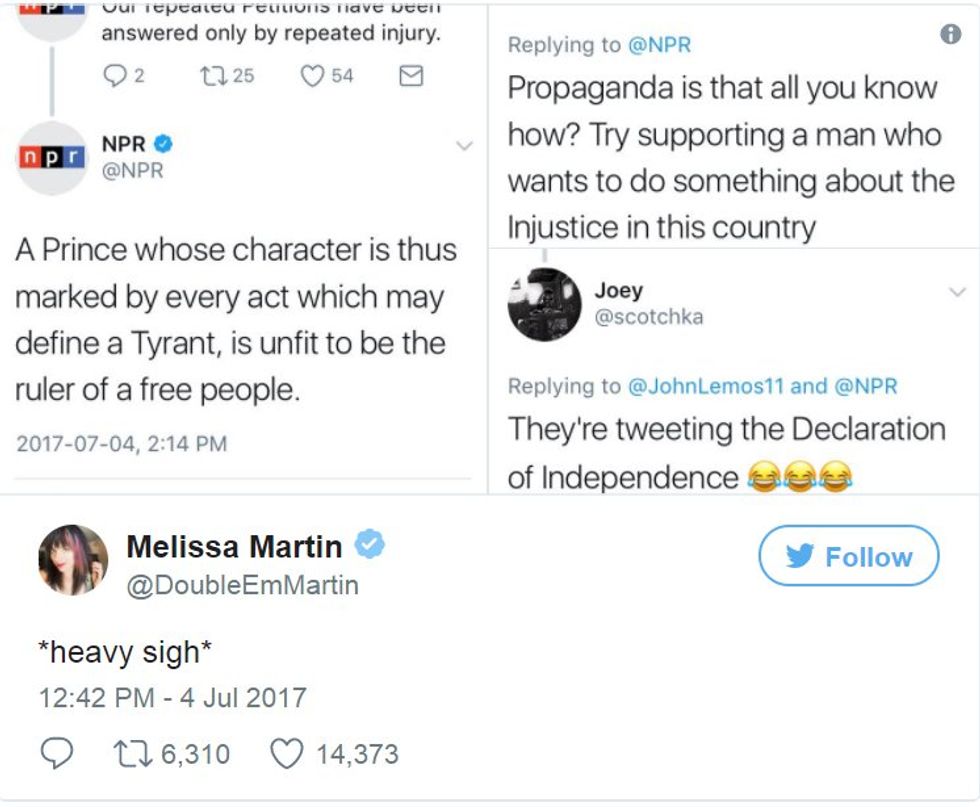 From NPR's standpoint, they were not trying to cause any controversy or make partisan political statements. The tradition of reading the Declaration of Independence on the air goes back almost 30 years and involved two dozen of the radio's staff. They wanted to extend the practice to Twitter in order to reach a new audience. 
"This year we mirrored that tradition on Twitter as a way to extend to social media what we do on the air," wrote NRP spokeswoman Isabel Lara in an email statement to the Washington Post. "The tweets were shared by thousands of people and generated a lively conversation."
Some people eventually figured out what NPR was up to and deleted their upset tweets. But while the online outrage was short-lived, it points to the revolutionary nature of the Declaration of Independence, drafted by Thomas Jefferson, and the ideas behind it. They are still able to provoke people 241 years later. 
First, the founders of America proclaimed that "all men are created equal" - a notion we are still fighting to make universally understood and accepted.  Furthermore, they said, people have "unalienable Rights" which include "Life, Liberty and the pursuit of Happiness" - a concept quite extraordinary if you consider these words were spoken in response to rule by a monarch in a time when nations built on such values did not exist. 
These rights, expanded upon and further enshrined in the Bill of Rights, define humanity in a way that's bigger than any government, which the declaration says must derive its "just powers from the consent of the governed". After thousands of years of human history that spoke to the contrary, a society has finally reached the point where any individual was guaranteed equal access to freedom and economic self-determination.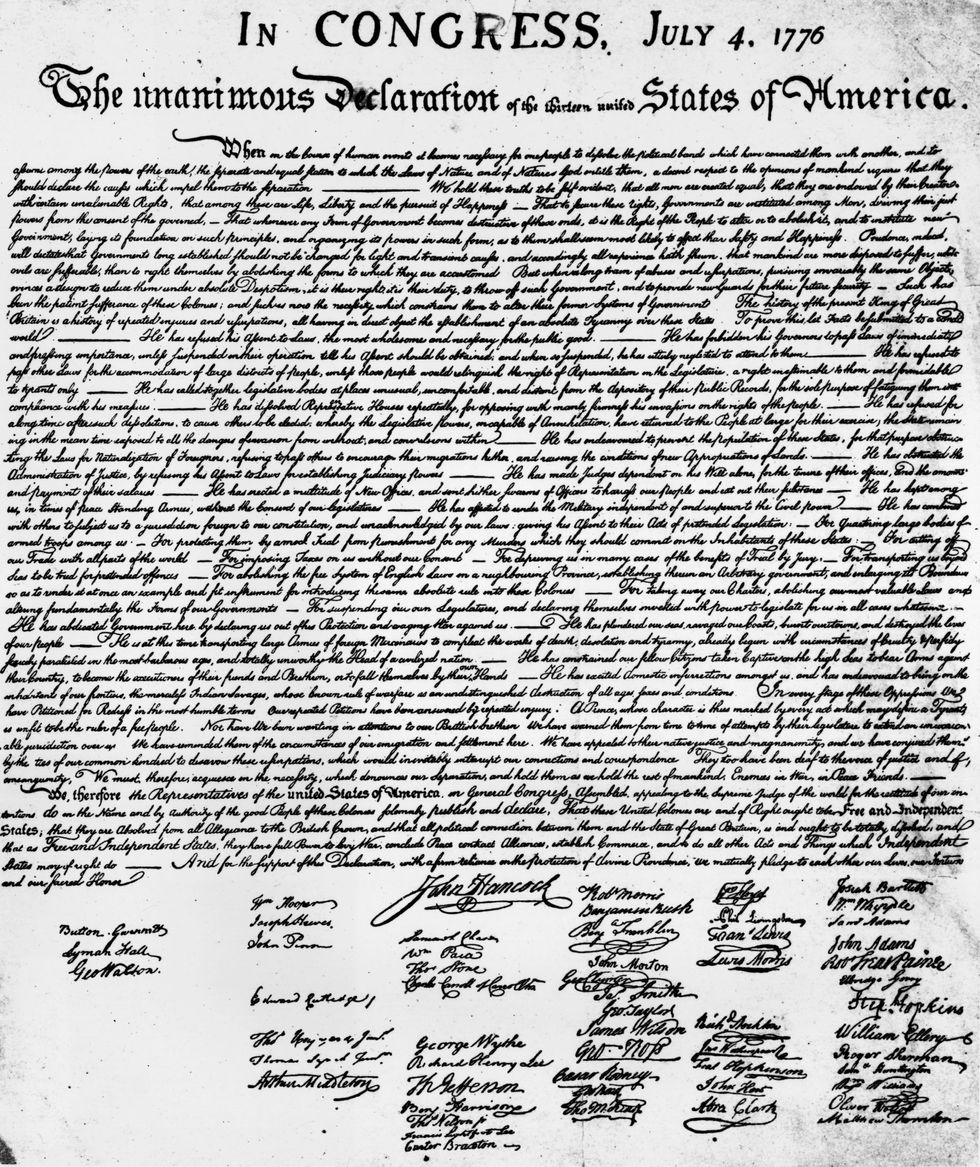 The Declaration is a real testament to rebellion, going on to proclaim assertively that the people have a right to "abolish" any government that doesn't respect the rights of its citizens through its "abuses and usurpations". 
Interestingly, one of the abuses the Declaration spends quite a bit of time on is immigration, calling out the King for "obstructing the Laws for Naturalization of Foreigners" while also preventing new immigrants from coming in by "refusing to pass others to encourage their migrations hither". The founders were very conscious of the role of immigration in the country's formation and future. 
As they enumerated the king's offenses of unfair taxation and laws, which he policed with a standing army, the Declaration's writers took a stand and proclaimed "Free and Independent States", which were now "absolved from all Allegiance to the British Crown" - an act to which they pledged "our Lives, our Fortunes and our sacred Honor."  
Considering the social media flareup over NPR's tweets, it's important for us to remember that this country was founded in a revolt against an unjust government. Speaking truth to power is part of the country's DNA. Perhaps that's the most offensive thing of all - so many have forgotten that lesson and clearly have a shallow knowledge of history, trying to enshrine a certain version of America that harkens back to their version of orthodoxy - the "founding fathers". America, like any country, should always be allowed to evolve and become what all of its citizens (not just some) find beneficial and worthy of its ideals.  
Certainly, stability is one of the engines of America's growth and power in the world, and hopefully the time for bloody revolutions has passed in human history. But the election of Donald Trump notwithstanding, Americans seem to have little real passion left for challenging the status quo. According to statistics from the Brookings Institution, in the 2016 election cycle, 97% of the incumbents in the House of Representatives, 93% of the senators and 80% of governors were re-elected. Nurturing revolutionary ideas and holding its government truly accountable if it doesn't work is something Americans may no longer be all that passionate about. Being upset at the words of the Declaration of Independence is a testament to this ultimate enshrinement of the status quo.