We eat 50 billion chickens every year. Is there a better way?
Freethink Media Inc
A restaurant in Singapore recently served the world's first lab grown chicken nuggets.
Grown from animal cells, the nuggets taste like chicken because they are made from real chicken.
The lab grown chicken is only available in Singapore, though regulatory agencies in other countries are considering approval.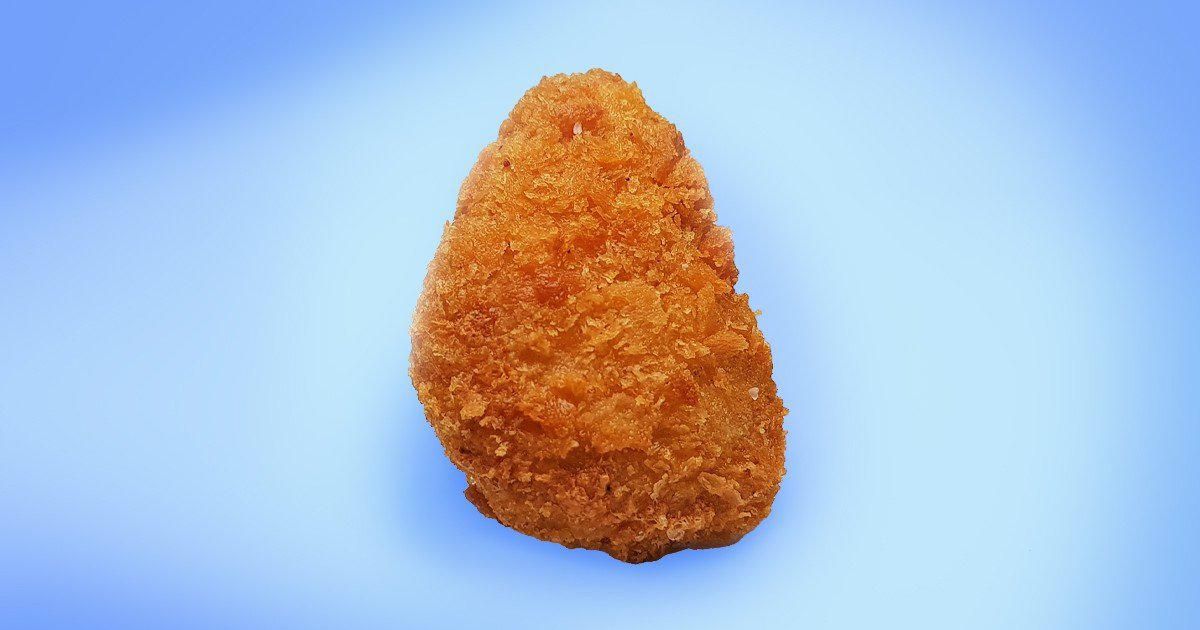 Murder-Free Chicken Nuggets: Real Meat Grown In a Lab www.freethink.com
It has never been easier to find a meat substitute at your local restaurant. Plant burgers and seitan poultry are increasingly available as solutions to the ethical, environmental, and economic problems of meat production. Now, a new option has come along: lab grown chicken. This "cultured" meat offers the most promise for those looking to keep the taste and texture of real meat without the baggage.
Why we need lab grown chicken
The livestock industry can be gruesome, and chickens in factory farms have a particularly foul time. Chickens are often kept in conditions that many would find objectionable. Those raised for meat, known as broilers, are not always kept in cages, but they are typically given very little space — sometimes as little as eight-tenths of a square foot per bird — in a large production house alongside thousands of other chickens. In intensive operations, the smell of ammonia from their waste can become overwhelming and even cause the birds to fall ill if it is not ventilated properly.
Even if chickens were kept in a sort of five-star resort, genetics make their lives unpleasant. Modern broilers have been bred to grow at tremendous rates in the name of efficiency. They put on a lot of weight in a hurry, some birds growing by 300 percent in a single week. This rapid weight gain in the places desired for meat, like the breast, can make it difficult for the birds to move. A study in Denmark, for instance, found that 75 percent of farmed chickens had difficulty walking.
It is under such conditions that the world consumes about 50 billion chickens each year. Even if you're not concerned about animal welfare, the environmental costs of getting a nugget from the farm to your plate are high enough to ruffle your feathers.
As it turns out, factory farms might be every bit as bad for the environment as the smoke belching factories of old. Several studies have suggested a link between living near factory farming operations and lung problems, including asthma. The disposal of waste products can befoul waterways if done improperly. The aforementioned ammonia emissions are also an ever-present concern.
Furthermore, these operations aren't economically ideal for the people running them. Most modern chicken farms are contract farms, in which farmers make deals with large meat companies to produce birds under agreed upon standards. Farmers have little control over their operations and often fail to profit as the expenses mount.
There are many other problems. Chicken farms have a high number of workplace injuries. During last year's pandemic, the tightly packed conditions in slaughterhouses made many of them the perfect place for outbreaks of COVID-19 to occur (among humans, not chickens).
As the world becomes wealthier and more people want to consume chicken and other meat, we need a radically new way to meet that demand.
Lab grown meat explained
The lab grown chicken is, unlike most currently available meat substitutes, actually made of chicken. The new product is made by Eat Just, an American company that until now has focused on alternatives to egg products.
To make cultured meat, scientists collect cell samples from the part of the chicken that they want to grow in the lab, for instance the breast, and place them in a bioreactor. This reactor contains ideal conditions for the growth and replication of the desired cell cultures. The cells then grow and replicate similar to the way they would inside of an actual bird. After harvesting, the cells are processed into desired shapes, in this case a nugget.
Eat Just's director of Cellular Agriculture Vitor Espirito Santo explained to FreeThink, "We're not trying to make a whole animal, we're only focusing on growing the edible parts. And instead of growing those parts inside of the animal, we're growing them using a culture process."
As a result, the outcome is a nugget that looks, tastes, and feels like chicken because it is chicken — no bird required. Other options, like lab grown steak, are also in the works, though these are even more expensive and the texture problem remains to be solved.
Chef Kaimana Chee of Eat Just described the lab grown chicken he worked with as extremely similar to the typical chicken nugget. He explained, "The texture is tender and crispy on the outside and soft and juicy on the inside." He goes on to mention that he finds an advantage of lab grown meat to be "that we don't need to sacrifice the textures we're accustomed to."
Reviews of the lab grown chicken from critics and customers are also favorable.
Some bones to pick
Lab grown meat isn't quite perfect yet, of course. At the time of writing, two chicken nuggets from Eat Just cost roughly $17. These costs, while a tremendous improvement over the $300,000 lab grown hamburger a few years ago, are still too high to be accessible to the typical consumer of chicken products.
Also, the only place where lab grown chicken has been approved for consumption is Singapore, though other places are considering it. The FDA and Department of Agriculture have discussed how lab grown meat would be regulated, but they have yet to approve any items for sale in the United States.
There is also the problem of getting people to switch to cultured meat. People take their food very seriously, and convincing people to switch from the familiar to something exotic may prove difficult.
A new world of cultured meat
Despite this, cultured meat is probably the future. The technology could be scaled up fairly quickly, with more and larger bioreactors producing greater amounts of meat. Eat Just hopes to reach the point where production improvements have lowered the price to a more competitive level within a few years.
It is also possible to grow meat in particular patterns. Using a scaffold, the cells can be encouraged to grow in shapes more akin to those from an actual animal. When combined with technologies like 3D printing, it is conceivable to produce cultured meat that looks, tastes, and feels like it just came off the animal.
Over the next few decades, meat consumption is expected to skyrocket alongside the amount of land and energy required to satiate the world's hunger. Producing lab grown chicken and other cultured meat would allow us to sustainably meet demand while avoiding the numerous problems associated with the livestock industry.
A virtuous diet isn't strictly vegan.
Pixabay/Pexels
Many philosophers agree that animal suffering should be avoided and suggest vegetarian or vegan diets.
However, a new essay reminds us that growing crops can harm animals too, and this should factor into our calculus.
Using virtue ethics, the author provides a way of deciding what is the "best" diet.
When people examine the philosophy of food, they're likely to come across more than a few arguments in favor of completely ditching meat and animal products in the name of morality. Arguments for vegetarianism based on animal rights, the often appalling condition of factory farms, or even the carbon footprint of agricultural production abound. Many of these are well reasoned and have convinced many people.
However, a new paper published in the Journal of Agricultural and Environmental Ethics argues that one can be an ethical omnivore, though the meats in question and how you might acquire them are a little different than what you are used to.
Virtue ethics reviewed
The paper's author, Professor Christopher Bobier of St. Mary's University of Minnesota, makes his case using virtue ethics. (Here's a primer on the topic.) Virtue ethics is the idea that virtues (positive character traits) should be acted upon. A compassionate person is motivated to act compassionately and does so, for example. A virtuous life is a life well lived.
The professor argues that compassion, justice, and temperance are all traits that a person should strive for — and that all of them factor into deciding what's on our plate. A virtuous person should try to have a diet that doesn't promote suffering, should switch to foods they know are better in this regard, and shouldn't eat too much or for pleasure alone or eat things that are bad for them to excess.
At first glance, this might not seem to mean much. If Peter Singer can argue that eating meat is bad using utilitarianism, it seems like it should be easy to prove that a person living according to virtue ethics would avoid meat too. Several philosophers have made that argument. However, Prof. Bobier argues that a number of considerations should make any virtuous person at least contemplate some meat eating.
Virtuous omnivores
Prof. Bobier argues that, while he agrees that a virtuous person would care about animal suffering and would clearly oppose things like factory farming, the real world is complex. Sometimes even the most careful actions can lead to unintended harm.
For example, animals are often hurt or killed through crop agriculture. Pesticides used to grow crops intentionally kill insects, land clearance deprives many animals of their habitats, and accidents with farming equipment hitting animals happen all the time. One author even suggests that the number of insects needed to sustain a person is lower than the number of insects that would be killed to feed that person with a purely plant based diet.
If these facts are true and the virtuous person is concerned about animal suffering, the compassionate thing to do would be to at least occasionally eat certain animals and thereby keep more of them alive. Creatures without complex nervous systems, like insects and oysters, would be acceptable for the virtuous person to consume. (It's not clear if these animals can feel pain.)
In other cases, there are meats that can be acquired in ways that do not promote future harm to animals. Two examples of this are roadkill and eating meat which is slated to be disposed of- like something with a rapidly approaching use by date. While some suffering went into the process — accidentally in the first case — the consumption of them at that point does not increase the demand for these meats.
Ironically, the virtuous person who wants to reduce animal suffering may need to eat some animals as a way to reduce overall suffering. In this way, an omnivorous diet may be more virtuous than a vegetarian or vegan one.
Does a virtuous person really need to eat bugs and oysters?
If the above reasoning has left you convinced that you should care a little more about what you eat but not quite ready to consider switching purely to non-sentient food sources, Prof. Bobier reminds you not to feel too bad about yourself. As he explained in an email to BigThink:
"Virtue ethics is about progressing in virtue — in some formulations of VE, no one is virtuous; rather, we all strive to become virtuous. Moral progress is part and parcel of striving to live a good human life."
It is also important to remember that his article is neither explicitly giving dietary advice nor providing an exhaustive list of foods to eat; it is only offering a new way to look at the philosophy and morality of food. Virtue ethics is flexible, and at no point does it deem eating meat taboo. Some people, like those living in places where alternatives are not available, might even have to eat meat to live a good life.
There are lots of details to consider when deciding what should go on your plate, as the professor explains:
"We tend to look at the food on our plate without thinking about where that food came from and its broader impact. This was certainly my case when I was growing up. Yet what we eat has ramifications for animals (e.g., pain, distress, death), other people (e.g., farm workers), businesses (e.g., small farmers and big agricultural companies), the environment (e.g., deforestation, animal waste), and ourselves (e.g., healthy living)."
We should all reflect about the implications of the food on our plates. Even if you can't dine like a saint, trying to be a little more virtuous could mean a lot.
Participants were asked to complete a simple attention task as well as a more challenging "placekeeping" task.
Relying on caffeine to get you through the day isn't always the answer, according to a new study.
The researchers assessed how effective caffeine was in counteracting the negative effects of sleep deprivation on cognition. As it turns out, caffeine can only get you so far.
The study in the most recent edition of Journal of Experimental Psychology: Learning, Memory, & Cognition assessed the impact of caffeine after a night of sleep deprivation.
More than 275 participants were asked to complete a simple attention task as well as a more challenging "placekeeping" task that required completion of tasks in a specific order without skipping or repeating steps.
The study is the first to investigate the effect of caffeine on placekeeping after a period of sleep deprivation.
"We found that sleep deprivation impaired performance on both types of tasks and that having caffeine helped people successfully achieve the easier task. However, it had little effect on performance on the placekeeping task for most participants," says Kimberly Fenn, associate professor of psychology from Michigan State University's Sleep and Learning Lab.
"Caffeine may improve the ability to stay awake and attend to a task, but it doesn't do much to prevent the sort of procedural errors that can cause things like medical mistakes and car accidents," she adds.
Insufficient sleep is pervasive in the United States, a problem that has intensified during the pandemic, Fenn says. Consistently lacking adequate sleep not only affects cognition and alters mood, but can eventually take a toll on immunity.
"Caffeine increases energy, reduces sleepiness, and can even improve mood, but it absolutely does not replace a full night of sleep, Fenn says.
"Although people may feel as if they can combat sleep deprivation with caffeine, their performance on higher-level tasks will likely still be impaired. This is one of the reasons why sleep deprivation can be so dangerous."
Fenn says that the study has the potential to inform both theory and practice.
"If we had found that caffeine significantly reduced procedural errors under conditions of sleep deprivation, this would have broad implications for individuals who must perform high stakes procedures with insufficient sleep, like surgeons, pilots, and police officers," Fenn says. "Instead, our findings underscore the importance of prioritizing sleep."
Source: Michigan State University
Original Study DOI: 10.1037/xlm0001023
Reprinted with permission of Futurity. Read the original article.
People who go ballistic over other people's eating sounds aren't just cranky — they have misophonia.
Some people are driven absolutely bonkers when they hear other people eating or even breathing.
Such people likely have a condition called "misophonia," or "hatred of sound."
fMRI brain scans reveal a surprising cause for the condition.
Maybe it's happened to you. You're sitting there quietly munching away on something, and suddenly, you feel someone's eyes burning into you. When you turn toward the stare, you encounter eyes filled with rage.
"What?" is your likely response. That "what" is the sound of your chewing — you've just driven someone who has misophonia over the edge. This condition affects somewhere between 6 percent and 20 percent of us. Maybe you have it and have wondered what's been making you so mad.
Misophonia — it means "hatred of sound" — is a hypersensitivity to certain sounds made by other people. These may include noises made by chewing, drinking, or breathing. It can prompt anger, anxiety, disgust, irritation, and even violent rage coupled with a strong flight impulse.
A study from the University of Newcastle published in the Journal of Neuroscience may reveal, for the first time, what's going on in people with misophonia. It's not the sounds themselves after all, but an unwanted mirroring response they elicit in the listener.
According to lead author Sukhbinder Kumar, "Our findings indicate that for people with misophonia there is abnormal communication between the auditory and motor brain regions — you could describe it as a 'supersensitized connection.'"
The first clue
Credit: Sammy Williams / Unsplash
Increased connectivity in the brain between the auditory cortex and the motor control regions affecting the mouth, face, and throat appears to be what causes misophonia. The study is based on fMRI scans of 17 subjects with misophonia and 20 control subjects.

When all the participants were exposed to recordings of human eating and chewing, all of their auditory cortexes responded similarly. However, for those individuals with misophonia, the researchers also observed increased communication between the auditory cortex and the mouth, face, and throat motor control areas. These regions were strongly activated by the sounds.
The second clue
Credit: Caleb Woods / Unsplash
It's not just sound that can trigger misophonia, apparently.

Says Kumar, "What surprised us was that we also found a similar pattern of communication between the visual and motor regions, which reflects that misophonia can also occur when triggered by something visual."
That both sonic and visual inputs can trigger the condition prompted the researchers to consider what the two responses have in common. "This led us to believe," says Kumar, "that this communication activates something called the 'mirror system,' which helps us process movements made by other individuals by activating our own brain in a similar way — as if we were making that movement ourselves."
Invasion of the body snatchers
"We think," Kumar says, "that in people with misophonia, involuntary overactivation of the mirror system leads to some kind of sense that sounds made by other people are intruding into their bodies, outside of their control."
Put another way, this hypothesis suggests that the anger and revulsion inside a person with misophonia are an emotional response to an unconscious — and highly unwelcome — sense someone else is attempting to take over control of their mouth, face, and throat.
A trick shared with the researchers by some people with the condition seems to support this:
"Interestingly, some people with misophonia can lessen their symptoms by mimicking the action generating the trigger sound, which might indicate restoring a sense of control. Using this knowledge may help us develop new therapies for people with the condition."
Senior author of the study is Newcastle's Tim Griffiths, who says of the study's findings: "The study provides new ways to think about the treatment options for misophonia. Instead of focusing on sound centers in the brain, which many existing therapies do, effective therapies should consider motor areas of the brain as well."
A new agricultural revolution could forever change the planet.
Credit: Freethink Media / Plenty, Inc.
Vertical farming leverages cutting-edge technology to grow food in a new and better way.
One of its many benefits is that it can increase crop yield by 700 percent.
Vertical farming can help relieve pressure on scarce resources and boost Earth's biodiversity.
One day soon, you could eat bananas grown in downtown Manhattan.
It's a way of growing food that turns traditional agriculture on its head. With the required technologies now rapidly maturing, vertical farming is sprouting across the globe.
While there are still unresolved issues with this marriage of technology and agriculture, its promise may be irresistible. If it gets off the ground — literally — in a major way, it could solve the problem of feeding the Earth's 7.9 billion people. And that's just one of the benefits its proponents promise.
Vertical farms could take over the world | Hard Reset by Freethink www.youtube.com
Agriculture through time

When humankind began planting crops for nutrition about 12,000 years ago, the nature of our hunter-gatherer species fundamentally shifted. For the first time, it's believed, people began staying put.
With agriculture as their central mission, communities formed, with the now-familiar arrangement of residential areas surrounded by land dedicated to growing food. Even today, with modern transportation making the widespread consumption of non-local foods common, this land-allocation model largely survives: population centers surrounded by large areas for growing vegetables and fruit and raising livestock.
Challenges facing traditional agriculture
Credit: Genetics4Good / Wikimedia
As our population has grown, traditional agriculture has begun facing some big challenges:

Farmland takes up a lot of space and destroys biodiversity. Our World in Data reports that half of all habitable land is used for agriculture. As Nate Storey of Plenty, Inc., a vertical farming startup, puts it, "It is probably one of the most defining acts of humanity: We literally changed the ecosystem of the entire planet to meet our dietary needs."
The demand for farmland — both for produce and livestock — has led to a dangerous deforestation in several parts of the world. This also results in biodiversity loss and contributes to an increase in the greenhouse gases that drive climate change.
Degradation of farmland, such as through soil erosion, poses a threat to agricultural productivity.
Agriculture consumes copious amounts of water, which exacerbates water shortages. (Obviously, water shortages also reduce agricultural productivity.)
Fertilizer run-off causes substantial environmental damage, such as algal blooms and fish kills.
Pesticides can degrade the environment by affecting non-target organisms.
The effects of climate change are already making agriculture more challenging due to significant shifts in weather, changes to growing seasons, and realignment of water supplies. Our climate is continuing to change in unexpected ways, and the only predictable aspect of what lies ahead is unpredictability.
Vertical farming proponents expect that a re-think of how we grow food can ultimately solve these problems.
What is vertical farming?
Credit: Freethink Media / Plenty, Inc.
Vertical farming is a form of agriculture that grows plants indoors in floor-to-ceiling, tower-like walls of plant-holding cells. Instead of growing plants in horizontal fields on the ground, as in traditional farming, you can think of vertical farming's "fields" as standing on edge and extending upward toward the ceiling. The plants need no soil or other aggregate medium in which to grow; their roots are typically held in a cell lining, often composed of coconut fiber.

Vertical flora is grown either aeroponically, in which water and nutrients are delivered to plants via misting, or hydroponically, in which plants are grown in nutrient-rich water. These are incredibly efficient systems, requiring 95% less irrigation than soil-grown plants. With vertical farming, Storey says that 99 percent of the moisture transpired by plants can be recaptured, condensed, and recirculated.
Plants, of course, also need light to grow, and vertical farms use increasingly efficient LED bulbs to keep plants thriving.
Vertical farms can increase crop yields by 700 percent
Credit: pressmaster / Adobe Stock
If vertical farming takes off the way its supporters believe it should and will, it may solve many of the aforementioned challenges facing agriculture.

Crop yields with vertical farming far exceed what's possible with traditional agriculture. Plenty, Inc.'s Shireen Santosham notes that the highly controlled growing environment of vertical farming has allowed her company to reduce the growing time for some crops to as little as 10 days. Without needing to consider weather or even sunlight, combined with the ability to operate 365 days a year, their system increases the potential annual yield by about 700 percent.
The land requirement for vertical farming is a mere fraction of that for traditional agriculture. Santosham says it can be done in a building the size of a big-box retail store that can be built pretty much anywhere that has adequate utilities, including within major urban centers. The tightly controlled environment of a vertical farm should also eliminate the need for applied pesticides.
Yet another benefit of vertical farming is the return of land currently needed for food production back to the planet. This could help facilitate Earth's recovery from deforestation and return much needed habitat to threatened or endangered species. Of course, if we ever colonize the moon or Mars, vertical farming will be the go-to option for feeding the colonists.
Several vertical farming company pioneers are already getting their high-quality crops into the hands, and mouths, of consumers. Plenty, Inc. has an eponymous line of greens, and Aerofarms has their FlavorSpectrum line. Both companies claim that their products are exceptionally tasty, a result of their carefully controlled growing environments in which computer-controlled lighting can be optimized to bring out the most desirable qualities of each crop.
Credit: Alesia Berlezova / Adobe Stock
The history of vertical farming

The idea of vertical farming isn't new, and experts have been questioning its viability since the term was first coined in 1915 by Gilbert Ellis Bailey, who was obviously way ahead of the available technology at the time. The first attempt to grow produce in a constructed environment was a Danish farmhouse factory that was built to grow cress, a peppery green related to mustard, in the 1950s.
The modern concept of a vertical farm arose in the New York classroom of Columbia University's Dickson Despommier in 1999. He presented the idea as a theoretical construct, a mental/mathematical exercise imagining how to farm in an environmentally sound manner. His class began with the notion of a rooftop garden before considering a "high-rise" version that might theoretically be able to grow enough rice to feed two percent of Manhattan's population at the time. The eureka moment was a question Dispommier asked: "If it can't be done using rooftops, why don't we just grow the crops inside the buildings? We already know how to cultivate and water plants indoors."
With the technological advances of the last few decades, vertical farming is now a reality. Our sister site, Freethink, recently paid Plenty, Inc. a visit. (See video above.)
Vertical farming today
Credit: Nelea Reazanteva / Adobe Stock
Today, growers across the globe are developing vertical farms. While the U.S. has more vertical farms than any other country, the industry is blooming everywhere.

There are currently over 2,000 vertical farms in the U.S. While more than 60 percent of these are owned by small growers, there are a few heavyweights as well. In addition to Wyoming's Plenty, Inc. and Newark's Aerofarms, there's also New York's Bowery Farming. There are also companies such as edengreen, based in Texas, whose mission is to help new entrants construct and operate vertical farms.
Japan comes in second, with about 200 vertical farms currently in operation. The largest vertical farming company there is SPREAD. Across Asia, vertical farms are operating in China, South Korea, Singapore, Thailand, and Taiwan. In Europe, vertical growers are in Germany, France, Netherlands, and the U.K. Germany is also home to the Association for Vertical Farming, "the leading global, non-profit organization that enables international exchange and cooperation in order to accelerate the development of the indoor/vertical farming industry."
In the Middle East, whose desert land and scarcity of water present a particularly challenging agricultural environment, vertical farming is taking root, so to speak. The United Arab Emirates'
Badia Farms
is now producing more than 3,500 kilograms of high-quality produce each day and expects to increase that yield going forward. In Kuwait,
NOX Management
launched in the summer of 2020 with plans to produce 250 types of greens, with a daily output of 550 kg of salads, herbs, and cresses.
The economics of vertical farming
Credit: meryll / Adobe Stock
Building and operating a vertical farm is a costly endeavor, requiring a substantial initial investment in state-of-the-art technology, real estate, and construction. AgFunderNews (AFN) estimates that it can cost $15 million to construct a modern vertical farm. Fortunately, investors see the potential in vertical farming, and the industry has attracted more than $1 billion in investments since 2015. That includes $100 million for Aerofarms. Plenty, Inc raised $200 million in 2017 from a fund backed by such respected forward-thinkers as Jeff Bezos and Alphabet chairman Eric Schmidt.

AFN is particularly excited by the potential of what they call second-generation vertical farming technology. They cite advances in LED technology — expected to increase energy efficiency by 70 percent by 2030 — and increasingly sophisticated automation that can streamline the operation of vertical farms. AFN anticipates operating cost reduction of 12 percent due to improvements in lighting and another 20 percent from advances in automation.
BusinessWire says that the vertical farming produce market was valued at nearly $240 million in 2019, and they expect it to grow 20 percent annually to over $1 billion by 2027.
A welcome disruption
Veritical farming will be disruptive.
Vertical farming would eliminate the need for the arduous work of harvesting crops by hand from vast tracts of farmland. Current picking jobs, the company says, can be replaced by better-paying, full-time jobs available 365 days a year in better working conditions — and in the variety of geographic locations in which vertical farms can operate.
There are two caveats, however. First, the number of people needed to manage and harvest vertical farm crops will be far fewer than the many farmworkers required for less efficiently planted traditional fields. Second, with automation becoming ever-more capable — and perhaps a key to eventual profitability — one wonders just how many new jobs ultimately will be created.
But the societal benefits far outweigh any costs. As Plenty's Storey muses, "Like most everything in the world, we can only save our species if it makes economic sense." Thankfully, it does make economic sense.