Certain water beetles can escape from frogs after being consumed.
A Japanese scientist shows that some beetles can wiggle out of frog's butts after being eaten whole.
The research suggests the beetle can get out in as little as 7 minutes.
Most of the beetles swallowed in the experiment survived with no complications after being excreted.
In what is perhaps one of the weirdest experiments ever that comes from the category of "why did anyone need to know this?" scientists have proven that the Regimbartia attenuata beetle can climb out of a frog's butt after being eaten.
The research was carried out by Kobe University ecologist Shinji Sugiura. His team found that the majority of beetles swallowed by black-spotted pond frogs (Pelophylax nigromaculatus) used in their experiment managed to escape about 6 hours after and were perfectly fine.
"Here, I report active escape of the aquatic beetle R. attenuata from the vents of five frog species via the digestive tract," writes Sugiura in a new paper, adding "although adult beetles were easily eaten by frogs, 90 percent of swallowed beetles were excreted within six hours after being eaten and, surprisingly, were still alive."
One bug even got out in as little as 7 minutes.

Sugiura also tried putting wax on the legs of some of the beetles, preventing them from moving. These ones were not able to make it out alive, taking from 38 to 150 hours to be digested.
Naturally, as anyone would upon encountering such a story, you're wondering where's the video. Thankfully, the scientists recorded the proceedings:
The Regimbartia attenuata beetle can be found in the tropics, especially as pests in fish hatcheries. It's not the only kind of creature that can survive being swallowed. A recent study showed that snake eels are able to burrow out of the stomachs of fish using their sharp tails, only to become stuck, die, and be mummified in the gut cavity. Scientists are calling the beetle's ability the first documented "active prey escape." Usually, such travelers through the digestive tract have particular adaptations that make it possible for them to withstand extreme pH and lack of oxygen. The researchers think the beetle's trick is in inducing the frog to open a so-called "vent" controlled by the sphincter muscle.
"Individuals were always excreted head first from the frog vent, suggesting that R. attenuata stimulates the hind gut, urging the frog to defecate," explains Sugiura.
For more information, check out the study published in Current Biology.
A new study shows how reciprocal generosity can benefit you.
Credit: Pixabay
Researchers studied what people do when distributing items of unequal value.
You may be more likely to get the item you want if you let the other person decide.
Reciprocal generosity can let you "give up your cake and eat it too".
People may be nicer than you think. A new study says that people are generally willing to give up something they want to appear generous.
Let's say you've been circling the mall's parking lot and ended up next to a free space right by the elevator at the same time as another car with someone you know from the PTA. And you both have just as much of a claim to the spot. In the meantime, there's a spot much farther away that opened up as well. What would you do? Chances are, says the new paper in the Journal of Personality and Social Psychology, if you offer the person in the other car to choose what they'd like to do, they will give up the better spot to you and think you're generous.
Scientists Michael Kardas, Alex Shaw and Eugene Caruso at the University of Chicago conducted eight studies that showed the complexity of either/or scenarios, when a person has to choose between being worse off materially or having their reputation improve.
By utilizing a group of 300 online volunteers, the researchers looked at how frequently people abdicate decisions when faced with having to distribute items of unequal value – like a higher-end food product vs. something worse in quality – between themselves and a friend.
Almost 70% said they would abdicate the decision, giving the other person the choice in distributing the items. They would do so to seem more generous. In a real-life test of this study, an experiment conducted in a park that involved pairs of local people who knew each other, a similar ratio of 2/3s of the subjects decided to abdicate their decision. Interestingly, if they did that, more often then not, the other person gave up the more valuable item.
An additional online study of 310 people concluded that if people were informed that their friend abdicated the decision, leaving it up to them, they were much more likely to give up the higher-value object in question than to take it themselves.
Researchers see this fact supporting the idea that people view abdication of decision as an act of generosity, which would prompt a reciprocal generosity.
This abdication effect was observed among strangers as well but with a twist. If given the choice to decide what they or a stranger would get, participants were more likely to keep the higher-valued item for themselves. But if told that the stranger abdicated the decision to them, they were again more likely to give up the better option rather than keep it. A real-world test of this involved gift cards of varying amounts and showed the same results as the imaginary situations.
"In sum, abdication seems to be beneficial in more ways than one: abdicators are not only perceived to be generous, but they also tend to receive the larger slice of the pie," wrote the researchers.
They also described their finding as "abdication provides a unique opportunity for people to give up their cake and eat it too." It pays to be nice.
Blame our ancestors for why it's easier to be a couch potato.
Pixabay.com
A new study shows that the brain prefers to expend as little energy as possible.
Putting forth less effort had advantages for our ancestors.
Being inactive is not beneficial in modern life and needs addressing.
Why is it often so hard to get off the couch and go to the gym? While you can certainly point to your lack of will power for the inaction, you can also blame evolution for this predicament. Your brain prefers to minimize effort because that's how it's been trained to do it for millennia.
Scientists from the University of Geneva (UNIGE) and the University Hospitals of Geneva (HUG) in Switzerland came to this conclusion after studying the neuron activity of people who had the choice of either engaging in physical activity or doing nothing. The researchers found that it takes much more effort for the brain to escape its general tendency to put forth less effort.
This battle in the mind comes courtesy of our ancestors who aimed to do less to increase the likelihood they would survive. Expending unnecessary energy would have made them more vulnerable to predators or environmental factors. Conserving energy was helpful when competing against rivals, fighting, hunting for prey, and searching for food. Living in modern societies does not require this approach, and yet the predilection of our brains to work less persists.
To gain a better understanding, the scientists based their hypothesis on "the physical activity paradox." You've experienced it if you've ever done something like buying a membership to a gym that you attend with less frequency each passing week. This happens when the conflict between your reason-based knowledge (going to the gym is good for my health) runs into the automatic system based on affect, which is, in this case, all the hurt and tiredness you expect to get out of the physical activity. The result is often paralysis—you remain sedentary.
To delve deeper into what is taking place at the neuronal level, the researchers studied the brain activity of 29 people who desired to be more active in their everyday lives but had a hard time doing so. The subjects were made to choose between physical activity or inactivity as the researchers observed their brains using an electroencephalograph (EEG) with 64 electrodes.
The research team was headed by Boris Cheval from the Faculty of Medicine at UNIGE and HUG and Matthieu Boisgontier from Leuven University, Belgium, and the University of British Columbia, Canada.
Cheval explained how the experiment, where subjects controlled an online avatar, was carried out:
We made participants play the "manikin task," which involved steering a dummy towards images representing a physical activity and subsequently moving it away from images portraying sedentary behaviour [...] They were then asked to perform the reverse action.
The scientists looked at how long it took the participants to get near the sedentary image versus avoiding it and found that it took the subjects 32 milliseconds less to move away from the less active image. Cheval called this result "considerable for a task like this." While such an outcome didn't correspond to their theory of the physical activity paradox at first glance, it actually ended up confirming it.
This animation shows the experiment the participants were asked to perform, moving the avatar closer or farther from the image shown.
Credit: UBC Media Relations
It turned out that the reason for why the participants moved their avatar away from images of physical inactivity and towards active pictures more quickly is because avoiding lazy images forced their brains to work harder. That's due to the fact that the participants wanted to engage in physical activity even if they weren't doing so. Choosing more active images was actually easier to do. As such, the EEG scans suggested that their brains were essentially hardwired towards laziness.
Matthieu Boisgontier explained why evolution preferred the easy way out:
Conserving energy has been essential for humans' survival, as it allowed us to be more efficient in searching for food and shelter, competing for sexual partners, and avoiding predators. [...] The failure of public policies to counteract the pandemic of physical inactivity may be due to brain processes that have been developed and reinforced across evolution.
He thinks one big takeaway from the study is that the brain has to work hard to avoid physical activity. The team's research will next focus on whether the brain can be re-trained.
Check out the new study, published in the journal Neuropsychologia, here.
It's more than just weight gain—it's chronic inflammation and weak immunity.
Photo: U.S. Air Force, Airman 1st Class Grace Lee.
The first two episodes of the Netflix documentary series Rotten touch upon important issues in our relationship to food. The first focuses on the dangers of colony collapse in bee populations as well as international companies filling bottles with ingredients that definitely are not honey. The second deals with food allergies, particularly focused on the largest: peanuts.
While these are distinct issues, two themes weave these stories together. First, the impact of our environment on health. Humans have gone to great lengths to separate from nature. Yet we interact with whatever environment we live within. Effects of sedentary existences lived apart from the planet's rhythms include the slow destruction of our bodies and pretty much every species we come into contact with.
The booming almond industry needs pollinators, which stressed beekeepers (and bees) travel hundreds or thousands of miles to accomplish in California's central valley each season—adding to the stress. Colony collapse is rampant given the diseases these nomadic bees are now sharing. This is but one example of interdependence that we often overlook. No pollination, no honey, no almonds, no—a lot. 
The rapid onset of food allergies over the course of only one generation provides another example of our exile from nature's rhythms. We would never eat foods apart from the environment they were grown or captured within until recently. Industrial monocultures are likely, at least in part, to blame for this stunning increase in any or all of the eight allergens, which leads us to the second theme in these episodes: our microbiome.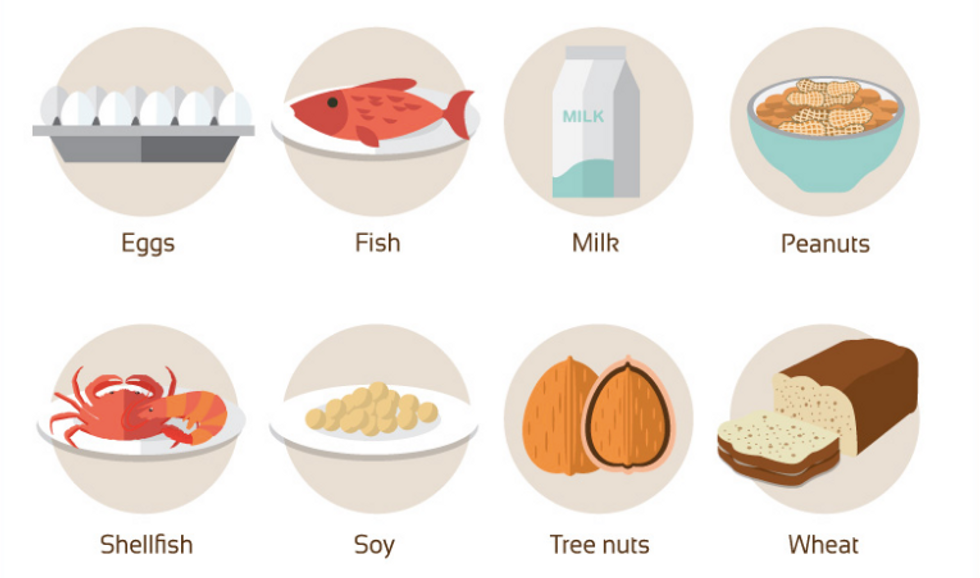 These 8 foods make up 90% of all food allergies in the U.S. Image: Fix.com
The bacteria that live inside of our guts is arguably the most important feature of our entire body. While the brain receives the bulk of praise, scientists have more recently raised an inquisitive eyebrow regarding all the data emerging on the microbiome. The relationship between our nervous system and gut (which has its own nervous system) is exceptionally influential on health. 
Our microbiome also directly interacts with our environment. While Purell has proven beneficial for soldiers in foreign territories, constantly sanitizing your hands weakens your immune system when in home territory. Synopsis: let your kids play in dirt. You play in dirt too. Those bacteria are strengthening.
Yet we have many weird relationships with our environment and the foods we eat, often in the invented cause of "purity." One example is juicing, heralded as the perfect (and profitable) "cleansing" mechanism. Drink juice for five or ten days and your body "resets." But juice is no different than soda, as you've removed the most beneficial part of the fruit: fiber. 
We've long known fiber is essential to our diet, in order to "get things moving." Otherwise known as roughage, dietary fiber is comprised of soluble and insoluble fiber. Both play critical roles in defecation. While too much fiber can cause intestinal gas and bloating, too little, a hallmark of a highly processed diet heavy on sugar, means we'll turn to laxatives instead of eating the fruits, plants, and grains that offer an abundance of it. 
Fiber also reduces the risk of heart disease, arthritis, and diabetes, and has been shown to lower mortality rates. But its role in digestion is particularly important. The food we consume is broken down by enzymes, its nutrients absorbed by our intestines. The molecules we cannot absorb, fiber, either pass through or, as it turns out, become food for gut microbes. 
A recent study published in Cell Host and Microbe investigates mice on a low-fiber, high-fat diet. The gut bacterial population crashed, triggering immune reactions. A similar experiment, published in the same journal, discovers that the effects of a low-fiber diet are wide-ranging: 
Along with changes to the microbiome, both teams also observed rapid changes to the mice themselves. Their intestines got smaller, and its mucus layer thinner. As a result, bacteria wound up much closer to the intestinal wall, and that encroachment triggered an immune reaction.
Continuation of this diet causes chronic inflammation; the mice also got fatter and developed high blood sugar. In both cases, the inclusion of a fiber called inulin dramatically improved their health and gut bacteria population. The researchers, which include Georgia State University's Andrew T. Gewirtz, realized that fiber serves as an essential food for an entire population of bacteria. 
"One way that fiber benefits health is by giving us, indirectly, another source of food, Dr. Gewirtz said. Once bacteria are done harvesting the energy in dietary fiber, they cast off the fragments as waste. That waste — in the form of short-chain fatty acids — is absorbed by intestinal cells, which use it as fuel," writes Carl Zimmer for The New York Times.
The "peaceful coexistence" of bacteria in the microbial system is disturbed on a low-fiber diet. Famine breaks out. Bacteria dependent upon fiber starve, followed by the bacteria that depend upon them for sustenance. A colony collapse. What follows isn't a disappearance, but an aggravation. 
"Inflammation can help fight infections, but if it becomes chronic, it can harm our bodies. Among other things, chronic inflammation may interfere with how the body uses the calories in food, storing more of it as fat rather than burning it for energy," writes Zimmer.
Obesity isn't the only thing fiber fights. It is also believed to help combat or prevent immune disorders. A fiber supplement probably won't cut it, however, since what our microbiome truly craves is a variety of fiber sources, which, fortunately, can be found in the produce aisle. 
We begin life with a disadvantage regarding fiber. In his book, Catching Fire, British primatologist Richard Wrangham writes that our relatively small colon means we cannot utilize plant fiber nearly as effectively as great apes. Cooked food provides an important means for intaking more fiber (and other nutrients) than raw plants, but thing is, we have to eat those plants. 
A diet filled with processed foods and fiber supplements is not going to cut it. Our microbiome craves what it has evolved to need in order to survive. Without those requirements those bacteria perish, initiating system-wide havoc in our bodies. Sans fiber we're not honoring the environment that gave birth to us, and that environment is certainly speaking back. 
--
Derek Beres is the author of Whole Motion: Training Your Brain and Body For Optimal Health. Based in Los Angeles, he is working on a new book about spiritual consumerism. Stay in touch on Facebook and Twitter.
A team of researchers reverses the arrow of time in quantum experiments.
Credit: Pixabay
It's not quite time travel, but scientists appear to have reversed the arrow of time in quantum systems. The "arrow of time" is the concept that natural processes run forward, not in reverse. An international team of researchers was able to show that given specific conditions, heat can flow from a cold quantum particle to one that's hotter. 
The arrow of time is derived from the second law of thermodynamics, which says that entropy increases over time. Entropy is the measure of disorder. The law explains why it's hard to unbreak stuff or why a hot cup of tea will eventually turn cold. It just doesn't usually work the other way. 
What the scientists found is that "the arrow of time is not an absolute concept, but a relative concept," as says the study's co-author Eric Lutz, a theoretical physicist at the University of Erlangen-Nürnberg in Germany. His lab was able to reverse the flow of heat in two quantum particles. They were correlated, meaning that their properties were linked, similarly to quantum entanglement but less strong. The special quality of correlated particles is that they share some information with each other. This property is not possible for bigger objects. 
The researchers, led by the physicist Roberto Serra from the Federal University of ABC in Santo André, Brazil, manipulated molecules of chloroform. These are made of carbon, hydrogen and chlorine atoms.
The scientists heated up the nucleus of the hydrogen atom more than the nucleus of the carbon and observed how the energy flowed. In an uncorrelated state, the heat flowed as expected, from hot to cold. But when the nuclei became correlated, heat flowed backwards with the hotter hydrogen nucleus getting hotter and the cooler carbon getting cooler. 
The significance of the experiment lies in demonstrating an exception to the second law of thermodynamics, which doesn't take into account correlated particles.  
While odd behavior at the quantum level may be hard to grasp, what is more tangibly exciting is that the scientists are aiming to use these particle quirks to design super-small quantum engines.
You can read their study here.