A conspiracy theory that 90 percent of the world's population will be killed off spreads widely on pandemic fears.
Credit: United Nations
The Agenda 21 conspiracy theory is spreading widely thanks to pandemic fears.
The theory falsely claims the United Nations and governments are colluding to wipe out 90 percent of the global population.
Agenda 21 is based on an actual UN resolution from 1992 and is aimed at the sustainability movement.
In an age drowning in conspiracy theories, Agenda 21, a tinfoil favorite that goes back to the '90s has been reignited by the coronavirus. The gist – a totalitarian world cabal is trying to depopulate the planet by 90 percent and the U.N. is in on it. As are numerous governments (including yours). The reason for the conspiracy theory's recent surge in shares and popularity? It can tie in vaccinations, Soros, Bill Gates, and 5G into a neat nexus of paranoid fantasies.
The conspiracy, spun out of a nonbinding UN resolution on sustainable development from 1992, actually envisions a whole New World Order that is supposedly being brought into existence by nefarious global operators. The "21" part of Agenda 21 refers to the target year of 2021 from the original UN plan. By now that goal post has been moved to 2030, by which date, the conspiracy claims, we would get a one-world government, subjugating the rest of the nations. The smörgåsbord of fears includes one world currency, one religion (if any), one military, no private property, no family units, mandatory vaccines, microchips for everyone, Social Credit System, 5G monitoring, and the government raising your children and controlling all the schools. People would not be able to own cars or businesses as everything will be managed either by corporations or governments.
Agenda 21, as it's currently presented in social media on accounts with hundreds of thousands of followers, also attacks Universal Basic Income and purports people will be segregated into human settlement zones (a favorite of dystopian teenage fiction).
And there'd be no fossil fuels, a fact that doesn't necessarily sound so bad, but is part of a hyperbolic list of horrible things that attacks the environmental movement and certain progressive goals.
Of course, some parts of the conspiracy may not sound too far-fetched to us, as they draw upon the tensions of our current societies and have grains of truth to them. But taken as a whole, Agenda 21 is a collection of unproven and unprovable attacks on reason and truth that was "being used by extremists and mainstream politicians to stoke fears and stifle rational policymaking across the country" as concluded a 2014 report by the Southern Policy Law Center (SPLC). The same can be said of today.
How to shut down coronavirus conspiracy theories | Michael Shermer 
As explained to BuzzFeed News by Heidi Beirich, who co-authored the SPLC report, "Fears are running rampant in the far right that [the coronavirus] is some part of a conspiracy, maybe by the Chinese government, other global actors, even George Soros, to do 'something' to conservatives or Americans." What does this lead to? "It's not surprising that Agenda 21 would pop up again in that environment," thinks Beirich.
Lest you think only fringe elements can believe such a modern anxiety hodgepodge, these beliefs find their way into mainstream conversations, with Newt Gingrich, Senator Ted Cruz, and Glenn Beck (who wrote a book about it) bringing Agenda 21 up in their speeches. And the 2012 platform of the Republican Party stated flatly "we strongly reject the U.N. Agenda 21 as erosive of American sovereignty."
Over the years, fears of Agenda 21 found their way into opposing efforts by local governments to promote resource and land conservation or build bike lanes or public transportation hubs. Real-world impact caused by oversized reactions to an agreement that SLPC described as "a feel-good guide that cannot force anyone, anywhere, to do anything at all."
There is enough fertile ground for such ideas to spread, as evidenced by a published letter to the editor that maintains Agenda 21 wants to get the world population under 500 million. That means about 7 billion (or 90 percent of us) have to be eliminated somehow. And, of course, what better way than a pandemic?
The 1992 UN resolution that gave birth to this dangerous meme was a rather innocuous affair, not worthy of such continued attention. U.N. often comes across as a powerless and ineffectual organization and claims of such well-coordinated evil designs are highly farfetched. Of course, that's what they want you to think.
As it explains on a page of the UN Division for Sustainable Development Goals website dedicated to Agenda 21, the document is a "comprehensive plan of action" that is supposed to be carried out at every level – global, national and local. It is to be undertaken by all the organizations that comprise the United Nations System as well as the leaders of nations. In fact, the signers at the United Nations Conference on Environment and Development (UNCED) held in Rio de Janerio in June 1992 included 178 governments.
The agreement was also to apply rather broadly to "major groups in every area" where humans impact the environment. The misinformation about Agenda 21 brings potential harm to millions of people, while the goals of the document itself are concerned with managing various types of waste, women's health, public transportation and encouraging sustainability cooperation that should start at the local level to be successful.
As the coronavirus pandemic continues to ravage the globe, the wild spread of theories that will stop some people from taking necessary precautions, medicine, and eventual vaccines, is a tragic illness of its own.
Read the full text (comprised of 351 pages) of the Agenda 21 here.
Fascism and conspiracy theories: The symptoms of broken communication
Researchers figure out the infectious periods of coronavirus on cardboard, metal and plastic.
Photo By BSIP/UIG Via Getty Images
A new study tested how long coronavirus stays infectious on surfaces like plastic, cardboard and metal as well as air.
The results show that the virus can live from hours in air to several days on steel.
The research underscores the importance of cleaning household and hospital areas and objects.
A new study provided some valuable information about how long coronavirus survives on different surfaces, showing that it stays alive for quite a long time on some common materials. As the disease spreads through air and contaminated objects, the findings help understand the measures that need to be taken to contain it.
For the study, the researchers tried to duplicate how a virus could be spread on surfaces by an infected person in a home or hospital setting. They dispensed an aerosol of microscopic droplets on surfaces that could end up contaminated through coughing or touching.
Here's a list of the finding by the scientists, showing how long the coronavirus survives:
AIR (aerosols) - 3 hours
COPPER - 4 hours
CARDBOARD - 24 hours
PLASTIC - 2 to 3 days
STAINLESS STEEL - 2 to 3 days
The study's co-author James Lloyd-Smith, a UCLA professor of ecology and evolutionary biology, cautioned that the virus is very hard to contain because it is easily "transmissible through relatively casual contact," adding "If you're touching items that someone else has recently handled, be aware they could be contaminated and wash your hands."
Regularly cleaning and disinfecting surfaces around your house and public spaces is also of paramount importance. Neeltje van Doremalen from the National Institute of Allergy and Infectious Diseases, which was also involved in the study, recommended using cleaning solutions with diluted bleach as an additional possibility.
6 Steps to Prevent COVID-19
Take steps to lower your risk of getting sick with COVID-19. Here are some things you should do.
The study's full list authors includes UCLA, the National Institutes of Health's National Institute of Allergy and Infectious Diseases, the Centers for Disease Control and Prevention, and Princeton University.
Check out this research in the New England Journal of Medicine.
What You Need To Know About Handwashing
Quarantines are worth the trouble to keep the next pandemic at bay but they need to be applied intelligently.
A trainee, wearing personal protective Equipment (PPE), takes part in a training session held by the military trained Civil Security (Securite civile), on checking and treating suspected victims of the Ebola virus. (JEAN-FRANCOIS MONIER/AFP/Getty Images)
A new essay argues that quarantines are often needed, but require strict guidelines on when they can be used.
Pandemics are inevitable, and actions that can save lives must be planned now.
The arguments in this essay will undoubtedly be of use during the next outbreak.
The use of isolation and quarantine has a history of success going back to the black plague. The practice of isolating sick people form healthy ones intuitively strikes many of us as useful, and many of us do it on our own accord when we fall ill. It seems like a simple step up from that to the idea of quarantining people who are sick or have been exposed to deadly diseases to stop them from spreading.
However, the impositions on individuals that quarantine requires, such as isolation from friends, family, and activity is a rather steep price to pay. Besides, the use of force to limit people's freedoms for the greater good is always a moral minefield. Deciding exactly when, where, and how to implement a quarantine is a tricky business.
A paper by Alberto Giubilini, Hannah Maslen, Tom Douglas, and Julian Savulescu of the Oxford Uehiro Centre for Practical Ethics might have a solution. By taking a moral approach to the problem, one that seeks the most robust possible foundation for intervention, the authors hope to provide sound guidelines to people considering the question of when to intervene and when to take no action.
​What is a quarantine exactly?
Health workers are seen with a young patient under quarantine at the Nongo Ebola treatment unit in Conakry, Guinea on August 21, 2015. The World Health Organization WHO has lost track of 45 people under surveillance, who had been in contact with a patient who contracted Ebola, in Guinea. (CELLOU BINANI/AFP/Getty Images)
For the purposes of this paper, isolation and quarantine had two different meanings. As the authors define them: "Isolation separates sick people with a contagious disease from people who are not sick. Quarantine separates and restricts the movement of people who were exposed to a contagious disease to see if they become sick."
​Why would quarantine be a good idea? After all, they aren't sick yet!
"Typhoid" Mary Mallon, far left, in quarantine. Her refusal to wash her hands while carrying typhoid fever bacteria may have killed fifty people. She was forced into quarantine for the safety of the public.
(Public Domain)
The first argument that the authors make is the obvious one, society benefits a great deal from quarantining a person who might be carrying a deadly disease at a relatively low cost to that society and a moderate cost to the person quarantined. A person who is exposed to Ebola might contract the disease and start spreading it before they are aware of their illness. Quarantines try to prevent this by hiding away anybody who might have been exposed to a disease, even if they are asymptomatic.

This consequentialist stance is the one typically invoked by governments and state agencies when quarantines are introduced, but the authors don't think it is the best ethical foundation. After all, it might be for everybody's benefit to lock away anybody exposed to the common cold for a week to keep infection rates down. This seems excessive, suggesting that the final answer lies elsewhere.
​Personal responsibility
The authors then argue that, in many cases, the individual exposed to a potentially deadly disease will have a moral duty to quarantine themselves; making what the authorities do merely the enforcement of what a person ought to do anyway.

They use the example of Peter Singer's drowning child. Singer famously asked if we had a moral obligation to save a drowning child if the act of saving them was at a low cost to us. He concluded that we do, and many people agree with him. The authors call this the duty of "easy rescue" and argue that it applies in many quarantine cases since the cost of a person hiding in their room until they know they won't make others sick is typically low while the payoff could include saving lives.
The authors then suggest that, "when the cost to us of engaging in some activity is small, and the harm to others which is prevented is great, the state may permissibly compel us to engage in that activity." They place this inside of certain parameters, however.
Most of us would agree that we must keep other people from getting sick when we are ill. However, the suggestion here is that in severe cases, like when the illness in question is deadly, that the state has legitimate power to make sure we stay home. This is more limited than just comparing costs and benefits and doing whatever gives the best payoff, but still allows for interventions during the worst outbreaks.
​But what about the freedom of the individual?
The authors don't suggest that the authorities should always start with quarantines and use them whenever the mood strikes. They make it clear at the beginning of their paper that, "we will argue that authorities ought to implement quarantine and coercion in such a manner that they have the strongest justification possible for those measures."

They also point out that any rational use of quarantines would be limited to severe cases. As they note, while it might be a social net-positive to quarantine people with the stomach flu, the lack of threat it poses makes the action unthinkable. Ebola, on the other hand, is enough of a threat to people that quarantines would be justified.
At some point though, the freedom of a person to do what they like would be infringed on for the sake of the public health. Many people are put off by this. The question is determining when an individual poses enough of a threat to the people around them that forcing them into quarantine is justified. The authors are of the mind that this is permissible when a person might have a very deadly disease.
In some cases, quarantine laws are overused and not based on a cost-benefit analysis, such as when New Jersey introduced a quarantine of people who had been in certain African countries during the 2014 Ebola outbreak. The poorly thought out law was changed after a lawsuit was brought against the state. This case should be a warning against over-application of quarantines, but not against their use when they are correctly implemented.
The idea of using force to lock people in their rooms to assure that others don't get sick is a tricky one. It makes perfect sense when we're healthy, but seems like a potential use of excessive force when we might be on the sick bed. Nevertheless, the ethics surrounding this issue are far from settled though. Given that we're already preparing for the next pandemic, we may be ruminating more moral questions sooner than we think.
Girl babies may have one distinct advantage over boy babies. But what is it?
Credit: Getty Images.
We know that women live longer than men on average, no matter what culture or region of the world we focus on. In many places, they live a full decade longer. And this isn't a newly discovered phenomenon. Historical records state this was so throughout history. Several studies have looked into it. But scientists are still wondering, is there a biological reason? Or does it have to do with how women are socialized?
Some studies have focused on women being more connected to others. Since it's more socially acceptable in many cultures for women to divulge their problems to each other and gain emotional support, this has been shown to reduce stress, which could lead to or contribute to longevity. But that's not the whole story.
A dual Danish-American study recently took a different approach to try and answer these questions. They looked at populations which had suffered a terrible crisis, such as a severe famine, epidemic, or who had been subject to slavery. In these settings, as one might expect, the mortality rate is extremely high. Even then, women tended to live longer than men. Researchers said that rather than focusing on fully-grown adults, they found that the greatest advantage was due to female babies surviving harsher conditions better than males.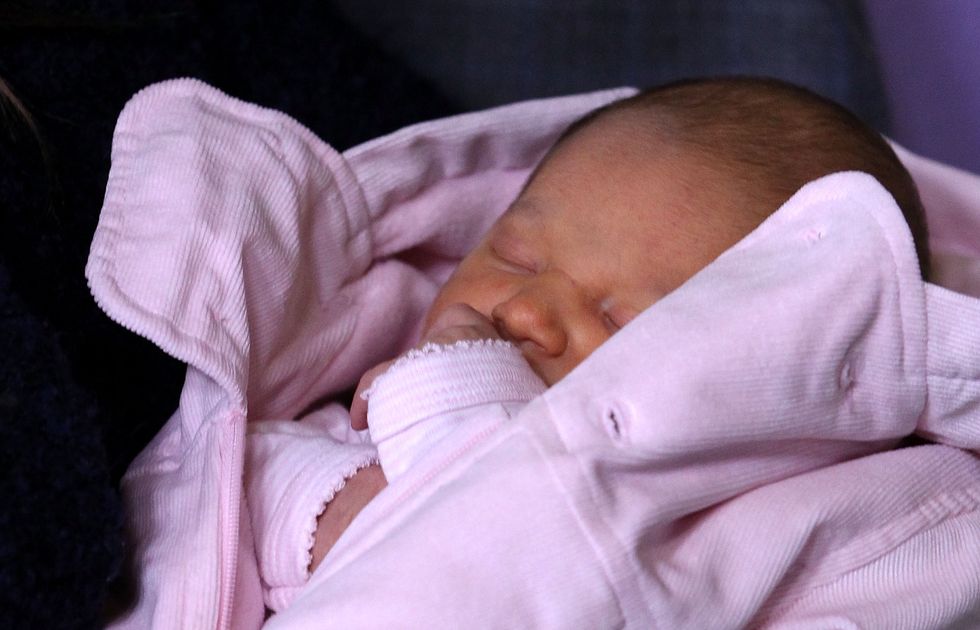 The difference may have to do with a discrepancy in infant mortality rates between the sexes. Credit: Getty Images.
Previous research looked at Mormons, cloistered monks and nuns, and other populations where males are generally protected from risk factors that would otherwise threaten their longevity, such as smoking, drinking, or reckless behavior. Still, even in these settings, women live longer than men.
"Excess male mortality is also found among newborns and infants," researchers write, "when behavioral differences are unlikely to play a crucial role and social factors may be neutral or favor male survival." The reason they looked at such extreme settings was, "A finding that men and women have similar life expectancies under these conditions would challenge the notion that the survival advantage of women is fundamentally biologically determined in all environments."
Although there are anecdotal incidents of crises where women were more likely to survive than men, no empirical data had been sifted through on the subject, until now. Researchers analyzed the mortality data to see what they could glean about the differences in the sexes and how they endure such crises.  Using historical data can sometimes be problematic. But here, researchers say the information used had been published before in peer reviewed journals. They looked at data going back 250 years and surrounding some of the worst disasters in history.
These included: the transport of former slaves to Liberia (1820-1843), plantations slaves in Trinidad in the 19th century, the Ukrainian famine of 1933, the Swedish famine (1772-1773), the Icelandic measles epidemics of 1847 and 1882, and the Irish famine (1845-1849).
Former slaves brought to West Africa in the 1800s had some of the highest mortality rates in history, mostly due to having little resistance to the tropical diseases found there. 40% died within the first year. While infants born during this time rarely reached age two.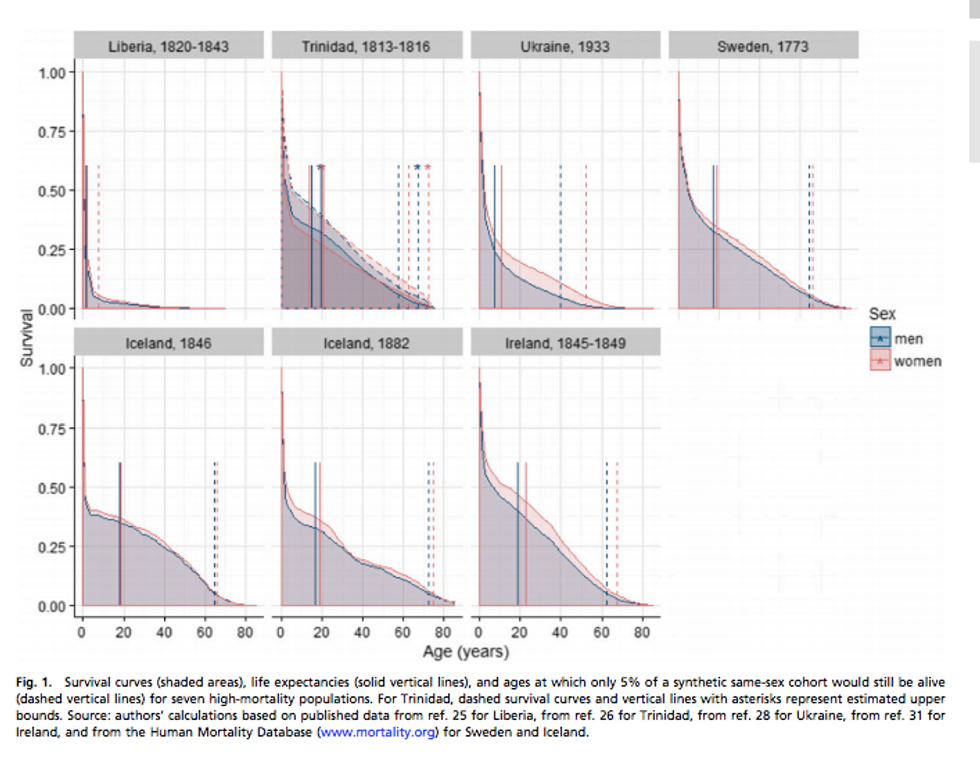 Credit: the Proceedings of the National Academy of Sciences (PNAS).
During the Irish famine, life expectancy went from 38 years-old for both sexes, to almost 19 for men and 22 for women. Girls born during the Ukrainian famine of 1933 lived on average around 10 years and boys, seven. Research Professor James Vaupel at Duke University led the American team, while Assistant Professor Virginia Zarulli at the University of Southern Denmark, led the Danish one. Together, they found that even in environments where mortality is severe, women still outlive men by an average of six months to four years.
Once mortality was broken down by age group, the researchers found that most of the difference came down to female babies being more likely to survive infancy than males. Rather than social reasons, researchers say the root of the discrepancy must be biological. Now whether its genetics, hormones such as estrogen, or differences in how male and female immune systems work, will have to be sorted out in future studies.
To learn more about why women live longer than men, click here:
Personifying certain drugs as evil while calling opioid users "victims" points a glaring spotlight on drug policies that aren't really about public health.
Every 25 seconds in the US, someone is arrested for drug possession. In Manhattan, black people—just 15% of the population—are 11 times more likely to be arrested on drug possession that white people.
For centuries Europeans drank—and for some today, drink—a lot of ale. Numerous accounts of polluted water in the 13th to 18th centuries abound, which apparently forced the citizens of London and Germany to drink plenty of alcohol—one entry from St. Paul's Cathedral allowed for one bola (gallon) per person every day. Others claim that such an amount was unsustainable on the environment, if not the liver. 
Whether or not the English and Germans drank a gallon a day, it is certain that beer was an integral part of daily life, especially in monasteries. While it was common knowledge that a little alcohol elevates the spirits, it certainly was not considered a drug. At least a portion of the water sources really were contaminated. Even if widespread pollution is a myth, who wouldn't want to believe it true if the solution meant breakfast with ale? 
Our beliefs about the substances we ingest have always dictated public attitude toward them. "Drug" is a relative term. Ayahuasca has long been medicine for the soul—advocates call it "grandmother medicine," with the grandfather being peyote. Marijuana's history as a Schedule One substance is much shorter than its common usage in numerous cultures. Substances that alter consciousness are usually deemed sacraments, not sacrilegious. That changed roughly 50 years ago from a policy perspective. 
That attitude changed for the same reason that the idea of building a wall on our Mexican border persists: racism. Carl Hart, who chairs the Department of Psychology at Columbia University, recently stated that the war on drugs is simply a war on race. This is not mere speculation. Last year an interview was published with a former aide to Richard Nixon in which he stated the war on drugs was specifically waged to put down any chance of minority revolt. 
"Drugs" are simply chemical substances with a physiological effect. Sugar is a drug, as is tobacco and caffeine, all of which have detrimental effects when used in excess. A beer a day might not be a bad thing, but a six-pack (or gallon) daily slowly kills you. Since these are socially acceptable and legal, we tend to gloss over their categorization as drugs. We certainly don't have moral directives against these substances, save for certain religious groups, such as Mormons opposing alcohol, tobacco, and caffeine—at least in the form of coffee and tea since no sanctions against soda and chocolate exist. As stated, it's always relative.
The relativity of drugs within groups is one thing. When it affects policy, however, a moral argument is waged against citizens who might not share those morals, and that is a problem. While we are currently undoing five decades of marijuana prohibition Jeff Sessions has recently stated that marijuana is "only slightly less dangerous" than heroin—a provably false claim. Society is waking up from a daze; our attorney general is attempting to keep us in it. 
Sessions, who also champions Nancy Reagan's failed war on drugs—the same racially motivated drug search Nixon, in a lineage kicked off by Harry Anslinger, initiated—is partaking in the same form of verbal gymnastics his forebears used. In his imagination, marijuana is a gateway drug. Reagan went a step further when she personified drugs:
Drugs steal away so much. They take and take. Drugs take away the dream from every child's heart and replace it with a nightmare.
Trade one boogeyman for another, in this case the "other" races in our nation. Hart argues that such language confuses the public. It's not only the drug that is vilified, but the ethnicities most associated with using that drug—an approach that recently hit a roadblock with the opioid epidemic.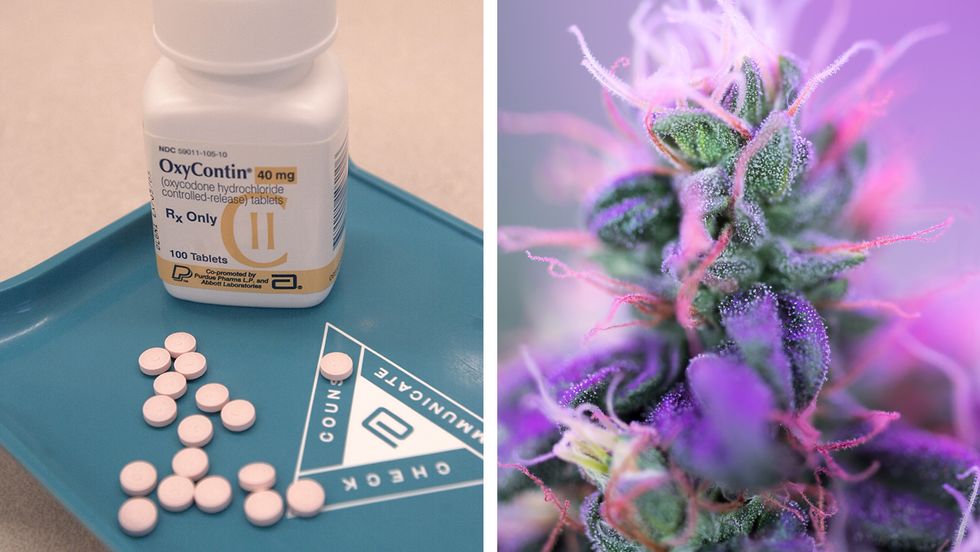 Oxycontin, a commonly prescribed opioid, and a flowering cannabis plant. 
Strangely, we've never had a marijuana epidemic. Yet no substance has been used to incarcerate more Americans. Marijuana is not being and has never been treated as an issue of rehabilitation, as is occurring in communities plagued by opioids. Hart believes this strikes at the heart of the race issue. Discussing other nations with more sensible drug policies, he says:
They do this all around the world, because their first concern is keeping people safe, and not morality. 
Why are morals not being used to combat opioids, especially considering numerous people use marijuana for the very same reason—pain relief? In 2015, 52,000 people died from overdoses; two-thirds of those were associated with opiates such as fentanyl and OxyContin. This has prompted Senator Claire McCaskill to ask pharmaceutical companies to release literature they use to influence doctors to prescribe their drugs. 
As long as drugs like marijuana remain Schedule One and no national legislation addresses legality (as is happening in the states), such a question remains impossible to ask. But it does show the different approach politicians are taking to this particular drug problem. Sessions has never discussed opioids as a gateway drug; he has even called data showing legalized marijuana helps combat opioid addiction "stupid."
As Saralyn Lyons reports in Johns Hopkins University's HUB:
To keep drug policy in America from being hijacked by morality and exaggeration, Hart encouraged a reframing of the conversation: Drug users should "come out of the closet" to change the narrative that users are inherently abusers. "Drug users are me," he said.
Personifying certain drugs as evil while calling opioid users "victims" strikes at the root of this linguistic (and psychological) posturing. Hart suggests a more compassionate approach, not one sponsored only by a "white face," to deal with our actual drug problems—this includes crack cocaine in minority communities, another drug treated as a crime and not a tragedy. This means removing morality from the picture to investigate the real effects of each drug and how we're addressing them. And that means being honest with data.
--
Derek's next book, Whole Motion: Training Your Brain and Body For Optimal Health, will be published on 7/4/17 by Carrel/Skyhorse Publishing. He is based in Los Angeles. Stay in touch on Facebook and Twitter.