A fairly old idea, but a really good one, is about to hit the store shelves.
The idea of growing food from CO2 dates back to NASA 50 years ago.
Two companies are bringing high-quality, CO2-derived protein to market.
CO2-based foods provide an environmentally benign way of producing the protein we need to live.
The idea of making food from little more than thin air— carbon dioxide, actually—is not a new one. NASA was tinkering with the idea in the 1960s as a means of growing food on future long missions. In recent years, as we've come to understand that Earth's resources—land and rainforests chief among them—are limited, interest in the concept has been renewed, with NASA doing new research and two companies racing to market with CO2-derived food products.
The basic idea
Credit: Big Think
The basic mechanism for deriving food from CO2 involves a fairly simple closed-loop system that executes a process over and over in a cyclical manner, producing edible matter along the way. In space, astronauts produce carbon dioxide when they breathe, which is then captured by microbes, which then convert it into a carbon-rich material. The astronauts eat the material, breathe out more CO2, and on and on. On Earth, the CO2 is captured from the atmosphere.
Drawing first breath
Credit: NASA
NASA's investigation into using CO2 for food production began with a 1966 report written by R. B. Jagow and R. S. Thomas and published by Ames Research Center. The nine-chapter report was called "The Closed Life-Support System." Each chapter contained a proposal for growing food on long missions.
Chapter 8, written by J. F. Foster and J. H. Litchfield of the Battelle Memorial Institute in Columbus, Ohio, proposed a system that utilized a hydrogen-fixing bacteria, Hydrogenomonas—NASA had been experimenting with the bacteria for several years at that point—and recycled CO2 in a compact, low-power, closed-loop system. The system would be able to produce edible cell matter in way that "should then be possible to maintain continuous cultures at high efficiencies for very long periods of time."
At the time, extended missions that would benefit from such a system were off in the future.
In 2019, and with its eye toward upcoming Mars missions, NASA returned to the idea, sponsoring the CO2 Conversion Challenge, "seeking novel ways to convert carbon dioxide into useful compounds." Phase 1 of the contest invited proposals for processes that could "convert carbon dioxide into glucose in order to eventually create sugar-based fuel, food, medicines, adhesives and other products."
In May 2109, NASA announced the winners of Phase 1. The space agency concluded acceptance of Phase 2 entries on December 4, 2020.
Approaching the Finnish line
Solein "meatballs"
Credit: Solar Foods
We've written previously about Solar Foods, a company backed by the Finnish government who recently invested €4.3 million to help complete the company's €8.6 million commercialization of their nutrient-rich CO2-based protein powder, Solein. The company anticipates Solein will provide protein to some 400 million meals by 2025, and has so far developed 20 different food products from it.
In the air tonight
Another player, Air Protein, is based in California's Bay Area and is also bringing to market their own CO2 protein named after the company. The company describes it as a "nutrient-rich protein with the same amino acid profile as an animal protein and packed with crucial B vitamins, which are often deficient in a vegan diet."
The company recently secured $32 million in venture-capital funding.
Although Air Protein is actually flour—like Solein—the company is positioning Air Protein as offering "the first air-based meat," while Solein was announced first, and there's no public timetable yet for the arrival of Air Protein products on store shelves. In any event, non-animal "meats" are a hot market these days with the success of Beyond Burger and Impossible Foods cruelty-free meat substitutes.
Striking oil
Deforestation for palm oil
Credit: whitcomberd/Adobe Stock
Though Air Protein's promotional materials emphasize meat substitutes that will be derived from their flour, a TED Talk by company co-founder Lisa Dyson reveals another Air Protein product that could arguably have an even greater impact by potentially eliminating the need for palm oil and the deforestation it requires — their CO2 process can produce oils.
The company has already created a citrus-like oil that can be used for fragrances, flavoring, as a biodegradable cleaner, and "even as a jet fuel." Perhaps more excitingly, the company has made another oil that's similar to palm oil. Since palm trees are the crop most responsible for the decimation of the world's rain forests, an environmentally benign replacement for it would be a very big deal. Dyson also notes that their oils could substitute morally problematic coconut oil, whose harvesting has lately been reported to often involve the abuse of macaque monkeys.
Putting carbon dioxide to work
We know we have too much of the stuff, so finding a way of utilizing at least some CO2 to create foods and other products that reduce the need for destructive commercial practices is a solid win for humankind. Harkening back to its NASA origins, Dyson notes in her talk that Earth, too, is sort of a self-contained spaceship, albeit a big one. Finding new ways to productively reuse what it has to offer clearly benefits us all.
Do volcanoes contribute a significant amount of CO2 to the atmosphere compared to humans?
Calbuco Volcano, Chile (FOTOSMONTT .COM)
One of climate-change deniers' favorites assertions to make is that it's not us throwing all that carbon dioxide into the atmosphere — it's those pesky volcanoes. While it's true that volcanoes spew tons of pollutants into the air when they erupt, do they really contribute more CO2 than we do? Or even the same amount as we do? Short answer: Hell, no. Astrophysicist, science communicator and NASA columnist Ethan Siegel explains how the comparison shakes out in an article for Medium.
Before getting into the numbers, though, it's worth noting that volcanic activity is the earth's way of getting needed carbon out of the crust and into the atmosphere in CO2. And for billions of years we believe this has been going on without resulting in the kinds of elevated CO2 levels we're seeing now: an estimated 3.2 trillion tons, of which 870 billion tons are carbon. What's changed? Us.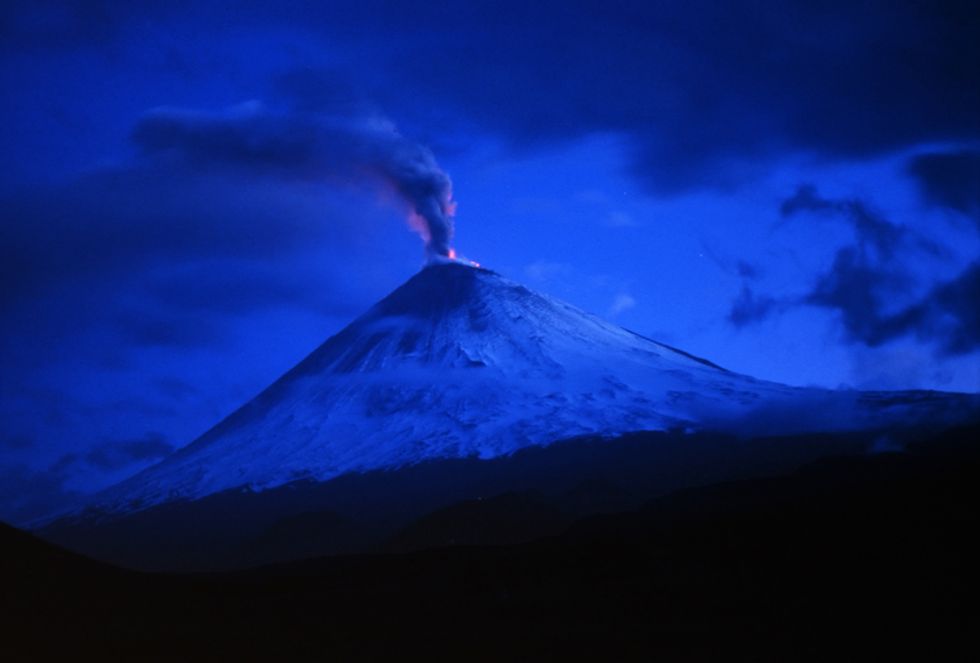 Klyuchevskaya Volcano, Kamchatka(GIORGIO GALEOTTI)
A 2013 study published in GeoScienceWorld tallied up all of the naturally occurring CO2 emissions per year. Siegel summarizes its findings in his Medium post:
33 measured degassing volcanoes emit a total of 60 million tons of CO2 per year.
There are a total of roughly 150 known degassing volcanoes, implying (based on the measured ones) that a total of 271 million tons of CO2 are released annually.
30 historically active volcanoes are measured to emit a total of 6.4 million tons of CO2 per year.
With roughly 550 historically active volcanoes total, they extrapolate this class of object contributes 117 million tons per year.
The global total from volcanic lakes is 94 million tons of CO2 per year.
Additional emissions from tectonic, hydrothermal and inactive volcanic areas contribute an estimated 66 million tons of CO2 per year, although the total number of emitting, tectonic areas are unknown.
And finally, emissions from mid-ocean ridges are estimated to be 97 million tons of CO2 annually.
This all adds up to a total average contribution to the atmosphere of 645 million tons of CO2 per year. Some years a little more and some years, less. But remember that number: Volcanoes add 645 million tons of CO2 to the atmosphere per year.
Now, us. Human activity, adds an average of 29 billion tons of CO2 each year to the atmosphere. Close? As we said at the top, nope. Not even.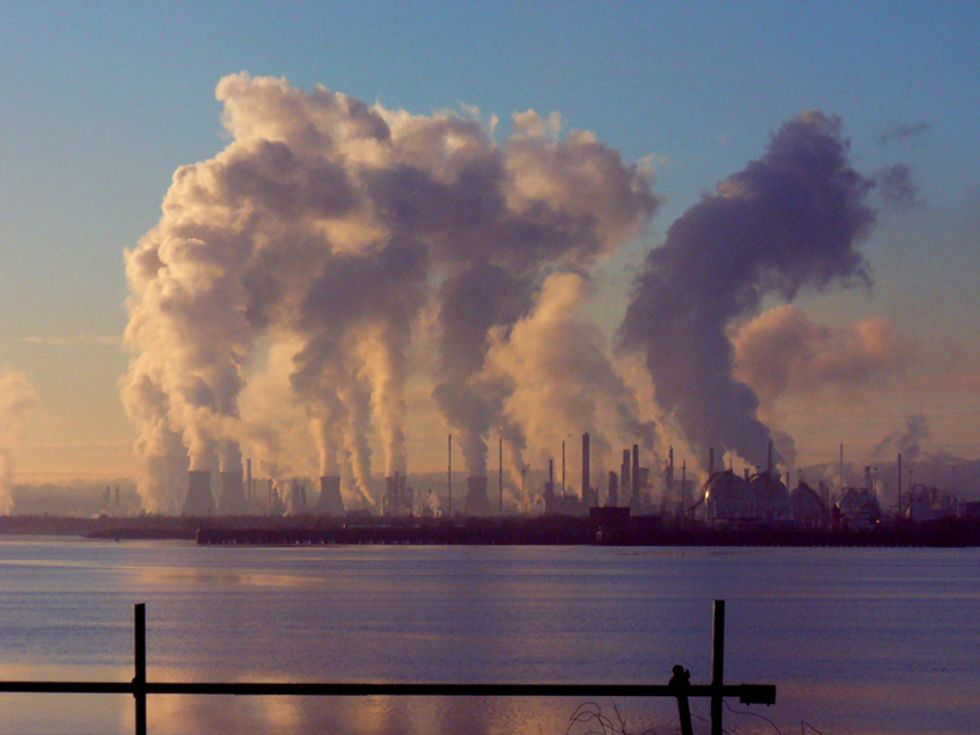 Grangemouth oil refinery in Scotland (GRAEME MACLEAN)
So the next time someone tries to let humankind off the climate-change hook, blaming volcanoes as part of a natural heating and cooling cycle, tell them no. If they try and play the alternate facts game with you, lay some of Siegel's math on them.
This is clearly our mess. The earth was doing just fine before we began making all this trouble.
Global warming is largely caused by carbon dioxide. Scientists at Oak Ridge National Laboratory just figured out a way to change it into something better.
It might be too soon to celebrate, but allow us this little puff of confetti.
These gray blobs below might not look like much to you, but to chemists they just might be the holy grail of fossil fuel conversion.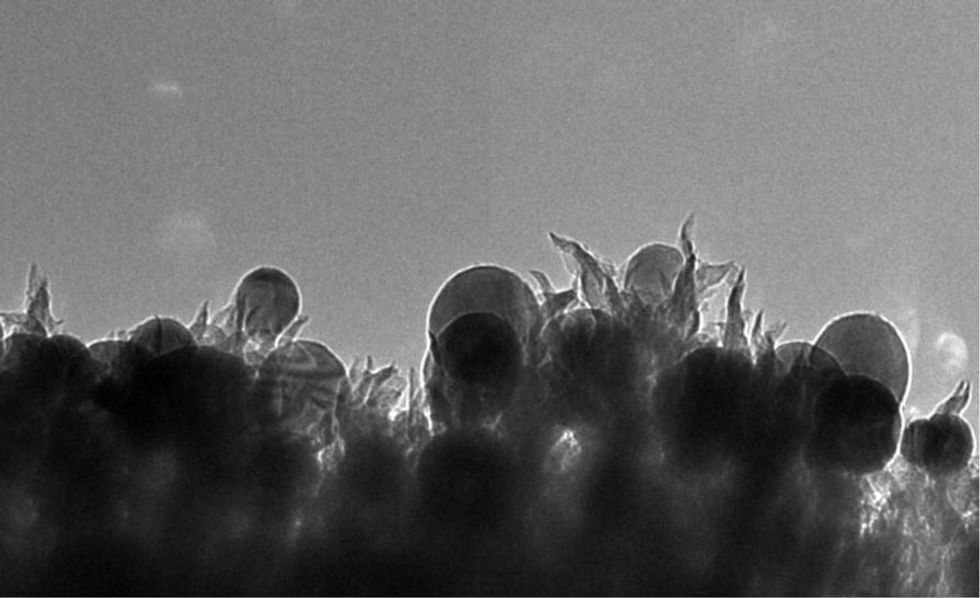 A photomicrograph of the ORNL catalyst showing the carbon nanospikes that can convert carbon dioxide into ethanol. Credit: ORNL
The Department of Energy has spent years trying to reduce the amount of carbon dioxide in our atmosphere. Carbon dioxide, or C02, is released into our atmosphere from both our breathing and as a byproduct of industrial combustion from fossil fuel. It's also a greenhouse gas, meaning it traps heat and warms the temperature of the planet. In fact, it is "the primary greenhouse gas emitted through human activities," according to the Environmental Protection Agency. "In 2014, CO2 accounted for about 80.9% of all U.S. greenhouse gas emissions." That means it's the biggest culprit of climate change, and the one scientists are trying hardest to stop.
Scientists are trying everything from storing it underground to converting it into a cleaner fuel source. Scientists at Oak Ridge National Laboratory (ORNL) accidentally figured out a way to do the latter by converting C02 into ethanol – a cleaner, more sustainable fuel source.
Strange as that sounds, carbon dioxide can be chemically converted into fuel. It's difficult to do, as it is "chemically unreactive," as the Department of Energy (DOE) reports. Carbon dioxide needs a catalyst, "a particular compound that could make carbon dioxide react more readily. When converting carbon dioxide from the atmosphere into a sugar, plants use an organic catalyst called an enzyme," the DOE continues. The researchers at ORNL used "a catalyst made of carbon, copper and nitrogen and applied voltage to trigger a complicated chemical reaction that essentially reverses the combustion process," they explain in a press release. In order to activate carbon dioxide at the molecular level, they utilized nanotechnology. Popular Mechanics explains the process as "a new combination of copper and carbon arranged into nanospikes on a silicon surface. The nanotechnology allows the reactions to be very precise, with very few contaminants." The researchers expected the carbon nanospikes to be the first step in a long process, but were pleasantly surprised to discover it was the only step they needed. They explain the full details in the journal Chemistry Select, but here's a video version:
Credit: ORNL/YouTube
"By using common materials, but arranging them with nanotechnology, we figured out how to limit the side reactions and end up with the one thing that we want," researcher Adam Rondinone said in the ORNL press release. He explained the process further to New Atlas, stating that "a process like this would allow you to consume extra electricity when it's available to make and store as ethanol. This could help to balance a grid supplied by intermittent renewable sources."
That is a big deal, because ORNL's process chemically negates a harmful substance with common materials and only 1.2 volts of electricity – and it works at room temperature, meaning "it can be started and stopped easily with little energy cost," Popular Mechanics explains. They point out another additional benefit, too: the process could also be used "as temporary energy storage during a lull in renewable energy generation, smoothing out fluctuations in a renewable energy grid."
ORNL has essentially created a way to remove large amounts of carbon dioxide from our atmosphere in a cheap, efficient, scalable way, which the team hopes could be used to mitigate or completely reverse fossil fuel carbon dioxide production. They're working on refining their methods to "increase ethanol production rates and to better determine the full mechanism of selective chemical production of the copper/carbon catalyst," according to New Atlas.
Hopefully, they'll develop a system that's easy for industrial producers to use. If they do, and if our government signs off on it, this process might just be the next big step in reducing climate change.