A large new study puts caffeine-drinking moms on alert.
A study finds that the brains of children born to mothers who consumed coffee during pregnancy are different.
Neuroregulating caffeine easily crosses the placental barrier.
The observed differences may be associated with behavioral issues.
As one human body gives birth to another, so many things have to, and usually do, go right. It's known that substances a mother ingests can influence the success of fetal development. Modern mothers are careful regarding the consumption of alcohol, associated with a wide array of problems during fetal development and later in life.
Researchers have also investigated the impact of coffee consumption during pregnancy. It's known that caffeine easily traverses the placenta and that a fetus lacks the enzymes necessary to break down this known neuroregulatory compound. Studies have found that the coffee's caffeine can result in lower birth weights when too much of the beverage is consumed.
Now a substantive study from researchers at the Del Monte Institute for Neuroscience at the University of Rochester states definitively that coffee during pregnancy can change important fetal brain pathways that may lead to behavioral issues later in life.
What's too much coffee? First author Zachary Christensen says, "Current clinical guidelines already suggest limiting caffeine intake during pregnancy—no more than two normal cups of coffee a day. In the long term, we hope to develop better guidance for mothers, but in the meantime, they should ask their doctor as concerns arise."
This guidance may change as a result of this study, notes principal investigator John Foxe, who says, "I suppose the outcome of this study will be a recommendation that any caffeine during pregnancy is probably not such a good idea."
The study is published in the journal Neuropharmacology.
A large study of nine- and ten-year-old brains
Credit: myboys.me/Adobe Stock
For the study, researchers analyzed brain scans of 9,000 nine and ten-year-olds. Based on their mothers' recollections of their coffee consumption during pregnancy, the researchers found that children of coffee drinkers had clear changes in the manner in which white brain matter tracks were organized. These are the pathways that interconnect brain regions.
According to Foxe, "These are sort of small effects, and it's not causing horrendous psychiatric conditions, but it is causing minimal but noticeable behavioral issues that should make us consider long-term effects of caffeine intake during pregnancy."
Christensen says that what makes this finding noteworthy is that "we have a biological pathway that looks different when you consume caffeine through pregnancy."
Of children with such pathway differences, Christensen says, "Previous studies have shown that children perform differently on IQ tests, or they have different psychopathology, but that could also be related to demographics, so it's hard to parse that out until you have something like a biomarker. This gives us a place to start future research to try to learn exactly when the change is occurring in the brain."
The study doesn't claim to have determined exactly when during development these changes occur, or if caffeine has more of an effect during one trimester or another.
Foxe cautions, "It is important to point out this is a retrospective study. We are relying on mothers to remember how much caffeine they took in while they were pregnant."
So as if being pregnant wasn't difficult enough, it sounds like the most conservative and safe course of action for expectant mothers is to forgo those revitalizing cups of Joe and switch to decaf or some other un-caffeinated form of liquid comfort. We apologize on behalf of science.
Your morning coffee is good for you - if you drink it at the right time.
Caffeine, the main stimulant found in coffee, works on a chemical level to give you energy by replacing the biochemical adenosine, which makes you tired.
There are many health benefits to caffeine, such as a boost in metabolism and an increase in physical performance/muscle strength.
To get the most positive impacts of your daily caffeine intake, drink coffee between 10 in the morning and 12 noon or between 2 in the afternoon and 5 in the evening.
According to the International Coffee Organization (ICO), the world pours about 1.4 billion cups of coffee per day. This might explain why you rely so heavily on your Keurig every morning or why you stop at Starbucks on the way to work even though you're already running late.
How does your morning coffee really impact your brain? Most importantly, are there certain times of the day where your latte-caffeine boost is better for your health?
Your brain on coffee
Caffeine, the main stimulant in coffee, works on a chemical level to give you a boost of energy. However, caffeine is structurally similar to another chemical naturally created in the body, called adenosine, which makes you tired.
Some substances imitate natural neurotransmitters and can take their place in receptors. For example, morphine can bind to the receptors in the brain meant for your endorphins (which is a natural kind of 'morphine' produced by your brain).
Caffeine replaces adenosine, which builds your adrenaline and causes dopamine to linger longer.
Similar to how morphine binds to endorphin receptors, the caffeine in your morning coffee binds to your brain's adenosine receptors, preventing the biochemical from making you tired.
Caffeine also builds your adrenaline supply which increases your heart rate and allows blood to pump faster. At the same time, caffeine prevents dopamine from being reabsorbed into your system, which allows it to linger in the brain for a longer amount of time, causing you to feel it's positive effects (such as happiness) for a longer amount of time.
This lingering of dopamine is what often triggers the brain to crave more caffeine. After all, while dopamine itself isn't inherently addictive, it does play a large role in many addictions.
More coffee means more adenosine receptors which means more coffee...
The brain is a complex and intricate system. The more coffee you drink, the more adenosine receptors are formed, meaning it can take more coffee to keep you awake now than it did when you started drinking coffee as a young adult.
According toresearch, caffeine has a half-life of around 6 hours.
Within the first 10 minutes, the caffeine enters your bloodstream and is pumped throughout your body, causing an increase in blood pressure and heart rate.
Up to 20 minutes after intake, caffeine binds to the adenosine receptors, neutralizing fatigue. Dopamine levels increase and linger, which provides the drinker with an alert and focused feeling.
Within 30 minutes, your adrenal glands shift into high gear and begin producing more hormones. During this time your vision may become sharper due to your pupils dilating.
Within 40 minutes, your body begins producing more serotonin, which improves the neuron function within your spinal cord - this leads to improved coordination and muscle strength.
After 4 hours, your metabolism increases, which is why you burn energy faster. Your body begins to break down stored fats during this time.
Within 6 hours, the liquid coffee has gone through your system and you will likely feel the urge to urinate, during which time approximately half the caffeine you consumed is expelled.
How to make your coffee habit benefit you
What time of day you drink your coffee can mean the difference between a good habit and a bad habit.
Photo by bluehand on Shutterstock
Of course, with anything caffeinated, moderation is key. When consumed in excess, caffeine can cause anxiety, heart palpitations, and sleeping problems.
According to Consumer Reports, up to 400mg of caffeine per day (which equals two to four 8 ounce cups) can be part of a healthy diet, however anything over 600mg per day is too much.
What are the health benefits of coffee?
Despite what you may have been told, there are several ways your daily caffeine intake is good for you. Not only can coffee improve your energy levels, but it can cause your brain to function at optimal levels, making you smarter.
Some other health benefits of coffee include:
Boosting your metabolism
Improving your physical performance
Helping you with your nutrient intake (the vitamins B2, B3, B5, manganese, and potassium are all found in coffee)
Lowering your risk of developing type 2 diabetes
Helping fight depression symptoms and make you happier
Providing a source of antioxidants
Consuming caffeine when cortisol levels are high decreases the health benefits.
Cortisol, a naturally-occurring stress hormone, has a very distinct circadian rhythm that is regulated by the brain's central pacemaker. Interrupting this rhythm can lead to metabolic abnormalities, fatigue, and poor quality of life, according to a 2009 study published in the Journal of Clinical Endocrinology and Metabolism.
Consuming caffeine when your cortisol levels are at a natural peak can lead to interference in the production of cortisol and an increase in your tolerance, which can impact your response to stress and will cause to you need more and more caffeine as time goes on.
When is the best time to drink coffee?
The cortisol levels in your body are at a natural peak three times per day, one of which is in the early morning. According to this article in Time Magazine, the best times to drink coffee (or ingest caffeine) are between 10 in the morning and 12 noon, and then again between 2 in the afternoon and 5 in the evening.
This will allow your brain to make the most of your caffeine surge, as it's not replacing any other important functions, such as the cortisol release that naturally happens several times per day.
A new study explains why some people seem to be better than others at ridding their minds of intrusive thoughts.
"Try to pose for yourself this task: not to think of a polar bear, and you will see that the cursed thing will come to mind every minute."
— Fyodor Dostoevsky, Winter Notes on Summer Impressions
Chances are you've heard this game before in some form, maybe with a pink elephant instead of a polar bear. And though it's just a game, the similar phenomenon of being unable to rid your mind of intrusive thoughts can pose serious dangers to mental health, and it's a hallmark symptom of psychiatric disorders like post-traumatic stress disorder, anxiety, depression, and schizophrenia.
What's going on in the brain when you're trying to clear unwanted thoughts from your mind?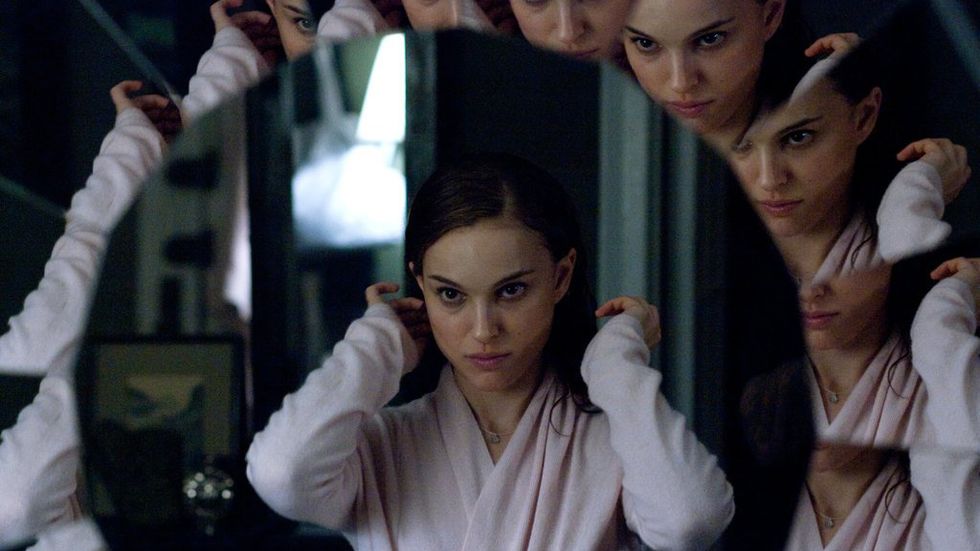 Scientists just got much closer to the answer, it seems. A study published in the journal Nature by researchers at the University of Cambridge details how people with higher concentrations of the amino acid neurotransmitter GABA in their brain's hippocampal region tend to be better at blocking unwanted thoughts, images and memories.
"What's exciting about this is that now we're getting very specific," said study coauthor Michael Anderson to BBC News. "Before, we could only say 'this part of the brain acts on that part', but now we can say which neurotransmitters are likely to be important."
In the study, participants were asked to memorize pairs of unrelated words — for example, moss/north or ordeal/roach. Then the researchers presented participants with two lights: one red, one green. Participants were asked to recall the associated memories when the light was green, and suppress memories when it was red without engaging in any distracting activity or thought pattern. "Whenever a memory intruded into awareness, they were asked to 'push it out of mind.'," write the study authors. 
Meanwhile, participants' brains were monitored with both functional magnetic resonance imaging (FMRI) and magnetic resonance spectroscopy, which measures chemical changes in the brain.
Results showed that GABA plays a key role in people's ability to stop thought patterns. functioning as an inhibitory neurotransmitter, GABA effectively tells the cells it comes in contact with not to fire. Without it, nerve cells can fire too often and too easily. Caffeine inhibits the release of GABA in the brain, so one way to conceptualize what a GABA deficiency might feel like is to imagine that jittery, hyperactive feeling when you drink too much coffee.
The study could help improve treatments for rumination and associated psychiatric disorders.
"Most of the focus has been on improving functioning of the prefrontal cortex," Anderson said to BBC News. "Our study suggests that if you could improve GABA activity within the hippocampus, this may help people to stop unwanted and intrusive thoughts."
The Game
The polar bear game listed at the top of the article is similar to a mind game played 24-7 around the world, known simply as The Game. According to its website, there are only three rules to The Game:
Rule 1: You are playing The Game. You, along with everyone else in the world, always is, always has been, and always will be playing The Game. Neither awareness nor consent is required to play.
Rule 2: Every time you think about The Game, you lose. Loss is temporary; as soon as you forget about The Game you stop losing. The objective of The Game is to forget that it exists. Good luck. 
Rule 3: Loss of The Game must be announced. Every time you think about The Game, and hence lose, you must say so. This is the only rule that can be broken, but do you really need to cheat..?
Scientists identify key compounds that may help prevent brain diseases like Alzheimer's, Parkinson's, Huntington's as well as Lou Gehrig's disease.
Your morning cup of joe may have effects that reach beyond getting you alert and ready for the day. Researchers at Indiana University identified 24 compounds that can increase the brain's production of an enzyme that could help protect it against diseases like Alzheimer's and other forms of dementia. One of the strongest impacts on the enzyme came from caffeine, which was additionally shown to improve memory function in mice.
The enzyme, called NMNAT2, has a protective effect on the brain. Researchers previously found that the enzyme has two important functions - it can guard neurons from stress and work as a "chaperone" when it fights against misfolded proteins called tau which form age-related "plaques."  
The misfolded tau proteins are related to a host of neurogenerative diseases like Parkinson's, Alzheimer's and Huntington's as well as Lou Gehrig's disease or ALS.
"This work could help advance efforts to develop drugs that increase levels of this enzyme in the brain, creating a chemical 'blockade' against the debilitating effects of neurodegenerative disorders," said Professor Hui-Chen Lu, who led the study.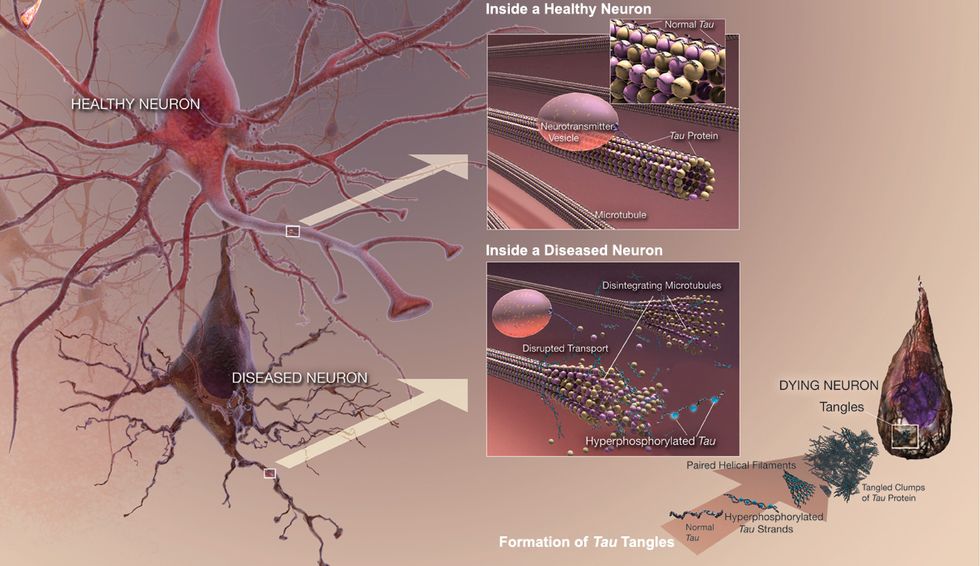 Researchers went through 1,280 compounds, which included current drugs, in an effort to figure out what can influence the production of the NMNAT2 enzyme. Besides caffeine, the world's most popular drug, scientists found that a discontinued anti-depressant drug rolipram also gives a strong boost to the helpful enzyme's production. Other compounds that have a weaker effect on increasing the amount of NMNAT2 include ziprasidone, canthardin, wortmannin and retonoic acid (found in vitamin A).  
The scientists are excited about identifying the compounds, hoping they will lead to an increase in our overall understanding of what happens in the brain due to the brain disorders. They also found 13 compounds that lower the protective enzyme.
"Increasing our knowledge about the pathways in the brain that appear to naturally cause the decline of this necessary protein is equally as important as identifying compounds that could play a role in future treatment of these debilitating mental disorders," said Lu.
The study was published in the journal Scientific Reports.
Cover photo: A young woman samples freshly-brewed cappuccino at Bonanza Coffee Roasters on January 24, 2011 in Berlin, Germany. (Photo by Sean Gallup/Getty Images)
Does a shot of espresso before walking into an exam make a difference?
While the dominant theme in education is focused on the current pick for Secretary of Education, Betsy DeVos, and her vigilance in implementing voucher programs, not as much is being discussed regarding the broader conditions surrounding performance. For example, one argument states students should have later start times, given that teenagers have an especially hard time waking up in the morning. Proper sleep is a chronic elephant in the room in modern education.
A research team lead by Boston College's Stephanie Sherman decided to test a particularly popular mechanism during students' non-optimal time of day, early morning hours: caffeine.
Morning, the researchers write, is a terrible time for testing one's memory, especially college students. During those hours they're at a physiological low point. All-night cramming has been shown to decrease performance—sleep, we know from over a century of research, is essential for memory formation. But does a shot of espresso before walking into an exam make a difference?
Sixty students were spread across two groups. The first drank caffeinated coffee while the other drank decaf (while thinking they were sipping the good stuff). Two sessions were tested: a morning, or non-optimal time, group; and afternoon crew, when their bodies were physiologically normal.
Another experiment was later conducted, with one group performing vigorous cardiovascular exercise, the other gentle stretching. Forty students were included in this experiment to test the specificity of caffeine's effect during early morning hours, which was the researchers' primary focus. Both exercise and caffeine affect the locus coerueus, the brain's principal site for the production of norepinephrine, which mobilizes us for action.
It is well understood both exercise and caffeine arouse the mind and body, but the question here has to do with memory. Did students perform better thanks to the java?
Not during the optimal time of day; students tested in the afternoon showed little difference. Surprisingly, exercise did not seem to help memory performance either (more on that below). Early morning test takers valued those 200 milligrams of caffeine, as it resulted in higher explicit memory performance—information consciously recalled. The coffee had no apparent effect on implicit memories, however. For test takers, though, that is irrelevant.
This has broader implications for how we test students. The researchers write:
Most college instructors simply assume that grades on these tests accurately reflect a student's ability, but this is likely not the case. Several studies in academic settings suggest that a student's time of day preference impacts overall academic performance.
By and large modern educators do not address basic physiological, emotional, and anatomical realities of their students. Sitting all day on hard surfaces is terrible for children's (and adult's) bodies. It's hard to pay attention when the main joints in your body are in chronic flexion. Lack of movement has profound effects on our emotional and mental well-being, including memory formation.
Which is why exercise having no impact is a surprising aspect of this study. Harvard's John Ratey has shown that initiatives like the Zero Hour PE program at Naperville Central High School—an optional before school cardiovascular training program—is highly effective at increasing test performance. School counselors stack the students' most challenging classes at the beginning of the day, right after their workouts, to maximize the effect of exercise, as it tapers as the hours go by.
Sherman and team address the lack of improvement from cardiovascular exercise to one potential cause:
Our finding is consistent, however, with research suggesting that the cognitive benefits of exercise build gradually, rather than acutely. For example, Bugg et al. (2006) found that older adults who engage in an active lifestyle do not experience a decline in working memory performance across time-of-day compared to sedentary older adults. These authors argue that habitual exercise leads to increased calcium levels, which are necessary for the metabolism of dopamine and norepinephrine. This increase in calcium occurs gradually and is maintained through consistent exercise.
Caffeine, they continue, quickly blocks adenosine receptors. Norepinephrine is released, which might be a major mechanism for the consolidation of new memories. Ratey's long-term findings are qualitatively different from a single run, as in the above study. So keep your heart pumping.
Still, caffeine should be celebrated. Ninety percent of North Americans and 80 percent of the global population consumes it. Outside of sugar it is our most sanctioned drug. If you have to remember information early in the day when your body and brain are not yet fully functional, it seems to provide just the boost you need.
The real value of this study brings into question how we're educating the youth. A Secretary of Education favoring voucher programs and charter schools in which the government is hands-off—which translates, we know from her history, to more religious instruction—is not going to fundamentally address many problems students face. Time of day does matter in performance. Restructuring the school day to honor our evolutionary and biological realities simply makes more sense. 
--
Derek's next book, Whole Motion: Training Your Brain and Body For Optimal Health, will be published on 7/4/17 by Carrel/Skyhorse Publishing. He is based in Los Angeles. Stay in touch on Facebook and Twitter.