Vegans and vegetarians often have nutrient deficiencies and lower BMI, which can increase the risk of fractures.
Credit: Jukov studi via Adobe Stock
The study found that vegans were 43% more likely to suffer fractures than meat eaters.
Similar results were observed for vegetarians and fish eaters, though to a lesser extent.
It's possible to be healthy on a vegan diet, though it takes some strategic planning to compensate for the nutrients that a plant-based diet can't easily provide.
Non-meat diets may help you maintain healthy cholesterol, body weight, and blood-sugar levels. But these diets, particularly veganism, may also boost your risk of suffering broken bones, according to a new study published in BMC Medicine.
While the causes aren't totally clear, the researchers suggested it might stem from vegans not consuming enough calcium and protein, or from having a lower body mass index (BMI), which leaves the body more vulnerable to fractures.
The study is the largest to date on the relationship between fractures and non-meat diets. The researchers examined data from the long-running EPIC-Oxford study, which issued health surveys to nearly 55,000 people in the U.K. between 1993 and 2001, and followed up with them in 2010.
For the recent study, the researchers collected additional follow-up data in 2016 using National Health Service records. To study the relationship between diet and fracture risk, they sorted participants into four groups: meat eaters, fish eaters, vegetarians, and vegans.
After controlling for variables like physically activity, sex, smoking, dietary supplement intake, and alcohol use, the study found that vegans had a 43 percent increased risk of any kind of fracture compared to meat eaters. The increased risk for vegetarians was 9 percent.
Comparison of fracture cases by diet group
Credit: Tong et al.
The results showed that vegans were especially vulnerable to hip fractures, suffering 2.3 times more cases than meat-eaters. Vegetarians and pescatarians were also more likely to suffer hip fractures, though to a lesser extent.
One explanation may be that non-meat eaters consume less calcium and protein. Calcium helps the body build strong bones, particularly before age 30, after which the body begins to lose bone mineral density (though consuming enough calcium through diet or supplement can help offset losses). Lower bone mineral density means higher risk of fracture.
Protein seems to help the body absorb calcium, when consumed in normal levels. The recent study, along with past research, shows that people who don't eat meat tend to have lower levels of both protein and calcium. When the researchers accounted for non-meat eaters who supplemented their diets with calcium and protein, fracture risk decreased, but still remained significant.
Credit: Pixabay
Another explanation is body mass index (BMI). Non-meat eaters tend to have a lower BMI, which is associated with higher fracture risk, particularly hip fractures. In the new study, vegans with a low BMI were especially likely to suffer hip fractures. That might be because having more body mass provides a cushioning effect when people fall.
Still, the study has some limitations. For one, White European women were overrepresented in the sample. The researchers also didn't collect precise data on the type of calcium or protein supplementation, diet quality or causes of fractures.
Another complicating factor: Producers of vegan products, such as plant-based milk, are increasingly fortifying foods with nutrients like calcium and protein, so modern vegans are potentially at lower risk of deficiency.
The researchers wrote that their findings "suggest that bone health in vegans requires further research."
Staying healthy on a vegan diet
So, does a vegan diet necessarily lead to worse bone health? Not necessarily. But it's safe to say that people who don't consume meat, dairy and eggs should be extra vigilant about consuming enough essential nutrients. That can be harder than it seems.

One major reason is that the body generally has an easier time absorbing nutrients from animal foods than plant-based products. So, while a salad could contain the same amount of calcium as a glass of milk, the body absorbs more calcium when you drink milk. What's more, there are some molecules and nutrients you simply can't get from plants.
As such, many vegans round out their diets with supplements, including zinc, iron, iodine, long-chain omega-3s, and vitamins D, K-2, and B-12, to name a few. If you're on a vegan diet or considering making the switch, it's probably best to consult a dietician, and to make sure you maintain a healthy BMI.
Targeting a signaling pathway in mice helped them retain muscle and bone mass aboard the International Space Station, according to a new study.
Pixabay
Losing bone and muscle mass in space is a major health concern for astronauts.
In a recent study, scientists genetically altered mice and sent them to the International Space Station.
The genetically altered mice retained — or even gained — muscle and bone mass, while a control group suffered significant losses.
Living in microgravity aboard the International Space Station (ISS) might seem like it'd be gentle on the human body, but it's not. Without gravity, the musculoskeletal system starts to atrophy because it no longer needs to support any weight. And even though regular exercise in space keeps astronauts in decent shape, bone and muscle loss remains a major health concern for long-term space missions.
A new study published in the Proceedings of the National Academy of Sciences suggests that targeting a specific signaling pathway in the body can help prevent bone and muscle loss in space.
The study involved sending 40 mice to the ISS for a month-long stay. Eight of the mice were missing the gene for myostatin, a protein known to inhibit muscle growth. Another eight mice were given a treatment that suppresses myostatin and the protein activin A, which also helps to regulate muscle mass. The rest of the mice (24) were left untreated as a control group.
Comparison of bone density loss between the mice groups.
(Image credit: Se-Jin Lee)
Upon return to Earth, the untreated mice showed significant losses in muscle mass and bone density. But the mice missing the myostatin gene retained almost all of their muscle and bone mass. What's more, the mice that received the gene-inhibiting treatment actually gained bone and muscle mass. The researchers observed similar results among a separate group of mice that were given the same set of treatments on Earth.
"These findings show that blocking the activities of these hormones does work to enhance both muscle and bone even when mice are unable to bear weight," study authors Se-Jin Lee and Emily L. Germain-Lee told CNN.
"One thing that we found somewhat surprising is how resilient mice are even when subjected to all of the stresses associated with space travel. We knew that mice had been sent to space in the past, but we still found it remarkable that after spending a month at the ISS, they seemed to resume normal activity very quickly after returning to Earth."
Pixabay
Treatments like these could protect astronauts on future long-term space missions. After all, studies show that spending just 16 to 28 weeks in space can cause a 3.5-percent loss in bone density, so space agencies are understandably concerned about the health risks of sending astronauts on a three-year mission to Mars.
Applications on Earth
The researchers also noted that "this strategy may be effective in preventing or treating muscle and bone loss not only in astronauts on prolonged missions but also in people with disuse atrophy on Earth, such as in older adults or in individuals who are bedridden or wheelchair-bound from illness."
Still, the experiment was done on mice, so it's not clear whether the treatment would have the same effects on humans. It's also unclear what other side effects the treatment might have on humans. Answering these questions will take some time.
"We're years away," Germain-Lee told Phys Org. "But that's how everything is when you go from mouse to human studies."
Researchers think they know how a group of ancient sloths, who died thousands of years ago in Ecuador, met their untimely end.
Evidence collected from an ancient boneyard in Ecuador suggests that a group of 22 ancient giant sloths died in a wallow of their own feces.
Other mammals, such as a deer, a horse, an elephant-like creature called a gomphothere, and another species of ground sloth were identified at the site.
The fate of the sloths parallels that of modern hippos who can become lethally poisoned in times of drought when the feces to water ratio shifts in their watering holes.
Evidence collected from a fossil trove in Ecuador suggests that a group of ancient giant sloths met their collective demise by wallowing in their own poop in what was once a prehistoric marsh.
In a new paper published in Palaeogeography, Palaeoclimatology, Palaeoecology, a team of paleontologists from the U.S. and Ecuador reached this conclusion by piecing together clues from the remains of 22 Panamerican ground sloths (Eremotherium laurillardi) discovered in what is now the Tanque Loma tar seep on Ecuador's southwest coast. The bones date back to 18,000 to 23,000 years ago.
Discoveries from an ancient boneyard
An assemblage of 677 bones, 575 of which belonged to E. laurillardi, were found on this site in the Santa Elena peninsula in Ecuador. Other mammals, such as a deer, a horse, an elephant-like creature called a gomphothere, and another species of ground sloth were identified. Analysis of E. laurillardi's bones reveal that the sloths likely died around the same time, evidenced by the lack of sediment separating them. They were also part of a multigenerational group, including at least 15 adults, one teen, and six children. This arrangement of remains and the range of ages indicates a mass mortality event, according to the researchers.
Giant ground sloths were once one of the most common large vertebrates living in the Americas. Prior research indicates that the species, which can reach lengths of 19 feet, were widely distributed across the region ranging from southern Brazil to North America's Gulf and Atlantic coasts. We also know that they died out 11,000 years ago. But little has been known about their behavior and social structure, which is why this latest find is so exciting.
While modern sloths are solitary creatures, the paper suggests E. laurillardi were rather gregarious creatures who congregated near water. Tanque Loma was probably once a marshy watering hole where the sloths cooled off, bathed, and quenched themselves similar to warthogs and hippopotamus populations today.
Clues point to a crappy death
Photo Credit: Jeff Griffith / Unsplash
Prior analysis suggested that the asphalt on the site seeped into the sloths' gravesite after the bones had already been deposited, thus ruling out death by asphalt poisoning. Death by volcano or other natural disaster is also unlikely because the sediments do not contain ash or charcoal. And because the sloths across a full range of age groups are present, their death probably wasn't caused by disease or a predatory attack, either. In those cases, there would be an overrepresentation of old and young.
Rather, the researchers believe the sloths died another way.
"Taking observations from modern megafaunal ecosystems as an analogue, we suggest that this death event could have resulted from drought and/or disease stemming from the contamination of the wallow, paralleling situations observed among hippopotamus populations in watering holes on the present-day African savannah," write the researchers in the paper.
The scientists suspect that the fate of some hippopotamus groups may point to what happened to these 22 ancient giant sloths. Hippos are apparently prolific poopers. So much so that the amount of their waste can change the chemistry of water they spend their days in to the point of sometimes killing all the fish. It can even, sometimes, kill the hippos in times of drought when the feces to water ratio shifts.
"Based on the data from this study, a modern analogue to the Tanque Loma E. laurillardi assemblage may be hippopotami, which congregate in large numbers at water sources where they spend most of their time submerged to protect themselves against heat, sun and insects," the researchers wrote. "In times of drought, as these water sources begin to dry up, surrounding vegetation disappears and the wallows become increasingly polluted with hippopotamus faecal material, causing significant detrimental impacts on the watershed ecosystem."
Besides bones, the team found plant material in E. laurillardi's fossil bed. Interestingly, this was not living plant material—it had been digested and excreted. This supports the theory that the ancient sloths met their unfortunate demise in a slop of their own feces.
Nuclear weapons, whale sharks, and how to use both to make eco-tourism more sustainable.
SCOTT TUASON/AFP via Getty Images
Scientists have finally determined the age of whale sharks using radioactive elements from bomb tests.
Using the new data, the age range of the animals' bones has now been determined.
The findings will help conservationists better maintain whale shark populations.
There are some things that you presume science already knows and may be surprised to learn it doesn't. One seemingly simple thing was resolved this week, as scientists finally put an age range on whale sharks by dating the slightly radioactive carbon-14 isotope their bones collected after Cold War atomic bomb tests.
Majestic whale sharks, the gentle giants of the shark family.
Weighing in at 9 tons (20,000 pounds) and typically growing to around 10 meters (32 feet) long, the whale shark is the largest living species of fish. Despite the name, it is not a whale, though it is the size of one. Like many kinds of whales, it filter feeds on plankton.
Many things about the whale shark have remained unknown to science; how long they can live, their mortality rate, and how exactly to determine the age of a specimen from its remains was chief among them. However, these questions are now a little closer to being settled. In a study recently published in Frontiers in Marine Science, scientists explain how they were able to date the bones of two whale sharks who met their fate earlier than they may have expected.
Like trees, whale sharks' bones have growth rings. Scientists have known about these rings for a while, but how quickly the rings grow has been unknown. It is difficult to use them to estimate the age of a shark if you aren't sure how much time each ring represents.
A whale shark vertebra from Pakistan, in cross section, showing 50 growth bands
Image: © Paul Fanning, Pakistan node of the UN Food and Agricultural Organisation
This is where carbon-14 comes in. As a result of nuclear bomb tests during the Cold War, large quantities of carbon-14 were put into the oceans. The isotope slowly made its way up the food web and into the bodies of larger animals. Knowing the yearly changes in the amount of carbon-14 in the oceans due to bomb testing, scientists merely had to compare that data with the changes seen in the sharks' bones.
"We found that one growth ring was definitely deposited every year," said Dr. Mark Meekan of the Australian Institute of Marine Science in Perth, a co-lead on the study. "This is very important, because if you over- or under-estimate growth rates you will inevitably end up with a management strategy that doesn't work, and you'll see the population crash." This means the sharks used in this study were around 35 and 50 years old at the time of their deaths.
Working forward from there, the scientists were able conclude that the animals may have an age range of 100-150 years. "Earlier modelling studies have suggested that the largest whale sharks may live as long as 100 years," Dr. Meekan explained in a statement. "However, although our understanding of the movements, behaviour, connectivity and distribution of whale sharks have improved dramatically over the last 10 years, basic life history traits such as age, longevity and mortality remain largely unknown. Our study shows that adult sharks can indeed attain great age and that long lifespans are probably a feature of the species. Now we have another piece of the jigsaw added."
Whale sharks are an interesting species that many eco-tourists want to see. Conservation efforts for them rely on having accurate data on their longevity, mortality rate, and the age of specific animals. This information will help those managing ocean preserves keep the population stable for future generations to enjoy.
Your bones would "explode."
She wouldn't last a second.
Who can forget the nail-biting scene in Jurassic Park when an escaped T-Rex, in the middle of a thunderstorm, proceeds to turn over and tear apart a Range Rover with two children trapped inside? Movie magic and real science don't often intersect. So, is this what would really happen, or is Hollywood just ramping up the drama? And how strong was a T. rex's bite anyway? Scientists now know. And the truth is, this terrifying predator retains its reputation. The jaw strength of a T-Rex contained nearly 8,000lbs (3,629kg) of force.
Gregory M. Erickson is a paleobiologist from Florida State University, who began his bizarre journey by becoming vastly curious about how many pounds of pressure the jaws of a T-Rex might exert. He teamed up with Paul M. Gignac, a paleobiologist at Oklahoma State University. Their findings, published in the journal Scientific Reports, conclude that its gnashing jaws would tear through everything, even popping bones.
The exact figure they came up with was 7,800lbs (3,538kg) of force, more than double any living species on Earth. "That's like setting three small cars on top of the jaws of a T. rex," Erickson told NPR. "That's basically what was pushing down." More horrifying still, it chewed up and ate the bones of its prey. This act, known as extreme osteophagy, is practiced by few animals today. No living reptiles do it. It has been observed in just a few mammals, notably hyenas and wolves.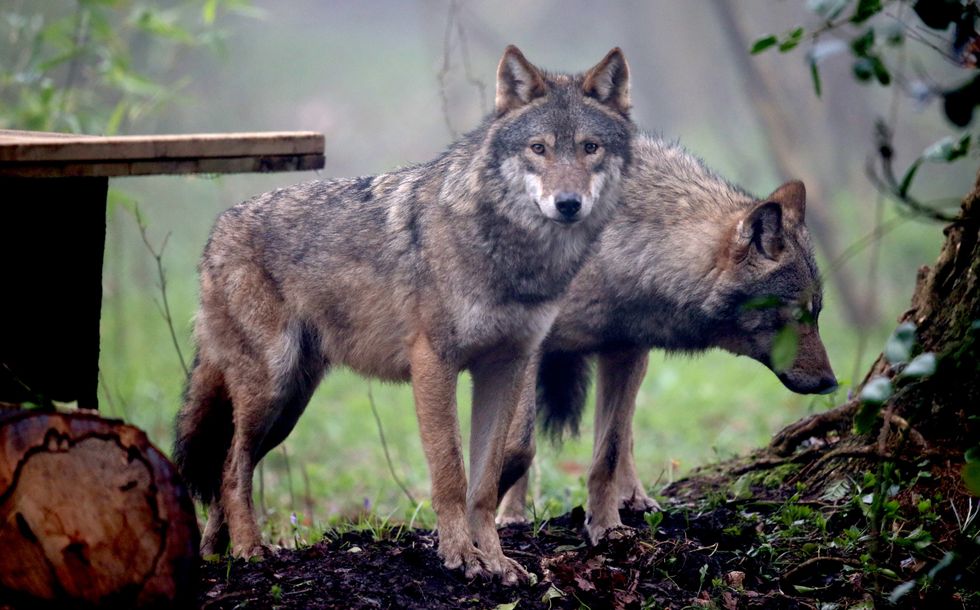 Wolves practice extreme osteophagy or the eating of bones. No modern reptiles do. Getty Images.
As if the towering monster's banana-sized teeth weren't enough! How do we know it ate bone? Triceratops fossils and others have been found with T. rex bite marks in them. Also, their droppings have been found containing minerals, which could only be derived from digested bones.
To work out what a T. rex was packing in terms of bite strength, Erickson and Gignac looked at modern crocodile bites and their musculature, and the bites of birds. Crocodiles are probably the T-Rex's closest living relatives, Erickson said. These aren't your mamby-pamby scientists, mind. They lassoed a 17-foot crocodile and got its bite strength, using something akin to a bathroom scale. Erickson told NPR, "I call it 'bull-riding' for scientists."
Once the information gathering process was complete, they ran the information through computer models to determine the amount of force a T. rex's bite would've delivered. Today, the Australian saltwater crocodile delivers the most powerful bite, 3,700lbs (1,678kg) of force. Though nowhere near the sheer brute strength of the T. rex, it's still not something you want to tango with. Meanwhile, we humans fire off a measly 200lbs (approx. 91kg) of force per bite.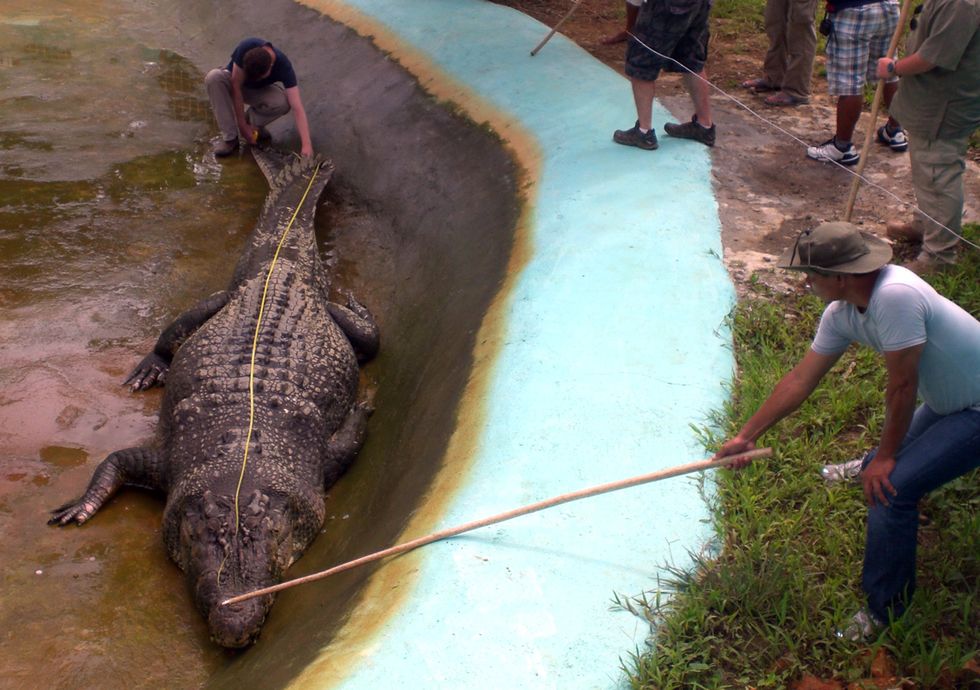 Researchers caught an Australian saltwater croc and tested its bite strength. Getty Images.
Erickson says jaw pressure doesn't tell the whole story. Tooth pressure actually plays a huge role in the effectiveness of a bite. The shape of the tooth and how well it delivers pressure to its point will tell whether it punctures hide or bone. Luckily for the T. rex, its serrated teeth were designed to do both with precision. A T. rex's tooth pressure clocked in at 431,000 lbs per square inch (303,000kg per square meter). "It basically could slice through just about anything in its realm," Erickson said.
The T. rex could gorge itself on triceratops and duck-billed dinosaurs alike, and the fact that it could metastasize and digest bone gave it an advantage over other predators. Though modern crocs and alligators swallow their food whole, the T. rex chewed its food.
Gignac says that their method of quantifying its bite strength should be accurate and another expert said that it sounds close to reality. Paleontologist Mark Norell, with the American Museum of Natural History, said it was the first such study to employ principles from engineering. He also told the New York Times, that a bite from a T. rex, "would cause bones to basically explode."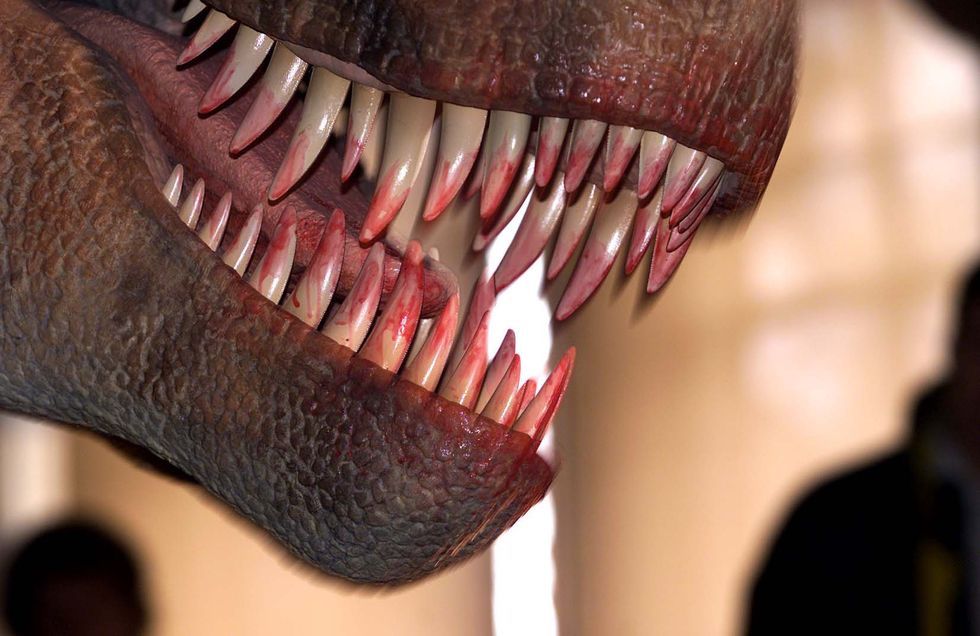 Tooth pressure means more for carnivores than bite force. T-Rex had it in spades. Getty Images.
According to Gignac, though impressive, the T. rex may not have delivered the most powerful bite in all of history. That title would've gone to the gigantic Newfoundland crocodile that lived alongside our ancient ancestors. They were 30-40 ft (12m) long. These crocs would have delivered a bite strength of 18,000lbs (8,165kg) of force. That's over twice what the T. rex delivered.
That aside, the T. rex was still one of the most fearsome predators ever. But unlike Jurassic Park, it might not have roared. In fact, it may have sounded more like a giant pigeon. In another study, published in the journal Evolution, researchers determined that instead of an earthshaking roar, dinosaurs more likely let out coos and hoots much like modern birds do.
By studying the evolution of birds and the patterns they suggest, researchers believe dinosaurs may have used a sound making process called closed-mouth vocalization, often practiced today among owls and doves. Here, sound is emitted through the skin in the neck and pushed out via an esophageal pouch. Dinosaurs may have relied upon closed-mouth vocalization since they were so large. It takes a large body for it to be effective.
So Hollywood sort of got it right, except one would be hooted and cooed at by a T. rex rather than roared at, which doesn't seem intimidating, at least compared to what's behind the thundering reptile's bite. Luckily, sound in the animal kingdom, at least among birds, is usually reserved for defending territory or attracting a mate. So a T. rex, if it got a hold of you, probably wouldn't have cooed as it chewed you up, devouring you to your very bones. Good to know.
Will we ever resurrect the T. rex like in Jurassic Park? See what Michio Kaku thinks: