Big ideas.
Once a week.
Subscribe to our weekly newsletter.
The mystery of the Bermuda Triangle may finally be solved
Meteorologists propose a stunning new explanation for the mysterious events in the Bermuda Triangle.
21 October, 2016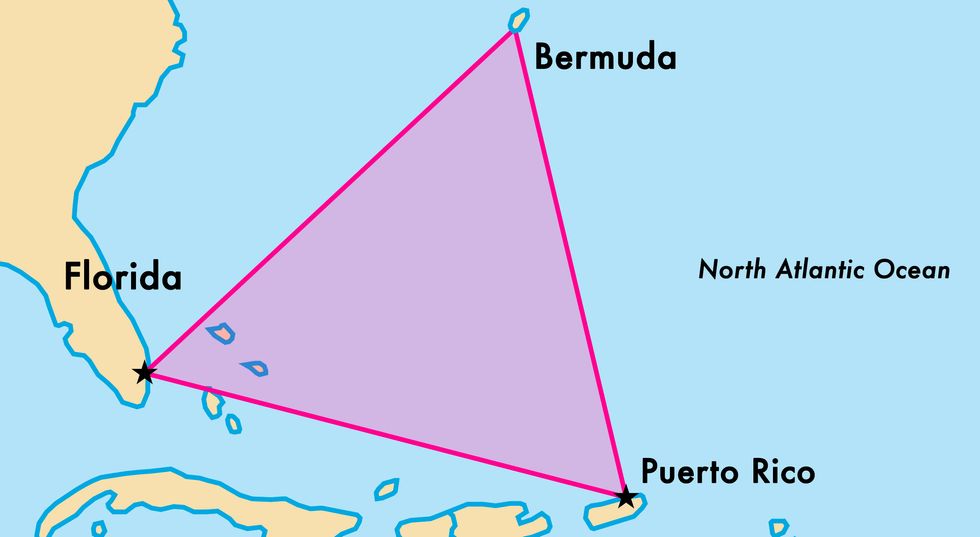 One of life's great mysteries, the Bermuda Triangle might have finally found an explanation. This strange region, that lies in the North Atlantic Ocean between Bermuda, Miami and San Juan, Puerto Rico, has been the presumed cause of dozens and dozens of mind-boggling disappearances of ships and planes.
---
The Bermuda Triangle lore includes such stories as that of Flight 19, a group of 5 U.S. torpedo bombers that vanished in the Triangle in 1945. A rescue plane sent to look for them also disappeared. Other stories include the mystery of USS Cyclops, resulting in the largest non-combat loss of life in U.S. Navy's history. The ship with a crew of 309 went missing in 1918. Even as recently as 2015, El Faro, a cargo ship with 33 on board vanished in the area.
Altogether, as far as we know, 75 planes and hundreds of ships met their demise in the Bermuda Triangle. Possible causes for the catastrophes have been proposed over time, ranging from the paranormal, electromagnetic interference that causes compass problems, bad weather, the gulf stream, and large undersea fields of methane.
A fascinating theory has been proposed by meteorologists claiming that the reason for the mysteries pervading the Bermuda Triangle area are unusual hexagonal clouds creating 170 mph air bombs full of wind. These air pockets cause all the mischief, sinking ships and downing planes.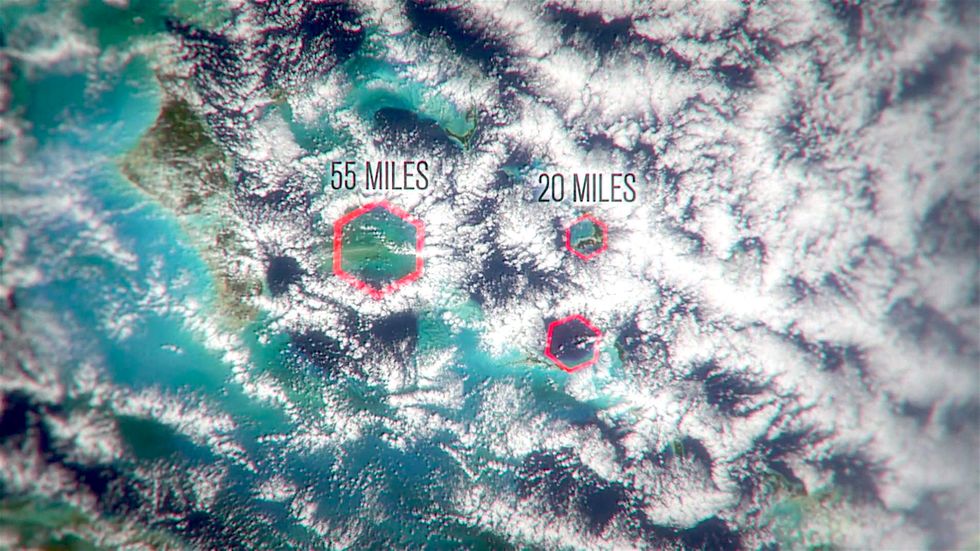 Photo credit: Science Channel.
By studying imagery from a NASA satellite, the scientists concluded that some of these clouds reach 20 to 55 miles across. Waves inside these wind monsters can reach as high as 45 feet. What's more - the clouds have straight edges.
As told by Colorado State University's satellite meteorologist Dr. Steve Miller to Science Channel's "What on Earth": "You don't typically see straight edges with clouds. Most of the time, clouds are random in their distribution."
What's special about that?
Meteorologist Randy Cerveny added: "The satellite imagery is really bizarre… These types of hexagonal shapes over the ocean are in essence air bombs. They are formed by what are called microbursts and they're blasts of air that come down out of the bottom of a cloud and then hit the ocean and then create waves that can sometimes be massive in size as they start to interact with each other."
Anything caught inside one of these air bombs could be very well knocked out of the air, flipped over, sunk. More observation is needed to confirm this theory that could finally explain many of the infamous Bermuda Triangle events. Scientists are pouring over satellite imagery to confirm.
Here's the Science Channel interview:
Of course, not everyone is convinced, with some experts saying that hexagonal clouds also occur in other parts of the world and there's no evidence strange disappearances take place more often in the Bermuda Triangle area than elsewhere.
From Your Site Articles
Related Articles Around the Web
Some mysteries take generations to unfold.
Credit: Hикита Чертков / Adobe Stock
Surprising Science
In 1959, a group of nine Russian hikers was killed in an overnight incident in the Ural Mountains.
Conspiracies about their deaths have flourished ever since, including alien invasion, an irate Yeti, and angry tribesmen.
Researchers have finally confirmed that their deaths were due to a slab avalanche caused by intense winds.
In February 1959, a group of nine hikers crossed through Russia's Ural Mountains as part of a skiing expedition. The experienced trekkers, all employed at the Ural Polytechnical Institute, were led by Igor Dyatlov. On the evening of February 1, all nine appear to have fled their tents into the Arctic temperatures, for which they were unprepared. None survived.
Six of the members died of hypothermia; three suffered from physical trauma. Some members were missing body parts—a tongue here, a few eyes there, a pair of eyebrows for good measure. According to reports, no hiker appears to have struggled or panicked. They were likely too quickly overtaken by the hostile environment in Western Russia.
All the members were young, mostly in their early twenties; one member, Semyon Zolotaryov, was 38. Good health didn't matter. Given the uncertain circumstances—what made them flee into the bitter cold?—the incident known as Dyatlov Pass has long been the type of Area 51-conspiracy theory that some people love to speculate about. A vicious animal attack? Infrasound-induced panic? Was the Soviet military involved? Maybe it was the katabatic winds that did them in. Local tribesmen might not have liked the intrusion.
Or perhaps it was aliens. Or a Yeti. Have we talked about Yeti aliens yet?
These theories and more have been floated for decades.
a: Last picture of the Dyatlov group taken before sunset, while making a cut in the slope to install the tent. b: Broken tent covered with snow as it was found during the search 26 days after the event.
Photographs courtesy of the Dyatlov Memorial Foundation.
Finally, a new study, published in the Nature journal Communications Earth & Environment, has put the case to rest: it was a slab avalanche.
This theory isn't exactly new either. Researchers have long been skeptical about the avalanche notion, however, due to the grade of the hill. Slab avalanches don't need a steep slope to get started. Crown or flank fractures can quickly release as little as a few centimeters of earth (or snow) sliding down a hill (or mountain).
As researchers Johan Gaume (Switzerland's WSL Institute for Snow and Avalanche Research SLF) and Alexander Puzrin (Switzerland's Institute for Geotechnical Engineering) write, it was "a combination of irregular topography, a cut made in the slope to install the tent and the subsequent deposition of snow induced by strong katabatic winds contributed after a suitable time to the slab release, which caused severe non-fatal injuries, in agreement with the autopsy results."
Conspiracy theories abound when evidence is lacking. Twenty-six days after the incident, a team showed up to investigate. They didn't find any obvious sounds of an avalanche; the slope angle was below 30 degrees, ruling out (to them) the possibility of a landslide. Plus, the head injuries suffered were not typical of avalanche victims. Inject doubt and crazy theories will flourish.
Configuration of the Dyatlov tent installed on a flat surface after making a cut in the slope below a small shoulder. Snow deposition above the tent is due to wind transport of snow (with deposition flux Q).
Photo courtesy of Communications Earth & Environment.
Add to this Russian leadership's longstanding battle with (or against) the truth. In 2015 the Investigative Committee of the Russian Federation decided to reopen this case. Four years later the agency concluded it was indeed a snow avalanche—an assertion immediately challenged within the Russian Federation. The oppositional agency eventually agreed as well. The problem was neither really provided conclusive scientific evidence.
Gaume and Puzrin went to work. They provided four critical factors that confirmed the avalanche:
The location of the tent under a shoulder in a locally steeper slope to protect them from the wind
A buried weak snow layer parallel to the locally steeper terrain, which resulted in an upward-thinning snow slab
The cut in the snow slab made by the group to install the tent
Strong katabatic winds that led to progressive snow accumulation due to the local topography (shoulder above the tent) causing a delayed failure
Case closed? It appears so, though don't expect conspiracy theories to abate. Good research takes time—sometimes generations. We're constantly learning about our environment and then applying those lessons to the past. While we can't expect every skeptic to accept the findings, from the looks of this study, a 62-year-old case is now closed.
--
Stay in touch with Derek on Twitter and Facebook. His most recent book is "Hero's Dose: The Case For Psychedelics in Ritual and Therapy."
A recent study analyzed the skulls of early Homo species to learn more about the evolution of primate brains.
Credit: M. Ponce de León and Ch.Zollikofer, UZH
Surprising Science
Using computed tomography, a team of researchers generated images of what the brains of early Homo species likely looked like.
The team then compared these images to the brains of great apes and modern humans.
The results suggest that Homo species developed humanlike brains about 1.7 million years ago and that this cognitive evolution occurred at the same time early Homo culture and technology were becoming more complex.
For nearly two centuries, scientists have known that humans descended from the great apes. But it's proven difficult to precisely map out the branches of that evolutionary tree, especially in terms of determining when and where early Homo species first developed brains similar to modern humans.
There are clear differences between ape and human brains. Compared to apes, the Homo sapiens brain is larger, and its frontal lobe is organized such that we can engage in toolmaking, planning, and language. Other Homo species also enjoyed some of these cognitive innovations, from the Neanderthals to Homo floresiensis, the hobbit-like people who once inhabited Indonesia.
One reason it's been difficult to discern the details of this cognitive evolution from apes to Homo species is that brains don't fossilize, so scientists can't directly study early primate brains. But primate skulls offer clues.
Brains of yore
In a new study published in Science, an international team of researchers analyzed impressions left on the skulls of Homo species to better understand the evolution of primate brains. Using computer tomography on fossil skulls, the team generated images of what the brain structures of early Homo species probably looked like, and then compared those structures to the brains of great apes and modern humans.
The results suggest that Homo species first developed humanlike brains approximately 1.7 to 1.5 million years ago in Africa. This cognitive evolution occurred at roughly the same time Homo species' technology and culture were becoming more complex, with these species developing more sophisticated stone tools and animal food resources.
Credit: Ponce de León et al.
The team hypothesized that "this pattern reflects interdependent processes of brain-culture coevolution, where cultural innovation triggered changes in cortical interconnectivity and ultimately in external frontal lobe topography."

The team also found that these structural changes occurred after Homo species migrated out of Africa for regions like modern-day Georgia and Southeast Asia, which is where the fossils in the study were discovered. In other words, Homo species still had ape-like brains when some groups first left Africa.
While the study sheds new light on the evolution of primate brains, the team said there's still much to learn about the history of early Homo species, particularly in terms of explaining the morphological diversity of Homo fossils discovered in Africa.
"Deciphering evolutionary process in early Homo remains a challenge that will be met only through the recovery of expanded fossil samples from well-controlled chronological contexts," the researchers wrote.
Are "humanized" pigs the future of medical research?
Surprising Science
In recent years, our team at Iowa State University has found a way to make pigs an even closer stand-in for humans. We have successfully transferred components of the human immune system into pigs that lack a functional immune system. This breakthrough has the potential to accelerate medical research in many areas, including virus and vaccine research, as well as cancer and stem cell therapeutics.
Existing biomedical models
Severe Combined Immunodeficiency, or SCID, is a genetic condition that causes impaired development of the immune system. People can develop SCID, as dramatized in the 1976 movie "The Boy in the Plastic Bubble." Other animals can develop SCID, too, including mice.
Researchers in the 1980s recognized that SCID mice could be implanted with human immune cells for further study. Such mice are called "humanized" mice and have been optimized over the past 30 years to study many questions relevant to human health.
Mice are the most commonly used animal in biomedical research, but results from mice often do not translate well to human responses, thanks to differences in metabolism, size and divergent cell functions compared with people.
Nonhuman primates are also used for medical research and are certainly closer stand-ins for humans. But using them for this purpose raises numerous ethical considerations. With these concerns in mind, the National Institutes of Health retired most of its chimpanzees from biomedical research in 2013.
Alternative animal models are in demand.
Swine are a viable option for medical research because of their similarities to humans. And with their widespread commercial use, pigs are met with fewer ethical dilemmas than primates. Upwards of 100 million hogs are slaughtered each year for food in the U.S.
Humanizing pigs
In 2012, groups at Iowa State University and Kansas State University, including Jack Dekkers, an expert in animal breeding and genetics, and Raymond Rowland, a specialist in animal diseases, serendipitously discovered a naturally occurring genetic mutation in pigs that caused SCID. We wondered if we could develop these pigs to create a new biomedical model.
Our group has worked for nearly a decade developing and optimizing SCID pigs for applications in biomedical research. In 2018, we achieved a twofold milestone when working with animal physiologist Jason Ross and his lab. Together we developed a more immunocompromised pig than the original SCID pig – and successfully humanized it, by transferring cultured human immune stem cells into the livers of developing piglets.
During early fetal development, immune cells develop within the liver, providing an opportunity to introduce human cells. We inject human immune stem cells into fetal pig livers using ultrasound imaging as a guide. As the pig fetus develops, the injected human immune stem cells begin to differentiate – or change into other kinds of cells – and spread through the pig's body. Once SCID piglets are born, we can detect human immune cells in their blood, liver, spleen and thymus gland. This humanization is what makes them so valuable for testing new medical treatments.
We have found that human ovarian tumors survive and grow in SCID pigs, giving us an opportunity to study ovarian cancer in a new way. Similarly, because human skin survives on SCID pigs, scientists may be able to develop new treatments for skin burns. Other research possibilities are numerous.

The ultraclean SCID pig biocontainment facility in Ames, Iowa. Adeline Boettcher, CC BY-SA
Pigs in a bubble
Since our pigs lack essential components of their immune system, they are extremely susceptible to infection and require special housing to help reduce exposure to pathogens.
SCID pigs are raised in bubble biocontainment facilities. Positive pressure rooms, which maintain a higher air pressure than the surrounding environment to keep pathogens out, are coupled with highly filtered air and water. All personnel are required to wear full personal protective equipment. We typically have anywhere from two to 15 SCID pigs and breeding animals at a given time. (Our breeding animals do not have SCID, but they are genetic carriers of the mutation, so their offspring may have SCID.)
As with any animal research, ethical considerations are always front and center. All our protocols are approved by Iowa State University's Institutional Animal Care and Use Committee and are in accordance with The National Institutes of Health's Guide for the Care and Use of Laboratory Animals.
Every day, twice a day, our pigs are checked by expert caretakers who monitor their health status and provide engagement. We have veterinarians on call. If any pigs fall ill, and drug or antibiotic intervention does not improve their condition, the animals are humanely euthanized.
Our goal is to continue optimizing our humanized SCID pigs so they can be more readily available for stem cell therapy testing, as well as research in other areas, including cancer. We hope the development of the SCID pig model will pave the way for advancements in therapeutic testing, with the long-term goal of improving human patient outcomes.
Adeline Boettcher earned her research-based Ph.D. working on the SCID project in 2019.

Christopher Tuggle, Professor of Animal Science, Iowa State University and Adeline Boettcher, Technical Writer II, Iowa State University
This article is republished from The Conversation under a Creative Commons license. Read the original article.
Surprising Science
Satellite imagery can help better predict volcanic eruptions by monitoring changes in surface temperature near volcanoes.
Scroll down to load more…