A Fantasy Map of America's High-Speed Rail Network
Why does the Purple Line in this alternate-universe railway map terminate in Quincy, Illinois?
Frank Jacobs
From a young age, Frank was fascinated by maps and atlases, and the stories they contained. Finding his birthplace on the map in the endpapers of Tolkien's Lord of the Rings only increased his interest in the mystery and message of maps.
While pursuing a career in journalism, Frank started a blog called Strange Maps, as a repository for the weird and wonderful cartography he found hidden in books, posing as everyday objects and (of course) floating around the Internet.
"Each map tells a story, but the stories told by your standard atlas for school or reference are limited and literal: they show only the most practical side of the world, its geography and its political divisions. Strange Maps aims to collect and comment on maps that do everything but that - maps that show the world from a different angle".
A remit that wide allows for a steady, varied diet of maps: Frank has been writing about strange maps since 2006, published a book on the subject in 2009 and joined Big Think in 2010. Readers send in new material daily, and he keeps bumping in to cartography that is delightfully obscure, amazingly beautiful, shockingly partisan, and more.
12 February, 2013
What to do about a dream that's too big for reality? You could map it, among many other things. That map could serve as an exhortation - This is the plan, get going! But if the gap between cartography and reality remains unbridged, it becomes a souvenir of the road not taken. 
---
Strangely, public transport is particularly susceptible to the sort of dreams that can only live on maps. See, for example, the Uruguayan obsession with the non-existent metro of its capital, Montevideo (#590), and the Ghost Subway of Rochester, NY - a resurrected and expanded version of the metro that ran underneath the town until 1956 (#376).
This map adds a third - and much bigger - transport system to that list: An overview of what a high-speed rail network across the United States could look like. It was created by Alfred Twu, who is not just  a designer at MWA Architects, a Bay Area bureau, but also a bit of a train nerd. "Having worked on getting California's high speed rail approved in the 2008 elections, I've long sung the economic and environmental benefits of fast trains", he wrote in an op-ed piece in The Guardian.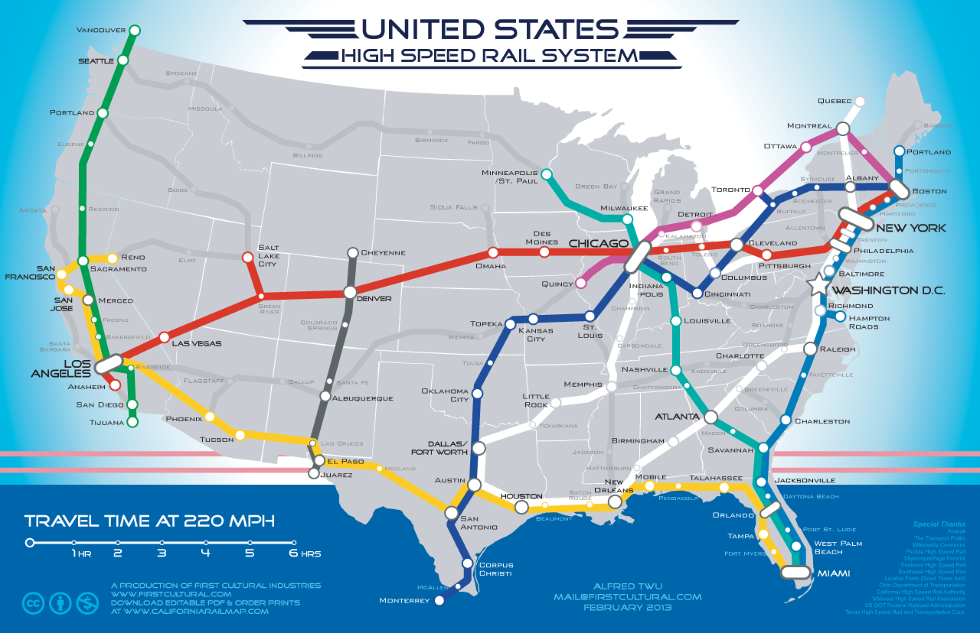 The US High Speed Rail Map sprang from the overlap of Mr. Twu's designer and trainspotter personae. It was born out of a frustration familiar to all fast train fans in the U.S.: the building of a high-speed rail network requires more money and political will than the American political system can seem to muster. The Obama Administration's proposals for a non-integrated collection of high-speed rail corridors across the country were killed off, and in 2011, high speed rail in the U.S. was declared dead, now and forever. 
Exactly the kind of intolerable cruelty that this map seeks to remedy. But the map does more than right that wrong, it also reflects Mr. Twu's personal preferences: " [It] comes […] from the heart. It speaks more to bridging regional and urban-rural divides than about reducing airport congestion or even creating jobs, although it would likely do that as well. [High-speed rail] is duct tape and string to reconnect politically divided regions. Its colourful threads weave new American Dreams."
Let's have a look at those threads: 
In this alternate universe, two high-speed lines connect both coasts. The Red Line runs from Los Angeles to Boston via Chicago and New York, with spurs to Anaheim (from L.A.) and Salt Lake City (from Green River).
The Yellow Line links San Francisco to Miami, via L.A., Houston and New Orleans. Branching out across the Bay from San Francisco is a spur towards Sacramento and Reno.  
Two coast-hugging lines connect major cities along a north-south axis. The Green Line has termini along the West Coast in Vancouver and Tijuana, passing through Seattle, Portland, Sacramento, L.A. and San Diego. 
The Blue Line starts in the other Portland, ending in Miami, via Boston, N.Y.C., Philadelphia, Washington D.C., Raleigh, Charleston and Daytona Beach (where passengers can switch to the Yellow Line to San Francisco). 
Boston is the northern end of the Dark Blue Line, which stops at Cleveland, Cincinnati, Chicago, St Louis, Oklahoma City, Dallas and San Antonio before ending at Monterrey, across the Rio Grande in Mexico.  
It's also the eastern terminus of a Purple Line, straying into Canada by way of Montreal, Ottawa and Toronto before re-entering the States in Detroit, continuing past Chicago. 
A Light Green Line connects Minneapolis to Miami via Chicago and Atlanta, providing an easy pathway south to all those Minnesota snowbirds heading to Florida in winter.  
An almost-circular White Line criss-crosses the eastern half of the U.S., from Pittsburgh via Chicago, Memphis, Dallas, New Orleans, Atlanta, Raleigh, D.C., New York City, to end at Quebec City. 
The shortest route, a Grey Line links Cheyenne in Wyoming via Denver and Albuquerque to Juarez in Mexico. 
Zipping along all these lines are trains travelling at 220 mph (355 km/h), transporting the passengers in this alternate universe from L.A. to Las Vegas in under two hours, and from San Francisco to New York in about 20. New York to Boston would take under an hour, while D.C. to Boston would take about three.
In the unlikely event America ever gets a high-speed rail network, it is even more unlikely to look exactly like this one. Still, this map is plausible enough for train nerds (and map nerds) to do some armchair travelling. All aboaaaard the Mirage Express! 
One detail seems out of place, though: Why does the Purple Line terminate at Quincy? That Illinois city counts less than 60,000 souls. Among its more notable attractions is the annual Catfish Anglers Tournaments, America's largest annual fishing contest; it is the birthplace of P.W. Tibbetts, Jr., the pilot of Enola Gay, the plane (named after his mother) that dropped history's first A-bomb used in warfare. Neither fact seems to merit the smallish town's elevation to the terminus of a high-speed train line. Perhaps this is Mr. Twu's way of indicating when hell will freeze over: when the high-speed train rolls into Quincy, Illinois…
Many thanks to Andrew Porter and Alex Meerovich for sending in this map, found here on Mr Twu's site for a California Rail Map (but that's another story altogether).
Update: Many thanks to Bob Fleck for sending in this link to a map competition hosted by Greater Greater Washington, a DC transit and urban planning blog, encouraging people to send in alternate maps of the DC Metro system, covering upcoming new routes.
Strange Maps #598
Got a strange map? Let me know at strangemaps@gmail.com.
Related Articles
The exploding popularity of the keto diet puts a less used veggie into the spotlight.
Purple cauliflower. (Photo: Shutterstock)
Surprising Science
The cauliflower is a vegetable of choice if you're on the keto diet.
The plant is low in carbs and can replace potatoes, rice and pasta.
It can be eaten both raw and cooked for different benefits.
Some say the proliferation of sex robots could lead to less demand for prostitution, but not all agree.
Will the proliferation of sex robots be a net good or bad for society? (Photo: Shutterstock)
Sex & Relationships
A Toronto-based sex robot brothel plans to open another location in Houston.
Some critics argue that the proliferation of sex robots would lead to increases in prostitution and sex trafficking.
Others say that such technology could help some people find a degree of much-needed companionship.
There are currently no laws against opening a sex robot brothel in Houston, though recently announced plans to open one inspired some residents to say there should be.
The owner of Kinky S Dolls, a Toronto-based company where $120 gets customers 80 minutes alone with a robotic sex doll that moves and talks, plans to open another location in the Houston area. It would be the first sex robot brothel in the U.S.
On advice from counsel, owner Yuval Gavriel doesn't call his business a 'sex robot brothel' but rather a kind of try-it-before-you-buy-it shop for realistic sex dolls, which he sells for $2,000 to $5,000.
"I consulted with a lawyer and the lawyer said, 'Listen, there are no rules to it, but if you are smart you don't go out and say you are operating a brothel,'" Gavriel told the Washington Examiner. "He went through all the laws and all of the regulations and currently there are no regulations for this kind of service. The States is a bigger market, and a healthier market, and God bless Trump."
A sex doll sold by Kinky S Dolls for about $3,500.

Sex dolls and toys may be legal in the U.S., but some believe that establishing what's essentially a robot sex brothel would cross a line. In response to Gavriel's plans, Elijah Rising, a Christian organization in Houston that combats sex trafficking, published a petition titled 'Keep Robot Brothels Out Of Houston'.
"As a nonprofit whose mission is to end sex trafficking we have seen the progression as sex buyers go from pornography to strip clubs to purchasing sex—robot brothels will ultimately harm men, their understanding of healthy sexuality, and increase the demand for the prostitution and sexual exploitation of women and children," reads the petition, which currently has nearly 6,000 signatures.
Elijah Rising's argument is based on a paper written by Kathleen Richardson, a professor of ethics and culture of robots at De Montfort University.
"I propose that extending relations of prostitution into machines is neither ethical, nor is it safe," Richardson argues in the paper. "If anything the development of sex robots will further reinforce relations of power that do not recognise both parties as human subjects. Only the buyer of sex is recognised as a subject, the seller of sex (and by virtue the sex-robot) is merely a thing to have sex with."
How would sex robots affect rates of prostitution?
One argument, to which Gavriel subscribes, says that increased availability of sex robots would lower the demand for human prostitutes. It's an idea tangentially related to the longstanding body of research that shows countries tend to see decreases in sexual assaults and rape after they legalize porn.
In his bestselling book Love and Sex with Robots, A.I. researcher David Levy explores the future of human relationships with robots and suggests that sex robots could lower prostitution or even someday render it obsolete.
But that's "highly speculative philosophy," according to Richardson.
"The reality is that it will just become a new niche market within the pornography industry and within the prostitution trade," she said in an interview with Feminist Current. "If people buy into the idea that you can have these dolls as part of your sexual fetish, it will become another burden that actual living human beings will have to undergo in the commercial sex trade."
A sex doll sold by Kinky S Dolls.

Richardson elaborated on this idea in her paper.
"...studies have found that the introduction of new technology supports and contributes to the expansion of the sex industry," she wrote. "Prostitution and pornography production also rises with the growth of the internet. In 1990, 5.6 percent of men reported paying for sex in their lifetime, by 2000, this had increased to 8.8 percent."
However, those rates aren't necessarily causally linked.
Richardson also wrote that if sex toys, such as RealDolls and blow-up dolls, actually led to lower prostitution demand then we would have already seen decreases, but "no such correlation is found."
Still, that last point might soon become invalid as a sort of apples-to-oranges comparison if technology can produce artificially intelligent and lifelike sex robots unlike anything the industry has seen before.
An illusion of companionship
Image: Film4, from the 2015 film 'Ex Machina'
Critics argue that the proliferation of sex robots would serve to reinforce the objectification of women in men's minds, and also reduce the ability for some men to empathize, a necessary component of healthy social interaction.
Houstonian Andrea Paul voiced a simpler objection to the brothel:
"There's kids around here and it's a family-oriented neighborhood and I live right here and to have that here is just gross."
Gross, sure. But to Matt McMullen, creator of the RealDoll, the future of sex robots looks a bit more uplifting.
"My goal, in a very simple way, is to make people happy," McMullen told CNET. "There are a lot of people out there, for one reason or another, who have difficulty forming traditional relationships with other people. It's really all about giving those people some level of companionship—or the illusion of companionship."
Are university safe spaces killing intellectual growth?
Videos
Why you should want your ideological opposites on campus
Universities must be safe—but they cannot be censored
Don't be afraid of being offended. Be afraid of never changing your mind.
Big think's weekly newsletter.
Get smarter faster from the comfort of your inbox.
See our newsletter privacy policy
here
Most Popular
Most Recent
Big think's weekly newsletter.
Get smarter faster from the comfort of your inbox.
See our newsletter privacy policy
here
© Copyright 2007-2018 & BIG THINK, BIG THINK EDGE,
SMARTER FASTER trademarks owned by The Big Think, Inc. All rights reserved.