See Where Switzerland Has Germany Surrounded
The exclave exists only because the Austrians wanted to spite the Swiss
23 July, 2010
The town of Büsingen am Hochrhein is one of two foreign enclaves enclosed within the territory of Switzerland (*). Büsingen has a long, intimate knowledge of borders, being located on the old limes between the Roman empire and the Germanic barbarians.
---
Ever since the mid 14th century, Büsingen has had Austrian overlords – at the end of the 17th century, the abduction, trial and death sentence of the Lord of Büsingen at the hands of the neighbouring Swiss canton of Schaffhausen almost led to war between Austria and Switzerland.
It's said that due to this near-war, the Austrians decided to never relinquish control over Büsingen to the Swiss, just to spite them. When Austria sold its rights to the nearby villages of Ramsen and Dörflingen to the canton of Zürich in 1770, Büsingen effectively became an enclave within Switzerland.
In 1805, the Peace of Pressburg handed Büsingen to the kingdom of Württemberg, in southern Germany. Five years later, the town came under the overlordship of the Grand Duchy of Baden. Eventually, with German Unification in 1870, Büsingen became part of the German Empire.
A whopping 96% of the inhabitants voted for annexation by Switzerland in a 1919 referendum, but since the Swiss couldn't offer Germany any territory in return, Büsingen remained, somewhat reluctantly, German.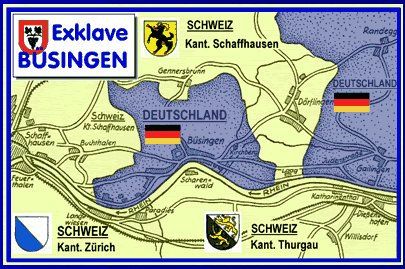 As Büsingen is in a customs union with Switzerland, it is outside the European Customs Area. Other peculiarities caused by its exterritoriality: • the common currency in Büsingen is not the euro, but the Swiss franc. • Swiss police may pursue and arrest suspects in Büsingen, but no more than 10 Swiss police officers are allowed in the town at one time. • Similarly, there may never be more than 3 German police officers per 100 inhabitants. • There are two postal codes in this one town, a German one: 78266 Büsingen; and a Swiss one: 8238 Büsingen (D). You can use Swiss or German stamps for your letters. • Büsingen's only petrol station advertises that it's the cheapest in all of Germany – on average 30% cheaper.
(*) later more on Campione d'Italia, an Italian exclave in southern Switzerland.
This map taken here from Jan S. Krogh's excellent GeoSite.
Strange Maps #253
Got a strange map? Let me know at strangemaps@gmail.com.
Former president of the ACLU Nadine Strossen discusses whether our society should always defend free speech rights, even for groups who would oppose such rights.
Sponsored by Charles Koch Foundation
Former ACLU president Nadine Strossen understands that protecting free speech rights isn't always a straightforward proposition.
In this video, Strossen describes the reasoning behind why the ACLU defended the free speech rights of neo-Nazis in Skokie, Illinois, 1977.
The opinions expressed in this video do not necessarily reflect the views of the Charles Koch Foundation, which encourages the expression of diverse viewpoints within a culture of civil discourse and mutual respect.
Designers from Luxembourg created a smart planter that can make anyone have a green thumb.
Technology & Innovation
A design team came up with a smart planter that can indicate 15 emotions.
The emotions are derived from the sensors placed in the planter.
The device is not in production yet but you can order it through a crowdfunding campaign.
Autism is a widely misunderstood condition surrounded by falsehoods, half-truths, and cultural assumptions.
Mind & Brain
Autism-spectrum disorder covers a wide range of neurodevelopmental conditions that are highly individualized.
The prevalence of autism continues to increase in the United States, not due to vaccines but increased awareness and improved diagnosis.
Autism awareness is crucial as treatment strategies are more effective if accessed early.
Big Think Edge
Often times, interactions that we think are "zero-sum" can actually be beneficial for both parties.
Ask, What outcome will be good for both parties? How can we achieve that goal?
Afraid the win-win situation might not continue? Build trust by creating a situation that increases the probability you and your counterpart will meet again.