YouTube removes Infowars and The Alex Jones Channel
On Monday morning, YouTube removed Infowars and The Alex Jones Channel from its platform, following similar bans from Apple, Spotify and Facebook.
06 August, 2018
The Alex Jones Channel via YouTube
YouTube has removed Infowars and The Alex Jones Channel from its platform, becoming the fourth big tech company to remove Jones' content following mounting public pressure. 
---
In late July, YouTube issued a strike on Jones' channel after removing four of his videos, which violated its terms of service and community guidelines. The videos were flagged for "violent or graphic content," anti-Muslim and anti-transgender content, and "child endangerment" (one video titled 'How To Prevent Liberalism' showed a fight between a child and a man).
Today, YouTube told the Washington Post:
"All users agree to comply with our Terms of Service and Community Guidelines when they sign up to use YouTube. When users violate these policies repeatedly, like our policies against hate speech and harassment or our terms prohibiting circumvention of our enforcement measures, we terminate their accounts."
The removal from YouTube comes about a week after Facebook, Apple, and Spotify struck nearly all of Jones' content from their platforms. All three companies cited repeated violations of hate speech policies as the reason.
"Apple does not tolerate hate speech, and we have clear guidelines that creators and developers must follow to ensure we provide a safe environment for all of our users," said an Apple spokesperson in a press statement.
Facebook said it removed four of Jones' pages because they were "glorifying violence, which violates our graphic violence policy and using dehumanizing language to describe people who are transgender, Muslims and immigrants, which violates our hate speech policies."
Jones framed his media exile as political censorship: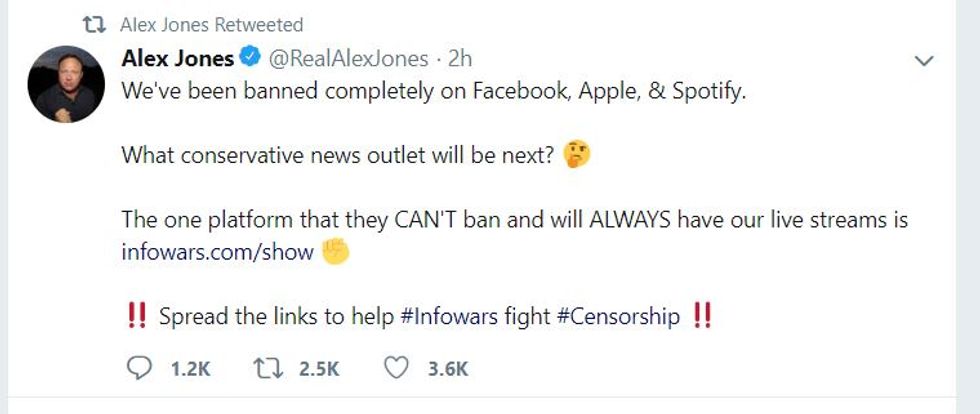 Meanwhile, others have called on Twitter, on which Jones still has an account, to follow suit.

Jones reacted to his banning from YouTube on his website's livestream.
"It's just incredible," he said. "I told you this was coming."
Jones asserted that the media, universities and political operatives are working in concert "against the American people."
"The big issue here is: This is illegal," Jones said.
He went on to suggest that his being banned from the platforms is part of a liberal conspiracy to shut out conservative voices from the internet ahead of the next presidential election. He also compared his situation to government censorship in China, suggesting that big tech companies like Google are using A.I. to quietly implement speech-restricting technology on American internet users.
He suggested that he and his supporters have a secret weapon: memes.
"They can't stop you because A.I. doesn't know how to understand memes."
Jones, who frequently dabbles in conspiracy theories in his online content, is currently being sued by parents of children who died in the Sandy Hook massacre after he claimed the event was a hoax.
"Yeah, so, Sandy Hook is a synthetic completely fake with actors, in my view, manufactured," the lawsuit quotes Jones as saying in 2015.
 kurt-andersen-how-america-got-lost-in-a-dream-celebrity-hollywood-disneyland
Young people could even end up less anxiety-ridden, thanks to newfound confidence
Photos: Courtesy of Let Grow
Sponsored by Charles Koch Foundation
The coronavirus pandemic may have a silver lining: It shows how insanely resourceful kids really are.
Let Grow, a non-profit promoting independence as a critical part of childhood, ran an "Independence Challenge" essay contest for kids. Here are a few of the amazing essays that came in.
Download Let Grow's free Independence Kit with ideas for kids.
Edward Snowden lists services that will protect your privacy with just a few downloads.
We must rethink the "chemical imbalance" theory of mental health.
Photo Illustration by Joe Raedle/Getty Images
Surprising Science
A new review found that withdrawal symptoms from antidepressants and antipsychotics can last for over a year.
Side effects from SSRIs, SNRIs, and antipsychotics last longer than benzodiazepines like Valium or Prozac.
The global antidepressant market is expected to reach $28.6 billion this year.
Or is doubt a self-fulfilling prophecy?
Future of Learning
The future of learning will be different, and now is the time to lay the groundwork.
Scroll down to load more…