Report: High levels of weedkiller chemical found in cereals, snacks aimed at U.S. children
Out of 45 samples, glyphosate was present in all but two, and almost three-quarters of the samples were found to have glyphosate levels that exceeded the EWG's 'health benchmark'.
16 August, 2018
---
High levels of glyphosate, a chemical found in a popular weedkiller, have been found in cereals and snack foods marketed to children in the U.S., according to a new report.
The findings come from the Environmental Working Group (EWG), a non-profit organization based in Washington, D.C. After conducting analyses of common oat- and wheat-based food products, like Cheerios and Quaker Old Fashioned Oats, the group found glyphosate was present in all but two of 45 samples. Almost three-quarters of the samples were found to have glyphosate levels that exceeded the EWG's 'health benchmark'.
Glyphosate is the active ingredient in Roundup, a widely used weedkiller manufactured by Monsanto that was introduced to American markets in 1974. It's not exactly clear how dangerous the chemical is for humans. The World Health Organization lists glyphosate as a 'probable carcinogen' and California says it's known to cause cancer. Still, other scientists say the health risks are so minuscule that foods containing the chemical are basically safe to eat.
"When you're dealing with something like that, a 1-in-a-million increased risk of cancer, I would say that isn't a significant level to be particularly concerned about," Michael Davoren, who studies molecular toxicology at UCLA and was not involved in the report, told WebMD.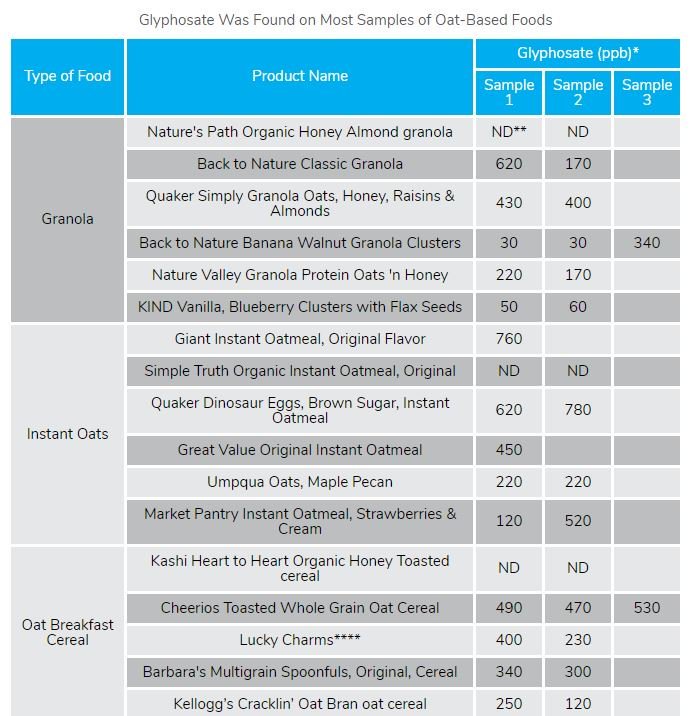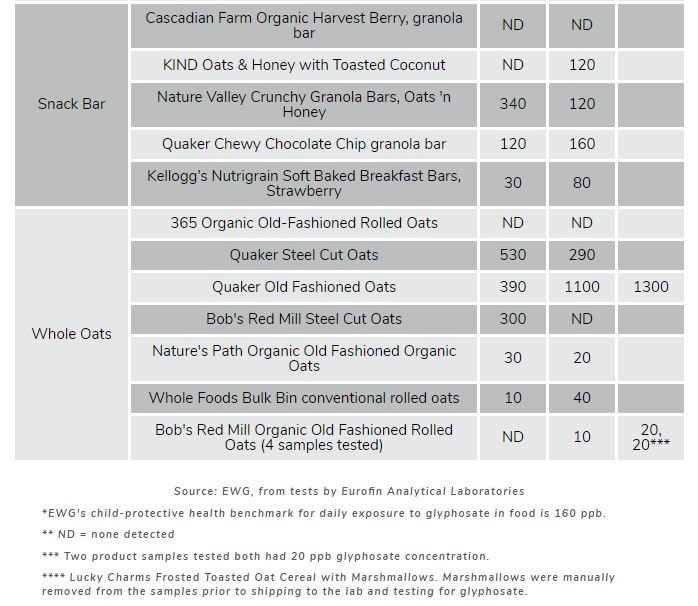 The report comes a week after a court awarded $289 million to a former Monsanto groundskeeper who said he'd developed cancer after being exposed to glyphosate at his job. Monsanto Vice President Scott Partridge said in a statement:
Glyphosate "has a 40-year history of safe use and continues to be a vital, effective and safe tool for farmers and others. More than 800 scientific studies, the US EPA, the National Institutes of Health and regulators around the world have concluded that glyphosate is safe for use and does not cause cancer."
The Environmental Protection Agency seems to agree, stating that "chronic dietary risk posed by glyphosate food uses is minimal."
"According to the EPA, people should avoid consuming more than 2 mg of glyphosate for every kilogram of body weight," Alex Berezow, senior fellow of biomedical science at the American Council on Science and Health, a nonprofit group that says it advocates for evidence-based science and medicine, told CNN.
"The good news is that nobody on Earth consumes anywhere near that amount of glyphosate ... The EWG fabricated its own safety standard so that they could promote organic food. They've been doing this for years -- ignoring the scientific literature in order to lobby for the organic industry."
However, EWG President Ken Cook told The Guardian that the EPA has a "lawless" nature under the Trump administration and that companies should "step up" to reduce glyphosate in food to a level below what's mandated.
"Our view is that the government standards set by the Environmental Protection Agency pose real health risks to Americans ­– particularly children, who are more sensitive to the effects of toxic chemicals than adults," he said.
Related Articles
Explore how alcohol affects your brain, from the first sip at the bar to life-long drinking habits.
(Photo by Angie Garrett/Wikimedia Commons)
Mind & Brain
Alcohol is the world's most popular drug and has been a part of human culture for at least 9,000 years.
Alcohol's effects on the brain range from temporarily limiting mental activity to sustained brain damage, depending on levels consumed and frequency of use.
Understanding how alcohol affects your brain can help you determine what drinking habits are best for you.
If you want to know what makes a Canadian lynx a Canadian lynx a team of DNA sequencers has figured that out.
Surprising Science
A team at UMass Amherst recently sequenced the genome of the Canadian lynx.
It's part of a project intending to sequence the genome of every vertebrate in the world.
Conservationists interested in the Canadian lynx have a new tool to work with.
Artwork: Guillaume le Clerc / Wikimedia Commons
13th-century fantastical depiction of an elephant.
It is easy to see how one can look at 66,000 genomic sequences stored away as being the analogous equivalent of the Svalbard Global Seed Vault. It is a potential tool for future conservationists.
But what are the practicalities of sequencing the genome of a lynx beyond engaging with broad bioethical questions? As the animal's habitat shrinks and Earth warms, the Canadian lynx is demonstrating less genetic diversity. Cross-breeding with bobcats in some portions of the lynx's habitat also represents a challenge to the lynx's genetic makeup. The two themselves are also linked: warming climates could drive Canadian lynxes to cross-breed with bobcats.
John Organ, chief of the U.S. Geological Survey's Cooperative Fish and Wildlife units, said to MassLive that the results of the sequencing "can help us look at land conservation strategies to help maintain lynx on the landscape."
What does DNA have to do with land conservation strategies? Consider the fact that the food found in a landscape, the toxins found in a landscape, or the exposure to drugs can have an impact on genetic activity. That potential change can be transmitted down the generative line. If you know exactly how a lynx's DNA is impacted by something, then the environment they occupy can be fine-tuned to meet the needs of the lynx and any other creature that happens to inhabit that particular portion of the earth.
Given that the Trump administration is considering withdrawing protection for the Canadian lynx, a move that caught scientists by surprise, it is worth having as much information on hand as possible for those who have an interest in preserving the health of this creature—all the way down to the building blocks of a lynx's life.
The exploding popularity of the keto diet puts a less used veggie into the spotlight.
Purple cauliflower. (Photo: Shutterstock)
Surprising Science
The cauliflower is a vegetable of choice if you're on the keto diet.
The plant is low in carbs and can replace potatoes, rice and pasta.
It can be eaten both raw and cooked for different benefits.
Big think's weekly newsletter.
Get smarter faster from the comfort of your inbox.
See our newsletter privacy policy
here
Most Popular
Most Recent
Big think's weekly newsletter.
Get smarter faster from the comfort of your inbox.
See our newsletter privacy policy
here
© Copyright 2007-2018 & BIG THINK, BIG THINK EDGE,
SMARTER FASTER trademarks owned by The Big Think, Inc. All rights reserved.