Big ideas.
Once a week.
Subscribe to our weekly newsletter.
The master and slave moralities: what Nietzsche really meant
Nietzsche had some harsh things to say about the worldview of the masses, but what did he really think?
11 July, 2018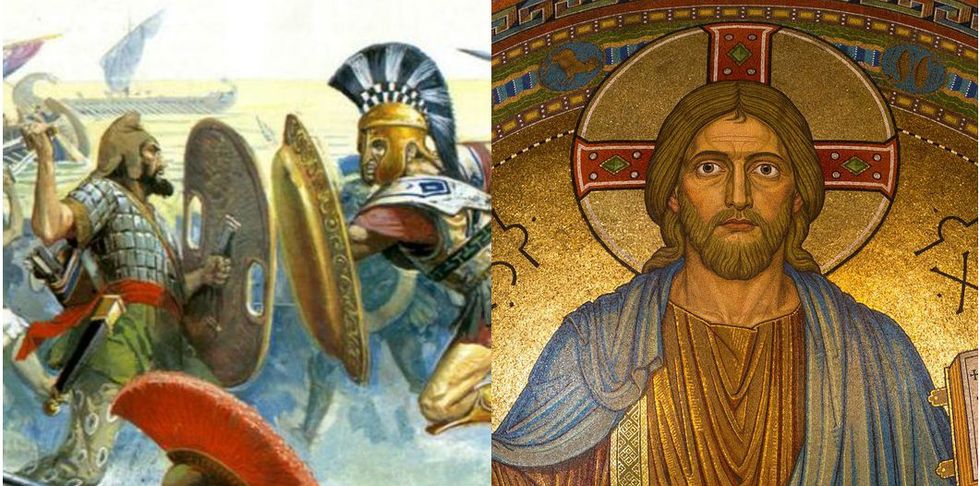 Greek examples of the warlike, master class and Jesus Christ, the champion of the slave morality
Why do we say that helping other people is good? Why do we assume that egotistical actions are evil? After all, wouldn't acting egotistically be good for us?
---
These are some of the questions Nietzsche tries to answer in his book On the Genealogy of Morality. After reviewing some absurd answers that were offered in his day, Nietzsche rejects them and starts anew, with the goals not only of answering that question, but of determining where the ideas of good, bad, and evil even come from.
In his attempt to answer these questions he draws some shocking conclusions that have tremendous implications for how we view ourselves and the lives we choose to lead.
A tale of two moralities
To explain his ideas, Nietzsche gives us a story. He describes an ancient society with two classes, the Masters and the Slaves.
The Masters are strong, creative, wealthy, and powerful. They can do whatever they like. They love themselves and see themselves as good. They name the opposites of themselves, the weak and feeble, as bad. Being bad is just how a person is, they didn't choose to be that way; they're just losers.
The Slaves are less well off. Oppressed by the Masters, they cannot do what they like. They are weak, poor, and resentful. They initially view themselves as bad, as the Masters do, because they lack the concepts to do otherwise.
However, Nietzsche suggests that after some time, a "slave revolt" occurs. This is not a physical revolution, as the slaves are too weak for that kind of revenge, but a moral one. In this revolt, the slaves decide that they can only endure their suffering if they redefine it as both being good and a choice. The slaves begin to praise the meek, the poor, and those who are unable to end their suffering.
The Masters are dubbed evil for choosing to be wealthy, powerful, and capable. The Slaves become good for being the opposite of the Masters. This gives them the psychological strength to carry on and allows them to get back at the Masters by undermining the values system that encouraged them to exhibit their strengths.
What does the master morality entail?
The Master morality involves those with strengths of both mind and body seeing themselves as good. It values things like wealth, glory, ambition, excellence, and self-actualization. It affirms life and everything in it.
Since the master morality is favored by the powerful or those with some strength, its followers are few. However, those few are unconcerned with the disapproval of the many. This also means the masters are creative, as they have no desire to follow a prescribed life plan and are willing to experiment with new life choices that suit them despite widespread disapproval.
An example of a morality that tends towards this would be that of the Ancient Greeks. Aristotle's ethics, for example, pay no mind to the poor and praise the powerful man who can live life fully. The Greek heroes are strong, glorious characters who make their will into reality no matter the cost. This might be why they turned the phrase "the strong do what they will, the weak suffer what they must."
That seems a little harsh.
It is, but not all "Masters" would be vicious and oppressive. Nietzsche also places all the great artists, philosophers, and prophets in this category. This system isn't a blank check for sociopathy, but it does have the issue where some people might need to step on others to actualize themselves. Nietzsche compares the problem to hawks having it in their nature to eat lambs. It is harsh, but it is also what the hawk needs to do to fully be a hawk.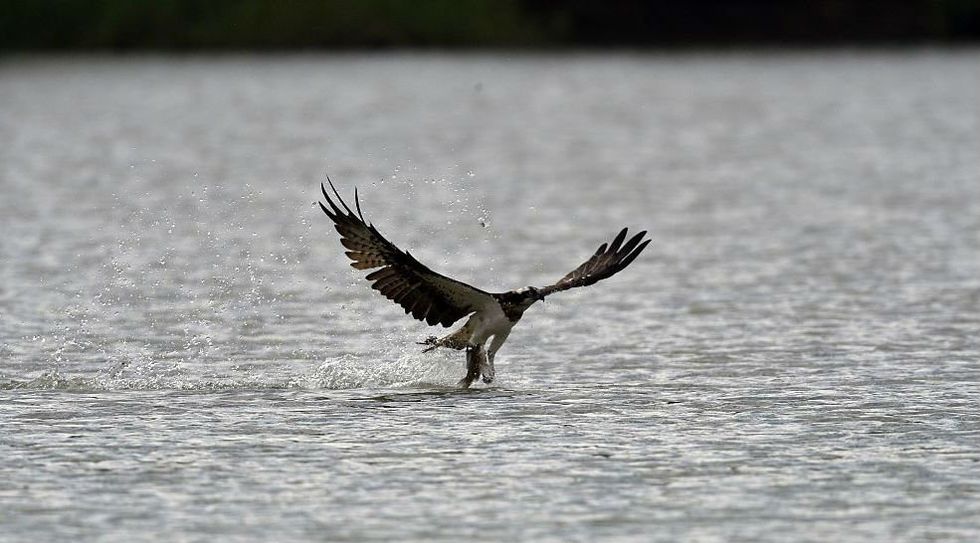 A hawk catches a fish for dinner. Nietzsche suggests that holding both the hawk and the fish to the same morality means one of them won't flourish. (SAM YEH/AFP/Getty Images)
What about the slave morality?
On the other hand, the slave morality condemns the strength that the hated masters possess and praises the weakness that they have. It is this act, the transvaluation of values, that Nietzsche sees as the key achievement of the slave revolt; he even praises it as an act of brilliance which succeeded in dominating western thinking for two thousand years.
After this revolt, things that the masters had were considered evil because the slaves used to lack them and the lack was made into something good. For example, Chasity was praised because the people writing the moral code couldn't get the sex they wanted. Humility was held to be a virtue because they had nothing to be proud of. Endless generosity was praised because they needed help themselves. The slave morality is sour grapes made into a values system.
Of equally great importance to Nietzsche is the idea that the slave morality, under any guise, couldn't stand any competing moral systems existing. Nietzsche posits that this is motivated by fear of what unchecked Masters might do. This leads to plans to take power, attempts to bring down the strong in the name of equality, the suppression of the minority who follow other moralities, the creation of stories about hell to terrify people into compliance, and the claim that the slave morality and way of life must apply to everyone.
Nietzsche thought the purest existing form of the slave morality was to be found in Christ's teachings and explained that the Beatitudes best expressed the morality's core ideas. He also saw the slave morality manifest in Buddhism, Democracy, Socialism, and other mass movements that sought to make everyone equal and encourage dull lives. Since the slave morality is often life-denying, he saw them all as part of the gradual slide into the nihilism which he feared.
So, Nietzsche liked the master morality best? Should we all follow that?
This isn't likely, according to philosopher Walter Kaufman. While Nietzsche did write The Antichrist leaving no doubts about his distaste for the slave morality, his descent into insanity prevented him from completing his four-part series about morality which would have included more details on the master morality. It's probable that he would have critiqued it just as he critiqued the slave morality.
He also praised the slave morality for helping to foster the internal life of man, as the master morality, for all that was right with it, required little reflection to create.
Nietzsche's concern was that through tools like the fear of hell, authoritarian political power, and a mob mentality people who could live their lives otherwise would be coerced into following a slave morality that they didn't need. He understood that some people needed the comfort of the slave morality. His real objection was to the idea that we all do.
In any case, the Ubermensch, Nietzsche's transhuman ideal, would be "Beyond Good and Evil" and not fully committed to either one of these moralities alone.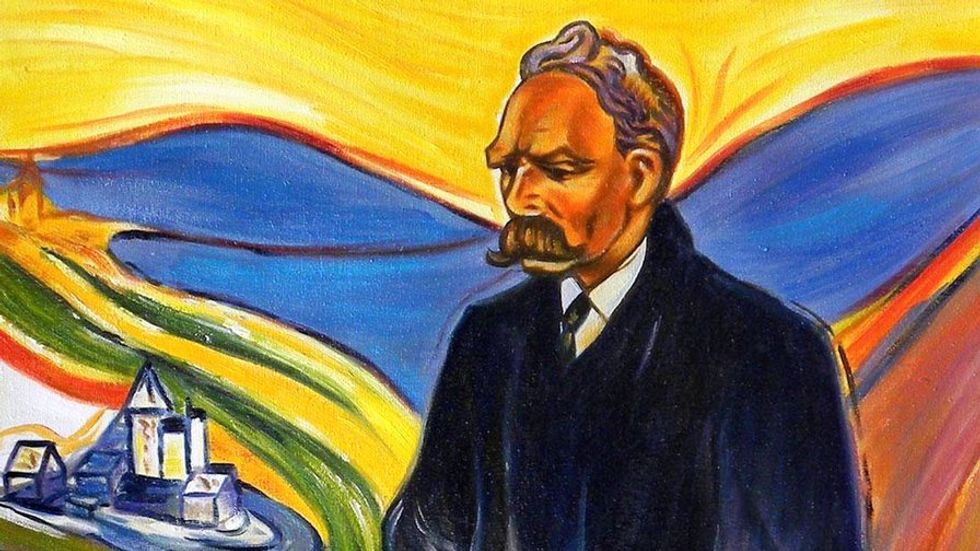 Nietzsche exhibiting the loneliness that blazing your own path often entails. (painting by Edvard Munch)
So, what can I learn from this?
What Nietzsche encourages to do is to "be noble." While the Masters are explained to be nobler than the Slaves, a noble person could still choose to hold slavish values. Jesus Christ, who Nietzsche saw as a proto-Ubermensch, is given as an example of how that is possible.
The noble person will see their life as a project, in which they choose their own goals and drive towards them no matter what society, dogma, or the unwashed masses think. They are not afraid to have their worldview challenged or to take actions which they know are going to lead to them changing and growing as people. Nietzsche's Superman, also known as the Ubermensch, is the embodiment of the noble way of life.
In a sense, Nietzsche's often shocking writings can be seen as a hand extended to those of noble temperament; only the people willing to have their worldviews challenged are going to read them at all.
What can I do right now?
Ask yourself honestly, when was the last time you allowed your worldview to be seriously challenged? How many of your beliefs are mere reactions or the product of your upbringing? Are you proud of who you are and always striving to master your life? Or, are you resigned to your sorry state and letting that resignation dominate your life? Even challenging yourself with these questions is a start.
This seems a little ahistorical, is there another way to view this hypothesis?
It is also possible to view this dichotomy as a tool for analysis. Since neither of them exists in a pure form in reality, we can instead use them as idealized cases to analyze real moral systems and find out what the motivations behind their valuations are.
In Nietzsche's campaign against nihilism, this is useful for determining which systems are life-affirming and which are life-denying when one system has elements of both moral codes.
Nietzsche was a radical thinker that wanted to examine every aspect of our worldviews. His ideas are often shocking, sometimes wrong, and always thought-provoking. Even if the master and slave moralities are better as tools for discussion than as models for historical mapping development, we can still use them to inform our lives and help promote our growth.
In the end isn't that what Nietzsche, the great champion of self-overcoming, would have wanted?
A man's skeleton, found facedown with his hands bound, was unearthed near an ancient ceremonial circle during a high speed rail excavation project.
Culture & Religion
A skeleton representing a man who was tossed face down into a ditch nearly 2,500 years ago with his hands bound in front of his hips was dug up during an excavation outside of London.
The discovery was made during a high speed rail project that has been a bonanza for archaeology, as the area is home to more than 60 ancient sites along the planned route.
An ornate grave of a high status individual from the Roman period and an ancient ceremonial circle were also discovered during the excavations.
Fear that new technologies are addictive isn't a modern phenomenon.
Credit
: Rodion Kutsaev via Unsplash
Technology & Innovation
This article was originally published on our sister site, Freethink, which has partnered with the Build for Tomorrow podcast to go inside new episodes each month. Subscribe here to learn more about the crazy, curious things from history that shaped us, and how we can shape the future.
In many ways, technology has made our lives better. Through smartphones, apps, and social media platforms we can now work more efficiently and connect in ways that would have been unimaginable just decades ago.
But as we've grown to rely on technology for a lot of our professional and personal needs, most of us are asking tough questions about the role technology plays in our own lives. Are we becoming too dependent on technology to the point that it's actually harming us?
In the latest episode of Build for Tomorrow, host and Entrepreneur Editor-in-Chief Jason Feifer takes on the thorny question: is technology addictive?
Popularizing medical language
What makes something addictive rather than just engaging? It's a meaningful distinction because if technology is addictive, the next question could be: are the creators of popular digital technologies, like smartphones and social media apps, intentionally creating things that are addictive? If so, should they be held responsible?
To answer those questions, we've first got to agree on a definition of "addiction." As it turns out, that's not quite as easy as it sounds.
If we don't have a good definition of what we're talking about, then we can't properly help people.

LIAM SATCHELL UNIVERSITY OF WINCHESTER
"Over the past few decades, a lot of effort has gone into destigmatizing conversations about mental health, which of course is a very good thing," Feifer explains. It also means that medical language has entered into our vernacular —we're now more comfortable using clinical words outside of a specific diagnosis.
"We've all got that one friend who says, 'Oh, I'm a little bit OCD' or that friend who says, 'Oh, this is my big PTSD moment,'" Liam Satchell, a lecturer in psychology at the University of Winchester and guest on the podcast, says. He's concerned about how the word "addiction" gets tossed around by people with no background in mental health. An increased concern surrounding "tech addiction" isn't actually being driven by concern among psychiatric professionals, he says.
"These sorts of concerns about things like internet use or social media use haven't come from the psychiatric community as much," Satchell says. "They've come from people who are interested in technology first."
The casual use of medical language can lead to confusion about what is actually a mental health concern. We need a reliable standard for recognizing, discussing, and ultimately treating psychological conditions.
"If we don't have a good definition of what we're talking about, then we can't properly help people," Satchell says. That's why, according to Satchell, the psychiatric definition of addiction being based around experiencing distress or significant family, social, or occupational disruption needs to be included in any definition of addiction we may use.
Too much reading causes... heat rashes?
But as Feifer points out in his podcast, both popularizing medical language and the fear that new technologies are addictive aren't totally modern phenomena.
Take, for instance, the concept of "reading mania."
In the 18th Century, an author named J. G. Heinzmann claimed that people who read too many novels could experience something called "reading mania." This condition, Heinzmann explained, could cause many symptoms, including: "weakening of the eyes, heat rashes, gout, arthritis, hemorrhoids, asthma, apoplexy, pulmonary disease, indigestion, blocking of the bowels, nervous disorder, migraines, epilepsy, hypochondria, and melancholy."
"That is all very specific! But really, even the term 'reading mania' is medical," Feifer says.
"Manic episodes are not a joke, folks. But this didn't stop people a century later from applying the same term to wristwatches."
Indeed, an 1889 piece in the Newcastle Weekly Courant declared: "The watch mania, as it is called, is certainly excessive; indeed it becomes rabid."
Similar concerns have echoed throughout history about the radio, telephone, TV, and video games.
"It may sound comical in our modern context, but back then, when those new technologies were the latest distraction, they were probably really engaging. People spent too much time doing them," Feifer says. "And what can we say about that now, having seen it play out over and over and over again? We can say it's common. It's a common behavior. Doesn't mean it's the healthiest one. It's just not a medical problem."
Few today would argue that novels are in-and-of-themselves addictive — regardless of how voraciously you may have consumed your last favorite novel. So, what happened? Were these things ever addictive — and if not, what was happening in these moments of concern?
People are complicated, our relationship with new technology is complicated, and addiction is complicated — and our efforts to simplify very complex things, and make generalizations across broad portions of the population, can lead to real harm.

JASON FEIFER HOST OF BUILD FOR TOMORROW
There's a risk of pathologizing normal behavior, says Joel Billieux, professor of clinical psychology and psychological assessment at the University of Lausanne in Switzerland, and guest on the podcast. He's on a mission to understand how we can suss out what is truly addictive behavior versus what is normal behavior that we're calling addictive.
For Billieux and other professionals, this isn't just a rhetorical game. He uses the example of gaming addiction, which has come under increased scrutiny over the past half-decade. The language used around the subject of gaming addiction will determine how behaviors of potential patients are analyzed — and ultimately what treatment is recommended.
"For a lot of people you can realize that the gaming is actually a coping (mechanism for) social anxiety or trauma or depression," says Billieux.
"Those cases, of course, you will not necessarily target gaming per se. You will target what caused depression. And then as a result, If you succeed, gaming will diminish."
In some instances, a person might legitimately be addicted to gaming or technology, and require the corresponding treatment — but that treatment might be the wrong answer for another person.
"None of this is to discount that for some people, technology is a factor in a mental health problem," says Feifer.
"I am also not discounting that individual people can use technology such as smartphones or social media to a degree where it has a genuine negative impact on their lives. But the point here to understand is that people are complicated, our relationship with new technology is complicated, and addiction is complicated — and our efforts to simplify very complex things, and make generalizations across broad portions of the population, can lead to real harm."
Behavioral addiction is a notoriously complex thing for professionals to diagnose — even more so since the latest edition of the Diagnostic and Statistical Manual of Mental Disorders (DSM-5), the book professionals use to classify mental disorders, introduced a new idea about addiction in 2013.
"The DSM-5 grouped substance addiction with gambling addiction — this is the first time that substance addiction was directly categorized with any kind of behavioral addiction," Feifer says.
"And then, the DSM-5 went a tiny bit further — and proposed that other potentially addictive behaviors require further study."
This might not sound like that big of a deal to laypeople, but its effect was massive in medicine.
"Researchers started launching studies — not to see if a behavior like social media use can be addictive, but rather, to start with the assumption that social media use is addictive, and then to see how many people have the addiction," says Feifer.
Learned helplessness
The assumption that a lot of us are addicted to technology may itself be harming us by undermining our autonomy and belief that we have agency to create change in our own lives. That's what Nir Eyal, author of the books Hooked and Indistractable, calls 'learned helplessness.'
"The price of living in a world with so many good things in it is that sometimes we have to learn these new skills, these new behaviors to moderate our use," Eyal says. "One surefire way to not do anything is to believe you are powerless. That's what learned helplessness is all about."
So if it's not an addiction that most of us are experiencing when we check our phones 90 times a day or are wondering about what our followers are saying on Twitter — then what is it?
"A choice, a willful choice, and perhaps some people would not agree or would criticize your choices. But I think we cannot consider that as something that is pathological in the clinical sense," says Billieux.
Of course, for some people technology can be addictive.
"If something is genuinely interfering with your social or occupational life, and you have no ability to control it, then please seek help," says Feifer.
But for the vast majority of people, thinking about our use of technology as a choice — albeit not always a healthy one — can be the first step to overcoming unwanted habits.
For more, be sure to check out the Build for Tomorrow episode here.
The Inglehart-Welzel World Cultural map replaces geographic accuracy with closeness in terms of values.
Credit
: World Values Survey, public domain.
Strange Maps
This map replaces geography with another type of closeness: cultural values.
Although the groups it depicts have familiar names, their shapes are not.
The map makes for strange bedfellows: Brazil next to South Africa and Belgium neighboring the U.S.
Some countries value self-expression more than others.Credit: Robyn Beck / AFP via Getty Images
Question: On what map is Lithuania a neighbor of China, Poland lies next to Brazil, and Morocco and Yemen touch?

Answer: The Inglehart-Welzel World Cultural Map. To be precise, the 2017 map. Because on the 2020 version, each of those pairs has drifted apart significantly.
These are not, strictly speaking, maps but rather scatterplot diagrams. Each dot represents a country, the position of which is based on how it ranks on two different values (discussed below). The dots are corralled together into geo-cultural groups:
Catholic Europe, which comprises countries as diverse and far apart as Hungary and Andorra■ Protestant Europe, taking in both Iceland and Germany
The Orthodox world, from Belarus all the way to Armenia
The three Baltic states
The English-speaking world, including both the U.S. and Northern Ireland
The huge African-Islamic world, ranging from Azerbaijan to South Africa
Latin America, which goes from Mexico to Argentina
South Asia, which comprises both India and Cyprus
The Confucian world, encompassing China and Japan.
The placement of the dots indicates cultural proximity or distance. Some countries from different groups can be more similar than other countries in the same group.
See the examples indicated above: cultural neighbors China and Lithuania belong to the Confucian and Baltic groups, respectively. Poland is part of Catholic Europe; its 2017 neighbor Brazil is in Latin America. Morocco and Yemen are closer culturally to Armenia, in the Orthodox group, than they are to Qatar, despite all belonging to the African-Islamic group.
The 2017 version of the map places Malta deep inside South America and lets Vietnam, Portugal, and Macedonia meet.Credit: World Values Survey, public domain.
Creating a culture map

So, what exactly are the criteria used for plotting these dots in the first place?
These maps are part of the World Values Survey, first conducted by political scientist Ronald Inglehart in the late 1990s. With his colleague Christian Welzel, he produced an update in 2005. The WVS has been revised several times since, most recently in 2020.
The WVS asserts that there are two fundamental dimensions to cross-cultural variation across the world. These are used as the axes to plot the various countries on the diagram.
The X-axis measures survival versus self-expression values.
Survival values focus on economic and physical security. There is not much room for trust and tolerance of "others." Self-expression values prioritize well-being, quality of life, and self-expression. There is more room for tolerating ethnic, religious, and sexual minorities.
The Y-axis measures traditional versus secular-rational values.
Traditional values include deference to religion and parental authority as well as traditional social and family values. Societies that score high on traditions typically also are highly nationalistic. In more secular-rational societies, science and bureaucracy replace faith as the basis for authority. Secular-rational values include high tolerance of things like divorce, abortion, euthanasia, and suicide.
As indicated by the significant changes on the 2020 map, the cultural values of nations are not static:
Countries that move up on the map are shifting from traditional to more secular-rational values.
Countries that move to the right on the map are shifting from survival values to self-expression values.
And, of course, vice versa in both cases.
According to the authors of the map, changes in cultural outlook can be the result of socioeconomic changes — increasing levels of wealth, for example. But the religious and cultural heritage of each country also plays a part.
The world's cultural landscape is dynamic — you could even say promiscuous, producing new bedfellows every few years.Credit: World Values Survey, public domain.
Some notable features of the 2020 map:

The Baltic group has been dissolved; Lithuania is now part of Catholic Europe, Estonia a lone Protestant island in a Catholic sea. More worryingly, Latvia seems to have dissolved completely.
In general, survival values are strongest in African-Islamic countries, self-expression values in Protestant Europe.
Traditional values are strongest in African-Islamic countries and Latin America, while secular values dominate in Confucian countries and Protestant Europe.
The United States is an atypical member of the English-speaking group, scoring much lower on both scales (that is to say, lower and more to the left). In other words, the U.S. is more into traditional and survival values than the group's other members.
Shifting attitudes don't just separate; they also unite. Belgium and the U.S. are now culture buddies, as are New Zealand and Iceland. Kazakhstan is virtually indistinguishable from Bosnia.
The Inglehart-Welzel map is not without its critics. It has been decried as Eurocentric, simplistic, and culturally essentialist (that is, the assumption that certain cultural characteristics are essential and fixed, and that some are superior to others). Which is, of course, a very self-expressive thing to say.
For more on these maps, on the WVS surveys, and on the methodology used, visit the World Values Survey.
Strange Maps #1098
Got a strange map? Let me know at strangemaps@gmail.com.

Surprising Science
A study finds that baby mammals dream about the world they are about to experience to prepare their senses.
Scroll down to load more…