Big ideas.
Once a week.
Subscribe to our weekly newsletter.
Why We Should Really Stop Trying to Contact Aliens
The Three-Body Problem series lays out a powerful case for why we should stop looking for aliens, and solves the Fermi paradox.
31 August, 2017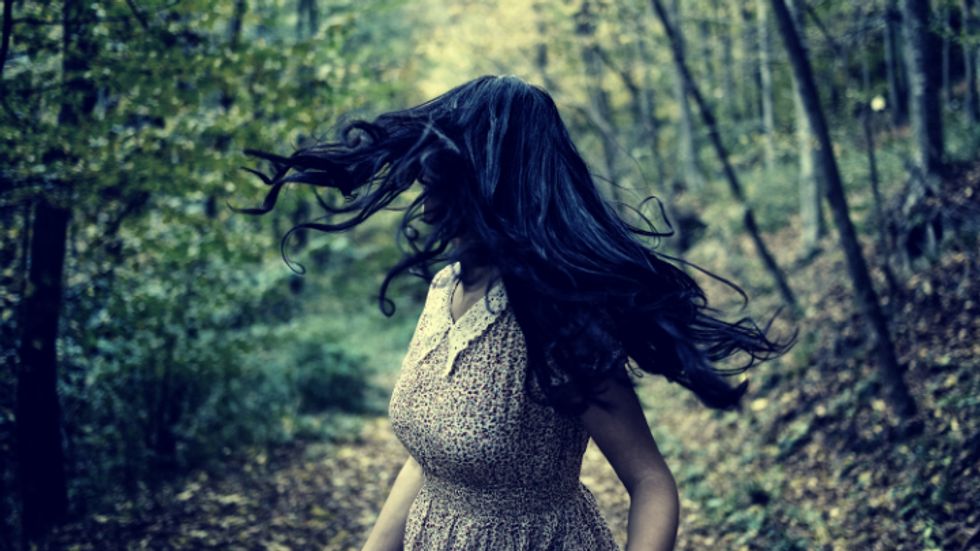 (CATOLIN PETOLEA via Shutterstock)
Experts are more and more convinced there's probably intelligent life out there. Our first impulse, being friendly Earth types, is to reach out and say hi — from 1977's Voyager to SETI@home, we can't wait to meet the neighbors. Some scientists, like Stephen Hawking, caution that this may be a lethal mistake, and others say, "Naw, not to worry." Yet here we are, scanning the night skies, visions of Close Encounters in our heads. A recent work of science fiction, though, contains a stunningly convincing argument that we should shut. The. Hell. Up. Hiding wouldn't be a bad idea, either. The Fermi paradox, its author asserts, suggests that everyone else already is.
---
The book is The Dark Forest, the second volume in the unforgettable Three-Body trilogy by Chinese writer Cixin Liu. Cixin's writing is beyond smart — it's brilliant — and it's science fiction of the best kind, with mind-boggling ideas and perceptions, and characters you care about. His concept of the dark forest, though presented in a work of fiction, is chilling, and very real.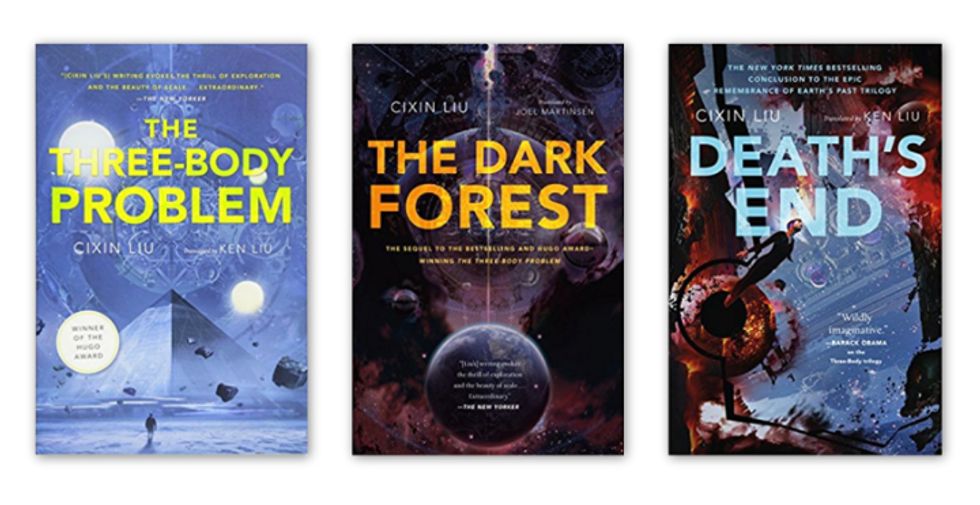 The Axioms of Social Cosmology
In The Dark Forest, a character suggests the creation of an area of study called "cosmic sociology." She describes it as a means of understanding the interactions of distant civilizations who know each other only as dots of light, light years away. It's based on two simple, inarguable axioms that would be true of every civilization, regardless of the life forms it contains or where it is in the universe:
Survival is the primary need of civilization. This is the most basic desire of any life form, right?
Civilization continuously grows and expands, but the total matter in the universe remains constant. There's potentially competition for resources, including minerals, water, life-capable planets, etc.
To complete the picture, the character says, one needs to understand two other important concepts:
chains of suspicion
technological explosion
Chains of Suspicion
When one civilization becomes aware of another, the most critical thing is to ascertain whether or not the newly found civilization is operating from benevolence — and thus won't attack and destroy you — or malice. Too much further communication could take you from limited exposure in which the other civilization simply knows you exist, to the strongest: They know where to find you. And so each civilization is left to guess the other's intent, and the stakes couldn't be higher.
You can't assume the other civilization is benevolent, and they can't assume that about you, either. Nor can you be sure the other correctly comprehends your assessment of their benevolence or maliciousness. As one character tells another in the book:
Next, even if you know that I think you're benevolent, and I also know that you think I'm benevolent, I don't know what you think about what I think about what you're thinking about me. It's convoluted, isn't it?
Does the other civilization see your opinion of them as a reason to relax, or to conquer you and take your resources? How can you possibly know what to make of each other with a certainty that satisfies your desire for survival? Inevitably, neither civilization can afford to trust the other, There's just no way to discern another's true intention from so very far away.
Technological Explosion
You do know that a civilization that contacts you is capable technologically of at least that much. But this is all you have to go on in your assessment of the threat level or their ability to defend themselves against an attack from you. You might think that a civilization that considers itself advanced could relax, secure in its military superiority at the moment of first contact. But contact with you could be just the impetus needed for the other civilization to shoot ahead technologically — progress is non-linear, as shown by our own tech explosion in just 300 years against the millions of years we've been around. By the time an invading force traverses the vast expanse of space — likely over the course of years, if not centuries — who can know what awaits them? No civilization can be confident of its power relative to the other.
The person listening to this in The Dark Forest responds, "So I have to keep quiet." After a pause, he asks, "Do you think that will work?"
Nope. "To sum up," says the first speaker, "letting you know I exist, and letting you to continue to exist, are both dangerous to me and violate the first axiom." So, he continues, "If neither communication nor silence will work once you learn of my existence, you're left with just one option." Attack.
As if what's already been argued isn't scary enough, he reminds his listener, "Extrapolate that option out to billions and billions of stars and hundred of millions of civilization's and there's your picture. The real universe is just that black."
Welcome to the Woods
Cixin's dark forest metaphor goes like this:
The universe is a dark forest. Every civilization is an armed hunter stalking through the trees like a ghost, gently pushing aside branches that block the path and trying to tread without sound. Even breathing is done with care. The hunter has to be careful, because everywhere in the forest are stealthy hunters like him. If he finds another life — another hunter, angel, or a demon, a delicate infant to tottering old man, a fairy or demigod — there's only one thing he can do: open fire and eliminate them.
And here's us with our desire for contact:
But in this dark forest, there's a stupid child called humanity, who has built a bonfire and is standing before it shouting, "Here I am! Here I am!"
So the answer to the Fermi paradox may simply be this: Civilizations aware of the dark forest concept are wisely hiding. 
In The Three-Body Problem, the first book in the series, a scientist sends out a message and years later receives the following cautionary response:
Do not answer!
Do not answer!!
Do not answer!!!
I am a pacifist in this world. It is the luck of your civilization that I am the first to receive your message. I am warning you: Do not answer! Do not answer!! Do not answer!!!
There are tens of millions of stars in your direction. As long as you do not answer, this world will not be able to ascertain the source of your transmission.
But if you do answer, the source will be located right away. Your planet will be invaded. Your world will be conquered.
Do not answer! Do not answer!! Do not answer!!!
We won't spoil the story by revealing what the scientist does. And we can't recommend the Three-Body Problem series highly enough.
"You dream about these kinds of moments when you're a kid," said lead paleontologist David Schmidt.
Surprising Science
The triceratops skull was first discovered in 2019, but was excavated over the summer of 2020.
It was discovered in the South Dakota Badlands, an area where the Triceratops roamed some 66 million years ago.
Studying dinosaurs helps scientists better understand the evolution of all life on Earth.
Are "humanized" pigs the future of medical research?
Surprising Science
In recent years, our team at Iowa State University has found a way to make pigs an even closer stand-in for humans. We have successfully transferred components of the human immune system into pigs that lack a functional immune system. This breakthrough has the potential to accelerate medical research in many areas, including virus and vaccine research, as well as cancer and stem cell therapeutics.
Existing biomedical models
Severe Combined Immunodeficiency, or SCID, is a genetic condition that causes impaired development of the immune system. People can develop SCID, as dramatized in the 1976 movie "The Boy in the Plastic Bubble." Other animals can develop SCID, too, including mice.
Researchers in the 1980s recognized that SCID mice could be implanted with human immune cells for further study. Such mice are called "humanized" mice and have been optimized over the past 30 years to study many questions relevant to human health.
Mice are the most commonly used animal in biomedical research, but results from mice often do not translate well to human responses, thanks to differences in metabolism, size and divergent cell functions compared with people.
Nonhuman primates are also used for medical research and are certainly closer stand-ins for humans. But using them for this purpose raises numerous ethical considerations. With these concerns in mind, the National Institutes of Health retired most of its chimpanzees from biomedical research in 2013.
Alternative animal models are in demand.
Swine are a viable option for medical research because of their similarities to humans. And with their widespread commercial use, pigs are met with fewer ethical dilemmas than primates. Upwards of 100 million hogs are slaughtered each year for food in the U.S.
Humanizing pigs
In 2012, groups at Iowa State University and Kansas State University, including Jack Dekkers, an expert in animal breeding and genetics, and Raymond Rowland, a specialist in animal diseases, serendipitously discovered a naturally occurring genetic mutation in pigs that caused SCID. We wondered if we could develop these pigs to create a new biomedical model.
Our group has worked for nearly a decade developing and optimizing SCID pigs for applications in biomedical research. In 2018, we achieved a twofold milestone when working with animal physiologist Jason Ross and his lab. Together we developed a more immunocompromised pig than the original SCID pig – and successfully humanized it, by transferring cultured human immune stem cells into the livers of developing piglets.
During early fetal development, immune cells develop within the liver, providing an opportunity to introduce human cells. We inject human immune stem cells into fetal pig livers using ultrasound imaging as a guide. As the pig fetus develops, the injected human immune stem cells begin to differentiate – or change into other kinds of cells – and spread through the pig's body. Once SCID piglets are born, we can detect human immune cells in their blood, liver, spleen and thymus gland. This humanization is what makes them so valuable for testing new medical treatments.
We have found that human ovarian tumors survive and grow in SCID pigs, giving us an opportunity to study ovarian cancer in a new way. Similarly, because human skin survives on SCID pigs, scientists may be able to develop new treatments for skin burns. Other research possibilities are numerous.

The ultraclean SCID pig biocontainment facility in Ames, Iowa. Adeline Boettcher, CC BY-SA
Pigs in a bubble
Since our pigs lack essential components of their immune system, they are extremely susceptible to infection and require special housing to help reduce exposure to pathogens.
SCID pigs are raised in bubble biocontainment facilities. Positive pressure rooms, which maintain a higher air pressure than the surrounding environment to keep pathogens out, are coupled with highly filtered air and water. All personnel are required to wear full personal protective equipment. We typically have anywhere from two to 15 SCID pigs and breeding animals at a given time. (Our breeding animals do not have SCID, but they are genetic carriers of the mutation, so their offspring may have SCID.)
As with any animal research, ethical considerations are always front and center. All our protocols are approved by Iowa State University's Institutional Animal Care and Use Committee and are in accordance with The National Institutes of Health's Guide for the Care and Use of Laboratory Animals.
Every day, twice a day, our pigs are checked by expert caretakers who monitor their health status and provide engagement. We have veterinarians on call. If any pigs fall ill, and drug or antibiotic intervention does not improve their condition, the animals are humanely euthanized.
Our goal is to continue optimizing our humanized SCID pigs so they can be more readily available for stem cell therapy testing, as well as research in other areas, including cancer. We hope the development of the SCID pig model will pave the way for advancements in therapeutic testing, with the long-term goal of improving human patient outcomes.
Adeline Boettcher earned her research-based Ph.D. working on the SCID project in 2019.

Christopher Tuggle, Professor of Animal Science, Iowa State University and Adeline Boettcher, Technical Writer II, Iowa State University
This article is republished from The Conversation under a Creative Commons license. Read the original article.
Satellite imagery can help better predict volcanic eruptions by monitoring changes in surface temperature near volcanoes.
Credit:
Ammit
via Adobe Stock
Surprising Science
A recent study used data collected by NASA satellites to conduct a statistical analysis of surface temperatures near volcanoes that erupted from 2002 to 2019.
The results showed that surface temperatures near volcanoes gradually increased in the months and years prior to eruptions.
The method was able to detect potential eruptions that were not anticipated by other volcano monitoring methods, such as eruptions in Japan in 2014 and Chile in 2015.
How can modern technology help warn us of impending volcanic eruptions?
One promising answer may lie in satellite imagery. In a recent study published in Nature Geoscience, researchers used infrared data collected by NASA satellites to study the conditions near volcanoes in the months and years before they erupted.
The results revealed a pattern: Prior to eruptions, an unusually large amount of heat had been escaping through soil near volcanoes. This diffusion of subterranean heat — which is a byproduct of "large-scale thermal unrest" — could potentially represent a warning sign of future eruptions.
Conceptual model of large-scale thermal unrestCredit: Girona et al.
For the study, the researchers conducted a statistical analysis of changes in surface temperature near volcanoes, using data collected over 16.5 years by NASA's Terra and Aqua satellites. The results showed that eruptions tended to occur around the time when surface temperatures near the volcanoes peaked.

Eruptions were preceded by "subtle but significant long-term (years), large-scale (tens of square kilometres) increases in their radiant heat flux (up to ~1 °C in median radiant temperature)," the researchers wrote. After eruptions, surface temperatures reliably decreased, though the cool-down period took longer for bigger eruptions.
"Volcanoes can experience thermal unrest for several years before eruption," the researchers wrote. "This thermal unrest is dominated by a large-scale phenomenon operating over extensive areas of volcanic edifices, can be an early indicator of volcanic reactivation, can increase prior to different types of eruption and can be tracked through a statistical analysis of little-processed (that is, radiance or radiant temperature) satellite-based remote sensing data with high temporal resolution."
Temporal variations of target volcanoesCredit: Girona et al.
Although using satellites to monitor thermal unrest wouldn't enable scientists to make hyper-specific eruption predictions (like predicting the exact day), it could significantly improve prediction efforts. Seismologists and volcanologists currently use a range of techniques to forecast eruptions, including monitoring for gas emissions, ground deformation, and changes to nearby water channels, to name a few.

Still, none of these techniques have proven completely reliable, both because of the science and the practical barriers (e.g. funding) standing in the way of large-scale monitoring. In 2014, for example, Japan's Mount Ontake suddenly erupted, killing 63 people. It was the nation's deadliest eruption in nearly a century.
In the study, the researchers found that surface temperatures near Mount Ontake had been increasing in the two years prior to the eruption. To date, no other monitoring method has detected "well-defined" warning signs for the 2014 disaster, the researchers noted.
The researchers hope satellite-based infrared monitoring techniques, combined with existing methods, can improve prediction efforts for volcanic eruptions. Volcanic eruptions have killed about 2,000 people since 2000.
"Our findings can open new horizons to better constrain magma–hydrothermal interaction processes, especially when integrated with other datasets, allowing us to explore the thermal budget of volcanoes and anticipate eruptions that are very difficult to forecast through other geophysical/geochemical methods."
Scroll down to load more…