Why We Should Really Stop Trying to Contact Aliens
The Three-Body Problem series lays out a powerful case for why we should stop looking for aliens, and solves the Fermi paradox.
31 August, 2017
Experts are more and more convinced there's probably intelligent life out there. Our first impulse, being friendly Earth types, is to reach out and say hi — from 1977's Voyager to SETI@home, we can't wait to meet the neighbors. Some scientists, like Stephen Hawking, caution that this may be a lethal mistake, and others say, "Naw, not to worry." Yet here we are, scanning the night skies, visions of Close Encounters in our heads. A recent work of science fiction, though, contains a stunningly convincing argument that we should shut. The. Hell. Up. Hiding wouldn't be a bad idea, either. The Fermi paradox, its author asserts, suggests that everyone else already is.
---
The book is The Dark Forest, the second volume in the unforgettable Three-Body trilogy by Chinese writer Cixin Liu. Cixin's writing is beyond smart — it's brilliant — and it's science fiction of the best kind, with mind-boggling ideas and perceptions, and characters you care about. His concept of the dark forest, though presented in a work of fiction, is chilling, and very real.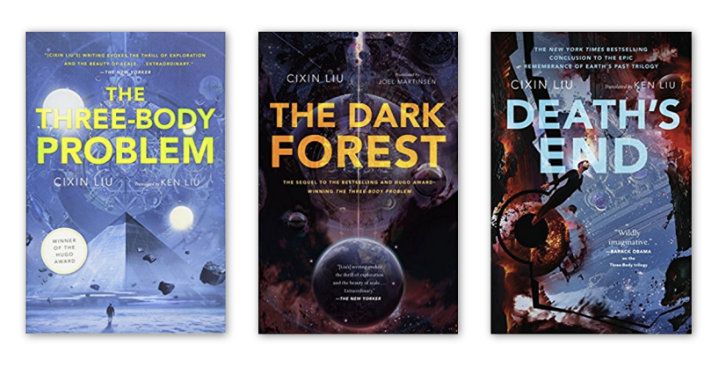 The Axioms of Social Cosmology
In The Dark Forest, a character suggests the creation of an area of study called "cosmic sociology." She describes it as a means of understanding the interactions of distant civilizations who know each other only as dots of light, light years away. It's based on two simple, inarguable axioms that would be true of every civilization, regardless of the life forms it contains or where it is in the universe:
Survival is the primary need of civilization. This is the most basic desire of any life form, right?
Civilization continuously grows and expands, but the total matter in the universe remains constant. There's potentially competition for resources, including minerals, water, life-capable planets, etc.
To complete the picture, the character says, one needs to understand two other important concepts:
chains of suspicion
technological explosion
Chains of Suspicion
When one civilization becomes aware of another, the most critical thing is to ascertain whether or not the newly found civilization is operating from benevolence — and thus won't attack and destroy you — or malice. Too much further communication could take you from limited exposure in which the other civilization simply knows you exist, to the strongest: They know where to find you. And so each civilization is left to guess the other's intent, and the stakes couldn't be higher.
You can't assume the other civilization is benevolent, and they can't assume that about you, either. Nor can you be sure the other correctly comprehends your assessment of their benevolence or maliciousness. As one character tells another in the book:
Next, even if you know that I think you're benevolent, and I also know that you think I'm benevolent, I don't know what you think about what I think about what you're thinking about me. It's convoluted, isn't it?
Does the other civilization see your opinion of them as a reason to relax, or to conquer you and take your resources? How can you possibly know what to make of each other with a certainty that satisfies your desire for survival? Inevitably, neither civilization can afford to trust the other, There's just no way to discern another's true intention from so very far away.
Technological Explosion
You do know that a civilization that contacts you is capable technologically of at least that much. But this is all you have to go on in your assessment of the threat level or their ability to defend themselves against an attack from you. You might think that a civilization that considers itself advanced could relax, secure in its military superiority at the moment of first contact. But contact with you could be just the impetus needed for the other civilization to shoot ahead technologically — progress is non-linear, as shown by our own tech explosion in just 300 years against the millions of years we've been around. By the time an invading force traverses the vast expanse of space — likely over the course of years, if not centuries — who can know what awaits them? No civilization can be confident of its power relative to the other.
The person listening to this in The Dark Forest responds, "So I have to keep quiet." After a pause, he asks, "Do you think that will work?"
Nope. "To sum up," says the first speaker, "letting you know I exist, and letting you to continue to exist, are both dangerous to me and violate the first axiom." So, he continues, "If neither communication nor silence will work once you learn of my existence, you're left with just one option." Attack.
As if what's already been argued isn't scary enough, he reminds his listener, "Extrapolate that option out to billions and billions of stars and hundred of millions of civilization's and there's your picture. The real universe is just that black."
Welcome to the Woods
Cixin's dark forest metaphor goes like this:
The universe is a dark forest. Every civilization is an armed hunter stalking through the trees like a ghost, gently pushing aside branches that block the path and trying to tread without sound. Even breathing is done with care. The hunter has to be careful, because everywhere in the forest are stealthy hunters like him. If he finds another life — another hunter, angel, or a demon, a delicate infant to tottering old man, a fairy or demigod — there's only one thing he can do: open fire and eliminate them.
And here's us with our desire for contact:
But in this dark forest, there's a stupid child called humanity, who has built a bonfire and is standing before it shouting, "Here I am! Here I am!"
So the answer to the Fermi paradox may simply be this: Civilizations aware of the dark forest concept are wisely hiding. 
In The Three-Body Problem, the first book in the series, a scientist sends out a message and years later receives the following cautionary response:
Do not answer!
Do not answer!!
Do not answer!!!
I am a pacifist in this world. It is the luck of your civilization that I am the first to receive your message. I am warning you: Do not answer! Do not answer!! Do not answer!!!
There are tens of millions of stars in your direction. As long as you do not answer, this world will not be able to ascertain the source of your transmission.
But if you do answer, the source will be located right away. Your planet will be invaded. Your world will be conquered.
Do not answer! Do not answer!! Do not answer!!!
We won't spoil the story by revealing what the scientist does. And we can't recommend the Three-Body Problem series highly enough.
Upstreamism advocate Rishi Manchanda calls us to understand health not as a "personal responsibility" but a "common good."
Sponsored by Northwell Health
Upstreamism tasks health care professionals to combat unhealthy social and cultural influences that exist outside — or upstream — of medical facilities.
Patients from low-income neighborhoods are most at risk of negative health impacts.
Thankfully, health care professionals are not alone. Upstreamism is increasingly part of our cultural consciousness.
The Bajau people's nomadic lifestyle has given them remarkable adaptions, enabling them to stay underwater for unbelievable periods of time. Their lifestyle, however, is quickly disappearing.
Wikimedia Commons
Culture & Religion
The Bajau people travel in small flotillas throughout the Phillipines, Malaysia, and Indonesia, hunting fish underwater for food.
Over the years, practicing this lifestyle has given the Bajau unique adaptations to swimming underwater. Many find it straightforward to dive up to 13 minutes 200 feet below the surface of the ocean.
Unfortunately, many disparate factors are erasing the traditional Bajau way of life.
We explore the history of blood types and how they are classified to find out what makes the Rh-null type important to science and dangerous for those who live with it.
Abid Katib/Getty Images
Surprising Science
Fewer than 50 people worldwide have 'golden blood' — or Rh-null.
Blood is considered Rh-null if it lacks all of the 61 possible antigens in the Rh system.
It's also very dangerous to live with this blood type, as so few people have it.
An innovation may lead to lifelike evolving machines.
Shogo Hamada/Cornell University
Surprising Science
Scientists at Cornell University devise a material with 3 key traits of life.
The goal for the researchers is not to create life but lifelike machines.
The researchers were able to program metabolism into the material's DNA.
Big think's weekly newsletter.
Get smarter faster from the comfort of your inbox.
See our newsletter privacy policy
here
Most Popular
Most Recent
Big think's weekly newsletter.
Get smarter faster from the comfort of your inbox.
See our newsletter privacy policy
here
© Copyright 2007-2019 & BIG THINK, BIG THINK EDGE,
SMARTER FASTER trademarks owned by The Big Think, Inc. All rights reserved.