We Now Know Definitively What Yeti Are
Comprehensive DNA sequencing of artifacts reveals the yeti to be bears, mostly Himalayan brown bears.
30 November, 2017
The legend of the yeti, or "abominable snowman," has been one of our more durable cryptozoological mysteries. The image of an primeval, solitary humanoid glimpsed through the swirling snows of the Himalayas has made its way into many a tale, and even into a Saul Bass movie or two.
---
What are believed to be yeti remains have been found from time to time by mountain villagers, adding to mystique of the elusive creature, or creatures. Now, after collecting as many yeti bits as could be found and doing a thorough DNA analysis, the riddle has been solved: what people have likely witnessed in the snows are actually several species of bears, and mostly Himalayan brown bears.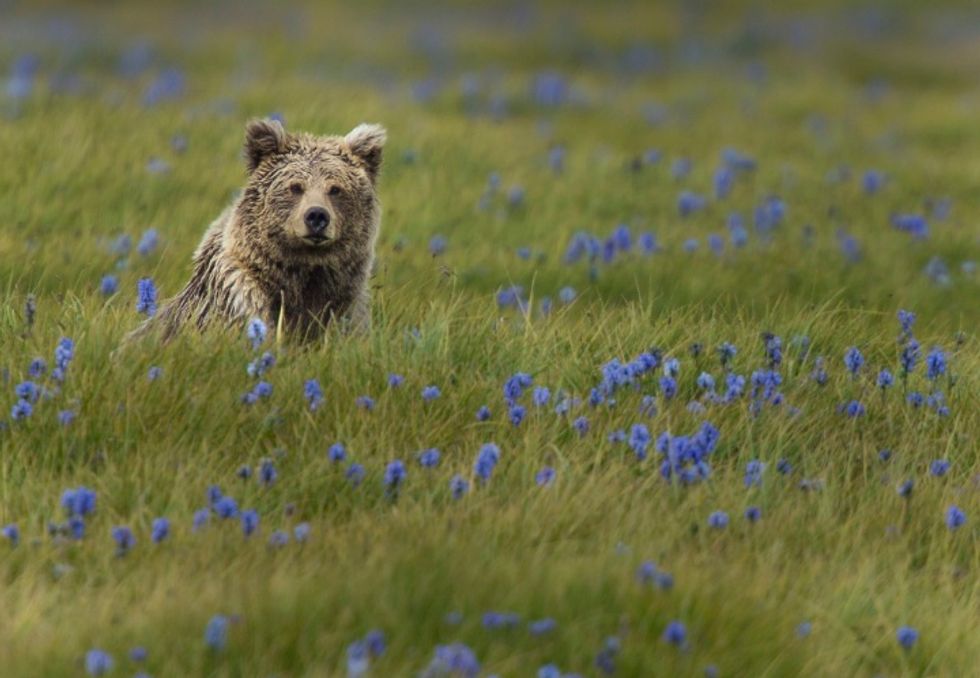 A Himalayan brown bear outstanding in his field, far away from snow (U.S. EMBASSY PAKISTAN)
A few months back, a different study by Brian Sykes came to a slightly different conclusion, using what the new study's lead researcher, Charlotte Lindqvist, says was faulty science that somehow still managed to get pretty close — she has issues with taking the insight gleaned from one mitochondrial gene a bit too far. Sykes had identified the yeti as being an ancient polar bear living between 40,000 and 120,000 years ago. Lindqvist says nope: They're Himalayan brown bears, and they're still around, if endangered.
Tracking down the origins of the yeti legends has never been an obsession of Lidqvist's, or even much of an area of interest. Her speciality is studying the evolution of polar bears. What did excite the biologist, though, was an offer from Animal Planet to fund a trip to the Himalayas to collect samples of fur and bone. They sought the Abominable Snowman; she sought biological samples.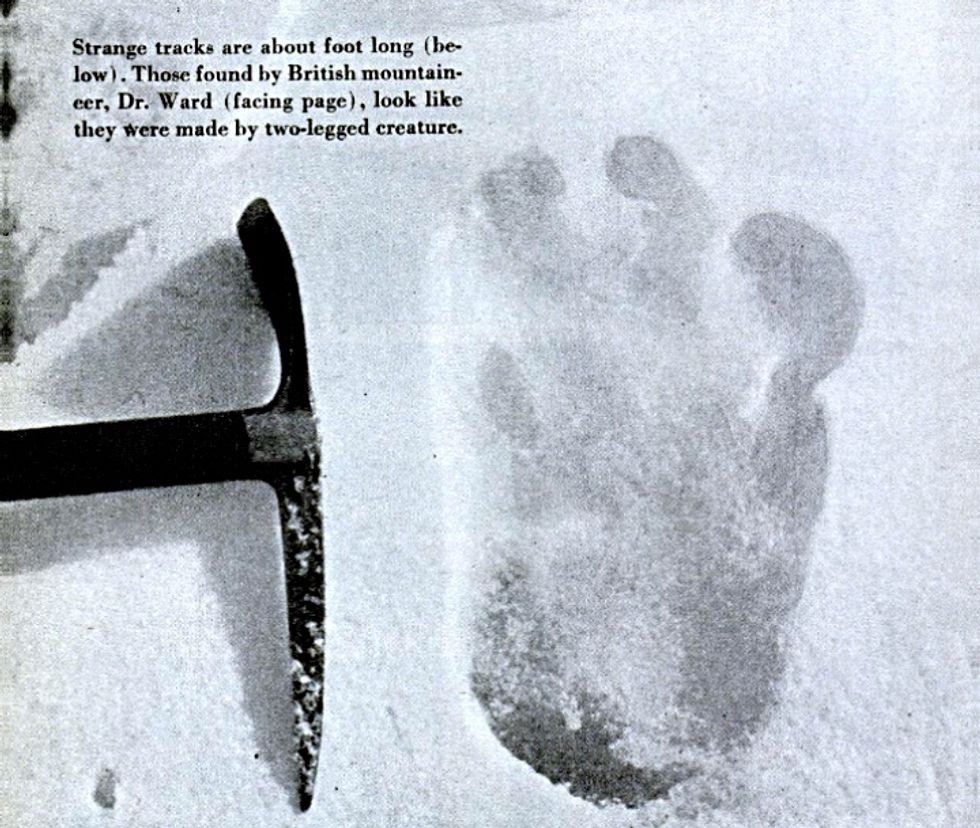 Eric Shipton's much-seen "yeti" footprint snap from 1952 (WIKIMEDIA COMMONS)
Lindqvist was able to sequence a number of "yeti samples":
a thigh bone found in a cave by a spiritual healer that turned out to be from a Tibetan brown bear
the hair from a mummified "yeti" belonging to a monastery, which was really a Himalayan brown bear
a tooth from a stuffed creature the Nazis had found in the 1930s that was actually a dog
four other samples that were Himalayan brown bears
one sample that was an Asian black bear
Research colleagues also supplied her with suspected yeti bone, hair, and scat for sequencing. It was all bears except the dog.
Lindqvist suspects some of the samples she sequenced using the entire mitochondrial genome were the same ones Sykes looked at — she says they're really Himalayan brown bears.
The Himalayan brown bear branched off from other bears some 650,000 years ago when cut off from the rest of the world by glacial ice. Some have apparently never come in from the cold.
To create wiser adults, add empathy to the school curriculum.
Sponsored by Charles Koch Foundation
Stories are at the heart of learning, writes Cleary Vaughan-Lee, Executive Director for the Global Oneness Project. They have always challenged us to think beyond ourselves, expanding our experience and revealing deep truths.
Vaughan-Lee explains 6 ways that storytelling can foster empathy and deliver powerful learning experiences.
Global Oneness Project is a free library of stories—containing short documentaries, photo essays, and essays—that each contain a companion lesson plan and learning activities for students so they can expand their experience of the world.
This is what the world will look like, 250 million years from now
On Pangaea Proxima, Lagos will be north of New York, and Cape Town close to Mexico City
Surprising Science
To us humans, the shape and location of oceans and continents seems fixed. But that's only because our lives are so short.
The future of education and work will rely on teaching students deeper problem-solving skills.
Future of Learning
Asking kids 'What do you want to be when you grow up?' is a question that used to make sense, says Jaime Casap. But it not longer does; the nature of automation and artificial intelligence means future jobs are likely to shift and reform many times over.
Instead, educators should foster a culture of problem solving. Ask children: What problem do you want to solve? And what talents or passions do you have that can be the avenues by which you solve it?
"[T]he future of education starts on Monday and then Tuesday and then Wednesday and it's constant and consistent and it's always growing, always improving, and if we create that culture I think that would bring us a long way," Casap says.
As a doctor, I am reminded every day of the fragility of the human body, how closely mortality lurks just around the corner.
Photo by Alex Boyd on Unsplash
Personal Growth
'Despite all our medical advances,' my friend Jason used to quip, 'the mortality rate has remained constant – one per person.'
Videos
Tyson dives into the search for alien life, dark matter, and the physics of football.
Scroll down to load more…