We Now Know Definitively What Yeti Are
Comprehensive DNA sequencing of artifacts reveals the yeti to be bears, mostly Himalayan brown bears.
30 November, 2017
The legend of the yeti, or "abominable snowman," has been one of our more durable cryptozoological mysteries. The image of an primeval, solitary humanoid glimpsed through the swirling snows of the Himalayas has made its way into many a tale, and even into a Saul Bass movie or two.
---
What are believed to be yeti remains have been found from time to time by mountain villagers, adding to mystique of the elusive creature, or creatures. Now, after collecting as many yeti bits as could be found and doing a thorough DNA analysis, the riddle has been solved: what people have likely witnessed in the snows are actually several species of bears, and mostly Himalayan brown bears.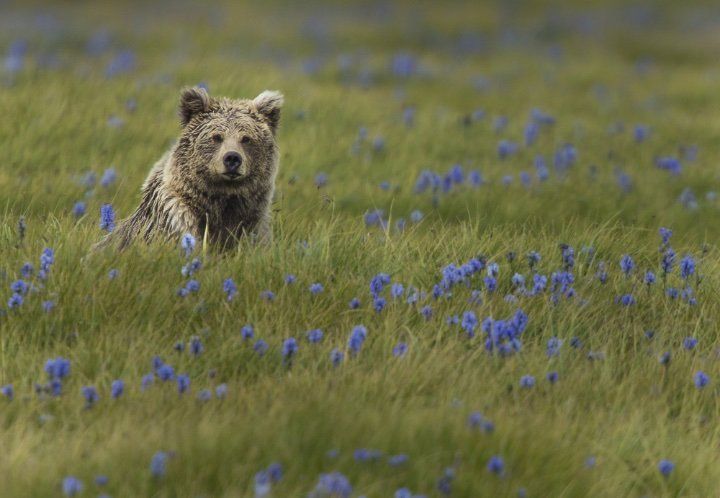 A Himalayan brown bear outstanding in his field, far away from snow (U.S. EMBASSY PAKISTAN)
A few months back, a different study by Brian Sykes came to a slightly different conclusion, using what the new study's lead researcher, Charlotte Lindqvist, says was faulty science that somehow still managed to get pretty close — she has issues with taking the insight gleaned from one mitochondrial gene a bit too far. Sykes had identified the yeti as being an ancient polar bear living between 40,000 and 120,000 years ago. Lindqvist says nope: They're Himalayan brown bears, and they're still around, if endangered.
Tracking down the origins of the yeti legends has never been an obsession of Lidqvist's, or even much of an area of interest. Her speciality is studying the evolution of polar bears. What did excite the biologist, though, was an offer from Animal Planet to fund a trip to the Himalayas to collect samples of fur and bone. They sought the Abominable Snowman; she sought biological samples.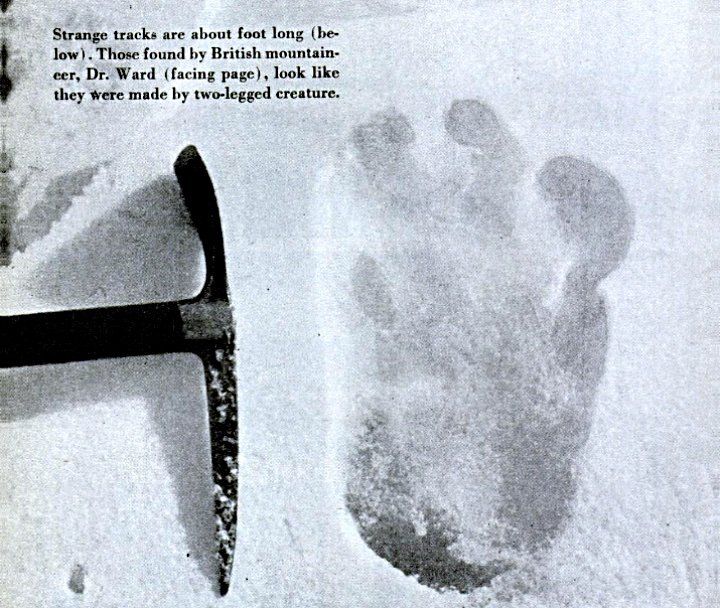 Eric Shipton's much-seen "yeti" footprint snap from 1952 (WIKIMEDIA COMMONS)
Lindqvist was able to sequence a number of "yeti samples":
a thigh bone found in a cave by a spiritual healer that turned out to be from a Tibetan brown bear
the hair from a mummified "yeti" belonging to a monastery, which was really a Himalayan brown bear
a tooth from a stuffed creature the Nazis had found in the 1930s that was actually a dog
four other samples that were Himalayan brown bears
one sample that was an Asian black bear
Research colleagues also supplied her with suspected yeti bone, hair, and scat for sequencing. It was all bears except the dog.
Lindqvist suspects some of the samples she sequenced using the entire mitochondrial genome were the same ones Sykes looked at — she says they're really Himalayan brown bears.
The Himalayan brown bear branched off from other bears some 650,000 years ago when cut off from the rest of the world by glacial ice. Some have apparently never come in from the cold.
Former president of the ACLU Nadine Strossen discusses whether our society should always defend free speech rights, even for groups who would oppose such rights.
Sponsored by Charles Koch Foundation
Former ACLU president Nadine Strossen understands that protecting free speech rights isn't always a straightforward proposition.
In this video, Strossen describes the reasoning behind why the ACLU defended the free speech rights of neo-Nazis in Skokie, Illinois, 1977.
The opinions expressed in this video do not necessarily reflect the views of the Charles Koch Foundation, which encourages the expression of diverse viewpoints within a culture of civil discourse and mutual respect.
Designers from Luxembourg created a smart planter that can make anyone have a green thumb.
Technology & Innovation
A design team came up with a smart planter that can indicate 15 emotions.
The emotions are derived from the sensors placed in the planter.
The device is not in production yet but you can order it through a crowdfunding campaign.
If you don't want to know anything about your death, consider this your spoiler warning.
Culture & Religion
For centuries cultures have personified death to give this terrifying mystery a familiar face.
Modern science has demystified death by divulging its biological processes, yet many questions remain.
Studying death is not meant to be a morbid reminder of a cruel fate, but a way to improve the lives of the living.
Big Think Edge
Often times, interactions that we think are "zero-sum" can actually be beneficial for both parties.
Ask, What outcome will be good for both parties? How can we achieve that goal?
Afraid the win-win situation might not continue? Build trust by creating a situation that increases the probability you and your counterpart will meet again.