If your home's energy footprint bugs you, do something about it
A comprehensive energy efficiency infographic that lays out the ways you can make a home energy efficient, from smart window treatments and roofing to walls and doors.
31 July, 2018
We hear a lot these days about smart energy use in the home, a trend made visible in the solar panels proliferating across rooftops. An energy-efficient smart home brings down costs and places less stress on our power grids. Our awareness of this is also changing our day-to-day habits. But there are lots of methods for using energy intelligently that can be tough to get information on. British window-treatment company blinds2go has put together an unusually comprehensive infographic that fills in many of the gaps. It's a one-stop resource presenting ways to make a home energy efficient. At the very least, it can get you thinking about things you might want to do in your own abode.
---
Since blinds2go's expertise is windows, it makes sense that it offers the most extensive insights on window treatments. For every area covered, however, this infographic offers intriguing insights and facts in addition to concrete tips.
(We've chopped up blinds2go's infographic in this article for convenience.)
Energy attitudes
To begin with, for most homeowners or renters, cost is a compelling consideration, and blinds2go reports that people therefore favor smaller improvements over larger, more expensive, upgrades. Many of the optimizations they suggest fall into the latter category, but there are still things those on a tight budget can do.

Windows
According to a study by the University of Wisconsin, 12% to 30% of your winter heating bill is due to heat lost through your windows. (Here's how to calculate this percentage for your home.) At the same time, says blinds2go, about 76% of sunlight coming through windows can generate heat during cooler times. This makes windows both a liability and an opportunity.
While replacing windows with ENERGY STAR-certified panes can reduce your energy costs, shades and thermal blinds can also be a big help and are less costly.

Roof
On average, 25% of an American home's heat loss is through its roof. Up to 90% of America's roofs are dark, with asphalt shingles being the most common cover. But asphalt reflects only about 30% of sunlight, whereas a white roof reflects from 70% to 80%. Tending to the insulation under one's roof can also result in major energy savings of up to 20%.

Walls
In the U.K. where blinds2go operates, 7.6 million homes lack wall insulation, which is a pretty big deal since 30%-40% of home heat is lost through the walls in a typical home. Insulation within walls can produce up to 67% in heat-loss reduction.
Construction using Zip system sheathing can reduce energy costs by 40% with more effective heat retention. Sheathing is a covering over a wall's framing, most typically OSB or plywood, augmented with a separate moisture layer.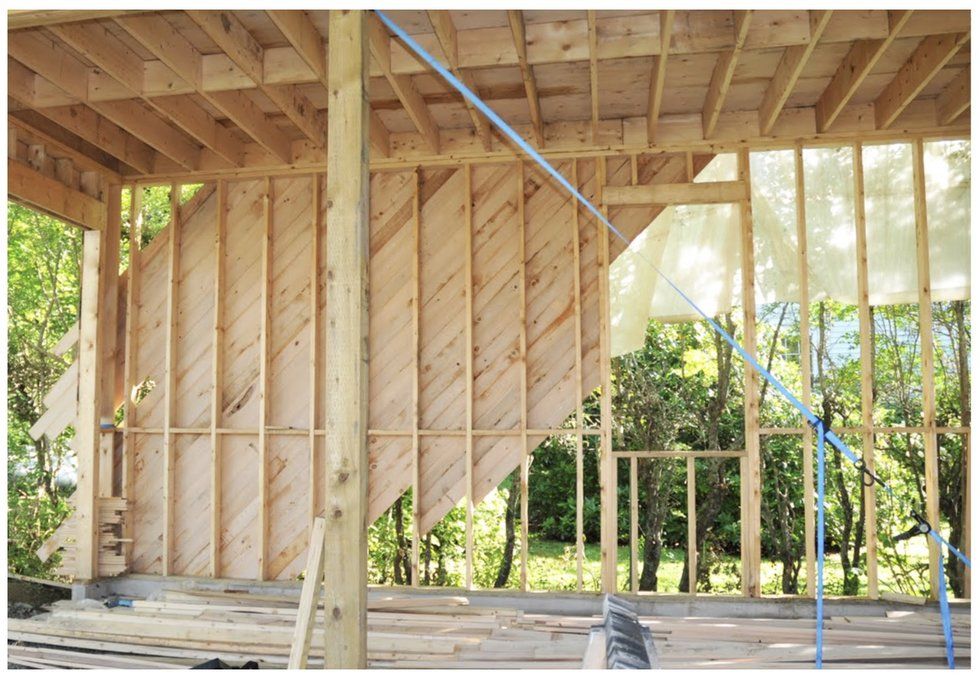 (Credit: GreenBuilding Advisor)
A Zip system incorporates sheathings with fused wood and moisture-barrier layers joined with special tape, all of which helps ensure a tighter seal.

Doors
Achieving energy-efficient doors can be a less money- and effort-intensive operation. Good-old weather-stripping is as valuable as ever for a 20% boost in efficiency. Doors with energy-protecting coatings and special glass can also tighten up a home considerably.

Waking up to energy efficiency
We're experiencing an explosion of new ideas for being energy-efficient these days, and in general thinking about our domiciles and how we live in them from a more energy-conscious angle. In our decisions to build, buy, or rent a new home, the building's energy footprint is a key factor. There's lots of info online from government agencies, and cool concept projects such as the Align Project and the Zero Home. blinds2go's infographic provides a helpful jumping-off point.
What can 3D printing do for medicine? The "sky is the limit," says Northwell Health researcher Dr. Todd Goldstein.
Northwell Health
Sponsored by Northwell Health
Medical professionals are currently using 3D printers to create prosthetics and patient-specific organ models that doctors can use to prepare for surgery.
Eventually, scientists hope to print patient-specific organs that can be transplanted safely into the human body.
Northwell Health, New York State's largest health care provider, is pioneering 3D printing in medicine in three key ways.
Torn between absolutism on the left and the right, classical liberalism—with its core values of compassion and incremental progress whereby the once-radical becomes the mainstream—is in need of a good defense. And Adam Gopnik is its lawyer.
Think Again Podcasts
Liberalism as "radical pragmatism"
Intersectionality and civic discourse
How "a thousand small sanities" tackled drunk driving, normalized gay marriage, and could control gun violence
Irish president believes students need philosophy.
Personal Growth
President of Ireland Michael D. Higgins calls for students to be thought of as more than tools made to be useful.
Higgins believes that philosophy and history should be a basic requirement forming a core education.
The Irish Young Philosopher Awards is one such event that is celebrating this discipline among the youth.
The lost practice of face-to-face communication has made the world a more extreme place.
Videos
The world was saner when we spoke face-to-face, argues John Cameron Mitchell. Not looking someone in the eye when you talk to them raises the potential for miscommunication and conflict.
Social media has been an incredible force for activism and human rights, but it's also negatively affected our relationship with the media. We are now bombarded 24/7 with news that either drives us to anger or apathy.
Sitting behind a screen makes polarization worse, and polarization is fertile ground for conspiracy theories and fascism, which Cameron describes as irrationally blaming someone else for your problems.
Big think's weekly newsletter.
Get smarter faster from the comfort of your inbox.
See our newsletter privacy policy
here
Most Popular
Most Recent
Big think's weekly newsletter.
Get smarter faster from the comfort of your inbox.
See our newsletter privacy policy
here
© Copyright 2007-2019 & BIG THINK, BIG THINK EDGE,
SMARTER FASTER trademarks owned by The Big Think, Inc. All rights reserved.