The lovely Perseids' comet could end life on Earth
The Swift-Tuttle comet is the source of the lovely Perseid meteor shower each August. It's also getting closer and closer, making it "the single most dangerous object known to humanity."
10 August, 2018
The Perseids are arguably the most famous annual meteor shower. Silently streaking across the mid-August heavens each summer, it's a profound and beautiful event for anyone with a dark sky and the discipline to just. Keep. Looking. Up. The often-exquisite shooting stars come from a comet that's drawing ever closer to Earth. Dangerously close, actually: Radio astronomer Gerrit Verschuur has called Comet 109P/Swift-Tuttle "the single most dangerous object known to humanity." Apparently, our inspiring, transcendent meteor shower may also be the harbinger of humanity's doom, give or take a few thousand years.
---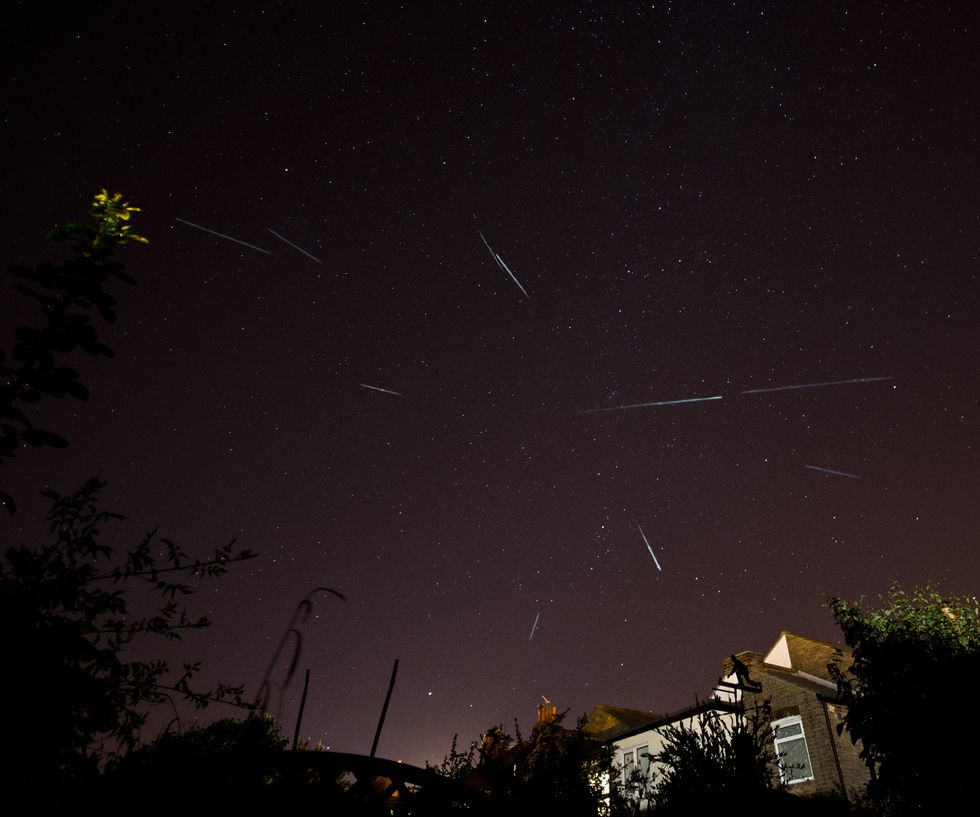 Perseids, 2013 (Credit: Flicker user the very honest man)
Why Swift-Tuttle is such a threat
Swift-Tuttle passes through our solar system at a steep angle compared to the solar system's planets every 133 years. It swings around the sun, and as it does, melts slightly, casting off a massive debris field of ice and rock that's estimated to grow as wide as 10 million miles and with a length of more than 75 million miles. This stuff is what rains down on us at an average of 37 miles per hour each August as what astronomers call "fireballs." NASA's Paul Chodas says, "The debris is coming in faster than many other comets because it's a very elongated orbit … so that makes the show a little more spectacular because of the speed."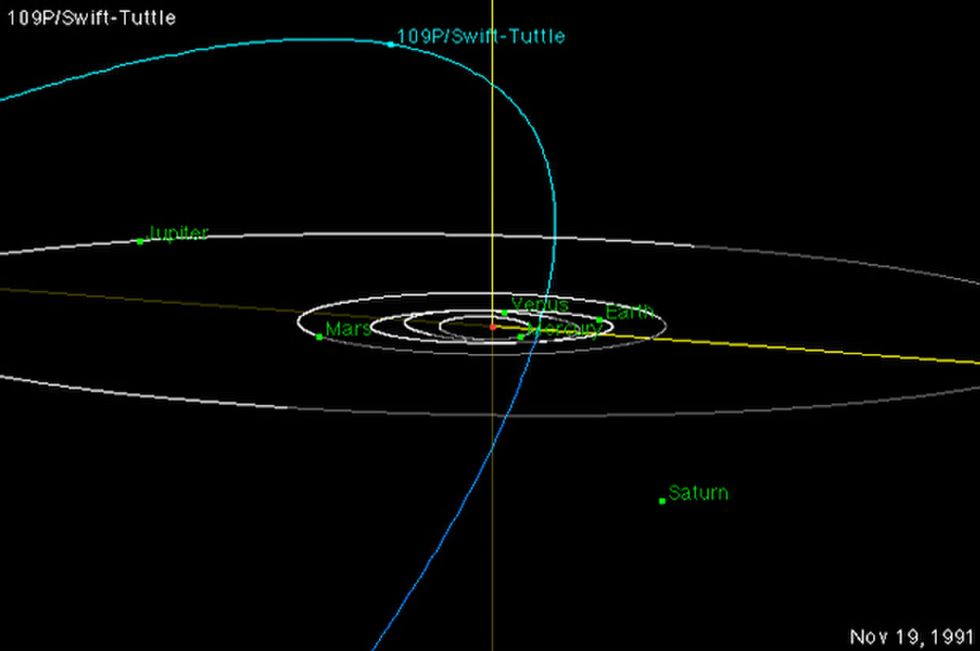 Swift-Tuttle orbit (Credit: NASA/JPL)
What concerns scientists about Swift-Tuttle is that each time it passes Earth, it's slightly closer. There's not much change year to year, but over time it adds up. In 1992, it was 110 million miles away, but in 2126 it will be a mere fraction of that: 14.2 million miles. In 3044, it will be less than a million, a frighteningly small distance in galactic terms. Current calculations have us as probably safe until 4479, though each time Swift-Tuttle sheds materials near the sun, the comet gets just a bit smaller, and it's possible that planetary gravitational effects will eventually alter its orbit.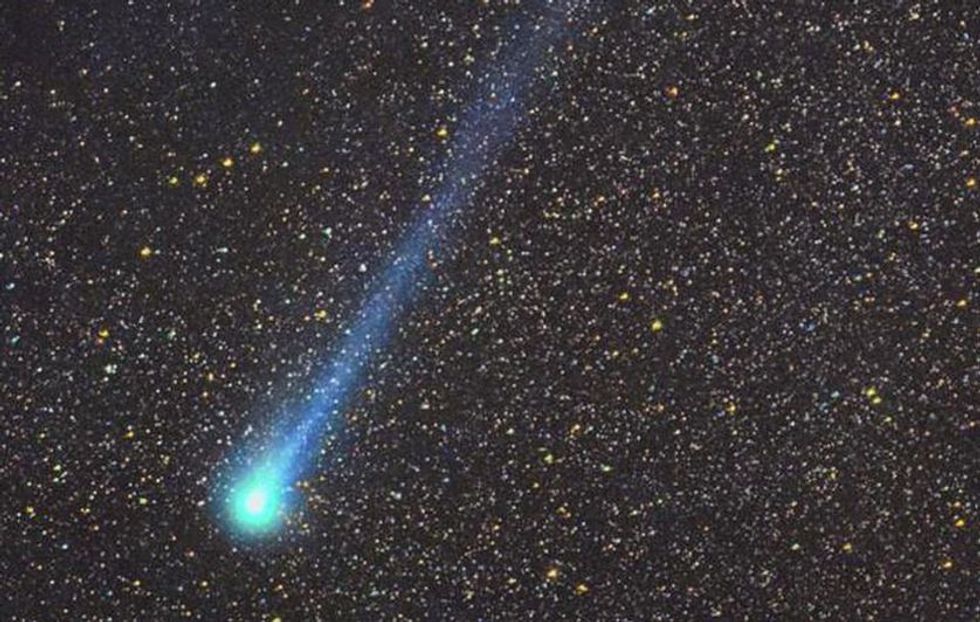 Swift-Tuttle in 1992 (Credit: NASA)
And Swift-Tuttle is big, with a nucleus of 16 miles (26 km) across. It's more than twice the size of the Chicxulub impactor, the asteroid believed to have wiped out the dinosaurs. The energy it releases could be 27 times greater than that extinction event. Astrophysicist and author Ethan Siegel writes in Forbes that a collision with Swift-Tuttle would "release more than one billion megatons of energy: the energy equivalent of 20,000,000 hydrogen bombs exploding all at once."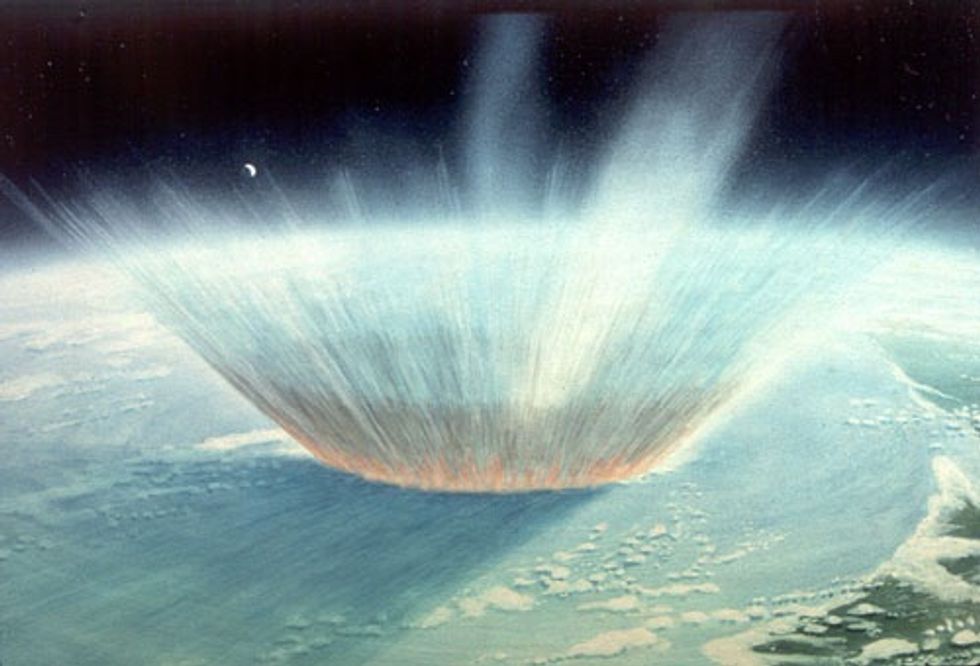 NASA visualization of Chicxulub impact.
History of Swift-Tuttle
Reports of visits by Swift-Tuttle go all the way back to 69 B.C, though Swift-Tuttle was officially discovered and named in 1862 by American astronomers Lewis Swift and Horace Tuttle, who both discovered it independently. The "P" in "109P" refers to it being a periodic comet. Giovanni Schiaparelli realized in 1865 that it was the source of the Perseid meteor shower.
How to watch the Perseids
The Perseids this year can be seen from August 9 through the 14th and are expected to be even more impressive—200 fireballs an hour—than usual, thanks to the pull of Jupiter. On the other hand, lunar light will get in the way early on the night of peak visibility August 11-12 as the moon is 63% illuminated in its waxing gibbous phase. Waiting until the moon sets and the constellation Perseus rises around 1 am, however, still provides a 3.5-hour optimal viewing window between 1 am and 4:20 am.
NASA's Bill Cooke shared the best advice for catching the Perseids or any meteor shower this or any year with Space.com.
"Meteor-shower observing requires nothing but your eyes; you want to take in as much sky as possible. Go outside in a nice, dark sky, away from city lights, lie flat on your back and look straight up. [Take] your choice of beverage and snacks and things like that."

You should plan to spend at least a few hours skywatching — your eyes won't even fully adapt to the darkness for about 30 minutes. As Space.com puts it, "most showers only reveal their splendor in time." And Cooke points out, "You can't observe a meteor shower by sticking your head out the door and looking for five minutes."
Young people could even end up less anxiety-ridden, thanks to newfound confidence
Photos: Courtesy of Let Grow
Sponsored by Charles Koch Foundation
The coronavirus pandemic may have a silver lining: It shows how insanely resourceful kids really are.
Let Grow, a non-profit promoting independence as a critical part of childhood, ran an "Independence Challenge" essay contest for kids. Here are a few of the amazing essays that came in.
Download Let Grow's free Independence Kit with ideas for kids.
Many Americans are being misled on serious scientific issues, and science journalists have to spend an inordinate amount of time debunking myths which seemingly never die.
Technique may enable speedy, on-demand design of softer, safer neural devices.
Dan Kitwood/Getty Images
Surprising Science
The brain is one of our most vulnerable organs, as soft as the softest tofu. Brain implants, on the other hand, are typically made from metal and other rigid materials that over time can cause inflammation and the buildup of scar tissue.
New research establishes an unexpected connection.
Image source: Vaccaro et al, 2020/Harvard Medical School
Surprising Science
A study provides further confirmation that a prolonged lack of sleep can result in early mortality.
Surprisingly, the direct cause seems to be a buildup of Reactive Oxygen Species in the gut produced by sleeplessness.
When the buildup is neutralized, a normal lifespan is restored.
We don't have to tell you what it feels like when you don't get enough sleep. A night or two of that can be miserable; long-term sleeplessness is out-and-out debilitating. Though we know from personal experience that we need sleep — our cognitive, metabolic, cardiovascular, and immune functioning depend on it — a lack of it does more than just make you feel like you want to die. It can actually kill you, according to study of rats published in 1989. But why?
A new study answers that question, and in an unexpected way. It appears that the sleeplessness/death connection has nothing to do with the brain or nervous system as many have assumed — it happens in your gut. Equally amazing, the study's authors were able to reverse the ill effects with antioxidants.
The study, from researchers at Harvard Medical School (HMS), is published in the journal Cell.
An unexpected culprit
The new research examines the mechanisms at play in sleep-deprived fruit flies and in mice — long-term sleep-deprivation experiments with humans are considered ethically iffy.
What the scientists found is that death from sleep deprivation is always preceded by a buildup of Reactive Oxygen Species (ROS) in the gut. These are not, as their name implies, living organisms. ROS are reactive molecules that are part of the immune system's response to invading microbes, and recent research suggests they're paradoxically key players in normal cell signal transduction and cell cycling as well. However, having an excess of ROS leads to oxidative stress, which is linked to "macromolecular damage and is implicated in various disease states such as atherosclerosis, diabetes, cancer, neurodegeneration, and aging." To prevent this, cellular defenses typically maintain a balance between ROS production and removal.
"We took an unbiased approach and searched throughout the body for indicators of damage from sleep deprivation," says senior study author Dragana Rogulja, admitting, "We were surprised to find it was the gut that plays a key role in causing death." The accumulation occurred in both sleep-deprived fruit flies and mice.
"Even more surprising," Rogulja recalls, "we found that premature death could be prevented. Each morning, we would all gather around to look at the flies, with disbelief to be honest. What we saw is that every time we could neutralize ROS in the gut, we could rescue the flies." Fruit flies given any of 11 antioxidant compounds — including melatonin, lipoic acid and NAD — that neutralize ROS buildups remained active and lived a normal length of time in spite of sleep deprivation. (The researchers note that these antioxidants did not extend the lifespans of non-sleep deprived control subjects.)
Image source: Tomasz Klejdysz/Shutterstock/Big Think
The experiments
The study's tests were managed by co-first authors Alexandra Vaccaro and Yosef Kaplan Dor, both research fellows at HMS.
You may wonder how you compel a fruit fly to sleep, or for that matter, how you keep one awake. The researchers ascertained that fruit flies doze off in response to being shaken, and thus were the control subjects induced to snooze in their individual, warmed tubes. Each subject occupied its own 29 °C (84F) tube.
For their sleepless cohort, fruit flies were genetically manipulated to express a heat-sensitive protein in specific neurons. These neurons are known to suppress sleep, and did so — the fruit flies' activity levels, or lack thereof, were tracked using infrared beams.
Starting at Day 10 of sleep deprivation, fruit flies began dying, with all of them dead by Day 20. Control flies lived up to 40 days.
The scientists sought out markers that would indicate cell damage in their sleepless subjects. They saw no difference in brain tissue and elsewhere between the well-rested and sleep-deprived fruit flies, with the exception of one fruit fly.
However, in the guts of sleep-deprived fruit flies was a massive accumulation of ROS, which peaked around Day 10. Says Vaccaro, "We found that sleep-deprived flies were dying at the same pace, every time, and when we looked at markers of cell damage and death, the one tissue that really stood out was the gut." She adds, "I remember when we did the first experiment, you could immediately tell under the microscope that there was a striking difference. That almost never happens in lab research."
The experiments were repeated with mice who were gently kept awake for five days. Again, ROS built up over time in their small and large intestines but nowhere else.
As noted above, the administering of antioxidants alleviated the effect of the ROS buildup. In addition, flies that were modified to overproduce gut antioxidant enzymes were found to be immune to the damaging effects of sleep deprivation.
The research leaves some important questions unanswered. Says Kaplan Dor, "We still don't know why sleep loss causes ROS accumulation in the gut, and why this is lethal." He hypothesizes, "Sleep deprivation could directly affect the gut, but the trigger may also originate in the brain. Similarly, death could be due to damage in the gut or because high levels of ROS have systemic effects, or some combination of these."
The HMS researchers are now investigating the chemical pathways by which sleep-deprivation triggers the ROS buildup, and the means by which the ROS wreak cell havoc.
"We need to understand the biology of how sleep deprivation damages the body so that we can find ways to prevent this harm," says Rogulja.
Referring to the value of this study to humans, she notes,"So many of us are chronically sleep deprived. Even if we know staying up late every night is bad, we still do it. We believe we've identified a central issue that, when eliminated, allows for survival without sleep, at least in fruit flies."
Scroll down to load more…