Slime molds crack 3 of the biggest issues in the U.S.
The Plasmodium Consortium seeks to get answers to America's problems from slime molds.
17 March, 2018
The Plasmodium Consortium is a new policy research institute attached to Hampshire College in Massachusetts. At an event on March 2, their secretary, experimental philosopher and conceptual artist Jonathon Keats, announced the group has cracked three of America's most vexing and controversial problems: the destruction of our climate, the opioid epidemic, and immigration. The Consortium's secret? It brings a unique perspective to these issues. "They're all slime molds," says Keats. This is the first analysis of these issues by non-human scholars, he notes, asserting, "Their advice is objective, and transcends our polarized political environment because they don't belong to our species." (A slime mold was previously appointed to the Hampshire faculty.)
---
Specifically, the consortium is comprised of Physarum polycephalum slime molds, and we've reported before on their surprising learning, memory, and problem-solving capabilities, even though they completely lack neurons and a brain. The slimes solve problems and build knowledge using "habituated learning," in which their behavior changes over time in response to a repeated stimulus.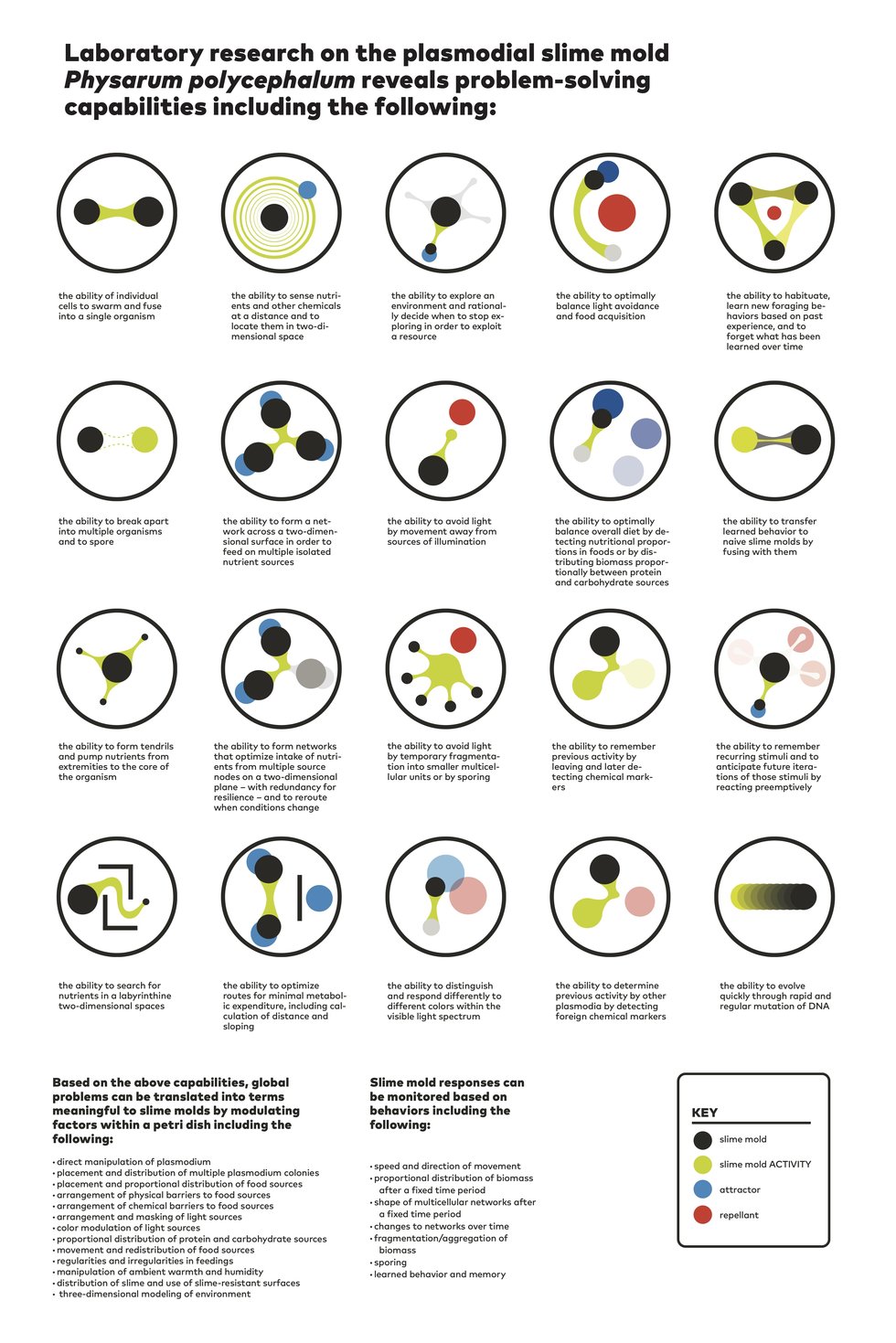 (Thom Long)
The project is interdisciplinary, involving faculty and students — and slime molds, or course — and its results were presented in the Hampshire College Art Gallery from January 29 to March 2, 2018.
Keats explains in the project's press release, "…from the beginning, we've believed that slime molds were equally capable of researching more abstract problems. Over billions of years, they've had to overcome challenges including ice ages and collisions with asteroids — events even more calamitous and varied" than those the U.S. is trying to resolve. The Consortium's conclusions are based on experiments that distill expansive issues to their underlying questions and devise models that allow slime molds, (somehow) brainless experts that they are in problem-solving, to come answer them.
Choosing a healthier environment
To ascertain the most logical, sound response to life in a degraded environment — such as one produced by offshore drilling, excessive manufacturing, and pollution — the Consortium set up an experiment to test the appeal and benefits of a less-polluted environment for their scholars.
The experiment involved the creation of two pastes made of oats for nutrition and salt, which slime molds avoid. The first had a lower amount of the mineral, and the second was saltier. Petri dishes of nutrient-free agar were prepared, with the first paste placed on one side, and the second on another.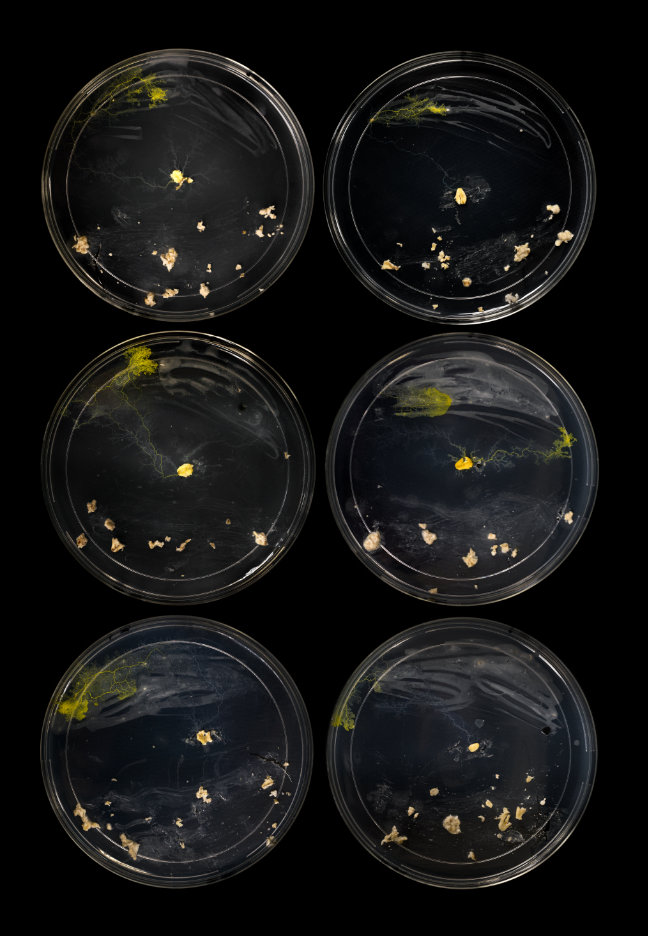 The way that you think about stress can actually transform the effect that it has on you – and others.
Big Think Edge
Stress is contagious, and the higher up in an organization you are the more your stress will be noticed and felt by others.
Kelly McGonigal teaches "Reset your mindset to reduce stress" for Big Think Edge.

Subscribe to Big Think Edge before we launch on March 30 to get 20% off monthly and annual memberships.
These quick bursts of inspiration will brighten your day in 10 minutes or less.

Explore a legendary philosopher's take on how society fails to prepare us for education and progress.
Alan Watts.
Personal Growth
Alan Watts was an instrumental figure in the 1960s counterculture revolution.
He believed that we put too much of a focus on intangible goals for our educational and professional careers.
Watts believed that the whole educational enterprise is a farce compared to how we should be truly living our lives.
How can we use the resources that are already on the Moon to make human exploration of the satellite as economical as possible?
The All-Terrain Hex-Limbed Extra-Terrestrial Explorer (ATHLETE), a prototype heavy-lift utility vehicle to support future human exploration of extraterrestrial surfaces, at right, is parked beside the Habitat Demonstration Unit - Pressurized Excursion Module (HDU-PEM), at left, a concept off-Earth living and work quarters for astronauts stationed on asteroids, the moon or Mars, 15 September 2010. Photo by: ROBYN BECK/AFP/Getty Images
Technology & Innovation
If you were transported to the Moon this very instant, you would surely and rapidly die. That's because there's no atmosphere, the surface temperature varies from a roasting 130 degrees Celsius (266 F) to a bone-chilling minus 170 C (minus 274 F). If the lack of air or horrific heat or cold don't kill you then micrometeorite bombardment or solar radiation will. By all accounts, the Moon is not a hospitable place to be.

Big think's weekly newsletter.
Get smarter faster from the comfort of your inbox.
See our newsletter privacy policy
here
Most Popular
Most Recent
Big think's weekly newsletter.
Get smarter faster from the comfort of your inbox.
See our newsletter privacy policy
here
© Copyright 2007-2018 & BIG THINK, BIG THINK EDGE,
SMARTER FASTER trademarks owned by The Big Think, Inc. All rights reserved.