Look up. Patterns overhead show tree intelligence at work.
Trees may avoid touching each other in the forest canopy creating giant, backlit jigsaw puzzles from a light-sharing phenomenon called 'crown shyness'.
21 August, 2018
Walking under a forest canopy can be a magical experience. It's not quite normal light under there, more a sort of dreamworld—one would be forgiven for never bothering to look up. But if you do, and you're in a tropical rainforest or beneath lodge-pole pines of the American West Coast, you might notice something really odd. When the tree canopy is flat enough, you may see lines of sunlight between the trees, looking for all the world like a map of their boundaries. And that is basically what you're seeing. Certain species of trees avoid touching each other, creating these fantastic patterns overhead. They exhibit what's called 'crown shyness'.
---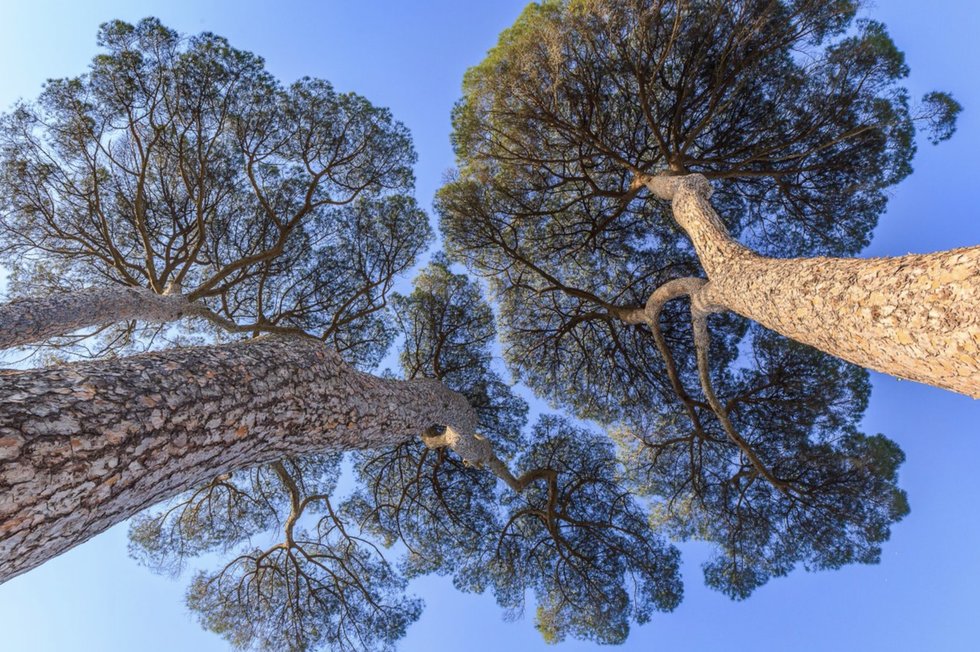 Lodgepole pines (Credit: Massimo)
Trees have developed some remarkable skills as a result of being stationary or 'sessile' organisms. Each tree, writes Michael Pollan, "has to find everything it needs, and has to defend itself, while remaining fixed in place."

Canopy of Dryobalanops aromatica in Forest Research Center, Kuala Lumpur (Credit: Patrice78500)
What's going on?
While it's not certain why this happens, the prevailing theory is that it has to do with light. Most people know that trees grow in the direction of light, with photosynthesis providing essential nourishment. Their sensitivity to light, though, is more sophisticated than simply sensing where it is. They have photoreceptors called phytochromes that are sensitive to levels of red light (R) and far red light (FR).


(Credit: Big Think)
In full sunlight, R and FR are fairly equally present. However, when it hits leaves, more of the R light is absorbed and the ratio of the remaining sunlight tips toward the FR. This tells a tree there's something in the way of the light and to stop growing in that direction. In crown shyness, it's basically trees tacitly agreeing to share the available sunlight non-competitively. It's what Smithsonian describes as a "giant, backlit jigsaw puzzle."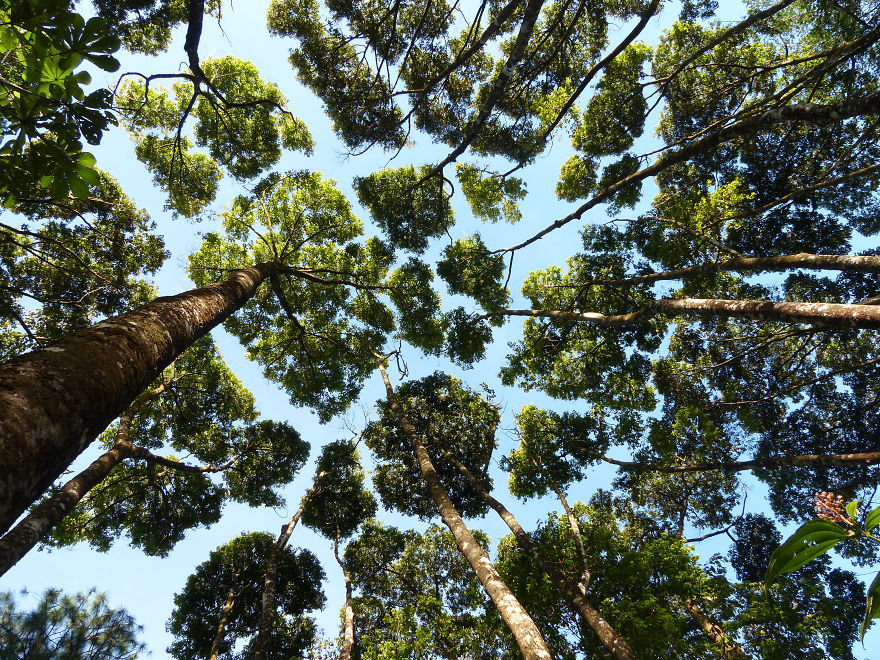 (Credit: Bored Panda)
Next time you find yourself enjoying a shady stroll, why not look up? You may find yourself hushed in the glory of a living cathedral.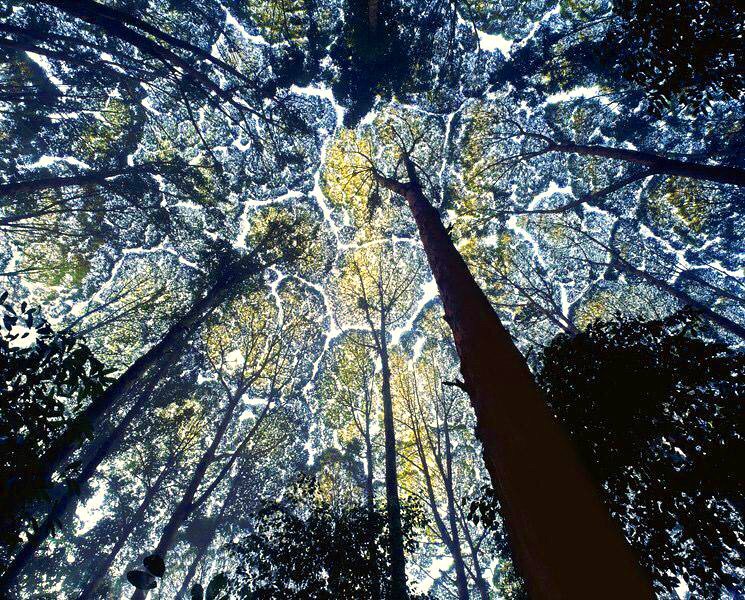 Related Articles
We're more dependent on them than we realize.
(Photo Lily on Unsplash)
Surprising Science
Scientists says our survival depends on biodiversity.
A natural climate strategy we often forget.
Seeing our place among the Earth's living creatures.
There's a high social cost that comes with lighting up.
(Porch)
Sex & Relationships
The home improvement company Porch recently polled 1,009 people on their feelings about smoking.
The company recently published the results as infographics.
In terms of dating, 80 percent of nonsmokers find the habit a turnoff
While short-term results are positive, there is mounting evidence against staying in ketosis for too long.
Surprising Science
Recent studies showed volunteers lost equal or more weight on high-carb, calorie-restricted diets than low-carb, calorie restricted diets.
There might be positive benefits to short-term usage of a ketogenic diet.
One dietician warns that the ketogenic diet could put diabetics at risk for diabetic ketoacidosis.
Big think's weekly newsletter.
Get smarter faster from the comfort of your inbox.
See our newsletter privacy policy
here
Most Popular
Most Recent
Big think's weekly newsletter.
Get smarter faster from the comfort of your inbox.
See our newsletter privacy policy
here
© Copyright 2007-2018 & BIG THINK, BIG THINK EDGE,
SMARTER FASTER trademarks owned by The Big Think, Inc. All rights reserved.