How bad is income inequality? Millennials may be the new peasants.
A new Credit Suisse report shows 27% growth since 2008 in the world's wealth, with a disproportionately large share going to the already wealthy.
18 November, 2017
Unless you're one of a fortunate handful of people, it may surprise you to learn that the world's economy has not only recovered from the global financial meltdown of 2008, but has grown 27% since then, to $280 trillion, according to a new report from Credit Suisse Research Institute. (All graphics in this article are by Credit Suisse, and all figures are presented as USD or percentages.)
---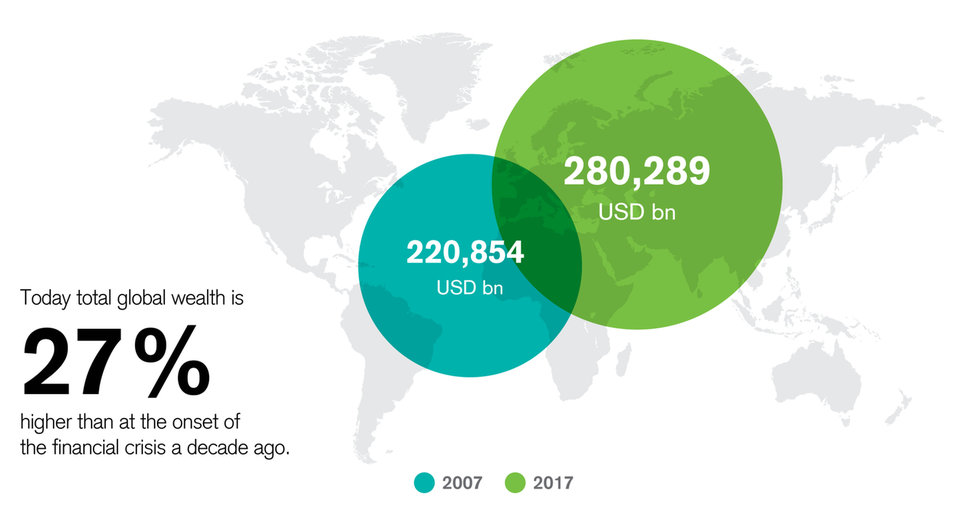 In the past 12 months in alone, it's grown by 6.4%.
Most of this growth has even been in the U.S., $8.5 trillion's worth out of the last year's $16.7 trillion.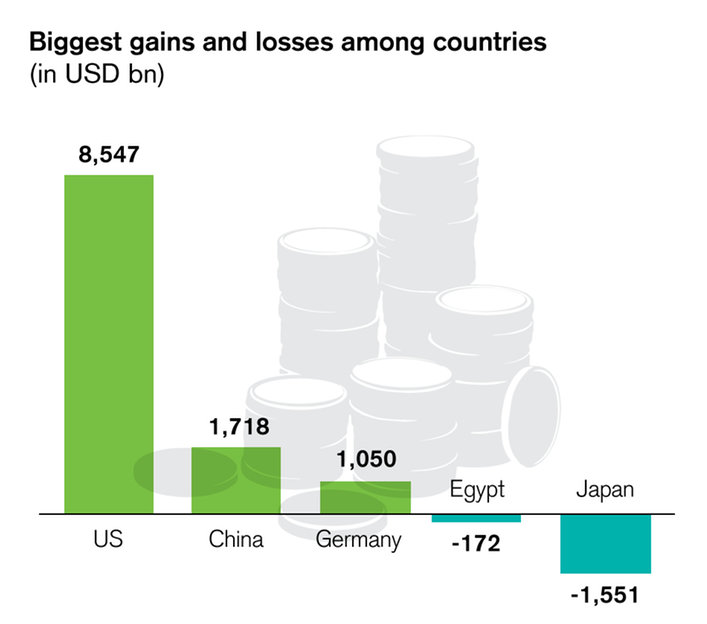 Interestingly, in terms of household income, Poland's doing the best during this period.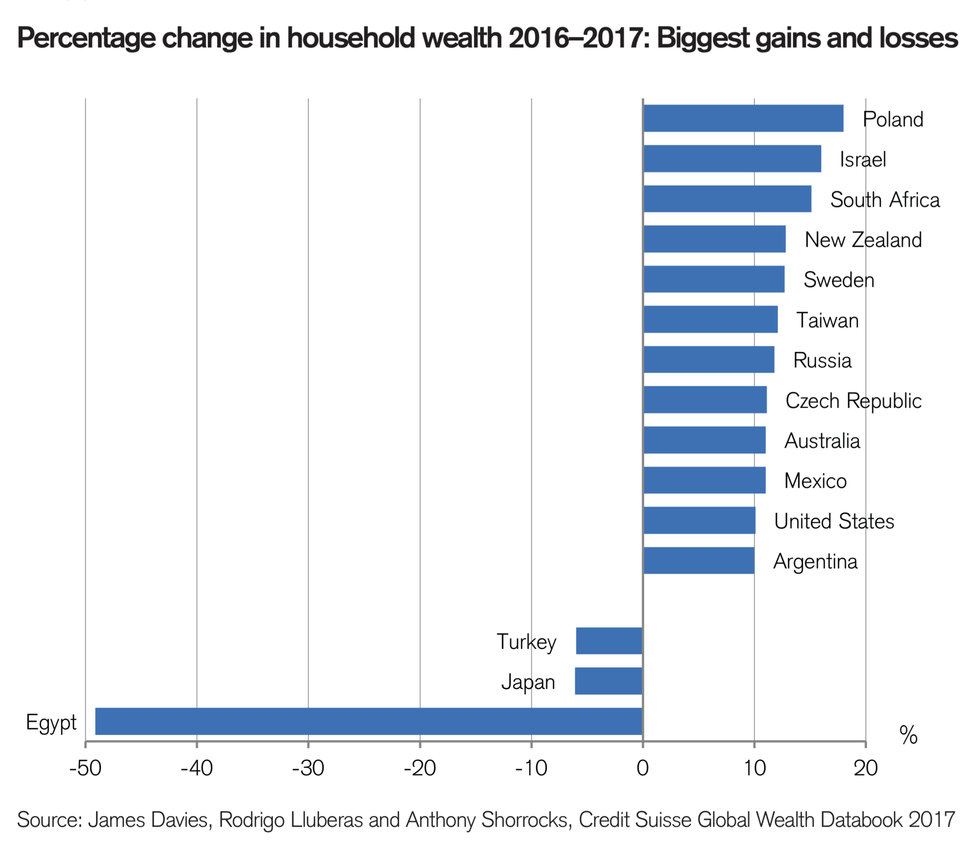 Here's the distribution of money across the globe as it stands now.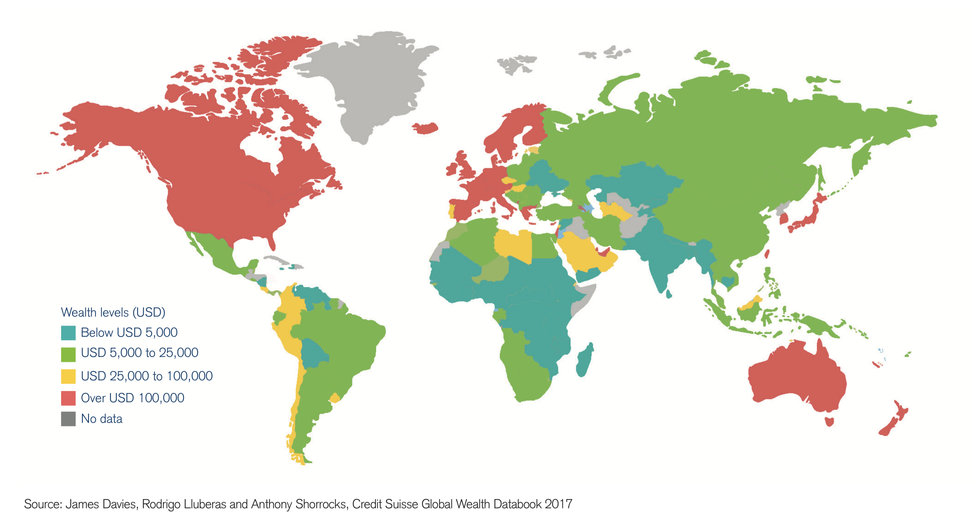 So if so much of the world — and the U.S. in particular — is rolling in money, why doesn't life feel any easier for most of us? After all, Credit Suisse says there are 8,740,000 million new millionaires since 2008, and the average wealth per person has hit a new mean of $56,540.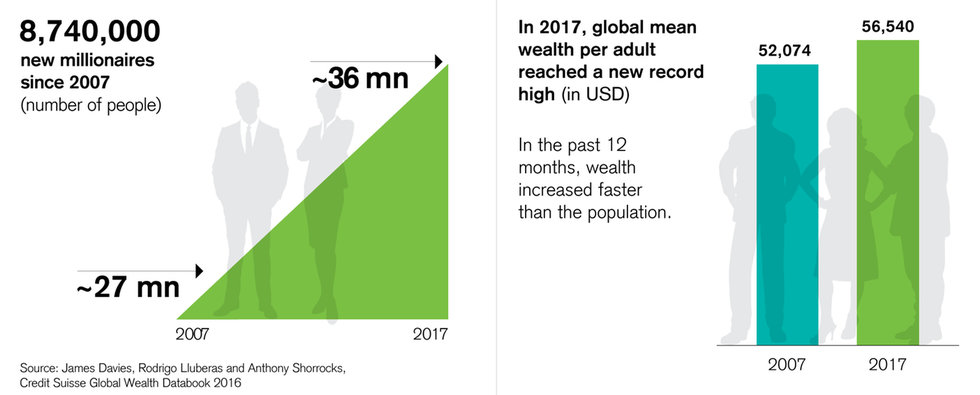 The trick is in that word "mean." That average figure includes everyone, including the wealthiest people. And there's the troubling disconnect. It's a big one, and it's gotten worse since 2008. Right now just 1% of the world's population — the aforementioned rich — own just over half, 50.1%, of all of the world's wealth. That's up from 45.5% in 2001.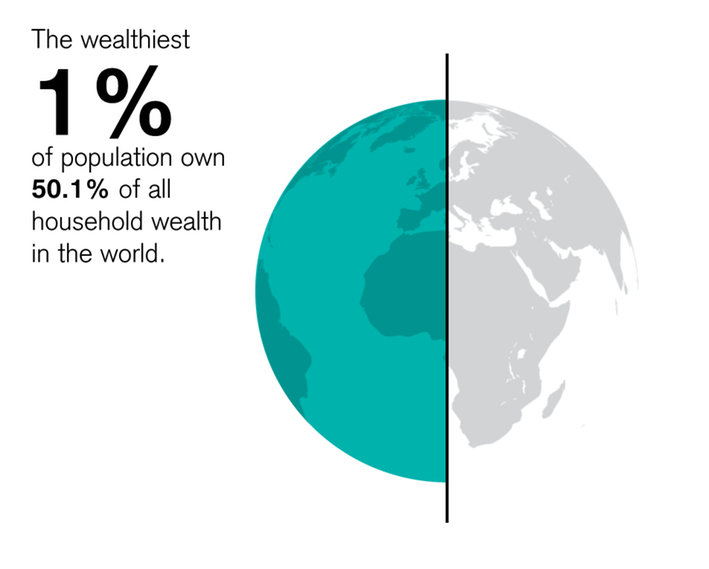 From 2000 to 2007, the wealth of the better-off half of the world grew by 7%, while everyone else's worth grew by 12%. But the crisis upset that balance, reducing the world's overall wealth by 12.6% and setting us down a path to ever-growing financial inequality during the recovery.
The report devotes an entire section to the disadvantages faced by those it calls the "unlucky millennials," especially those in North America. Entering the job market during the high-unemployment aftermath of 2008, this group, particularly in their 30s, is struggling with often back-breaking student debt.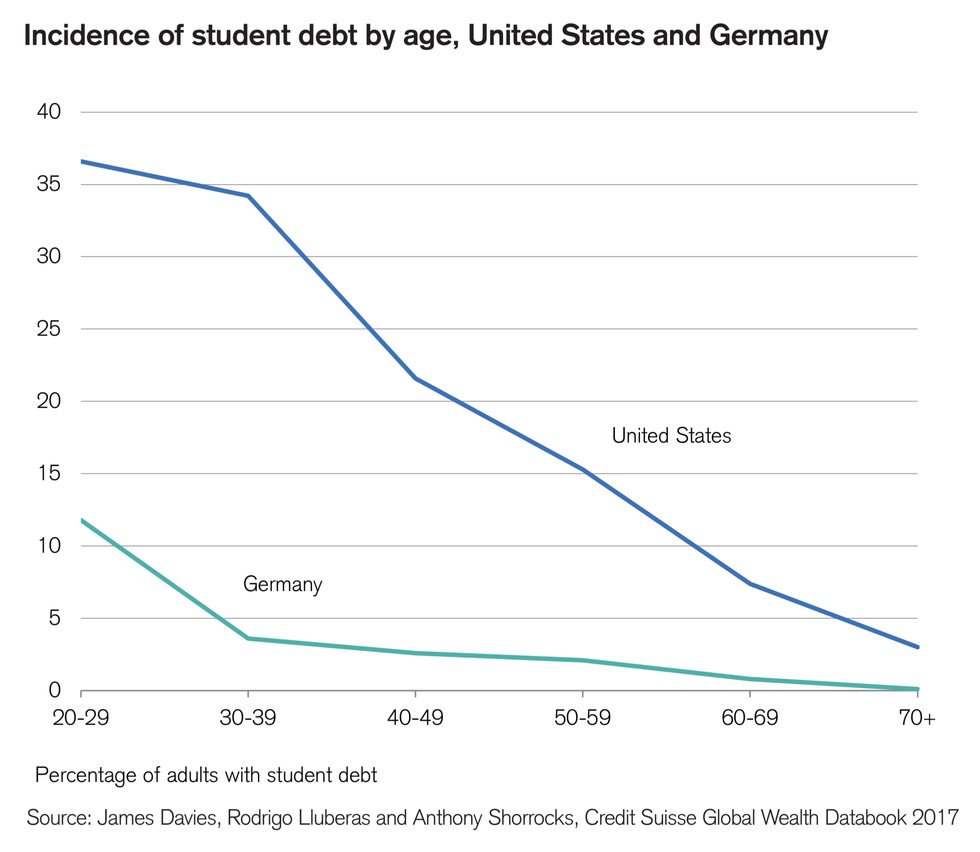 The Credit Suisse report summarizes, "Millennials are doing less well than their parents at the same age, especially in relation to income, home ownership and other dimensions of well- being assessed in this report. While Millennials are more educated than preceding generations…we expect only a minority of high achievers and those in high- effectively overcome the 'millennial disadvantage.'"
For those who believe that more money for the top 1% means more jobs for everyone else, the Credit Suisse's report should be eye-opening. It clearly suggests otherwise, with this group only accelerating their own acquisition of wealth.
Researchers discover a link between nonverbal synchronization and relationship success.
Pixabay
Sex & Relationships
Scientists say coordinating movements leads to increased intimacy and sexual desire in a couple.
The improved rapport and empathy was also observed in people who didn't know each other.
Non-verbal clues are very important in the development stages of a relationship.
Humans evolved to live in the cold through a number of environmental and genetic factors.
Image source: Wikimedia Commons
Surprising Science
According to some relatively new research, many of our early human cousins preceded Homo sapien migrations north by hundreds of thousands or even millions of years.
Cross-breeding with other ancient hominids gave some subsets of human population the genes to contend and thrive in colder and harsher climates.
Behavioral and dietary changes also helped humans adapt to cold climates.
The comics titan worked for more than half a century to revolutionize and add nuance to the comics industry, and he built a vast community of fans along the way.
(Photo: GABRIEL BOUYS/AFP/Getty Images)
Culture & Religion
Lee died shortly after being rushed to an L.A. hospital. He had been struggling with multiple illnesses over the past year, reports indicate.
Since the 1950s, Lee has been one of the most influential figures in comics, helping to popularize heroes that expressed a level of nuance and self-doubt previously unseen in the industry.
Lee, who's later years were marked by some financial and legal tumult, is survived by his daughter, Joan Celia "J.C." Lee.
Big think's weekly newsletter.
Get smarter faster from the comfort of your inbox.
See our newsletter privacy policy
here
Most Popular
Most Recent
Big think's weekly newsletter.
Get smarter faster from the comfort of your inbox.
See our newsletter privacy policy
here
© Copyright 2007-2018 & BIG THINK, BIG THINK EDGE,
SMARTER FASTER trademarks owned by The Big Think, Inc. All rights reserved.