Scientists find religion triggers same area of brain as sex, drugs and love
Researchers scan the brains of people having strong spiritual experiences.
01 December, 2016
Religious and spiritual experiences have profound effects on many people around the world. A new study from a team of neuroscientists shows that what they feel is caused by activating the brain's reward circuits that control our ability to feel pleasure. It's the part of the brain associated with sex, drugs, music as well as love.
---
"We're just beginning to understand how the brain participates in experiences that believers interpret as spiritual, divine or transcendent," said Jeff Anderson, M.D., Ph.D. from the University of Utah School of Medicine, senior author of the study and neuroradiologist. "In the last few years, brain imaging technologies have matured in ways that are letting us approach questions that have been around for millennia."
To figure out how the brain processes spiritual feelings, the scientists focused their attention on a group of 19 church-going Mormons (12 males and 7 females - all former missionaries). The researchers caused these 20 to 30-year-olds to "feel the Spirit," an important concept in the Mormon faith, and performed fMRI scans on their brains.
To cause spiritual feelings, the scientists showed the subjects videos from the Mormon church, quotations from Mormon and other religious leaders, and had them read well-known passages from the Book of Mormon.
"When our study participants were instructed to think about a savior, about being with their families for eternity, about their heavenly rewards, their brains and bodies physically responded," said the study's lead author Michael Ferguson, Ph.D.
Indeed, as participants had spiritual experiences, describing feeling peaceful, warm, and even moved to tears, they breathed more deeply and their hearts beat faster. These physical effects were observable at their strongest right before the participants pushed a button to mark the peak of their spiritual experience.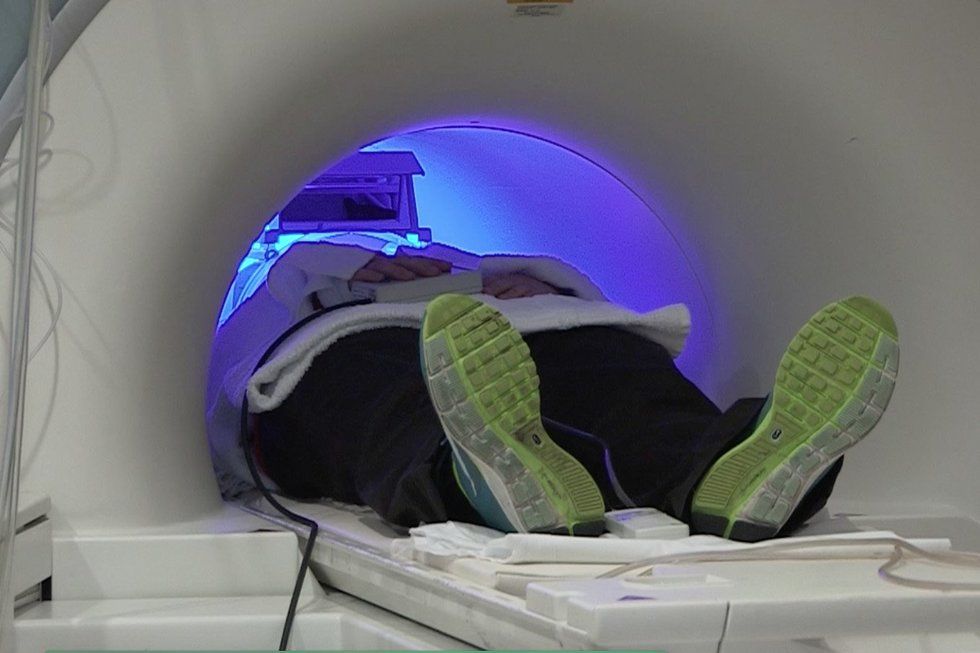 fMRI scans performed as the subjects underwent religious experiences. Credit: University of Utah Health Sciences
What is the significance of the study's conclusions? "Religious experience is perhaps the most influential part of how people make decisions that affect all of us, for good and for ill. Understanding what happens in the brain to contribute to those decisions is really important," pointed out Jeff Anderson.
He also noted that more studies would need to be done to understand if followers of other religions would show similar results.
Anderson sees that one application of what they found is in the study of religious radicalization and extremism. "Maladaptive religious experiences can be shaped by the same stimuli," he explained.
How did the participants feel about the study? Auriel Brunsvik Peterson, one of the subjects, felt validated by what she saw in the scans.
"I finally have a small shred of physical evidence ... that I am feeling something and I'm not crazy," she said. It showed that "you are experiencing something euphoric and life changing and... something special and something different."
Check out also this interview with Jeff Anderson:
Cover photo:
The active parts of the brain during religious experiences by the study participants, including a reward circuit, the nucleus accumbens. Credit: Jeffrey Anderson
Step inside the unlikely friendship of a former ACLU president and an ultra-conservative Supreme Court Justice.

Sponsored by Charles Koch Foundation
Former president of the ACLU Nadine Strossen and Supreme Court Justice Antonin Scalia were unlikely friends. They debated each other at events all over the world, and because of that developed a deep and rewarding friendship – despite their immense differences.
Scalia, a famous conservative, was invited to circles that were not his "home territory", such as the ACLU, to debate his views. Here, Strossen expresses her gratitude and respect for his commitment to the exchange of ideas.
"It's really sad that people seem to think that if you disagree with somebody on some issues you can't be mutually respectful, you can't enjoy each other's company, you can't learn from each other and grow in yourself," says Strossen.
The opinions expressed in this video do not necessarily reflect the views of the Charles Koch Foundation, which encourages the expression of diverse viewpoints within a culture of civil discourse and mutual respect.
French newspapers report that the trial hasn't lived up to expectations.
Image source: Charly Triballeau / AFP / Getty Images
Technology & Innovation
The French government initially invested in a rural solar roadway in 2016.
French newspapers report that the trial hasn't lived up to expectations.
Solar panel "paved" roadways are proving to be inefficient and too expensive.
Erik Verlinde has been compared to Einstein for completely rethinking the nature of gravity.
Photo by Willeke Duijvekam
Surprising Science
The Dutch physicist Erik Verlinde's hypothesis describes gravity as an "emergent" force not fundamental.
The scientist thinks his ideas describe the universe better than existing models, without resorting to "dark matter".
While some question his previous papers, Verlinde is reworking his ideas as a full-fledged theory.
Scientists make an important discovery for the future of computing.
Pixabay
Surprising Science
Researchers find a new state of matter called "topological superconductivity".
The state can lead to important advancements in quantum computing.
Utilizing special particles that emerge during this state can lead to error-free data storage and blazing calculation speed.