Scientists Find Religion Triggers Same Area of Brain as Sex, Drugs and Love
Researchers scan the brains of people having strong spiritual experiences.
01 December, 2016
Religious and spiritual experiences have profound effects on many people around the world. A new study from a team of neuroscientists shows that what they feel is caused by activating the brain's reward circuits that control our ability to feel pleasure. It's the part of the brain associated with sex, drugs, music as well as love. 
---
"We're just beginning to understand how the brain participates in experiences that believers interpret as spiritual, divine or transcendent," said Jeff Anderson, M.D., Ph.D. from the University of Utah School of Medicine, senior author of the study and neuroradiologist. "In the last few years, brain imaging technologies have matured in ways that are letting us approach questions that have been around for millennia."
To figure out how the brain processes spiritual feelings, the scientists focused their attention on a group of 19 church-going Mormons (12 males and 7 females - all former missionaries). The researchers caused these 20 to 30-year-olds to "feel the Spirit," an important concept in the Mormon faith, and performed fMRI scans on their brains.
To cause spiritual feelings, the scientists showed the subjects videos from the Mormon church, quotations from Mormon and other religious leaders, and had them read well-known passages from the Book of Mormon. 
"When our study participants were instructed to think about a savior, about being with their families for eternity, about their heavenly rewards, their brains and bodies physically responded," said the study's lead author Michael Ferguson, Ph.D.
Indeed, as participants had spiritual experiences, describing feeling peaceful, warm, and even moved to tears, they breathed more deeply and their hearts beat faster. These physical effects were observable at their strongest right before the participants pushed a button to mark the peak of their spiritual experience.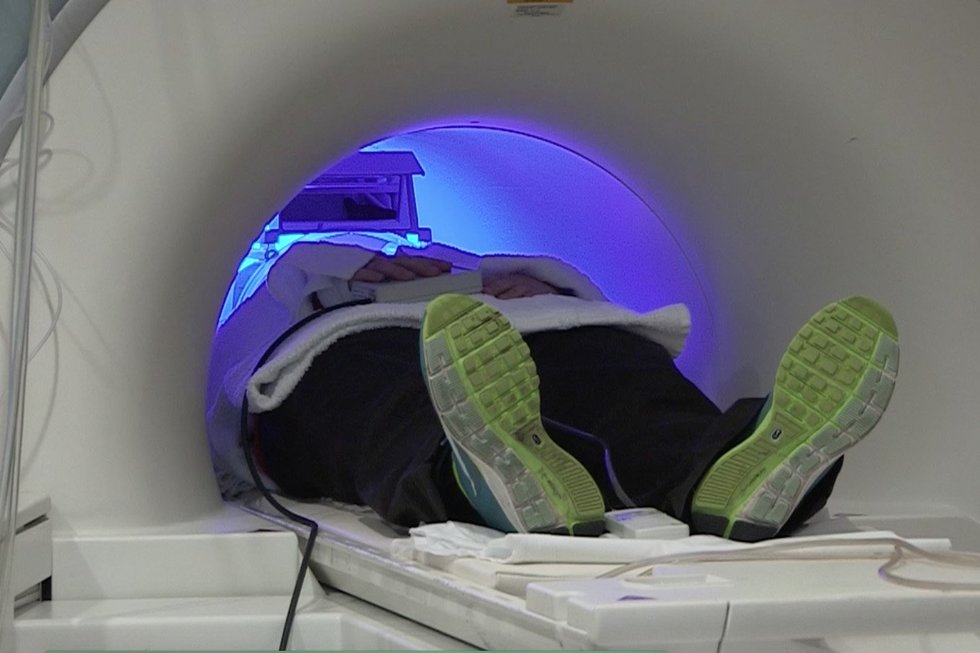 fMRI scans performed as the subjects underwent religious experiences. Credit: University of Utah Health Sciences
What is the significance of the study's conclusions?
"Religious experience is perhaps the most influential part of how people make decisions that affect all of us, for good and for ill. Understanding what happens in the brain to contribute to those decisions is really important," pointed out Jeff Anderson.
He also noted that more studies would need to be done to understand if followers of other religions would show similar results.
Anderson sees that one application of what they found is in the study of religious radicalization and extremism.
"Maladaptive religious experiences can be shaped by the same stimuli," he explained.
How did the participants feel about the study? Auriel Brunsvik Peterson, one of the subjects, felt validated by what she saw in the scans.
"I finally have a small shred of physical evidence ... that I am feeling something and I'm not crazy," she said. It showed that "you are experiencing something euphoric and life changing and ... something special and something different."
Check out also this interview with Jeff Anderson:
Cover photo: 
The active parts of the brain during religious experiences by the study participants, including a reward circuit, the nucleus accumbens. Credit: Jeffrey Anderson
Related Articles
Explore how alcohol affects your brain, from the first sip at the bar to life-long drinking habits.
(Photo by Angie Garrett/Wikimedia Commons)
Mind & Brain
Alcohol is the world's most popular drug and has been a part of human culture for at least 9,000 years.
Alcohol's effects on the brain range from temporarily limiting mental activity to sustained brain damage, depending on levels consumed and frequency of use.
Understanding how alcohol affects your brain can help you determine what drinking habits are best for you.
If you want to know what makes a Canadian lynx a Canadian lynx a team of DNA sequencers has figured that out.
Surprising Science
A team at UMass Amherst recently sequenced the genome of the Canadian lynx.
It's part of a project intending to sequence the genome of every vertebrate in the world.
Conservationists interested in the Canadian lynx have a new tool to work with.
Artwork: Guillaume le Clerc / Wikimedia Commons
13th-century fantastical depiction of an elephant.
It is easy to see how one can look at 66,000 genomic sequences stored away as being the analogous equivalent of the Svalbard Global Seed Vault. It is a potential tool for future conservationists.
But what are the practicalities of sequencing the genome of a lynx beyond engaging with broad bioethical questions? As the animal's habitat shrinks and Earth warms, the Canadian lynx is demonstrating less genetic diversity. Cross-breeding with bobcats in some portions of the lynx's habitat also represents a challenge to the lynx's genetic makeup. The two themselves are also linked: warming climates could drive Canadian lynxes to cross-breed with bobcats.
John Organ, chief of the U.S. Geological Survey's Cooperative Fish and Wildlife units, said to MassLive that the results of the sequencing "can help us look at land conservation strategies to help maintain lynx on the landscape."
What does DNA have to do with land conservation strategies? Consider the fact that the food found in a landscape, the toxins found in a landscape, or the exposure to drugs can have an impact on genetic activity. That potential change can be transmitted down the generative line. If you know exactly how a lynx's DNA is impacted by something, then the environment they occupy can be fine-tuned to meet the needs of the lynx and any other creature that happens to inhabit that particular portion of the earth.
Given that the Trump administration is considering withdrawing protection for the Canadian lynx, a move that caught scientists by surprise, it is worth having as much information on hand as possible for those who have an interest in preserving the health of this creature—all the way down to the building blocks of a lynx's life.
The exploding popularity of the keto diet puts a less used veggie into the spotlight.
Purple cauliflower. (Photo: Shutterstock)
Surprising Science
The cauliflower is a vegetable of choice if you're on the keto diet.
The plant is low in carbs and can replace potatoes, rice and pasta.
It can be eaten both raw and cooked for different benefits.
Big think's weekly newsletter.
Get smarter faster from the comfort of your inbox.
See our newsletter privacy policy
here
Most Popular
Most Recent
Big think's weekly newsletter.
Get smarter faster from the comfort of your inbox.
See our newsletter privacy policy
here
© Copyright 2007-2018 & BIG THINK, BIG THINK EDGE,
SMARTER FASTER trademarks owned by The Big Think, Inc. All rights reserved.