Scientists find religion triggers same area of brain as sex, drugs and love
Researchers scan the brains of people having strong spiritual experiences.
01 December, 2016
Religious and spiritual experiences have profound effects on many people around the world. A new study from a team of neuroscientists shows that what they feel is caused by activating the brain's reward circuits that control our ability to feel pleasure. It's the part of the brain associated with sex, drugs, music as well as love.
---
"We're just beginning to understand how the brain participates in experiences that believers interpret as spiritual, divine or transcendent," said Jeff Anderson, M.D., Ph.D. from the University of Utah School of Medicine, senior author of the study and neuroradiologist. "In the last few years, brain imaging technologies have matured in ways that are letting us approach questions that have been around for millennia."
To figure out how the brain processes spiritual feelings, the scientists focused their attention on a group of 19 church-going Mormons (12 males and 7 females - all former missionaries). The researchers caused these 20 to 30-year-olds to "feel the Spirit," an important concept in the Mormon faith, and performed fMRI scans on their brains.
To cause spiritual feelings, the scientists showed the subjects videos from the Mormon church, quotations from Mormon and other religious leaders, and had them read well-known passages from the Book of Mormon.
"When our study participants were instructed to think about a savior, about being with their families for eternity, about their heavenly rewards, their brains and bodies physically responded," said the study's lead author Michael Ferguson, Ph.D.
Indeed, as participants had spiritual experiences, describing feeling peaceful, warm, and even moved to tears, they breathed more deeply and their hearts beat faster. These physical effects were observable at their strongest right before the participants pushed a button to mark the peak of their spiritual experience.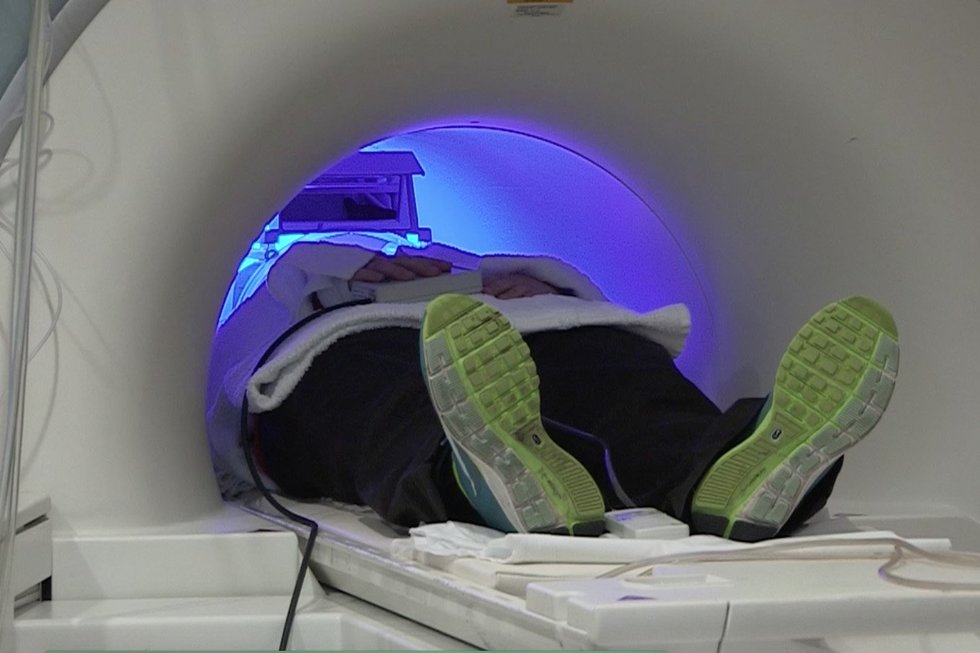 fMRI scans performed as the subjects underwent religious experiences. Credit: University of Utah Health Sciences
What is the significance of the study's conclusions? "Religious experience is perhaps the most influential part of how people make decisions that affect all of us, for good and for ill. Understanding what happens in the brain to contribute to those decisions is really important," pointed out Jeff Anderson.
He also noted that more studies would need to be done to understand if followers of other religions would show similar results.
Anderson sees that one application of what they found is in the study of religious radicalization and extremism. "Maladaptive religious experiences can be shaped by the same stimuli," he explained.
How did the participants feel about the study? Auriel Brunsvik Peterson, one of the subjects, felt validated by what she saw in the scans.
"I finally have a small shred of physical evidence ... that I am feeling something and I'm not crazy," she said. It showed that "you are experiencing something euphoric and life changing and... something special and something different."
Check out also this interview with Jeff Anderson:
Cover photo:
The active parts of the brain during religious experiences by the study participants, including a reward circuit, the nucleus accumbens. Credit: Jeffrey Anderson
New research identifies an unexpected source for some of earth's water.
Surprising Science
A lot of Earth's water is asteroidal in origin, but some of it may come from dissolved solar nebula gas.
Our planet hides majority of its water inside: two oceans in the mantle and 4–5 in the core.
New reason to suspect that water is abundant throughout the universe.
Progressive America would be half as big, but twice as populated as its conservative twin.
Image: Dicken Schrader
Strange Maps
America's two political tribes have consolidated into 'red' and 'blue' nations, with seemingly irreconcilable differences.
Perhaps the best way to stop the infighting is to go for a divorce and give the two nations a country each
Based on the UN's partition plan for Israel/Palestine, this proposal provides territorial contiguity and sea access to both 'red' and 'blue' America
SpaceX plans to launch about 12,000 internet-providing satellites into orbit over the next six years.
Technology & Innovation
SpaceX plans to launch 1,600 satellites over the next few years, and to complete its full network over the next six.
Blanketing the globe with wireless internet-providing satellites could have big implications for financial institutions and people in rural areas.
Some are concerned about the proliferation of space debris in Earth's orbit.
Big think's weekly newsletter.
Get smarter faster from the comfort of your inbox.
See our newsletter privacy policy
here
Most Popular
Most Recent
Big think's weekly newsletter.
Get smarter faster from the comfort of your inbox.
See our newsletter privacy policy
here
© Copyright 2007-2018 & BIG THINK, BIG THINK EDGE,
SMARTER FASTER trademarks owned by The Big Think, Inc. All rights reserved.