Edward Snowden Called Out WikiLeaks Over Meddling in U.S. Election
Through a series of election-related email dumps, WikiLeaks played a major role in the U.S. elections.
09 November, 2016
There have already been many explanations given to explain why the Democratic party's nominee Hillary Clinton lost the U.S. Presidential elections in 2016. They range from personal failings, DNC campaign shenanigans, FBI director Comey's letter to Congress, turnout issues, forgetting the working class, not finding a way to connect with enough disaffected Bernie Sanders voters to over-relying on data analysis and incorrect polls. But besides all that, partial responsibility for her loss must lie with WikiLeaks, an organization that built a reputation for disclosing secret information to the public in the interest of greater transparency, but which, in effect, helped destroy the image of Hillary Clinton in the mind of many possible voters.
---
The email dumps by WikiLeaks exposed Clinton's paid Wall Street speeches, a possible conflict of interest with the Clinton Foundation, and the fact that she got some questions passed on to her before the debates. But it was the release of emails from DNC officials that suggested the Democratic party was playing favorites and was set on Clinton winning the nomination that probably did the most damage. Apparently, DNC got so annoyed with Bernie's surging candidacy that it was looking for a way to slow his momentum, even considering whether to use his religion against him. 
A further WikiLeaks dump right before the election worsened the perception of DNC's mistreatment of Bernie Sanders by suggesting Bernie was somehow blackmailed by the Clinton campaign during the primary campaign.
All the leaks proved highly embarrassing for the Clinton campaign and worked to further alienate Sanders's voters. Certainly, many of them came on board anyway, but as the results in Michigan and Wisconsin show, it's very possible Clinton did not connect with enough of Bernie's voters to get her over the top in those states. Both of them were won by Sanders in the Democratic primaries. 
The revelations by WikiLeaks also contributed to the hard-to-shake perception of Hilary Clinton and her campaign as secretive and somehow deceitful. Maybe the disclosures did not change the minds of many voters, but in a close election, they could have very well made enough of a difference, even just by driving down the excitement and turnout of her potential supporters. 
So why did WikiLeaks do it? Did it want Trump to be elected President?
This cartoon from the WikiLeaks page with a searchable archive of Clinton's emails shows a clear stance on what the organization thinks of the Secretary of State, drawing her as a corporate warmonger --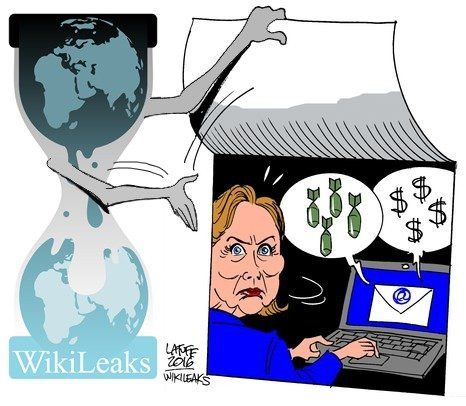 It was criticized by Edward Snowden, himself famous for disclosing classified information in the interest of transparency. In his tweet, he accused WikiLeaks of not having "even modest curation" of what it releases and how. 
Democratizing information has never been more vital, and @Wikileaks has helped. But their hostility to even modest curation is a mistake.
— Edward Snowden (@Snowden) July 28, 2016
What can 3D printing do for medicine? The "sky is the limit," says Northwell Health researcher Dr. Todd Goldstein.
Northwell Health
Sponsored by Northwell Health
Medical professionals are currently using 3D printers to create prosthetics and patient-specific organ models that doctors can use to prepare for surgery.
Eventually, scientists hope to print patient-specific organs that can be transplanted safely into the human body.
Northwell Health, New York State's largest health care provider, is pioneering 3D printing in medicine in three key ways.
Neuroscience is working to conquer some of the human body's cruelest conditions: Paralysis, brain disease, and schizophrenia.
Videos
Neuroscience and engineering are uniting in mind-blowing ways that will drastically improve the quality of life for people with conditions like epilepsy, paralysis or schizophrenia.
Researchers have developed a brain-computer interface the size of a baby aspirin that can restore mobility to people with paralysis or amputated limbs. It rewires neural messages from the brain's motor cortex to a robotic arm, or reroutes it to the person's own muscles.
Deep brain stimulation is another wonder of neuroscience that can effectively manage brain conditions like epilepsy, Parkinson's, and may one day mitigate schizophrenia so people can live normal, independent lives.
As Game of Thrones ends, a revealing resolution to its perplexing geography.
Strange Maps
The fantasy world of Game of Thrones was inspired by real places and events.
But the map of Westeros is a good example of the perplexing relation between fantasy and reality.
Like Britain, it has a Wall in the North, but the map only really clicks into place if you add Ireland.
A recent study gives new meaning to the saying "fake it 'til you make it."
Pixabay
Surprising Science
The study involves four experiments that measured individuals' socioeconomic status, overconfidence and actual performance.
Results consistently showed that high-class people tend to overestimate their abilities.
However, this overconfidence was misinterpreted as genuine competence in one study, suggesting overestimating your abilities can have social advantages.
Big think's weekly newsletter.
Get smarter faster from the comfort of your inbox.
See our newsletter privacy policy
here
Most Popular
Most Recent
Big think's weekly newsletter.
Get smarter faster from the comfort of your inbox.
See our newsletter privacy policy
here
© Copyright 2007-2019 & BIG THINK, BIG THINK EDGE,
SMARTER FASTER trademarks owned by The Big Think, Inc. All rights reserved.
//This will actually fire event. Should be called after consent was verifed