Edward Snowden Called Out WikiLeaks Over Meddling in U.S. Election
Through a series of election-related email dumps, WikiLeaks played a major role in the U.S. elections.
09 November, 2016
There have already been many explanations given to explain why the Democratic party's nominee Hillary Clinton lost the U.S. Presidential elections in 2016. They range from personal failings, DNC campaign shenanigans, FBI director Comey's letter to Congress, turnout issues, forgetting the working class, not finding a way to connect with enough disaffected Bernie Sanders voters to over-relying on data analysis and incorrect polls. But besides all that, partial responsibility for her loss must lie with WikiLeaks, an organization that built a reputation for disclosing secret information to the public in the interest of greater transparency, but which, in effect, helped destroy the image of Hillary Clinton in the mind of many possible voters.
---
The email dumps by WikiLeaks exposed Clinton's paid Wall Street speeches, a possible conflict of interest with the Clinton Foundation, and the fact that she got some questions passed on to her before the debates. But it was the release of emails from DNC officials that suggested the Democratic party was playing favorites and was set on Clinton winning the nomination that probably did the most damage. Apparently, DNC got so annoyed with Bernie's surging candidacy that it was looking for a way to slow his momentum, even considering whether to use his religion against him. 
A further WikiLeaks dump right before the election worsened the perception of DNC's mistreatment of Bernie Sanders by suggesting Bernie was somehow blackmailed by the Clinton campaign during the primary campaign.
All the leaks proved highly embarrassing for the Clinton campaign and worked to further alienate Sanders's voters. Certainly, many of them came on board anyway, but as the results in Michigan and Wisconsin show, it's very possible Clinton did not connect with enough of Bernie's voters to get her over the top in those states. Both of them were won by Sanders in the Democratic primaries. 
The revelations by WikiLeaks also contributed to the hard-to-shake perception of Hilary Clinton and her campaign as secretive and somehow deceitful. Maybe the disclosures did not change the minds of many voters, but in a close election, they could have very well made enough of a difference, even just by driving down the excitement and turnout of her potential supporters. 
So why did WikiLeaks do it? Did it want Trump to be elected President?
This cartoon from the WikiLeaks page with a searchable archive of Clinton's emails shows a clear stance on what the organization thinks of the Secretary of State, drawing her as a corporate warmonger --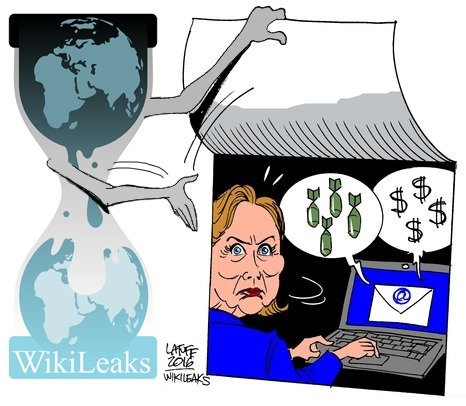 It was criticized by Edward Snowden, himself famous for disclosing classified information in the interest of transparency. In his tweet, he accused WikiLeaks of not having "even modest curation" of what it releases and how. 
Democratizing information has never been more vital, and @Wikileaks has helped. But their hostility to even modest curation is a mistake.
— Edward Snowden (@Snowden) July 28, 2016
Lumina Foundation is partnering with Big Think to unearth the next large-scale, rapid innovation in post-high school education. Enter the competition here!
"I should be as happy as I'm ever going to be right now, but I'm not. Is this it?"
Personal Growth
The life choices that had led me to be sitting in a booth underneath a banner that read "Ask a Philosopher" – at the entrance to the New York City subway at 57th and 8th – were perhaps random but inevitable.

Researchers believe that the practice of sleeping through the whole night didn't really take hold until just a few hundred years ago.
The Bed by Henri de Toulouse-Lautrec.
Surprising Science
She was wide awake and it was nearly two in the morning. When asked if everything was alright, she said, "Yes." Asked why she couldn't get to sleep she said, "I don't know." Neuroscientist Russell Foster of Oxford might suggest she was exhibiting "a throwback to the bi-modal sleep pattern." Research suggests we used to sleep in two segments with a period of wakefulness in-between.
The assumption "that without memory, there can be no self" is wrong, say researchers.
Photo credit: Darren Hauck / Getty Images
Mind & Brain
In the past when scholars have reflected on the psychological impact of dementia they have frequently referred to the loss of the "self" in dramatic and devastating terms, using language such as the "unbecoming of the self" or the "disintegration" of the self. In a new review released as a preprint at PsyArXiv, an international team of psychologists led by Muireann Irish at the University of Sydney challenge this bleak picture which they attribute to the common, but mistaken, assumption "that without memory, there can be no self" (as encapsulated by the line from Hume: "Memory alone… 'tis to be considered… as the source of personal identity").
Big think's weekly newsletter.
Get smarter faster from the comfort of your inbox.
See our newsletter privacy policy
here
Most Popular
Most Recent
Big think's weekly newsletter.
Get smarter faster from the comfort of your inbox.
See our newsletter privacy policy
here
© Copyright 2007-2018 & BIG THINK, BIG THINK EDGE,
SMARTER FASTER trademarks owned by The Big Think, Inc. All rights reserved.