Einstein's "Theory of Happiness" teaches a profound truth
In 1922, Albert Einstein explained how to live a happy life to a bellboy in Tokyo.
03 December, 2017
---
Albert Einstein is, of course, world famous for coming up with the theory of relativity, which in many ways changed our conception of time and space. Einstein was also not averse to writing on matters other than physics and had offered many a pithy and poignant opinion on topics from love to government and god. He also wrote what has been called "the theory of happiness," which recently sold for $1.56 million at an auction in Jerusalem.
This theory was written down by Einstein for a bellboy on a piece of hotel stationary at the Imperial Hotel in Tokyo in 1922. Einstein was there on a lecture tour and had just heard about his Nobel Prize win. Not having any change to tip the bellboy, he wrote down some words of wisdom, prefacing that the piece of writing could be worth more than a tip one day. Indeed, the payday has reportedly come to the nephew of the bellboy who ended up with the note.
What exactly did Einstein write down?
"A calm and modest life brings more happiness than the pursuit of success combined with constant restlessness," wrote the physicist.
He also wrote another short note on a second sheet, saying "Where there's a will, there's a way." That paper sold for $250,000.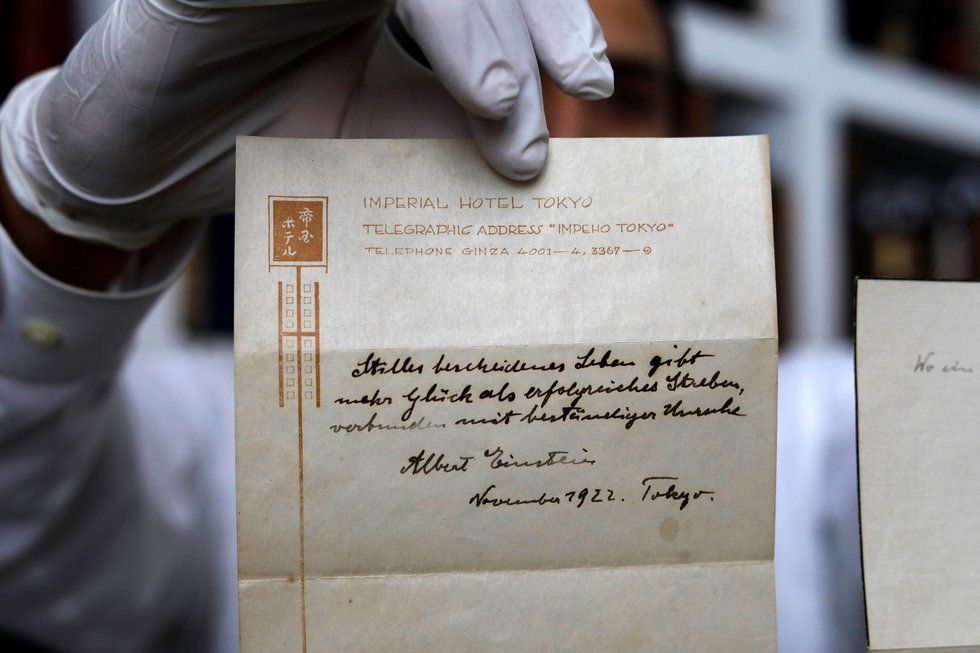 A picture taken on October 19, 2017, shows Gal Wiener, owner and manager of the Winner's auction house in Jerusalem, displays one of two notes written by Albert Einstein, in 1922, on hotel stationary from the Imperial Hotel in Tokyo Japan. (Photo credit: MENAHEM KAHANA/AFP/Getty Images)
The auction was carried out through Winner's Auctions and Exhibitions in Jerusalem, which originally estimated that the notes would go for somewhere between $5,000 and $8,000.
The auction house said that part of the background of the notes is that Einstein heard about his Nobel Prize win just recently, informed by a telegram. He was immediately overwhelmed by well-wishers and was trying to write down his thoughts about what happened when the bellboy came. It was certainly fortuitous for the boy that Einstein didn't have any cash on him as "he decided to make the most of his new exalted status," elaborated the auction house, according to the New York Times.
One wonders how much Einstein was really the best model for such words himself as it's hard to say he led a "calm and modest life". Nonetheless, the descendants of the bellboy are happy with making so much money on Einstein's positive tip and his words ring true to many.
The bid to buy Greenland is unlikely to become seriously considered.
Politics & Current Affairs
Greenland and Danish officials alike think the idea is ridiculous.
The island is an autonomous state, and it's unlikely the Danish would sell it because of yearly subsidies costs.
After hearing the Danish Prime Minister call the idea absurd, Trump cancelled their forthcoming meeting.
Some games are just for fun, others are for thought provoking statements on life, the universe, and everything.
(Photo from Flickr)
Culture & Religion
Video games are often dismissed as fun distractions, but some of them dive into deep issues.
Through their interactive play elements, these games approach big issues intelligently and leave you both entertained and enlightened.
These five games are certainly not the only games that cover these topics or do so well, but are a great starting point for somebody who wants to play something thought provoking.
In a new study, people who posted a lot of selfies were generally viewed as less likeable and more lonely.
Kim Kardashian/Instagram
Surprising Science
A new study examined how people perceive others' Instagram accounts, and whether those perceptions match up with how the posters rate their own personalities.
The results show that people react far more positively to "posies," which are photos of the poster taken by another person.
Still, it remains unclear exactly why people view selfies relatively negatively.