Einstein's "Theory of Happiness" teaches a profound truth
In 1922, Albert Einstein explained how to live a happy life to a bellboy in Tokyo.
03 December, 2017
---
Albert Einstein is, of course, world famous for coming up with the theory of relativity, which in many ways changed our conception of time and space. Einstein was also not averse to writing on matters other than physics and had offered many a pithy and poignant opinion on topics from love to government and god. He also wrote what has been called "the theory of happiness," which recently sold for $1.56 million at an auction in Jerusalem.
This theory was written down by Einstein for a bellboy on a piece of hotel stationary at the Imperial Hotel in Tokyo in 1922. Einstein was there on a lecture tour and had just heard about his Nobel Prize win. Not having any change to tip the bellboy, he wrote down some words of wisdom, prefacing that the piece of writing could be worth more than a tip one day. Indeed, the payday has reportedly come to the nephew of the bellboy who ended up with the note.
What exactly did Einstein write down?
"A calm and modest life brings more happiness than the pursuit of success combined with constant restlessness," wrote the physicist.
He also wrote another short note on a second sheet, saying "Where there's a will, there's a way." That paper sold for $250,000.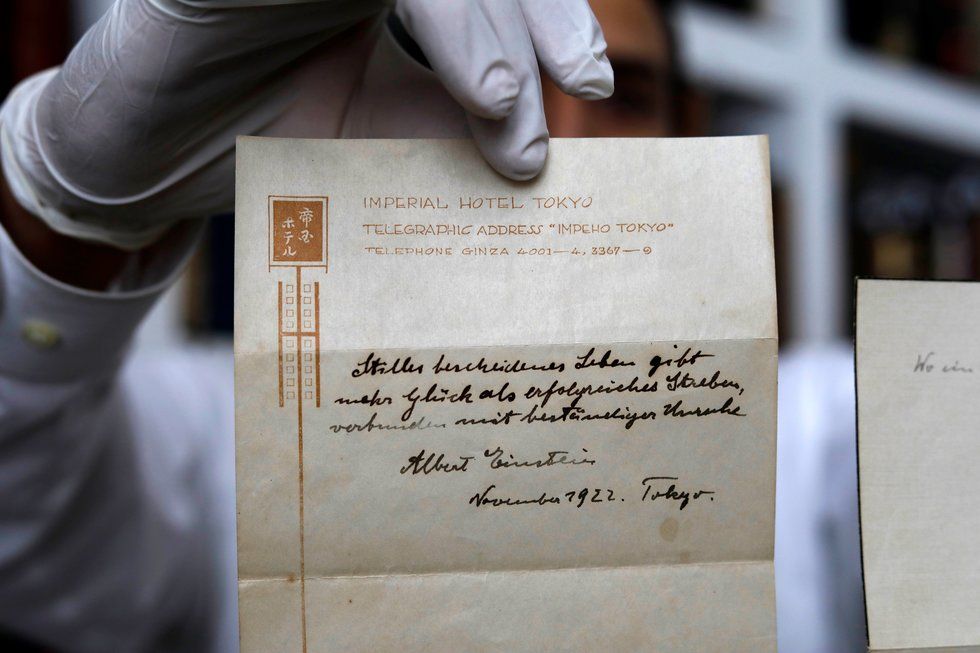 A picture taken on October 19, 2017, shows Gal Wiener, owner and manager of the Winner's auction house in Jerusalem, displays one of two notes written by Albert Einstein, in 1922, on hotel stationary from the Imperial Hotel in Tokyo Japan. (Photo credit: MENAHEM KAHANA/AFP/Getty Images)
The auction was carried out through Winner's Auctions and Exhibitions in Jerusalem, which originally estimated that the notes would go for somewhere between $5,000 and $8,000.
The auction house said that part of the background of the notes is that Einstein heard about his Nobel Prize win just recently, informed by a telegram. He was immediately overwhelmed by well-wishers and was trying to write down his thoughts about what happened when the bellboy came. It was certainly fortuitous for the boy that Einstein didn't have any cash on him as "he decided to make the most of his new exalted status," elaborated the auction house, according to the New York Times.
One wonders how much Einstein was really the best model for such words himself as it's hard to say he led a "calm and modest life". Nonetheless, the descendants of the bellboy are happy with making so much money on Einstein's positive tip and his words ring true to many.
As religious diversity increases in the United States, we must learn to channel religious identity into interfaith cooperation.
Sponsored by Charles Koch Foundation
Religious diversity is the norm in American life, and that diversity is only increasing, says Eboo Patel.
Using the most painful moment of his life as a lesson, Eboo Patel explains why it's crucial to be positive and proactive about engaging religious identity towards interfaith cooperation.
The opinions expressed in this video do not necessarily reflect the views of the Charles Koch Foundation, which encourages the expression of diverse viewpoints within a culture of civil discourse and mutual respect.
Two Apollo 11 astronauts question NASA's planetary safety procedures.
Credit: Bettmann, Getty Images.
Surprising Science
Buzz Aldrin and Michael Collins revealed that there were deficiencies in NASA's safety procedures following the Apollo 11 mission.
Moon landing astronauts were quarantined for 21 days.
Earth could be contaminated with lunar bacteria.
Here's why you might eat greenhouse gases in the future.
Technology & Innovation
The company's protein powder, "Solein," is similar in form and taste to wheat flour.
Based on a concept developed by NASA, the product has wide potential as a carbon-neutral source of protein.
The man-made "meat" industry just got even more interesting.
When it comes to sniffing out whether a source is credible or not, even journalists can sometimes take the wrong approach.
Sponsored by Charles Koch Foundation
We all think that we're competent consumers of news media, but the research shows that even journalists struggle with identifying fact from fiction.
When judging whether a piece of media is true or not, most of us focus too much on the source itself. Knowledge has a context, and it's important to look at that context when trying to validate a source.
The opinions expressed in this video do not necessarily reflect the views of the Charles Koch Foundation, which encourages the expression of diverse viewpoints within a culture of civil discourse and mutual respect.