A radical theory says major crises remake America every 80 years
A theory of history says America is in the grips of a crisis called "The Fourth Turning" that will change it forever.
16 August, 2018
Does life in America generally get better over time or does history really repeat itself? More specifically, do horrible events keep plaguing the country every 80 years? Such is the remarkable contention posed by two amateur historians in the 1990s. What makes it truly noteworthy is that it's believed by Stephen Bannon, the former chief strategist and a key architect of Donald Trump's surprising victory in the 2016 elections. 
---
One common fact uniting such events as the American Revolution, the Civil War, and the Second World War is that they happened about 80 years apart. What Neil Howe and William Strauss proposed in the books Generations: the History of America's Future (1991), and The Fourth Turning: An American Prophecy (1997) is that American history flows in cycles and every 80-100 years cataclysmic crises happen that completely reshape the country. 
Their predictions saw a major upheaval called "The Fourth Turning" starting in the early years of the 20th century. The climax of that event would happen around 2020, and the resolution around 2026. As the United States contends itself with an unpredictable leader whose legitimacy is attacked through serious ongoing investigations, it is also drowning under the flood of useful and fake information and being strongly pulled apart along partisan lines. It's not hard to feel a serious crisis being possible during this period.  
Even if its economy is doing well enough for now, the country is in many ways weakened, making it ripe for a major challenge. After what seemed like a march of progressive ideals culminating in the election of Barack Obama, has America been thrown back into history where anything can happen?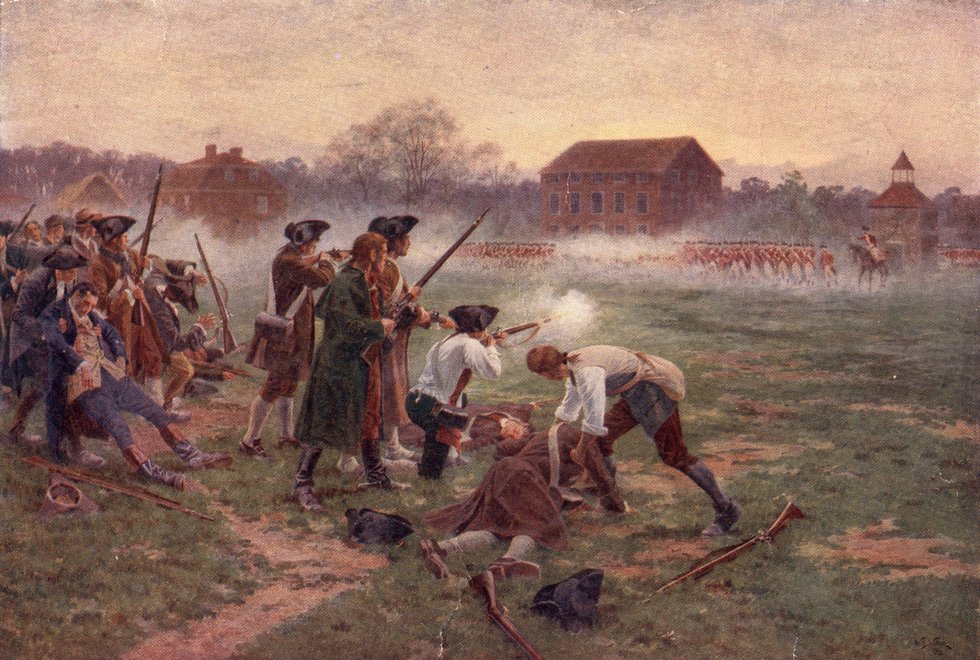 Minutemen facing British soldiers on Lexington Common, Massachusetts, in the first battle in the War of Independence, 19th April 1775. Original artist William Barnes Wollen. (Photo by Hulton Archive/Getty Images)
The election of Trump, however it came to be, has had a tremendous impact on the psyche and thinking of the country. It brought ideas into the public space that have either been lying dormant or bubbled up entirely as a product of the age. Some of those ideas have been credited to Stephen Bannon, Trump's currently-exiled ideological brain. He is intimately familiar with the theory of crises by Strauss and Howe, and has even interviewed Howe for his 2009 documentary "Generation Zero." What's more, according to historian David Keiser, Bannon has actively looked to use this theory in politics.
Here's how Strauss and Howe described the "crisis climax" in their book "The Fourth Turning":
"The Crisis climax is human history's equivalent to nature's raging typhoon, the kind that sucks all surrounding matter into a single swirl of ferocious energy. Anything not lashed down goes flying; anything standing in the way gets flattened. ... The climax shakes a society to its roots, transforms its institutions, redirects its purposes, and marks its people (and its generations) for life. The climax can end in triumph, or tragedy, or some combination of both."
Obviously, the outcome of such a momentous cataclysm can go either way. Writing in Forbes, Jay Ogilvy thinks Bannon's view is definitely more apocalyptic than optimistic.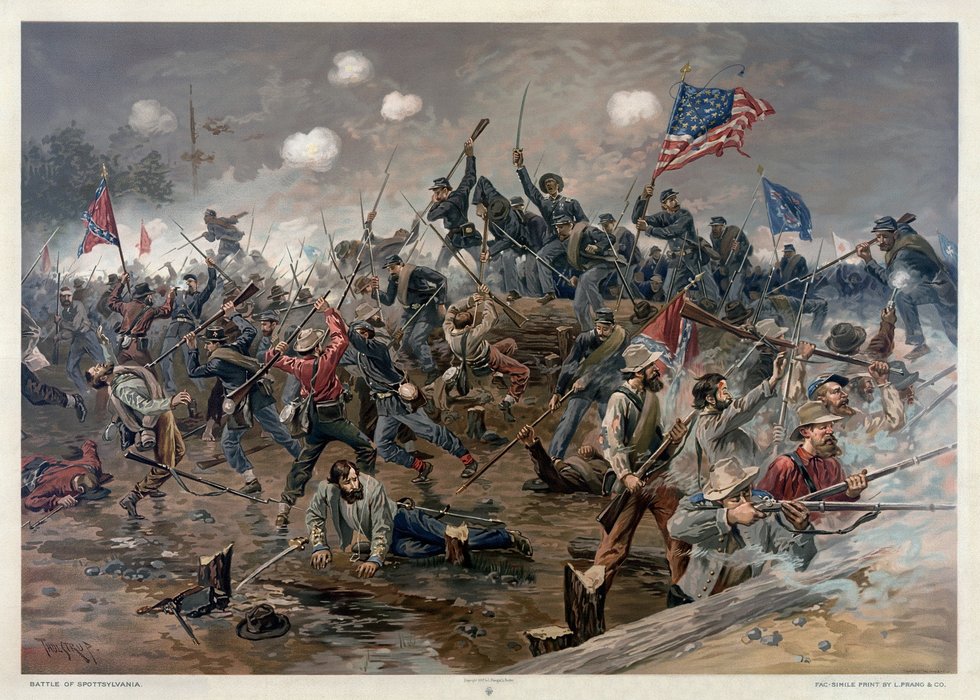 "Battle of Spottsylvania" during the American Civil War. Painting by Thure de Thulstrup. 1886.
Ogilvy also describes the specifics of the Strauss and Howe theory, pointing out that the great crises are actually a culmination of historical cycles or "saeculas." Each such cycle has stages or "turnings". If we look at the period we are in now, the first turning was a "High" (end of World War 2 into the 1950s). The second period was called an "Awakening" and included the 1960s "Consciousness Revolution". The third turning, called an "Unraveling," can be seen as the culture wars that started in the 1980s and only got worse after the election of Barack Obama. 
Notably, as Linette Lopez wrote in the Business Insider, "Bannon believes that the catalyst for the Fourth Turning has already happened: the financial crisis" in 2008. Indeed, according to the theory, we are now in the last stage (suitably called "a Crisis").
The historians also liken their idea to the seasons of the year - spring, summer, fall, and winter. Clearly, we are deep in the historical winter.
Why do such cycles happen at all? Strauss and Howe say that the key factors responsible are generational changes and societal archetypes. Each time period's generations play specific roles within that historical cycle, which keeps repeating because "generations that are predictably shaped by history become, as they age, generations that predictably shape history."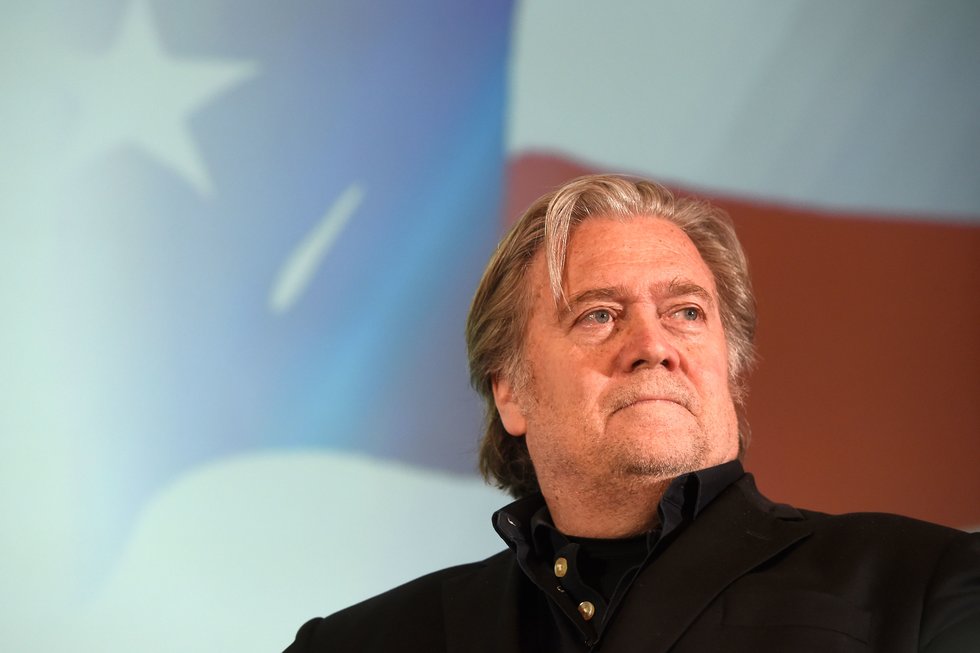 Steve Bannon, the former strategic adviser to President Donald Trump at a discussion meeting focusing on U.S. developments on May 22, 2018, in Prague. (Photo by Michal Cizek / AFP)
One other notable trait of their theory is how Strauss and Howe describe the leader that is likely to emerge during the Fourth Turning:
"A charismatic anti-intellectual demagogue could convert the ad slogans of the Third Turning into the political slogans of the Fourth. 'No excuses.' 'Why ask why?' 'Just do it.' Start with a winner-take-all ethos that believes in action for action's sake, exalts strength, elevates impulse, and holds weakness and compassion in contempt."
Sounds familiar?
What will happen next in the Fourth Turning and will it end in war, like the other cycles identified by the historians? Bannon certainly believes that the cycles usually involve a large war and expects one to be a part of this crisis, according to the historian David Keiser who participated in an interview with him about the Fourth Turning theory. Let's hope his pessimism is not warranted or facilitated through policy. 
International poker champion Liv Boeree teaches decision-making for Big Think Edge.
Big Think Edge
Learn to make decisions with the clarity of a World Series Poker Champion.

Liv Boeree teaches analytical thinking for Big Think Edge.

Subscribe to Big Think Edge before we launch on March 30 to get 20% off monthly and annual memberships.
One way to limit clutter is by being mindful of your spending.
Explore a legendary philosopher's take on how society fails to prepare us for education and progress.
Alan Watts.
Personal Growth
Alan Watts was an instrumental figure in the 1960s counterculture revolution.
He believed that we put too much of a focus on intangible goals for our educational and professional careers.
Watts believed that the whole educational enterprise is a farce compared to how we should be truly living our lives.
This is the first study to explore not only what percentage of people in the general population choose to watch videos of graphic real-life violence, but also why.
Mind & Brain
In the summer of 2014, two videos were released that shocked the world. They showed the beheadings, by ISIS, of two American journalists – first, James Foley and then Steven Sotloff. Though the videos were widely discussed on TV, print and online news, most outlets did not show the full footage. However, it was not difficult to find links to the videos online.
Big think's weekly newsletter.
Get smarter faster from the comfort of your inbox.
See our newsletter privacy policy
here
Most Popular
Most Recent
Big think's weekly newsletter.
Get smarter faster from the comfort of your inbox.
See our newsletter privacy policy
here
© Copyright 2007-2018 & BIG THINK, BIG THINK EDGE,
SMARTER FASTER trademarks owned by The Big Think, Inc. All rights reserved.