Big ideas.
Once a week.
Subscribe to our weekly newsletter.
Multitasking is killing your productivity
Multitasking has been shown to diminish our ability to learn, stress us out, and kill our productivity. Here are some techniques to limit multitasking and help us regain our lost time.
01 July, 2018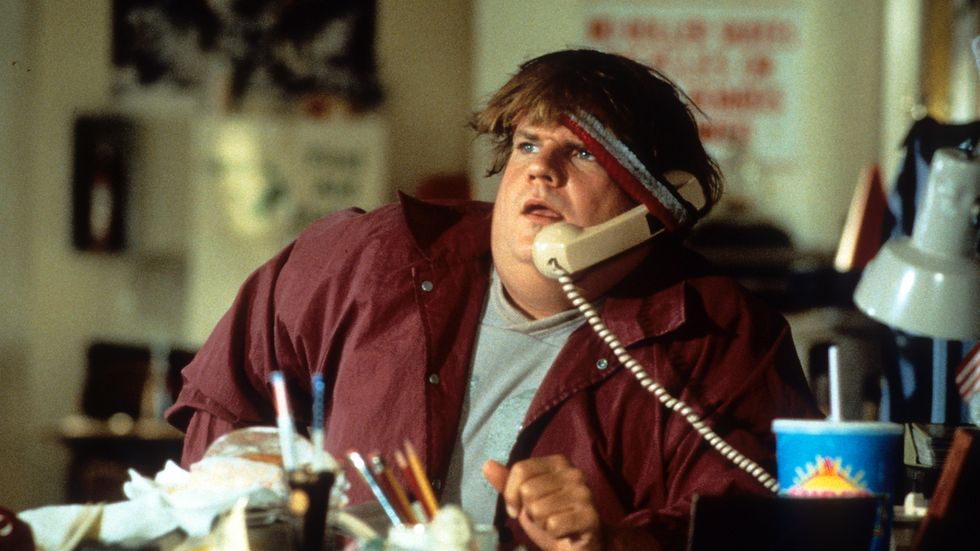 hris Farley holding a phone receiver underneath his headband to keep it propped up to his ear in a scene from the film 'Black Sheep', 1996. Paramount Pictures/Getty Images
---
You begin the project your boss wants by end of the day and put on The Office for background noise. You get a good flow going just before receiving an email, and you start to write a response, but then a coworker hails you from across the open office right when an instant message pops onto your screen with a hilarious meme, and you try to help one coworker while letting the other know you appreciate the LOLs, but then you realize you can't remember which of your 15 browser tabs were for the project and which were for the email, and now the phone is ringing.
Welcome to the modern American workday, a multitasking gauntlet from start to finish.
While managers view multitasking as a means to increase productivity, neuroscientists couldn't disagree more. Decades of research has shown that the human brain wasn't designed to multitask, and pushing workers to do so not only leads to stressful work environments but also kills productivity — not to mention profits.
Are you a multitasking junkie looking to sober up and de-stress? Here's what you need to know.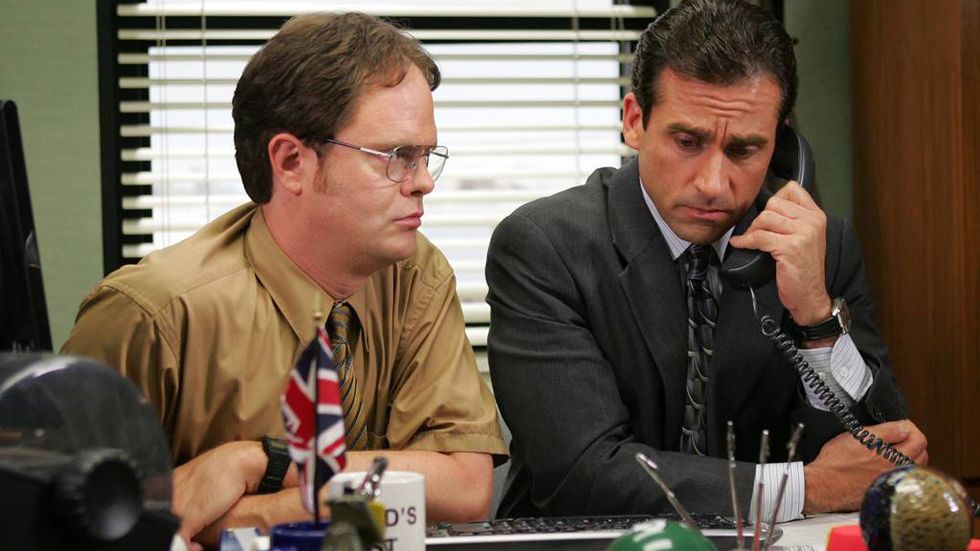 Multitasking is for the birds (and computers)
The word "multitask" entered our lexicon with the advent of computers, and by the late '90s, it was adopted as business jargon to describe modern work habits. While the verb is perfectly apt for computers, where even early CPUs could execute multiple processes concurrently, it is less apt for people and our remarkable, if finicky, brains.
As Dan Harris told Big Think, "Multitasking is a computer-derived term. Computers have many processors. We have only one processor. We literally neurologically cannot do more than one thing at a time."
Instead of multitasking, the human brain performs a function called "task switching." Summarizing the research, the American Psychological Association explains task switching as follows:
The human "executive control" processes have two distinct, complementary stages. They call one stage "goal shifting" ("I want to do this now instead of that") and the other stage "rule activation" ("I'm turning off the rules for that and turning on the rules for this"). Both of these stages help people to, without awareness, switch between tasks. That's helpful. Problems arise only when switching costs conflict with environmental demands for productivity and safety.
For example, you can easily hold a conversation, drink a cup of coffee, and walk at the same time. That's because two of those acts, walking and drinking, require little focus, allowing your brain to dedicate its processing power to the conversation. (Even then, consider the times you've spilled coffee on yourself because the mouth hole shifted slightly to the left.)
On the other hand, when two activities require focus, your brain must disengage the neurons for one task (goal switching) and then fire up the neurons for the other task (rule activation), and it must do this every time your attention changes. This is why the modern office environment previously illustrated is so inefficient.
Multitasking has been shown to diminish our ability to learn, stress us out, waste our productive time, and add 50 percent more errors to our work. One study estimated the global loss from multitasking could be as much as $450 billion a year.
When you consider losses beyond the office, such as texting and driving, the results are even more devastating.
While humans obviously lose to computers, we aren't even the best multitaskers — sorry, task switchers — in the animal kingdom. Dr. Sara Letzner and Dr. Onur Güntürkün from Ruhr-Universitaet-Bochum tested the task switching abilities of people and pigeons. Although the sample size was small, the pigeons outperformed the humans and switched tasks 250 milliseconds faster.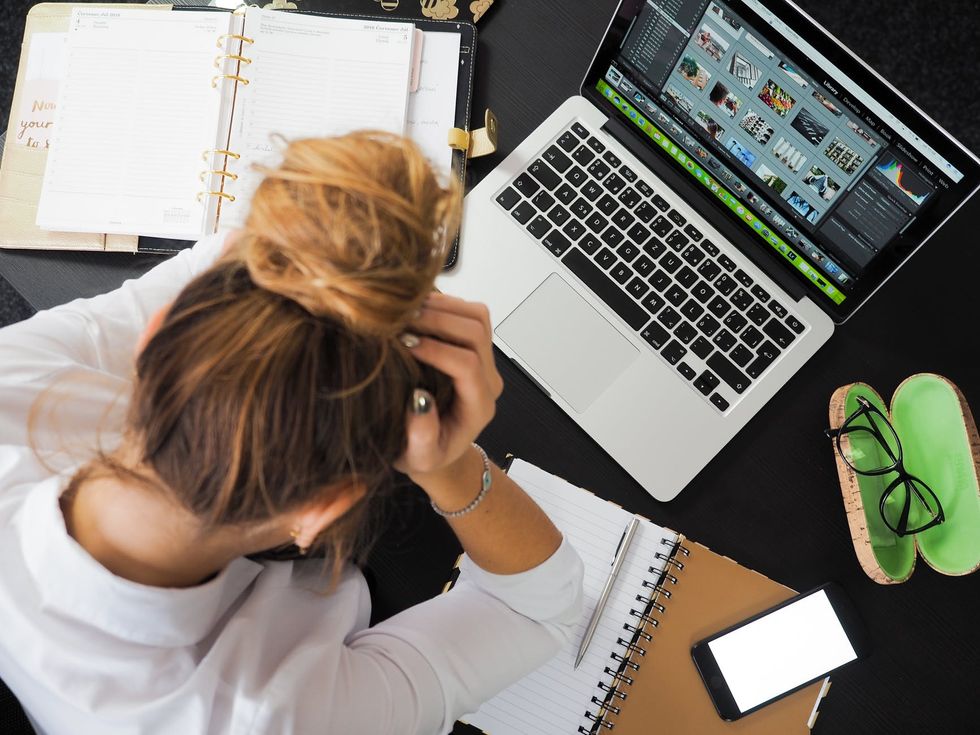 Recovering your productivity and health
The alternative to multitasking is, obviously, to focus on one task at a time. Productivity guru Cal Newport calls this approach "deep work," but it also goes by flow and monotasking. Whatever the label, the goal is the same: Develop techniques to keep your focus on important tasks and exclude the myriad of lesser stimuli vying for your attention. Such techniques include:
Schedule your day. Schedule your day to dedicate the hours you are most productive to important work. For most people, this will be in the morning after breakfast but before the afternoon slump. Then schedule time for less important work during your less productive hours. Those emails aren't going anywhere.
List priorities. Write out the day's priorities before you start work or the night before. List them in order from most important to least, and check them off as you go. By committing yourself right away to your most important task, you'll help maintain your focus and keep to the schedule you set out above.
Time management. There are many ways to manage your time to foster focus. One popular method is the Pomodoro technique. With it, you schedule your work around 30-minute chunks of time, 25 minutes dedicated to a single task and a five-minute break. You can learn more about it here.
Shut out distractions. It's not just enough to ignore distraction; you've got to shut them out. If your distractions come from fellow co-workers, a nice, big pair of headphones will provide the visual equivalent of a "Do Not Disturb" sign. If they don't take the hint, then…maybe an actual "Do Not Disturb" sign? A bit blunt, true, but it'll get the job done.
Tune out. If you need background noise, don't play anything that draws your attention away from your work. You may think you've seen The Office enough to ignore it, but the truth is that you will always be keeping an ear open for your favorite bits (Parkour!). Go with music instead.  Again, nothing that pulls at your attention with a swelling urge to sin karaoke. Instrumental music will serve you best. Alternatively, you could see if a background noise generator works for you.
Blacklist the Internet. Only visit the parts of the Internet that are required to complete your work. Stay away from social media, news sites, and all wikiholes. If need a helping hand, there are several programs that can blacklist the less productive parts of the Internet.  
Take breaks. Like any part of your body, your brain gets tired the more you work it. Taking breaks will revitalize your mind so you can keep going strong. To get the most from your breaks, be sure to disconnect from work entirely. Grab a snack, socialize with a coworker, read a book, or enjoy the wisdom of Nick Offerman.
Develop mindfulness. Mindfulness, productivity, and monotasking go hand-in-hand. As you practice mindfulness, you'll be able to better keep your attention from straying toward other projects, after-work activities, and fears about performance, improving your productivity and follow-through.
Stay healthy. You don't need yet another article telling you to eat healthy and exercise, so let's make this short. A healthy mind and body are key to giving you the energy and positive emotions to push yourself to finish the workday strong.
___________
All of this is, of course, easier said than done. Focus isn't easy. Distraction is what our minds do, and it isn't helped by our always-on, instant-results culture. To implement these changes, you may need to have a difficult talk with your manager about the benefits of monotasking. But the benefits to your productivity and work-life balance will be well worth the effort.
A new paper reveals that the Voyager 1 spacecraft detected a constant hum coming from outside our Solar System.
Credit: NASA / JPL - Caltech.
Surprising Science
Voyager 1, humankind's most distant space probe, detected an unusual "hum" in the data from interstellar space.
The noise is likely produced by interstellar gas.
Further investigation may reveal the hum's exact origins.
Voyager 1, humanity's most faraway spacecraft, has detected an unusual "hum" coming from outside our solar system. Fourteen billion miles away from Earth, the Voyager's instruments picked up a droning sound that may be caused by plasma (ionized gas) in the vast emptiness of interstellar space. Launched in 1977, the Voyager 1 space probe — along with its twin Voyager 2 — has been traveling farther and farther into space for over 44 years. It has now breached the edge of our solar system, exiting the heliosphere, the bubble-like region of space influenced by the sun. Now, the spacecraft is moving through the "interstellar medium," where it recorded the peculiar sound.
Stella Koch Ocker, a doctoral student in astronomy at Cornell University, discovered the sound in the data from the Voyager's Plasma Wave System (PWS), which measures electron density. Ocker called the drone coming from plasma shock waves "very faint and monotone," likely due to the narrow bandwidth of its frequency.
While they think the persistent background hum may be coming from interstellar gas, the researchers don't yet know what exactly is causing it. It might be produced by "thermally excited plasma oscillations and quasi-thermal noise."
The new paper from Ocker and her colleagues at Cornell University and the University of Iowa, published in Nature Astronomy, also proposes that this is not the last we'll hear of the strange noise. The scientists write that "the emission's persistence suggests that Voyager 1 may be able to continue tracking the interstellar plasma density in the absence of shock-generated plasma oscillation events."
Voyager Captures Sounds of Interstellar Space www.youtube.com
The researchers think the droning sound may hold clues to how interstellar space and the heliopause, which can be thought of as the solar's system border, may be affecting each other. When it first entered interstellar space, the PWS instrument reported disturbances in the gas caused by the sun. But in between such eruptions is where the researchers spotted the steady signature made by the near-vacuum.

Senior author James Cordes, a professor of astronomy at Cornell, compared the interstellar medium to "a quiet or gentle rain," adding that "in the case of a solar outburst, it's like detecting a lightning burst in a thunderstorm and then it's back to a gentle rain."
More data from Voyager over the next few years may hold crucial information to the origins of the hum. The findings are already remarkable considering the space probe is functioning on technology from the mid-1970s. The craft has about 70 kilobytes of computer memory. It also carries a Golden Record created by a committee chaired by the late Carl Sagan, who taught at Cornell University. The 12-inch gold-plated copper disk record is essentially a time capsule, meant to tell the story of Earthlings to extraterrestrials. It contains sounds and images that showcase the diversity of Earth's life and culture.
China has reached a new record for nuclear fusion at 120 million degrees Celsius.
Technology & Innovation
This article was originally published on our sister site, Freethink.
China wants to build a mini-star on Earth and house it in a reactor. Many teams across the globe have this same bold goal --- which would create unlimited clean energy via nuclear fusion.
But according to Chinese state media, New Atlas reports, the team at the Experimental Advanced Superconducting Tokamak (EAST) has set a new world record: temperatures of 120 million degrees Celsius for 101 seconds.
Yeah, that's hot. So what? Nuclear fusion reactions require an insane amount of heat and pressure --- a temperature environment similar to the sun, which is approximately 150 million degrees C.
If scientists can essentially build a sun on Earth, they can create endless energy by mimicking how the sun does it.
If scientists can essentially build a sun on Earth, they can create endless energy by mimicking how the sun does it. In nuclear fusion, the extreme heat and pressure create a plasma. Then, within that plasma, two or more hydrogen nuclei crash together, merge into a heavier atom, and release a ton of energy in the process.
Nuclear fusion milestones: The team at EAST built a giant metal torus (similar in shape to a giant donut) with a series of magnetic coils. The coils hold hot plasma where the reactions occur. They've reached many milestones along the way.
According to New Atlas, in 2016, the scientists at EAST could heat hydrogen plasma to roughly 50 million degrees C for 102 seconds. Two years later, they reached 100 million degrees for 10 seconds.
The temperatures are impressive, but the short reaction times, and lack of pressure are another obstacle. Fusion is simple for the sun, because stars are massive and gravity provides even pressure all over the surface. The pressure squeezes hydrogen gas in the sun's core so immensely that several nuclei combine to form one atom, releasing energy.
But on Earth, we have to supply all of the pressure to keep the reaction going, and it has to be perfectly even. It's hard to do this for any length of time, and it uses a ton of energy. So the reactions usually fizzle out in minutes or seconds.
Still, the latest record of 120 million degrees and 101 seconds is one more step toward sustaining longer and hotter reactions.
Why does this matter? No one denies that humankind needs a clean, unlimited source of energy.
We all recognize that oil and gas are limited resources. But even wind and solar power --- renewable energies --- are fundamentally limited. They are dependent upon a breezy day or a cloudless sky, which we can't always count on.
Nuclear fusion is clean, safe, and environmentally sustainable --- its fuel is a nearly limitless resource since it is simply hydrogen (which can be easily made from water).
With each new milestone, we are creeping closer and closer to a breakthrough for unlimited, clean energy.
The symbol for love is the heart, but the brain may be more accurate.
Videos
How love makes us feel can only be defined on an individual basis, but what it does to the body, specifically the brain, is now less abstract thanks to science.
One of the problems with early-stage attraction, according to anthropologist Helen Fisher, is that it activates parts of the brain that are linked to drive, craving, obsession, and motivation, while other regions that deal with decision-making shut down.
Dr. Fisher, professor Ted Fischer, and psychiatrist Gail Saltz explain the different types of love, explore the neuroscience of love and attraction, and share tips for sustaining relationships that are healthy and mutually beneficial.
Sex & Relationships
A new study suggests that reports of the impending infertility of the human male are greatly exaggerated.
Scroll down to load more…