Want to genuinely (and scientifically) make the world a better place? Send thank-you notes.
Because what the world needs now is love, sweet love... and perhaps a whole lot of stamps and stationery.
18 July, 2018
(Photo by Robert Alexander/Getty Images)
You know what you're most definitely not doing enough of? Writing thank-you notes. According to a new study out of the Booth Business School at the University of Chicago, researchers say that although most people find the practice of writing a thank-you to be awkward (more on that in a bit), the people who receive them are far more appreciative than the note-maker might ever have thought.
---
107 students at the University of Chicago were asked to write a letter to someone who "had touched their life in a meaningful way," expressing gratitude or thanks (out of this group of 107, 15 didn't allow the researchers to contact the letter recipients). The students were given a questionnaire immediately before sending the note, and recipients were emailed a follow-up questionnaire two days after receiving the letter.
Both recipients and senders were asked to rank several factors—surprise about receiving the letters, surprise about content, and so forth—on an 11-point scale (0 being disappointed, 10 being highly elated). On every metric, people's anxieties about expressing gratitude were proved wrong. Most notably, the perceived awkwardness the students had about sending the letters was entirely self-imposed, as it turns out that the people who received the letters were genuinely touched.
Take a look: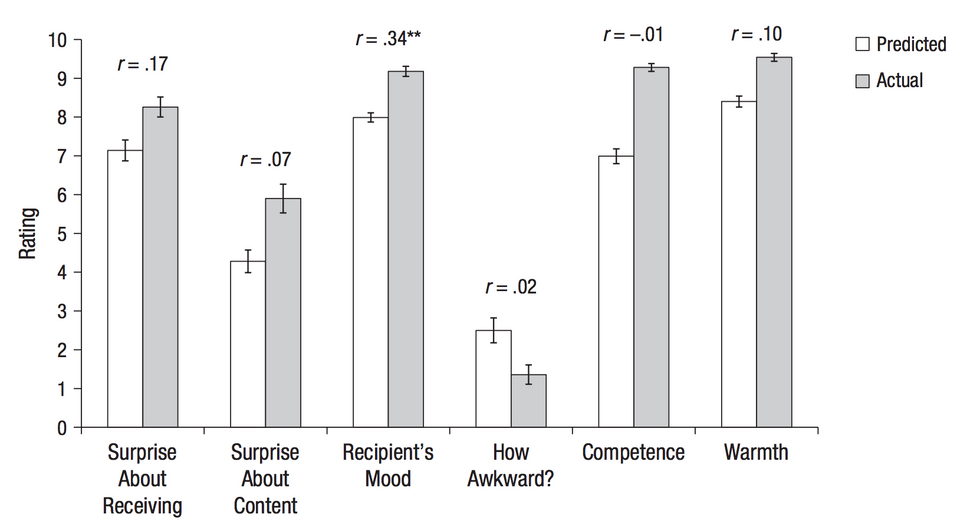 The best part? Sending letters—real life, actual, non-social-media messages—costs next to nothing and as shown by this study can verifiably make the recipient's day better. Enough gratitude, one could posit, could make the world a measurably better place. Because what the world needs now is love, sweet love... and perhaps a whole lot of stamps and stationery.
As is shown in the graph above, it's not awkward to thank somebody. It's probably the best thing you could do, and it takes five minutes of your day. If you're having trouble starting a letter, take the advice of the late, great film noir actor James Cagney: "plant yourself, look 'em in the eye, and tell the truth."
The study itself has a surprisingly poetic conclusion, posted here:
Positive social connections are a powerful source "of well-being, and creating those connections can sometimes come at little or no cost. However, they also require that people choose to engage in actions that strengthen social bonds, such as expressing gratitude. Miscalculating the positive impact of social connections on oneself, or on others, could keep people from being prosocial enough for their own well-being. Expressing gratitude may not buy everything, but it may buy more than people seem to expect.

To create wiser adults, add empathy to the school curriculum.
Sponsored by Charles Koch Foundation
Stories are at the heart of learning, writes Cleary Vaughan-Lee, Executive Director for the Global Oneness Project. They have always challenged us to think beyond ourselves, expanding our experience and revealing deep truths.
Vaughan-Lee explains 6 ways that storytelling can foster empathy and deliver powerful learning experiences.
Global Oneness Project is a free library of stories—containing short documentaries, photo essays, and essays—that each contain a companion lesson plan and learning activities for students so they can expand their experience of the world.
Philosophers like to present their works as if everything before it was wrong. Sometimes, they even say they have ended the need for more philosophy. So, what happens when somebody realizes they were mistaken?
The inequalities impact everything from education to health.
ANGELA WEISS/AFP via Getty Images
Politics & Current Affairs
America is experiencing some of its most widespread civil unrest in years following the death of George Floyd.
Astrophysicist Michelle Thaller talks ISS and why NICER is so important.
Videos
Being outside of Earth's atmosphere while also being able to look down on the planet is both a challenge and a unique benefit for astronauts conducting important and innovative experiments aboard the International Space Station.
NASA astrophysicist Michelle Thaller explains why one such project, known as NICER (Neutron star Interior Composition Explorer), is "one of the most amazing discoveries of the last year."
Researchers used x-ray light data from NICER to map the surface of neutrons (the spinning remnants of dead stars 10-50 times the mass of our sun). Thaller explains how this data can be used to create a clock more accurate than any on Earth, as well as a GPS device that can be used anywhere in the galaxy.
Mind & Brain
Just before I turned 60, I discovered that sharing my story by drawing could be an effective way to both alleviate my symptoms and combat that stigma.
Scroll down to load more…