Want to genuinely (and scientifically) make the world a better place? Send thank-you notes
Because what the world needs now is love, sweet love... and perhaps a whole lot of stamps and stationery.
18 July, 2018
You know what you're most definitely not doing enough of? Writing thank-you notes. According to a new study out of the Booth Business School at the University of Chicago, researchers say that although most people find the practice of writing a thank-you to be awkward (more on that in a bit), the people who receive them are far more appreciative than the note-maker might ever have thought.
---
107 students at the University of Chicago were asked to write a letter to someone who "had touched their life in a meaningful way," expressing gratitude or thanks (out of this group of 107, 15 didn't allow the researchers to contact the letter recipients). The students were given a questionnaire immediately before sending the note, and recipients were emailed a follow-up questionnaire two days after receiving the letter. 
Both recipients and senders were asked to rank several factors—surprise about receiving the letters, surprise about content, and so forth—on an 11-point scale (0 being disappointed, 10 being highly elated). On every metric, people's anxieties about expressing gratitude were proved wrong. Most notably, the perceived awkwardness the students had about sending the letters was entirely self-imposed, as it turns out that the people who received the letters were genuinely touched.
Take a look: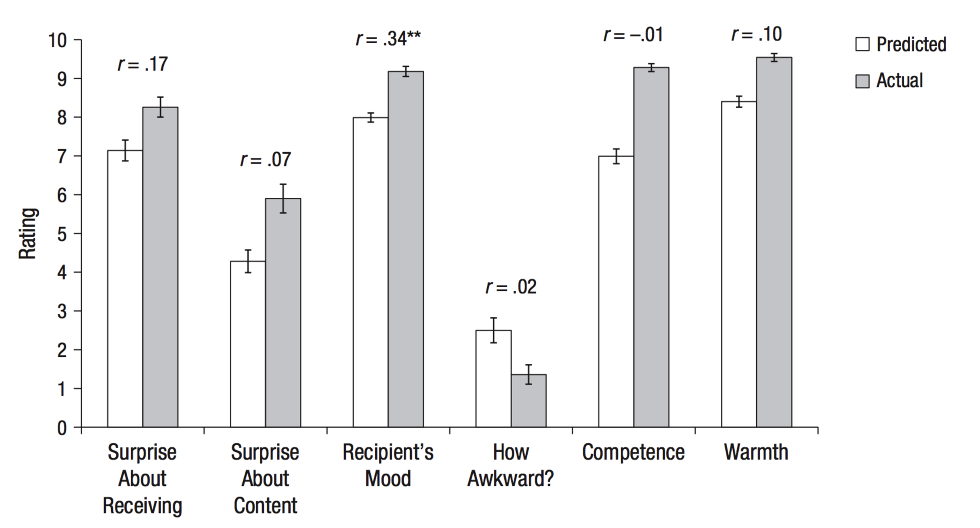 The best part? Sending letters—real life, actual, non-social-media messages—costs next to nothing and as shown by this study can verifiably make the recipient's day better. Enough gratitude, one could posit, could make the world a measurably better place. Because what the world needs now is love, sweet love... and perhaps a whole lot of stamps and stationery. 
As is shown in the graph above, it's not awkward to thank somebody. It's probably the best thing you could do, and it takes five minutes of your day. If you're having trouble starting a letter, take the advice of the late, great film noir actor James Cagney: "plant yourself, look 'em in the eye, and tell the truth."
The study itself has a surprisingly poetic conclusion, posted here: 
Positive social connections are a powerful source "of well-being, and creating those connections can sometimes come at little or no cost. However, they also require that people choose to engage in actions that strengthen social bonds, such as expressing gratitude. Miscalculating the positive impact of social connections on oneself, or on others, could keep people from being prosocial enough for their own well-being. Expressing gratitude may not buy everything, but it may buy more than people seem to expect.
Related Articles
How a cataclysm worse than what killed the dinosaurs destroyed 90 percent of all life on Earth.
Credit: Ron Miller
Surprising Science
While the demise of the dinosaurs gets more attention as far as mass extinctions go, an even more disastrous event called "the Great Dying" or the "End-Permian Extinction" happened on Earth prior to that. Now scientists discovered how this cataclysm, which took place about 250 million years ago, managed to kill off more than 90 percent of all life on the planet.
A new study discovers the "liking gap" — the difference between how we view others we're meeting for the first time, and the way we think they're seeing us.
New acquaintances probably like you more than you think. (Photo by Simone Joyner/Getty Images)
Surprising Science
We tend to be defensive socially. When we meet new people, we're often concerned with how we're coming off. Our anxiety causes us to be so concerned with the impression we're creating that we fail to notice that the same is true of the other person as well. A new study led by Erica J. Boothby, published on September 5 in Psychological Science, reveals how people tend to like us more in first encounters than we'd ever suspect.
Using advanced laser technology, scientists at NASA will track global changes in ice with greater accuracy.
Firing three pairs of laser beams 10,000 times per second, the ICESat-2 satellite will measure how long it takes for faint reflections to bounce back from ground and sea ice, allowing scientists to measure the thickness, elevation and extent of global ice
popular
Leaving from Vandenberg Air Force base in California this coming Saturday, at 8:46 a.m. ET, the Ice, Cloud, and Land Elevation Satellite-2 — or, the "ICESat-2" — is perched atop a United Launch Alliance Delta II rocket, and when it assumes its orbit, it will study ice layers at Earth's poles, using its only payload, the Advance Topographic Laser Altimeter System (ATLAS).
Big think's weekly newsletter.
Get smarter faster from the comfort of your inbox.
See our newsletter privacy policy
here
Most Popular
Most Recent
Big think's weekly newsletter.
Get smarter faster from the comfort of your inbox.
See our newsletter privacy policy
here
© Copyright 2007-2018 & BIG THINK, BIG THINK EDGE,
SMARTER FASTER trademarks owned by The Big Think, Inc. All rights reserved.