Want to genuinely (and scientifically) make the world a better place? Send thank-you notes
Because what the world needs now is love, sweet love... and perhaps a whole lot of stamps and stationery.
18 July, 2018
You know what you're most definitely not doing enough of? Writing thank-you notes. According to a new study out of the Booth Business School at the University of Chicago, researchers say that although most people find the practice of writing a thank-you to be awkward (more on that in a bit), the people who receive them are far more appreciative than the note-maker might ever have thought.
---
107 students at the University of Chicago were asked to write a letter to someone who "had touched their life in a meaningful way," expressing gratitude or thanks (out of this group of 107, 15 didn't allow the researchers to contact the letter recipients). The students were given a questionnaire immediately before sending the note, and recipients were emailed a follow-up questionnaire two days after receiving the letter. 
Both recipients and senders were asked to rank several factors—surprise about receiving the letters, surprise about content, and so forth—on an 11-point scale (0 being disappointed, 10 being highly elated). On every metric, people's anxieties about expressing gratitude were proved wrong. Most notably, the perceived awkwardness the students had about sending the letters was entirely self-imposed, as it turns out that the people who received the letters were genuinely touched.
Take a look: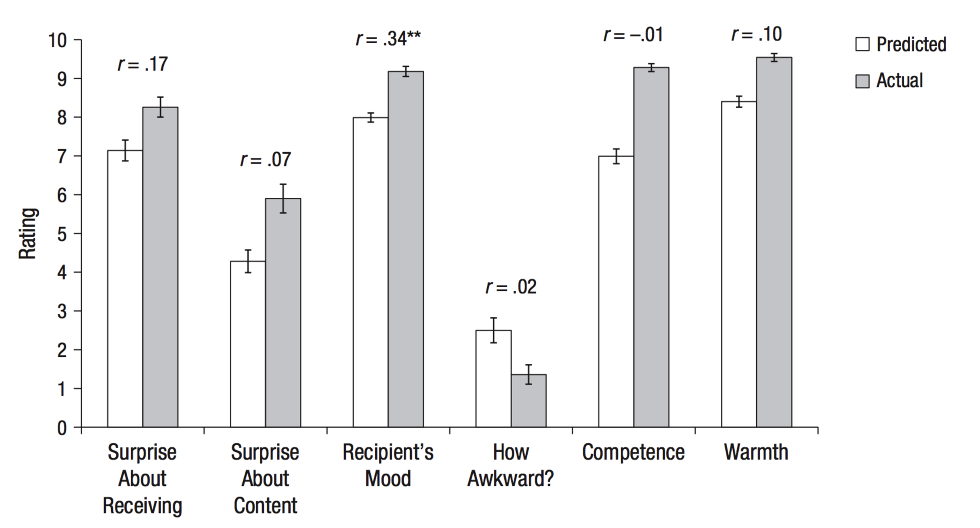 The best part? Sending letters—real life, actual, non-social-media messages—costs next to nothing and as shown by this study can verifiably make the recipient's day better. Enough gratitude, one could posit, could make the world a measurably better place. Because what the world needs now is love, sweet love... and perhaps a whole lot of stamps and stationery. 
As is shown in the graph above, it's not awkward to thank somebody. It's probably the best thing you could do, and it takes five minutes of your day. If you're having trouble starting a letter, take the advice of the late, great film noir actor James Cagney: "plant yourself, look 'em in the eye, and tell the truth."
The study itself has a surprisingly poetic conclusion, posted here: 
Positive social connections are a powerful source "of well-being, and creating those connections can sometimes come at little or no cost. However, they also require that people choose to engage in actions that strengthen social bonds, such as expressing gratitude. Miscalculating the positive impact of social connections on oneself, or on others, could keep people from being prosocial enough for their own well-being. Expressing gratitude may not buy everything, but it may buy more than people seem to expect.
Understanding thinking talents in yourself and others can build strong teams and help avoid burnout.
Big Think Edge
Learn to collaborate within a team and identify "thinking talent" surpluses – and shortages.

Angie McArthur teaches intelligent collaboration for Big Think Edge.

Subscribe to Big Think Edge before we launch on March 30 to get 20% off monthly and annual memberships.
The Canadian professor has been on the Joe Rogan Experience six times. There's a lot of material to discuss.
Personal Growth
Jordan Peterson has constantly been in the headlines for his ideas on gender over the last three years.
While on Joe Rogan's podcast, he explains his thoughts on the gender differences in society.
On another episode, Peterson discusses the development of character through competition.
The blood of horseshoe crabs is harvested on a massive scale in order to retrieve a cell critical to medical research. However, recent innovations might make this practice obsolete.
Credit: Business Insider (video)
Surprising Science
Horseshoe crabs' blue blood is so valuable that a quart of it can be sold for $15,000.
This is because it contains a molecule that is crucial to the medical research community.
Today, however, new innovations have resulted in a synthetic substitute that may end the practice of farming horseshoe crabs for their blood.
David Wallace-Wells points out that the people who can save the world just aren't all that interested.
Videos
Saving the world from the apocalyptic impact of climate change should be a dream for many Silicon Valley titans concerned about legacy, says David Wallace-Wells, and yet few are dedicating themselves to addressing the catastrophe.
Negative emissions technology funded by Bill Gates exists. It would cost $3 trillion per year to operate and would mean human industry could continue at current levels without global warming.
That figure sounds astronomical, however global subsidies to fossil fuel industries cost $5 trillion per year.
Big think's weekly newsletter.
Get smarter faster from the comfort of your inbox.
See our newsletter privacy policy
here
Most Popular
Most Recent
Big think's weekly newsletter.
Get smarter faster from the comfort of your inbox.
See our newsletter privacy policy
here
© Copyright 2007-2018 & BIG THINK, BIG THINK EDGE,
SMARTER FASTER trademarks owned by The Big Think, Inc. All rights reserved.