Want to genuinely (and scientifically) make the world a better place? Send thank-you notes.
Because what the world needs now is love, sweet love... and perhaps a whole lot of stamps and stationery.
18 July, 2018
You know what you're most definitely not doing enough of? Writing thank-you notes. According to a new study out of the Booth Business School at the University of Chicago, researchers say that although most people find the practice of writing a thank-you to be awkward (more on that in a bit), the people who receive them are far more appreciative than the note-maker might ever have thought.
---
107 students at the University of Chicago were asked to write a letter to someone who "had touched their life in a meaningful way," expressing gratitude or thanks (out of this group of 107, 15 didn't allow the researchers to contact the letter recipients). The students were given a questionnaire immediately before sending the note, and recipients were emailed a follow-up questionnaire two days after receiving the letter.
Both recipients and senders were asked to rank several factors—surprise about receiving the letters, surprise about content, and so forth—on an 11-point scale (0 being disappointed, 10 being highly elated). On every metric, people's anxieties about expressing gratitude were proved wrong. Most notably, the perceived awkwardness the students had about sending the letters was entirely self-imposed, as it turns out that the people who received the letters were genuinely touched.
Take a look: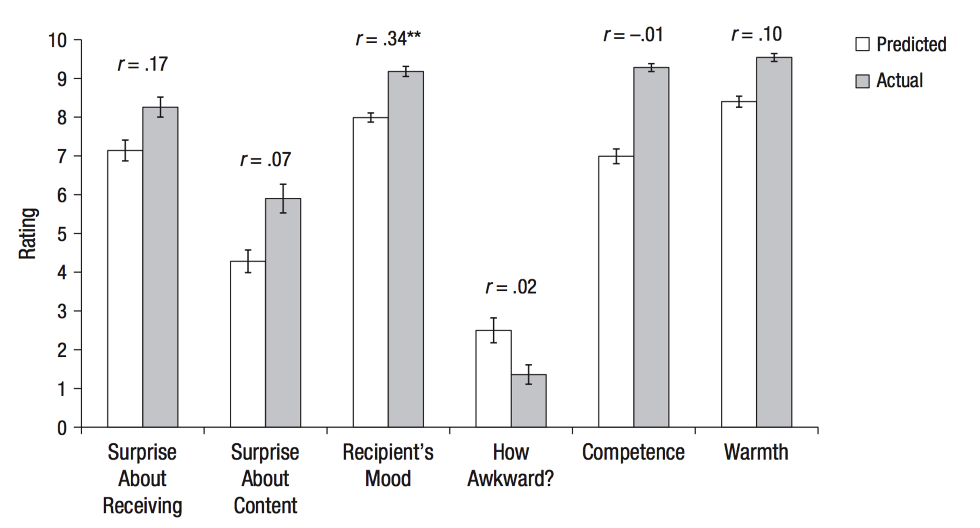 The best part? Sending letters—real life, actual, non-social-media messages—costs next to nothing and as shown by this study can verifiably make the recipient's day better. Enough gratitude, one could posit, could make the world a measurably better place. Because what the world needs now is love, sweet love... and perhaps a whole lot of stamps and stationery.
As is shown in the graph above, it's not awkward to thank somebody. It's probably the best thing you could do, and it takes five minutes of your day. If you're having trouble starting a letter, take the advice of the late, great film noir actor James Cagney: "plant yourself, look 'em in the eye, and tell the truth."
The study itself has a surprisingly poetic conclusion, posted here:
Positive social connections are a powerful source "of well-being, and creating those connections can sometimes come at little or no cost. However, they also require that people choose to engage in actions that strengthen social bonds, such as expressing gratitude. Miscalculating the positive impact of social connections on oneself, or on others, could keep people from being prosocial enough for their own well-being. Expressing gratitude may not buy everything, but it may buy more than people seem to expect.

What can 3D printing do for medicine? The "sky is the limit," says Northwell Health researcher Dr. Todd Goldstein.
Northwell Health
Sponsored by Northwell Health
Medical professionals are currently using 3D printers to create prosthetics and patient-specific organ models that doctors can use to prepare for surgery.
Eventually, scientists hope to print patient-specific organs that can be transplanted safely into the human body.
Northwell Health, New York State's largest health care provider, is pioneering 3D printing in medicine in three key ways.
New computing theory allows artificial intelligences to store memories.
Credit: Perception and Robotics Group, University of Maryland.
Technology & Innovation
To become autonomous, robots need to perceive the world around them and move at the same time.
Researchers create a theory of hyperdimensional computing to help store robot movement in high-dimensional vectors.
This improvement in perception will allow artificial intelligences to create memories.
If you don't want to know anything about your death, consider this your spoiler warning.
Culture & Religion
For centuries cultures have personified death to give this terrifying mystery a familiar face.
Modern science has demystified death by divulging its biological processes, yet many questions remain.
Studying death is not meant to be a morbid reminder of a cruel fate, but a way to improve the lives of the living.
Riots may ensue as more poor Americans recognize their "miserable" long-term prospects.
Videos
How bad is wealth inequality in the United States? About 1 percent of Americans hold 80 percent of the money.
In the United States, the correlation between the income of parents and the income of their children when they grow up is higher than in any other country in the world.
One of the big underlying reasons for poverty is receiving a crummy education, which in turn leads to crummy jobs. When people recognize their miserable long-term prospects, they are more likely to partake in riots.
Big think's weekly newsletter.
Get smarter faster from the comfort of your inbox.
See our newsletter privacy policy
here
Most Popular
Most Recent
Big think's weekly newsletter.
Get smarter faster from the comfort of your inbox.
See our newsletter privacy policy
here
© Copyright 2007-2019 & BIG THINK, BIG THINK EDGE,
SMARTER FASTER trademarks owned by The Big Think, Inc. All rights reserved.