Want to genuinely (and scientifically) make the world a better place? Send thank-you notes
Because what the world needs now is love, sweet love... and perhaps a whole lot of stamps and stationery.
18 July, 2018
You know what you're most definitely not doing enough of? Writing thank-you notes. According to a new study out of the Booth Business School at the University of Chicago, researchers say that although most people find the practice of writing a thank-you to be awkward (more on that in a bit), the people who receive them are far more appreciative than the note-maker might ever have thought.
---
107 students at the University of Chicago were asked to write a letter to someone who "had touched their life in a meaningful way," expressing gratitude or thanks (out of this group of 107, 15 didn't allow the researchers to contact the letter recipients). The students were given a questionnaire immediately before sending the note, and recipients were emailed a follow-up questionnaire two days after receiving the letter. 
Both recipients and senders were asked to rank several factors—surprise about receiving the letters, surprise about content, and so forth—on an 11-point scale (0 being disappointed, 10 being highly elated). On every metric, people's anxieties about expressing gratitude were proved wrong. Most notably, the perceived awkwardness the students had about sending the letters was entirely self-imposed, as it turns out that the people who received the letters were genuinely touched.
Take a look: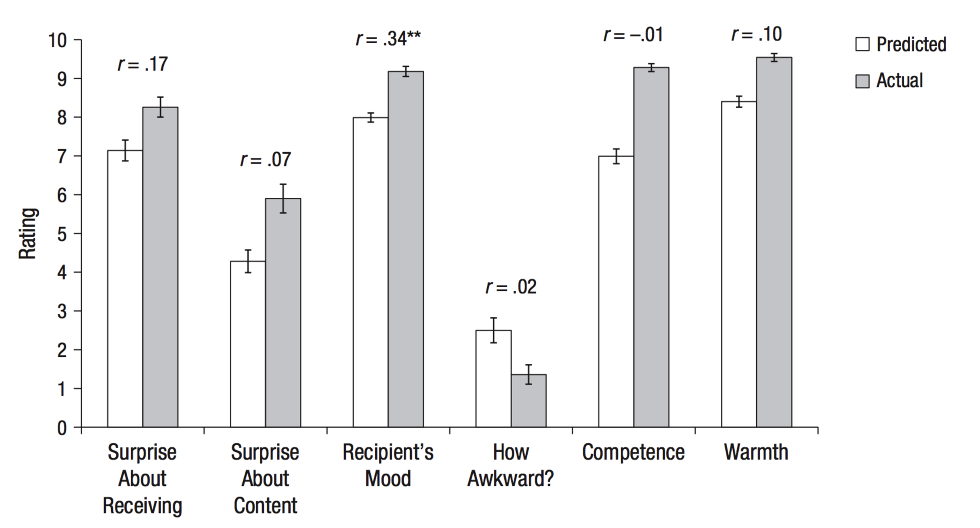 The best part? Sending letters—real life, actual, non-social-media messages—costs next to nothing and as shown by this study can verifiably make the recipient's day better. Enough gratitude, one could posit, could make the world a measurably better place. Because what the world needs now is love, sweet love... and perhaps a whole lot of stamps and stationery. 
As is shown in the graph above, it's not awkward to thank somebody. It's probably the best thing you could do, and it takes five minutes of your day. If you're having trouble starting a letter, take the advice of the late, great film noir actor James Cagney: "plant yourself, look 'em in the eye, and tell the truth."
The study itself has a surprisingly poetic conclusion, posted here: 
Positive social connections are a powerful source "of well-being, and creating those connections can sometimes come at little or no cost. However, they also require that people choose to engage in actions that strengthen social bonds, such as expressing gratitude. Miscalculating the positive impact of social connections on oneself, or on others, could keep people from being prosocial enough for their own well-being. Expressing gratitude may not buy everything, but it may buy more than people seem to expect.
Pfizer's partnerships strengthen their ability to deliver vaccines in developing countries.
Susan Silbermann, Global President of Pfizer Vaccines, looks on as a health care worker administers a vaccine in Rwanda. Photo: Courtesy of Pfizer.
Sponsored
Community healthcare workers face many challenges in their work, including often traveling far distances to see their clients
Pfizer is helping to drive the UN's sustainable development goals through partnerships.
Pfizer partnered with AMP and the World Health Organization to develop a training program for healthcare workers.
Orangutans join humans and bees in a very exclusive club
Surprising Science
Orangutan mothers wait to sound a danger alarm to avoid tipping off predators to their location
It took a couple of researchers crawling around the Sumatran jungle to discover the phenomenon
This ability may come from a common ancestor
The definition of a kilogram will now be fixed to Planck's constant, a fundamental part of quantum physics.
Surprising Science
The new definition of a kilogram is based on a physical constant in quantum physics.
Unlike the current definition of a kilogram, this measurement will never change.
Scientists also voted to update the definitions of several other measurements in physics.
Journaling can help you materialize your ambitions.
Videos
Organizing your thoughts can help you plan and achieve goals that might otherwise seen unobtainable.
The Bullet Journal method, in particular, can reduce clutter in your life by helping you visualize your future.
One way to view your journal might be less of a narrative and more of a timeline of decisions.
Big think's weekly newsletter.
Get smarter faster from the comfort of your inbox.
See our newsletter privacy policy
here
Most Popular
Most Recent
Big think's weekly newsletter.
Get smarter faster from the comfort of your inbox.
See our newsletter privacy policy
here
© Copyright 2007-2018 & BIG THINK, BIG THINK EDGE,
SMARTER FASTER trademarks owned by The Big Think, Inc. All rights reserved.