Big ideas.
Once a week.
Subscribe to our weekly newsletter.
The Science Behind Why Cops Kill Black Men - And How to Fix it
Police use the same mechanism to make split-second life-or-death decisions that we do. But that mechanism is kind of a racist idiot.
09 July, 2016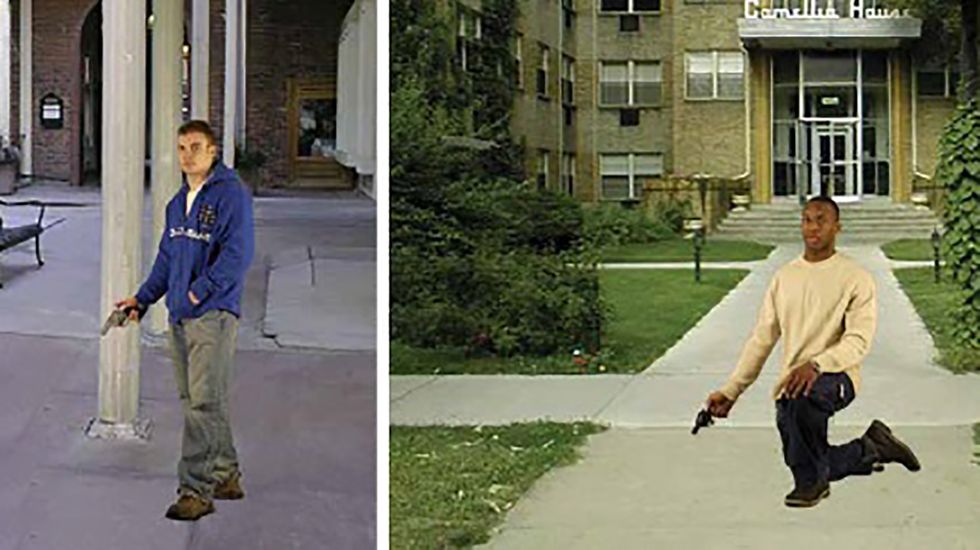 Images from a test that asked subjects whether to shoot - or not. Credit: Mother Jones.
---
Alton Sterling and Philando Castile were shot to death by police officers this week. Both were calm. Both were compliant. Both were African American. Underneath the ugliness and tragedy of their deaths is the fact that the officers who killed them made the decision to do so in a split-second -- based entirely on implicit biases.
We've touched on this before, but implicit bias -- an unintentional action rooted in prejudicial cognitive bias -- causes more trouble than it sounds like it should. It's the root part of your brain that assesses everything you absorb from the world around you -- smells, tastes, people, feelings -- and categorizes them into experiences -- good, bad, scary, happy -- for easy recall. For example, if you smell something yummy, see a chocolate chip cookie, eat the cookie, taste it, and realize it's delicious, your brain shortcuts remembering all of those individual stimuli by saving the whole experience as "cookie = yummy." That ingrained memory becomes a preference, and that preference helps you make future decisions when faced with another cookie much more quickly than by going through the whole sensory information gathering process. Implicit bias is kind of like your brain's autopilot for decision making.  
That sort of shortcut in decision making was a strong survival tactic for early humans. We learned which plants were safe to eat and which animals would try to kill us, developing preferences for the ones that benefitted us. Those preferences enabled us to make similar decisions more and more quickly, saving precious seconds for escaping predators or chasing food. In today's world that kind of preference is too primitive, and often causes faulty associations based on cultural and sociological influences. Chris Mooney at Mother Jones explains it this way: "racially biased messages from the culture around you have shaped the very wiring of your brain. It is not that we are either prejudiced or unprejudiced, period. Rather, we are more and less prejudiced, based on our upbringings and experiences but also on a variety of temporary or situational prompts." Psychologist Heidi Grant Halvorson explains how this happens:
One way to measure the effect of those upbringings and experiences is through the Implicit Association Test (IAT). Harvard's Project Implicit defines the IAT as a test that: "measures the strength of associations between concepts (e.g., black people, gay people) and evaluations (e.g., good, bad) or stereotypes (e.g., athletic, clumsy)." Participants are given about 50 milliseconds to make each choice before the test loudly buzzes an error message -- just enough time to respond instinctually.
Credit: Project Implicit
IAT scores are the difference between the first and final rounds of associations -- or, the last time you categorized concepts and evaluations versus your first impression of them. On average, most people are either slightly or moderately biased, meaning no matter how much you try to make bias-free decisions your brain will default to the preferences it learned when you were initially classifying the world around you. You can take the test yourself on Project Implicit and see for yourself (or take it again if you took it when we showed it to you last year). The results will surprise you:
Police officers are trained to build these kinds of preferences in more situations than civilians, particularly in dangerous, life-threatening ones. However, they are also making decisions based on those racially biased messages. In a 2014 empirical review for Social and Personality Psychology Compass, scientists at the University of Colorado Boulder and California State University Northridge looked at 10 years' worth of data and found "police officers use greater force (both lethal and non-lethal) when the suspect is black rather than white" and those officers "were faster to shoot armed targets when they were black (rather than white), and they were faster to choose a don't-shoot response if an unarmed target was white (rather than black)." They were displaying an implicit bias -- because their surroundings reinforced a primitive learned preference:
When confronted with a black target, officers may activate racial stereotypes related to threat. In line with this possibility, response time bias was greatest among officers whose districts were characterized by a large (urban) population, a high rate of violent crime, and a greater concentration of Blacks and other minorities – environments likely to reinforce racial stereotypes.
Another 2014 study, this time in the Journal of Personality and Social Psychology, 176 mostly white, male police officers were tested for "an unconscious dehumanization bias" against black people. Using a modified IAT, researchers asked the officers to match photos of people with photos of big cats or apes. Officers "commonly dehumanized black people," the study reports, "and those who did were most likely to be the ones who had a record of using force on black children in custody."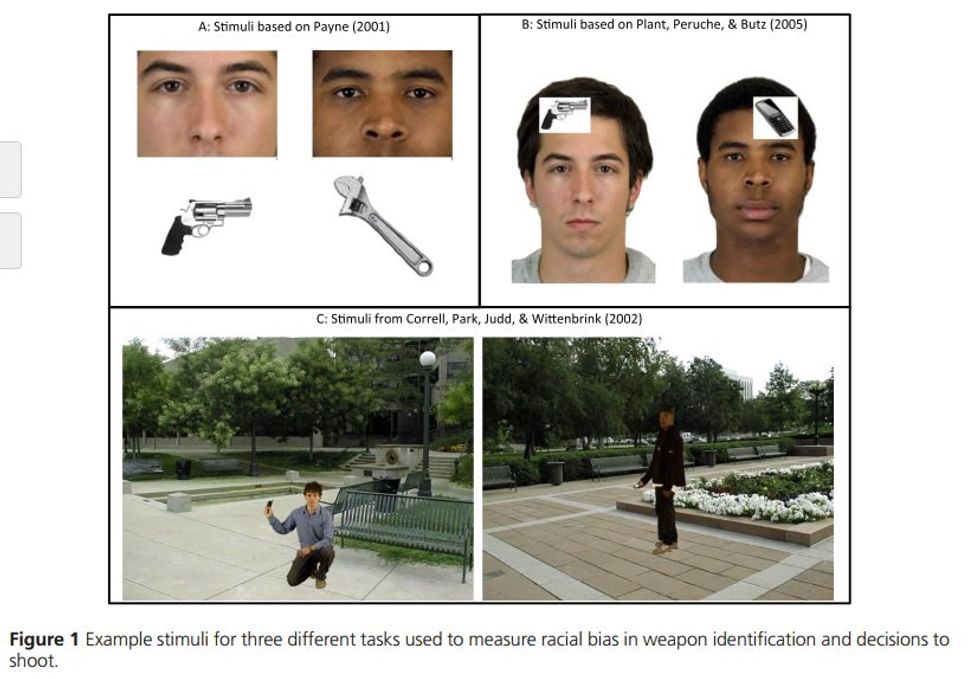 Credit: SPPC
Thankfully, these kind of biased responses can be trained away. Taking the IAT for a lengthy period of time (160 attempts, according to the SPCC review) negates the initial bias. Training officers to focus on body language cues instead of race negates the initial bias. Even interacting with the community in normal day-to-day situations negates the initial bias. As long as the brain is given a new positive association for something it previously attached a bias to, it can learn a new response. Or, as Mooney puts it, "our tribal instincts can actually be co-opted to decrease prejudice, if we are made to see those of other races as part of our team."
This applies to all of us, not just police officers. But hopefully, building a better sense of team unity within African American communities will end the ill effects of implicit bias in policing.
Feature Image Credit: Mother Jones
"You dream about these kinds of moments when you're a kid," said lead paleontologist David Schmidt.
Surprising Science
The triceratops skull was first discovered in 2019, but was excavated over the summer of 2020.
It was discovered in the South Dakota Badlands, an area where the Triceratops roamed some 66 million years ago.
Studying dinosaurs helps scientists better understand the evolution of all life on Earth.
A new paper reveals that the Voyager 1 spacecraft detected a constant hum coming from outside our Solar System.
Credit: NASA / JPL - Caltech.
Surprising Science
Voyager 1, humankind's most distant space probe, detected an unusual "hum" in the data from interstellar space.
The noise is likely produced by interstellar gas.
Further investigation may reveal the hum's exact origins.
Voyager 1, humanity's most faraway spacecraft, has detected an unusual "hum" coming from outside our solar system. Fourteen billion miles away from Earth, the Voyager's instruments picked up a droning sound that may be caused by plasma (ionized gas) in the vast emptiness of interstellar space.
Launched in 1977, the Voyager 1 space probe — along with its twin Voyager 2 — has been traveling farther and farther into space for over 44 years. It has now breached the edge of our solar system, exiting the heliosphere, the bubble-like region of space influenced by the sun. Now, the spacecraft is moving through the "interstellar medium," where it recorded the peculiar sound.
Stella Koch Ocker, a doctoral student in astronomy at Cornell University, discovered the sound in the data from the Voyager's Plasma Wave System (PWS), which measures electron density. Ocker called the drone coming from plasma shock waves "very faint and monotone," likely due to the narrow bandwidth of its frequency.

While they think the persistent background hum may be coming from interstellar gas, the researchers don't yet know what exactly is causing it. It might be produced by "thermally excited plasma oscillations and quasi-thermal noise."
The new paper from Ocker and her colleagues at Cornell University and the University of Iowa, published in Nature Astronomy, also proposes that this is not the last we'll hear of the strange noise. The scientists write that "the emission's persistence suggests that Voyager 1 may be able to continue tracking the interstellar plasma density in the absence of shock-generated plasma oscillation events."
Voyager Captures Sounds of Interstellar Space www.youtube.com
The researchers think the droning sound may hold clues to how interstellar space and the heliopause, which can be thought of as the solar's system border, may be affecting each other. When it first entered interstellar space, the PWS instrument reported disturbances in the gas caused by the sun. But in between such eruptions is where the researchers spotted the steady signature made by the near-vacuum.
Senior author James Cordes, a professor of astronomy at Cornell, compared the interstellar medium to "a quiet or gentle rain," adding that "in the case of a solar outburst, it's like detecting a lightning burst in a thunderstorm and then it's back to a gentle rain."
More data from Voyager over the next few years may hold crucial information to the origins of the hum. The findings are already remarkable considering the space probe is functioning on technology from the mid-1970s. The craft has about 70 kilobytes of computer memory. It also carries a Golden Record created by a committee chaired by the late Carl Sagan, who taught at Cornell University. The 12-inch gold-plated copper disk record is essentially a time capsule, meant to tell the story of Earthlings to extraterrestrials. It contains sounds and images that showcase the diversity of Earth's life and culture.
A team of scientists managed to install onto a smartphone a spectrometer that's capable of identifying specific molecules — with cheap parts you can buy online.
Technology & Innovation
Spectroscopy provides a non-invasive way to study the chemical composition of matter.
These techniques analyze the unique ways light interacts with certain materials.
If spectrometers become a common feature of smartphones, it could someday potentially allow anyone to identify pathogens, detect impurities in food, and verify the authenticity of valuable minerals.
The quality of smartphone cameras has increased exponentially over the past decade. Today's smartphone cameras can not only capture photos that rival those of stand-alone camera systems but also offer practical applications, like heart-rate measurement, foreign-text translation, and augmented reality.
What's the next major functionality of smartphone cameras? It could be the ability to identify chemicals, drugs, and biological molecules, according to a new study published in the Review of Scientific Instruments.
The study describes how a team of scientists at Texas A&M turned a common smartphone into a "pocket-sized" Raman and emission spectral detector by modifying it with just $50 worth of extra equipment. With the added hardware, the smartphone was able to identify chemicals in the field within minutes.
The technology could have a wide range of applications, including diagnosing certain diseases, detecting the presence of pathogens and dangerous chemicals, identifying impurities in food, and verifying the authenticity of valuable artwork and minerals.
Raman and fluorescence spectroscopy
Raman and fluorescence spectroscopies are techniques for discerning the chemical composition of materials. Both strategies exploit the fact that light interacts with certain types of matter in unique ways. But there are some differences between the two techniques.
As the name suggests, fluorescence spectroscopy measures the fluorescence — that is, the light emitted by a substance when it absorbs light or other electromagnetic radiation — of a given material. It works by shining light on a material, which excites the electrons within the molecules of the material. The electrons then emit fluorescent light toward a filter that measures fluorescence.
The particular spectra of fluorescent light that's emitted can help scientists detect small concentrations of particular types of biological molecules within a material. But some biomolecules, such as RNA and DNA, don't emit fluorescent light, or they only do so at extremely low levels. That's where Raman spectroscopy comes into play.
Raman spectroscopy involves shooting a laser at a sample and observing how the light scatters. When light hits molecules, the atoms within the molecules vibrate and photons get scattered. Most of the scattered light is of the same wavelength and color as the original light, so it provides no information. But a tiny fraction of the light gets scattered differently; that is, the wavelength and color are different. Known as Raman scattering, this is extremely useful because it provides highly precise information about the chemical composition of the molecule. In other words, all molecules have a unique Raman "fingerprint."
Creating an affordable, pocket-sized spectrometer
To build the spectrometer, the researchers connected a smartphone to a laser and a series of plastic lenses. The smartphone camera was placed facing a transmission diffraction grating, which splits incoming light into its constituent wavelengths and colors. After a laser is fired into a sample, the scattered light is diffracted through this grating, and the smartphone camera analyzes the light on the other side.
Schematic diagram of the designed system.Credit: Dhankhar et al.
To test the spectrometer, the researchers analyzed a range of sample materials, including carrots and bacteria. The laser used in the spectrometer emits a wavelength that's readily absorbed by the pigments in carrots and bacteria, which is why these materials were chosen.

The results showed that the smartphone spectrometer was able to correctly identify the materials, but it wasn't quite as effective as the best commercially available Raman spectrometers. The researchers noted that their system might be improved by using specific High Dynamic Range (HDR) smartphone camera applications.
Ultimately, the study highlights how improving the fundamentals of a technology, like smartphone cameras, can lead to a surprisingly wide range of useful applications.
"This inexpensive yet accurate recording pocket Raman system has the potential of being an integral part of ubiquitous cell phones that will make it possible to identify chemical impurities and pathogens, in situ within minutes," the researchers concluded.
Scroll down to load more…