Big ideas.
Once a week.
Subscribe to our weekly newsletter.
Helicopter Parents Are Causing Their Kids' Mental Health Problems
The children of overbearing parents are less likely to develop essential life skills and are more likely to be medicated for depression or anxiety in college.
07 July, 2015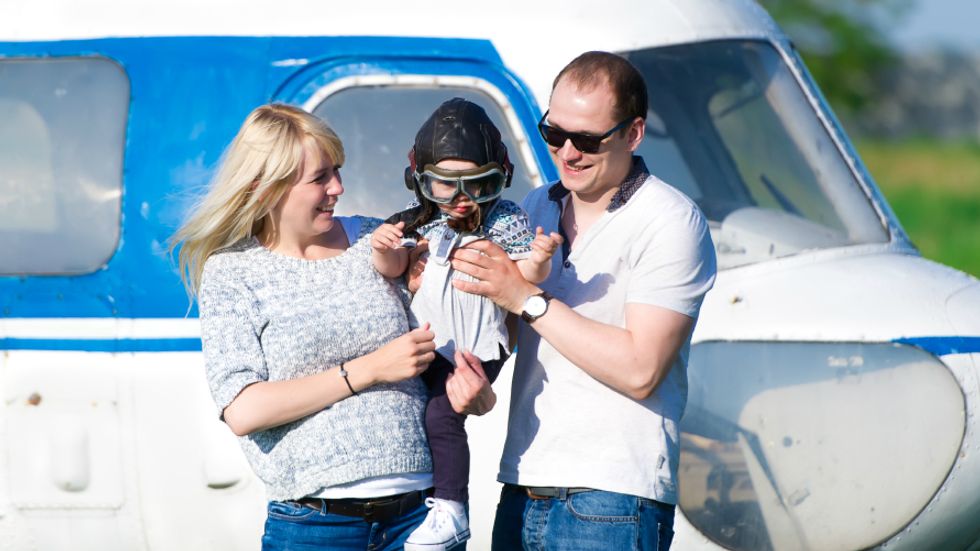 "Our sense of what is 'best' for our kids is completely out of whack," writes Julie Lythcott-Haims in her new book How to Raise an Adult. Lythcott-Haims, a former dean at Stanford, recounts her experience on the front lines of the college mental health crisis, learning that as many as a quarter of university students were taking Adderall, Prozac, or some other form of psychotropic drug. In How to Raise an Adult, she takes aim at the root cause: helicopter parents.
---
For those unfamiliar with the nifty idiom, a helicopter parent is one who can't help but "hover" around their children. They tend to be overprotective, overbearing, and entirely too controlling. Ever heard of a mom or dad call up their kid's college professor to ask how Junior can scrounge together some extra credit? That's a helicopter parent.
Lythcott-Haims raises many important points in her book on topics ranging from coping mechanisms to the unquantifiable value of mistakes and failure, but the most notable argument (and the main thrust of an excerpt published this week at Slate) is that these constricting forms of parenting come with serious psychological consequences. Not only are they a severe life-skills retardant, but also extreme levels of parental control correlate to mental health problems for college-age kids:
"As parents, our intentions are sound — more than sound: We love our kids fiercely and want only the very best for them. Yet, having succumbed to a combination of safety fears, a college admissions arms race, and perhaps our own needy ego, our sense of what is 'best' for our kids is completely out of whack. We don't want our kids to bonk their heads or have hurt feelings, but we're willing to take real chances with their mental health?"
Lythcott-Haims runs through multiple studies over the past decade summarizing the social and psychological risks of being a helicopter parent's child. These kids are "less open to new ideas and actions and more vulnerable, anxious, and self-conscious." When they reach college, children of overbearing parents are more likely to be medicated for anxiety or depression. Each study referenced points to the child's need for degrees of autonomy. Stifling these needs hampers development and maturity. 
"The data emerging about the mental health of our kids only confirms the harm done by asking so little of them when it comes to life skills, yet so much of them when it comes to adhering to the academic plans we've made for them."
Read more at Slate.
It's not just poor parenting that's harming our kids. Our education system likewise fails to equip children with the abilities and practices necessary for problem-solving. Below, theoretical physicist Lawrence Krauss explains why it's important to rethink education:
The idea of 'absolute time' is an illusion. Physics and subjective experience reveal why.
ESA
Surprising Science
Since Einstein posited his theory of general relativity, we've understood that gravity has the power to warp space and time.
This "time dilation" effect occurs even at small levels.
Outside of physics, we experience distortions in how we perceive time — sometimes to a startling extent.
Place one clock at the top of a mountain. Place another on the beach. Eventually, you'll see that each clock tells a different time. Why? Time moves slower as you get closer to Earth, because, as Einstein posited in his theory of general relativity, the gravity of a large mass, like Earth, warps the space and time around it.
Scientists first observed this "time dilation" effect on the cosmic scale, such as when a star passes near a black hole. Then, in 2010, researchers observed the same effect on a much smaller scale, using two extremely precise atomic clocks, one placed 33 centimeters higher than the other. Again, time moved slower for the clock closer to Earth.
The differences were tiny, but the implications were massive: absolute time does not exist. For each clock in the world, and for each of us, time passes slightly differently. But even if time is passing at ever-fluctuating speeds throughout the universe, time is still passing in some kind of objective sense, right? Maybe not.
Physics without time
In his book "The Order of Time," Italian theoretical physicist Carlo Rovelli suggests that our perception of time — our sense that time is forever flowing forward — could be a highly subjective projection. After all, when you look at reality on the smallest scale (using equations of quantum gravity, at least), time vanishes.
"If I observe the microscopic state of things," writes Rovelli, "then the difference between past and future vanishes … in the elementary grammar of things, there is no distinction between 'cause' and 'effect.'"
So, why do we perceive time as flowing forward? Rovelli notes that, although time disappears on extremely small scales, we still obviously perceive events occur sequentially in reality. In other words, we observe entropy: Order changing into disorder; an egg cracking and getting scrambled.
Rovelli says key aspects of time are described by the second law of thermodynamics, which states that heat always passes from hot to cold. This is a one-way street. For example, an ice cube melts into a hot cup of tea, never the reverse. Rovelli suggests a similar phenomenon might explain why we're only able to perceive the past and not the future.
"Any time the future is definitely distinguishable from the past, there is something like heat involved," Rovelli wrote for the Financial Times. "Thermodynamics traces the direction of time to something called the 'low entropy of the past', a still mysterious phenomenon on which discussions rage."
He continues:
"Entropy growth orients time and permits the existence of traces of the past, and these permit the possibility of memories, which hold together our sense of identity. I suspect that what we call the "flowing" of time has to be understood by studying the structure of our brain rather than by studying physics: evolution has shaped our brain into a machine that feeds off memory in order to anticipate the future. This is what we are listening to when we listen to the passing of time. Understanding the "flowing" of time is therefore something that may pertain to neuroscience more than to fundamental physics. Searching for the explanation of the feeling of flow in physics might be a mistake."
Scientists still have much to learn about how we perceive time, and why time operates differently depending on the scale. But what's certain is that, outside of the realm of physics, our individual perception of time is also surprisingly elastic.
​The strange subjectivity of time
Time moves differently atop a mountain than it does on a beach. But you don't need to travel any distance at all to experience strange distortions in your perception of time. In moments of life-or-death fear, for example, your brain would release large amounts of adrenaline, which would speed up your internal clock, causing you to perceive the outside world as moving slowly.

Another common distortion occurs when we focus our attention in particular ways.
"If you're thinking about how time is currently passing by, the biggest factor influencing your time perception is attention," Aaron Sackett, associate professor of marketing at the University of St. Thomas, told Gizmodo. "The more attention you give to the passage of time, the slower it tends to go. As you become distracted from time's passing—perhaps by something interesting happening nearby, or a good daydreaming session—you're more likely to lose track of time, giving you the feeling that it's slipping by more quickly than before. "Time flies when you're having fun," they say, but really, it's more like "time flies when you're thinking about other things." That's why time will also often fly by when you're definitely not having fun—like when you're having a heated argument or are terrified about an upcoming presentation."
One of the most mysterious ways people experience time-perception distortions is through psychedelic drugs. In an interview with The Guardian, Rovelli described a time he experimented with LSD.
"It was an extraordinarily strong experience that touched me also intellectually," he said. "Among the strange phenomena was the sense of time stopping. Things were happening in my mind but the clock was not going ahead; the flow of time was not passing any more. It was a total subversion of the structure of reality."

It seems few scientists or philosophers believe time is completely an illusion.
"What we call time is a rich, stratified concept; it has many layers," Rovelli told Physics Today. "Some of time's layers apply only at limited scales within limited domains. This does not make them illusions."
What
is
an illusion is the idea that time flows at an absolute rate. The river of time might be flowing forever forward, but it moves at different speeds, between people, and even within your own mind.
Neither. We are entering an AI autumn.
Credit: Jesse Chan via Unsplash
13-8
The history of AI shows boom periods (AI summers) followed by busts (AI winters).
The cyclical nature of AI funding is due to hype and promises not fulfilling expectations.
This time, we might enter something resembling an AI autumn rather than an AI winter, but fundamental questions remain if true AI is even possible.
The dream of building a machine that can think like a human stretches back to the origins of electronic computers. But ever since research into artificial intelligence (AI) began in earnest after World War II, the field has gone through a series of boom and bust cycles called "AI summers" and "AI winters."
Each cycle begins with optimistic claims that a fully, generally intelligent machine is just a decade or so away. Funding pours in and progress seems swift. Then, a decade or so later, progress stalls and funding dries up. Over the last ten years, we've clearly been in an AI summer as vast improvements in computing power and new techniques like deep learning have led to remarkable advances. But now, as we enter the third decade of the 21st century, some who follow AI feel the cold winds at their back leading them to ask, "Is Winter Coming?" If so, what went wrong this time?
How to build an A.I. brain that can conceive of itself | Joscha Bach | Big Think www.youtube.com
A brief history of AI

To see if the winds of winter are really coming for AI, it is useful to look at the field's history. The first real summer can be pegged to 1956 and the famous Dartmouth University Workshop where one of the field's pioneers, John McCarthy, coined the term "artificial intelligence." The conference was attended by scientists like Marvin Minsky and H. A. Simon, whose names would go on to become synonymous with the field. For those researchers, the task ahead was clear: capture the processes of human reasoning through the manipulation of symbolic systems (i.e., computer programs).
Unless we are talking about very specific tasks, any 6-year-old is infinitely more flexible and general in his or her intelligence than the "smartest" Amazon robot.
Throughout the 1960s, progress seemed to come swiftly as researchers developed computer systems that could play chess, deduce mathematical theorems, and even engage in simple discussions with a person. Government funding flowed generously. Optimism was so high that, in 1970, Minsky famously proclaimed, "In three to eight years we will have a machine with the general intelligence of a human being."
By the mid 1970s, however, it was clear that Minsky's optimism was unwarranted. Progress stalled as many of the innovations of the previous decade proved too narrow in their applicability, seeming more like toys than steps toward a general version of artificial intelligence. Funding dried up so completely that researchers soon took pains not to refer to their work as AI, as the term carried a stink that killed proposals.
The cycle repeated itself in the 1980s with the rise of expert systems and the renewed interest in what we now call neural networks (i.e., programs based on connectivity architectures that mimic neurons in the brain). Once again, there was wild optimism and big increases in funding. What was novel in this cycle was the addition of significant private funding as more companies began to rely on computers as essential components of their business. But, once again, the big promises were never realized, and funding dried up again.
AI: Hype vs. reality
Credit: Alex Wong via Staff
The AI summer we're currently experiencing began sometime in the first decade of the new millennium. Vast increases in both computing speed and storage ushered in the era of deep learning and big data. Deep learning methods use stacked layers of neural networks that pass information to each other to solve complex problems like facial recognition. Big data provides these systems with vast oceans of examples (like images of faces) to train on. The applications of this progress are all around us: Google Maps give you near-perfect directions; you can talk with Siri anytime you want; IBM's Deep Think computer beat Jeopardy's greatest human champions.

In response, the hype rose again. True AI, we were told, must be just around the corner. In 2015, for example, The Guardian reported that self-driving cars, the killer app of modern AI, was close at hand. Readers were told, "By 2020 you will become a permanent backseat driver." And just two years ago, Elon Musk claimed that by 2020 "we'd have over a million cars with full self-driving software."
The general intelligence — i.e., the understanding — we humans exhibit may be inseparable from our experiencing. If that's true, then our physical embodiment, enmeshed in a context-rich world, may be difficult if not impossible to capture in symbolic processing systems.
By now, it's obvious that a world of fully self-driving cars is still years away. Likewise, in spite of the remarkable progress we've made in machine learning, we're still far from creating systems that possess general intelligence. The emphasis is on the term general because that's what AI really has been promising all these years: a machine that's flexible in dealing with any situation as it comes up. Instead, what researchers have found is that, despite all their remarkable progress, the systems they've built remain brittle, which is a technical term meaning "they do very wrong things when given unexpected inputs." Try asking Siri to find "restaurants that aren't McDonald's." You won't like the results.
Unless we are talking about very specific tasks, any 6-year-old is infinitely more flexible and general in his or her intelligence than the "smartest" Amazon robot.
Even more important is the sense that, as remarkable as they are, none of the systems we've built understand anything about what they are doing. As philosopher Alva Noe said of Deep Think's famous Jeopardy! victory, "Watson answered no questions. It participated in no competition. It didn't do anything. All the doing was on our side. We played Jeapordy! with Watson." Considering this fact, some researchers claim that the general intelligence — i.e., the understanding — we humans exhibit may be inseparable from our experiencing. If that's true, then our physical embodiment, enmeshed in a context-rich world, may be difficult if not impossible to capture in symbolic processing systems.
Not the (AI) winter of our discontent
Thus, talk a of a new AI winter is popping up again. Given the importance of deep learning and big data in technology, it's hard to imagine funding for these domains drying up any time soon. What we may be seeing, however, is a kind of AI autumn when researchers wisely recalibrate their expectations and perhaps rethink their perspectives.
A new study explores how investors' behavior is affected by participating in online communities, like Reddit's WallStreetBets.
Mind & Brain
The study found evidence that "hype" over assets is psychologically contagious among investors in online communities.
This hype is self-perpetuating: A small group of investors hypes an asset, bringing in new investors, until growth becomes unsteady and a price crash ensues.
The researchers suggested that these new kinds of self-organized, social media-driven investment behaviors are unlikely to disappear anytime soon.
Social media has reshaped human behavior in ways we're only starting to understand. The proliferation of online communities has helped spawn novel strategies for promoting political causes, conducting business, finding sex and love, and transforming culture.
Could online communities also transform behavior in the financial world?
That's one of the key questions explored in a new study published on the preprint server arXiv. Titled "Reddit's self-organised bull runs: Social contagion and asset prices," the study used discussion data from the subreddit WallStreetBets to analyze relationships between the price of stocks and "hype" among online retail investors.
Hype is nothing new in the investing world. But the researchers noted that there seems to be something novel about the short squeeze of GameStop's stock in January, when the price of the stock rose tenfold, thanks largely to self-organized retail investors from WallStreetBets.
"As academics and regulators alike grapple with the implications, many wonder whether large-scale coordination among retail investors is the new 'modus operandi,' or a one-off fluke," the researchers wrote. "We argue that this is a new manifestation of a well-established global phenomenon."
To better understand how online hype is associated with stock prices, the researchers focused on two social components of hype: contagion and consensus. Contagion refers to investors spreading interest in an asset among each other, while consensus refers to their ability to agree on whether to buy or sell an asset.
The analysis found empirical evidence that both contagion and consensus emerge in online communities like WallStreetBets. In other words, investors spread sentiments about future stock performance to other investors, and then they cohere around investment strategies.
Popularity over fundamentals
The findings suggest that an asset's popularity, not its fundamentals, is paramount to many investors.
"Our results consistently show that investors become interested in discussing an asset, not because of fundamentals, but because other users discuss it," the researchers wrote. "Subsequently, this paper tests whether an individual's sentiment about future asset performance [is] affected by those of others. We find that this is the case: people look to their peers to form an opinion about an asset's potential."
To find evidence for social contagion among online investors, the researchers compiled a large dataset of posts and comments submitted to WallStreetBets. The goal was to analyze whether investors' past comments or posts about a given stock, such as Tesla, had a predictable effect on future discussions of that asset within WallStreetBets.
After conducting a regression analysis, the results suggest that hype is socially contagious and cyclical. The cycle usually plays out like this: A small group of investors hypes an asset. This attracts a larger group of investors who join the discussions.
Semenova & Winkler
But eventually, too many investors have joined the discussion, and fewer new investors are buying into the hype. As investors lose interest, they spend less time discussing (or "spreading") the asset on the forum, and they turn to new opportunities. The process is similar to a virus: As enough people become infected, they reach herd immunity, and the virus (hype) dies out.

So, does this process affect the stock price, and if so, how? The researchers said it was difficult to establish causality between hype and actual market activity. After all, they didn't have access to the trading records of subscribers to WallStreetBets.
But their model did show that activity on WallStreetBets was able to explain "significant variance" in trading volumes for the most-discussed assets on the forum. This suggests that when social contagion is strong for a given asset, consensus is strong too.
On the stock chart, consensus may start off bullish (or positively): As hype spreads, there's a slow, steady run-up in price. But the growth eventually becomes unstable and is followed by a crash and a period of volatility.
"The price crash stems from panic selling, as investors turn nervous in the face of volatility," the researchers wrote.
Bad news spreads faster than good news
Interestingly, the analysis found that bearish (or negative) sentiments were significantly more contagious on WallStreetBets.
"The data demonstrates that authors who previously commented on a bearish post are 47.7% more likely to express bearish over neutral sentiments, and 18.1% less likely to express bullish sentiments over neutral sentiments. Similarly, but less markedly, authors who previously commented on at least one bullish submission are 9.4% more likely to write a bullish submission, yet 11.3% less likely to write a bearish one."
The researchers said that the changing investing climate and widely available online data offers "promising opportunities for future research."
"As social media galvanizes a larger pool of retail investors with the potential for exciting stock market gambles, it is crucial to understand how social dynamics can impact asset prices," the researchers wrote. "With the first publicly acclaimed victory of Main Street over Wall Street, in the form of the GameStop short squeeze, it is unlikely that socially-driven asset volatility will simply disappear."
Strange Maps
A 19th-century surveying mistake kept lumberjacks away from what is now Minnesota's largest patch of old-growth trees.
Scroll down to load more…