Big ideas.
Once a week.
Subscribe to our weekly newsletter.
Extending Descartes to Embody Our Social Rational Souls
Descartes' solitary, inward-facing mindset misconstrues the social nature of our thinking. Social Cartesianism better captures the soul of what matters in distinguishing humans from animals or machines.
19 January, 2017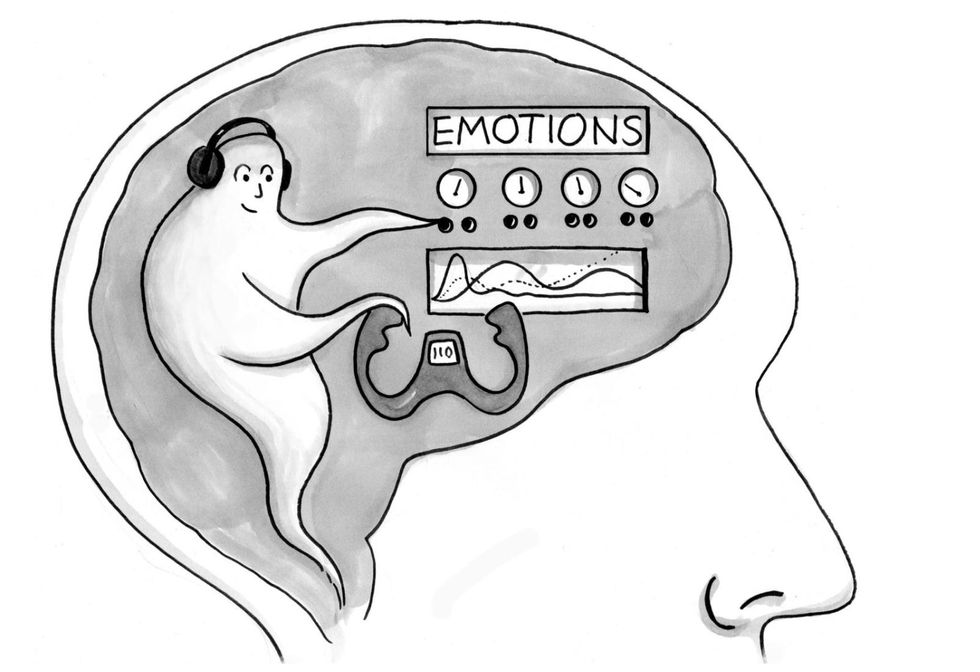 ---
1. Don't mind the gap embodied in Descartes' "I think, therefore I am." We can now materially extend his soul-saving moves in new directions.
2. 1,200 years before Descartes, Augustine declared: "If I am deceived, I exist," meaning you can't imagine you are thinking, even erroneously, if you don't exist.
3. Told of Augustine's priority, Descartes claimed novelty in grasping "that this I which is thinking is an immaterial substance." The soul has "no bodily element."
4. Descartes sought to shield God from science, but his soul-saving solution created "mind-body" problems.
5. Descartes declared that matter is non-thinking and extends in space, but mind is a "thinking thing" that's "non-extended." These metaphysical God-given "rational souls" were ghosts controlling our body's machinery (whereas animals were soulless machines).
6. 300+ years later, Cartesian dualism still haunts much thinking, e.g., Siri Hustvedt's "Delusions of Certainty." But we now can make extended matter that artificially "thinks."
7. We now mostly think of thinking (and feeling) as just information processing. "The immaterial soul of the present appears to be disembodied information."
8. While Descartes' key move was inward, Harry Collins turns outward to define "Social Cartesianism." The "radical difference between humans and other entities, including animals," isn't metaphysical, it's our social, uniquely language-dependent, rational thinking.
9. For Collins, information is always embodied (in "stuff inscribed with patterns"). Calling it disembodied repeats Plato's faith in heavenly forms. However if those forms or ideas exist, they're inaccessible to us unless patterns representing them are concretely imprinted in matter (brains, books, speech-animated air...).
10. Here, we can usefully extend a distinction Descartes made: Primary properties, like length, are intrinsic; secondary properties, like color, aren't; They're non-localized, they exist in what John Serle calls "observer relative" ways (e.g., an object's color is relative to illumination + observer physiology).
11. All matter-imprinted information patterns have non-intrinsic aspects; they exist "relative to us" or other entities. Spinoza held that ideas like good, evil, justice, and beauty aren't, as Plato thought, formed like timeless triangles; they're relational, contextual, and observer-relative (~subjective with objective aspects).
12. Aside: Plato's triangle love has generated much geometry-intoxicated thinking that mistakes geometry's perfections as models for everything (even God).
13. Actionable information is always "observer-relative." Neither information, nor its meaning, exists entirely within the matter it's inscribed on. Its meanings, its physical effects, are relative to (depend on, extend between) apt decoding entities (which can be inert matter, see "computationalism").
14. Carving nature at non-Cartesian joints, enables Serle to demarcate what humans can do but artificial intelligence can't. And it lets Collins describe that machines mimic language without understanding. Languages exist distributed between skulls (~"collective consciousness," having "another language is to possess a second soul").
15. Descartes' solitary, individualistic, inward-facing mindset misconstrues the truly "social nature of human cognition." Social Cartesianism better captures the soul of what matters in distinguishing humans from animals or machines. Per Rebecca Goldstein's "I am thought of, therefore I am," unless you're thought of enough, you don't reach consciousness.
-- 
Illustration by Julia Suits, The New Yorker cartoonist & author of The Extraordinary Catalog of Peculiar Inventions
So much for rest in peace.
Credit: fergregory via Adobe Stock
Surprising Science
Australian scientists found that bodies kept moving for 17 months after being pronounced dead.
Researchers used photography capture technology in 30-minute intervals every day to capture the movement.
This study could help better identify time of death.
We're learning more new things about death everyday. Much has been said and theorized about the great divide between life and the Great Beyond. While everyone and every culture has their own philosophies and unique ideas on the subject, we're beginning to learn a lot of new scientific facts about the deceased corporeal form.
An Australian scientist has found that human bodies move for more than a year after being pronounced dead. These findings could have implications for fields as diverse as pathology to criminology.
Dead bodies keep moving
Credit: Flickr
Researcher Alyson Wilson studied and photographed the movements of corpses over a 17 month timeframe. She recently told Agence France Presse about the shocking details of her discovery.
Reportedly, she and her team focused a camera for 17 months at the Australian Facility for Taphonomic Experimental Research (AFTER), taking images of a corpse every 30 minutes during the day. For the entire 17 month duration, the corpse continually moved.
"What we found was that the arms were significantly moving, so that arms that started off down beside the body ended up out to the side of the body," Wilson said.
The researchers mostly expected some kind of movement during the very early stages of decomposition, but Wilson further explained that their continual movement completely surprised the team:
"We think the movements relate to the process of decomposition, as the body mummifies and the ligaments dry out."
During one of the studies, arms that had been next to the body eventually ended up akimbo on their side.
The team's subject was one of the bodies stored at the "body farm," which sits on the outskirts of Sydney. (Wilson took a flight every month to check in on the cadaver.)
Her findings were recently published in the journal,
Forensic Science International: Synergy.
Implications of the study
The researchers believe that understanding these after death movements and decomposition rate could help better estimate the time of death. Police for example could benefit from this as they'd be able to give a timeframe to missing persons and link that up with an unidentified corpse. According to the team:
"Understanding decomposition rates for a human donor in the Australian environment is important for police, forensic anthropologists, and pathologists for the estimation of PMI to assist with the identification of unknown victims, as well as the investigation of criminal activity."
While scientists haven't found any evidence of necromancy. . . the discovery remains a curious new understanding about what happens with the body after we die.
At least 222 typefaces are named after places in the U.S. — and there's still room for more.
Credit
: The Statesider, reproduced with kind permission.
Strange Maps
Here's one pandemic project we approve of: a map of the United Fonts of America.
The question was simple: How many fonts are named after places in the U.S.?
Finding them became an obsession for Andy Murdock. At 222, he stopped looking.
The Neon Museum (a.k.a. Neon Boneyard) in downtown Las Vegas, a monument to the siren call of typography. Credit: Dale Cruse, CC BY 2.0
Who isn't fond of fonts? Even if we don't know their names, we associate specific letter types with certain brands, feelings, and levels of trust.

Typography equals psychology. For example, you don't want to get a message from your doctor, or anybody else in authority, that's set in comic sans — basically, the typeface that wears clown makeup.
A new serif in town
If you want to convey reliability, tradition, and formality, you should go for a serif, a font with decorative bits stuck to its extremities. Well-known examples include Garamond, Baskerville, and Times New Roman. Remove the decoration, and you've got a clean look that communicates clarity, modernity, and innovation. Arial and Helvetica are some of the most popular sans serif fonts.
There's a lot more to font psychology, but let's veer toward another, less explored Venn diagram instead: the overlap between typography and geography. That's where Andy Murdock spent much of his pandemic.
Mr. Murdock is the co-founder of The Statesider, a newsletter about (among other things) travel and landscape in the United States. He remembers his first encounter with a home computer back in 1984 and learning from that Macintosh both the word "font" and the name for the one it used: Chicago.
A map of the United Fonts of America — well, 222 of them.Credit: The Statesider, reproduced with kind permission.
You can see where this is going. Mr Murdock retained a healthy interest in fonts named after places. Over the years, he noted Monaco, London, San Francisco, and Cairo, among many others. "And then, the question of how many fonts are named for U.S. places came up in an editorial meeting at The Statesider," Mr Murdock says.
It's the sort of topic that in other times might never have gone anywhere, but this was the start of the pandemic. "I was stuck for days on end, so I actually started looking into it. At some point, I realized that I could probably find at least one per state." Cue the idea for a map of the "United Fonts of America."
Challenge turns into obsession
But that was easier said than done. Finding location-based fonts turned out to be rather time-consuming. "I definitely didn't realize what I was getting myself into," Mr Murdock recalls. "I could quickly name a few — New York, Georgia, Chicago — but I had no idea that I'd be able to find so many."
What started as a quirky challenge turned into an obsession and a compulsion that would have the accidental font-mapper wake up in the middle of the night and think: Did I check to see if there's a Boise font? (He did; there isn't.)

"The hardest part was knowing when to stop," said Mr Murdock. "Believe me, I know I missed some." In all, he found 222 fonts referencing places in the United States and its territories.
Beautiful but fontless: Boise, Idaho.Credit: Jyoni Shuler, CC BY-SA 4.0
For the most part, these fonts are distributed as the population is: heavy on the coasts and near the Great Lakes, but thin in most parts in between. California (23 fonts) takes the cake, followed by Texas (15), and New York (9).
Some of the fonts have interesting back stories, and in his article for "The Statesider", Mr Murdock provides a few:
Georgia was named after a newspaper headline reading "Alien Heads Found in Georgia."
Fayette is based on the handwriting of the record-keeper of a place called Fayette, now a ghost town in Michigan's Upper Peninsula.
Tahoma and Tacoma are both pre-European names for Mount Rainier in Washington state.
Mostly, the fonts repeat the names of states and cities, but some offer something more interesting, such as the alliterating Cascadia Code or the lyrical Tallahassee Chassis. Other less than ordinary names include Kentuckyfried and Wyoming Spaghetti.
Capturing the spirit of a place
As an unexpected expert in the geographic distribution of location-based fonts, can Mr. Murdock offer any opinion on the qualitative relation between place and typeface?
"Good design of any sort can capture the spirit of a place, or at least one perspective on a place," he says, "but frankly, that only occasionally seems to have been the goal when it comes to typefaces."

In his opinion, the worst fonts reflect a stereotype about a place, rather than the place itself: "Saipan and Hanalei are both made to look like crude bamboo. Those are particularly awful. Pecos feels like it belongs on a bad Tex-Mex restaurant's menu."
California (lower left) is a rich source of location-based typefaces.Credit: The Statesider, reproduced with kind permission.
"Santa Barbara Streets, on the other hand, is quite nice because it captures the font that's actually used on street signs in Santa Barbara. I prefer the typefaces that have a story and a connection to a place, but it's a fine line between being artfully historic and being cartoonishly retro."
Let's finish off Route 66
Glancing over the map, some regions seem more prone to "stereotypefacing" than others: "Tucson, Tombstone, El Paso — you know you're in the Southwest. Art Deco fonts are mostly in the east or around the Great Lakes. In general, you find more sans serif fonts in the western U.S., and more serif fonts in the east, but that's not a hard-and-fast rule."
Noticing a few blank spots on the map, Mr. Murdock helpfully suggests some areas that could do with a few more fonts, including the Carolinas, the Dakotas, Maine, Missouri, West Virginia, New Jersey, and Rhode Island.
Oh, and Route 66. Nearly all of the cities mentioned in the eponymous song have a typeface named after them. "We need Gallup and Barstow to complete the set."
And finally, America's oft-overlooked overseas territories could be a rich seam for type developers: "Some of these names are perfect for a great typeface — Viejo San Juan, St. Croix, Pago Pago, Ypao Beach, Tinian."
To name but a few. Typeface designers, sharpen your pencils!
Map found here at The Statesider, reproduced with kind permission. For more dispatches from the weird interzone between geography and typography, check out Strange Maps #318: The semicolonial state of San Serriffe.
Strange Maps #1090
Got a strange map? Let me know at strangemaps@gmail.com.

Credit: Willrow Hood / 362693204 via Adobe Stock
13-8
The distances between the stars are so vast that they can make your brain melt. Take for example the Voyager 1 probe, which has been traveling at 35,000 miles per hour for more than 40 years and was the first human object to cross into interstellar space. That sounds wonderful except, at its current speed, it will still take another 40,000 years to cross the typical distance between stars.
Worse still, if you are thinking about interstellar travel, nature provides a hard limit on acceleration and speed. As Einstein showed, it's impossible to accelerate any massive object beyond the speed of light. Since the galaxy is more than 100,000 light-years across, if you are traveling at less than light speed, then most interstellar distances would take more than a human lifetime to cross. If the known laws of physics hold, then it seems a galaxy-spanning human civilization is impossible.
Unless of course you can build a warp drive.
Warp speed!
Ah, the warp drive, that darling of science fiction plot devices. So, what about a warp drive? Is that even a really a thing?
Let's start with the "warping" part of a warp drive. Without doubt, Albert Einstein's theory of general relativity ("GR") represents space and time as a 4-dimensional "fabric" that can be stretched and bent and folded. Gravity waves, representing ripples in the fabric of spacetime, have now been directly observed. So, yes spacetime can be warped. The warping part of a warp drive usually means distorting the shape of spacetime so that two distant locations can be brought close together — and you somehow "jump" between them.
This was a basic idea in science fiction long before Star Trek popularized the name "warp drive." But until 1994, it had remained science fiction, meaning there was no science behind it. That year, Miguel Alcubierre wrote down a solution to the basic equations of GR that represented a region that compressed spacetime ahead of it and expanded spacetime behind to create a kind of traveling warp bubble. This was really good news for warp drive fans.
The problems with a warp drive
There were some problems though. Most important was that this "Alcubierre drive" required lots of "exotic matter" or "negative energy" to work. Unfortunately, there's no such thing. These are things theorists dreamed up to stick into the GR equations in order to do cool things like make stable open wormholes or functioning warp drives.
It's also noteworthy that researchers have raised other concerns about an Alcubierre drive — like how it would violate quantum mechanics or how when you arrived at your destination it would destroy everything in front of the ship in an apocalyptic flash of radiation.
Warp drives: A new hope
Credit: Primada / 420366373 via Adobe Stock
Recently, however, there seemed to be good news on the warp drive front with the publication this April of a new paper by Alexey Bobrick and Gianni Martre entitled "Introducing Physical Warp Drives." The good thing about the Bobrick and Martre paper was it was extremely clear about the meaning of a warp drive.

Understanding the equations of GR means understanding what's on either side of the equals sign. On one side, there is the shape of spacetime, and on the other, there is the configuration of matter-energy. The traditional route with these equations is to start with a configuration of matter-energy and see what shape of spacetime it produces. But you can also go the other way around and assume the shape of spacetime you want (like a warp bubble) and determine what kind of configuration of matter-energy you will need (even if that matter-energy is the dream stuff of negative energy).
Warp drives are simpler and much less mysterious objects than the broader literature has suggested.
What Bobrick and Martre did was step back and look at the problem more generally. They showed how all warp drives were composed of three regions: an interior spacetime called the passenger space; a shell of material, with either positive or negative energy, called the warping region; and an outside that, far enough away, looks like normal unwarped spacetime. In this way they could see exactly what was and was not possible for any kind of warp drive. (Watch this lovely explainer by Sabine Hossenfelder for more details). They even showed that you could use good old normal matter to create a warp drive that, while it moved slower than light speed, produced a passenger area where time flowed at a different rate than in the outside spacetime. So even though it was a sub-light speed device, it was still an actual warp drive that could use normal matter.
That was the good news.
The bad news was this clear vision also showed them a real problem with the "drive" part of the Alcubierre drive. First of all, it still needed negative energy to work, so that bummer remains. But worse, Bobrick and Martre reaffirmed a basic understanding of relativity and saw that there was no way to accelerate an Alcubierre drive past light speed. Sure, you could just assume that you started with something moving faster than light, and the Alcubierre drive with its negative energy shell would make sense. But crossing the speed of light barrier was still prohibited.
So, in the end, the Star Trek version of the warp drive is still not a thing. I know this may bum you out if you were hoping to build that version of the Enterprise sometime soon (as I was). But don't be too despondent. The Bobrick and Martre paper really did make headway. As the authors put it in the end:
"One of the main conclusions of our study is that warp drives are simpler and much less mysterious objects than the broader literature has suggested"
That really is progress.
Scroll down to load more…