Big ideas.
Once a week.
Subscribe to our weekly newsletter.
The Moral Sciences Are Back
Moral sciences are back. Natural laws of ethics, envisioned early in the Enlightenment, can now be objectively studied. Game Theory is reteaching scientists and "rationalists" old wisdoms, while suggesting a "Golden Punishment Rule," and a Naturalistic Fallacy reform (via "negative telos").
25 February, 2015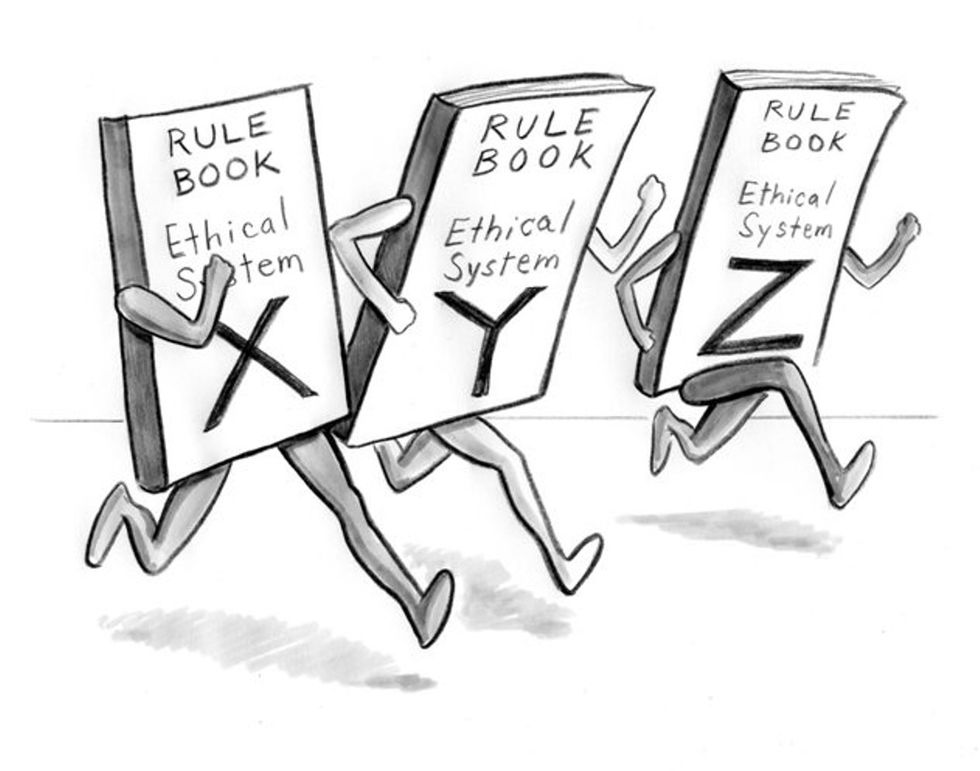 ---
Natural laws of ethics, envisioned early in the Enlightenment, can now be objectively studied. Game Theory is reviving old wisdoms, while suggesting a "Golden Punishment Rule," and a Naturalistic Fallacy reform (via "negative telos").
1. Humans, being social, can't thrive without rules. Certain rules work better than others. Game theory provides "behavioral telescopes" to study this.
2. The naturalistic fallacy says nature provides no ethical lessons. But without seeking good and evil in nature, we can compare the viability and productivity of behavioral rules. And we can map negative ethical spaces that are counterproductive or self-undermining.
3. Comparing how ethical traditions perform in Prisoner's Dilemmas, against Tit-For-Tat, the best current strategy, shows: Rationalists do worse than the Golden Ruled. And Jewish norms beat Christian ethics.
4. So-called rationalists, dominated by dire untrusting logic, produce no cooperation. Golden Ruled players cooperate, thus beating rationalists. But Christian turning-the-other-cheek is exploitable (as Machiavelli and Nietzsche complained). Old Testament eye-for-an-eye is more Tit-For-Tat-like, provided forgiveness follows (however divine, forgiveness can be evolutionarily adaptive).
5. A Tit-For-Tat-like "Golden Punishment Rule" enables cooperation by preventing viable exploitation (likely applying to any game structure). But punishment that prevents profitable cheating must also avoid escalating revenge (e.g., hunter gatherers avoid kin feuds by delegating executions to relatives).
6. Darwin, being un-Darwinian, believed "social instincts … naturally lead to the golden rule." Game theory shows how such "evolutionarily stable" cooperative rules can emerge. Indeed, evolution is nature's game theorist, endlessly testing behavioral strategies and naturally selecting the more productive.
7. Social species' behavioral patterns can be self-maximizing or co-maximizing. In Prisoner's Dilemmas, that's the lower-productivity "rationalist" approach vs. the higher-productivity Tit-For-Tat (Golden Punishment Ruled) cooperation. Let's not forget we're the most self-deficient, most other-dependent, species alive.
8. Co-maximization defines a win-win evolutionary space that can outperform "pure" short-term self-maximizing (see Dawkins' selfishness vs. altruism error).
9. Life might not have a "telos," (a grand purpose), but it has a kind of "negative telos." Nature eliminates behavioral patterns that damage what they depend on. That's a yet unnamed natural principle (I've suggested calling it needism), which even "survival of the fittest" must yield to.
We'd better adjust what's deemed rational, to prevent self-maximization from becoming self-undermining (in economics, and politics).
Illustration by Julia Suits, The New Yorker Cartoonist & author of The Extraordinary Catalog of Peculiar Inventions.
The father of all giant sea bugs was recently discovered off the coast of Java.
SJADE 2018
Surprising Science
A new species of isopod with a resemblance to a certain Sith lord was just discovered.
It is the first known giant isopod from the Indian Ocean.
The finding extends the list of giant isopods even further.
Humanity knows surprisingly little about the ocean depths. An often-repeated bit of evidence for this is the fact that humanity has done a better job mapping the surface of Mars than the bottom of the sea. The creatures we find lurking in the watery abyss often surprise even the most dedicated researchers with their unique features and bizarre behavior.

A recent expedition off the coast of Java discovered a new isopod species remarkable for its size and resemblance to Darth Vader.
The ocean depths are home to many creatures that some consider to be unnatural.
Bathynomus raksasa specimen (left) next to a closely related supergiant isopod, B. giganteus (right)
Sidabalok CM, Wong HP-S, Ng PKL (ZooKeys 2020)
According to LiveScience, the Bathynomus genus is sometimes referred to as "Darth Vader of the Seas" because the crustaceans are shaped like the character's menacing helmet. Deemed Bathynomus raksasa ("raksasa" meaning "giant" in Indonesian), this cockroach-like creature can grow to over 30 cm (12 inches). It is one of several known species of giant ocean-going isopod. Like the other members of its order, it has compound eyes, seven body segments, two pairs of antennae, and four sets of jaws.
The incredible size of this species is likely a result of deep-sea gigantism. This is the tendency for creatures that inhabit deeper parts of the ocean to be much larger than closely related species that live in shallower waters. B. raksasa appears to make its home between 950 and 1,260 meters (3,117 and 4,134 ft) below sea level.
Perhaps fittingly for a creature so creepy looking, that is the lower sections of what is commonly called The Twilight Zone, named for the lack of light available at such depths.
It isn't the only giant isopod, far from it. Other species of ocean-going isopod can get up to 50 cm long (20 inches) and also look like they came out of a nightmare. These are the unusual ones, though. Most of the time, isopods stay at much more reasonable sizes.
The discovery of this new species was published in ZooKeys. The remainder of the specimens from the trip are still being analyzed. The full report will be published shortly.
What benefit does this find have for science? And is it as evil as it looks?
The discovery of a new species is always a cause for celebration in zoology. That this is the discovery of an animal that inhabits the deeps of the sea, one of the least explored areas humans can get to, is the icing on the cake.
Helen Wong of the National University of Singapore, who co-authored the species' description, explained the importance of the discovery:
"The identification of this new species is an indication of just how little we know about the oceans. There is certainly more for us to explore in terms of biodiversity in the deep sea of our region."
The animal's visual similarity to Darth Vader is a result of its compound eyes and the curious shape of its head. However, given the location of its discovery, the bottom of the remote seas, it may be associated with all manner of horrifically evil Elder Things and Great Old Ones.
Cross-disciplinary cooperation is needed to save civilization.
Credit: Public domain
13-8
There is a great disconnect between the sciences and the humanities.
Solutions to most of our real-world problems need both ways of knowing.
Moving beyond the two-culture divide is an essential step to ensure our project of civilization.
For the past five years, I ran the Institute for Cross-Disciplinary Engagement at Dartmouth, an initiative sponsored by the John Templeton Foundation. Our mission has been to find ways to bring scientists and humanists together, often in public venues or — after Covid-19 — online, to discuss questions that transcend the narrow confines of a single discipline.
It turns out that these questions are at the very center of the much needed and urgent conversation about our collective future. While the complexity of the problems we face asks for a multi-cultural integration of different ways of knowing, the tools at hand are scarce and mostly ineffective. We need to rethink and learn how to collaborate productively across disciplinary cultures.
The danger of hyper-specialization
The explosive expansion of knowledge that started in the mid 1800s led to hyper-specialization inside and outside academia. Even within a single discipline, say philosophy or physics, professionals often don't understand one another. As I wrote here before, "This fragmentation of knowledge inside and outside of academia is the hallmark of our times, an amplification of the clash of the Two Cultures that physicist and novelist C.P. Snow admonished his Cambridge colleagues in 1959." The loss is palpable, intellectually and socially. Knowledge is not adept to reductionism. Sure, a specialist will make progress in her chosen field, but the tunnel vision of hyper-specialization creates a loss of context: you do the work not knowing how it fits into the bigger picture or, more alarmingly, how it may impact society.
Many of the existential risks we face today — AI and its impact on the workforce, the dangerous loss of privacy due to data mining and sharing, the threat of cyberwarfare, the threat of biowarfare, the threat of global warming, the threat of nuclear terrorism, the threat to our humanity by the development of genetic engineering — are consequences of the growing ease of access to cutting-edge technologies and the irreversible dependence we all have on our gadgets. Technological innovation is seductive: we want to have the latest "smart" phone, 5k TV, and VR goggles because they are objects of desire and social placement.
Are we ready for the genetic revolution?
When the time comes, and experts believe it is coming sooner than we expect or are prepared for, genetic meddling with the human genome may drive social inequality to an unprecedented level with not just differences in wealth distribution but in what kind of being you become and who retains power. This is the kind of nightmare that Nobel Prize-winning geneticist Jennifer Doudna talked about in a recent Big Think video.
CRISPR 101: Curing Sickle Cell, Growing Organs, Mosquito Makeovers | Jennifer Doudna | Big Think www.youtube.com
At the heart of these advances is the dual-use nature of science, its light and shadow selves. Most technological developments are perceived and sold as spectacular advances that will either alleviate human suffering or bring increasing levels of comfort and accessibility to a growing number of people. Curing diseases is what motivated Doudna and other scientists involved with CRISPR research. But with that also came the potential for altering the genetic makeup of humanity in ways that, again, can be used for good or evil purposes.

This is not a sci-fi movie plot. The main difference between biohacking and nuclear hacking is one of scale. Nuclear technologies require industrial-level infrastructure, which is very costly and demanding. This is why nuclear research and its technological implementation have been mostly relegated to governments. Biohacking can be done in someone's backyard garage with equipment that is not very costly. The Netflix documentary series Unnatural Selection brings this point home in terrifying ways. The essential problem is this: once the genie is out of the bottle, it is virtually impossible to enforce any kind of control. The genie will not be pushed back in.
Cross-disciplinary cooperation is needed to save civilization
What, then, can be done? Such technological challenges go beyond the reach of a single discipline. CRISPR, for example, may be an invention within genetics, but its impact is vast, asking for oversight and ethical safeguards that are far from our current reality. The same with global warming, rampant environmental destruction, and growing levels of air pollution/greenhouse gas emissions that are fast emerging as we crawl into a post-pandemic era. Instead of learning the lessons from our 18 months of seclusion — that we are fragile to nature's powers, that we are co-dependent and globally linked in irreversible ways, that our individual choices affect many more than ourselves — we seem to be bent on decompressing our accumulated urges with impunity.
The experience from our experiment with the Institute for Cross-Disciplinary Engagement has taught us a few lessons that we hope can be extrapolated to the rest of society: (1) that there is huge public interest in this kind of cross-disciplinary conversation between the sciences and the humanities; (2) that there is growing consensus in academia that this conversation is needed and urgent, as similar institutes emerge in other schools; (3) that in order for an open cross-disciplinary exchange to be successful, a common language needs to be established with people talking to each other and not past each other; (4) that university and high school curricula should strive to create more courses where this sort of cross-disciplinary exchange is the norm and not the exception; (5) that this conversation needs to be taken to all sectors of society and not kept within isolated silos of intellectualism.
Moving beyond the two-culture divide is not simply an interesting intellectual exercise; it is, as humanity wrestles with its own indecisions and uncertainties, an essential step to ensure our project of civilization.
New study analyzes gravitational waves to confirm the late Stephen Hawking's black hole area theorem.
Credit: NASA's Goddard Space Flight Center
Surprising Science
A new paper confirms Stephen Hawking's black hole area theorem.
The researchers used gravitational wave data to prove the theorem.
The data came from Caltech and MIT's Advanced Laser Interferometer Gravitational-Wave Observatory.
The late Stephen Hawking's black hole area theorem is correct, a new study shows. Scientists used gravitational waves to prove the famous British physicist's idea, which may lead to uncovering more underlying laws of the universe.
The theorem, elaborated by Hawking in 1971, uses Einstein's theory of general relativity as a springboard to conclude that it is not possible for the surface area of a black hole to become smaller over time. The theorem parallels the second law of thermodynamics that says the entropy (disorder) of a closed system can't decrease over time. Since the entropy of a black hole is proportional to its surface area, both must continue to increase.
As a black hole gobbles up more matter, its mass and surface area grow. But as it grows, it also spins faster, which decreases its surface area. Hawking's theorem maintains that the increase in surface area that comes from the added mass would always be larger than the decrease in surface area because of the added spin.
Will Farr, one of the co-authors of the study that was published in Physical Review Letters, said their finding demonstrates that "black hole areas are something fundamental and important." His colleague Maximiliano Isi agreed in an interview with Live Science: "Black holes have an entropy, and it's proportional to their area. It's not just a funny coincidence, it's a deep fact about the world that they reveal."
The research team based their conclusions on the data from the gravitational waves spotted by Caltech and MIT's Advanced Laser Interferometer Gravitational-Wave Observatory (LIGO) in 2015.
What are gravitational waves?
Gravitational waves are "ripples" in spacetime, predicted by Albert Einstein in 1916, that are created by very violent processes happening in space. Einstein showed that very massive, accelerating space objects like neutron stars or black holes that orbit each other could cause disturbances in spacetime. Like the ripples produced by tossing a rock into a lake, they would bring about "waves" of spacetime that would spread in all directions.
As LIGO shared, "These cosmic ripples would travel at the speed of light, carrying with them information about their origins, as well as clues to the nature of gravity itself."
The gravitational waves discovered by LIGO's 3,000-kilometer-long laser beam, which can detect the smallest distortions in spacetime, were generated 1.3 billion years ago by two giant black holes that were quickly spiraling toward each other.
What Stephen Hawking would have discovered if he lived longer | NASA's Michelle Thaller | Big Think www.youtube.com
Confirming Hawking's black hole area theorem

The researchers separated the signal into two parts, depending on whether it was from before or after the black holes merged. This allowed them to figure out the mass and spin of the original black holes as well as the mass and spin of the merged black hole. With this information, they calculated the surface areas of the black holes before and after the merger.
"As they spin around each other faster and faster, the gravitational waves increase in amplitude more and more until they eventually plunge into each other — making this big burst of waves," Isi elaborated. "What you're left with is a new black hole that's in this excited state, which you can then study by analyzing how it's vibrating. It's like if you ping a bell, the specific pitches and durations it rings with will tell you the structure of that bell, and also what it's made out of."
The surface area of the resulting black holes was larger than the combined area of the original black holes. This conformed to Hawking's area law.
Scroll down to load more…