Big ideas.
Once a week.
Subscribe to our weekly newsletter.
Study finds Montessori education obliterates the difference between high- and low-income kids
Researchers tracked academic achievement, social cognition, executive function, and creativity in a longitudinal study of kids across the socioeconomic spectrum. 
07 November, 2017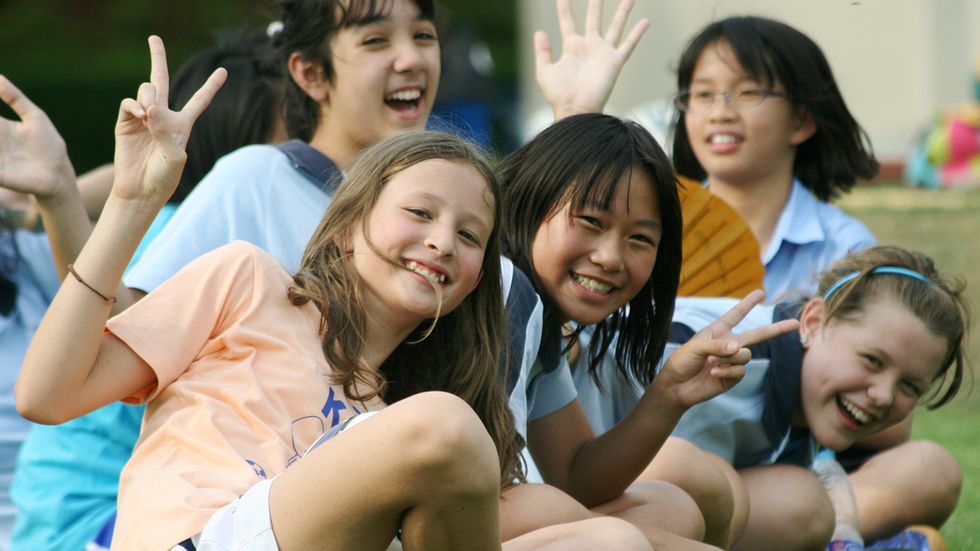 Researchers and educators have identified early childhood as one of the most important developmental periods in a person's life, setting in place patterns that can predict life outcomes. This is not surprising given the fact that the human brain goes through profound changes in the first six years, most of which appear to be permanent.
---
In addition, economic analyses have shown that educational interventions aimed at preschool programs have the highest return on investment. Yet, there is little consensus on what kinds of programs should be widely implemented and have the most positive effects.
A new longitudinal study from the University of Virginia has been published in the journal Frontiers in Psychology comparing the Montessori educational method to regular preschool education. The results show marked differences between the two approaches, with the Montessori education leading to better performance on several measures and, importantly, to more equalized outcomes between groups of children coming from different socioeconomic backgrounds.
The Montessori method was developed by Dr. Maria Montessori in the first half of the 20th century and stemmed from Montessori's observations on how children developped in their natural environment. Central to the method is creating an environment with specialized educational materials in which the child learns through discovery rather than direct instruction and is free to make constructive choices.
Some major differences from regular schooling methods are lack of exams and grades as well as a multi-age classroom in which children can choose whether to work alone or with peers. Sergei Brin, Larry Page, Jeff Bezos, and Jimmy Wales have all attended Montessori schools, which are thought to be better at developing creativity.
The newly published study is one of few on the Montessori method that has overcome study limitations, such as good controls, sample sizes and program quality. It lasted for three years, and included a total of 141 children (starting at age 3) who were randomly assigned via a school lottery to a Montessori (70) or another preschool (71).
The children were tested four times over the three-year period on several cognitive and socio-emotional measures: academic achievement, theory of mind and social skills, executive function, mastery orientation, relative enjoyment of school, and creativity.
This is also the first study to examine the potential of Montessori education to close the income achievement gap, which is the difference between children's academic outcomes predicted by their family's income level. This difference is noticeable from preschool and persists throughout the entire schooling experience.
Although there were no differences between the two groups at the first test point, by the end of the third year Montessori children fared significantly better on measures of academic achievement and social cognition, were more likely to have a growth mindset (a belief that intelligence is not fixed and one can master new challenges by putting effort into developing new abilities) and had a relatively more positive attitude towards school activities. There were no significant differences between the two groups on measures of creativity or executive function.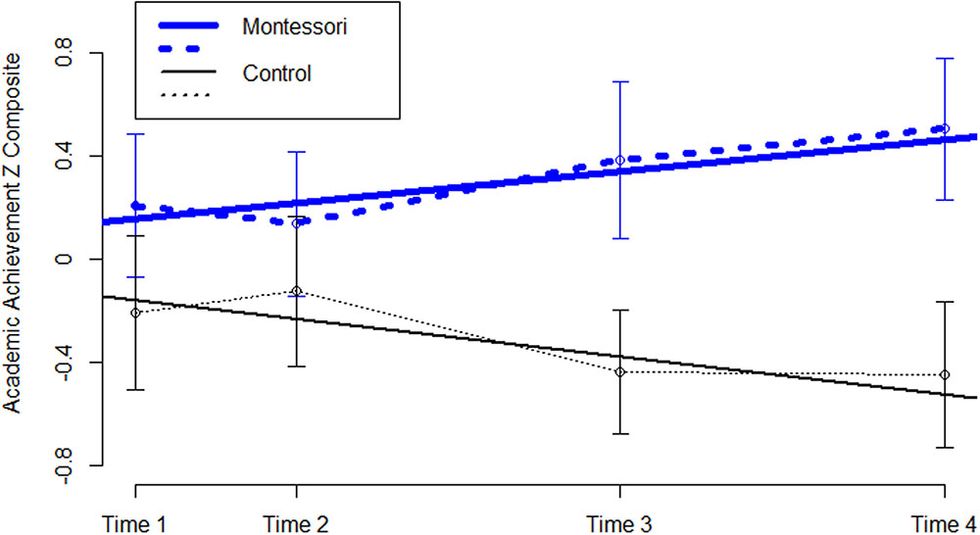 Academic achievement across preschool by school type. The figure shows significantly greater growth in academic achievement across preschool for children enrolled in Montessori preschool (dashed blue lines, n = 70) than waitlisted controls (dotted black lines, n = 71) / Credit: Frontiers in Psychology
The Montessori group also made substantial headway in closing the income achievement gap. While at the beginning of the study, kids from low-income families were performing significantly worse than those from high-income families, after three years of attending a Montessori preschool this difference had statistically disappeared. In comparison, the achievement gap was preserved in the control group.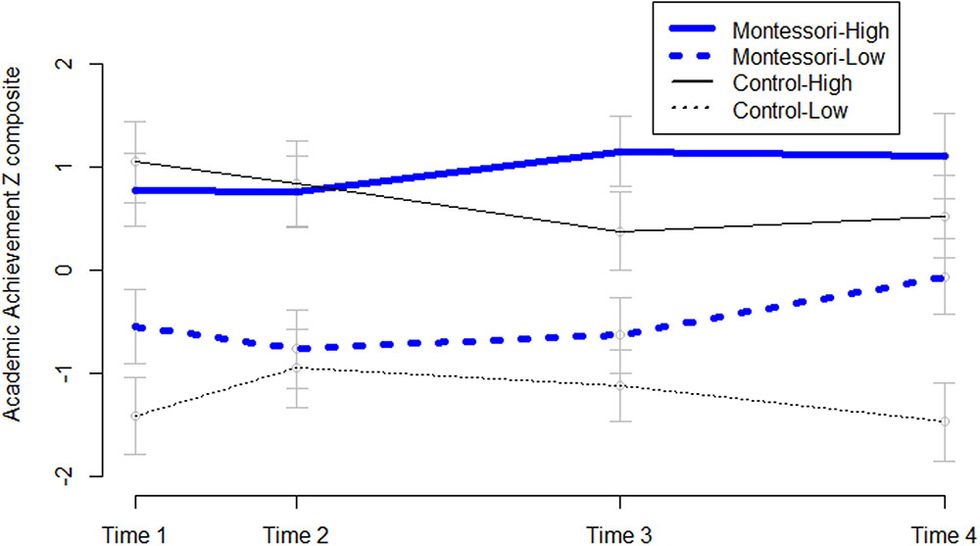 Academic achievement across four time points by school condition and income group. Although equal to the lower income control children at Time 1, by Time 4 the lower income children in Montessori showed a strong positive trajectory towards closing the achievement gap with the higher income children in control and Montessori schools. / Credit: Frontiers in Pscyhology
The researchers point out that further studies are needed to determine the exact causes of the different outcomes of the two groups. Montessori schools and regular schools vary in many dimensions. For example, teacher training may be a significant factor, or the quality of educational materials. In addition, the program quality between different Montessori schools can vary significantly.
Angeline Lillard, a psychology professor and one of the authors of the study commented on the importance of the findings:
We have persistently failed to figure out a way to help people who are born into poverty more reliably get out of that situation. Education is widely heralded as the best possible way, and yet our conventional school systems don't seem to be a lot of help. You see the cycle of poverty over and over again. People who are born into it, stay in it; if we could find a different way to school children that could make a difference, we might be able to make some headway on this age-old problem.
Geologists discover a rhythm to major geologic events.
Surprising Science
It appears that Earth has a geologic "pulse," with clusters of major events occurring every 27.5 million years.
Working with the most accurate dating methods available, the authors of the study constructed a new history of the last 260 million years.
Exactly why these cycles occur remains unknown, but there are some interesting theories.
Our hearts beat at a resting rate of 60 to 100 beats per minute. Lots of other things pulse, too. The colors we see and the pitches we hear, for example, are due to the different wave frequencies ("pulses") of light and sound waves.
Now, a study in the journal Geoscience Frontiers finds that Earth itself has a pulse, with one "beat" every 27.5 million years. That's the rate at which major geological events have been occurring as far back as geologists can tell.
A planetary calendar has 10 dates in red
Credit: Jagoush / Adobe Stock
According to lead author and geologist Michael Rampino of New York University's Department of Biology, "Many geologists believe that geological events are random over time. But our study provides statistical evidence for a common cycle, suggesting that these geologic events are correlated and not random."

The new study is not the first time that there's been a suggestion of a planetary geologic cycle, but it's only with recent refinements in radioisotopic dating techniques that there's evidence supporting the theory. The authors of the study collected the latest, best dating for 89 known geologic events over the last 260 million years:
29 sea level fluctuations
12 marine extinctions
9 land-based extinctions
10 periods of low ocean oxygenation
13 gigantic flood basalt volcanic eruptions
8 changes in the rate of seafloor spread
8 times there were global pulsations in interplate magmatism
The dates provided the scientists a new timetable of Earth's geologic history.
Tick, tick, boom
Credit: New York University
Putting all the events together, the scientists performed a series of statistical analyses that revealed that events tend to cluster around 10 different dates, with peak activity occurring every 27.5 million years. Between the ten busy periods, the number of events dropped sharply, approaching zero.

Perhaps the most fascinating question that remains unanswered for now is exactly why this is happening. The authors of the study suggest two possibilities:
"The correlations and cyclicity seen in the geologic episodes may be entirely a function of global internal Earth dynamics affecting global tectonics and climate, but similar cycles in the Earth's orbit in the Solar System and in the Galaxy might be pacing these events. Whatever the origins of these cyclical episodes, their occurrences support the case for a largely periodic, coordinated, and intermittently catastrophic geologic record, which is quite different from the views held by most geologists."
Assuming the researchers' calculations are at least roughly correct — the authors note that different statistical formulas may result in further refinement of their conclusions — there's no need to worry that we're about to be thumped by another planetary heartbeat. The last occurred some seven million years ago, meaning the next won't happen for about another 20 million years.
Brain cells snap strands of DNA in many more places and cell types than researchers previously thought.
Mind & Brain
The urgency to remember a dangerous experience requires the brain to make a series of potentially dangerous moves: Neurons and other brain cells snap open their DNA in numerous locations — more than previously realized, according to a new study — to provide quick access to genetic instructions for the mechanisms of memory storage.
The extent of these DNA double-strand breaks (DSBs) in multiple key brain regions is surprising and concerning, says study senior author Li-Huei Tsai, Picower Professor of Neuroscience at MIT and director of The Picower Institute for Learning and Memory, because while the breaks are routinely repaired, that process may become more flawed and fragile with age. Tsai's lab has shown that lingering DSBs are associated with neurodegeneration and cognitive decline and that repair mechanisms can falter.
"We wanted to understand exactly how widespread and extensive this natural activity is in the brain upon memory formation because that can give us insight into how genomic instability could undermine brain health down the road," says Tsai, who is also a professor in the Department of Brain and Cognitive Sciences and a leader of MIT's Aging Brain Initiative. "Clearly, memory formation is an urgent priority for healthy brain function, but these new results showing that several types of brain cells break their DNA in so many places to quickly express genes is still striking."
Tracking breaks
In 2015, Tsai's lab provided the first demonstration that neuronal activity caused DSBs and that they induced rapid gene expression. But those findings, mostly made in lab preparations of neurons, did not capture the full extent of the activity in the context of memory formation in a behaving animal, and did not investigate what happened in cells other than neurons.
In the new study published July 1 in PLOS ONE, lead author and former graduate student Ryan Stott and co-author and former research technician Oleg Kritsky sought to investigate the full landscape of DSB activity in learning and memory. To do so, they gave mice little electrical zaps to the feet when they entered a box, to condition a fear memory of that context. They then used several methods to assess DSBs and gene expression in the brains of the mice over the next half-hour, particularly among a variety of cell types in the prefrontal cortex and hippocampus, two regions essential for the formation and storage of conditioned fear memories. They also made measurements in the brains of mice that did not experience the foot shock to establish a baseline of activity for comparison.
The creation of a fear memory doubled the number of DSBs among neurons in the hippocampus and the prefrontal cortex, affecting more than 300 genes in each region. Among 206 affected genes common to both regions, the researchers then looked at what those genes do. Many were associated with the function of the connections neurons make with each other, called synapses. This makes sense because learning arises when neurons change their connections (a phenomenon called "synaptic plasticity") and memories are formed when groups of neurons connect together into ensembles called engrams.
"Many genes essential for neuronal function and memory formation, and significantly more of them than expected based on previous observations in cultured neurons … are potentially hotspots of DSB formation," the authors wrote in the study.
In another analysis, the researchers confirmed through measurements of RNA that the increase in DSBs indeed correlated closely with increased transcription and expression of affected genes, including ones affecting synapse function, as quickly as 10-30 minutes after the foot shock exposure.
"Overall, we find transcriptional changes are more strongly associated with [DSBs] in the brain than anticipated," they wrote. "Previously we observed 20 gene-associated [DSB] loci following stimulation of cultured neurons, while in the hippocampus and prefrontal cortex we see more than 100-150 gene associated [DSB] loci that are transcriptionally induced."
Snapping with stress
In the analysis of gene expression, the neuroscientists looked at not only neurons but also non-neuronal brain cells, or glia, and found that they also showed changes in expression of hundreds of genes after fear conditioning. Glia called astrocytes are known to be involved in fear learning, for instance, and they showed significant DSB and gene expression changes after fear conditioning.
Among the most important functions of genes associated with fear conditioning-related DSBs in glia was the response to hormones. The researchers therefore looked to see which hormones might be particularly involved and discovered that it was glutocortocoids, which are secreted in response to stress. Sure enough, the study data showed that in glia, many of the DSBs that occurred following fear conditioning occurred at genomic sites related to glutocortocoid receptors. Further tests revealed that directly stimulating those hormone receptors could trigger the same DSBs that fear conditioning did and that blocking the receptors could prevent transcription of key genes after fear conditioning.
Tsai says the finding that glia are so deeply involved in establishing memories from fear conditioning is an important surprise of the new study.
"The ability of glia to mount a robust transcriptional response to glutocorticoids suggest that glia may have a much larger role to play in the response to stress and its impact on the brain during learning than previously appreciated," she and her co-authors wrote.
Damage and danger?
More research will have to be done to prove that the DSBs required for forming and storing fear memories are a threat to later brain health, but the new study only adds to evidence that it may be the case, the authors say.
"Overall we have identified sites of DSBs at genes important for neuronal and glial functions, suggesting that impaired DNA repair of these recurrent DNA breaks which are generated as part of brain activity could result in genomic instability that contribute to aging and disease in the brain," they wrote.
The National Institutes of Health, The Glenn Foundation for Medical Research, and the JPB Foundation provided funding for the research.
Reprinted with permission of MIT News. Read the original article.
Research shows that those who spend more time speaking tend to emerge as the leaders of groups, regardless of their intelligence.
Credit: Adobe Stock / saksit.
Surprising Science
A new study proposes the "babble hypothesis" of becoming a group leader.
Researchers show that intelligence is not the most important factor in leadership.
Those who talk the most tend to emerge as group leaders.
If you want to become a leader, start yammering. It doesn't even necessarily matter what you say. New research shows that groups without a leader can find one if somebody starts talking a lot.
This phenomenon, described by the "babble hypothesis" of leadership, depends neither on group member intelligence nor personality. Leaders emerge based on the quantity of speaking, not quality.
Researcher Neil G. MacLaren, lead author of the study published in The Leadership Quarterly, believes his team's work may improve how groups are organized and how individuals within them are trained and evaluated.
"It turns out that early attempts to assess leadership quality were found to be highly confounded with a simple quantity: the amount of time that group members spoke during a discussion," shared MacLaren, who is a research fellow at Binghamton University.
While we tend to think of leaders as people who share important ideas, leadership may boil down to whoever "babbles" the most. Understanding the connection between how much people speak and how they become perceived as leaders is key to growing our knowledge of group dynamics.
The power of babble
The research involved 256 college students, divided into 33 groups of four to ten people each. They were asked to collaborate on either a military computer simulation game (BCT Commander) or a business-oriented game (CleanStart). The players had ten minutes to plan how they would carry out a task and 60 minutes to accomplish it as a group. One person in the group was randomly designated as the "operator," whose job was to control the user interface of the game.
To determine who became the leader of each group, the researchers asked the participants both before and after the game to nominate one to five people for this distinction. The scientists found that those who talked more were also more likely to be nominated. This remained true after controlling for a number of variables, such as previous knowledge of the game, various personality traits, or intelligence.
How leaders influence people to believe | Michael Dowling | Big Think www.youtube.com
In an interview with PsyPost, MacLaren shared that "the evidence does seem consistent that people who speak more are more likely to be viewed as leaders."

Another find was that gender bias seemed to have a strong effect on who was considered a leader. "In our data, men receive on average an extra vote just for being a man," explained MacLaren. "The effect is more extreme for the individual with the most votes."
13-8
The great theoretical physicist Steven Weinberg passed away on July 23. This is our tribute.
Scroll down to load more…