One-third of American children take alternative medicine. This is a problem.
Despite little clinical evidence of efficacy, a growing number of parents are giving their children supplements that could prove dangerous.
28 June, 2018
A picture taken in Bordeaux, southwestern France, on January 4, 2017, shows a baby being administered 'Uvesterol D' vitamin medication, which French health authorities moved to suspend the sale following the death of a baby who suffocated after being give
In April, I wrote an article covering decades of NIH research on multivitamins and supplements, to the tune of $2.4 billion, that showed these products are predominately ineffective. The following month a meta-analysis of 179 studies confirmed this, at least in relationship to cardiovascular disease and all-cause mortality. The drugs, as the saying goes, don't work.
---
While Facebook comments and Twitter are not exactly the best places for nonjudgmental information, they are a good gauge for emotional reactivity. I received plenty of negative comments, tweets, and emails about this article, including accusations that I'm in cahoots with Big Pharma (nope) as well as anecdotes about the miraculous healing potential of supplements.
Here's the thing: some supplements or vitamins may very well help you. The problem with multivitamins is the same with probiotics: loading your body up with a bit of everything is not only often ineffective, but dangerous. If you don't know what your body is deficient of—the same holds true with your microbiome, hence probiotics—taking these pills, oils, and tinctures are only helping companies profit while potentially harming you in the process.
Medicine is becoming more individualized, which is a good thing. Screening your feces to better understand your personal microbiome will, hopefully, be common practice in the coming years. You might discover certain mineral needs, which could result in an inexpensive and effective healing regimen offered in the vitamin aisle. That would certainly be a positive step forward.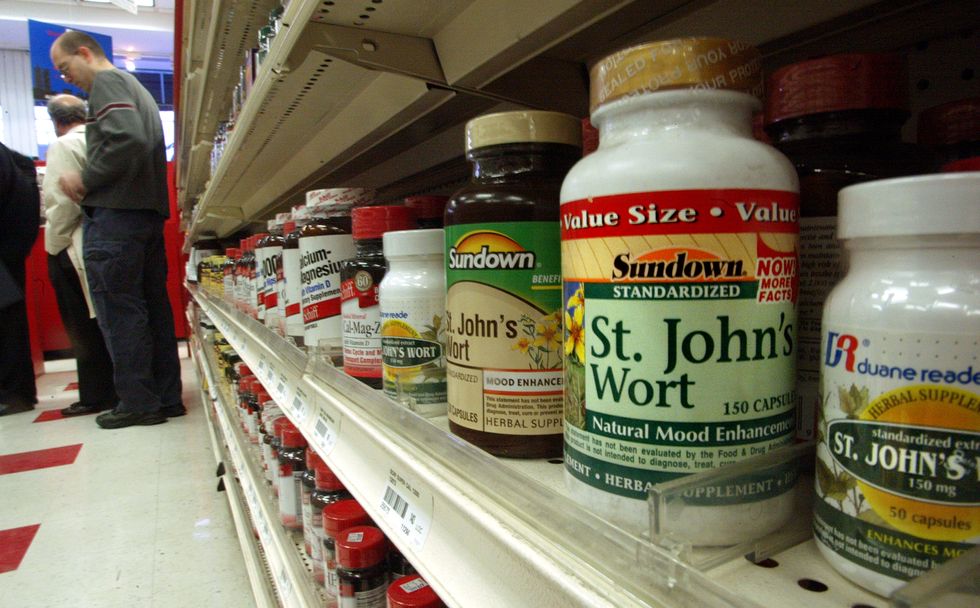 Bottles of St. John's Wort are seen for sale April 10, 2002 in New York City. The popular herbal supplement was found not to be an effective remedy for depression according to a government-backed study. (Photo by Mario Tama/Getty Images)
But that's not where we're at. Right now the "alternative medicine" industry is predicted to be worth over $196 billion by 2025. Considering the general lack of oversight of these substances and workarounds companies use to make health claims sans clinical proof, vitamin and supplement manufacturers enjoy an effectively lawless pipeline straight into your medicine cabinets.
This is not only a problem for us adults. A new research letter published in JAMA states that 33.2 percent of children (ages 0-19) used some form of alternative medicine between the years 2003-14. Given the growing popularity of such products, alongside a growing distrust of pharmaceutical makers, this number is likely higher today.
While many of these substances are, at best, benign, the potential for unintended consequences exists. As the authors write,
Commonly used nutritional products (eg, iron, calcium, and vitamin D) and alternative medicines (eg, bodybuilding supplements), are also increasingly associated with adverse cardiovascular effects, including arrhythmias, that can lead to sudden cardiac death, a serious yet underreported problem in children and adolescents.
They note that melatonin and ω-3 fatty acid supplements, packaged as promoting cognitive benefits and as sleep aids for those suffering from attentional and hyperactivity disorders, also come with a risk of dangerous cardiovascular effects.
Lead author Dirma M Qato, a professor at the University of Illinois at Chicago, expressed that healthy children should not be consuming these products. Given the risks, there is no reason to draw minerals or vitamins from such sources when all we need is usually available in a healthy diet.
There are plenty of reasons to be suspicious of the pharmaceutical industry. That does not give us license to believe anything packaged as "alternative" to that industry is healthy. Some of these products help some people, while the placebo effect is responsible for healing others. Enrolling children into a supplement program with no proven credibility is unfair to them, ultimately overruling the trust they place with their parents for guidance. It's bad enough if you're just wasting money; it's much worse if you're putting their health in danger.
--
To create wiser adults, add empathy to the school curriculum.
Sponsored by Charles Koch Foundation
Stories are at the heart of learning, writes Cleary Vaughan-Lee, Executive Director for the Global Oneness Project. They have always challenged us to think beyond ourselves, expanding our experience and revealing deep truths.
Vaughan-Lee explains 6 ways that storytelling can foster empathy and deliver powerful learning experiences.
Global Oneness Project is a free library of stories—containing short documentaries, photo essays, and essays—that each contain a companion lesson plan and learning activities for students so they can expand their experience of the world.
Philosophers like to present their works as if everything before it was wrong. Sometimes, they even say they have ended the need for more philosophy. So, what happens when somebody realizes they were mistaken?
Numerous U.S. Presidents invoked the Insurrection Act to to quell race and labor riots.
Photo by Michael Ochs Archives/Getty Images
Politics & Current Affairs
U.S. Presidents have invoked the Insurrection Act on numerous occasions.
The controversial law gives the President some power to bring in troops to police the American people.
The Act has been used mainly to restore order following race and labor riots.
It looks like a busy hurricane season ahead. Probably.
Surprising Science
Before the hurricane season even started in 2020, Arthur and Bertha had already blown through, and Cristobal may be brewing right now.
Weather forecasters see signs of a rough season ahead, with just a couple of reasons why maybe not.
Where's an El Niño when you need one?
Welcome to Hurricane Season 2020. 2020, of course, scoffs at this calendric event much as it has everything else that's normal — meteorologists have already used up the year's A and B storm names before we even got here. And while early storms don't necessarily mean a bruising season ahead, forecasters expect an active season this year. Maybe storms will blow away the murder hornets and 13-year locusts we had planned.
NOAA expects a busy season
According to NOAA's Climate Prediction Center, an agency of the National Weather Service, there's a 60 percent chance that we're embarking upon a season with more storms than normal. There does, however, remain a 30 percent it'll be normal. Better than usual? Unlikely: Just a 10 percent chance.
Where a normal hurricane season has an average of 12 named storms, 6 of which become hurricanes and 3 of which are major hurricanes, the Climate Prediction Center reckons we're on track for 13 to 29 storms, 6 to 10 of which will become hurricanes, and 3 to 6 of these will be category 3, 4, or 5, packing winds of 111 mph or higher.
What has forecasters concerned are two factors in particular.
This year's El Niño ("Little Boy") looks to be more of a La Niña ("Little Girl"). The two conditions are part of what's called the El Niño-Southern Oscillation (ENSO) cycle, which describes temperature fluctuations between the ocean and atmosphere in the east-central Equatorial Pacific. With an El Niño, waters in the Pacific are unusually warm, whereas a La Niña means unusually cool waters. NOAA says that an El Niño can suppress hurricane formation in the Atlantic, and this year that mitigating effect is unlikely to be present.
Second, current conditions in the Atlantic and Caribbean suggest a fertile hurricane environment:
The ocean there is warmer than usual.
There's reduced vertical wind shear.
Atlantic tropical trade winds are weak.
There have been strong West African monsoons this year.
Here's NOAA's video laying out their forecast:
But wait.
ArsTechnica spoke to hurricane scientist Phil Klotzbach, who agrees generally with NOAA, saying, "All in all, signs are certainly pointing towards an active season." Still, he notes a couple of signals that contradict that worrying outlook.
First off, Klotzbach notes that the surest sign of a rough hurricane season is when its earliest storms form in the deep tropics south of 25°N and east of the Lesser Antilles. "When you get storm formations here prior to June 1, it's typically a harbinger of an extremely active season." Fortunately, this year's hurricanes Arthur and Bertha, as well as the maybe-imminent Cristobal, formed outside this region. So there's that.
Second, Klotzbach notes that the correlation between early storm activity and a season's number of storms and intensities, is actually slightly negative. So while statistical connections aren't strongly predictive, there's at least some reason to think these early storms may augur an easy season ahead.
Image source: NOAA
Batten down the hatches early
If 2020's taught us anything, it's how to juggle multiple crises at once, and layering an active hurricane season on top of SARS-CoV-2 — not to mention everything else — poses a special challenge. Warns Treasury Secretary Wilbur Ross, "As Americans focus their attention on a safe and healthy reopening of our country, it remains critically important that we also remember to make the necessary preparations for the upcoming hurricane season." If, as many medical experts expect, we're forced back into quarantine by additional coronavirus waves, the oceanic waves slamming against our shores will best be met by storm preparations put in place in a less last-minute fashion than usual.
Ross adds, "Just as in years past, NOAA experts will stay ahead of developing hurricanes and tropical storms and provide the forecasts and warnings we depend on to stay safe."
Let's hope this, at least, can be counted on in this crazy year.
Technology & Innovation
Got any embarrassing old posts collecting dust on your profile? Facebook wants to help you delete them.
Scroll down to load more…