Most people still don't think texting and driving is dangerous, new study finds
A new study from Australia states that most drivers don't think distracted driving is an issue. Driving data prove otherwise.
15 July, 2018
One afternoon, while driving through Playa del Rey, I was following a woman in a convertible who was swerving in and out of the lane—a dangerous activity on any road, but especially here, with the narrow lanes and blind turns. Upon reaching a stop light I easily spot the phone in her hand.
---
After my unwelcome criticism of her complete disregard for the safety of fellow drivers, she laughs and manages to blurt out, "Everyone does it." Well, no, not everyone, but as a new study by researchers from Queensland University of Technology shows, a majority of drivers do not believe texting and driving is dangerous despite growing mounds of data proving the opposite.
A questionnaire was answered by 447 drivers in Australia, 296 of which were female. The two-part survey began with questions about the drivers' age, gender, annual mileage, and experiences with multitasking, especially as it pertains to smartphones. The second half presented six driving scenarios pertaining to the risks of crashes related to distracted driving, including driving in light traffic along a suburban street, driving in heavy traffic on a highway, and pulling onto an entry ramp. The conclusion:
Results indicated that drivers who are female, are frequent users of phones for texting/answering calls, have less favorable attitudes towards safety, and are highly disinhibited were more likely to report stronger intentions of engaging in mobile phone multitasking.
Interestingly, data show that distracted driving increases in economically depressed countries. Rates in Botswana and Mexico are 31.2 percent while Australia and the United States range from 5 to 18.7 percent. Of course, self-reported numbers have to be taken lightly. Anecdotally, Los Angeles is a minefield of inattention. On numerous occasions I've been surrounded on all four sides by screen-gazing drivers.

Drivers of vehicles are distracted while driving including talking on phone, eating, drinking and applying makeup, January 13, 2011 in Long Beach, California. (Photo by Bob Riha Jr./Getty Images)
When drivers choose to engage with their phone is also an issue. Some only peek while at a red light or in heavy traffic. Others wait for stop signs. I've known more than a few people who leave it in their lap for whenever the occasion strikes; I've also witnessed drivers purposefully slow down to get caught at a red light in order to peruse Instagram.
As the researchers note, talking on a phone increases the likelihood of a crash by 2.2 times; texting while driving, a whopping 6.1 times. With nine people killed and over a thousand injured in the United States every day, the idea that distracted driving is not a serious problem is farcical. 
The researchers note that, despite growing legislation attempting to curb this issue, the single best strategy we currently have is "tactical self-regulation," which isn't a reliable technique at all. Self-regulation is never a good bet. It's like telling an alcoholic to "just stop drinking." Addiction doesn't work that way.
As John Morgan Wilson writes, after jumping onto the hood of a texting driver's car to save himself: 
Our legal deterrents aren't helping. California law bans all talking, texting, or any other use of handheld mobile phones while driving… Yet here in California, according to the CHP, the number of citations issued declined slightly in recent years from a peak of 460,000 in 2011. Experts spread the blame: budget and staffing issues at policing agencies; increased use of car speakerphones (which free the hands but still cause distraction); and officers who are reluctant to ticket a violation that's difficult to prove in court—or for an activity many officers privately indulge in themselves.
Pre-existing beliefs about the nature of attention play an important role. Distracted drivers tend to think that as soon as their gaze returns to the road their attention is on the street, though decades of studies regarding attentional capacities prove otherwise. The attentional lag that occurs after engaging with your phone, along with attentional drift (thinking about the next text while approaching a light or stop sign), creates a recipe for disaster.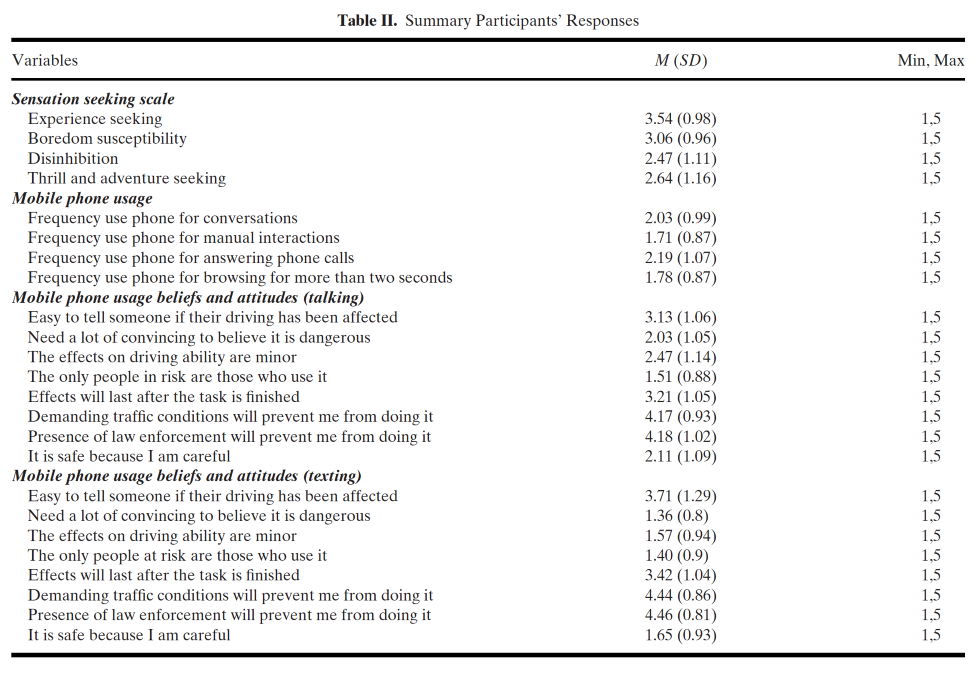 And yet, our so-called "sixth sense" factors into our behavior on the road. University of Houston computer science professor Ioannis Pavlidis, who has studied this issue, comments: 
The driver's mind can wander and his or her feelings may boil, but a sixth sense keeps a person safe at least in terms of veering off course. What makes texting so dangerous is that it wreaks havoc onto this sixth sense.
While the average respondent in the Australia study had a valid driver's license for an average of 11.26 years, ages varied from 16 to 70. Unsurprisingly, more experienced drivers are more likely to refrain from distracted driving. Gender, as noted, also plays an essential role. Traffic conditions (light traffic on a suburban street versus entering a highway, for example) were also considered. The frequency of immediately responding to texts or calls (instead of ignoring the alerts) increased the likelihood of distraction: participants that check whenever they hear their phone are more likely to do so while driving.
For those drivers that feel using their phone while behind the wheel is just how society is, they also claim they need "a lot of convincing" to show them otherwise—a whopping 68% of people in the study are unconvinced that it is dangerous. Unfortunately that convincing occurs through injury or death. By the time they realize their ignorance it's too late. Until tech companies work in conjunction with federal governments to stop this trend, little is going to change.
--
What can 3D printing do for medicine? The "sky is the limit," says Northwell Health researcher Dr. Todd Goldstein.
Northwell Health
Sponsored by Northwell Health
Medical professionals are currently using 3D printers to create prosthetics and patient-specific organ models that doctors can use to prepare for surgery.
Eventually, scientists hope to print patient-specific organs that can be transplanted safely into the human body.
Northwell Health, New York State's largest health care provider, is pioneering 3D printing in medicine in three key ways.
Torn between absolutism on the left and the right, classical liberalism—with its core values of compassion and incremental progress whereby the once-radical becomes the mainstream—is in need of a good defense. And Adam Gopnik is its lawyer.
Think Again Podcasts
Liberalism as "radical pragmatism"
Intersectionality and civic discourse
How "a thousand small sanities" tackled drunk driving, normalized gay marriage, and could control gun violence
As Game of Thrones ends, a revealing resolution to its perplexing geography.
Strange Maps
The fantasy world of Game of Thrones was inspired by real places and events.
But the map of Westeros is a good example of the perplexing relation between fantasy and reality.
Like Britain, it has a Wall in the North, but the map only really clicks into place if you add Ireland.
The lost practice of face-to-face communication has made the world a more extreme place.
Videos
The world was saner when we spoke face-to-face, argues John Cameron Mitchell. Not looking someone in the eye when you talk to them raises the potential for miscommunication and conflict.
Social media has been an incredible force for activism and human rights, but it's also negatively affected our relationship with the media. We are now bombarded 24/7 with news that either drives us to anger or apathy.
Sitting behind a screen makes polarization worse, and polarization is fertile ground for conspiracy theories and fascism, which Cameron describes as irrationally blaming someone else for your problems.
Big think's weekly newsletter.
Get smarter faster from the comfort of your inbox.
See our newsletter privacy policy
here
Most Popular
Most Recent
Big think's weekly newsletter.
Get smarter faster from the comfort of your inbox.
See our newsletter privacy policy
here
© Copyright 2007-2019 & BIG THINK, BIG THINK EDGE,
SMARTER FASTER trademarks owned by The Big Think, Inc. All rights reserved.