How many space explorers are women? This infographic has the stats
It's no secret that women are underrepresented in various sectors, from politics and banking to engineering and computing. But what about when it comes to space exploration?
12 March, 2018
---
It's no secret that women are underrepresented in various sectors, from politics and banking to engineering and computing. But what about when it comes to space exploration?
In 1963 Valentina Tereshkova became the first woman sent to space, just two years after her male counterpart Yuri Gagarin. At the time only 12 other people had been to space so it was seemingly a strong start for women. However, as investment in space exploration grew, so did the gender gap.
Today, despite making up almost 50 percent of the world's population, women make up less than 11 percent of history's space explorers.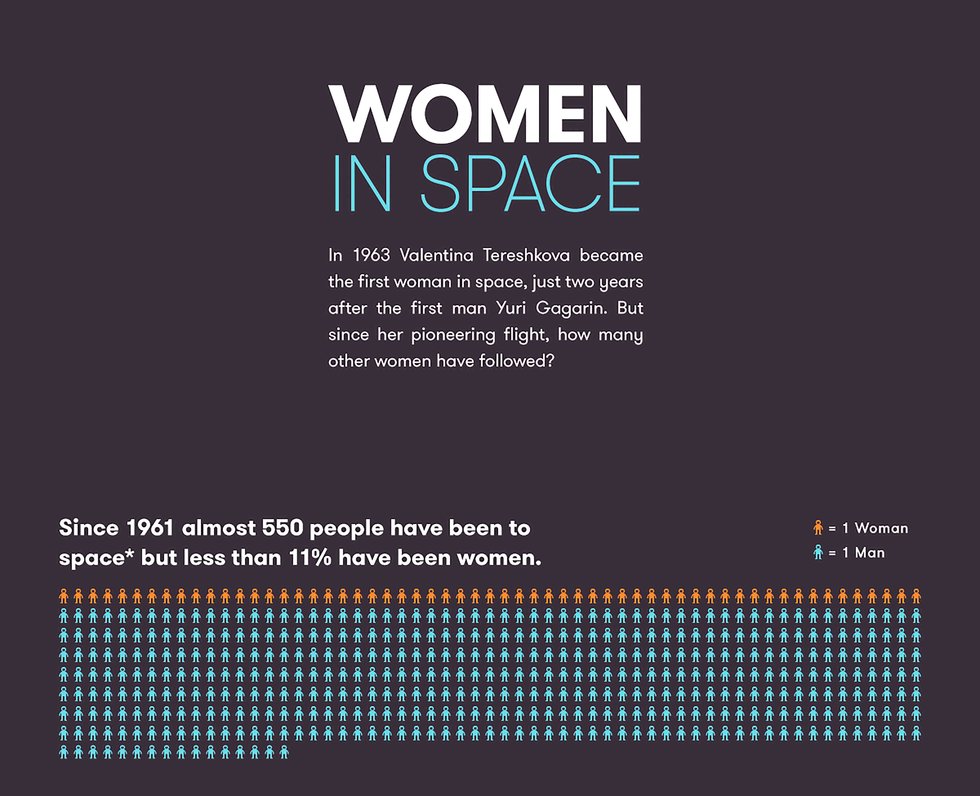 In terms of numbers, unsurprisingly it's the U.S. that has sent the most women into space. In fact, since 1961 a total of 46 female explorers have blasted off under the American flag, including the likes of Peggy Whitson who currently holds the American record for most consecutive days in space. On face value, 46 women sent to space sounds impressive, especially when compared to other wealthy nations like the U.K. which has only sent one woman into Earth orbit. However, it's the percentages that really highlight the male and female divide, with women making up just 14 percent of all Americans sent to space; only France and Russia have sent a smaller percentage of women.
Despite its small numbers, the U.K. actually has the highest figure on the list at 50 percent, having sent just one woman, Helen Sharman in 1991, and one man, Tim Peake in 2015, into space.
Russia's four women, making up just 3 percent of its total, is disappointing considering the nation's historic role in this launching women into space. It was 55 years ago this year that Russia sent the world's first woman, Valentina Tereshkova, into space.
Germany is another country with a disappointing percentage. Despite sending 11 nationals into space and being one of the largest contributors to the European Space Agency, the country is yet to have a female astronaut. Last year a project was launched to send the first German woman to space by 2020, but as a private venture unconnected to a state-led space agency, the mission is completely reliant on donors and sponsors.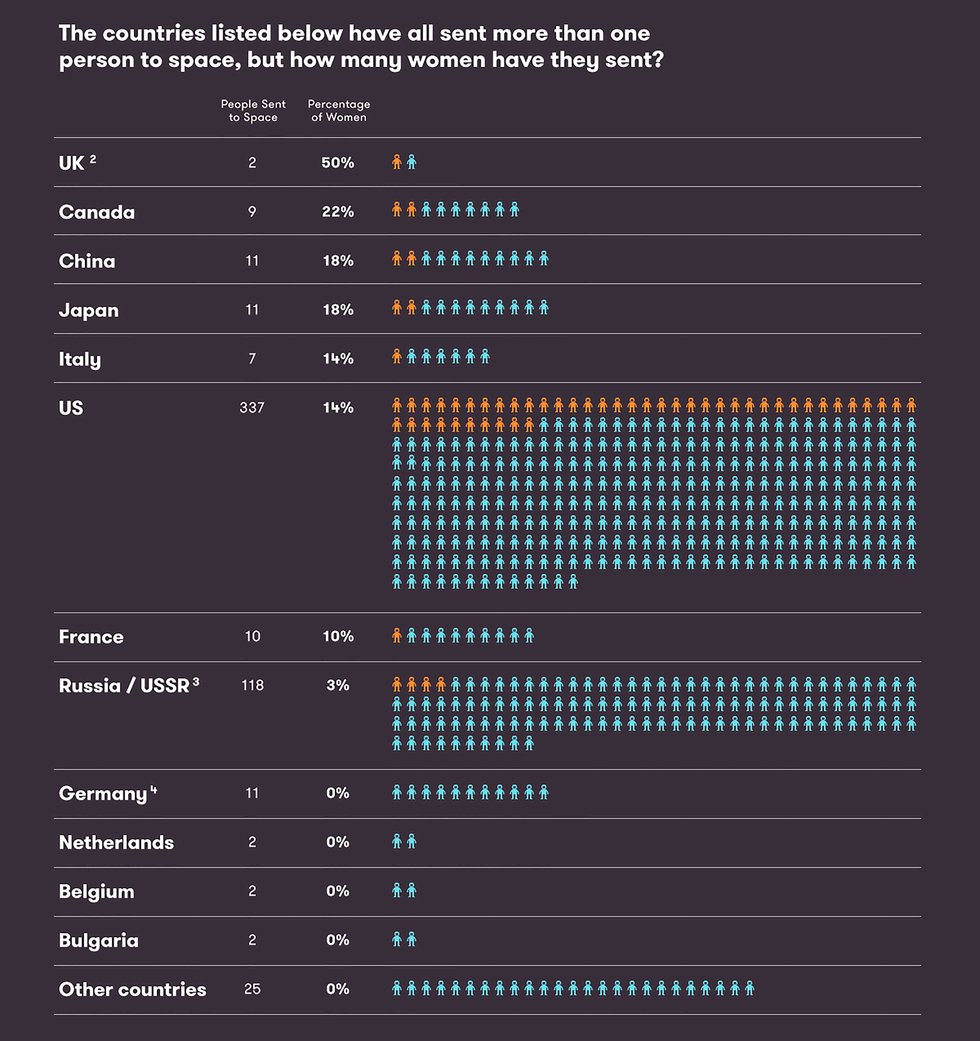 On the other side of the table, although numbers are still small, countries like Canada, China, and Japan have the highest percentage of female space explorers, sending six women to space between them.
Laura Giddings, Education Events Manager at RS Components, says:
"There are many factors at play as to why so few women have ventured into space. Clearly historical attitudes regarding the roles of women in society are still impacting many industries. By highlighting this lack of female representation in space science and engineering, we're hoping to add to the global conversation on gender equality and encourage more women to pursue careers in these fulfilling industries.

The fact is, women make up 50% of the population and, if we want to create a world for everyone, should have an equal voice in all sectors. With space now attracting vast amounts of private funding from companies like SpaceX, and with the pace of technological advancements in the sector, space exploration and all it has to offer will no doubt play a huge role in our future. Let's make sure women are there helping to shape it."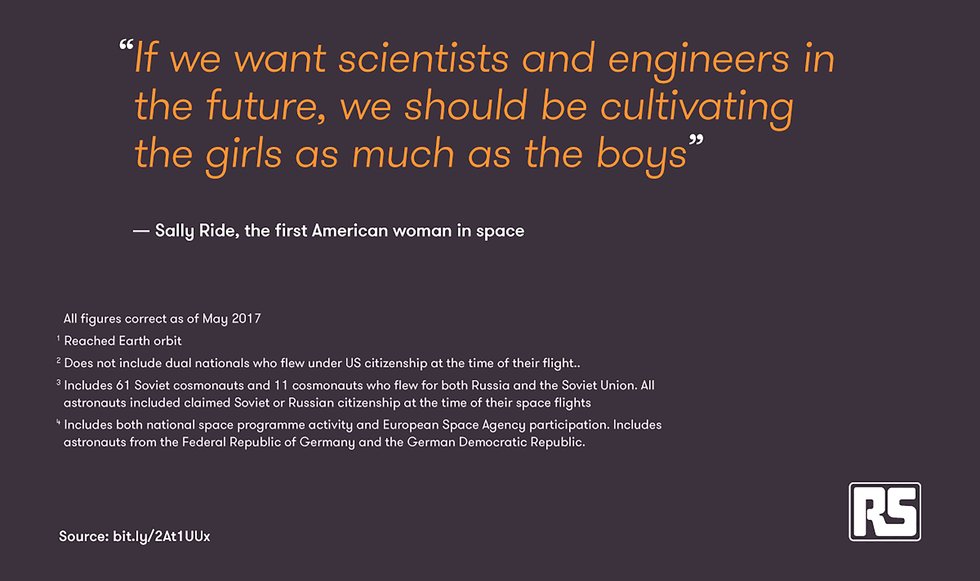 --
The photos were taken the same day as Russian cosmonauts investigated a mysterious hole discovered in one of the craft.
Alexander Gerst
Surprising Science
The spacecraft belong to Russia and two private American aerospace companies.
Six astronauts are currently aboard the International Space Station to conduct a variety of experiments.
On Monday, Russian cosmonauts conducted a spacewalk to investigate the nature and cause of a mysterious 2-millimeter-wide hole in a Russian spacecraft.
On Friday, NASA's InSight Mars lander captured and transmitted historic audio from the red planet.
NASA
Surprising Science
The audio captured by the lander is of Martian winds blowing at an estimated 10 to 15 mph.
It was taken by the InSight Mars lander, which is designed to help scientists learn more about the formation of rocky planets, and possibly discover liquid water on Mars.
Microphones are essentially an "extra sense" that scientists can use during experiments on other planets.
"Didn't you see me Googling 'baby not moving?'" Gillian Brockell wrote a heartbreaking open letter to big tech companies imploring them to change the ways they target ads to users.
Gillian Brockell's letter posted on Twitter (Twitter)
Politics & Current Affairs
Advertisers are increasingly using hyper-specific information on users, collected by big tech companies, to sell products.
An open letter published Tuesday outlines how this kind of ad targeting can be not only creepy, but also inadvertently cruel and distressing.
Also on Tuesday, the House questioned Google's CEO, partly on issues related to data privacy.
Big think's weekly newsletter.
Get smarter faster from the comfort of your inbox.
See our newsletter privacy policy
here
Most Popular
Most Recent
Big think's weekly newsletter.
Get smarter faster from the comfort of your inbox.
See our newsletter privacy policy
here
© Copyright 2007-2018 & BIG THINK, BIG THINK EDGE,
SMARTER FASTER trademarks owned by The Big Think, Inc. All rights reserved.