You've got 10 minutes with Einstein. What do you talk about? Black holes? Time travel?
Why not gambling? The Art of War? Contemporary parenting?
Each week, host Jason Gots surprises some of the world's brightest minds with ideas they're not at all prepared to discuss. Join us and special guests Neil Gaiman, Alan Alda, Salman Rushdie, Margaret Atwood, Richard Dawkins, Maria Popova, Mary-Louise Parker, Neil deGrasse Tyson and many more...
16 March, 2018
Neil Gaiman – And Then It Gets Darker – Think Again - a Big Think Podcast #139
The myths of an inhospitable land. Imposter Syndrome. That feeling when one of your characters unexpectedly murders another. Literary mage Neil Gaiman on the dark arts of fiction and everyday life.
Think Again Podcasts
Adult life, with all its schedules and responsibilities, can turn into a kind of library of locked boxes. The ones we open every day sit on a shelf at eye level, their keys clipped to a carabiner at our waist: Set the alarm. Pack a gym bag. Pick up milk for the kids.
---
But on the lower shelves and in the dusty back rooms there's an ominous jumble of odd-shaped containers. They hold the stories that don't fit so neatly into the skin we've decided to live in. Maybe we've misplaced the keys, or maybe we've deliberately lost them.
My guest today keeps all the keys close at hand. In his stories and graphic novels worlds collide and, as the fairy Ariel puts it in Shakespeare's Tempest, they "suffer a sea change, into something rich and strange". The walls of reality are permeable, and dangerous magic is always seeping through.
Neil Gaiman is the author of the Sandman graphic novels, The Graveyard Book, Coraline, American Gods, and many other wonderful things. His latest is a marvelous retelling of Norse Mythology, with most of the nasty bits left in.
Surprise conversation-starter clips in this episode:
Barbara Oakley on learning speeds and styles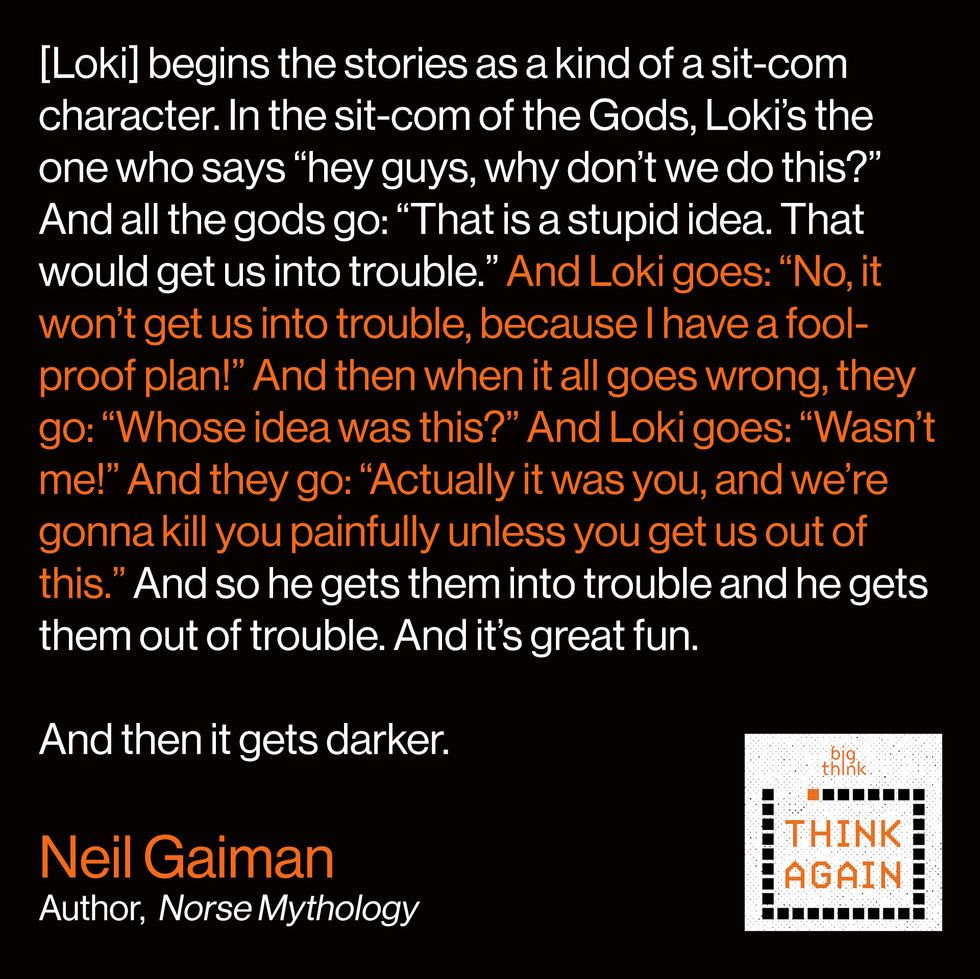 About Think Again - A Big Think Podcast: Since 2008, Big Think has been sharing big ideas from creative and curious minds. Since 2015, the Think Again podcast has been taking us out of our comfort zone, surprising our guests and Jason Gots, your host, with unexpected conversation starters from Big Think's interview archives.
You've got 10 minutes with Einstein. What do you talk about? Black holes? Time travel? Why not gambling? The Art of War? Contemporary parenting? Some of the best conversations happen when we're pushed outside of our comfort zones. Each week on Think Again, we surprise smart people you may have heard of with short clips from Big Think's interview archives on every imaginable subject. These conversations could, and do, go anywhere.

Come talk to us
on Twitter: @bigthinkagain
These effective strategies can minimize harmful moral grandstanding – in yourself and in others.
Sponsored by the Institute for Humane Studies
What is moral grandstanding? Here's a comprehensive explanation of the psychology that drives this disruptive and divisive online behavior.
Moral grandstanding may have very serious consequences for social discourse, but calling it out and shaming moral grandstanders is unproductive, says Brandon Warmke.
To defeat moral grandstanding, you can do several things. Before posting anything online, ask yourself: 'Am I doing this to do good or am I doing this to look good?'. You can deny attention and praise to moral grandstanders, and you can redirect your own impulse to signal morality into actual volunteer work instead of online posts.
Related Articles
Should all speech be free? How much intolerance should society tolerate?
Sponsored by the Institute for Humane Studies
For society to stay open and free, you don't need to eliminate prejudice. You need the opposite: All kinds of prejudice pitted against each other.
Intellectual diversity helps society as a whole learn the truth. And as long as society has rules that force ideas to be openly tested, the intolerant will not gain the upper hand.
"In America it's legal to be intolerant. It may not be right. It may not get you accepted or respected. But absolutely it's legal and it should be legal," says Jonathan Rauch.
Picking up where we left off a year ago, a conversation about the homeostatic imperative as it plays out in everything from bacteria to pharmaceutical companies—and how the marvelous apparatus of the human mind also gets us into all kinds of trouble.
Think Again Podcasts
"Prior to nervous systems: no mind, no consciousness, no intention in the full sense of the term. After nervous systems, gradually we ascend to this possibility of having to this possibility of having minds, having consciousness, and having reasoning that allows us to arrive at some of these very interesting decisions."

"We are fragile culturally and socially…but life is fragile to begin with. All that it takes is a little bit of bad luck in the management of those supports, and you're cooked…you can actually be cooked—with global warming!"
How do you write away the personal hole in your heart when that hole was left by a man half the world idolizes? Steve Jobs' daughter, the writer Lisa Brennan-Jobs, on the process and effects of writing her beautiful memoir SMALL FRY.
Brigitte Lacombe
Think Again Podcasts
"If I hadn't gone back with a fine-toothed-comb, a lot of these assumptions I had would have just been the air I breathed into my future."
"There is something like theft in a memoir. If you want to write about yourself you have to write about other people who are unwitting and don't want to be written about…"
Artist, "bird noticer", and concerned citizen of the digital state of the world Jenny Odell looks at many different ways of resisting the attention economy, sinking into the reality of our lives, and finding solidarity and agency with others.
Ryan Meyer
Think Again Podcasts
"Someone is defining the terms already by asking the question. And if you're not attentive, you will accept those terms."
"It's really hard to draw a hard line around an entity in any ecological system. And I think this is a great description of the self, too."
Connect with us
How to listen
You can listen to Think Again right here on site, or select your podcast app: