You've got 10 minutes with Einstein. What do you talk about? Black holes? Time travel?
Why not gambling? The Art of War? Contemporary parenting?
Each week, host Jason Gots surprises some of the world's brightest minds with ideas they're not at all prepared to discuss. Join us and special guests Neil Gaiman, Alan Alda, Salman Rushdie, Margaret Atwood, Richard Dawkins, Maria Popova, Mary-Louise Parker, Neil deGrasse Tyson and many more...
10 March, 2017
George Saunders – Self-Googling in Hell – Think Again Podcast #89
Spontaneous talk on surprise topics. NY Times bestselling author George Saunders on cyborgs, ghosts, ego and loving your enemy.
Culture & Religion
---
Subscribe on Google Play, Stitcher, or iTunes
Come talk to us on Twitter: @bigthinkagain
In this episode: 
Since 2008, Big Think has been sharing big ideas from creative and curious minds. The Think Again podcast takes us out of our comfort zone, surprising our guests and Jason Gots, your host, with unexpected conversation starters from Big Think's interview archives.
George Saunders' new book - his first novel, after many acclaimed collections of short stories including the NY Times bestselling 10th of December – is called Lincoln in the Bardo. A kind of play for voices about the death and afterlife of Abraham Lincoln's son Willie, who died at age 10. It's a strange, wise, funny and beautiful book about impermanence and the tenacity of the self. 
In this episode, George and Jason talk cyborgs, writing, death, and how much easier it is to talk about kindness than to live it.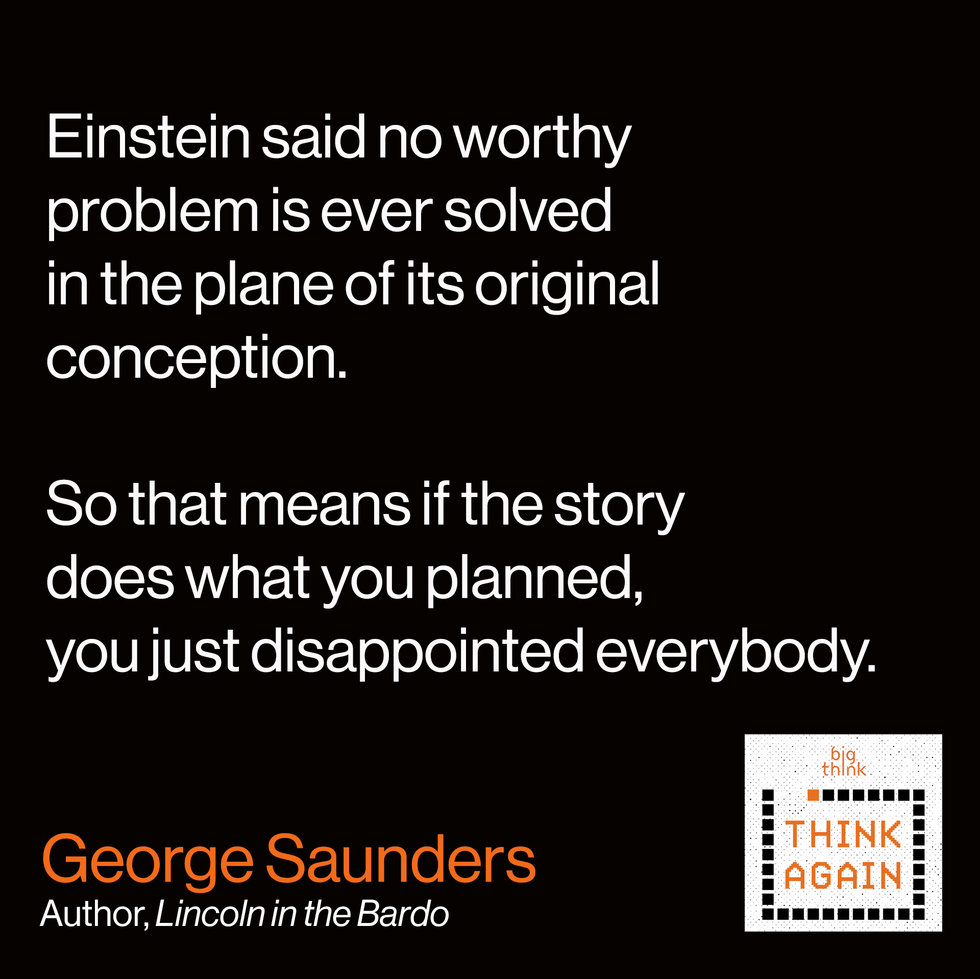 Surprise conversation starter interview clips:
Marc Goodman on cyborgs and medical enhancement and Robert Thurman on loving your enemy
About Think Again - A Big Think Podcast: You've got 10 minutes with Einstein. What do you talk about? Black holes? Time travel? Why not gambling? The Art of War? Contemporary parenting? Some of the best conversations happen when we're pushed outside of our comfort zones. Each week on Think Again, we surprise smart people you may have heard of with short clips from Big Think's interview archives on every imaginable subject. These conversations could, and do, go anywhere.
Related Articles
Man-Booker prizewinning author Marlon James in a freewheeling game of verbal ping-pong on African mythology, '80's hip hop, heavy metal, tattoos, and billionaire philanthropy.
Think Again Podcasts
"Black Leopard, Red Wolf" has been compared to "Lord of the Rings" and "Game of Thrones", but it's something entirely different.
Growing up gay in a deeply religious Jamaica and writing his way out of there.
Trickster narrators, truths you have to sort out for yourself.



Why does Faulkner use "inchoate" so much? Maybe because Benjamin Dreyer wasn't his copy editor. The author of DREYER'S ENGLISH is here to remind us that there's no absolute authority on the English language. Still, please avoid "onboarding".
Think Again Podcasts
Hear! As we play "stump the host" with words everyone spells wrong.
Marvel! With us at the exquisiteness of the word "twee"
Absorb! Benjamin Dreyer's simple yet powerful advice about how to write better sentences.
Classicist Edith Hall reminds us that Aristotle's "virtue ethics" was a sophisticated, subtle approach to the pursuit of lifelong happiness a couple millennia before Oprah thought of inviting us to live our best life.
Think Again Podcasts
"Aristotle invents empirical science, where you go out with your own senses and amass data and then infer scientific principles from it. He simply treats morality in the same way."
How to find happiness, how to deal with loss, and how to build a democracy that works.
Connect with us
How to listen
You can listen to Think Again right here on site, or select your podcast app: