"The value of a college education is not the learning of many facts but the training of the mind to think," Albert Einstein said. So go back to school, Ivy League style.
Photo: Jonathan Daniels on Unsplash
The idea of continuing to learn new things after leaving school is an attractive one, but one that can seem daunting. Finding both the time and the proper resources to learn something new can prove difficult, and leave us with unsatisfied curiosity. Even if we find a class we might be interested in, the cost can be prohibitive.

So, to help you curious cats out, we present 8 online classes from Yale you can take right now, at no cost.
Frontiers and Controversies in Astrophysics
Who hasn't looked up at the night sky and wondered about the mysteries of the cosmos? This series of video and audio lectures covers the big questions of space, such as back holes, extra-solar planets, and dark energy, while discussing both what we know and what we wish we knew. Course notes are also available to help you review after school lets out. 
Cervantes' Don Quixote
It can be difficult to tackle a classic novel with little to no help. For those who want to read this classic of world literature but don't quite know where to start, this series of video lectures help facilitate a close reading of one of the greatest adventure stories of all time. There are 24 one-hour lectures in this set, organized by chapter so you can find the area you need help understanding and start there. It's like being part of the world's brainiest book club.
Game Theory
Do you know why a good deal is a good deal? Why people act the way they do when confronted with a lose-lose situation? Game Theory is the study of how people react to problems of conflict and cooperation and it's used in business, politics, and even computer science. This course consists of 24 one-hour lectures, and you can also download the exams and solutions to test how well you understood the course. For a taster, here's Professor Barry Nalebuff from the Yale School of Management who came to the Big Think studio to discuss Game Theory:
Introduction to Ancient Greek History
The Glory that was Greece: we've all seen the statues, heard the big names, and benefit from their achievements, but do you know the story of how it all happened? This series of 24 lectures, some clocking in at over an hour, introduces the history of ancient Greece to us from the Dark Ages to the rise of Alexander. While the lectures might not leave you speaking Greek, it will leave you with a better understanding of why the world today is the way it is. There are also downloadable files that can help you remember the keywords, dates, and big events. 
Moralities of Everyday Life
You have some idea of what kindness is, right? Can you explain it? How responsible are we for our moral stances? In this course, provided via Coursera, the moral psychology behind many of the concepts we use in our everyday thinking is examined and explained in readings and video lectures. The class materials can be viewed for free, or taken as a graded class for a fee. The recommended commitment is 2-3 hours per week. Bonus: this course is taught by Big Think favorite Professor Paul Bloom:
Journey of the Universe: The Unfolding of Life
Have you ever wanted to learn the story of life, the universe, and everything?* In this series of classes, available both to English and Chinese speakers, the story of the universe and the evolution of biological life is examined. In later lectures, new ways to understand our place in the ever-changing universe are examined. The classes consist of readings and video lectures, and for a fee you can also take quizzes to see how well you understand the material.
Introduction to Classical Music
You know all the names: Mozart, Beethoven, and Bach—but do you know why their classical music still endures? In this class, you can learn what elements classical music is comprised of, why the great symphonies are still played before crowds of millions, and even come to appreciate other genres of music a little more too. This nine-week course consists of lectures and readings that take 2-3 hours per week. This course can also be viewed for free, or taken as a graded class for a fee. (Really want to get those grades? Financial aid via Coursera is available for those who qualify.) 
Fundamentals of Physics I & II
If you want to understand how the world really works, this comprehensive series of physics classes will put you in the know. This class requires a strong understanding of mathematics as an entry point, but is highly rewarding for those who can follow along, and basic calculus is reviewed in the first few videos. Problem sets and solutions are also available for those who want an extra challenge. 
The above selection is just a small sampling of the courses offered by Yale, and the full list of classes can be found here and here. Many other excellent institutions have similar options. So, now that you know, you can view Ivy League-quality lectures online for free, whenever the mood strikes. Now there's just one question left: what are you waiting for?




* The answer is 42.  
It seems intuitive that the best way to interpret how others are feeling would be to both see and hear how they're behaving. However, a new study suggests that's dead wrong.
Want to really understand how other people are feeling? Close your eyes and listen.
That's the takeaway of a new study published in American Psychologist that explored the empathic accuracy of various forms of communication. The results are some of the first to demonstrate that the primary way we convey emotions may be through the voice – not facial expressions or body language, as previously thought.
"Humans are actually remarkably good at using many of their senses for conveying emotions, but emotion research historically is focused almost exclusively on the facial expressions," said Michael Kraus, a social psychologist at Yale University and author of the study, to The Guardian.
The paper detailed several experiments. In the first, researchers asked online participants to view videos showing a group of friends teasing each other about a nickname. Participants were presented the scene in one of three ways – audio only, audio and video, and video only – and were then asked to interpret what the friends were feeling by rating emotions like amusement, embarrassment, or happiness on a scale of 0 to 8. Surprisingly, those who only heard the interaction – but didn't watch the video – were best able to interpret the emotions of the scene.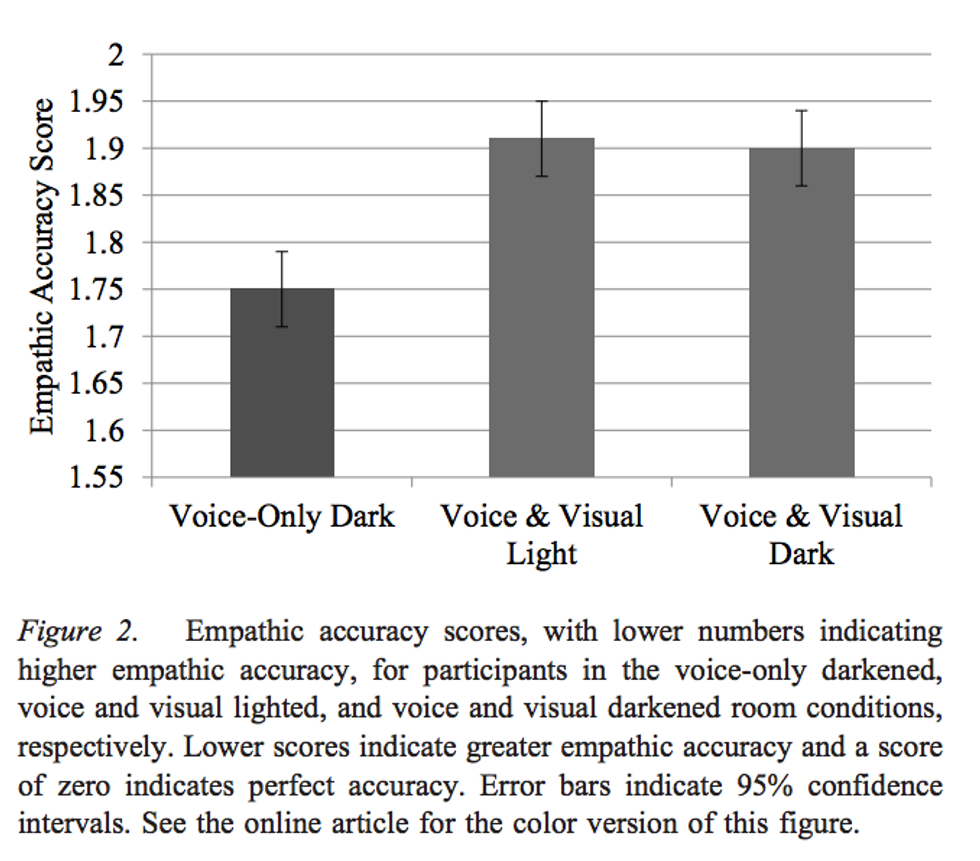 Another study involved undergraduate students gathering together in a room to discuss their favorite TV shows, movies, food and beverages. One group had the conversation in a lighted room, the other in a darkened room. Similar to the first experiment, people who were visually impaired in the darkened room more accurately interpreted the emotions of others.
Finally, the researchers took audio from the first experiment in which friends were teasing each other and had participants listen to one of two versions: the actual dialog from the friends, or a computerized voice reading the exact same words. Although you might expect to glean a similar amount of emotional information from the words alone, participants who interpreted the scene by listening to the digital voice fared far worse at interpreting emotions.
"The difference between emotional information in voice-only communication by a computer versus a human voice was the largest across all studies," Kraus said to Yale Insights. "It's really how you speak—not just what you say—that matters for conveying emotion."
It seems intuitive that more information – both audio and visual – would better equip you to read the minds of other people, but the opposite seems true.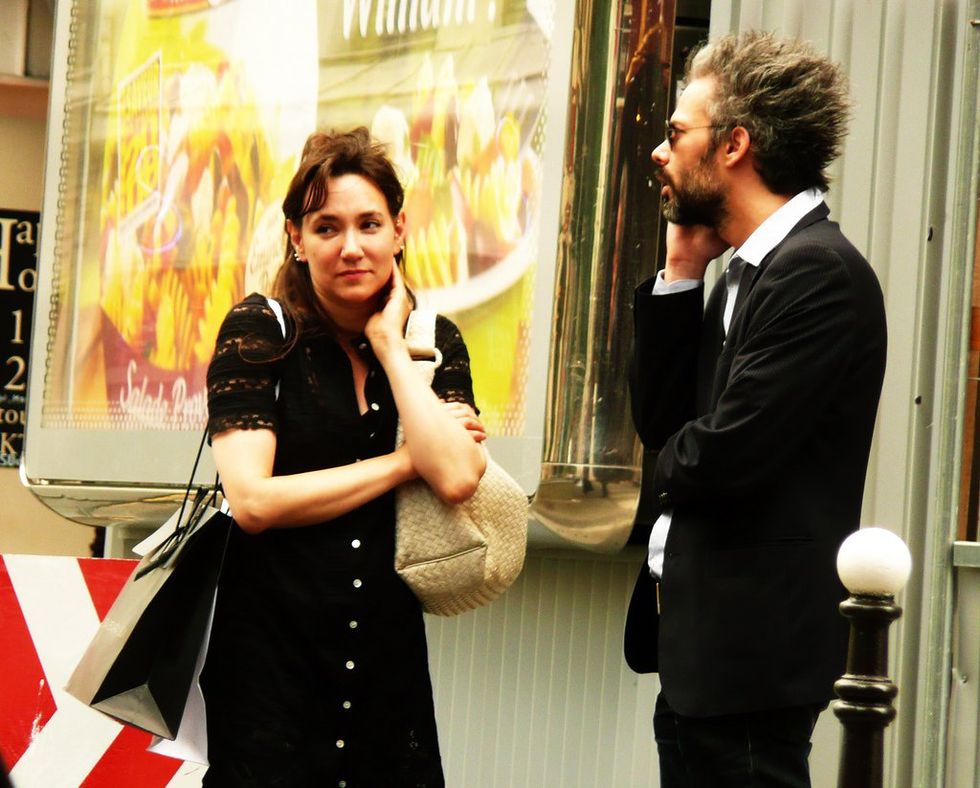 One explanation has to do with the limits of our cognitive power. When we're taking in complex audio and visual input, it takes our brains more effort to process information. It's similar to how a computer slows down when you have a bunch of different programs running simultaneously. Visual information is particularly costly to process, as Art Markman notes for Psychology Today:
Quite a bit of the brain is taken up with understanding what is going on in our sensory world. For example, if you clasp your hands behind your head, most of the area taken up by your hands reflects the amount of the brain that is devoted to making sense of the information coming in through your eyes.
These same brain regions are also responsible for recalling visual memory. And that could explain why people tend to shut their eyes when trying to recall details, or solve complex tasks in general. A 2011 paper published in the journal Memory & Cognition illustrates this idea quite nicely.
For the study, participants were instructed to watch a bit of a TV show, and later were asked to recall details about what occurred in the episode. The researchers separated participants into four groups, asking each to recall the show while they either: stared at a blank computer screen, closed their eyes, watched a computer screen as it randomly displayed nonsense images, or stared at a blank computer screen while they heard spoken words in a strange language.
Like the recent study, the groups that had received the least visual information – that is, they closed their eyes or stared at a blank computer screen – performed best. Interestingly, the group that stared at the screen displaying weird images fared worst at recalling visual details, while the group that heard random bits of a strange language did worst at recalling audio details from the show.
The other possible explanation has darker implications. People have a natural tendency to disguise their emotions, whether they're doing something as benign as forcing a smile when you're feeling down at work or something as malicious trying to manipulate someone into a shady business deal. Because our voices seem to be the primary way we communicate our emotions, the addition of visual cues like body language and facial expressions adds a whole toolset people can use to disguise their true emotions – a deliberately thoughtful tilt of the head, a raise of the eyebrows, or any of those body language hacks written up in countless articles ever since that one TED talk.
Either way, the researchers suggest people pay more attention to what others are saying and how they're saying it.
"There's an opportunity here to boost your listening skills to work more effectively across cultures and demographic characteristics," Kraus said. "Understanding other people's intentions is foundational to success in the global and diverse business environment that characterizes both the present and the future."
Research shows the groups have different tastes when buying science books. For the most part.
Still from Steven Spielberg's 1993 film "Jurassic Park."
While scientists generally try to stay out politics, letting evidence-based research speak for itself, the strong division in American society has spread to science. How you view stem cell research, climate change, evolution, and the role of science in setting public policy is one indicator of political leanings. Another can be the kind of science books you read. Indeed, a new study finds that liberals and conservatives have very different tastes.
By analyzing millions of online purchases, researchers from Cornell, Yale, and University of Chicago found that there are clear partisan preferences in how we buy books on scientific topics. Liberals opt for so-called "basic" sciences — physics, astronomy and zoology — while conservatives go for applied and commercial sciences, such as medicine, criminology, and geophysics.
"When we look at what science books they read and on what topics, liberals and conservatives are noticeably divided," said the study's co-author Professor Michael Macy from Cornell University. "They tend to not read the same books, and they don't follow the same topics."
Feng Shi, the study's first author, proposed that liberals like "scientific puzzles" while conservatives prefer "problem-solving."
One topic popular with both sides — books on dinosaurs. These were bought across the whole political spectrum.
For the study, researchers looked at purchase histories from Amazon and Barnes & Noble online stores, creating a dataset of 25 million "co-purchases" and 1.5 million books. They relied on the fact that these retailers recommend books to customers via book suggestion features like "Customers Who Bought This Item Also Bought". That way the scientists could see what scientific texts were bought by those who also got liberal or conservative books.
The study's authors think it's likely that people who buy political books get science books to support their views rather than out of a general interest in science.
Is there a way science could help heal the division in the country? The study's lead author Professor James Evans from University of Chicago is somewhat optimistic, thinking that people on all sides ultimately respect science.
"Interest and respect for science remains high across political boundaries in the United States, suggesting that it could be a crucial bridge for crossing partisan divides in America," said Professor Evans.
Professor Macy thinks their research highlights the fact that science communication needs to improve.
"Our findings point to the need to communicate scientific consensus when it occurs, helping scientists find common cause with their audiences and adding public debate alongside scientific analysis to clarify the distinction between facts and values," said Macy.
While the study is illuminating, it has some limitations, with political scientist Toby Bolsen cautioning that this research did not draw on a random sample of books, relying instead on how the online sellers categorized them. We also don't know conclusively the motivations behind why individuals bought certain books.
You can read the new study in Nature Human Behavior.
They have the same feelings as normal people. It's how they make decisions that's different. 
Still from showtime series Dexter.
Utter the word psychopath and immediately ideas of a sadistic serial killer with a penchant for blood comes to mind. Would it surprise you to know that you may interact with one every day? In fact, psychologists have noted that some of the top CEOs and others who hold lofty positions, and even many regular people who do not, have this condition. You may know, love, or even be a psychopath and not even know it. The important thing here is to define what a psychopath is.
The traditional definition is someone who cannot empathize with others, and so does not feel shame or regret for negative actions towards them. Fans of the TV series Dexter recognize this as the internal struggle of the main character. Their inability to understand the emotions of others makes them antisocial, which could cause the psychopath to become more of a threat in the boardroom, on the sports field, or in a dark alley, to others.
But now a new study is altering the definition entirely. Harvard associate psychology professor Joshua Buckhotlz was its co-author. He and Arielle Baskin-Sommers of Yale University found that psychopaths aren't immune to empathy. Many do in fact feel regret when they hurt others.
What they cannot do is predict the outcomes of their choices or behavior. They somehow aren't in tune with social norms, those rules that keep the peace and act as a social glue, thereby maintaining the social order. It is this inability to predict outcomes that may lead to them to poor choices, viewed as improper or even ghastly by others.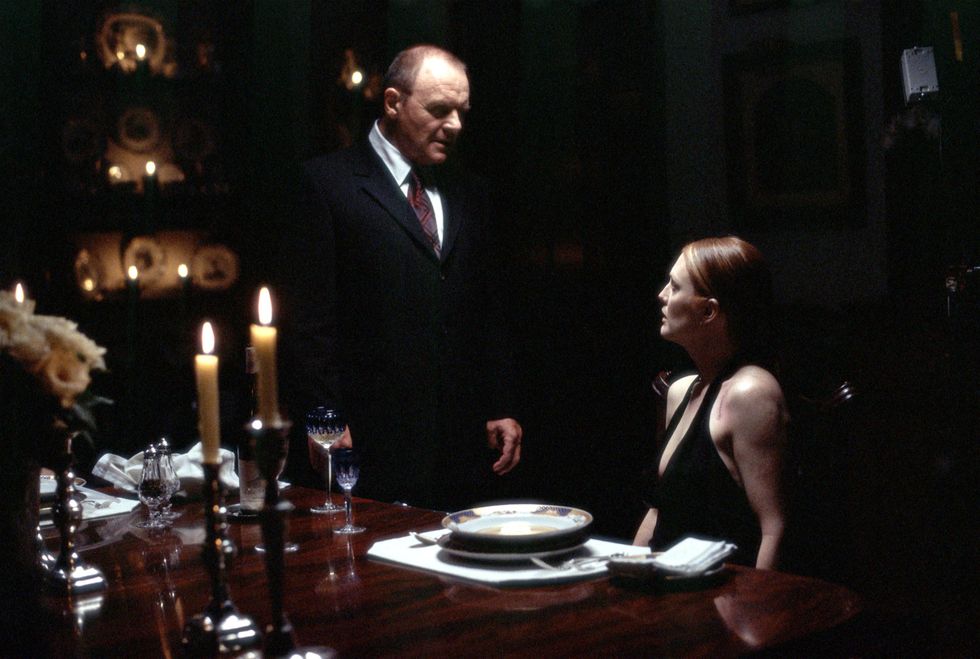 Some psychopaths may have their heart in the right place. But they can't recognize when they've crossed the line.
Researchers recruited a number of incarcerated persons, some who were deemed psychopaths and others who were not, and had them play a game based on economics. A metric called prospective regret sensitivity was used to measure each participant's level of regret, based on decisions they had made during the game. Psychopaths were seen as making riskier moves, but had difficulty evaluating whether or not they would regret them afterward.
Though we think of it as one emotion, Buckholtz claims that regret is actually a two-part process. The first part is retrospective regret. This is the kind we ruminate over, from the past. We think about a painful experience and wish we had made a better choice. From there, we can vow to take a different path in the future.
The second is prospective regret, which is when we take information from the environment and make predictions on what will happen, and whether or not we will regret our choice. Buckhotlz and Baskin-Sommers showed that it was an inability to make decisions based on values and understand the probable outcome, and its impact on others that defines a psychopath. "It's almost like a blindness to future regret," Buckhotlz said. Though in the aftermath they feel remorse, they can't see it coming.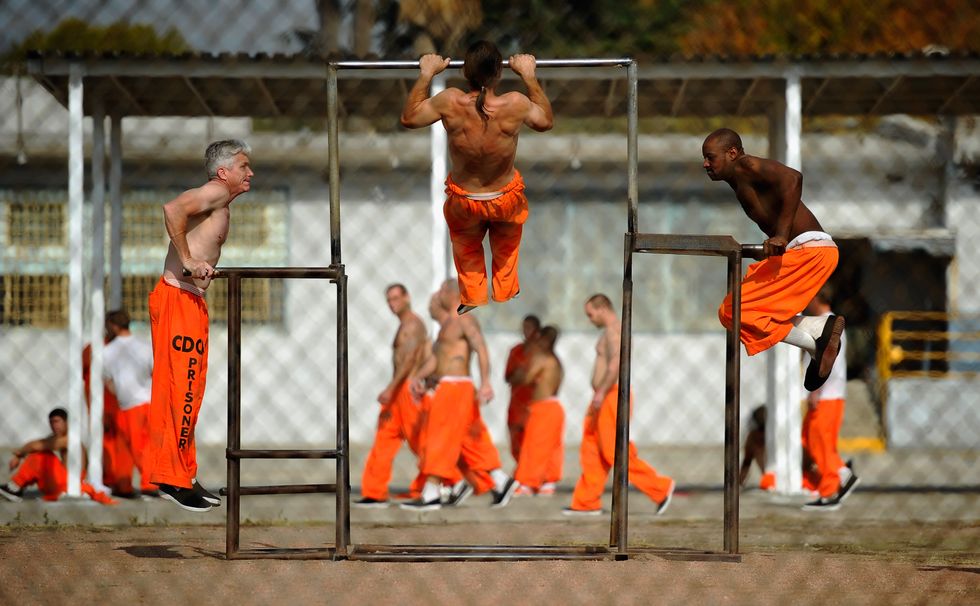 A large number of the incarcerated have psychopathic tendencies. This study may lead to retraining them to avoid poor decision making.
"Contrary to what you would expect based on these basic emotional-deficit models, their emotional responses to regret didn't predict incarceration." Buckhotlz said. Yet, "We know psychopathy is one of the biggest predictors of criminal behavior." Being able to train individuals to recognize signs of future regret could be a way to make a more compassionate psychopath, and one that might stay away from trouble, and incarceration.
Though we know much about the condition, we know very little about how psychopaths make decisions, researchers said. Psychologists have mostly delved into how their emotions work and what emotional experiences they have. But how they use that information and other signals from the environment to make decisions, has heretofore, never been studied. According to Buckhotlz, "Getting better insight into why psychopaths make such terrible choices, I think, is going to be very important for the next generation of psychopathy research."
Baskin-Sommers added further insight saying, "These findings highlight that psychopathic individuals are not simply incapable of regret [or other emotions], but that there is a more nuanced dysfunction that gets in the way of their adaptive functioning." Understanding this can help psychologists develop better methods for predicting psychopathic behavior and perhaps even train such individuals to recognize clues and steer clear of pitfalls, thus making better life decisions.
Think you might have psychopathic tendencies? Click here to find out:
Taking pain relief at the first feelings of a headache may mask an underlying condition. Use long-term treatments designed for migraines, says the director of Yale's Headache and Facial Pain Center.
Ingesting a nightly Advil or Tylenol is protocol for many. The general body aches, joint inflammation, and, especially, headaches that tag along on a stressful workday seem mitigated with a few hundred milligrams of pain relief. Of course, this only masks what could be a serious underlying condition.
We all have triggers for those sharp (or for some, dull) pains that attack the inside of our skull. Within moments a bottle is popped, two pills washed down in one gulp. The mistake we may be making, however, is confusing the trigger for the cause. The headache would most likely still have occurred, says Christopher Gottschalk. The trigger merely exacerbates the pain while giving your mind a supposed 'reason' to latch onto.
Most of the things that people have thought of as triggers—stress, weather fronts, diet—when we have studied them, we've come up empty-handed every time. It's not that they cause headaches, but that when you're getting a headache, weather changes and perfumes feel worse.
As director of Yale Medicine's Headache and Facial Pain Center, Gottschalk has developed another approach: treat every headache as a migraine. This, he says, will offer more of an opportunity at long-term success in treating and even potentially eliminating the problem.
This will take some work from a consumer standpoint, so accustomed we are to popping pills. Add to this that the cognitive distance between the freely perused aisles and the pharmacist's counter is steep. When we can walk into our local pharmacy and pay a few dollars for a hundred pills we tend to think of those drugs as safe and practically benign.
One 2001 study shows that over 30 billion over-the-counter doses of NSAIDs (non-steroidal anti-inflammatory drugs) were purchased in the United States alone that year. Yet the safety of NSAIDs is of ongoing concern. One report states that roughly 110,000 people are injured or die due to acetaminophen (an analgesic in Tylenol, for one) each year. Given that there were 27 billion doses of that specific substance sold in 2009, that equals one complication in every quarter-million doses—not an epidemic, though nothing to gloss over either.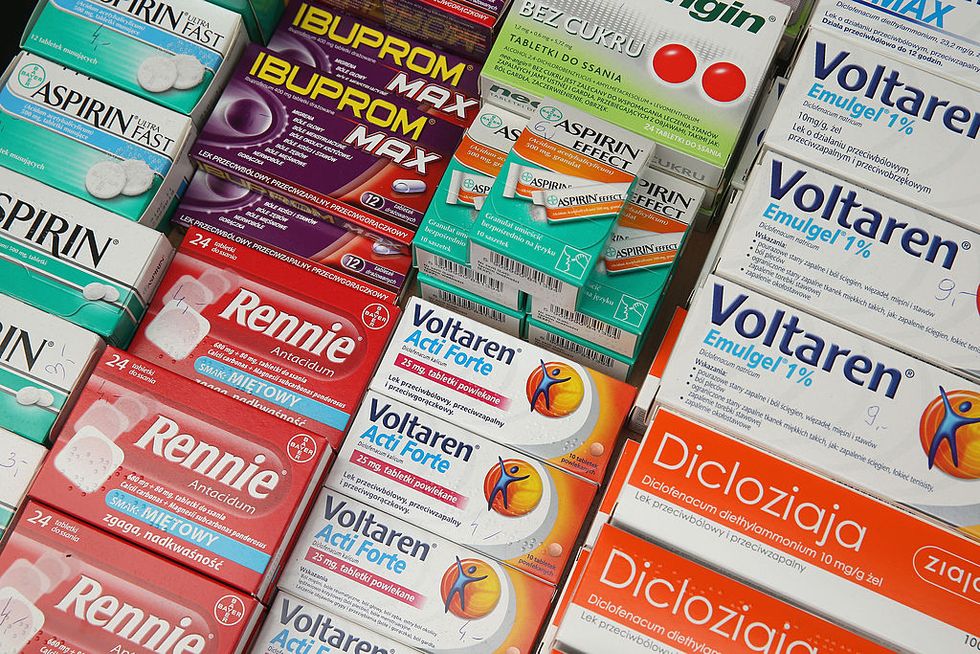 Since migraines are a chronic condition, Gottschalk is taking the long view on headaches. He recommends preventive options such as anti-seizure medications, low doses of tricyclic antidepressants, or higher doses of beta blockers. He's also a fan of nose sprays or injections given the tendency of certain pharmaceuticals to disrupt the digestive process. A common complaint of migraines is nausea, so feeding that intestinal fire means replacing one problem with another.
Looking into the future, Gottschalk is heading into research that helps the immune system address a protein triggered by migraines. The hopes are that an antibody infusion targeting this protein would stop common headaches before they start.
Migraines have been shown to be progressively crippling with potential cardiovascular, cerebrovascular, and long-term neurologic effects. Experiencing even intermittent headaches, according to Gottschalk, could be the result of the same process that causes migraines.
Given the possible detrimental effects of pharmaceuticals, other avenues of treatment are in need of further study. One pilot study of 19 sufferers of chronic migraines found that mindfulness-based stress reduction (MBSR) meditation helped reduce headache duration and disability effects. Personally, I've found great success with myofascial release techniques on my upper back and pectorals, as well as neck region, in alleviating occasional headaches.
One thing is clear: the causes of headaches are numerous, so defaulting to a nightly (or even occasional) pill to soothe the symptoms might temporarily relieve discomfort but prohibit you from finding solutions. Gottschalk's discovery is a step in the right direction. 
--
Derek's next book, Whole Motion: Training Your Brain and Body For Optimal Health, will be published on 7/4/17 by Carrel/Skyhorse Publishing. He is based in Los Angeles. Stay in touch on Facebook and Twitter.