The exploding popularity of the keto diet puts a less used veggie into the spotlight.
Purple cauliflower. (Photo: Shutterstock)
The cauliflower is a vegetable of choice if you're on the keto diet.
The plant is low in carbs and can replace potatoes, rice and pasta.
It can be eaten both raw and cooked for different benefits.
Of all the ubiquitous diet trends, the keto diet is probably the one with the most current buzz. While the long-term health benefits of this low-carb approach are debatable, keto has thrust one vegetable into the spotlight. Welcome to the age of the cauliflower.
What's made the cauliflower, the bane of kids everywhere, experience such a burst in popularity? The keto (or ketogenic) diet calls for getting rid of high-carb foods in favor of fatty foods rich in protein. The goal is to get your body into a state of ketosis, where it will burn fat for fuel instead of sugar. The short-term weight loss that ensues has been the reason for the diet's growing amount of followers.
The biggest reason for cauliflower's resurgence? It is very versatile and has only 3 grams of net carbs (from 5 grams of carbs) per a 100-gram cup. That makes it an excellent low-carb vegetable substitute in many recipes that call for things like potatoes, rice or pasta.
What's also great about this under-utilized veggie is that a cup of cauliflower would have only 25 calories while giving you 77% of the daily allowance of vitamin C and high levels of vitamin K and B6. It also contains omega-3 fatty acids, fiber, choline, biotin, phosphorus, magnesium, manganese, niacin, pantothenic acid, vitamin B1, B2 and protein. You can search its full nutritional values in this expansive USDA report. Suffice to say, the cauliflower is chock-full of nutritional goodies.
This plant, which has its origins in Cyprus and the Asia Minor region, with first historical mentions going to back to around 600 B.C., has also been found to have anti-carcinogenic properties.
This is what a cauliflower mac 'n cheese looks like. The recipe can be found at MinceRepublic.com.
So what can you do with cauliflower ? You can cook it in a variety of ways: sautéing, roasting, steaming, you name it. Interestingly, a case can be made both for eating it raw and cooked. For one, the organic compound indole, which helps kill precancerous cells, is formed when the cauliflower is cooked. Another reason why cooking may be the way with this veggie, besides making it taste better, is that it's more likely to cause gas, bloating and other gastrointestinal distress in its raw form. On the other hand, fresh cauliflower has up to 30% more nutrients and antioxidants, says Dr. Marlynn Wei.

Check out this plethora of cauliflower recipes for those on the keto diet. Keep in mind, research shows that it's not a diet that is beneficial over the long term. No more than three months of ketogenic dieting is about the length to aim for.
While short-term results are positive, there is mounting evidence against staying in ketosis for too long.
Recent studies showed volunteers lost equal or more weight on high-carb, calorie-restricted diets than low-carb, calorie restricted diets.
There might be positive benefits to short-term usage of a ketogenic diet.
One dietician warns that the ketogenic diet could put diabetics at risk for diabetic ketoacidosis.
A few weeks ago I stopped by the Korean stand at my local farmer's market. I was picking up fermented daikon and tempeh when the seller tells me about a woman that had just stopped by to ask if tempeh has protein. The look on my face answered his non-question. He continues to tell me that she's on a "no protein" diet because, well, at this point, I just give up.
Humans can be absurd in our dietary beliefs. Every other animal eats due to necessity and availability. Our relative luxury has afforded us the opportunity to partake in eating plans that thwart basic biological needs. Some plans seem to make sense until science steps in.
For a minute it appeared the keto diet had traction. Advocates were seeing drastic weight loss. By their telling, "Big Food" is waging a longtime conspiracy to inject as many big carbs into our bodies as possible. (Not that excess carbohydrates, especially in the form of sugar, isn't a problem.) My personal experience with keto, which lasted roughly three months, was successful in certain regards. Weight loss wasn't the intended goal, though that did happen; I did it to address chronic GI issues.
As it turns out, I might have inadvertently nailed the timing, at least according to one doctor that never puts his clients into ketosis for more than three months. Let's face it: our ancestors never purposefully restricted carbohydrate intake. They just didn't have a Whole Foods to shop at. Macronutrients weren't on their minds as they had no awareness of the building blocks of calories to begin with. The question was never "What's my meal plan this week?" but rather, "What can I catch today? What plant is ripe to forage?"
Now that more research is emerging, the news on keto isn't good. Scientists leading one 2016 study, led by National Institutes of Health obesity researcher Kevin Hall, confined 17 volunteers to a hospital for a two-month stay. This is important, as self-reported studies are always at risk of being invalidated by faulty data. In this study, volunteers ate plenty of sugary carbs for the first month; during the second they received the same caloric load, replacing the bulk of those carbs with fats.
Vox Media
At the end of the two months, Hall was unimpressed.
In this case, we saw daily insulin secretion drop substantially within the first week and stay at a low level. But we only saw a small transient increase in energy expenditure during the first couple of weeks of the [low-carb] diet, and that essentially vanished by the end of the study.
Despite what some expected, it took the volunteers on the high-fat diet 28 days to lose as much weight as those on the baseline diet lost in 15 days. (All volunteers were overweight; the mechanism for their weight loss was lower daily caloric intake.) To be fair, there was no control group and calorie restriction generally has a bigger impact during the first month on any diet. That said, this study provided a serious blow to low-carb advocates.
As dietician Bonnie Taub-Dix told Well + Good, there should be an emphasis on eating the right carbs, such as whole grains. She's also not a fan of diabetics getting into ketosis, even though this community is specifically targeted by advocates. "It can cause DKA, diabetic ketoacidosis," she said. "This happens when your body is producing a lot of ketones and can lead to vomiting, diarrhea, feeling faint, and being [excessively] thirsty."
Yagi Studio / Getty Images
The Internet is filled with anecdotal tales of triumph thanks to ketosis. The diet should not be completely written off, as other studies — on mice — have shown positive benefits, such as weight loss and memory improvement. Again, these are short-term fixes, not longitudinal proof.
Besides, a 2018 study, published in JAMA, found that low-carb and low-fat diets were equally effective for weight loss. This isn't the only evidence of this fact. A 2015 meta-analysis found that low-carb diets barely outperformed low-fat diets.

As Taub-Dix notes, balanced dieting is "boring." People always want the next great thing, be it a shamanically-blessed Amazonian berry or a supercharged Pacific Northwestern mushroom. I recently had dinner with a fellow who talked about his nootropics regimen, which greatly increases his focus, yet he checked his cell phone every five minutes during our two-hour meal. The distance between our brain and our gut remains too long to traverse.
--
While the concept of "burning" fat is not altogether wrong, the process of losing fat probably isn't what you imagine.
Fat has made a comeback of late. Of course, the fat on everyone's mind is dietary fat, those nine calories per gram advocated by fans of the ketogenic diet. The fat we carry around inside of our bodies is a different story.
Not that fat hasn't previously been in vogue. Carrying around a little extra was once considered a sign of wealth—those pounds meant you could afford to eat well. Humans being humans, we then took it to the other extreme when the fashion world became fascinated with anorexic models. As they infiltrated popular culture, eating disorders, depression, and anxiety ravaged our consciousness. We still haven't self-corrected from that swerve. 
The connection between wealth and fat is not surprising. Storing excess money in your bank account is a sign of financial success; your body stores fats and carbohydrates so that you never run out of adenosine triphosphate (ATP), the molecules that serve as batteries in your body's cells. Your body's account needs ATP in case a debit becomes necessary.  
Good fat and bad fat
What we're looking for at a healthy weight is proper energy balance—enough stored energy for when you need it, not so much that it collects in the form of visceral fat, mostly around your belly. Too little stored fat and you run into reproductive problems, which is why our bodies are good at storing fat. Too much, our main problem today, and we suffer the long list of metabolic, cardiovascular, and immune issues clogging hospital corridors. 
Fat, remember, is necessary for good health. Your body stores some fat cells in your liver and some in your muscles. A lot of them are used for resting metabolic processes—around 1,300 to 1,600 calories worth daily. The remainder is spread throughout your body in the form of adipocytes; each of us carries around tens of billions of these fat cells. 
The cells stored beneath your skin are subcutaneous fat, which we need. Visceral fat is the problem, as these cells act differently in your body. When visceral fat collects around your midsection, the excess energy is also collecting a variety of vitamins, hormones, and toxins, the latter in an attempt to keep them away from your organs. This might seem positive, but in the long run this storage of pollutants and toxins can be, well, toxic, especially if you lose weight too quickly.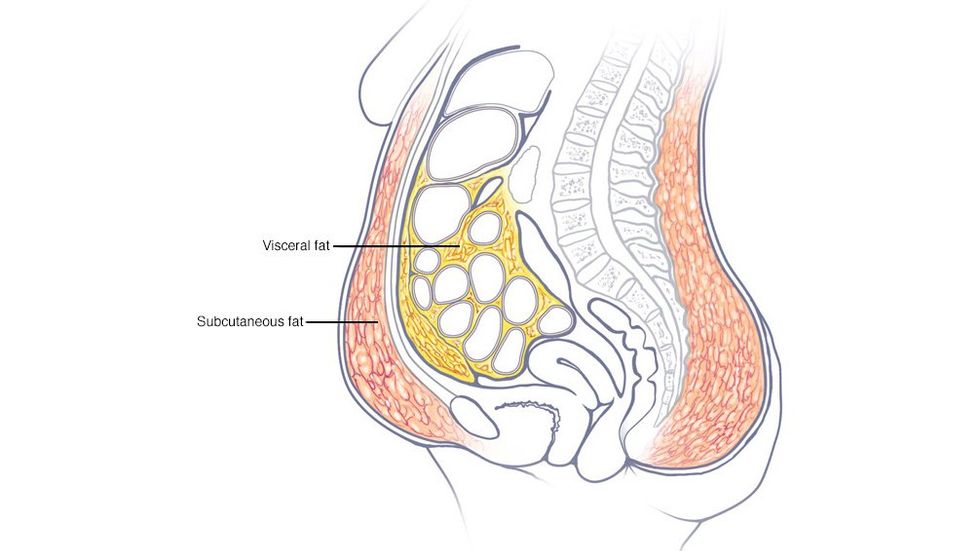 Image source: Mayo Clinic.
Where does the fat go?
Where do you lose weight in the first place? Mostly, through breathing. While the concept of "burning" fat is not altogether wrong, losing fat involves plenty of carbon dioxide leaving your body. As the Washington Post explains:  
[Researchers] found that to burn a pound of fat, a human needs to inhale about three pounds of oxygen, kickstarting metabolic processes that produce just under three pounds of carbon dioxide (which is just a bit more than the average weight exhaled by a human on any given day) and about a pound of water. That water can exit the body in plenty of ways—poop, pee, sweat, saliva and any number of bodily fluids—but your lungs handle the brunt of the weight loss.
Your fat "goes" into the atmosphere. (And no, it doesn't contribute to global warming.) When it does go, you're also releasing the extra storage of vitamins and toxins along with it. That might not sound like a good thing, but in the long run it's far better to be rid of them. 
As Popular Science states, organochlorine pesticides, among other pollutants, are known to get bound up in fat—they leak into our food supply: 
Bodies don't seem to store enough of these to become toxic, but the constant build-up leaves you vulnerable to exposure. And they do start to re-emerge when you lose weight.
By losing weight at a healthy pace (1-2 pounds a week), the limited number of pollutants released will not overload your bloodstream. Your urine will make quick work of them. Extreme dieting is a different story. The more weight you lose, the more of these toxins (as well as vitamins and, in women, estrogen; excessive vitamins can be deadly, while increased estrogen stored in fat increases your chances of breast cancer) enter your bloodstream. 
Since we no longer face the same problem as our ancestors—most of us don't have to worry about whether or not we'll eat tonight, or tomorrow—fat storage plays a different role in our bodies than previously. Many avoidable health problems are due to this excessive storage of energy, hormones and toxins. Some researchers claim 70 percent of our medical problems can be addressed through a healthier lifestyle, which includes eating better and moving more. 
As a bonus, the fat being returned into the atmosphere through breathing eventually becomes fuel for plants, one of the main foods we want to put back inside of our bodies. That's what we call a harmonious cycle, one we evolved because of, and one that remains necessary for optimal health today.
--
Derek Beres is the author of Whole Motion: Training Your Brain and Body For Optimal Health. Based in Los Angeles, he is working on a new book about spiritual consumerism. Stay in touch on Facebook and Twitter.
Some people naturally believe they're thinner than they really are. Here's how to tell if you're susceptible.
Our body size has social implications, mostly self-imposed, which we generally focus on. But the truth is, there are all kinds of sizes within a spectrum that could be considered healthy. It's the extreme wings of the spectrum, either remarkably skinny or obese, that are particularly dangerous for our health. Admittedly, there's a growing worldwide obesity epidemic, meaning most people in developed countries end up on one particular side of the spectrum. Of course, many people could benefit from at least some form of weight loss. What can be a stumbling block, however, is how we perceive our own weight.
You're probably already familiar with anorexia and bulimia, which are life-threatening conditions. What fewer of us may be familiar with is serial dependence bias, which often gives us the impression that we're thinner than we actually are. This is a psychological illusion recently stumbled upon by researchers at The University of Western Australia, along with colleagues at the Pisa Vision group, in Italy. The results was published recently in the journal Scientific Reports.
Researchers discovered how we gain impressions and perceptions about our own body weight. The mind blends observations made by peers and our own perception of our body to form how we think about our own weight. But that impression can be distorted, allowing us to think that we're thinner than we actually are.
The study recruited 103 female volunteers to participate. They were each shown pictures of women's bodies ranging from slim to obese and everything between. Using a marker, participants were asked assess each woman's weight by making a line on a scale known as the body-line.
Participants commented on each image "by positioning a marker on a line, delineated with images of extreme sizes." What the scientists noticed was, evaluations of the current woman's body relied on previous assessments. As a result, researchers say, we humans are actually poor at perceiving our own body size, which is where the serial dependence bias comes in. "Past visual experiences weigh in on body size estimation," researchers wrote.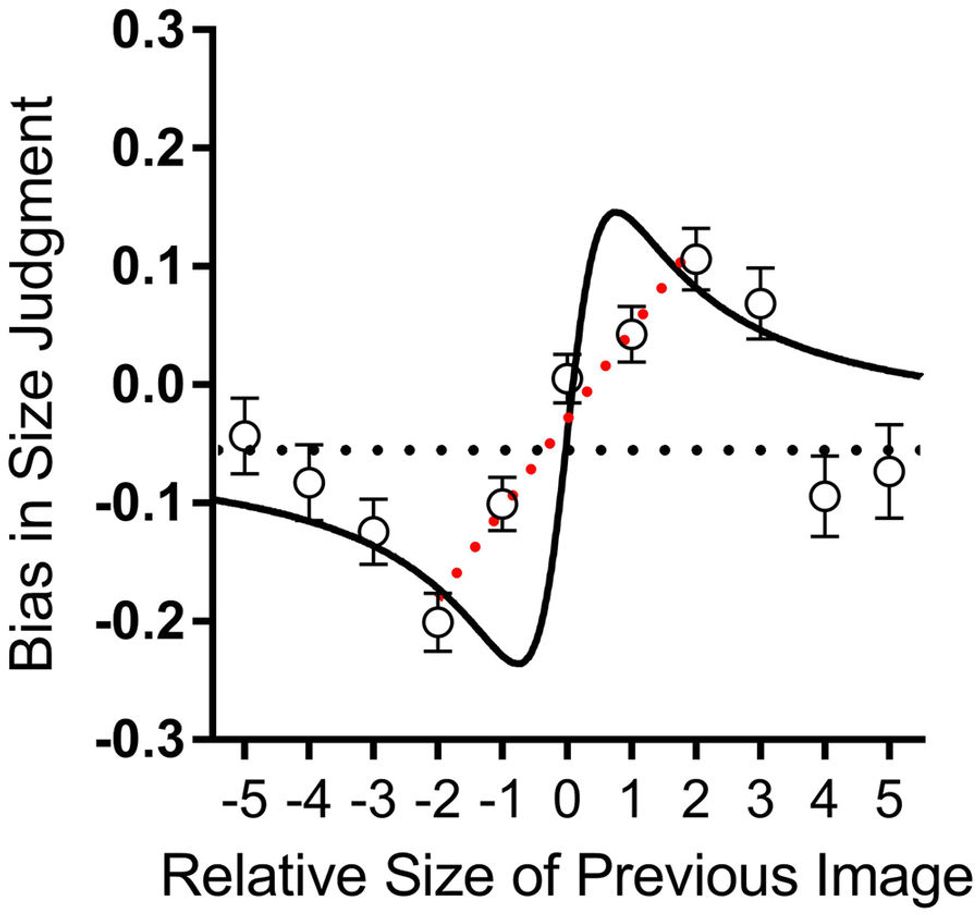 Credit: Scientific Reports.
Dr. Jason Bell led the Australian team. "The data show body size judgments are biased towards prior experience," he said. "As a person's weight increases above the average, so too does the likelihood that their prior experience involves smaller bodies. Because the brain combines our past and present experiences, it creates an illusion whereby we appear thinner than we actually are."
Researchers say that when we're exposed to neutral body types, we may think that they are larger than they actually are, while if we were exposed to larger body types, we may see them as normal or neutral. Previous research has shown that healthy women often underestimate the weight of other females who are overweight, while they overestimate the weight of slim women. Our perception may not be accurate out of the gate. Yet, some researchers argue that it's the system's ability to update itself constantly that, over time, makes it more accurate.
The results of this study may lead to new approaches in weight loss, something that's sorely needed. It could also help us zero-in on what is and is not a healthy body size. The media, for instance, often sells a version of the female frame which is way too thin and so makes for an unrealistic goal. Understanding the difference between our perceptions and reality, from a health perspective, may help us better project a healthier image and make it easier to reach and maintain our ideal weight. These results may also help us better understand those who are obese or have an eating disorder.
Want to test how visually perceptive you are (or aren't)? Watch this:
It's more than just weight gain—it's chronic inflammation and weak immunity.
Photo: U.S. Air Force, Airman 1st Class Grace Lee.
The first two episodes of the Netflix documentary series Rotten touch upon important issues in our relationship to food. The first focuses on the dangers of colony collapse in bee populations as well as international companies filling bottles with ingredients that definitely are not honey. The second deals with food allergies, particularly focused on the largest: peanuts.
While these are distinct issues, two themes weave these stories together. First, the impact of our environment on health. Humans have gone to great lengths to separate from nature. Yet we interact with whatever environment we live within. Effects of sedentary existences lived apart from the planet's rhythms include the slow destruction of our bodies and pretty much every species we come into contact with.
The booming almond industry needs pollinators, which stressed beekeepers (and bees) travel hundreds or thousands of miles to accomplish in California's central valley each season—adding to the stress. Colony collapse is rampant given the diseases these nomadic bees are now sharing. This is but one example of interdependence that we often overlook. No pollination, no honey, no almonds, no—a lot. 
The rapid onset of food allergies over the course of only one generation provides another example of our exile from nature's rhythms. We would never eat foods apart from the environment they were grown or captured within until recently. Industrial monocultures are likely, at least in part, to blame for this stunning increase in any or all of the eight allergens, which leads us to the second theme in these episodes: our microbiome.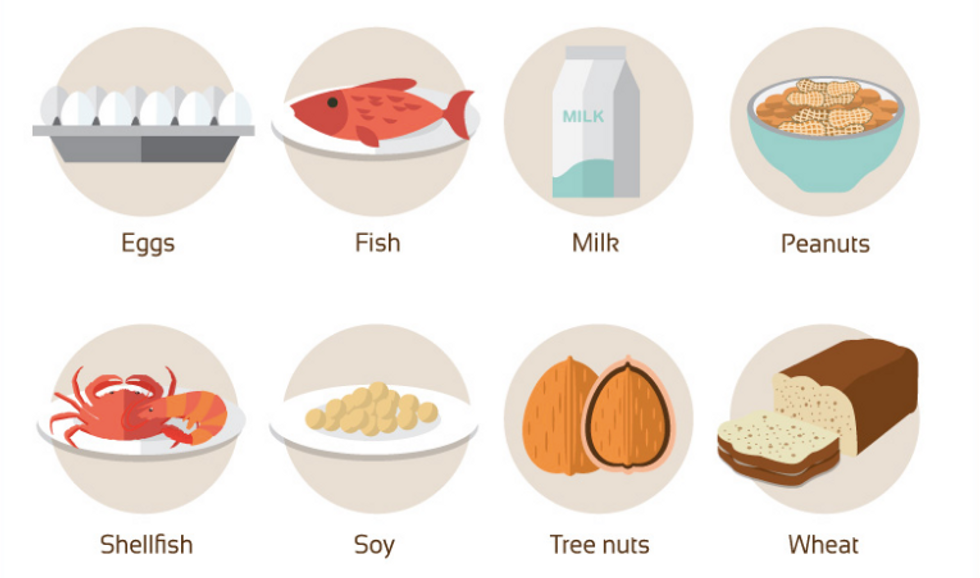 These 8 foods make up 90% of all food allergies in the U.S. Image: Fix.com
The bacteria that live inside of our guts is arguably the most important feature of our entire body. While the brain receives the bulk of praise, scientists have more recently raised an inquisitive eyebrow regarding all the data emerging on the microbiome. The relationship between our nervous system and gut (which has its own nervous system) is exceptionally influential on health. 
Our microbiome also directly interacts with our environment. While Purell has proven beneficial for soldiers in foreign territories, constantly sanitizing your hands weakens your immune system when in home territory. Synopsis: let your kids play in dirt. You play in dirt too. Those bacteria are strengthening.
Yet we have many weird relationships with our environment and the foods we eat, often in the invented cause of "purity." One example is juicing, heralded as the perfect (and profitable) "cleansing" mechanism. Drink juice for five or ten days and your body "resets." But juice is no different than soda, as you've removed the most beneficial part of the fruit: fiber. 
We've long known fiber is essential to our diet, in order to "get things moving." Otherwise known as roughage, dietary fiber is comprised of soluble and insoluble fiber. Both play critical roles in defecation. While too much fiber can cause intestinal gas and bloating, too little, a hallmark of a highly processed diet heavy on sugar, means we'll turn to laxatives instead of eating the fruits, plants, and grains that offer an abundance of it. 
Fiber also reduces the risk of heart disease, arthritis, and diabetes, and has been shown to lower mortality rates. But its role in digestion is particularly important. The food we consume is broken down by enzymes, its nutrients absorbed by our intestines. The molecules we cannot absorb, fiber, either pass through or, as it turns out, become food for gut microbes. 
A recent study published in Cell Host and Microbe investigates mice on a low-fiber, high-fat diet. The gut bacterial population crashed, triggering immune reactions. A similar experiment, published in the same journal, discovers that the effects of a low-fiber diet are wide-ranging: 
Along with changes to the microbiome, both teams also observed rapid changes to the mice themselves. Their intestines got smaller, and its mucus layer thinner. As a result, bacteria wound up much closer to the intestinal wall, and that encroachment triggered an immune reaction.
Continuation of this diet causes chronic inflammation; the mice also got fatter and developed high blood sugar. In both cases, the inclusion of a fiber called inulin dramatically improved their health and gut bacteria population. The researchers, which include Georgia State University's Andrew T. Gewirtz, realized that fiber serves as an essential food for an entire population of bacteria. 
"One way that fiber benefits health is by giving us, indirectly, another source of food, Dr. Gewirtz said. Once bacteria are done harvesting the energy in dietary fiber, they cast off the fragments as waste. That waste — in the form of short-chain fatty acids — is absorbed by intestinal cells, which use it as fuel," writes Carl Zimmer for The New York Times.
The "peaceful coexistence" of bacteria in the microbial system is disturbed on a low-fiber diet. Famine breaks out. Bacteria dependent upon fiber starve, followed by the bacteria that depend upon them for sustenance. A colony collapse. What follows isn't a disappearance, but an aggravation. 
"Inflammation can help fight infections, but if it becomes chronic, it can harm our bodies. Among other things, chronic inflammation may interfere with how the body uses the calories in food, storing more of it as fat rather than burning it for energy," writes Zimmer.
Obesity isn't the only thing fiber fights. It is also believed to help combat or prevent immune disorders. A fiber supplement probably won't cut it, however, since what our microbiome truly craves is a variety of fiber sources, which, fortunately, can be found in the produce aisle. 
We begin life with a disadvantage regarding fiber. In his book, Catching Fire, British primatologist Richard Wrangham writes that our relatively small colon means we cannot utilize plant fiber nearly as effectively as great apes. Cooked food provides an important means for intaking more fiber (and other nutrients) than raw plants, but thing is, we have to eat those plants. 
A diet filled with processed foods and fiber supplements is not going to cut it. Our microbiome craves what it has evolved to need in order to survive. Without those requirements those bacteria perish, initiating system-wide havoc in our bodies. Sans fiber we're not honoring the environment that gave birth to us, and that environment is certainly speaking back. 
--
Derek Beres is the author of Whole Motion: Training Your Brain and Body For Optimal Health. Based in Los Angeles, he is working on a new book about spiritual consumerism. Stay in touch on Facebook and Twitter.