Do we really need to spend such a mind-bogglingly huge amount of money on surveilling the world (and the American taxpayers) to find a terrorist-needle in a global-haystack?
Americans have gotten so used to being surveilled by the intelligence community that they barely register it as an invasion of privacy, says MIT professor Barry Posen. He goes further to say that the kind of data collection used by the government could very easily be used in nefarious ways (should someone nefarious get their hands on it). Another big issue he suggests is the price tag that this surveillance costs American taxpayers. At $70,000,000,000... that so-called "security" might be priced way too high. The Charles Koch Foundation aims to further understanding of how US foreign policy affects American people and societal well-being. Through grants, events, and collaborative partnerships, the Foundation is working to stretch the boundaries of foreign policy research and debate by discussing ideas in strategy, trade, and diplomacy that often go unheeded in the US capital. For more information, visit charleskochfoundation.org.
There's a lot of talk about Russia's hostility to America, thanks to their apparent interference in the 2016 U.S. election. But in the grand scheme of things, Russia is small potatoes.
There's a lot of talk about Russia's hostility to America, thanks to its apparent interference in the 2016 election. But in the grand scheme of things Russia is small potatoes, explains Stephen Walt, Professor of International Affairs at Harvard University. America is bigger economically, has far more friends and thus a better world standing, and has a lot more going for it, says Walt. Should the U.S. really be concerned with a country with a GDP some 15 times smaller than its own, with a rapidly aging population and no industry beside oil and gas? Stephen Walt's weekly column can be found at ForeignPolicy.com. The Charles Koch Foundation aims to further understanding of how US foreign policy affects American people and societal well-being. Through grants, events, and collaborative partnerships, the Foundation is working to stretch the boundaries of foreign policy research and debate by discussing ideas in strategy, trade, and diplomacy that often go unheeded in the US capital. For more information, visit charleskochfoundation.org.
KGB-era "active measures" are still being used by Russian intelligence agencies today, according to experts.
Russian President Vladimir Putin salutes officers 18 February, 2004 in Plesetsk, where he came to watch the launch of spacecraft Molnia. (Photo credit: MAXIM MARMUR/AFP
As questions swirl about Russia's role in the 2016 Presidential elections, the old KGB strategy of "active measures" is getting a closer look. "Active measures" were subversive techniques and policies aimed at influencing people and events in foreign countries to suit Russia's objectives. Claims of internet-driven hacking and misinformation campaigns by Russia against the U.S. fit well within this Cold War approach. 
As described by retired KGB General Oleg Kalugin in 1987, the purpose of "active measures" was "to drive wedges in the Western community alliances of all sorts, particularly NATO, to sow discord among allies, to weaken the United States in the eyes of the people in Europe, Asia, Africa, Latin America, and thus to prepare ground in case the war really occurs. To make America more vulnerable to the anger and distrust of other peoples." 
According to former NSA analyst and security expert John Schindler, these measures are still in use today by Russia, a country led by the former KGB officer Vladimir Putin.
The practice of disinformation is a key example of such "measures". It could involve stories planted in foreign outlets - essentially "fake news" that would present "an alluring amalgam of fact and fantasy—much of it unverifiable—designed to confuse readers and shift political discussions," explains Schindler.
Other tactics that are part of what Schindler considers Russia "espionage worldview" include provocations which also work to murky the waters and disorient the enemy to such an extent that they would be defeated before even knowing what happened. Provocations could include planting agitators or even flipping activists to serve your ends. 
Conspiracy which involves recruiting agents and running covert operations is another tactic mentioned by Schindler. "Kompromat" which entails using compromising materials is also time-honored KGB staple, used to recruit new spies or agents by blackmailing.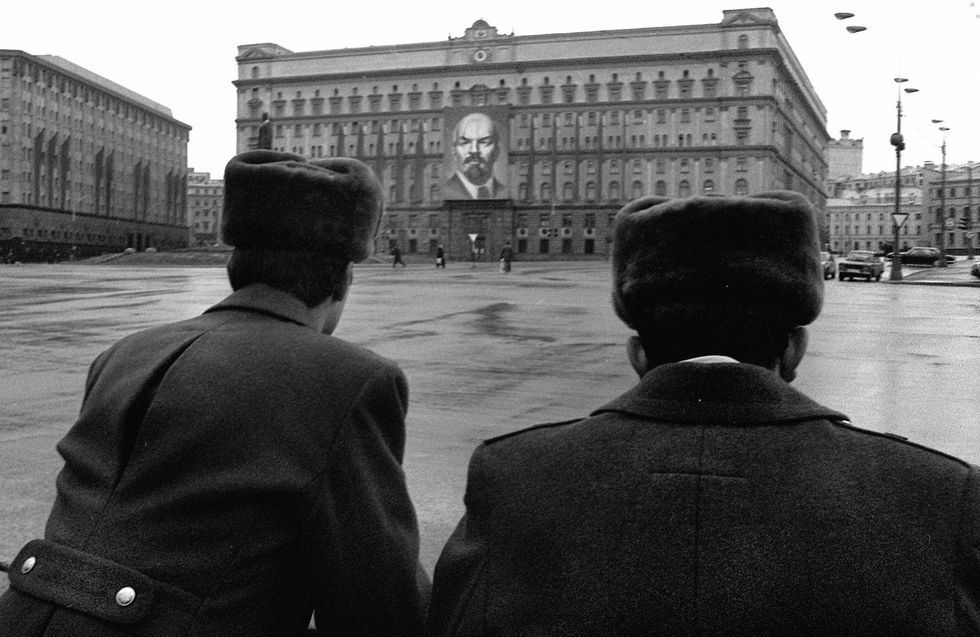 Moscow, RUSSIAN FEDERATION: This undated file picture shows Soviet policemen standing guard in front of the KGB building in Moscow, with a portrait of Vladimir Lenin on it. (Photo credit: ALEXANDER NEMENOV/AFP/Getty Images)
Eugene Rumer of the Carnegie Endowment for International Peace laid out the background on why Russia would want to use "active measures" before a recent hearing of the bipartisan Senate Intelligence Committee investigating Russian interference. For starters, he and the five other testifying witnesses all agreed that Russia was behind a campaign of misinformation in 2016 whose goal was to disrupt the U.S. Presidential elections in 2016.
Rumer said that as every country's foreign policy is shaped by its history and geography as well as politics, the dissolution of the Soviet Union left Russian national security establishment insecure. They were forced to accept the Soviet empire's demise in 1991 and had to retreat from the world stage during the 1990s. The 90s, in fact, turned out to be a difficult decade, blamed largely on the influence of the U.S. and other foreign meddlers in Russian politics and economy. 
But Russia's policy in this millennium has been of pushing back on its boundaries, warring with Georgia, annexing Crimea and fighting an "undeclared war" in Ukraine. From the Russian standpoint, their actions are aimed at restoring the balance of power, pushing back against the expansion of NATO at its borders and correcting the injustice of what happened in 1991. It's Russia's comeback.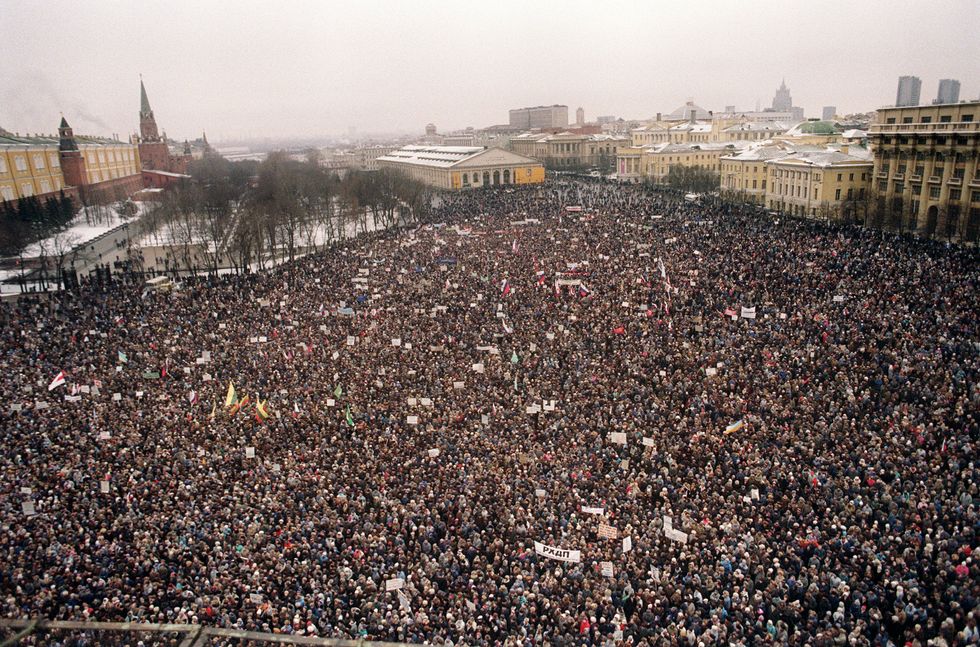 About 100 000 demonstrators march on the Kremlin in Moscow on January 20, 1991. (Photo credit: VITALY ARMAND/AFP/Getty Images)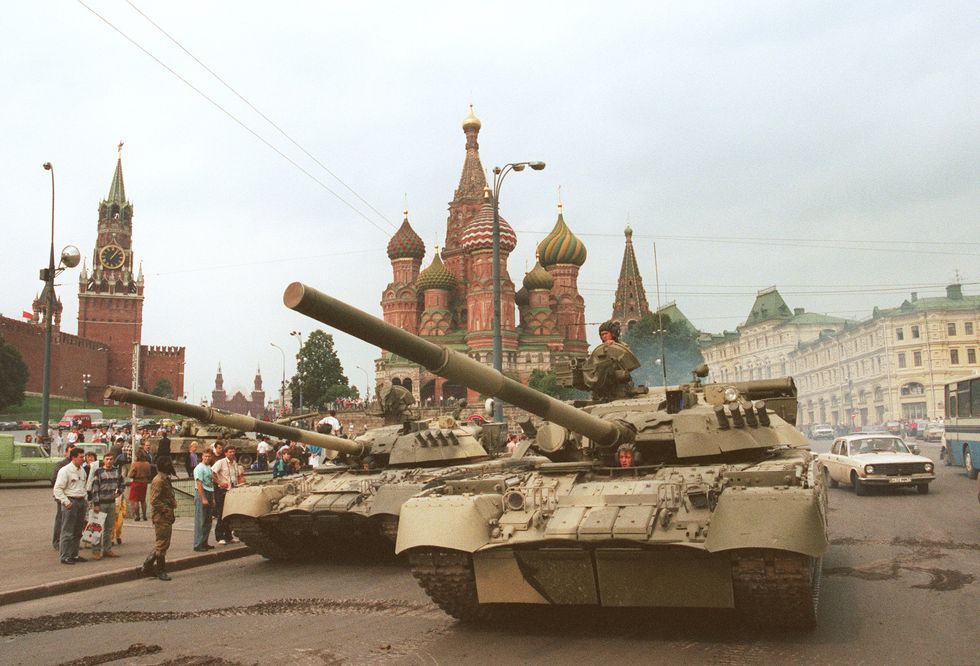 Soviet Army tanks occupy the area near Spassky Gate (L), the entrance to the Kremlin and St. Basil's Cathedral in Moscow 19 August 1991 after a coup toppled Soviet President Mikhail Gorbachev. (Photo credit should read ANATOLY SAPRONYENKO/AFP/Getty Images)
While Russia's military has made great improvements to modernize in the past decade, it would not fare well in a direct military confrontation with Western nations. So it pushes back in other ways - namely, using what Rumer called a "toolkit" of old KGB methods, which are cost-effective and generally less risky due to the confusion they cause.
What do we know about the Russian information warfare efforts during the 2016 U.S. Election? There is a consensus among the American intelligence agencies that the Russian government was behind the hacking of DNC emails that were later released via Wikileaks to politically damage Hillary Clinton. An additional goal was to help elect Donald Trump, a candidate preferred by Moscow. The attacks did not just start during the Trump vs Clinton general election, but were in full swing during the primaries as well, possibly aimed at other Republican candidates whose positions were not considered Russia-friendly, including Senator Marco Rubio.
Another tactic used by the Russians appears to be the employment of an army of Twitter bots that were spreading fake news. This information was shared by former FBI agent Clint Watts in his testimony before the Senate Committee on Intelligence. He discovered that the bots were pretending to be swing-voter Republicans from the Midwest.
"So that way whenever you're trying to socially engineer them and convince them that the information is true, it's much more simple because you see somebody and they look exactly like you, even down to the pictures," explained Watts.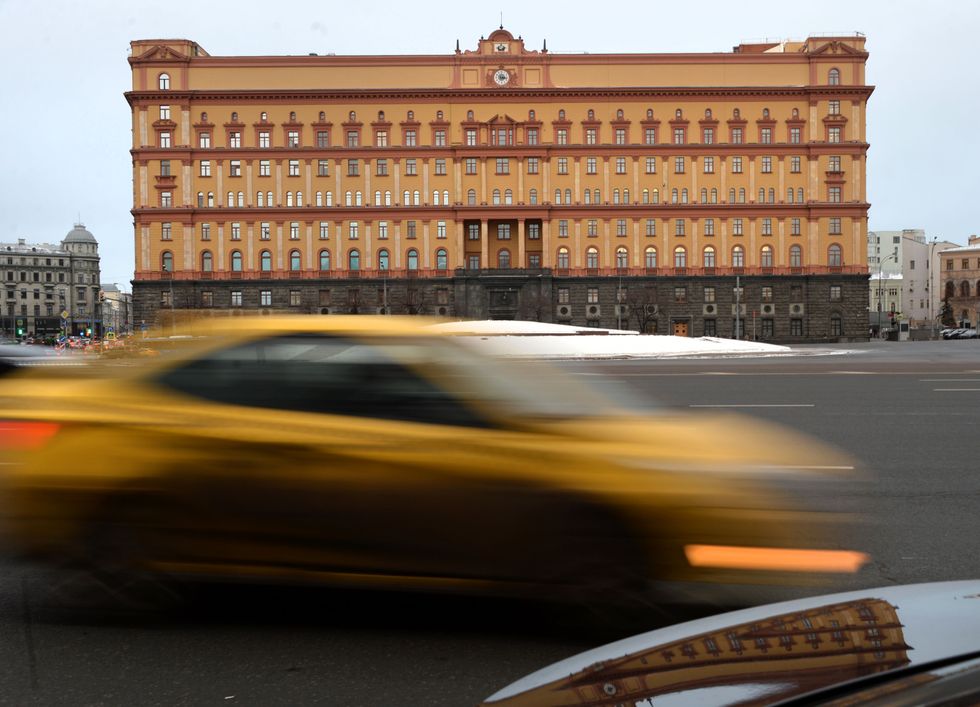 Cars drive past the headquarters of the FSB security service, the successor to the KGB in central Moscow on December 30, 2016. (Photo credit: VASILY MAXIMOV/AFP/Getty Images)
What's more, Watts, who is now a senior fellow at the Foreign Policy Research Institute and has tracked these tactics for over three years, says the Russian efforts did not stop at the election and are still continuing to try to engage with and support the President's tweets.
"If you went online today, you could see these accounts — either bots or actual personas somewhere — that are trying to connect with the administration. They might broadcast stories and then follow up with another tweet that tries to gain the president's attention, or they'll try and answer the tweets that the president puts out," he told NPR.
As far as who specifically is guiding these activities by the Russians, Watts says it's a "diffuse network" with a number of hackers controlled by "different parts of Russian intelligence and propagandists — all with general guidelines about what to pursue, but doing it at different times and paces and rhythms." 
Watts also testified that in 2014 Russian bots supported a petition on the White House website calling to give Alaska back to Russia, from whom Alaska was purchased 150 years ago. That set off an investigation showing how Russia used bots and paid trolls to spread its propaganda.
According to Watts, there are 5 ways in which Russian active measures are designed to topple democracy:
1. Undermine citizen confidence in democratic governance
2. Foment and exacerbate divisive political fractures
3. Erode trust between citizens and elected officials and democratic institutions
4. Popularize Russian policy agendas within foreign populations
5. Create general distrust or confusion over information sources by blurring the lines between fact and fiction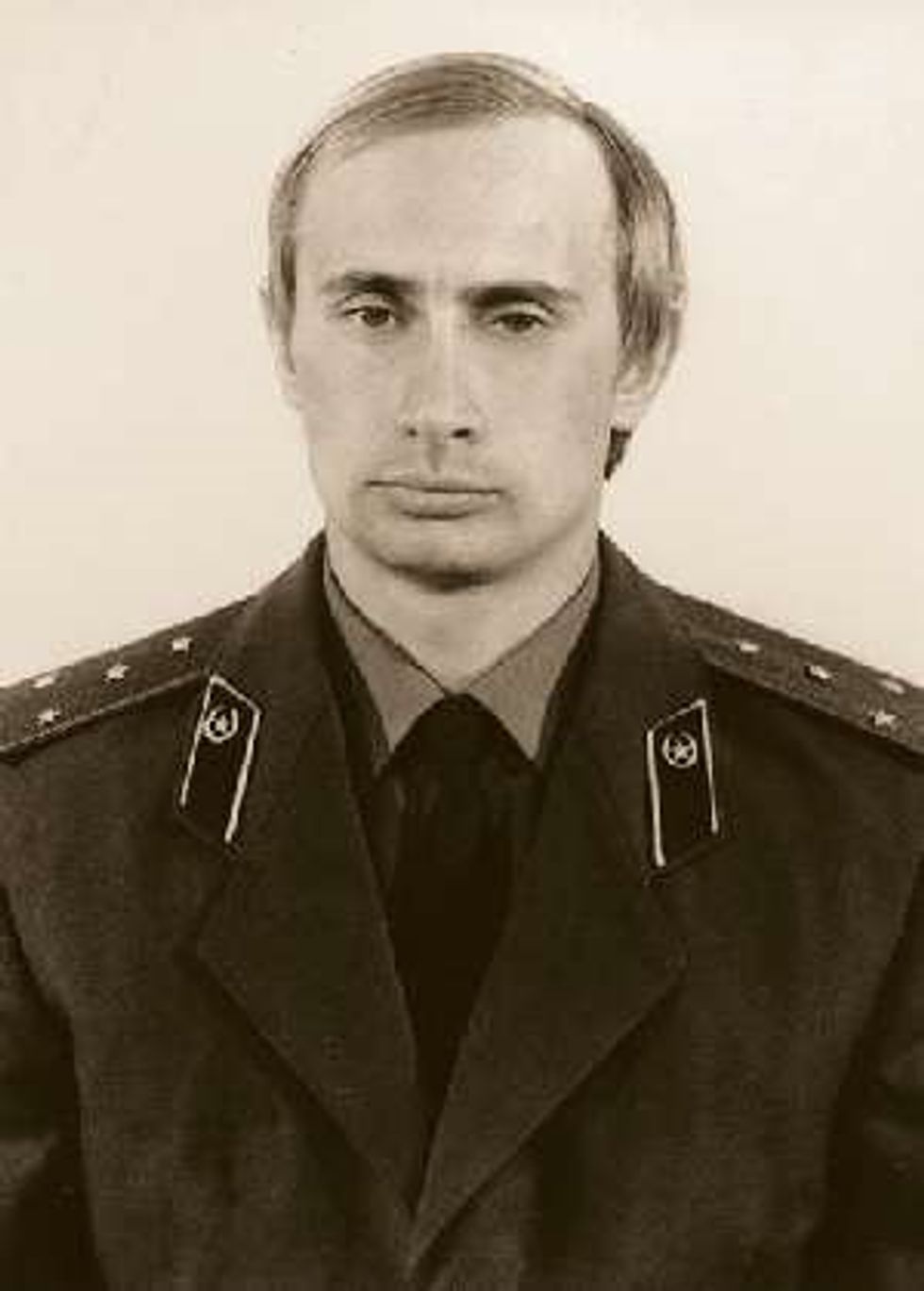 President Vladimir Putin while working as a KGB officer ca. 1990
Another line of investigation by the Senate Intelligence Committee concerns the reported use of an army of internet trolls working from a Russian facility to send targeted fake news to specific regions of America. 
Senator Mark Warner (D) said that their committee was investigating the information that the trolls were taking over computers called "botnets" which had the ability to generate regional news.
"It's been reported to me, and we've got to find this out, whether they were able to affect specific areas in Wisconsin, Michigan, Pennsylvania, where you would not have been receiving off of whoever your vendor might have been, Trump versus Clinton, during the waning days of the election, but instead, 'Clinton is sick', or 'Clinton is taking money from whoever for some source' … fake news," stated Warner.
What is the payoff Russia may be looking for by taking active measures during the 2016 U.S. election?
Eugene Rumer thinks the operation was a "major" and "unqualified" success for the Kremlin, causing unprecedented chaos within the U.S. and worsening its position worldwide.
"The payoff includes, but is not limited to a major political disruption in the United States, which has been distracted from many strategic pursuits; the standing of the United States and its leadership in the world have been damaged; it has become a common theme in the narrative of many leading commentators that from the pillar of stability of the international liberal order the United States has been transformed into its biggest source of instability; U.S. commitments to key allies in Europe and Asia have been questioned on both sides of the Atlantic and the Pacific. And last, but not least, the Kremlin has demonstrated what it can do to the world's sole remaining global superpower," told Rumer to the Senate Committee.
With such a wealth of goals possibly achieved, it's no surprise, according to Rumer, that Russia will continue to employ "active measures" going forward. The question is - how does America adjust? 
Charges of treason are often used incorrectly in today's political climate. Treason has a very specific definition in the U.S. Constitution.
Colonel Don Campbell with members of the United States Army Fourth Infantry Division stand in front of the American flag prior to the home opener between the Anaheim Angels and the Texas Rangers at the Ballpark in Arlington on April 9, 2004 in Arlington,
"Treason" is a charged word that's often used quite lightly in today's hyperpartisan political atmosphere. Revelations of contacts between officials in the Trump administration and various representatives of the Russian government are raising the specter of treason, certainly in the eyes of many Democrats. Of course, none of the Congressional and FBI investigations have concluded and we don't really know what happened, other than the reports by the intelligence agencies that Russians hacked the DNC and seemed to favor Trump in how they released information. But could anything that is being alleged actually be treason?
First of all, here's what the U.S. Code of Law defines as treason:
Whoever, owing allegiance to the United States, levies war against them or adheres to their enemies, giving them aid and comfort within the United States or elsewhere, is guilty of treason and shall suffer death, or shall be imprisoned not less than five years and fined under this title but not less than $10,000; and shall be incapable of holding any office under the United States.
The U.S. Constitution itself spells it out similarly in Article 3, Section 3:
Treason against the United States, shall consist only in levying War against them, or in adhering to their Enemies, giving them Aid and Comfort. No Person shall be convicted of Treason unless on the Testimony of two Witnesses to the same overt Act, or on Confession in open Court.
The Congress shall have power to declare the Punishment of Treason, but no Attainder of Treason shall work Corruption of Blood, or Forfeiture except during the Life of the Person attainted.
As you can see, the big deal here is levying war against the United States and helping its enemies. Whatever anyone in Trump's camp could have potentially agreed on with the Russians is highly unlikely to be construed as waging war against the U.S. And as we are not fighting a war with Russia, it's hard to justify calling it an "enemy". 
There are those who do consider the Russian cyberattacks related to the election an act of war. Russian military doctrine expert Alexander Velez-Green thinks the Russian leaders themselves are seeing things that way, taking advantage of the fact that U.S. policymakers are used to only viewing war as something "limited to the military arena". Thus the Russians are using non-military efforts (hacking) to "devastating effect".
What is their goal? According to Velez-Green, it would be "to cripple the United States, shatter NATO, and fill the void left by America's absence."
Interestingly, such Republican icons (and known warhawks) as Dick Cheney and John McCain have also publicly come out to say that the cyber attacks could be regarded acts of war.
The fact that there are serious implications to the defense of the U.S. in whatever happened was underscored by the recent resignation of President Trump's National Security Advisor retired General Michael Flynn. He was forced to give up his post after it was revealed he misled the Trump administration over contact with a Russian ambassador. Subsequently, Flynn's lawyer offered Flynn's testimony to Congress in exchange for immunity, which in turn caused many to wonder whether Flynn has something explosive to say.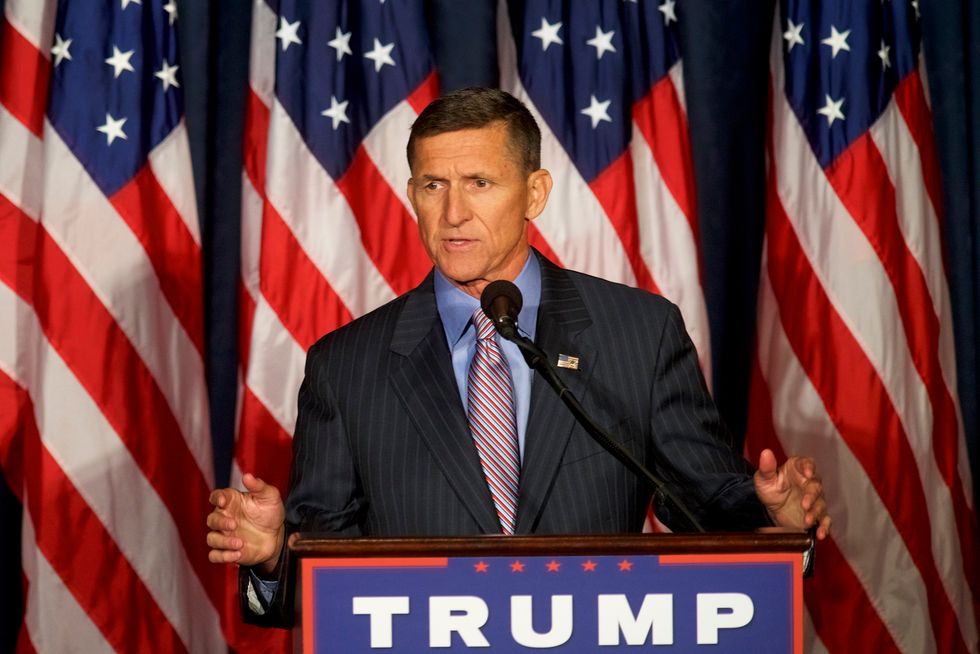 Retired United States Army lieutenant general Michael T. Flynn introduces Republican Presidential nominee Donald J. Trump before he delivered a speech at The Union League of Philadelphia on September 7, 2016 in Philadelphia, Pennsylvania. (Photo by Mark Makela/Getty Images)
Still, we don't know if Flynn really has anything transformative to reveal to the investigators. The reality remains that since there is no war there can be no treason. 
But some legal minds see another source of trouble.
The Harvard law professor John Shattuck argues that even if Trump and his team didn't knowingly coordinate the cyberattacks on the DNC with any party, their actions after the intelligence team's conclusions were made could rise to the level of treason. He says that denying the cyberattacks, which is something Trump continues to do, and working to hamper their investigations is like "giving aid and comfort to an enemy of the United States".
Another Harvard professor Lawrence Tribe also previously called into question Trump's statements during the campaign where he seemed to openly advocate for Russia to share Hillary Clinton's emails.
Who has been convicted of treason in U.S. history? There have been about 30 treason trials in U.S. since 1789. There were people like Mildred Gillars, an American broadcaster, and Robert Best, a journalist, who were convicted after working for the Nazis to push their propaganda during World War II. The last people to be tried and executed for treason were Ethel and Julius Rosenberg, who were convicted of passing U.S. atomic secrets to the Soviet Union in 1953.
One place where it's not so unusual to see charges of treason? Russia. It charged two intelligence officials and a cybersecurity expert with treason just recently, possibly in response to the U.S. hacking probe. According to the New York Times, the arrested might have been the ones who tipped the American intelligence off to the Russian interference in U.S. elections.
As the investigations into any possible links between the Trump team and the Russian government continue with much partisan rancor, while still remaining under Republican control, it's hard to imagine scenarios, no matter what happened, where "treason" would be a reasonable word to use. It's unlikely Democrats can convince enough average Americans that a war with Russia is really underway, while Trump's Republican base already largely ignores any claims of collusion as partisan distraction. If you're staunchly pro-Trump, you might want to consider that even such conservative media outlets as the National Review are not dismissing all the Russia-related claims, agreeing that there are questions to be answered.
A sensible approach to  this investigation needs to figure out a less-sensationalized and divisive underlying target than "treason". It is also time to update our legislation about what wars can be in the 21st century. We are not likely to see a full-fledged armed conflict between the U.S. and any of the nuclear powers. But an insidious war of misinformation can be just as destructive to our society. 
The Middle Ages see a resurgence of interest among the alt-right and some conservative thinkers.
Of all the political and intellectual surprises that come at us every day now, one of the more unusual is the strange resurgence of the Middle Ages as an influence on our times.  A number of conservative thinkers have proposed that as modernity and liberalism led humanity to a dead end, we should look to the medieval period for inspiration on how to remake our world. This idea has been expressed through memes and writings of the alt-right and has found its way all the way up to Presidential advisors. 
One reason for the appeal of the Middle Ages can be seen in popular memes spread through alt-right online forums. They feature the Crusader battle call "Deus vult!" which basically translates to "God wills it". It is used as a Christian version of "Allahu akbar" - a call to action for the Western civilization in its supposed war against Islam.
Another way that the Middle Ages fascinate people has been proposed by a number of conservative blogs and thinkers - they are newly seen as a time of traditional values that celebrated god, masculinity, homogeneity instead of diversity, and traditional gender roles. 
The "Middle Ages" is generally considered to be the period of history that goes from the fall of the Roman Empire in the West in 476 CE to the fall of the Eastern Roman Empire in 1453, when Constantinople was sacked. Another way to mark the end of the medieval period is the beginning of the Renaissance in the 14th century.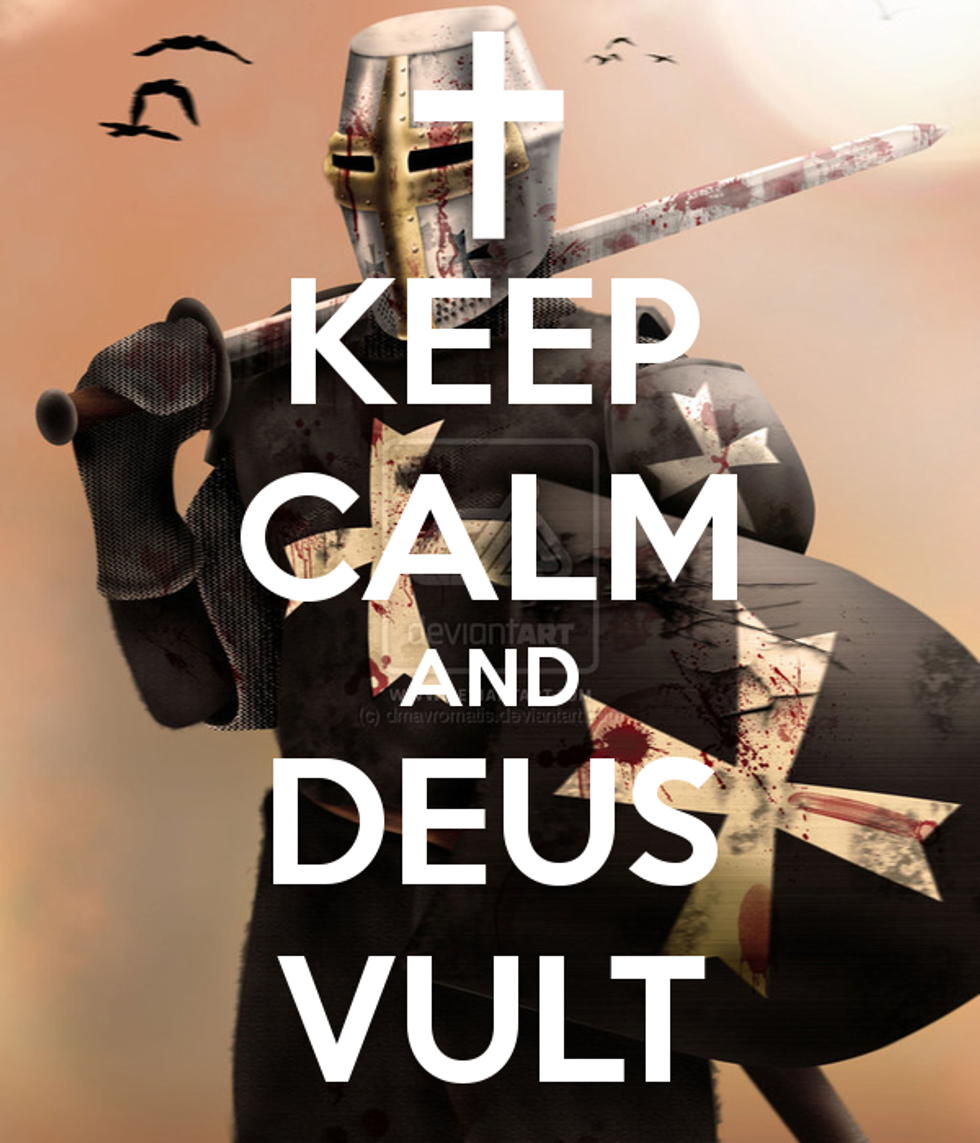 A Deus Vult meme image.
It's common to regard the Middle Ages as a dark period in human history, without many accomplishments. The historian Edward Gibbon, who wrote the "Rise and Fall of the Roman Empire," called the period full of "barbarism and religion". This historical time is also associated with the terrible epidemic of "Black Death" - the bubonic plague that killed 20 million people in Europe, 30% of its population at the time, in the middle of the 14th century.
This negative point of view on the Middle Ages has been challenged of late, with new scholarship pointing out that the era had some achievements, like the majestic Romanesque and Gothic Cathedrals that sprang all over Europe, leading to architectural and artistic innovation. The period also saw the eventual transformation of feudalism due to factors such as agricultural inventions, leading to increased population in city centers.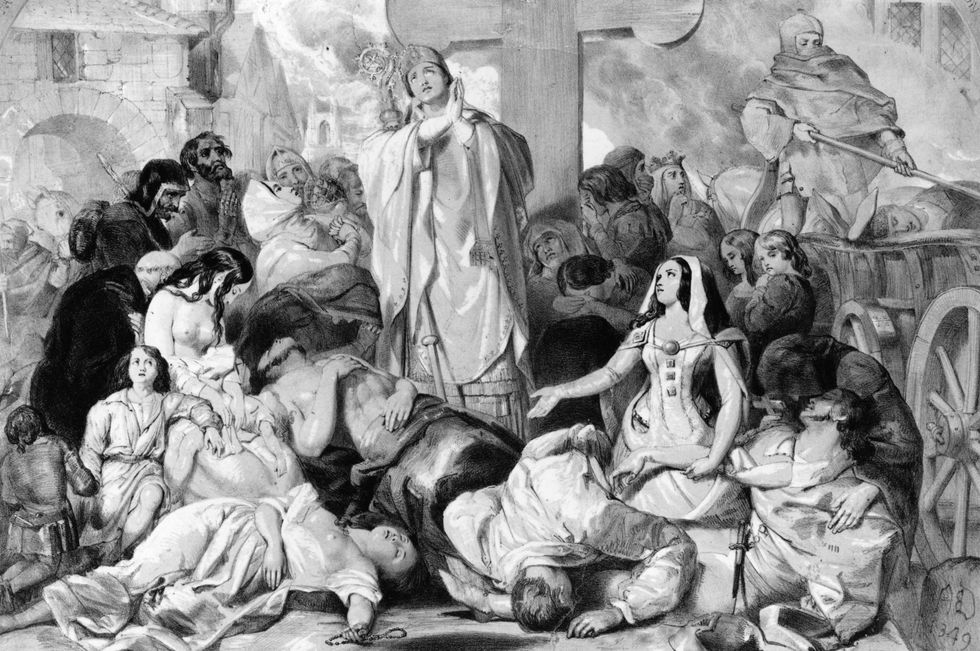 People praying for relief from the bubonic plague, circa 1350. Original Artwork: Designed by E Corbould, lithograph by F Howard. (Photo by Hulton Archive/Getty Images)
The Middle Ages were also a period of great growth of Islamic power. Muslim armies conquered the Middle East, with the Islamic world becoming three times as big as the Christian one during the height of its influence. The intellectual life that was missing from Europe was thriving in cities like Cairo, Baghdad and Damascus.
The spread of Islamic control resulted in the Catholic Church launching a series of Crusades - military expeditions to rescue the Holy Land from "infidels".  The Crusades were first began in 1095 AD, with Pope Urban II issuing the infamous "Deus Vult!" battle cry for Christians to raise an army and fight Muslims.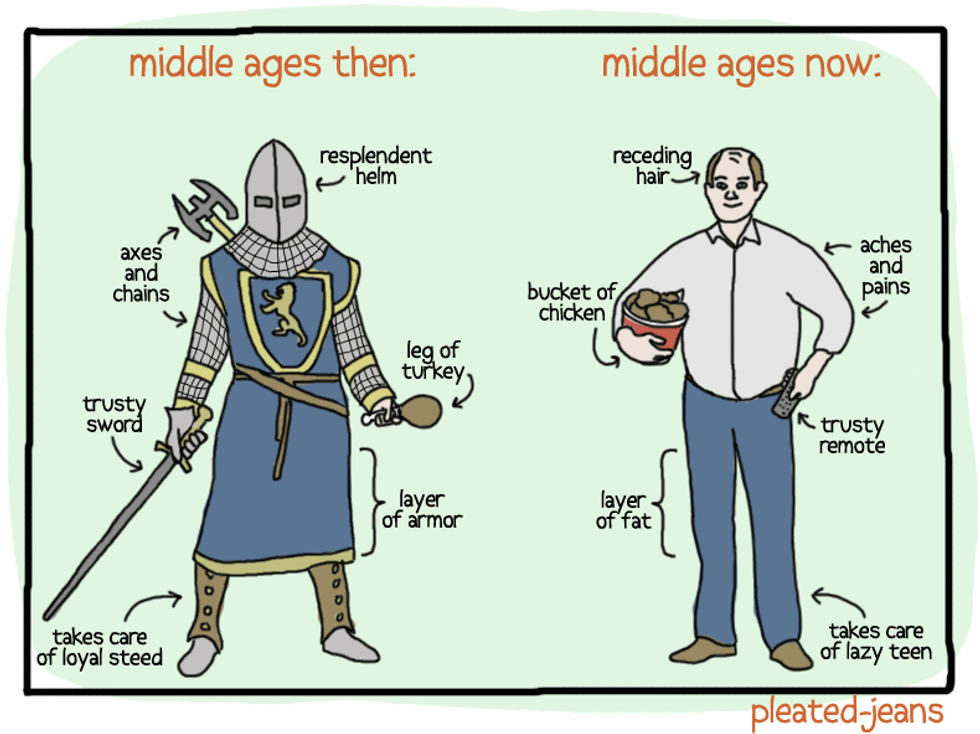 The "Deus Vult!" memes that spread through alt-right communities on 4chan, reddit and other social media harken back to the Crusader story. They are essentially calling for a modern-day Crusade against Islam.
The allure of the Crusader narrative is not only demonstrated by the alt-right Crusader memes, but is echoed in conservative intellectual circles.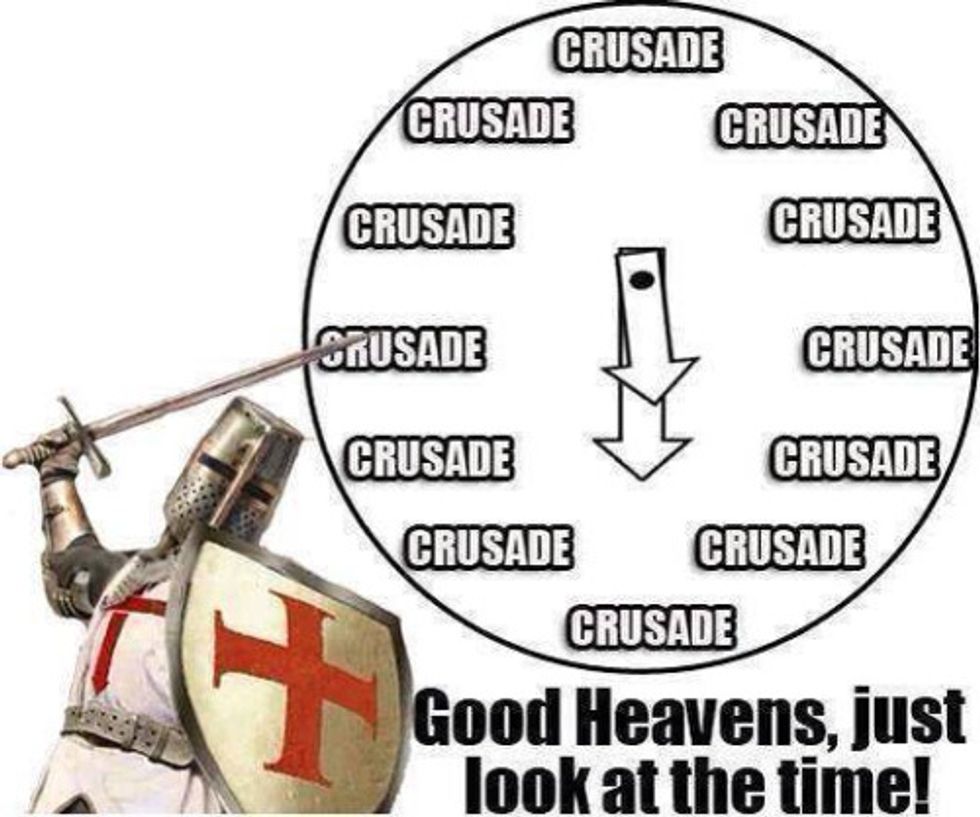 A Crusade meme image.
Having embraced the alt-right while at Breitbart, President Trump's chief strategist Steve Bannon has at times expressed apocalyptic rhetoric that seems to be anticipating a coming religious and class war. It is hard to really know all the nuances of what Mr. Bannon thinks as this somewhat reclusive figure rarely weighs in on events and issues publicly. But considering the access and intellectual heft Mr. Bannon is said to bring to the ear of the President, discerning his views is a very telling endeavor.
To that end, Mr. Bannon has spoken of the current period of time as a point of crisis, with capitalism and Judeo-Christian values under attack, especially from radical Islamists.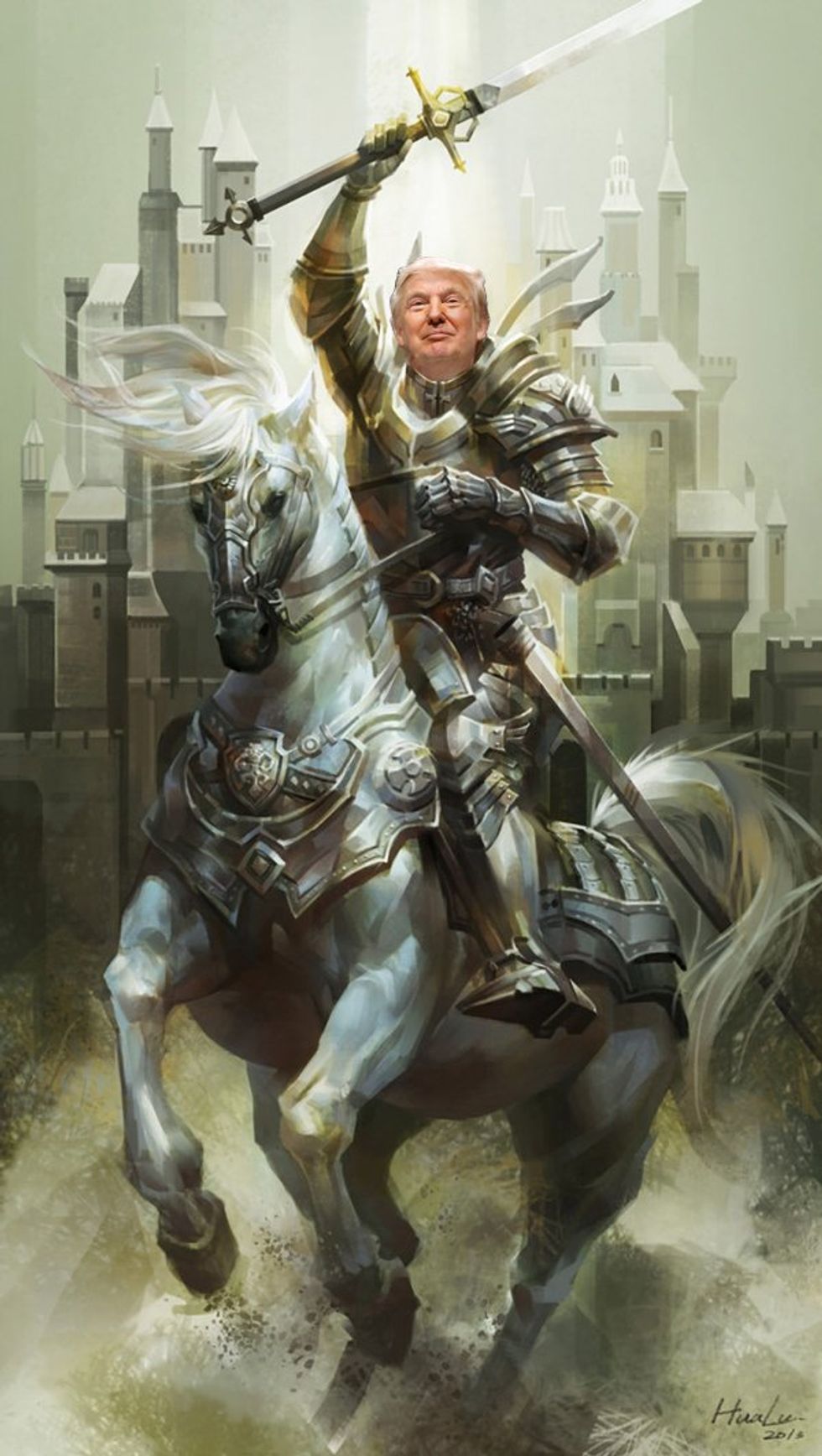 Trump Crusader meme.
Bannon's seemingly strong feelings on this subject were on display during his 2014 talk at the Vatican.
"And we're at the very beginning stages of a very brutal and bloody conflict, of which if … the people in the Church do not bind together and really form what I feel is an aspect of the Church Militant, to really be able to not just stand with our beliefs, but to fight for our beliefs against this new barbarity that's starting, that will completely eradicate everything that we've been bequeathed over the last 2,000, 2,500 years," said Bannon.
This certainly sounds like Crusader talk. He suggests that the Judeo-Christian idea is facing a grave enemy that can only be fought by armed Christians. Interestingly, in the same speech, he also paints the current age as the Dark Ages, another way the Middle Ages are described.
Bannon also spoke about the appeal of Putin, linking it to the Russian leader's support of "traditionalist" values, especially as he's advised by Alexander Dugin, a philosopher who follows the work of the controversial Italian thinker Julius Evola. Bannon's remarks seemed to indicate that while he does not support Putin's kind of government, there was some merit in his approach.
"We the Judeo-Christian West really have to look at what he's [Putin] talking about as far as traditionalism goes — particularly the sense of where it supports the underpinnings of nationalism — and I happen to think that the individual sovereignty of a country is a good thing and a strong thing," said Bannon.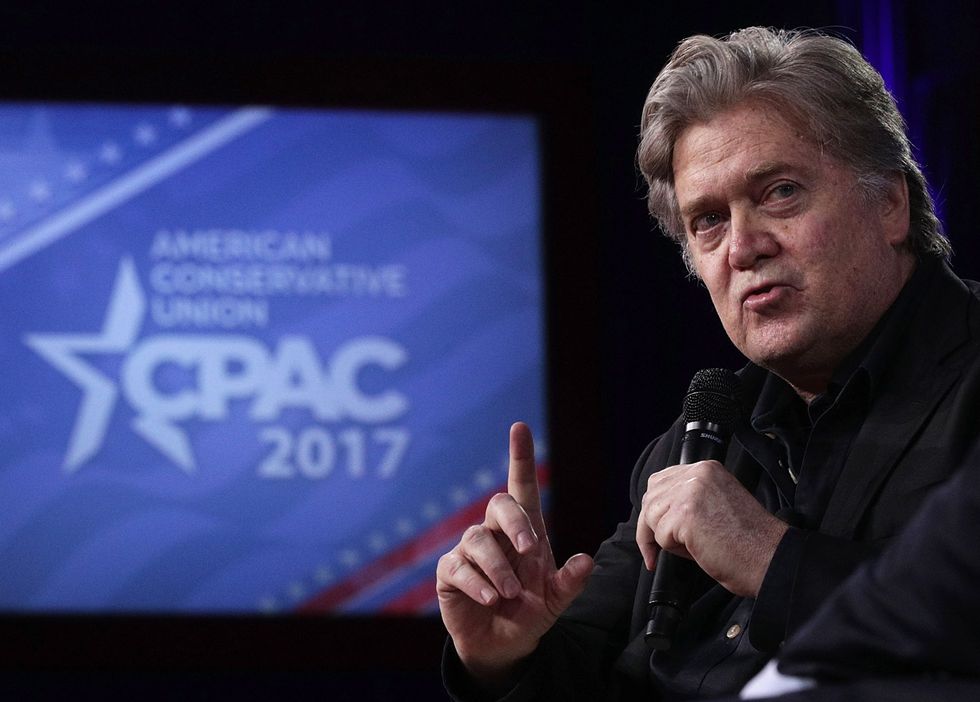 White House Chief Strategist Steve Bannon participates in a conversation during the Conservative Political Action Conference at the Gaylord National Resort and Convention Center February 23, 2017 in National Harbor, Maryland. (Photo by Alex Wong/Getty Images)
Julius Evola was considered a leading proponent of Traditionalism, a philosophy that sees the idea of equality-oriented liberalism and "progress" as mistaken, advocates traditional gender roles and seeks a return of hierarchical social structures like castes. Evola saw European feudalism during the Middle Ages as a great example of such a society.
Anti-Semitic and sexist Evola is known for inspiring Italian fascists, including Benito Mussolini himself, modern neo-Nazi and nationalist parties in Europe, as well as the far right movements in the United States.
"Julius Evola is one of the most fascinating men of the 20th century," said the white nationalist leader Richard Spencer. 
Mr. Spencer also found it very significant that Mr. Bannon knew who Evola was. 
"Even if he hasn't fully imbibed them and been changed by them, he is at least open to them," he said. "He at least recognizes that they are there. That is a stark difference to the American conservative movement that either was ignorant of them or attempted to suppress them," said Spencer. 
If you think knowing about Evola is not the same as supporting his ideas, an article by Breitbart from when it was run by Bannon listed Evola as one of the foundational thinkers of the alt-right movement. It was co-written by another alt-right standard bearer - Milo Yiannopoulos.
Alexander Dugin, another philosopher mentioned by Bannon at the Vatican, is called by some "Putin's Brain." He is a Russian thinker known for his close associations with the Kremlin. Dugin espouses an Evola-influenced philosophy that also ties into Traditionalist values, seeing the Renaissance and everything that followed, including technological progress, as a debasement of human nature. His goal would be to return to the values of the Middle Ages and restore a Eurasian empire on the basis of the former Soviet Union, with Russia at the head.
"Returning to the Middle Ages or turning to them to look for inspiration, and I am not speaking of merely reproducing – that's impossible to do. But we have stood on the path of modernity. We've stood on the path of modern totalitarianism regardless of whether of the first, second, or third theory. We've exhausted all of their possibilities, built all three models. We've built liberal civilization, communist civilization as part of such an experiment, and we've even built fascism. We can now compare everything before us. And if all of this does not satisfy us, this means that the most important mistake was made not in the 20th century and not even in 1991," said Dugin in an interview.
While history is always important to study, what does one make of this unexpected brew of racist and sexist ideologies inspired by fascist and radical Russian thinkers combined with American Christian white nationalism? Sounds like an explosive cocktail.
If you don't have enough Crusader spirit, here's a video that can get you into just such a state:
Cover image: Circa 1250, A crusader is shot by a Muslim warrior during the Crusades. (Photo by Hulton Archive/Getty Images)