Vegans and vegetarians often have nutrient deficiencies and lower BMI, which can increase the risk of fractures.
Credit: Jukov studi via Adobe Stock
The study found that vegans were 43% more likely to suffer fractures than meat eaters.
Similar results were observed for vegetarians and fish eaters, though to a lesser extent.
It's possible to be healthy on a vegan diet, though it takes some strategic planning to compensate for the nutrients that a plant-based diet can't easily provide.
Non-meat diets may help you maintain healthy cholesterol, body weight, and blood-sugar levels. But these diets, particularly veganism, may also boost your risk of suffering broken bones, according to a new study published in BMC Medicine.
While the causes aren't totally clear, the researchers suggested it might stem from vegans not consuming enough calcium and protein, or from having a lower body mass index (BMI), which leaves the body more vulnerable to fractures.
The study is the largest to date on the relationship between fractures and non-meat diets. The researchers examined data from the long-running EPIC-Oxford study, which issued health surveys to nearly 55,000 people in the U.K. between 1993 and 2001, and followed up with them in 2010.
For the recent study, the researchers collected additional follow-up data in 2016 using National Health Service records. To study the relationship between diet and fracture risk, they sorted participants into four groups: meat eaters, fish eaters, vegetarians, and vegans.
After controlling for variables like physically activity, sex, smoking, dietary supplement intake, and alcohol use, the study found that vegans had a 43 percent increased risk of any kind of fracture compared to meat eaters. The increased risk for vegetarians was 9 percent.
Comparison of fracture cases by diet group
Credit: Tong et al.
The results showed that vegans were especially vulnerable to hip fractures, suffering 2.3 times more cases than meat-eaters. Vegetarians and pescatarians were also more likely to suffer hip fractures, though to a lesser extent.
One explanation may be that non-meat eaters consume less calcium and protein. Calcium helps the body build strong bones, particularly before age 30, after which the body begins to lose bone mineral density (though consuming enough calcium through diet or supplement can help offset losses). Lower bone mineral density means higher risk of fracture.
Protein seems to help the body absorb calcium, when consumed in normal levels. The recent study, along with past research, shows that people who don't eat meat tend to have lower levels of both protein and calcium. When the researchers accounted for non-meat eaters who supplemented their diets with calcium and protein, fracture risk decreased, but still remained significant.
Credit: Pixabay
Another explanation is body mass index (BMI). Non-meat eaters tend to have a lower BMI, which is associated with higher fracture risk, particularly hip fractures. In the new study, vegans with a low BMI were especially likely to suffer hip fractures. That might be because having more body mass provides a cushioning effect when people fall.
Still, the study has some limitations. For one, White European women were overrepresented in the sample. The researchers also didn't collect precise data on the type of calcium or protein supplementation, diet quality or causes of fractures.
Another complicating factor: Producers of vegan products, such as plant-based milk, are increasingly fortifying foods with nutrients like calcium and protein, so modern vegans are potentially at lower risk of deficiency.
The researchers wrote that their findings "suggest that bone health in vegans requires further research."
Staying healthy on a vegan diet
So, does a vegan diet necessarily lead to worse bone health? Not necessarily. But it's safe to say that people who don't consume meat, dairy and eggs should be extra vigilant about consuming enough essential nutrients. That can be harder than it seems.

One major reason is that the body generally has an easier time absorbing nutrients from animal foods than plant-based products. So, while a salad could contain the same amount of calcium as a glass of milk, the body absorbs more calcium when you drink milk. What's more, there are some molecules and nutrients you simply can't get from plants.
As such, many vegans round out their diets with supplements, including zinc, iron, iodine, long-chain omega-3s, and vitamins D, K-2, and B-12, to name a few. If you're on a vegan diet or considering making the switch, it's probably best to consult a dietician, and to make sure you maintain a healthy BMI.
Everyone in the United States will soon have a chance to try plant-based burgers.
Impossible Foods / Burger King
The plant based "Impossible Whopper" by Impossible Foods will be available August 8th nationwide at all Burger Kings.
The Impossible Burger is one of the most popular "meatless meat" options in the industry.
Americans are increasingly becoming more interested in alternative options for meat.
Burger King recently announced it will begin selling its meatless Whopper nationwide across the United States on August 8th. This will be the biggest rollout of its kind, concerning "meatless meat" products.
The fast food chain has been selling its plant-based product (by Impossible Foods) locally around St. Louis for the past couple months. It's been a banner year for plant-based protein products and the companies creating them. In the U.S., retail sales have grown 11 percent in the last year.
Impossible Whopper at Burger King
The Impossible Burger in particular has led in this market as one of the fastest growing and most popular products in 2019. The company had been working with the FDA to get approval for a number of additives inside the burger. The Food and Drug Administration recently approved the key ingredient heme, an animal compound in meat that gives the bloody look and adds to the iron-rich flavor. Impossible Foods sources this from soy leghemoglobin, which is naturally found in soybean roots.
For Burger King, the product is meant to appeal mostly to flexitarian sensibilities — carnivores looking to expand their meat preferences into the plant-based domain. Vegetarians and vegans are welcome to try it as well.
Burger King's president, Chris Finazzo, says that so far the Impossible Whopper has been doing well and, "It's driven new guests into the restaurant," as well as also bringing back customers that haven't been there for years. "We're really excited to be able to attract that customer."
Customers will be able to get the deal from August 8th to September 1st, with the option to taste test both the original and Impossible Whopper.
Americans' future is meatless
Burger King hasn't made any plans for putting the Impossible Whopper permanently on its menu yet. The fast food chain will be reviewing the Impossible Whopper's performance over the next few months before making a decision on its permanence. Finazzo has been encouraged by the results so far.
Barclays predicts that the alternative meat industry could be worth $140 billion in the next decade. Impossible Foods is confident that the Whopper will be a great gateway product in the new burgeoning industry.
Impossible Foods has its work cut out for them. Their main competitor Beyond Meat sells meat substitutes to companies such as Dunkin' Donuts and Tim Hortons. Both companies are fighting to dominate the industry. The world's second largest meat processor, Tyson, also debuted a number of new alternative meat products under the Raised & Rooted brand. A new report predicts that by 2040, 60 percent of meat will come from plant-based substitutes and cultured meat.
With the influx of vegan meat replacements, cultured meat and other lab grown alternatives — the future market is going to cater increasingly to this new kind of palate.
The McVegan is a real thing... in a tiny small town test market, that is. But what are customers saying? And will it be available to everyone soon?
(Photo by Jeff Schear/Getty Images for McDonald's)
All over the world, the number of vegetarians and vegans is growing larger. Once considered an eccentric dietary choice, today 13% of Americans say that they are vegetarians or vegan with younger people being more likely to hold that position than the old.
However, despite these statistics, it can prove difficult for a vegetarian or vegan to find food options at popular establishments. Many vegetarians know the problem of having just one meal they are comfortable with. Deprived of a variety of choice, they might find themselves able to eat a single, non-meat, dish.

Seeing this problem, McDonald's has created a new dish currently in trial runs: the McVegan.
A soy burger with fairly standard toppings, it can only be found in a few locations in Finland at the moment. The trial run will only last until mid-November, so if you really feel the need to eat this burger you might need to book a flight ASAP. If the test is successful, however, it is likely that more locations will take up the sandwich.
Current feedback is positive, with a marketing executive for McDonald's there saying, "the feedback that we have quickly received, and what reception has been online yesterday and already the other day, it has been quite positive. We are going to be positive in this."
The Instagram pictures of the customers seems to back his statement up. As for those who want more than a burger, they have also assured customers that the fries are vegan as well, being fried in vegetable oil. (A few years back there was uproar after it was found that McDonald's fries had previously been fried with a small amount of beef tallow)
Why now? Where was this when I tried to take my vegetarian friend to McDonald's?
McDonald's did try a seaweed burger as part of their Deluxe line back in the 1990's... and it was a failure. This new burger, however, is a sign of how far vegetarianism and veganism have come in our society. The rise of meatless diets has been quite rapid over the last few years, with the market for vegetarian foods doubling in a five-year period. And while more than 10% of Americans avoid meat today, it was a mere 1% in 1972. Given the famous American love of all things meat, this is a remarkable change for a single generation.

Will the McVegan catch on? Perhaps, but more importantly it is a sign of changing patterns of consumption. Patterns which are based not only on taste, but also on the ethics of food. The success of the burger could stand as a milestone in the development of the vegetarian diet.
A new study shows how one dietary change in the U.S. could make a 46%-plus dent in greenhouse gas reductions.
One of the most effective things Americans can do to curb greenhouse gas emissions is surprisingly simple: eat beans instead of beef.
A recent study showed that if every American made the switch, the U.S. could achieve between 46 and 74 percent of the reductions necessary to meet its emissions goals for 2020 that were pledged by former President Barack Obama. That considered, imagine the difference a reducetarian approach could have too, for those who can't go cold turkey—er, beefy—on their steaks. 
"I think there's genuinely a lack of awareness about how much impact this sort of change can have," said study author Helen Harwatt to The Atlantic.
Climate change policy in the U.S. focuses mainly on reducing carbon dioxide (CO2) emissions by curbing or modifying energy production and usage. However, climate change is also driven by non-CO2 emissions — namely, methane (CH4) and nitrous oxide (N2O). More than half of these non-CO2 emissions come from livestock farming.
Globally, livestock farming accounts for 15 percent of human-caused greenhouse gas emissions. The effects, however, are disproportionately destructive: methane and nitrous oxide warm the planet significantly more than carbon dioxide.
The massive scale of livestock farming puts the problem into focus. According to the United Nations, one third of Earth's arable land is used to grow feed for livestock, and in total, about a third of all land on the planet is used to produce animal products.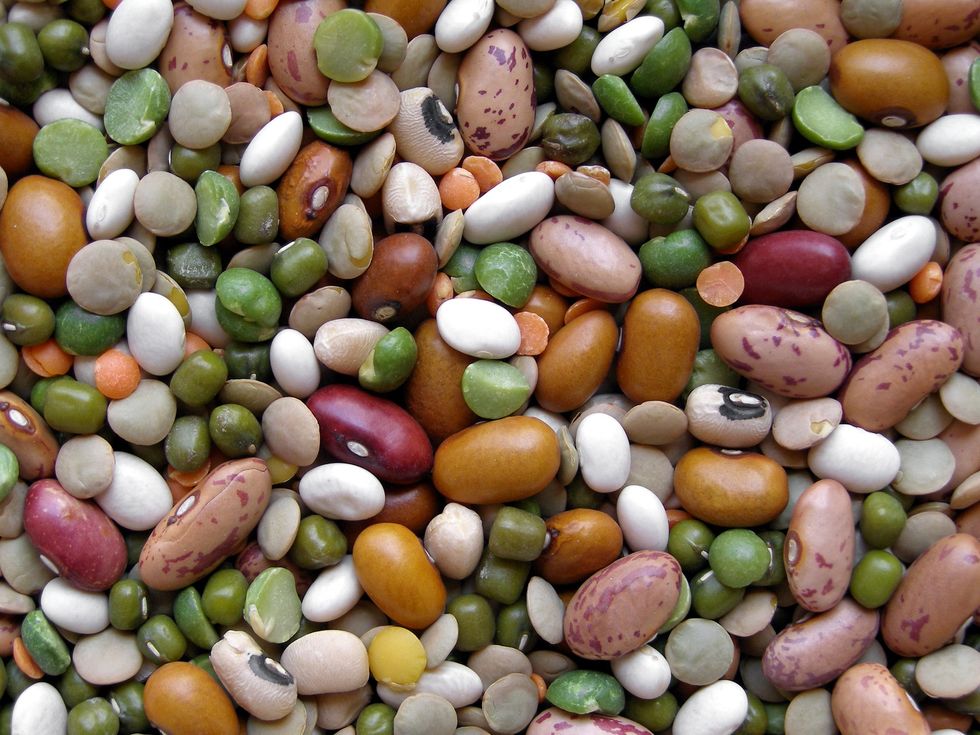 Feeding cows is also an especially inefficient process. During their lifetimes, cows will consume far more calories from food like beans than they'll ever yield in meat. Growing that food takes up a lot of land. The study notes that the U.S. could free up 42 percent of its cropland if Americans gave up beef — that's more than the size of California.
Making the dietary switch would be an effective way for individuals to fight climate change without having to rely on lawmakers or private interests.
"The real beauty of this kind of thing is that climate impact doesn't have to be policy-driven," said Harwatt. "It can just be a positive, empowering thing for consumers to see that they can make a significant impact by doing something as simple as eating beans instead of beef."
Obama pledged that U.S. greenhouse gas emissions would be roughly 17 percent lower in 2020 than they were in 2005. Making this dietary shift could be one of the easiest ways to reach that goal.
"Given the scale of greenhouse gas reductions needed to avoid the worst impacts of climate change, are we prepared to eat beef analogs that look and taste like beef, but have a much lower climate impact?" Harwatt asks. "It looks like we'll need to do this. The scale of the reductions in greenhouse gas emissions needed doesn't allow us the luxury of 'business as usual' eating patterns."
Methane gases from livestock production is contributing to the acceleration of global warming. Is a plant-based diet a smart way for individuals to curb the effects of climate change?
Make all the jokes you want, says Bill Nye, but methane is a very potent greenhouse gas, and as Earth's population increases so too does the size of the meat industry that caters to it. Demand for meat is growing steeply in developing nations, according to the Heinrich Böll Foundation, and the methane emitted by livestock is undoubtedly contributing atmospheric gases and accelerating global warming. So is a plant-based diet the answer, slashing the demand placed on the meat and dairy industries? Nye finds himself choosing to eat more and more vegetarian dishes, so while he hasn't gone 'full vegan' yet, his awareness of the problem has sparked a reductionist diet. Nye also mentions that agricultural scientists may soon find themselves under public pressure to reduce methane output. One way they might do that? Changing the bacteria in livestock's stomachs so they metabolize food with less methane byproduct. So we could bio-engineer the stomachs of other animals, or we could simply reduce the amount of animal products that go into our own.
Bill Nye's most recent book is Unstoppable: Harnessing Science to Change the World.