Richard Lyon's visionary plan for the future of innovation at Berkeley.
Photo courtesy of Berkeley Haas
UC Berkeley's new vision to be carried out by Rich Lyons, its new chief innovation and entrepreneurship officer.
Richard Lyons talks with Big Think about the need to transform universities' "intellectual capital."
All educational disciplines could benefit with greater innovative principles.
As universities are forced to confront a rapidly transforming educational landscape, the University of California, Berkeley, recently announced that the post of their first-ever chief innovation and entrepreneurship officer (CIEO) would go to its former dean of the Haas School of Business, and longtime UC Berkeley alumnus and facility member, Richard Lyons.
According to leadership at the university, the position is meant to enhance innovation interdepartmentally, while also integrating an enterprising mindset across the forward-thinking campus. Big Think caught up with Richard Lyons to get some insight into his vision for the university in the years to come. Lyons sees tremendous opportunity to make an impact with his new position — it touches the entirety of the university.
In sum, he intends on giving the UC Berkeley's future students the tools they need to turn their intellectual creativity — and the "intellectual product" that comes with it — into a transformational net gain for themselves and society at large.
UC Berkeley's new position
Image source: Wikimedia Commons.
A UC Berkeley press release announced that Richard's role would be effective January 1, 2020, after which he would go on to start developing and communicating Berkeley's intellectual and innovative portfolio throughout campus, the community, and the business world at large.
Vice Chancellor for Research Randy Katz sees this leadership position as one that'll take on a dynamic role both within the university and outside of it. In an email statement Katz stated:
"The CIEO role has two parts: to be an evangelist for Berkeley entrepreneurship to the outside world of the Bay Area, national, and international innovation ecosystem, and to work on advancing our campus culture for entrepreneurship and innovation."
On the subject of these two parts — Berkeley advocacy and fostering a campus culture of entrepreneurship — Lyons felt that acting on both fronts was equally important. At the core, Lyon's is focused on asking the tough questions:
"What opportunities are we trying to address? The intellectual creativity of Berkeley is truly remarkable. How is that 'intellectual product' going to be transformed into a benefit of society?."
Lyons has served as dean for 11 years, during which he helped to foster a culture of entrepreneurship and lay the groundwork for the campus' larger innovation goals. Lyons launched a number of entrepreneurship programs. One example of note is the Berkeley SkyDeck startup accelerator created in 2012.
The creation of the position comes off the heels of an important and extensive report titled "Entrepreneurship at Berkeley." This was a year-long study conducted by the former Vice Chancellor for Research Paul Alivisatos, commissioned for the university to figure out how they could expand their entrepreneurship environment into the greater community.
Future role at the university
Photo credit: Noah Berger / University of California, Berkeley
A role like CIEO comes with a lot of uncharted territory. But it's also an absolutely necessary role moving forward in the future university landscape. Richard sees the role as an entrepreneurial challenge in itself. Like an upstart, he'll be tasked with using resources that he himself doesn't control, and will have to put together the pieces as he goes along.
"One of the fun things is. . . the role is yet to be designed and created. There are a lot of degrees of freedom to put the priorities where we feel they should be. I know the institution very well and can marshal the resources and people around the vision to get things done."
With a growing interest on college campuses worldwide in entrepreneurial activities, the current higher educational industry is poised with the unique opportunity to prioritize innovation throughout the whole system.
Whether that's forming new partnerships with startup communities, commercializing research, or giving students the resources they need to succeed in the choppy waters of entrepreneurship — the result will hopefully be a net gain.
Strengthening a culture of innovation
UC Berkeley is one of the world's top public schools for graduating the most-funded startup founders. It has a rich tradition of churning out innovative entrepreneurs and successful companies. The fulfillment of this new position seems to be the next logical step in the university's bid to transform their business outreach.
Great institutions are obsessed with getting better. – Richard Lyons
Even more so than just printing out new founders and startups, Lyon's vision is to also impart the enterprising mindset to students of all disciplines. "We put a lot of remarkable people into society from the sciences, business world, and humanities," he says.
Lyons imagines the many possibilities for incorporating this mindset into numerous types of undergraduate studies. He believes that students who are less receptive to a business mindset might reconsider its value if the principles of entrepreneurship were presented to them correctly.
Berkeley has a rich history of divergent thinking. The Bay Area has been home to some of the most important cultural events in the past century. Lyon's mentions the rich cultural artifacts we have left over from the 1960s.
"Think about the enterprising spirit of the 1960s. These things didn't just happen. You have to get people's attention, organize and communicate in certain ways. These are all things that would fascinate a humanist or really anyone... and speak to the wisdom of the people, who haven't always been included in the dominion of the entrepreneurship spirit."
Lyons has set a number of, what he calls, "measurable milestones" that he's looking forward to accomplishing in this exciting new position. Perhaps the most standout, the transmission of entrepreneurial skills to the avant-garde student body at large.
Some of the world's most prestigious universities aren't in America.
Image source: Wikimedia Commons
China's Tsinghua and Peking University are on par with Harvard and MIT.
These 10 universities consistently shuffle around for top tier status in Asian college rankings.
Universities in Japan, Singapore, South Korea, and China have churned out dozens of Nobel Laureates and other renowned figures.
Asia possesses some of the most cutting-edge and finest universities in the world. While we're all accustomed to the powerhouse and traditional American and U.K.-based universities, in the past 100 years Asia has seen a surge of growth.
Leading the way in terms of advanced future research, while also partnering with established university systems around the world — Asia has become a destination for some of the world's best and brightest.
Tsinghua University
Tsinghua University is one of the most prestigious institutions in China. Leading a rigorous multidisciplinary system for the past three decades, it has gone through many iterations and changes since its creation in 1911.
Known as one of the most elite schools in China, and referred to some as the "MIT of China," the school prides itself on its strength in engineering and the sciences. Admitted students must have excellent scores on their national exams. Tsinghua consistently ranks in the top 30 of The World University Rankings.
The campus is located in northwest Beijing alongside other colleges inside of a designated university hub. Built on the former Qing Dynasty royal gardens, the campus has a remarkably beautiful synthesis of ancient Chinese and Western architecture. Two Nobel Prize winners have either went to or worked for the university. Many graduates go on to become influential in Chinese politics.
Peking University
Peking University is considered to be the first national university in China, having been founded in the late 19th century. Dubbed the "Harvard of China," it is a major cultural hub and center of China's humanities.
Peking also sits on former Qing Dynasty imperial gardens. Over 2,000 international students attend the university every year. It is well known for having one of the largest libraries in all of Asia, with over 11 million books and other printed resources in its massive library. Three Nobel prize winners have been associated with the university.
National University of Singapore
The National University of Singapore or (NUS) is the oldest university in the country and has the greatest amount of students, too. While it is an outstanding school for engineering and technology, it also has a dedicated center for innovation and entrepreneurship in the tech field. This "technopreneurship" focus has been around for the past 30 years.
The university has a flexible degree granting system — the students have the ability to transfer between departments and different faculties early on to facilitate a more robust, cross-disciplinary education rather than focusing too much on one subfield.
Their four "Research Centres of Excellence" focus on quantum technologies, cancer research, mechanobiology, and environmental life sciences. They have an impressive list of alumni that include four Singaporean prime ministers and presidents and two Malaysian prime ministers.
University of Tokyo
University of Tokyo is the first national university of Japan established in 1877. Spread between three campuses between Hongo, Komaba, and Kashiwa, the University of Tokyo has a number of facilities throughout the metropolitan area.
The university has a unique course structure, where students embark first on a two year liberal arts education at one campus before transferring to another location to finish their intended major. From a previous ranking by the Professional Ranking of World Universities, the University of Tokyo ranked second behind Harvard University in having the most number of alumni having CEO positions in Fortune 500 companies.
One of their campuses (Shirokane) has one of the largest supercomputers in the field that is focused on genome research.
Seoul National University
Originally founded by the Japanese empire in the 1940s, the Japanese imperial college standing was eventually abolished and merged into the university with a number of other nearby institutions.
Seoul National University consistently ranks globally and in the top universities in Asia. It is situated in the heart of South Korea's capital city. The main campus, Gwanak has over 200 buildings for all of its students and staff and even comes with its own subway station.
There are a number of famous alumni and international political figures that include the former UN secretary-general Ban Ki-Moon, Song Sang-hyun former president of the International Criminal Court and Lee Jong-wook, former head of the World Health Organization.
University of Hong Kong
Founded by a British governor in 1911, the University of Hong Kong (HKU) was originally a prominently English-based university. In 1927 it began to integrate within the surrounding Chinese culture and begin offering courses and degrees in Chinese. Their main building was built in 1912 and is considered a national monument, alongside it are a number of other British colonial architecture buildings.
As a very selective school, it's a highly sought out after place for students from mainland China. All students are required to be proficient in both English and Chinese language courses. Many HKU graduates go on to become Chinese politicians and hold positions of power in private industry.
Duke Kunshan University
Duke Kunshan University sets itself apart from the other top asian schools on this list, as it is relatively new — it was founded in 2013. The university is an international partnership between Duke University and Wuhan University. This said, it offers a wide range of world-class academic programs for Chinese and international students.
Duke Kunshan is based in Kunshan, Jiangsu province, China. Situated on a 200 acre area, the entire campus is decidedly modern and in close proximity to Shanghai by means of a high-speed rail. The city of Kunshan has become a leading hub of high tech research and manufacturing in China. It also considered to be one of the fastest areas of growth in all of China.
Their Global Health Research Center has been established with the Duke Global Health Institute, in order to address health issues endemic to China and the region. Many of its research programs are centered around the Chinese population and the health problems they face, such as chronic disease and environmental health.
Hong Kong University of Science and Technology
Another prestigious university in Hong Kong, the Hong Kong University of Science and Technology was created in 1991. Their main focus is on science, technology and engineering. The campus is based in the Northern part of the Sai Kung district and is built out of terraces carved in the hillside.
Their Lee Shau Kee Library is known for containing one of the largest collections of maps of China and Asia — they were produced by cartographers over the past 500 years. Alongside many other prestigious Asian universities on this list, HKUST has previously ranked as a top university of all of Asia. A recent Global University Employability Ranking, found that graduates have some of the highest employment rates in all of Greater China within the past five years.
Kyoto University
Kyoto University is the second oldest Japanese university and one of Japan's National Seven Universities. Its campus is spread between three campuses residing in Yoshida, Uji, and Katsura. Founded in 1897 and originally known as the Kyoto Imperial University, the institution received its new name in 1947.
It has a number of notable research facilities, such as the Yukawa Institute for theoretical physics, which has produced many Nobel Laureates — 10 to be exact. While predominantly a Japanese institution, the university offers a 15-week program at the Education Center for Japanese Language and Culture for international researchers that want to learn and study the language.
Pohang University of Science and Technology
Another great university to come out of South Korea, established in 1986 the Pohang University of Science and Technology (POSTECH) is a leading research facility with tight ties to the technological industry. It has a bilingual campus, making it a popular university in both South Korea and the world.
A privately-run institution, POSTECH is a great school for international English students as more than 85 percent of the classes that count for credit are conducted in English. With a small enrollment and research centered approach, the university attracts a number of top students from all over the world.
Why Asia and America are trading places
While we often criticize the humanities for not providing an education that leads directly to employment, one philosopher argues they have an even more important role to play in our societies.
Yet another history major who can't find a job? (Norman Rockwell, The Freedom of Speech)
We've discussed before that Socrates, one of the greatest things to come out of Athens, hated Athenian democracy. While he had many reasons to do so, one of the primary ones was that the typical Athenian had no idea what they were discussing, and were prone to using emotion over reason when making important political decisions. They lacked both the skills for critical thinking and viewing the world outside their own perspective to be proper democratic citizens.

But, as philosopher Martha Nussbaum argues, we can avoid those problems by placing a high value on an education in the humanities. A high value which today is often difficult to find.
In her book Not for Profit, Why Democracy Needs the Humanities, Nussbaum lays out the case that a job oriented education, one focused on preparing students for work, is far from enough to assure that the students will also be able to function as democratic citizens in a pluralistic, modern, and globalized, society.

While she doesn't deny the need for technical education; she argues that a purely job oriented education, or even one which is highly focused on a narrow field of study, does not promote the development of critical thinking skills, the ability to consider differing viewpoints, an understanding of people vastly different from themselves, or strong methods for finding truth for themselves that people need as citizens.
These skills, she argues, are best found in the arts and humanities as promoted by a liberal arts education at all levels. While the United States is doing well at the university level of teaching these things, she contests that we are often unwilling or unable to do so at the grade school or high school level. If we do not assure students have access to the arts and humanities, she posits, we are likely to fall victim to demagoguery and lose the benefits of a modern democratic society.

Well, what's wrong with our current method of teaching the humanities? Why write a whole book on this?

A major issue in modern American education she discusses is the increasing use of standardized fill in the bubble tests, and the tendency of teachers to "teach to the test". It isn't impossible to teach the humanities in a way that can be easily tested, the treatment of philosophy as a test subject for the A and O level exams in the United Kingdom has shown that much, but Nussbaum shows us how a multiple-choice test is unlikely to encourage any skills other than the regurgitation of information. They aren't even that good at what they claim to do anyway.

With the national focus increasingly given to education for employment and competitiveness those parts of education which seem unlikely to lead to employment are the most simple to justify cuts to. Nussbaum laments this, and notes that at her own university advertising geared towards new students focuses nearly exclusively on those programs seen as practical and leading to employment. She dubs the combination of funding cuts and lack of attention a "crisis of massive proportions" which is still underway.

Suppose we just got rid of the humanities. Can't we be a free people without them?
The myriad examples of tyrants attacking the arts and humanities suggests we might be wise to hold on to them. She cites, among other events, the prohibition of teaching the Korean language in public schools and the crackdown on Confucian education in general during Korea's occupation by Imperial Japan. All a key part of the plan to reduce the Korean people to servants of Japanese imperialism, a role which had no need for a non-technical education.
Nussbaum later argues that the most cartoonish and often horrifying mistakes made by the Athenian democracy, which caused thinkers like Socrates, Plato, and Aristotle to reject democracy, could have been easily avoided if the population had any of the skills an education in the humanities provides.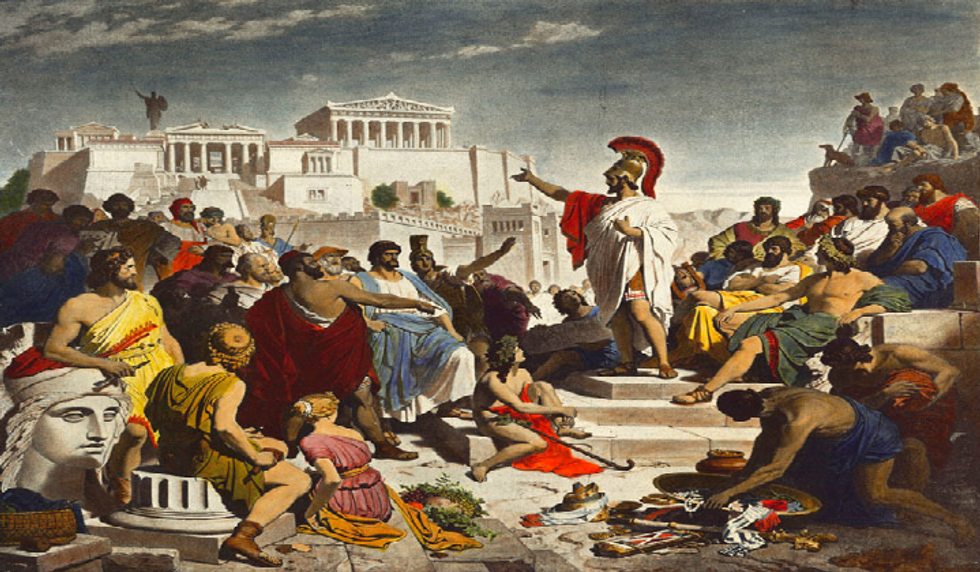 The Funeral Oration of Pericles, an example of the Athenians being led by a populist working in their interest. Often, they were only led astray.

Is she alone in these ideas? Does anybody else argue that a democracy requires these skills?

Socrates, as depicted in The Republic, favored an intensive education for the philosopher kings he saw as the ideal rulers of his utopia. While his proposed curriculum is not the liberal arts education Americans know today, it is one that promotes the search for truth with the use of reason and logic and assures that the leaders of the city state will know not only how to lead, but how to approach the problems they may face as leaders. While he didn't wish for the majority to lead a nation, it is clear he understood that those who do lead must have certain intellectual skills. In a democracy, these leaders are the people.

Aldous Huxley, philosopher, author of Brave New World, and noted psychonaut, made a similar observation in Brave New World, Revisited. Where he noted with terror that the world was moving towards his dystopia much faster than he had predicted and proposed education for democracy as a key tool to prevent this. He later elaborated on his proposed curriculum for a free people in his utopian work Island.

Okay, what does our situation look like now?
We presently have a better education system than the people of Athens; who ended their formal education in adolescence and denied it to women and non-citizens. Often inspired by Socrates and his pedagogy, today's students can find a humanistic education in the American, Scottish, and (increasingly) Korean education systems dedicated to making them fully rounded individuals and citizens.
While Nussbaum warns us to be on the lookout to attacks on and financial cutbacks to the liberal arts model of education, we have reason to be optimistic as well. She mentions many excellent programs in American schools, such as Future Problem Solvers, as examples of democratic education done correctly and in a way that assures continued support.  

The study of the humanities can have many practical uses. It can even be used to find employment, no matter what the nay-sayers might tell you. More importantly, they have an intrinsic value in allowing us to fully develop as individuals. In today's climate, they also take on the role of helping us make democracy possible. Without a proper education in the humanities, where we learn how to understand people we may never meet, how to evaluate arguments and charged rhetoric, and imagine differing scenarios from those we see every day, we may be doomed to the fate of many a failed democracy before us.  

But, if we utilize the fantastic tools we have access to, rise to the challenge of giving everyone the education they need, and emphasize all vital subject matter-even if it seems impractical, Nussbaum argues that we have much reason for optimism and the chance for the continued success of democracy all over the world.
If you would like to improve your humanities background, several Ivy League schools offer free classes you can take online. A selection can be found here and here. 
A study reveals the unexpected financial benefits of joining a fraternity.
Cast of the film "Animal House". 1978. Credit: Universal Pictures.
Fraternity culture has been under attack for incidents of hazing and excessive drinking but there are some unexpected benefits that come from joining a frat. That's the conclusion of a new study by economists from Union College in Schenectady, New York. They found that being in a fraternity may lower the GPA of its members by an average of 0.25 points, but may raise their future income by as much as 36%. 
How is that possible? The paper titled "Social Animal House: The Economic and Academic Consequences of Fraternity Membership" suggests that while frats may have a deserved reputation for partying and binge-drinking, being in one can boost your social capital, "which more than outweigh(s) its negative effects on human capital for potential members."
The benefits provided by the Greek life include academic support and social connections that last a lifetime.
To arrive at their conclusions, the researchers Stephen Schmidt, Lewis Davis and Jack Mara analyzed a survey of one Northeastern college, given to 3,762 alumni which had questions related to income, employment, social activities while in college, personal characteristics and academic performance. 
"In spite of the strong negative effect on human capital accumulation, fraternity membership increases expected future income by approximately 36%," write the scientists. This suggests that the negative effect of fraternity membership on human capital accumulation is more than offset by its positive impact on social capital formation. For this reason, joining a fraternity may be a rational decision that improves the long-term prospects of an individual student despite its damaging effects on that student's grades.
The researchers found no similar benefits for women who pledged to sororities. 
You can read their paper, published in the journal Contemporary Economic Policy here.
A Midwestern university has created a first-of-its-kind program in medicinal plant chemistry that focuses on marijuana.
Sir Billy Connolly received an honorary degree From Strathclyde University. Here's what his honorary degree from NMU might look like. (Photo by Jeff J Mitchell/Getty Images)
Northern Michigan University is offering students the chance to major in a new program called medicinal plant chemistry — marijuana analysis, basically.
The program is the first of its kind at a four-year university in the U.S., according to CBS Detroit. Students will take classes in chemistry, plant biology and business entrepreneurship, and the program will also feature a capstone "research experience" involving "experimental horticulture and instrumental analysis of natural products."
As far as hands-on experience?
"We're not going to be actually growing anything on campus," said Brandon Canfield, associate chemistry professor at Northern Michigan University, to CBS Detroit. "Maybe following the 2018 Michigan election, maybe we'll revisit that depending on the outcome and what ballots are present on that election. But for now, we're not going to be growing any cannabis. We'll be practicing extraction and analysis techniques on other plant systems."
Canfield said the school created the program in response to the growing medical marijuana industry.
"The need for this is so great. You go to some of these cannabis industry conferences and everyone is talking about how they need labs, they need labs," he said. "Or the bigger operations are trying to set up their own labs in house and they need trained analysts. And the skill set required to perform these analysis is perfectly matched with an undergraduate level education."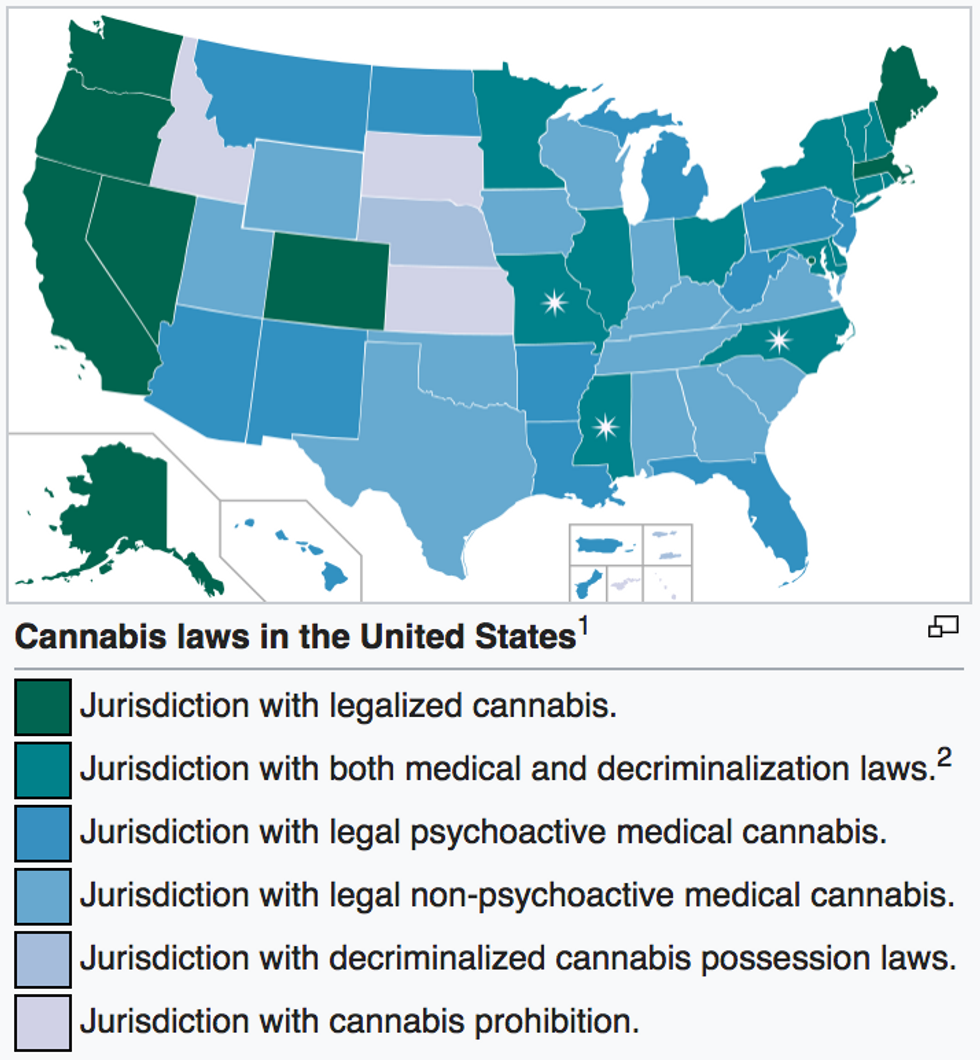 The program will prepare students for careers in either the medical or recreational marijuana industry.
"I predict that the graduates from our program are going to have among the highest immediate job placement of any of our programs," Canfield said. "People are either going to go out and get jobs or they might go out and start their own business in the industry."
The economic data seems to back him up. Marijuana sales boomed by 30 percent in 2016 to $6.7 billion in the U.S. and Canada. It's now fully legal in eight states, which means that 1 in 5 of the total U.S. population lives in a legal adult-use market.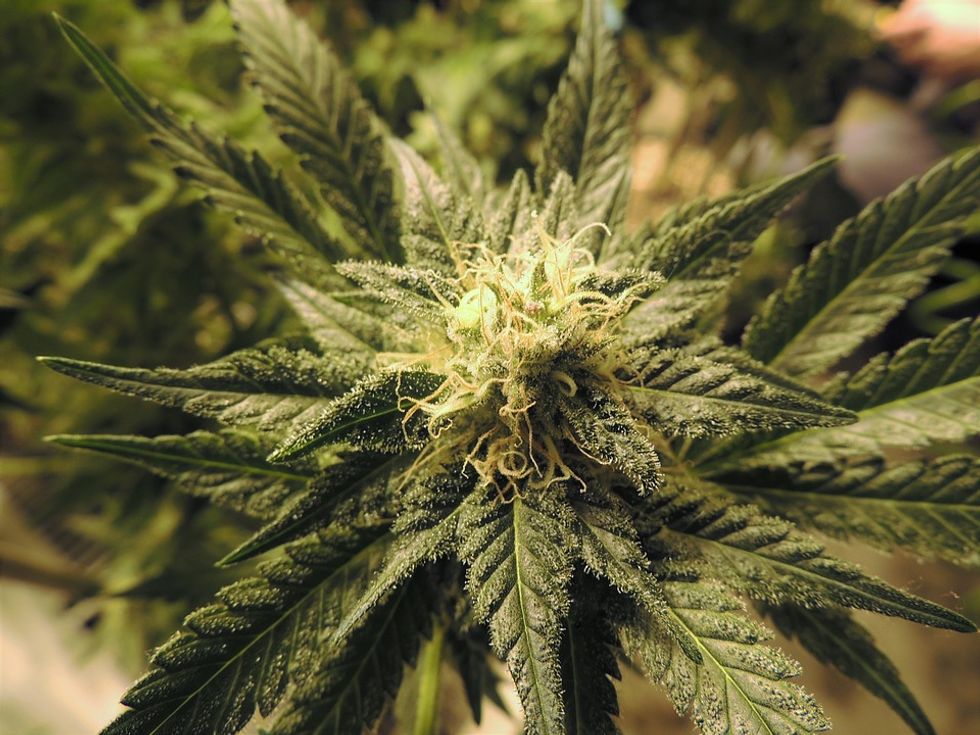 North American marijuana sales are projected to top $20.2 billion by 2021. This kind of industry growth is unprecedented, even compared to the dot-com era, and it's expected to create some 250,000 jobs by 2020, according to a report from New Frontier Data. That's more than the expected jobs in U.S. manufacturing.
But there's another reason it could be especially lucrative to jump into the marijuana business right now, as the Northern Michigan University program website notes:
The historical stigma associated with cannabis is quickly vanishing, and although there is a surge in businesses related to the marijuana economy, there is a major gap in educational opportunities available to prepare people for this field.
In other words, the demand for labor is high while supply is low. It's not too surprising. The industry is still in its infancy and middle America is only just beginning to lower its eyebrows to the idea of marijuana — medicinal and recreational. After all, recreational marijuana is still illegal in most states, including Michigan, which will vote on legalization this November. 
In the meantime, those willing to spend their college tuition preparing for careers in the marijuana industry might profit big on a relatively safe bet.